In recent years, Saudi Arabia relaxed their borders inviting many international tourists of varying backgrounds (and not just for pilgrimage). Until June 2018, Saudi Arabia was the only country in the world that forbid women to drive cars. Because the country is slowly changing every year, now is a better time than ever to discover the hidden gems before any crowd does too. Yet deciding where to go in such a large country is not easy!
Between the sheer size of the country and its differing terrain, there aren't many other means to explore Saudi Arabia that enlightens the true sense of adventure other than hiring your own car. However, understandably so, the routes, rental cars and rugged landscapes can become quite overwhelming even throughout the planning process of your independent tour. Try not to be intimidated; a road trip in Saudi Arabia is totally doable!
Don't have time to read this now? Pin this blog for later.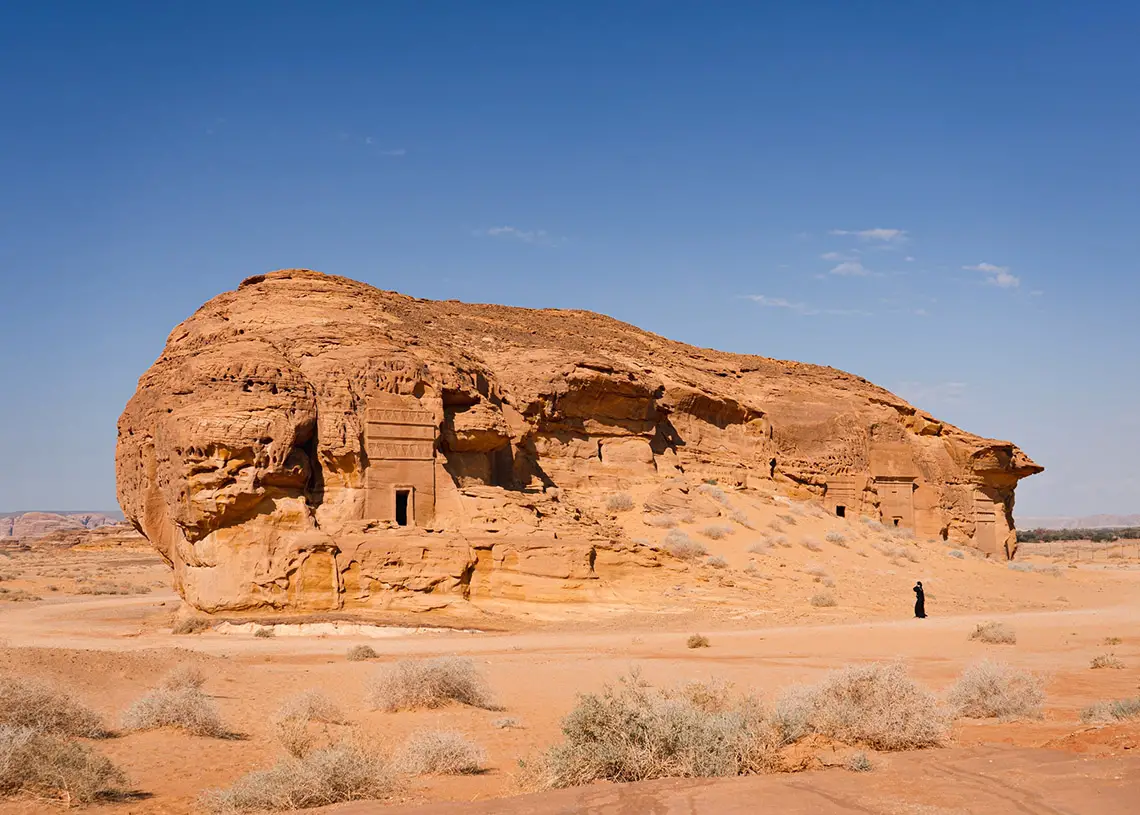 Saudi Arabia Itinerary (1-2 Weeks)
Independent Road Trip
The very idea of an independent road trip around Saudi Arabia, and the stamina that would be required to follow through with the itinerary, may seem like an enormous undertaking. Nonetheless, being on the road is an adventure in itself! Accomplishing your own independent road trip would allow for so much more flexibility; you'll find many more opportunities to stop for photos, eat where you fancy and take detours wherever your heart desires. Although you should look away now if you aren't great at long distances…
For your reference, the mileage of my entire journey (part of this Saudi Arabia itinerary) reached over 2,775 kilometres – that's 1,724 miles. Each mile of this personal figure was split between Dammam, Riyadh, Buraydh, Hail, Ul Ala, Al Taif, Riyadh and then the 'Edge of the World'. This sequence of destinations and Saudi Arabia itinerary will be most suitable for 10 days to a fortnight, whereas, in my experience, I completed the route in one week. This would depend on many factors, one of them being the number of drivers your group will have to share the miles.
This table should give you a rough idea of how much driving will be involved…
| Route | Distance | Time |
| --- | --- | --- |
| Dammam to Riyadh | 410 km / 255 miles | 4 hours |
| Riyadh to Al Ula | 1040 km / 650 miles | 10 hours |
| Al Ula to Al Taif | 780 km / 480 miles | 8 hours |
| Al Taif to Riyadh | 750 km / 470 miles | 6.5 hours |
| Riyadh to 'Edge of the World' | 100 km / 60 miles | 2.5 hours |
Potential Route
Depending on the flight costs, you could begin your journey in Dammam, Riyadh or Jeddah. Each city and town has many car rental companies. This enables customers to drop off their vehicles in a separate location from the collection.
Riyadh
(1-2 nights)
As Saudi Arabia's capital city, the options for accommodation in Riyadh are endless (though not without a demanding price tag). Remember to save time for a day trip to the mighty Edge of the World, too.
Buraidh
(0-1 night)
Buraidh is the capital of the Qassim province; a place that claims to have the best dates in the country! Although I personally did not stop for too long, you could use this as an excuse to break up the journey.
Hail
(0-1 night)
Hail's central-northern location enables the city as a gateway for travellers in the region. It's a good stopover between Jubbah, AlUla and Riyadh. The province also contains two UNESCO World Heritage sites.
Al Ula
(1-3 nights)
Deep in the desert of the north-western region of Saudi Arabia lies Al Ula, home to the country's first UNESCO World Heritage Site. It's a bucket-list destination for our planet that is growing in popularity.
Jeddah
(1-2 nights)
As the traditional gateway to Mecca, with a coastline of dive sites and a year-round warm climate; Jeddah is a fascinating major city. With an international airport, you could even finish your trip here.
Taif
(1-2 nights)
Situated 1,700 metres above sea level, Taif is like any mountainous city; it's home to one of the most scenic roads in Saudi Arabia, leading to a tranquil setting often characterised by clouds and cool weather.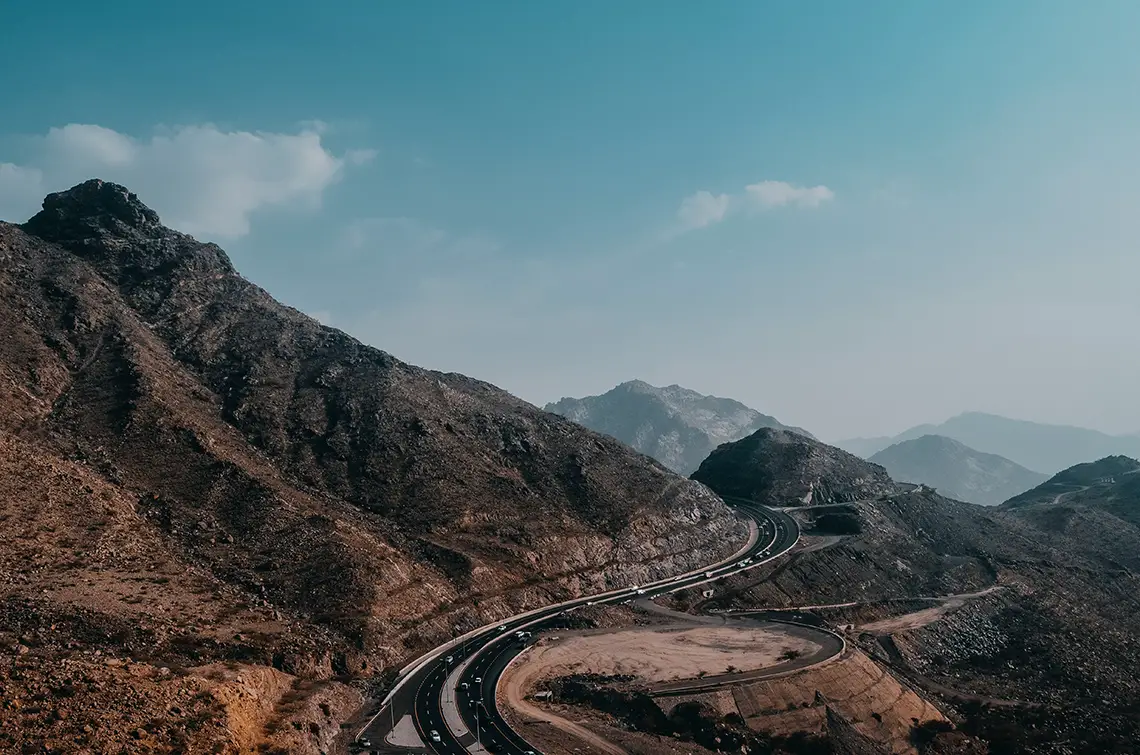 Vehicle
Saudi Arabia is built for the convenience of travel with vehicles so there are plenty of car rental shops in every city. Ideally, you'll want a 4WD (or any vehicle higher from the ground) to truly experience the country between the cities. However, for money's sake, we believed that our 2WD Toyota was sufficient for the journey.
Our car rental cost 1477 SAR (393 USD) for six days with unlimited mileage, insurance and the ability to drop off the car at another destination (which in our case was Riyadh Airport). Any additional drivers would be chargeable.
In order to save money, and hours of boredom, find a small group of people to split the car, fuel and accommodation costs.
For other information, check out the guide on renting a car in Saudi Arabia.
Fuel
The process of refilling your vehicle will be straightforward in Saudi Arabia. In fact, you will not even have to leave your car! Simply drive next to a pump with an attendant, open the tank from within (if necessary) and state how much fuel you'd like to purchase. Regardless of the difference in language, most attendants will understand basic words, such as "full".
Thankfully, fuel is gobsmackingly cheap in Saudi Arabia, especially in comparison to the rest of the world – although this additional cost to your budget will vary depending on the size and type of car. To pay, debit and credit cards are widely accepted but the likeliness of this convenience decreases the further you drive away from the major cities. Take enough cash – just in case!
The Driving
If you've travelled to other Middle Eastern countries, being the passenger of a car in Saudi Arabia will not feel too dissimilar to the chaos you may have experienced before. However, from the driver's seat, it can be intimidating and overwhelming for a number of reasons – learn more here.
There are a minimal amount of checkpoints along Saudi Arabia's network of roads. Compared to Iraq and Syria, they are a breeze! In fact, the guards don't seem to be interested 90% of the time.
For more information, including tips on driving in the country, check out the Beginner's Guide to Renting a Car in Saudi Arabia.
Accommodation
You are most likely to find the cheapest accommodation for Saudi Arabia on Booking.com. Plus, in some instances especially in my personal experience, booking online was even cheaper than negotiating in person.
Overall, you'll notice that the ratings and reviews for hotels in Saudi Arabia can be low, even though the quality of the places themselves isn't noticeably as bad as they describe. Arabs have a tendency to review harshly, so don't feel frightened into booking a pricier hotel. Once you've arrived, the Saudi receptionists tend to offer a viewing of the room before you commit too, although I personally never felt it to be necessary.
There is one other important note for those travelling with genders other than their own…
In Saudi Arabia, unmarried couples are not permitted to live together in the same household; they aren't even allowed to share the same hotel room. If you arrive with a group of differing genders, the hotel staff will likely ask for a marriage certificate during the check-in process. You should book separate rooms to avoid any hassle.
From the glitz of the Ritz to the tranquillity of Habitas in Al Ula, here are some recommended hotels…
Buraydh – The Towers Hotel is an affordable option with breakfast. If you are in need of an entire place; stay in a chalet at the Tuba Resort along this Saudi Arabia itinerary.
Hail – The Olive Suites will serve the best value for money in the city of Hail but the Millennium Hail Hotel boasts three different swimming pools. Both are great options!
Al Ula – Habitas AlUla offers panoramic views and instagrammable Bedouin interiors amongst the sand and stars. Alternatively, there are plenty of Airbnbs to choose from too.
Taif – For budget travellers and small groups, the Gate Hotel Suites were more than sufficient (for us). Though if you'd prefer, the Velar Inn Hotel has a pool and a fitness centre as well!
Jeddah – From the luxuries of Crowne Plaza to a night with good value for money in the Mirage Hotel, both hotels are centrally located for a convenient stay along this Saudi Arabia itinerary.
Cost Breakdown
Saudi Arabia is, unfortunately, not a great destination for budget travellers.
The official currency is the Saudi Riyal (SAR). It is common to make payments with credit and debit cards in major cities, and ATMs are widely available too. As you travel further afield, you should be prepared with cash instead.
| Commodity | Duration | Total Cost | Per Person, Per Day |
| --- | --- | --- | --- |
| Accommodation | 8 nights | 1992 SAR (530 USD) | 70 SAR (19 USD) |
| Car Rental (Toyota) | 6 days | 1477 SAR (393 USD) | 82 SAR (22 USD) |
| Car Rental (Kia) | 2 days | 829 SAR (220 USD) | 138 SAR (24 USD) |
| Fuel (Toyota) | 6 days | 441 SAR (117 USD) | 25 SAR (7 USD) |
| Fuel (Kia) | 2 days | Unknown | Unknown |
| Tourist eVisa | 90 days | 535 SAR (142 USD) | NA |
What to Pack
There are many shopping malls and supermarkets in Saudi Arabia, so you wouldn't be short of any place to buy supplies or missing items. On the other hand, you could be prepared in order to save your precious time for the road ahead.
Cigarette Charger
With a driver, co-driver and passenger, there will be plenty of devices to be charged time and time again. Increase the number of charging ports by utilising the cigarette socket too.
Toilet Paper & Tissue
Saudi Arabia is a land of little toilet paper, but bum guns all around. Stock up on tissues if you wouldn't like to make a pitstop without them; there'll be few places to find them otherwise.
Filtered Water Bottle
The water in Saudi Arabia is not drinkable. Therefore, visitors will have to rely on plastic bottles. To avoid the over-use of single-use plastics, travel with a filtered water bottle.
Mobile Plan
It's highly recommended that visitors pick up a local SIM card before leaving their first city, you could even pick one up at any international airport. This will be invaluable for navigational purposes and staying connected during emergencies.
STC, the mobile network company, offer the best coverage across the country; there'll rarely be moments without any signal. An STC SIM card can be purchased at international airports upon arrival, or at any branch within the cities. In order to do so, you will need your passport and your visa paperwork.
If convenience is your ultimate goal, check out Airalo for either a local, regional or global eSIM. Airalo is the world's first eSIM supplier. You can purchase the most suitable prepaid data plan without visiting any shop or swapping physical sim cards. This is the technology we digital nomads have been waiting for!
TIP: Make sure to download your playlists rather than relying on the mobile data. You will not want any interruptions on the endless hours of desert straights.
Riyadh to Al Ula Tour Package
Are you feeling overwhelmed? Navigating the roads of this Saudi Arabia itinerary can be a headache, culture shock, time-consuming and expensive, especially if you are managing the journey as a solo traveller. Thankfully, there are plenty of organised tours that will enable you to experience all of the above with much greater simplicity.
Mid-Range Tour
Riyadh, Ushaiqer, Buraidah, Medina, Al Ula
Begin your tour in Riyadh to finish in Jeddah. The Explorer Tour will be unforgettable if you so choose to embark on the 9-day tour. It includes hotels, flights, transport and more!
Luxury Tour
Riyadh, Edge of the World, Jeddah, Al Ula
Start and finish in Riyadh along a 10-day luxury tour (with an exhilarating helicopter ride in between). This includes the hotels, an expert guide, meals, transport and more!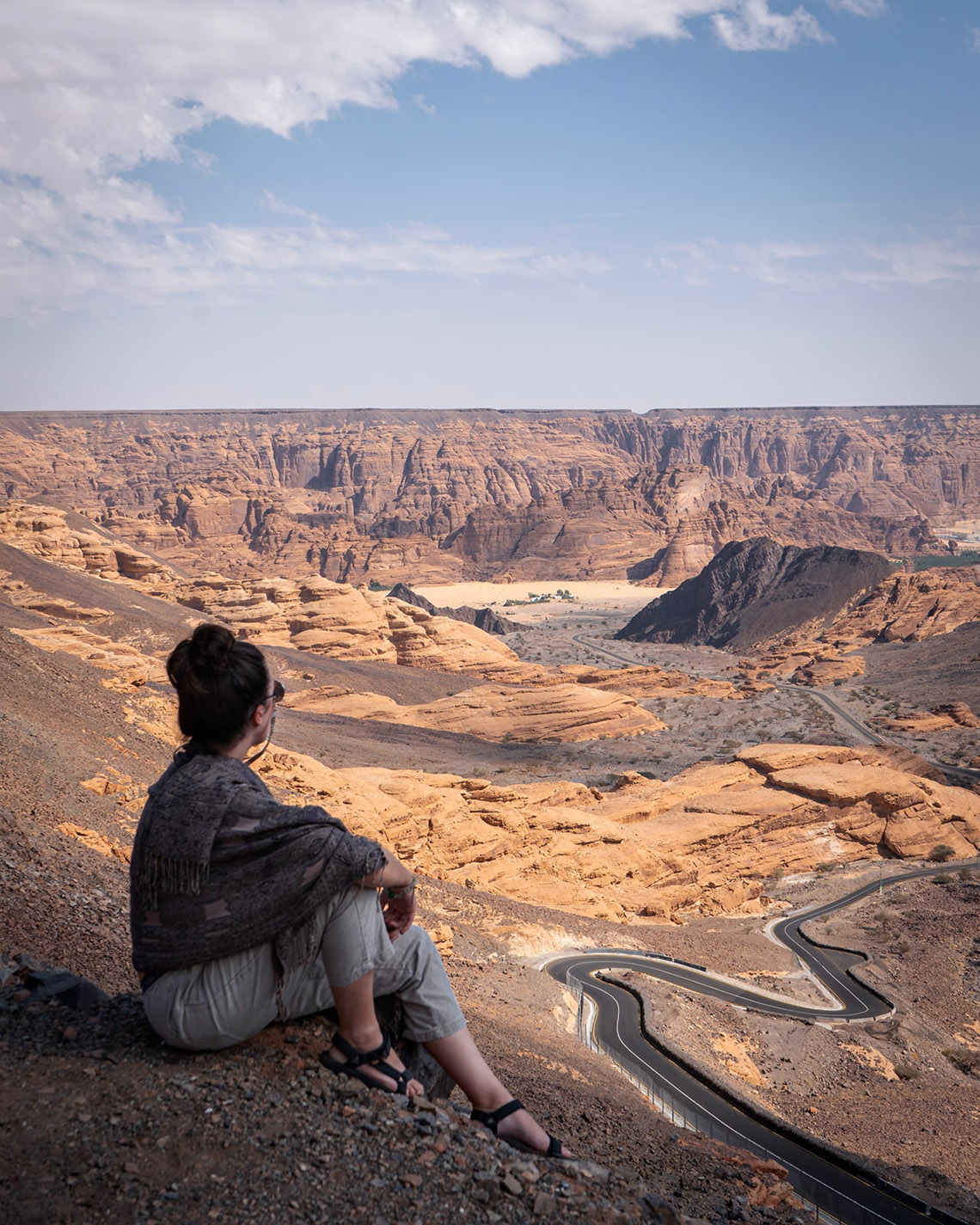 Frequently Asked Questions
If you have any other questions, please do not hesitate to get in touch (or post in the comments below).
Can I drive from Riyadh to Al Ula?
Yes, it is possible to drive between Riyadh and Al Ula. The entire journey will take approximately 11 hours via Buraydah and Hail. For more information on hiring a car, read the Beginner's Guide to Car Rentals in Saudi Arabia.
How far is it from Riyadh to Al Ula?
It is approximately 1,050 kilometres (650 miles) from Riyadh to Al Ula. Don't forget you'll have the drive back too though!
Is it safe to drive across Saudi Arabia?
Whilst the roads are in generally good condition, the safety standards of the local people aren't as high a standard. Fortunately, they are improving as the police are patrolling the busier routes and many speed cameras are on watch. Click here to learn about the potential dangers of driving in Saudi Arabia.
Are foreigners allowed to drive in Saudi Arabia?
Foreigners are permitted to drive in Saudi Arabia if they hold a valid driving license with an accompanying International Driving Permit (IDP).
How many days are enough for Saudi Arabia?
It isn't impossible to gain an insight into the country's incredible landscapes, history and hospitality within a few days, but visitors will have a much more valuable experience with a well-planned Saudi Arabia itinerary. You wouldn't see much without at least a week in Saudi Arabia considering each city, or place of interest can easily be anything from a 6 to 10-hour drive away. On the other hand, Saudi Arabia is an expensive country. Therefore, you should find a suitable amount of time between 1-4 weeks that matches your value of time and money.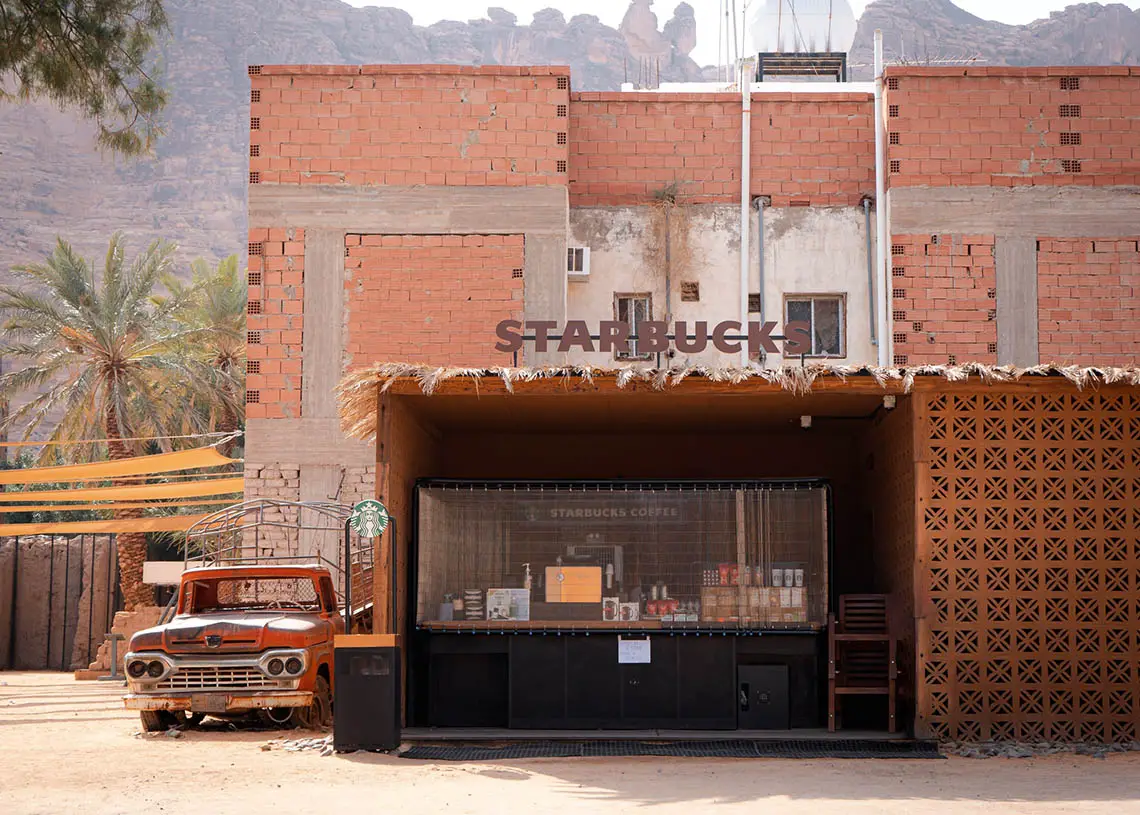 SIMILAR: 13 Saudi Arabia Travel Tips You MUST Know Before You Go
Let's go!
@katie.maree
Save for Later
Don't have time to plan your Saudi Arabia itinerary? Save this guide on Pinterest.