Is the absence of a reliable campervan wifi connection the only thing stopping you from jumping into van life full-time?… Or perhaps you're heading somewhere remote, and would just prefer some signal for your own peace of mind?
Personally speaking, I am a digital nomad who works remotely full-time, even from inside my van. As a consequence, it is vital that I have a near-constant and high-quality internet connection. All I'm saying is, I hear you're struggle and I have a simple solution that I know will work for you too.
This blog will outline the simplest way to receive the best internet connection within the confines of your campervan for both your UK and European travels.
How to Get the Best Campervan Wifi for Van Life
First things first…
Campervan Wifi Routers
In my opinion, it wasn't necessary to bore you with many different methods as this has been my noble steed since the beginning. Also, having seen what other remote-working van lifers use, it can be said that this is one of the most common approaches to the best van life wifi options.
The Netgear Nighthawk M2 (MR2100) is arguably the best mobile router on the market. In fact, I'd say that I was immediately impressed. Its performance seemed to match that of any standard, static broadband router that you may have at home!
The Netgear NightHawk is a mobile router so it relies on a typical mobile phone SIM card.
Although the battery life is not amazing, you could take this device out and about with you, maybe to your favourite coffee shop or spot in the hills. It's charged via USB or your typical household plug – just like your iPhone.
Being approximately the size of a larger drink coaster, this Netgear router is not going to take up much space in your tiny home on wheels; it's portable enough to slip into your day pack or the glove box of your vehicle.
The Nighthawk device features a 2.4″ coloured, touch LCD screen which is relatively easy to use. It delivers metrics such as your signal strength, battery life and the number of gigabytes that you have remaining on your mobile plan. Additionally, this information can also be viewed within the Netgear Mobile app. How's that for convenience?!
Disappointingly so, Netgear does not include a protective case for this device. You might want to add one into your basket as the router has a tendency to be turned on unintentionally very easily. Here's an example of a made-to-fit hard case for this particular router.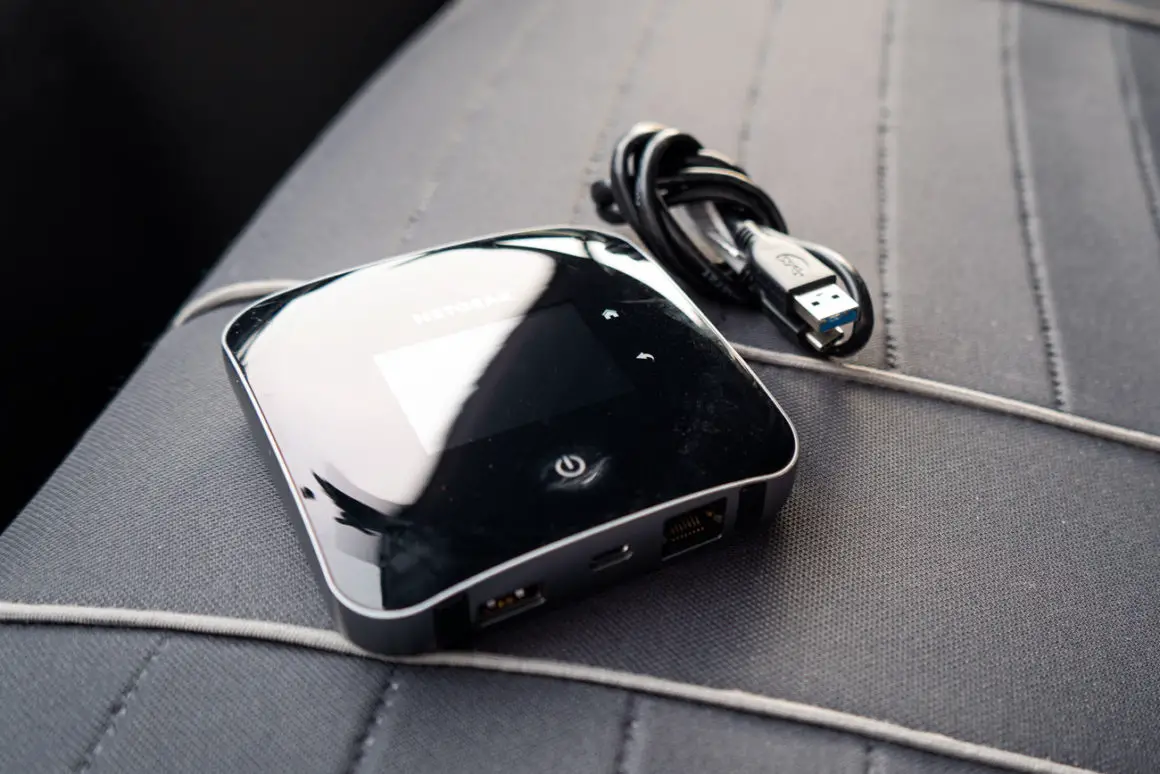 Positioning the Router
Whilst you will be in what is essentially a metal box, AKA your campervan; it is not the best place to acquire a solid mobile signal. Any signal that may be pointed in your direction, maybe redirected by the metal bodywork. With this in mind, it can often help to have your router inside the cabin area of your vehicle as opposed to the back. This isn't a game-changer, but it could potentially be the difference between having a signal and not having a signal.
Campervan Wifi Roof Antennas
The next question is whether or not you need to invest in a van wifi antenna.
For most areas, the built-in antennas within the Netgear Router will be sufficient enough for receiving good signal strengths. For instance, in my experience around the Scottish Highlands, the mobile router on its own has provided me with ample coverage for Netflix, Zoom call and uploading large files.
External antennas can be connected to routers to boost the signal even further. This should allow you to receive a quicker internet connection in areas with lower signals.
The cheapest recommendation is the Bingfu 4G LTE Antenna. At only £13.99, these could be worth trying.
If you are looking to play it extra safe, rather than being sorry, then the Poynting Cross Polarised Omni LTE Antenna is a great purchase in combination with your Netgear Mobile Router. This particular mid-priced antenna comes with different mounting options which can be music to the self-converting van builders' ears. It can be mounted with a screw, onto a pole, or onto a surface by using the four suction pads.
If you wanted to level up once again (whilst paying the price for it), then the Poynting Cross Polarised High Gain LTE Antenna may be what you are looking for. This will increase your chances of finding a signal even in those areas where there mightn't have been any, to begin with.
When buying any of the above, you should check the connections that will be necessary to combine the components. The Poynting Antennas will be supplied with two fairly lengthy cables, but these cables will probably require SMA Female Jack to TS9 Cable Adaptors to complete the circuit.
Alternative Solutions
Mobile Tethering
The most obvious way of connecting remotely is via your smartphone. However, if the signal in you're current location is poor, then your connection is likely to be annoyingly patchy at best, and non-existent at worst. Having said that, using your phone as a Personal Hotspot is a great backup option. Therefore for the ultimate setup, it's recommended that you travel with a different network provider on your phone than the one you've used for your mobile wifi router to ensure you have the greatest likelihood of having any signal at all.
MiFi Device
Unless this is your first point of research on the matter, then you have more than likely come across the name 'MiFi'. Huawei is the most commonly used brand of MiFi device. More specifically, if we were to look into the Huawei E5577 then you'll see it has the following capabilities:
Up to 10 devices can be connected to the Huawei device at the same time.
It's very compact at just 9.5cm x 5.5cm x 1cm.
The device has a 6-hour battery life.
The Huawei E5577, specifically, has inputs for an external antenna.
Although Mifi units can be a much cheaper alternative, in my own experience, I have found the results to be incomparable to the Netgear Nighthawk router. In particular, paired devices will often disconnect.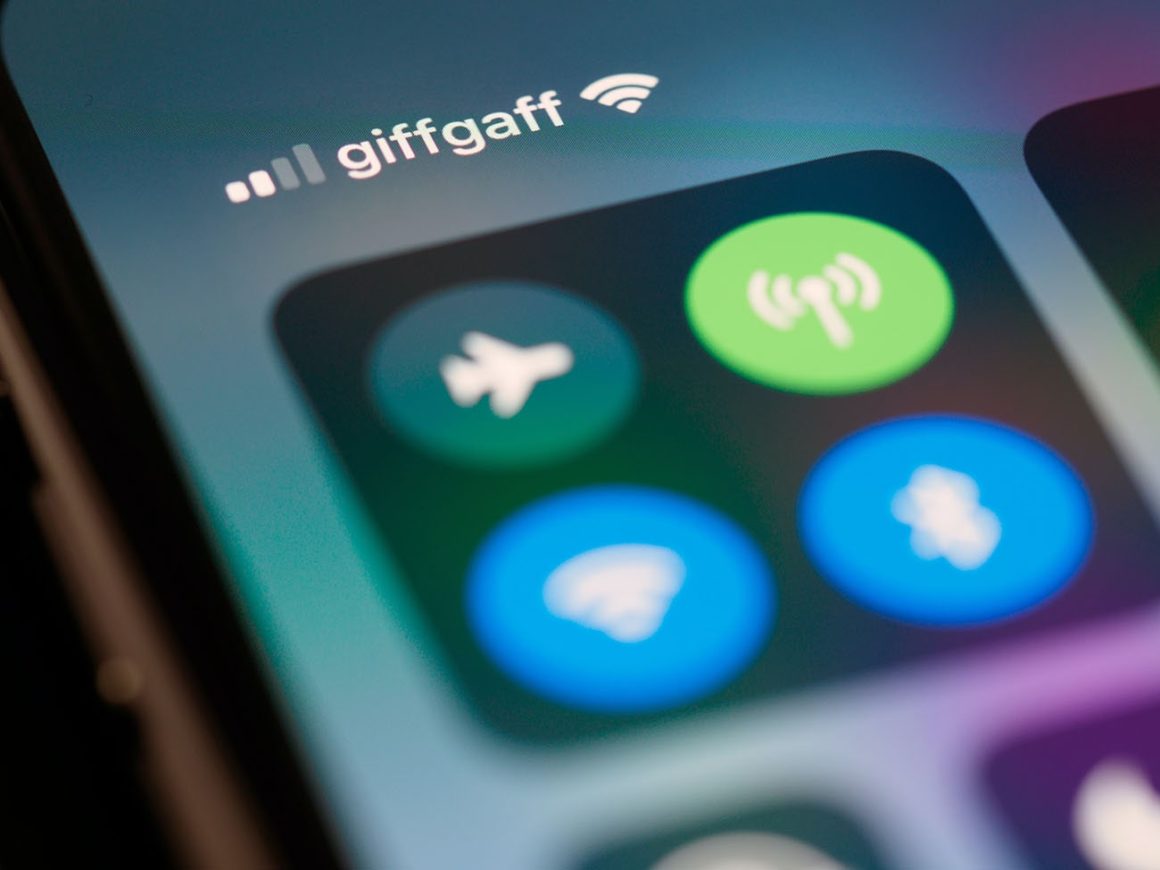 See Also: The Best Low Wattage Induction Hob for Campervans
Which Network Provider is the best for Campervan Wifi?
Buying a SIM-only monthly plan for your campervan wifi has never been so easy! In recent years, there has been a boom in virtual providers. This means that these companies share another network provider's infrastructure. For instance, Giff Gaff operates on O2's network coverage, and To The Moon uses EE's coverage.
Another benefit to such companies is the trend of purchasing commitment-free SIM plans which you can cancel or change in an instance. Gone are the days of those mind-numbing phone calls to your network provider!
Below are the virtual network providers that you should be considering for your campervan wifi…
Giff Gaff
Giff Gaff offers flexible data plans in the form of 'goodybags'. You are free to cancel anytime, have them recur every month, or change your allowance on a month-to-month basis. The downside to this network provider is that although the network still operates in Europe, they do hold a roaming cap. This begins to restrict the usage after 20GB.
Smarty
Smarty is another provider that enables you to cancel anytime. As of the time this blog was written, their prices are one of the lowest. Though like Giff Gaff, there is a roaming cap if you are travelling to the EU. This means that you will be subject to a limit of 12GB each month.
To The Moon
Unfortunately, To The Moon is the only provider of the bunch that does not offer an unlimited data plan, but their biggest package does come at a very affordable price. Their SIMs are also completely uncapped in both Europe and the Schengen zone.
As far as I am concerned, To The Moon is the top choice. According to many studies and awards found on the internet, EE has regularly been placed near or at the top for having the best network coverage in the UK. This is noticeable, so combined with their reasonable prices, I would personally recommend To The Moon for your van life internet setup.
Voxi
Vodafone's VOXI prides itself as the mobile network with 'Endless Social Media' and 'Endless Video'. This means that any time you spend on Facebook, Whatsapp, Instagram, Messenger, and Pinterest will not be deducted from your monthly data usage. The same applies to TikTok, YouTube, Prime Video, and Netflix. Therefore, your monthly gigabyte usage could potentially be a lot less.
If you have an Endless Data plan with VOXI, your data will be capped at 20GB in their Europe Zone.
This table should give you an approximate of the prices that you could expect from each of the network providers. But of course, please refer to the company's website for up-to-date plan prices.
| | | | | | |
| --- | --- | --- | --- | --- | --- |
| | Network | 80GB | Unlimited | | |
| Giff Gaff | O2 | £20 | £25 | | |
| To The Moon | EE | £20 | NA | | |
| Smarty | Three | NA | £20 | | |
| Voxi | Vodafone | NA | £30 | | |
| | | | | | |
Updated in October 2021
In My Experience…
If there's one way to find out which network provider is the best, it's to test its capabilities up in the beautiful and most remote areas of the Scottish Highlands and Islands.
Recently, I have settled for an 80GB data plan with 'To The Moon' in the Netgear Nighthawk mobile wifi router. This is paired with a fairly large data plan with Giff Gaff for my iPhone as a backup. In all honesty, there have been instances where the backup was needed, but more often than not, the capabilities of my 'To The Moon' sim card coverage has shocked me!
Below are a few examples of where I've managed to work using this setup…



So…
Can You Have Wifi in a Campervan?
Absolutely! Pick up a Netgear Nighthawk as your van router, this will enable you to have decent internet access that is capable of as many Zoom meetings and "Netflix and chill" sessions as you'd want! Even if you couldn't afford this particular investment, your phone is almost as competent in providing as good a reliable connection too.
You May Also Like: Why You Shouldn't Install Window in Your Van Build
Let's Go!
@katie.maree
Would you like to pin this guide on the best wifi for campervans for later?