As a van lifer who has been born and bred in the Scottish Highlands, I know that I am spoilt for choice when it comes to campervan park-ups, especially overnight stops on the NC500!
The North Coast 500 (otherwise shortened to NC500) is a 516-mile long road trip that circles the northernmost parts of mainland Scotland. Whether you are car camping, in search of campervan park-ups, road tripping with your pop-top Land Rover, or hiring a motorhome… This list of NC500 overnight stops will have your itinerary's overnight stays covered. Each suggested location is listed in the order it would appear if you are to drive the North Coast 500 anti-clockwise.
If you have any additional suggestions why not leave a comment below?.. It would be great to hear about the other park-ups you found along the way.
Check out the Scottish Google Map Legend to have all of the best recommendations at the touch of your fingertips. This will cover the Highlands, and could act as your North Coast 500 Route Planner.
Can you wild camp on the NC500 in a campervan?
Over the years, van lifers have adopted the term 'wild camping' to loosely describe the act of parking overnight outwith the boundaries of a campsite. However, according to the Scottish Outdoors Access Code, stopping overnight in a motorised vehicle outside of a formal campsite is not classed as 'wild camping'. Although overnight parking does take place on the North Coast 500, there is officially a legal distinction between 'camping' and parking in laybys or car parks.
Nevertheless, the act of sleeping in a motorised vehicle overnight outside of campsites is generally tolerated in Scotland, particularly if it's only for one night. This is similar to any lorry driver using roadside parking with to rest within their stationary lorry. Regardless, it's important that these overnight park-ups are only intended to be used as a temporary resting place, not as a site in which campers can unpack chairs, belongings, washing or even awnings.
In light of this, there are hundreds of spectacular overnight park-ups along the North Coast 500. What is most amazing is that a lot of these spaces are completely free! Of course, there are still many campsites along the route to enjoy your evenings with facilities… But, if you are travelling out of season or the campsites are simply fully booked, then you may as well stay somewhere fantastic as a recommendation from your Highland lass, Katie!
In return for the following local suggestions, you are kindly asked to visit the specific locations only in small numbers for no longer than two nights. You could also help decrease any unnecessary stress between visitors and the local people by resisiting the temptation of camping close to any residential buildings, cemeteries, on the roadside or near historical structures. Visitors are also asked to refrain from lighting any open fires, leaving rubbish behind or causing any pollution. Thank you in advance!
The Ultimate List of NC500 Overnight Stops for your Campervan or Small Motorhome
Torvean Car Park
Click here for the location on Google Maps
This is a very large car park that often accommodates a number of motorhomes for a small fee. The location is the advantage of this park-up as it is situated metres away from the Caledonian Canal. So if you are not watching the boats pass by, you can take a morning stroll to Muirtown Basin past the Jammy Piece for breakfast, or go even further to Dochgarroch for a bite to eat at An Talla. The Inverness Leisure Centre is also across the road, where you can work out in the gym or go for a swim instead. I guess it'll depend on the weather – right?!
RELATED: The BEST Things To Do In Inverness
Balintore Harbour
Click here for the location on Google Maps
The people of Balintore are both welcoming and accommodating to the van life community. The car park adjacent to the harbour is flat and level with rubbish bins and public toilets nearby. There is a chemist, two local convenience stores, a post office and a local pub all within a very short walking distance. Laundry, showers, free chemical waste disposal and a lovely cafe for your wait are available at the Seaboard Centre.
The Balintore Inn also encourages campervans to park overnight in their car park to enjoy meals or refreshments which are served seven nights a week until 8 pm.
Keep an eye out for dolphins and porpoises! They are spotted regularly with perhaps the odd whale or two as well.
Portmahomack
Click here for the location on Google Maps
Tucked away on the less popular coast of the North Coast 500, is a small fishing village called Portmahomack. It's quaint! Within the town, you will find public bathrooms, local shops, restaurants, and a children's play park. From the small sheltered beach, you can enjoy views over the Dornoch Firth. Look out for dolphins!
Tarbat Ness Lighthouse is also about three miles from the village. It also has potential parking for smaller campervans – though it's worth a visit regardless of whether you're staying overnight or not!
Helmsdale Harbour
Click here for the location on Google Maps
This park-up is often described as a favourite on the east coast. It's particularly beautiful if you time it with a calm blue-skied day, as the parking couldn't be any closer to the sea.
There are not any bathrooms on-site. However, there are some public toilets and shower facilities at the community centre. It's within walking distance. Also, if you are using this park-up, please be kind enough to leave a donation with the RNLI. They have a collection, and some information, on the other side of the road.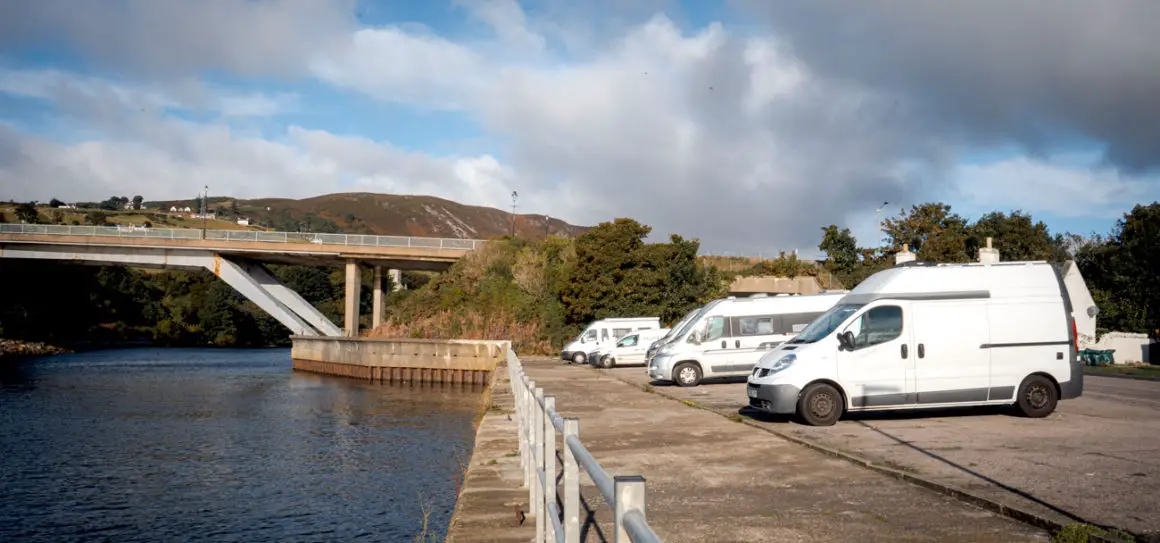 Lybster Harbour
Click here for the location on Google Maps
Do you enjoy the odd crab or lobster? If you are lucky, the local fisherman may offer you some of their catch at Lybster Harbour.
Unfortunately, there is no phone signal, toilets or showers at this harbour. However, there is a coffee shop, lighthouse, beach, fresh water and a coastal path to explore.
If you are planning to use Lybster Harbour, please leave a donation to support the local community and contribute towards the upkeep of their facilities.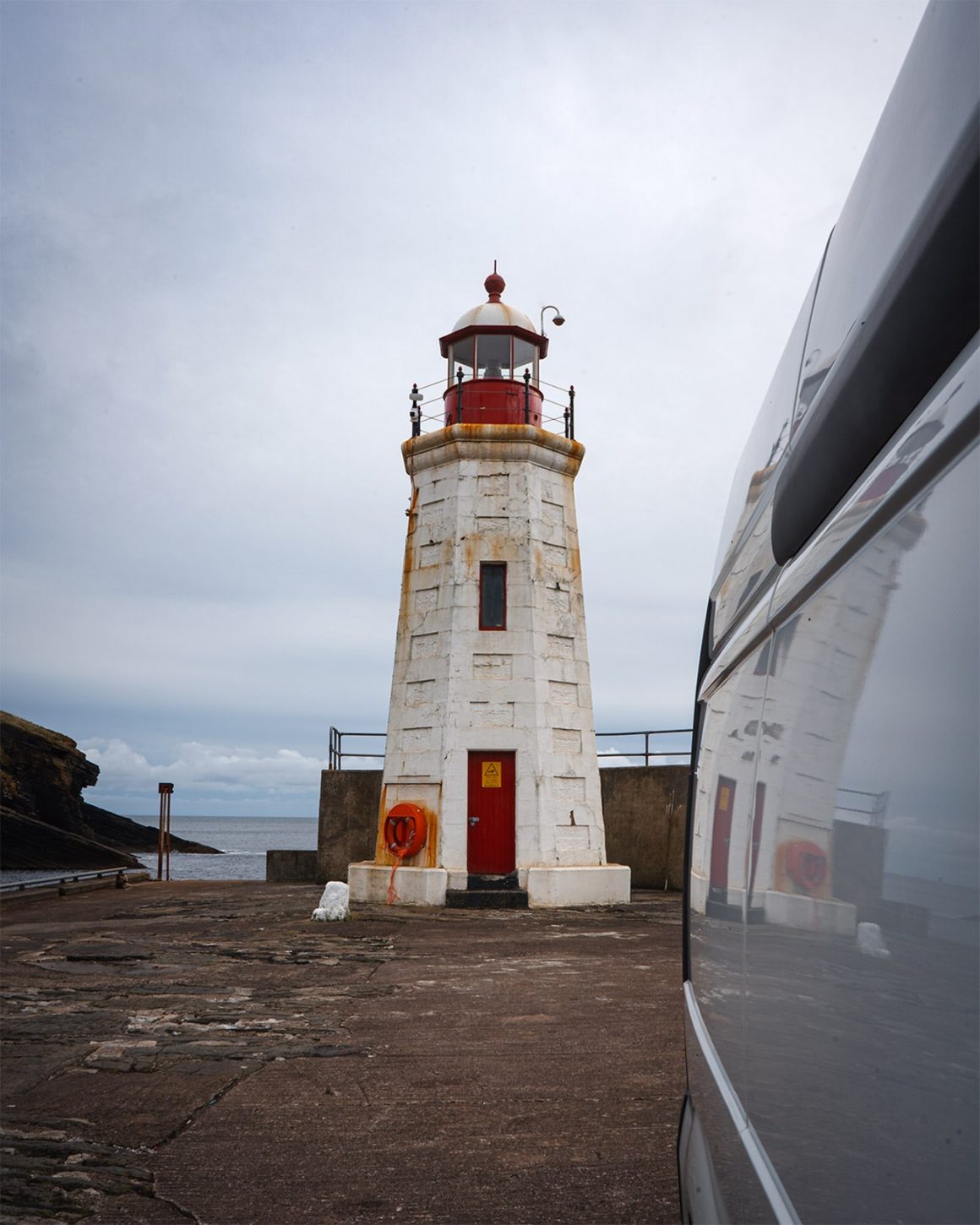 Why not visit Castle Sinclair Girnigoe, Whaligoe Steps or Duncansby Head on route?
Marie Curie Cancer Care Field of Hope
Click here for the location on Google Maps
This park-up is a 30-minute drive from Thurso. It's essentially a large layby, big enough for a small number of vehicles to spend the evening. The beauty of this overnight stop is its slight elevation. This makes it a great vantage point for sunsets and sunrises.
Tongue Causeway
Click here for the location on Google Maps
Update: There are now 'no overnight parking' signs in this location, but I still recommend the park-up for a few hours of chill time during the day.
On a good day, the Causeway in Tongue could be one of the top places to park on your North Coast 500 road trip. However, on the other hand, it is very exposed. So, you might regret this park-up if you find yourself caught up in some of Scotland's notoriously brutal winds!
There are three reasonably large parking areas along the causeway. If you don't have time to make an overnight stop, then at least plan to take some time here to admire the landscapes.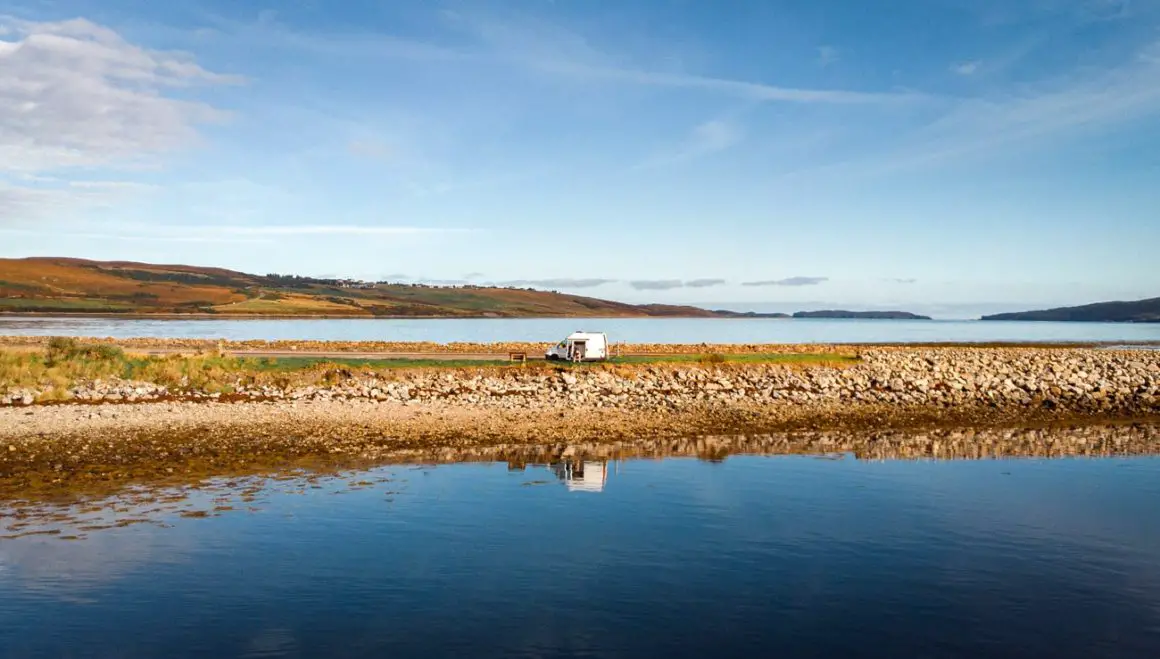 Ceannabeinne Beach
Click here for the location on Google Maps
You'd probably assume that the Ceannabeinne Beach car park would be mentioned alongside these other NC500 overnight stops. However, it's quite the contrary!
Ceannabeinne Beach has a fairly small car park. Therefore, a number of spaces should be implicitly reserved out of respect to local dog walkers, residents and other daily visitors. If vehicle owners do not take this into consideration, the area becomes too congested. Then inevitably, this has a direct effect on the surrounding natural landscapes. The strain on nature has been fast-tracked by the recent influx of visitors from the North Coast 500, so the evidence is, unfortunately, visible on the beach today. Let's leave this park-up time to recover!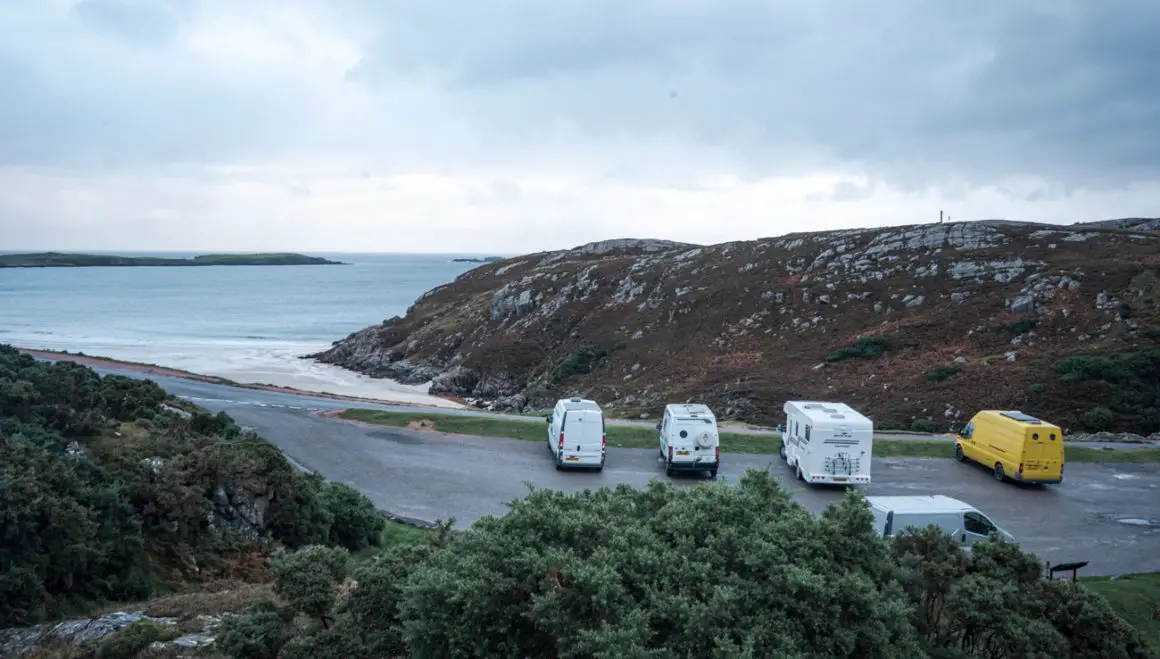 Sango Sands Campsite
Click here for the location on Google Maps
Sango Sands is the only campsite that has been included in this list of NC500 Overnight Stops. Why? Because it's possible to enter the campsite with a small fee that doesn't include electrical hook-up. Then more often than not, they allow you the freedom to choose where to park.
It is from Sango Sands Campsite that you can park with a direct view of the Sango Bay Viewpoint. You can park opposite the viewpoint, or as close to the cliff edge as you dare!
Also, there will be a lucky few who experience the northern lights from here too!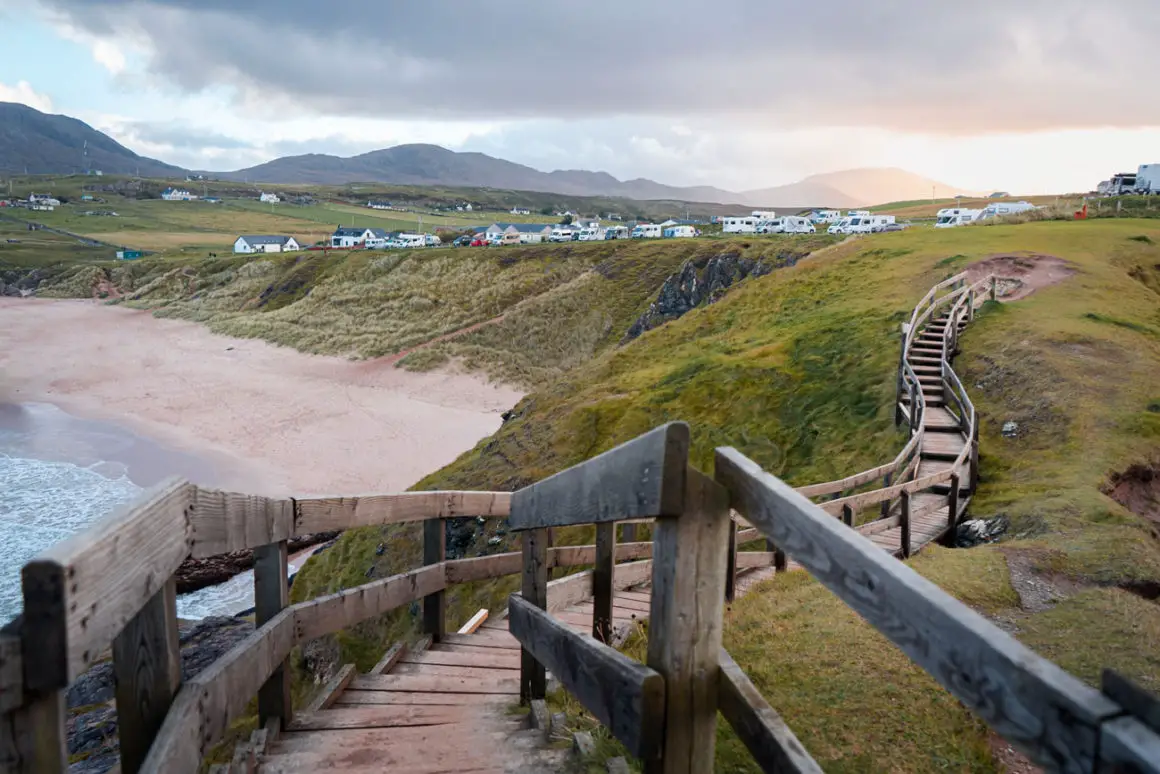 Shegra Beach Honour Campsite
Click here for the location on Google Maps
This remote location is a Scottish dream! Although the park-up is named as a campsite, it's more of a 'wild' camping spot. It's perfect for those hoping to escape any crowds, and appreciate the beauty of Scotland's coastline.
The downside to this location is that this 'campsite' is more difficult to access in wet conditions, and with larger vehicles. There are also no facilities available here; the campsite is strictly an uneven grassy area only. Cash donations are welcome, and if not required at times.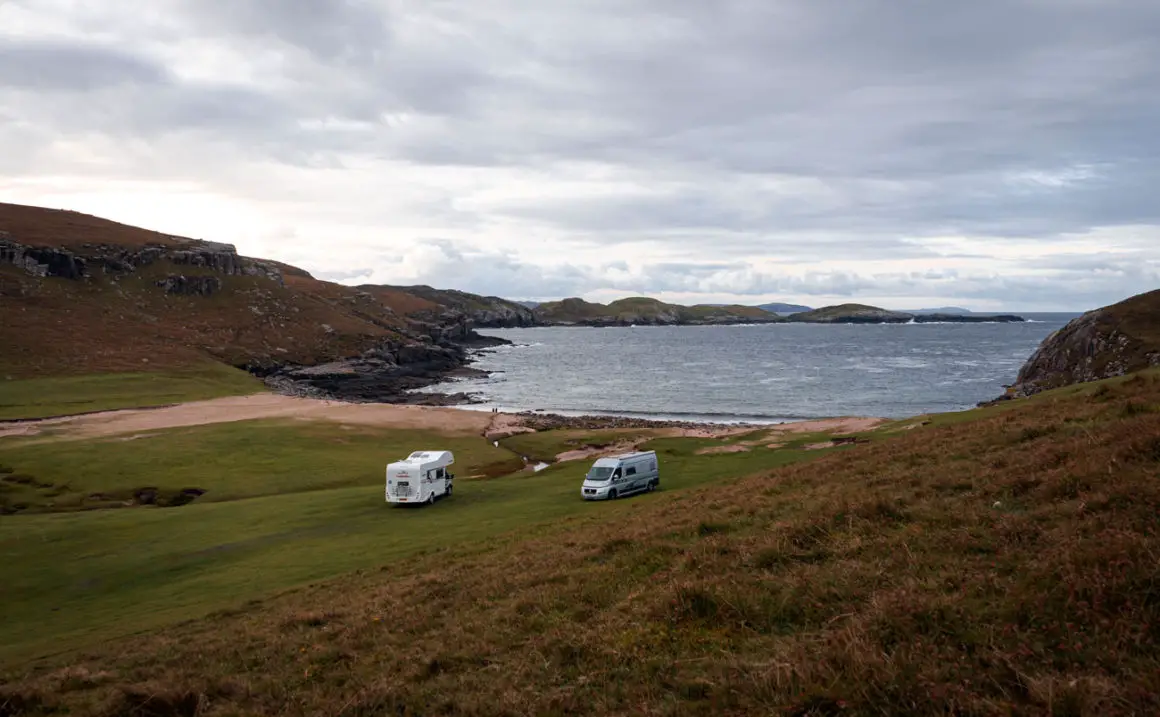 Droman Pier
Click here for the location on Google Maps
A very tight, and winding road leads to Droman Pier so this location is probably not the best for any larger vehicle either. It's a small area, but there is space for a handful of vans. Please be mindful to leave a few spaces available for fishermen, kayakers and the locals. Even if there are no humans around when you fall asleep, there may be a full car park by the time you wake up. If not, the sheep will keep you company!
This pier is also within walking distance to Oldshoremore, Polin and Shegra Beach.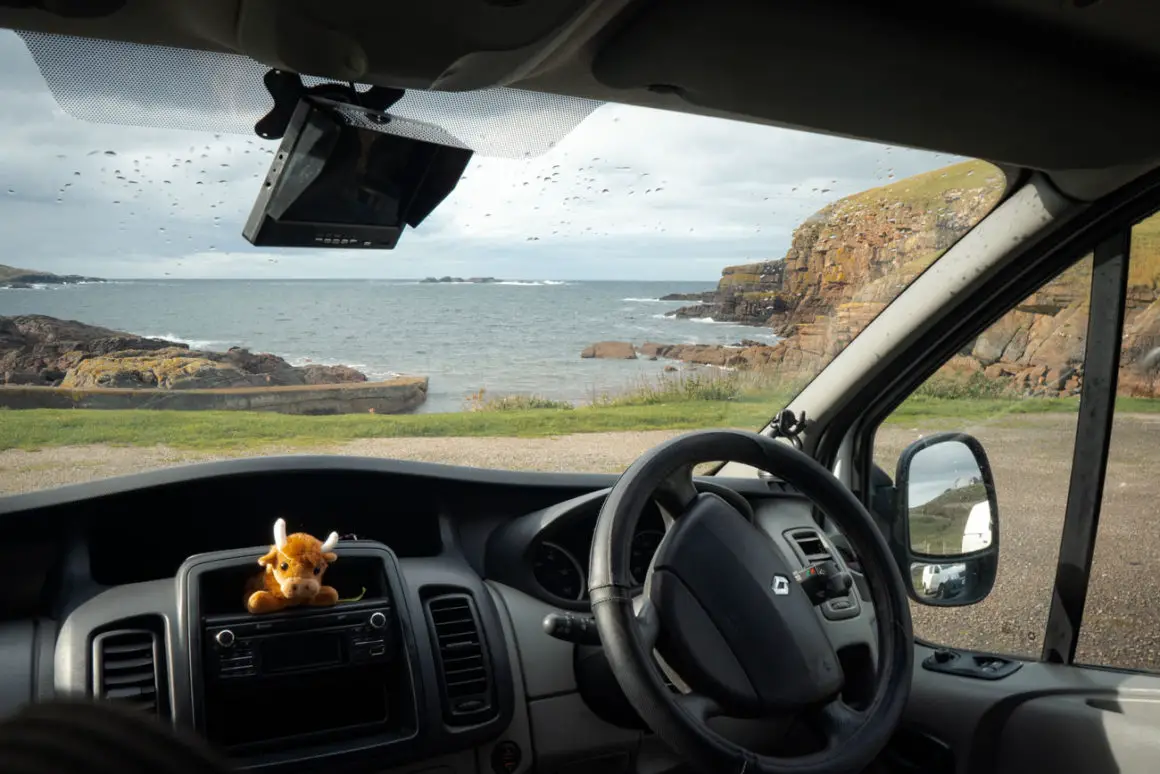 Assynt Viewpoint
Click here for the location on Google Maps
This view overlooking Assynt is the first sight of the west coast from the North Coast 500 anti-clockwise route. It's absolutely breathtaking! With a vast expanse of unspoilt landscapes, you'll be left wondering why you hadn't completed a road trip to Scotland before.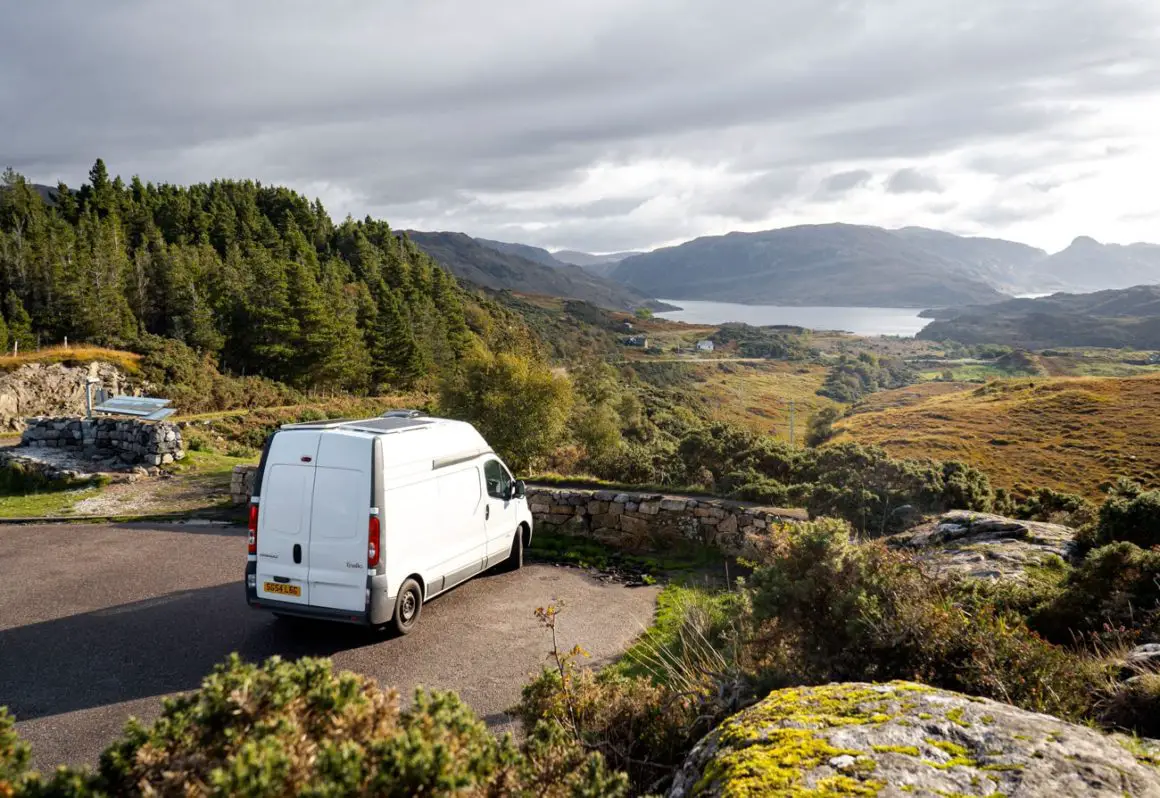 Kylesku Bridge
Click here for the location on Google Maps
You cannot miss the Kylesku Bridge – literally! If you have enough time, why not make a stopover to spend the night? Allow yourself the time to admire how the amazing architecture complements its Scottish backdrop.
There are two large parking areas to stay overnight at Kylesku Bridge; one on either side. Keep an eye out for stags too!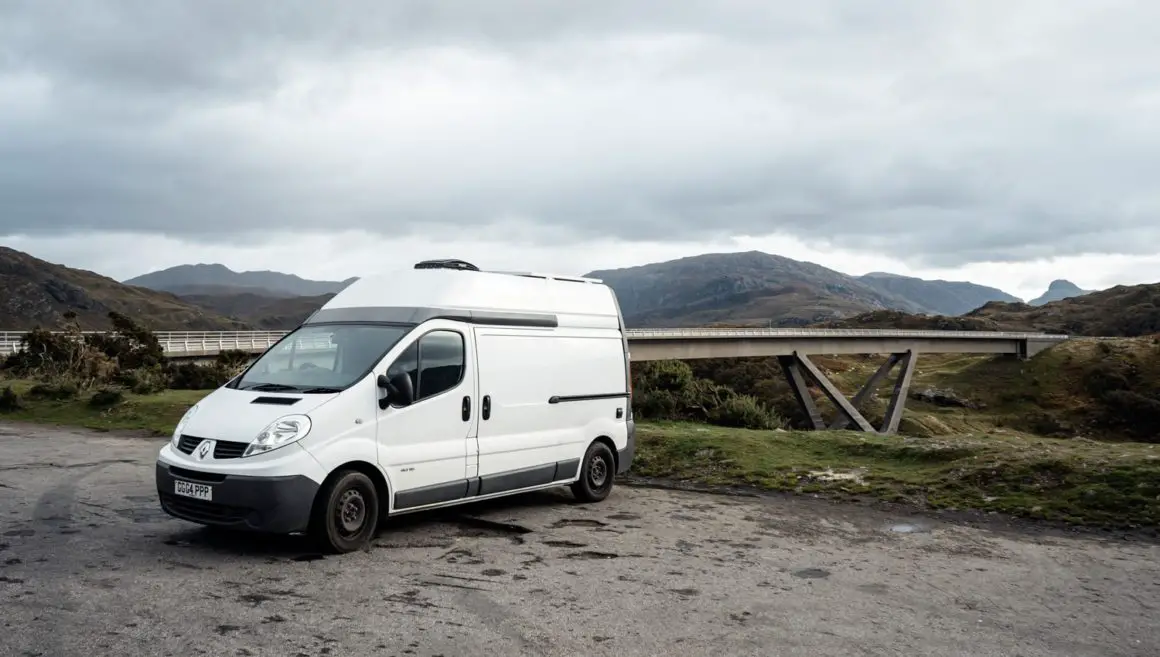 NEARBY: 

Wailing Widow Falls & Loch Na Gainmhich

 & 

Europe's Smallest Castle: Where is Hermit's Castle?
Knockan Nature Reserve Car Park
Click here for the location on Google Maps
The Knockan Crag National Nature Reserve is a place of great geological significance. It's also the starting point of three different walking trails. If neither of these two tickles your fancy, then the dramatic surrounding scenery will allure you instead.
Knockan's Car Park is open all year round. Their facilities include an outdoor visitor centre, fresh water and toilets, but no bins (at the time of writing this in 2021).
It is recommended that you vacate the car park before the local walkers begin to arrive early in the morning. Also… Bring your smidge!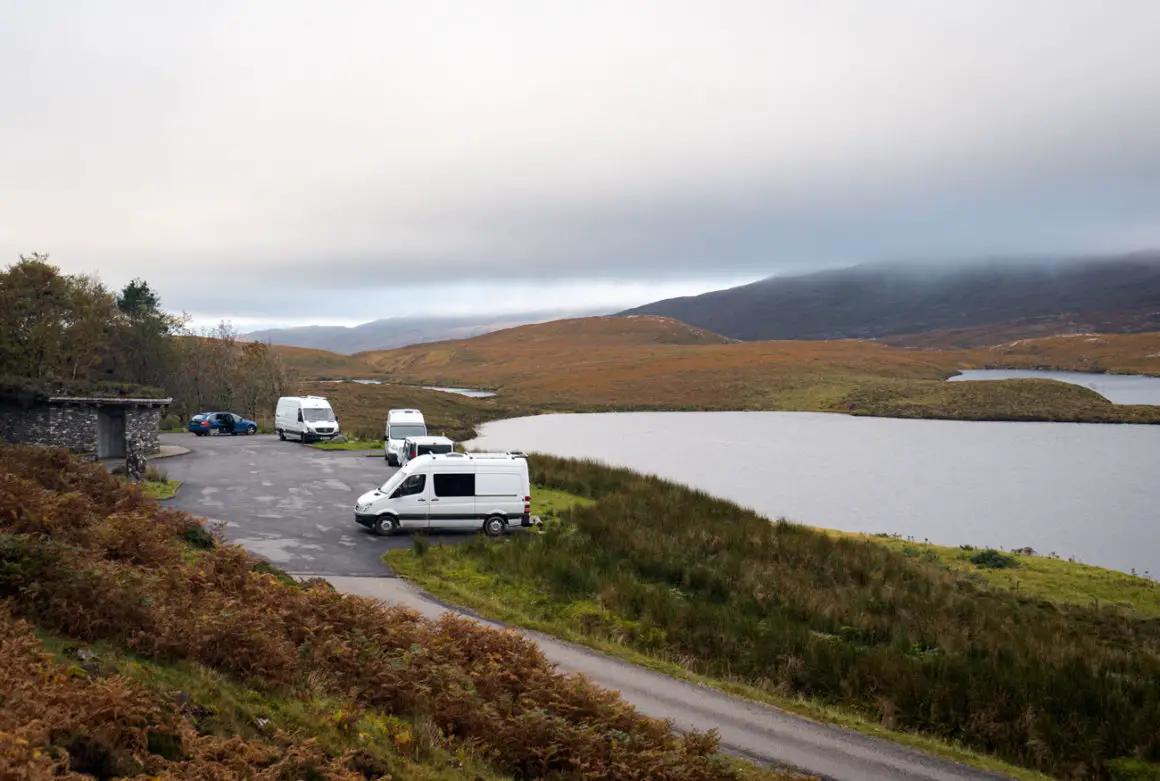 The Knockan Nature Reserve is a 15-minute drive from Allt nan Uamh Car Park. Therefore, if you are visiting the Bones Caves, then this location may be an ideal overnight stop.
Ullapool Layby
Click here for the location on Google Maps
What this layby lacks in views, it gains in nearby amenities. The park-up has no significant facilities other than a couple of bins. However, there is a reliable signal for an internet connection and very easy access to Ullapool for restaurants, the supermarket, chippies, and the Caledonian MacBrayne ferry to the Isle of Lewis.
This NC500 overnight stop could also be handy if you are looking to climb Stac Pollaidh.
Firemore Beach
Click here for the location on Google Maps
The red-hued, sandy beach at Firemore has a small grassy area that is popular with campervans and motorhomes. Although there are no facilities, you will be more than happy with this location's short walk to have the sand and sea between your toes.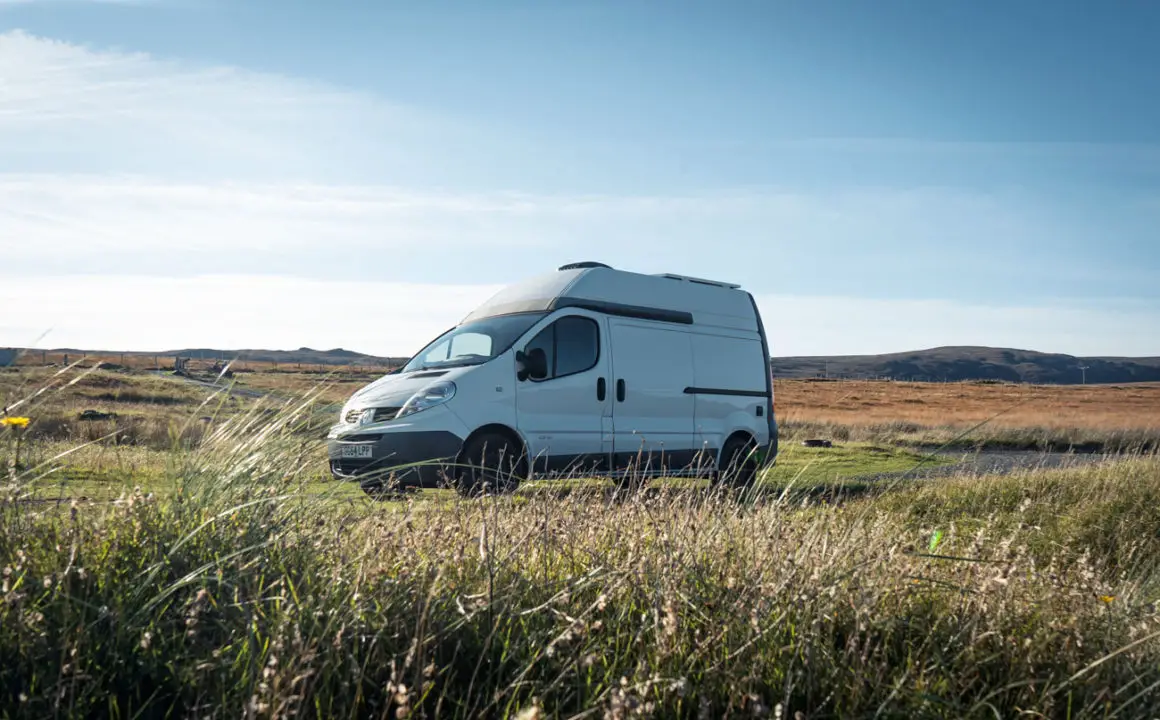 Shieldaig
Click here for the location on Google Maps
Shieldaig is a very picturesque, colourful and quaint fishing village. Unless you are staying at their campsite, it is preferred that motorhomes, caravans and campers stay overnight elsewhere. This park-up is just outside the perimeter of the village. From there, you'll wake up less than a metre away from Loch Shieldaig so don't be surprised if you hear the fisherman working at 5 o'clock in the morning. These fish suppers aren't going to catch themselves!
Loch Maree
Click here for the location on Google Maps
This is just one of the few park-ups available along the banks of Loch Maree. Your eyes will be spoiled at this location with the meeting of majestic mountains and the glistening waters.
---
Don't Forget Your Scottish Survival Kit Essentials!
---
Loch Garry
Click here for the location on Google Maps
Like Loch Maree, there are multiple laybys to park overnight along the edge of Loch Garry. That's if, you spot them on time! The openings of the laybys are quite difficult to make out between the trees. Once you've found your park-up, take a walk down to the loch. You may be closer than you think!
Banavie Locks Car Park
Click here for the location on Google Maps
Although Fort William is not officially on the North Coast 500, many tourists combine their road trip with a visit to the town. This park-up certainly makes the detour more accessible for those who plan to stay overnight. It's located only a few metres away from the popular Neptune's Staircase on the Caledonian Canal. This stopover is also ideal for those considering a visit to the Old Boat of Caol and the Steall Falls Walk through Glen Nevis.
Banavie Locks Car Park is a large parking area with bins, but no bathrooms. It's also within a 1-minute walk to a coffee shop and pub – how convenient!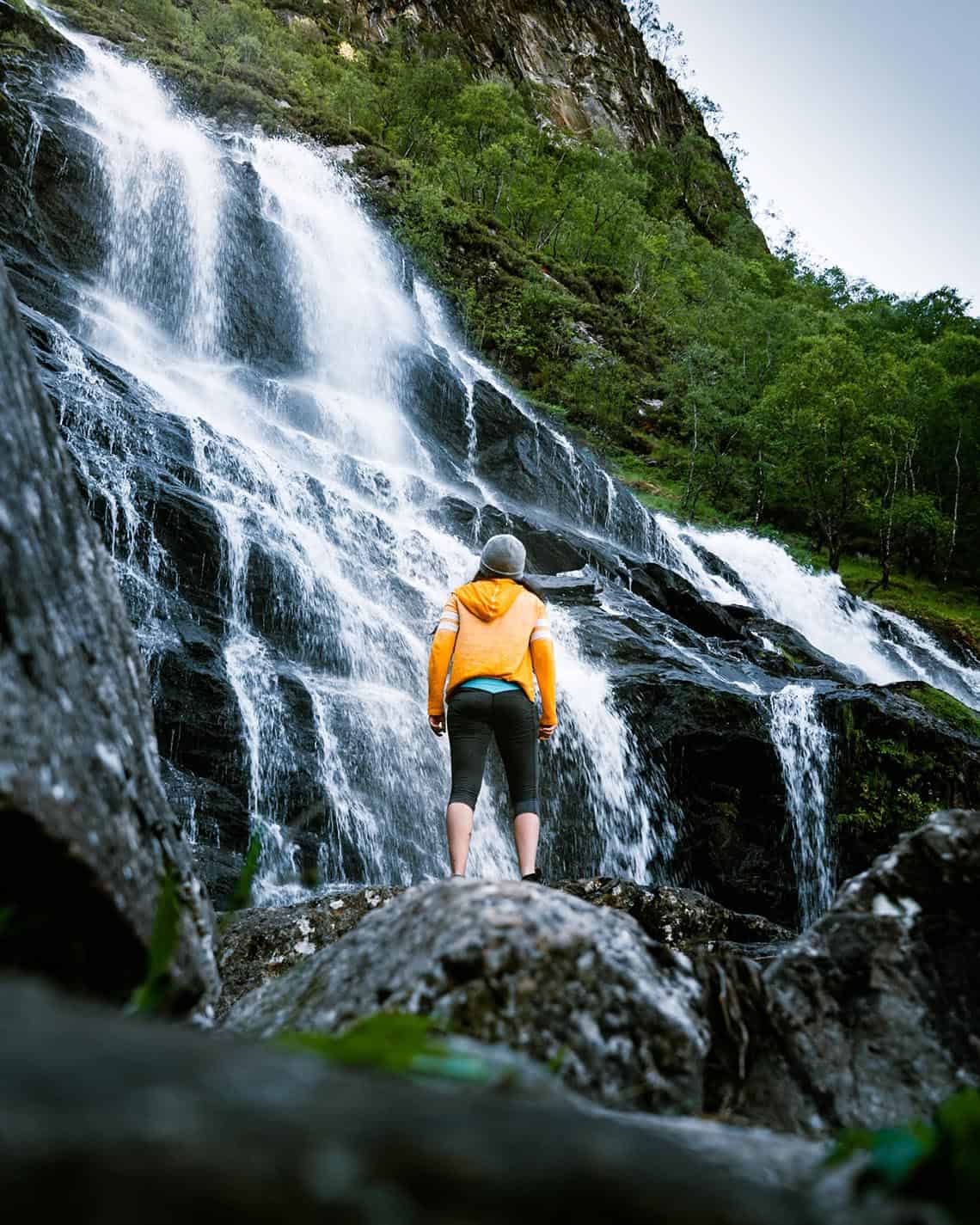 Loch Ness Layby
Click here for the location on Google Maps
Scotland's iconic Loch Ness extends for approximately 37 kilometres southwest of Inverness. My point is, that this is not the only park-up in close proximity to the beautiful banks of the water. It is, however, one of the few that is the closest from Inverness to Loch Ness. If it's busy, there are plenty of others nearby that are just as scenic.
If this article has encouraged you to plan some 'wild' NC500 overnight stops, then please also prepare to discard your waste responsibly. The Campa map below pinpoints many waste disposal points in Scotland for your convenience.
SEE: The Best Locations for a Highland Coo Selfie
Let's go!
@katie.maree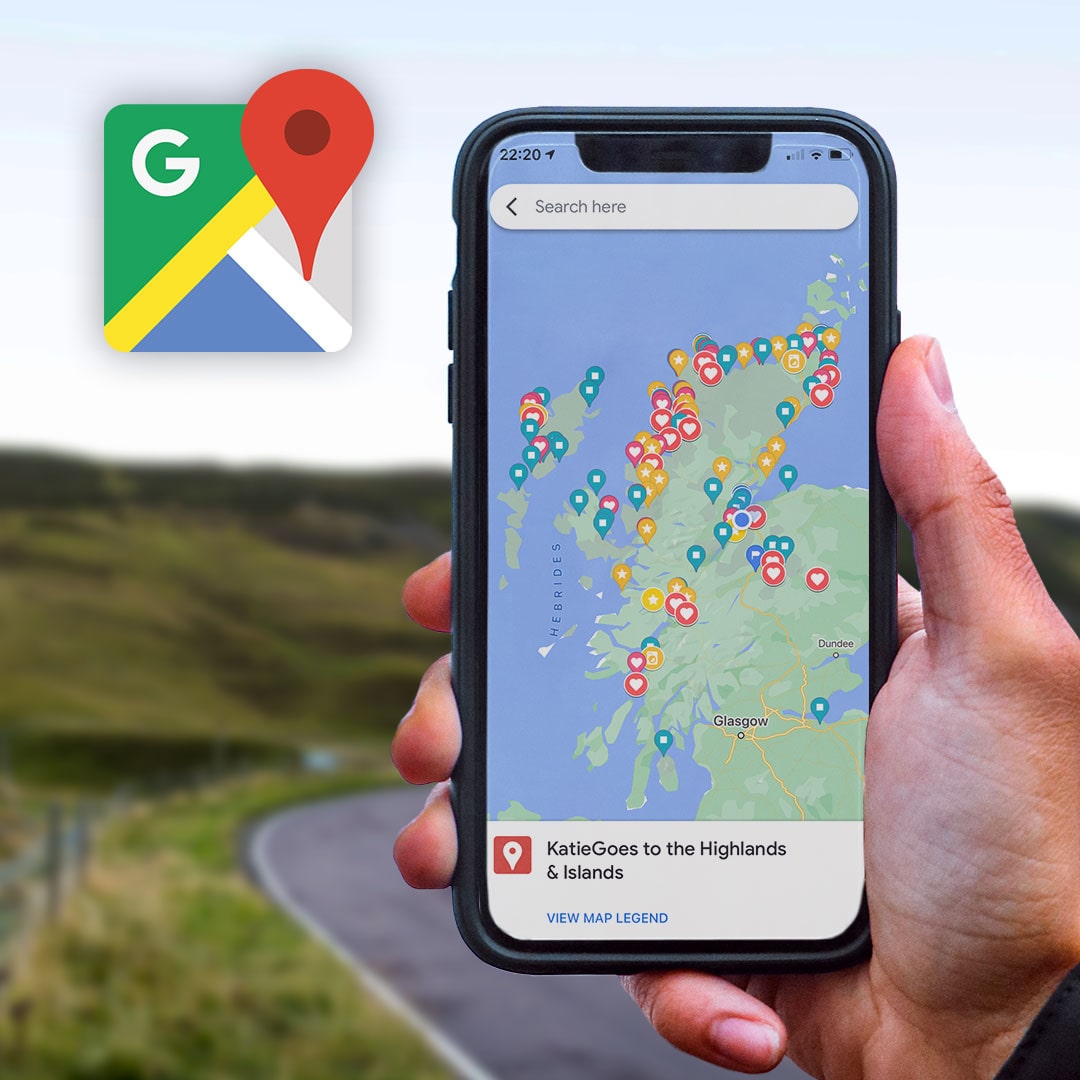 Scottish Highlands Google Map Legend
This Google Map Legend showcases 140+ need-to-know coordinates within our bonnie Scottish Highlands & Islands:
Awesome Wild Camping Park-Ups
Best Walks, Viewpoints, Beaches
Bucket List Locations
Accessible Showers & Fresh Water Taps
Relevant Links to Online Travel Guides
In a rush? Tap a Pin Button to save this blog post for later.