What are the top attractions to visit in Pokhara? This city isn't just a gateway to the world-famous Annapurna Circuit, there are also so many fun, exhilarating and unique things to do in Pokhara too. From the 8000-metre snowtopped mountains to the tranquillity of the emerald lake below, most of those who travel to Nepal will not even contemplate missing out on the fun activities that Pokhara's landscape has to offer.
You'll notice as soon as you arrive that the city attracts two types of travellers; thrill seekers looking for their next mountain adventure, and slow wanderers in need of space to unwind. Which energy will you seek in Pokhara?
Don't have time to read this now? Pin this blog for later.
Unique Things To Do in Pokhara
With so many things to do in Pokhara, the city has often been titled, The Adventure Capital of Nepal. Which will you join? What will you try?
Paraglide with Eagles
Pokhara is world-renowned for paragliding, so passing on any opportunity to fly high would be a mistake! The day of paragliding begins as you are collected from your accommodation. Once you've picked up the equipment too, the driver will transport you to the top of Sarangkot where you'll meet your pilot to prepare for your flight. From there, your only job is to sit back and enjoy the surrounding views of the Himalayas from the sky. You will have approximately 30 minutes of flying time. Fun photos and videos are included too. Click here to watch my flight.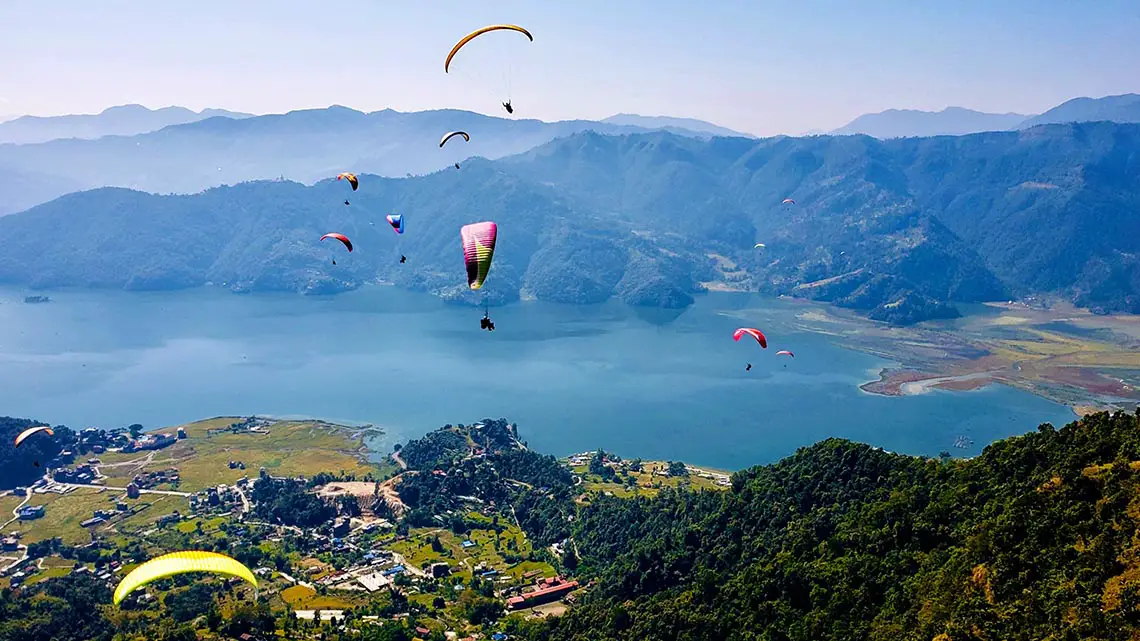 Make a Splash River Rafting
Are you ready to have a run-in with your adrenaline? White Water Rafting is another popular activity in Pokhara, especially along the Kaligandaki River that meanders through the Annapurna region. This 2-day excursion allows the adventure to run through the evening!
Sightsee from a Helicopter
Are you short on enough time to complete the Annapurna Trek? You could skip the multi-day hike by riding a helicopter from Pokhara instead. Admire panoramic aerial views leaving Pokhara, flying past the Himalayas and across Nepal's countryside as you enjoy this unforgettable experience.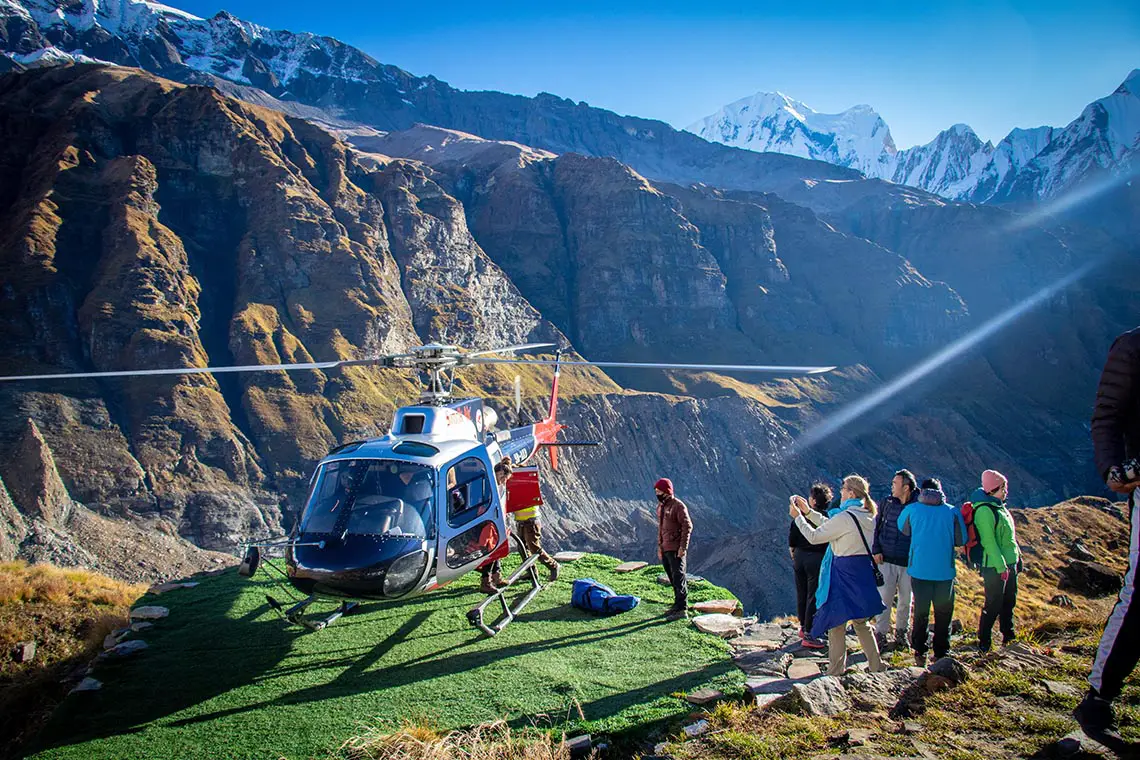 Fly High Along a Zipline
Feel the rush as you whizz across a canyon on one of the steepest ziplines in the world! If you can spare your eyes from the long way down, you could catch a glimpse of the mighty Annapurna mountains as you fly down the 1-mile-long zip wire. For great content and many more laughs, take a friend along with you to ride side-by-side along the dual zipline.
Learn the Local Cuisine
Join a class to learn how to cook Nepal's top two dishes; either Dal Bhat or MoMos. A local will guide you step-by-step to follow a recipe which you can later use to show off at your next dinner party.
Join an ATV Adventure
Take in the stunning scenery around Phewa Lake with the power and thrill of a quad bike. This tour rides along an 11-kilometre-long intermediate trail that rises to over 4500 feet high!
Watch a Panoramic Sunrise
Start the day watching a spectacular sunrise over the mountain skyline. Sarangkot Hill is the best viewpoint to admire the incredible views of the Himalayan Annapurna mountain range from Pokhara. You can also take a peek at the local villages along the way, unless you slide into a tactical nap along the winding route. Don't forget to wrap up warm as you wait for the sunrise to illuminate the sky, you'll want to be there at least 20 minutes before.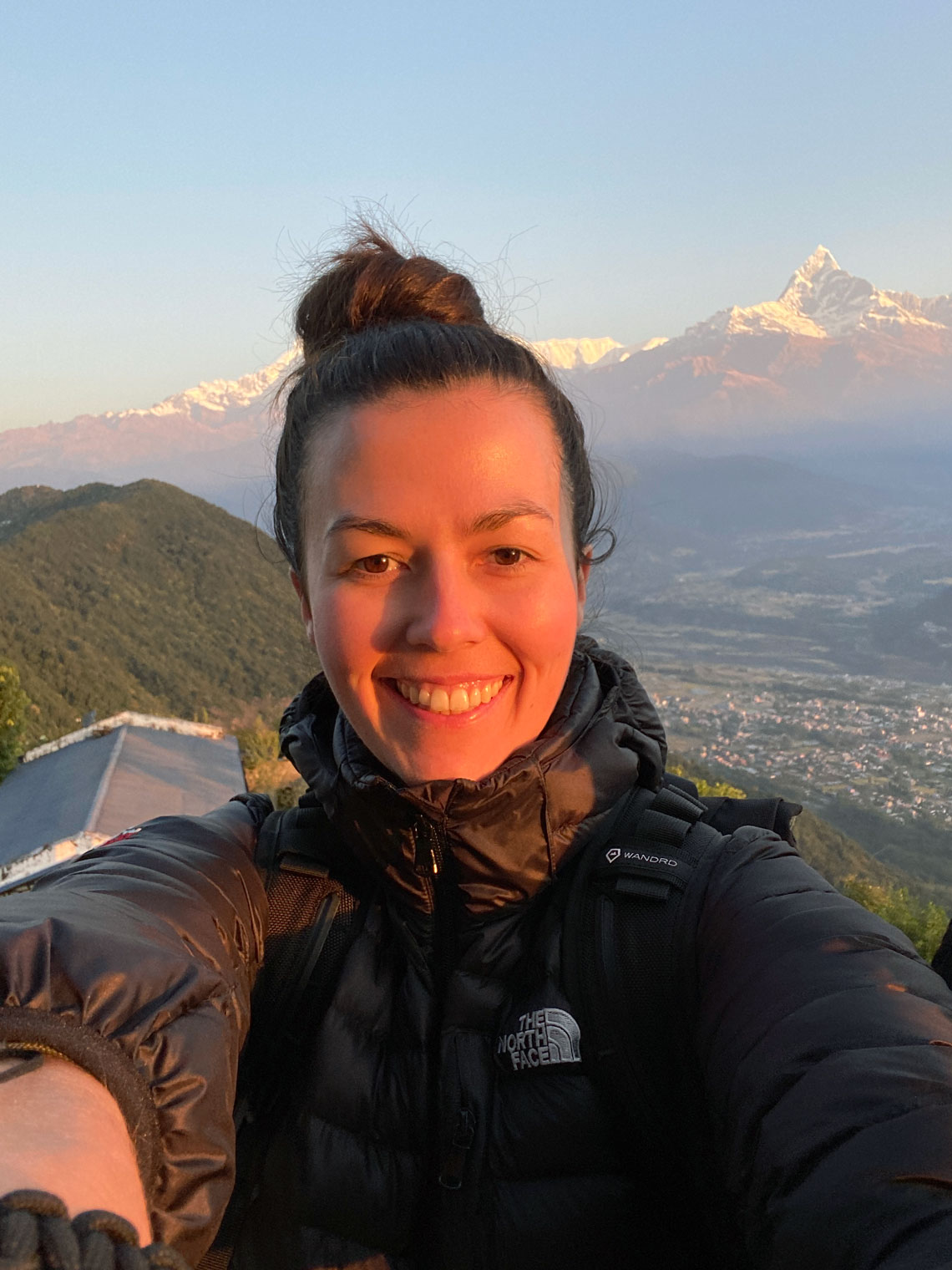 Attend an Outdoor Movie
Have you had enough adrenaline for one day? Take it easy by enjoying one of the greatest things to do in Pokhara at night; watch a movie. Situated on the edge of Phewa Lake, the Movie Garden is like no other cinema you will have experienced before. Classic films are combined with food and drinks, under the glittering stars between the snowcapped peaks of the Himalayas. Cosy up to be entertained any night of the week from 6 pm.
ALSO: 

The 9 Best Cafes to Work in Kathmandu as a Digital Nomad
Tour the Tibetan Settlements
Visit Pokhara's Tibetan village with a local guide to learn more about Nepal's Tibetan community. See monks living their daily life in worship, try Tibetan food and browse handmade crafts.
Embrace a Bungee Jump
Look no further if you are a true thrill seeker! Imagine jumping from a 70-metre platform to freefall for 5 seconds against a backdrop of the mighty Himalayas – I couldn't!
Receive a Nepali-Style Massage
Unwind for a few hours to a soothing Nepali-style massage. You'll be massaged with warm and traditionally Nepalese oil, with access to a steam room and sauna too. In fact, you may have dreamt of this moment throughout your entire trek, so ensure you organise the massage now to avoid disappointment.
Unwind with Sound Healing
Take a break from all of the exhilarating activities with a calm 3-day sound meditation retreat. You'll discover the healing qualities of the Himalayan singing bowls with a small group of like-minded individuals. At the same time, the group will feel nourished with fresh meals consisting of organic produce that will be enjoyed with enlightening mountain views.
If you're curious but you've never tried sound healing before, I'd personally recommend visiting the 'Nirvana Singing Bowls'. The studio hosts free sound healing sessions every day.
Boat Trip in Phewa Lake
Located on the shores of the emerald lake, Pokhara's Lakeside is a beautifully tranquil place to stroll during any moment of the day. You'll notice that one of the most obvious things to do in Pokhara is to take a boat trip around Phewa Lake. As the lake's shore is lined with brightly-coloured rowing boats, you will not be short of any to hop aboard. With a paddle boat (doonga), you could explore the small nearby island that is home to the Tal Barahi Temple. This is Pokhara's most famous Hindu temple.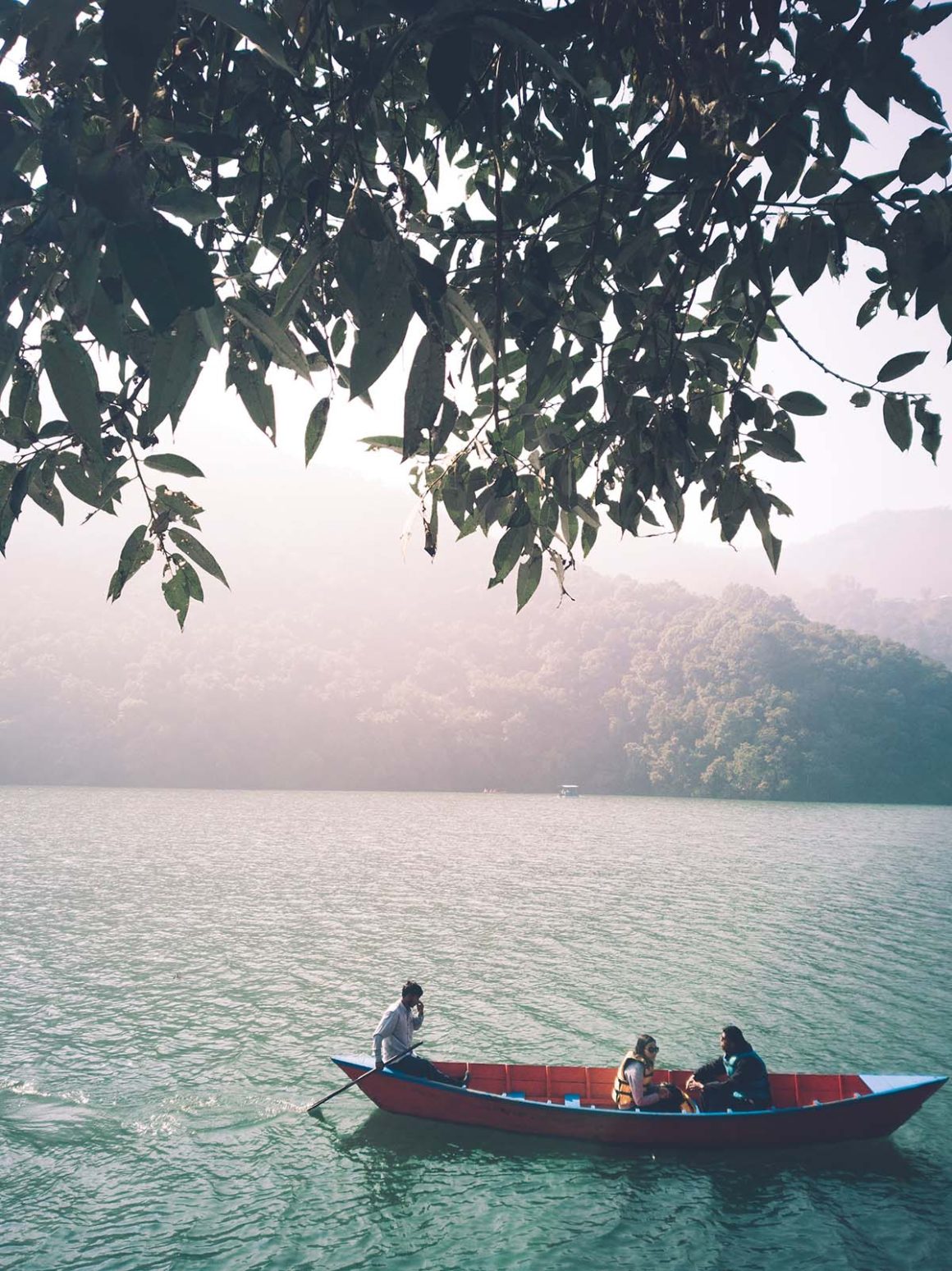 Find Souvenirs at the Shops
The streets along the lakeside are lined with many small locally-run shops. You will not be short of souvenirs, as Pokhara is typically famous for pashmina shawls, singing bowls, beads, jewellery and handicrafts. Although in my experience, it's very easy to be encouraged to stock up on outdoor gear as the products are so much cheaper in Nepal than at home.
RELATED: The COMPLETE Guide to Living in Pokhara as a Digital Nomad
Touch Clouds on an Ultralight Flight
Hop aboard an ultralight aircraft to enjoy an exhilarating flight above Pokhara. The journey will take you past scenic, mountainous views of the Himalayas, near the peak of Fish Tail Mountain and high above Phewa Lake.
Attempt to Roller Blade
Make your way to the Funpark Skating to let your hair down and mix with the locals. Pokhara has multiple skate parks, but the Funpark is conveniently located along the banks of the lake, next to Pokhara Disneyland.
Click here for a location on Google Maps.
Climb to the World Peace Pagoda
The Shanti Stupa, as it's also known, is a symbol of peace in Buddhism. The grand white pagoda is visible from all around Pokhara's Lakeside, so it will be no surprise to learn that the views at the Shanti Stupa are some of the best in town! Although this is one of the greatest free things to do in Pokhara, the only hassle will be finding the transport to the top with a boat ride, taxi or hike. This will be at least a half-day excursion.
Click here for the location on Google Maps.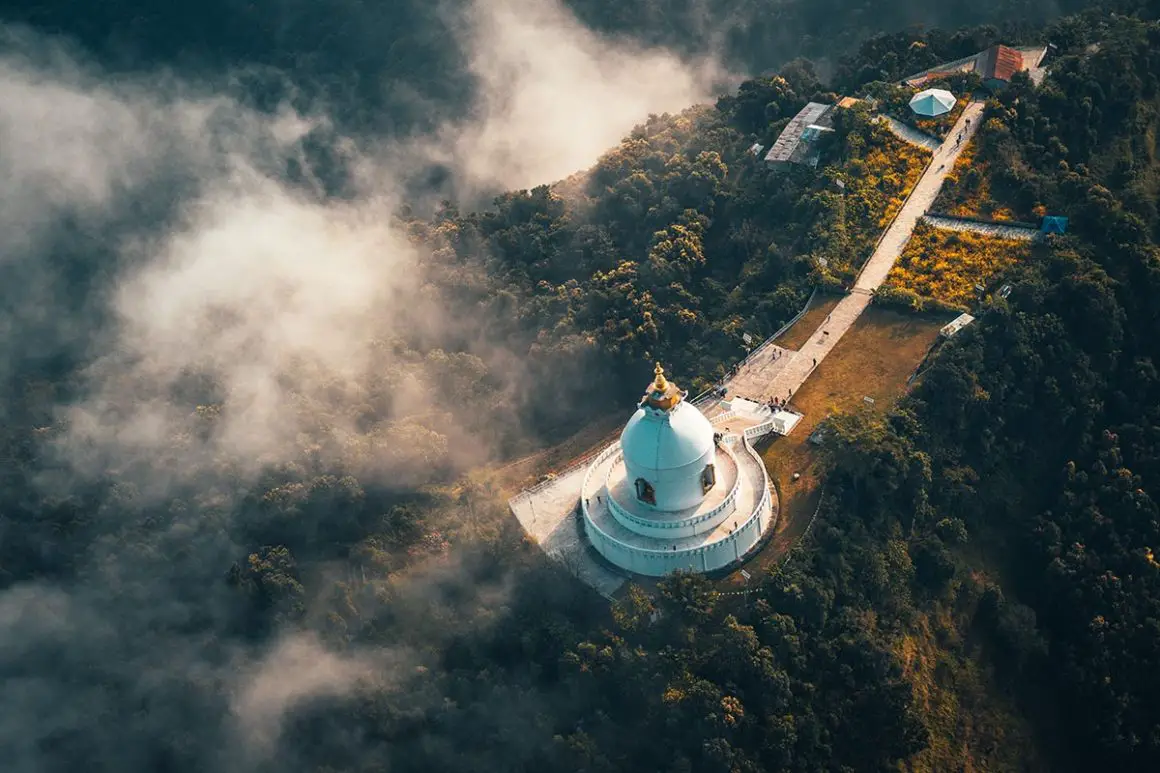 Float in a Hot Air Balloon
You'll often see one hot air balloon floating around Pokhara during sunrise. Book the flight now to make sure you are the person experiencing the beauty from beneath the flame, as opposed to from afar. This is an experience you will never forget!
Book your Trek
All permits, transportation and guides can be easily organised in Pokhara. It's a great base for multiple treks, and for your recovery once you return too.
Annapurna (10 Days)
Follow a trail past terraced rice paddies, rhododendron forests, cultural hamlets and of course, the magnificent 8000m Mount Annapurna (the 10th highest peak in the world).
Mardi Himal (5 Days)
Pass through villages, forests, high alpine and the foothills of Fish Tail Mountain on an easy-to-medium trek difficulty. This trail is often described as a hidden gem of the region.
Poon Hill (3 Days)
Take a 3-day small group tour along one of Nepal's most popular short treks. Acclimatization is not really required on this trail, with there being little danger of altitude sickness.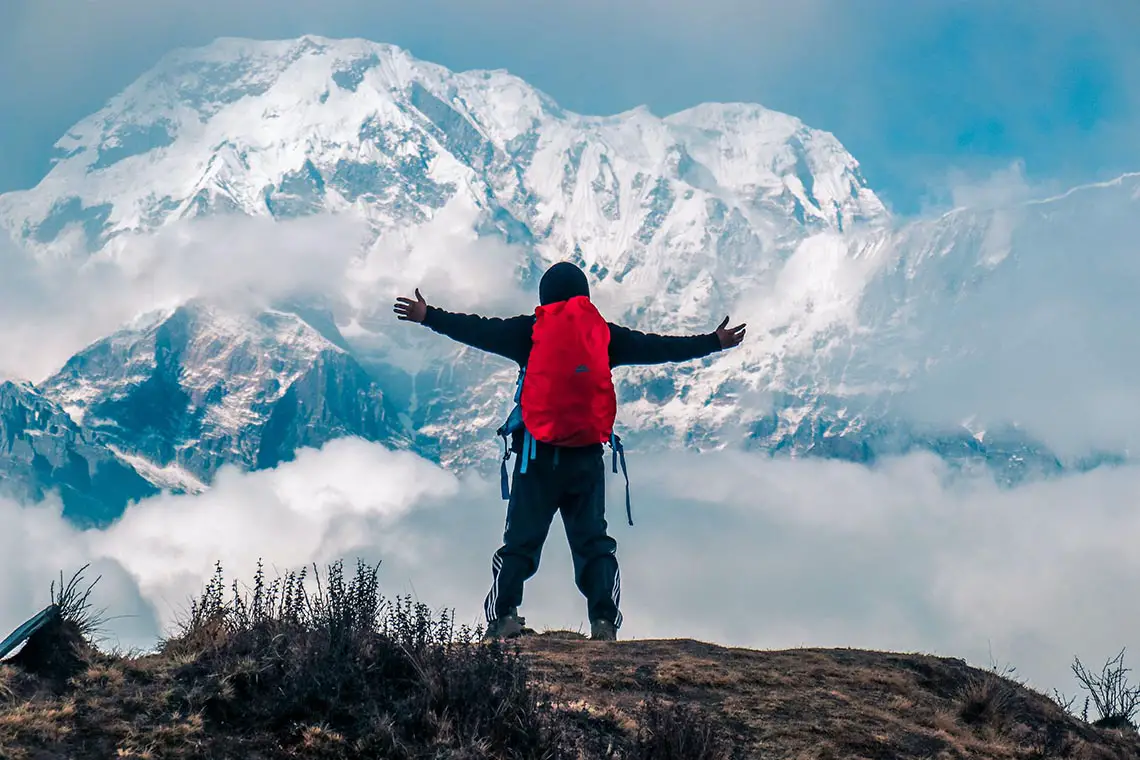 RELATED: 

Kathmandu for Digital Nomads (Everything You Should Know)
Let's go!
@katie.maree
---
Did You Know…
If you purchase through a KatieGoes link, we receive a small amount but you still pay the same. This contribution helps keep this blog moving – win, win! Nevertheless, I only recommend personal favourites…
---
Save this on Pinterest
Caught without any time to read these things to do in Pokhara? Click Pin to save this for later.