Though the harsh Scottish weather may only be for the hardier humans amongst us; Edinburgh can be great for digital nomads and for so many other reasons! The United Kingdom has many interesting and liveable places, but the city of Edinburgh is a manageable size without compensating on the volume of lively energy, diverse culture and the odd bagpipe or two. It's not too overwhelming or busy like London, nor is it as expensive; but it's still the second-largest city in Scotland. Edinburgh is a capital full of historical architecture, charisma and stories to tell – are you ready to be inspired just like J. K. Rowling?
Don't have time to read this now? Pin this blog for later.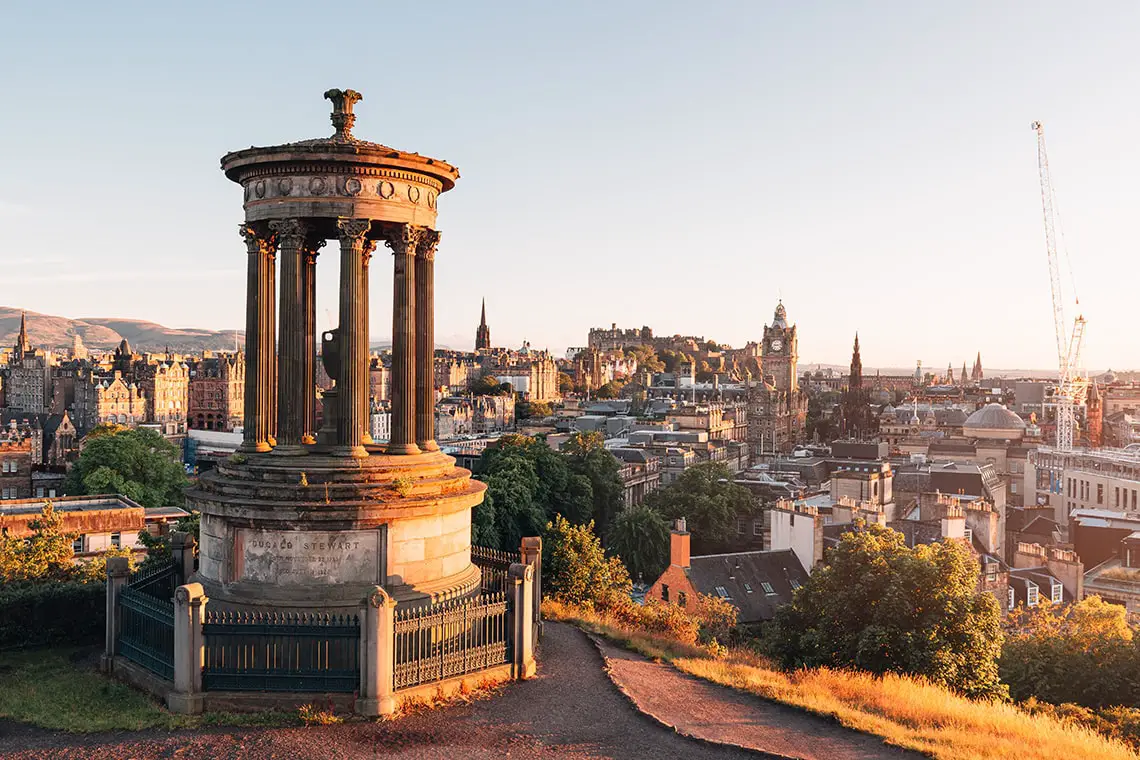 EDINBURGH QUICK REFERENCES
Planning in a hurry? Here are recommendations of Edinburgh for digital nomads at a glance…
Where to stay in Edinburgh: CoDE Pod is a cheaper hostel for working travellers; CoDE Co-Living is a mid-range option for those looking for a like-minded community and Moxy is more fun, quirky and high-end, but perfect for anybody working remotely.
Need insurance suitable for nomads? SafetyWing is travel insurance for nomads, by nomads. If you are unsure how long you'll be travelling for, or you haven't committed to any destination just yet, SafetyWing is convenient, flexible and simple.
Not sure how to see the Scottish Highlands? Take a guided tour of Loch Ness and Glencoe, watch the Harry Potter train pass Glenfinnan or read this guide to the best Highland Tours from Edinburgh for many more.
Best SIM card: Check out Airalo for either a local, regional or global eSIM. Airalo is the world's first eSIM supplier, so you can purchase the most suitable prepaid data plan before you've even arrived.
---
How is Edinburgh for Digital Nomads?
In my opinion, Edinburgh is one of the best UK cities for digital nomads, especially now that it has an abundance of coworking offices and a dedicated co-living space.
However, I may be biased – what do you think?
Edinburgh is a captivating, prosperous, colourful and happening city through many mediums of culture, art, sport and technology. Personally, I look back fondly on the four years that I lived whilst studying in Edinburgh. In retrospect, I notice how the energy of the city emboldened my life to be shaped into the ambitious-freelancing-entrepreneur-traveller that I am today. After all, even when I return to Edinburgh as a digital nomad year after year, I can still appreciate the charm throughout every nook and cranny of the city and its cobblestone streets. It's inspiring!
DID YOU KNOW: The Elephant House is where J. K. Rowling wrote Harry Potter.
On top of that, as a result of Edinburgh's many universities, the entire capital city has an overall youthful personality. From the upmarket bars on George Street to the more traditional 'watering holes' in the Grassmarket; the pub culture, beer gardens and clubbing scene in Edinburgh will ensure that you are never short of a new place to shake off the work week.
Language
The official language of Scotland is English. However, you might find that this will sound a little different from place to place if you travel any further out of the city – I'm Scottish and I can even appreciate the struggle to understand the accent sometimes!
Money
The currency in Scotland is the Pound Sterling (£); otherwise abbreviated as GBP.
Credit cards and contactless payments are widely accepted. In fact, overall the local population is typically cashless.
The United Kingdom does not have a strict tipping culture. While a tip is never compulsory, it can often be expected when personal service is being given unless there was a problem. In fine dining restaurants, local residents typical leave a percentage of the bill in cash. Whereas in the more casual establishments, most people simply just round up the final total with whatever spare change they have to hand.
Safety
Edinburgh is a very safe city for tourists; incidents happening against tourists are extremely rare. From my experience, if I were to advise anything as a local, I'd recommend avoiding Princes Street, Lothian Road and the Grassmarket during the late evening and early hours of the morning as these streets tend to accommodate many drunks leaving the pubs and clubs.
Transport
Many of Edinburgh's top attractions are concentrated in the city centre. This is particularly the case around the Royal Mile, Princes Street, Holyrood and Grassmarket. Although, where you might need to travel a little further afield, the public transport is extremely frequent and fairly simple to understand.
🚌 Bus – Edinburgh's network of buses runs 24 hours a day. A single journey will cost 1.80 GBP (2.20 USD), whilst DAYtickets are 4.50 GBP (5.40 USD) which can be used on both buses and trams. Although you should note that this isn't the case for night buses or the Airlink to Edinburgh Airport. Tickets can be purchased by contactless payments or with the exact change on the bus. Download the 'Transport for Edinburgh' app for more information, or to purchase tickets in advance.
🚋 Tram – The tram line has fifteen stations and runs from the airport, through the centre, to the north coast of the city. This is of less interest to the tourists, and more so for commuters. The ticket prices are the same as the bus services.
🚕 Taxis – You'll notice that Edinburgh has the same 'Black Cabs' as London. These can take up to five passengers inside. On the other hand, ride-hailing apps such as Uber, Bolt and Free Now will be much cheaper.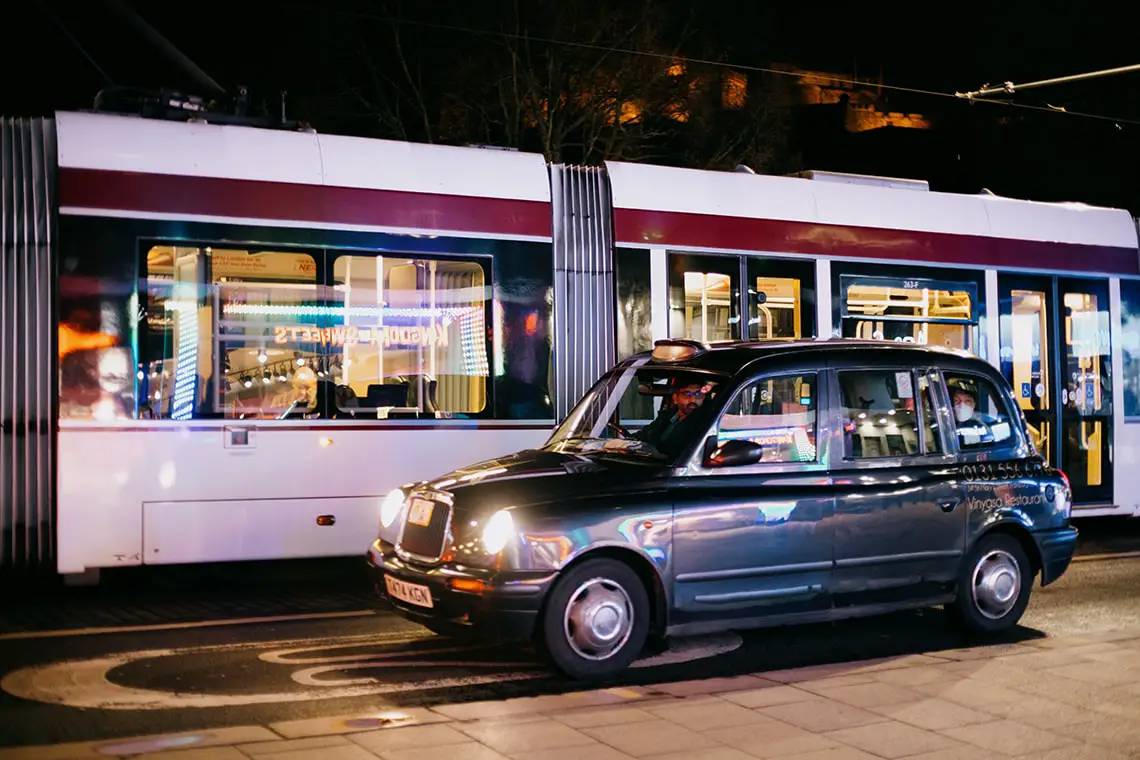 TIP: Scotland's tap water is not only safe to drink, but some of the most fresh in the world, so why not use a refillable bottle to prevent the overuse of plastic.
Connectivity
The city of Edinburgh's internet connections are stable and speedy; they are more than adequate for working online.
Wifi Speeds – According to Ookla's SpeedTest, the United Kingdom has an average download speed of 46.88 Mbps.
Data Plans – The advantage to many British Prepaid SIM cards is that they'll also work in many other European countries. SIM cards can be purchased in major airports (albeit at a higher price point), through network provider retail shops or even in local convenience stores. However, for your convenience, I'd recommend ordering a SIM card online before you're due to depart for the UK. Three, GiffGaff, EE, Smarty, or Voxi are amongst the favourites. In my experience (which you can read about here), I've found GiffGaff to be the simplest to use but EE to have the best signal strength in the most remote parts of Scotland. As a point of reference, I tend to buy 12GB for 10 GBP (12 USD) from GiffGaff when I return home to Scotland.
If convenience is your ultimate goal, check out Airalo for either a local, regional or global eSIM. Airalo is the world's first eSIM supplier. You can purchase the most suitable prepaid data plan without visiting any shop or swapping physical sim cards. This is the technology we digital nomads have been waiting for!
DID YOU KNOW: Scotland has it's own pyramid!.. Find out where, here.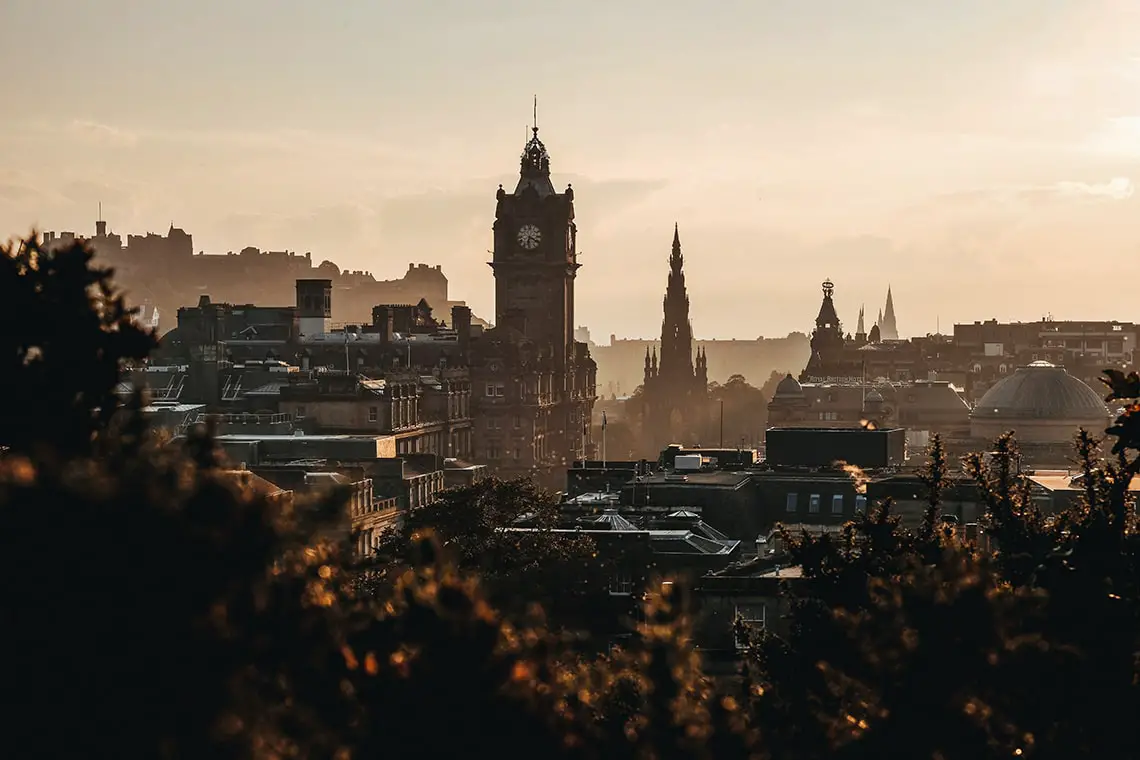 Know Before You Go
Don't be caught out by the things you should have known before you travel to Edinburgh!
Best Time to Visit Edinburgh
The better time to visit Edinburgh depends on what atmosphere, event or vibe you're looking to experience.
January to March – Personally I'd recommend avoiding the winter months altogether as the general mood can be flat with much greyer weather. It can snow in the winter, but it doesn't tend to last in Edinburgh.
April to May – These months of Spring can be 'touch and go'; you may be unlucky and experience the last of the year's snow or lucky to be present during one of our few days of 'taps aff' ('tops off') weather.
June to July – Summer is by far the busiest period to travel to Edinburgh, though visitors will be blessed with longer days as the sun can be around from 04:30 am to 10:00 pm.
August – This will be the craziest month of the year, every year! A great proportion of the world's population travels to Edinburgh in August to experience the Edinburgh Fringe Festival. Therefore, every street corner, beer garden, restaurant and theatre will be crowded with shows, events and gatherings. Edinburgh is lively and entertaining during this time, but it's expensive and the crowds aren't for everyone. If you plan to stay in August, you must book your accommodation well in advance.
September to November – The school holidays finish in August so the months following tend to be quieter as a result. Autumnal colours also spread throughout the city which presents a whole new feel to the place, especially during the darker nights.
December – The dark days are brightened up by streets of festive lights, seasonal decorations and late-night Christmas shoppers during December. You might also prefer to be around for Edinburgh's world-famous Hogmanay Street Party on New Year's Eve, but again, book your accommodation well in advance!
Are you interested in exploring the rest of Scotland too? Find out the cheapest, sunniest and driest time to visit in the detailed month-by-month breakdown.
READ: London for Digital Nomads (The City Guide)
Travelling from the Airport
As soon as you exit Edinburgh Airport's Arrivals Hall, you will be greeted by the many different transport options (as well as the fresh Scottish breeze!). The airport is approximately 8 miles from the city centre, so there are a few modes of transport to choose from.
On the other hand, Edinburgh Airport entertains many late flight arrivals. The Moxy Edinburgh Airport is a very short walk away for visitors that may be in Edinburgh for a layover, or those wishing to 'hit the hay' as soon as they arrive.
🚌 Bus – Operating 24 hours a day, the Airlink 100 Express Bus is the most direct bus route to Edinburgh City Centre. This service stops at Princes Street and Haymarket, but terminates at Waverley Bridge. This is close to the Royal Mile and Waverley Train Station. A ticket fare for this journey will cost £4.50 for a single, or £7.50 for an open return. This can be purchased on the bus with cash or a card.
🚋 Tram – This is one of the easiest ways to travel into the city. Modern trams link Edinburgh's Airport to the city centre from 6:15 am to 10:48 pm. You can catch a tram every seven minutes between 7 am and 7 pm. The journey to the city centre will be 35 minutes. This will cost 6.50 GBP (7.80 USD) for a single, or 9 GBP (10.80 USD) for a return. You can purchase a ticket from the ticket machine on the platform, or online using the 'Transport for Edinburgh' mobile app. Make sure to buy a ticket before you board the tram. The most recent ticket prices can be found here.
🚕 Taxi – It takes approximately 30-minutes to drive between Edinburgh Airport and the city centre. This ride will cost, roughly, £20 in a 'Black Cab' but ride-hailing apps also operate in the area.
🚙 Transfer – Eradicate the stress, hassle and worry of unlicensed drivers (especially for solo female travellers) by pre-arranging an airport transfer with Welcome Pickups.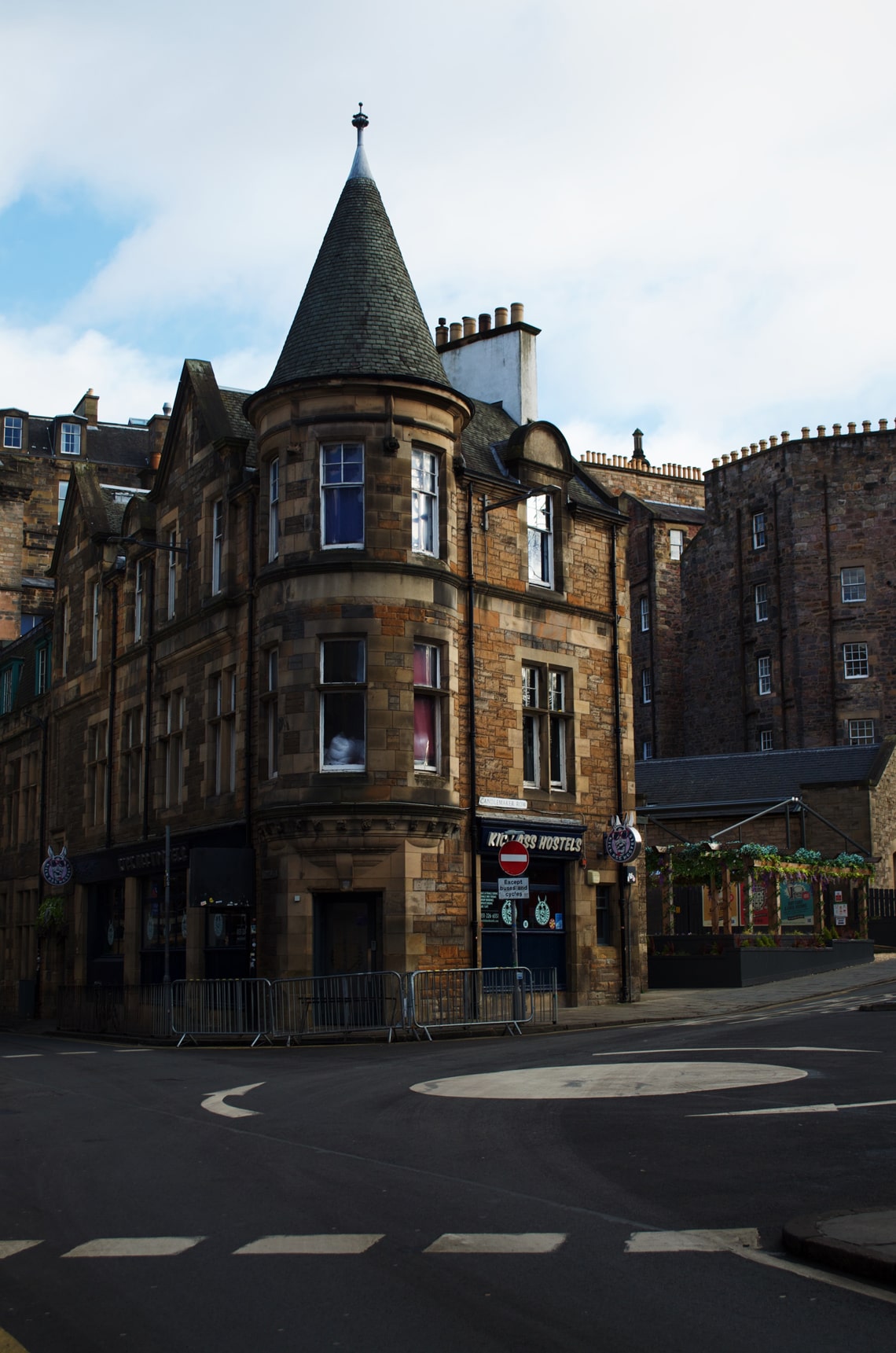 READ: A Highlander's Guide to Scotland's Most Famous Road Trip (The North Coast 500)
Bonus: Edinburgh Recommendations
Working Remotely from Edinburgh
There are plenty of places to open your laptop in the City of Edinburgh. However, if you happen to find yourself struggling to find any, hop into the nearest Starbucks, Costa or Caffè Nero. These popular multinational coffee shop chains may often be a little more crowded, but you can almost guarantee a plug socket and a solid internet connection.
Suggested Coworking Spaces –
Best Things To Do & Guided Tours
Working Out in Edinburgh for Digital Nomads
Workout without a fixed contract or membership at any of the seven PureGym establishments in Edinburgh. They will allow you to sign-up online and cancel or freeze your membership at any point. The monthly cost ranges from 15 to 25 GBP (18 to 30 USD), depending on the gym's location.
SEE: The Best Places to Visit in Scotland
Digital Nomad Places to Stay in Edinburgh
Accommodation in Edinburgh for digital nomads isn't known to be cheap, but it's affordable. Although this is dependent on the time of year; the Edinburgh Fringe Festival, Christmas Markets and Hogmanay Street Party can all cause the price points to increase dramatically.
To find long-term accommodation have a look at Gumtree, SpareRoom or the Edinburgh to Let, Housing, Room & Flat Share Facebook page. If nothing else, these listings will provide you with an insight into what is currently available and at what cost.
Airbnb is the most convenient source to find a place to stay in Edinburgh for digital nomads, particularly if you are staying for periods longer than a few days but less than a couple of months.
Below are a few recommendations for short-term stays…
Budget:
Have you ever considered sleeping in a prison cell? CoDE Pod is a converted court building. They offer luxury stays in clean, private and well-equipped pod beds or private rooms. This hostel is a particular favourite of mine.
Mid-Range:
Tucked away in the city centre is the CoDE Co-Living. With discounts on long-term rates, this would be a great cost-effective option. It's also more likely to yield a community of like-minded travellers to meet and live alongside.
High-End:
Moxy is the choice of accommodation for the fun and quirky. Take a look at their decor, you'll be drawn in right away by their colour and charisma! Not to mention – there's a fitness centre and rooftop bar!
Luxurious:
You may even be able to fall asleep with the sight of Edinburgh Castle at Hilton's Doubletree by Edinburgh City Centre. From the Egyptian cotton bedding to the award-winning brasserie, you'll be taken care of here!
Alternatively, you could have a whole apartment or house to yourself! Why not stay in wonderful homes by house-sitting and caring for adorable pets? This experience would not be for everyone but you could find yourself in free accommodation, whilst you live a more authentic lifestyle in the local area, by joining Trusted Housesitters.
READ: The Coliving Spaces that Digital Nomads Should Know About
Where To Go After Edinburgh?
Glasgow – Scotland's largest city is only a 1-hour drive away so it would be rude not to! Check out the Glasgow Guide for more information.
London – If you haven't been before, some time in London is worth the expense; but if you are on a budget, check out these hidden gems for free!
Wroclaw – Direct flights operate at least twice weekly between Edinburgh Airport and Wroclaw.
Gdansk – It can often be super cheap to fly directly between Gdansk and Edinburgh. Who's to argue with that?
Tallinn – Direct flights operate at least twice weekly between Edinburgh Airport and the beautiful capital city in Estonia. Tallinn is another great destination for digital nomads.
CHECK: Digital nomad guides for Dubai, Belize, Sri Lanka, Guatemala, Morocco, Montenegro, Croatia and Albania.
Let's go!
@katie.maree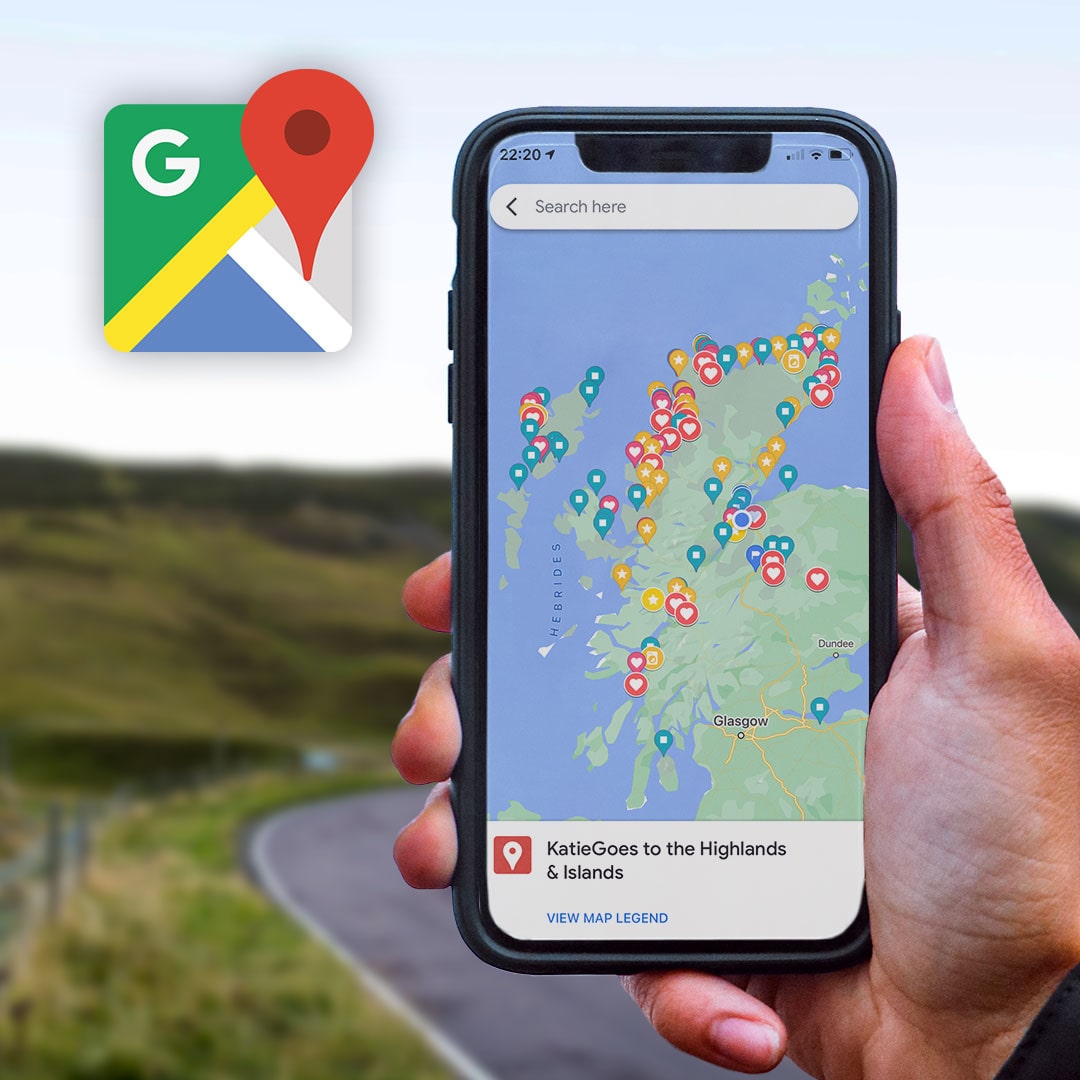 Scottish Highlands Google Map Legend
This Google Map Legend showcases 140+ need-to-know coordinates within our bonnie Scottish Highlands & Islands:
Awesome Wild Camping Park-Ups
Best Walks, Viewpoints, Beaches
Bucket List Locations
Accessible Showers & Fresh Water Taps
Relevant Links to Online Travel Guides
---
Did You Know…
If you purchase through a KatieGoes link, we receive a small amount but you still pay the same. This contribution helps keep this blog moving – win, win! Nevertheless, I only recommend personal favourites…
---
Save this on Pinterest
Do you not have time to read this travel guide about Edinburgh for digital nomads? Click on the Save button to pin this article for later.