Are you about to kickstart your much-anticipated van conversion? You may think you have all the tools, but what about those that you never knew you needed? This wishlist of van conversion tools includes all that I personally, wish someone had told me existed. Once you purchase any of the below, you'll be left wondering how anyone can complete a van conversion without one. They are certainly not essential, but why not make your van build easier with the right tools?
This probably goes without saying but…
This article was written under the assumption that you have a basic tool kit already. I trust that you already have tools such as a drill, tape measure, a socket set, caulk gun, set square, screwdrivers… And of course, a jigsaw!
The Van Conversion Tools Wishlist
If you would like to support Katie Goes at no extra cost to you, purchasing goods from the Amazon affiliate links below allows me to receive a small commission. These monetary contributions help to fund each fuel refill, breakdown, vehicle service and ferry ride so that I can keep creating useful guides for van lifers, and those thinking about building a van conversion.
Marker
Have you ever wondered how you mark a point on a surface through a pilot hole? That very scenario is what these markers are made for! These pens have a long, thin neck that can access difficult-to-reach places. You'll also be hard-pushed to find a surface that these markers do not work on. This is one tool that you are going to want in your pocket during the entire van build process!
Multi-Tool
Personally, I had never even heard of a multi-tool before building out my van. Now, I struggle to comprehend how some would complete their conversion without one! Multi-tools are great for cutting small openings in materials or cutting excess wood once it's already in place. One example of this would be cut-outs for sockets and light switches. They can also be used to sand in confined spaces.
Multi-tools can make one heck of an annoying noise for your neighbours!.. But… They are totally worth the space in your toolbox!
Rechargeable Head Torch
If you have managed to escape having a head torch during your van build; you most certainly won't once you begin enjoying van life. So, you might as well own one from the beginning!
There will undoubtedly be many a time when you are forced to work in confined spaces, especially during the early stages where you might not have managed to wire in your lights yet. You may even need some extra light whilst you are beneath the van. Either way, a head torch is going to be a hundred times easier than holding your phone's torch in the right direction!
Contour Gauge
Absolutely nothing in a van is straight! This is a huge pain point during a van conversion. Make your life easier by buying a contour gauge. These devices enable you to capture the shape of curves which can then be replicated on other materials. It's super easy to use, and fairly inexpensive.
Sikaflex
As far as van conversion tools go, this is the most important! Sikaflex is every van builder's enemy and, beloved best friend at the same time! I guarantee that you will require at least a full tube of Sikaflex at some point within your van conversion.
Sikaflex is a multi-purpose adhesive sealant that's flexible with high elasticity. This means the product is capable of withstanding the movements and vibrations of a moving vehicle. Sikaflex is also suitable for both interior and exterior use. The type that you purchase will depend on the stage of the van build. Personally, I used…
Sikaflex EBT+ to secure my flooring batons, fill any holes in the floor, seal the side trims and adhere to other materials together with or without the addition of screws to avoid any unwanted squeaks.
Sikaflex 522 to seal the vent and the solar panel brackets on the roof.
It may be obvious to some, but pay attention to the colour of the plastic top as you pick up your Sikaflex in the store. You will want to choose a shade of Sikaflex that is similar to your van, whether it be black, white or sometimes grey.
ALSO: 

How Long Does It Take To Do A Van Conversion?
Kreg Jig Kit
A pocket hole is simple, but a fast and strong method of joining wood together. A Pocket Jig will allow you to drill these holes into the wood at an angle. The holes will then guide your self-tapping screw into the second piece of wood. This will give you a professional and neat finish where the head of the screw is buried within the wood.
There are many cheap alternatives that are similar to the original pocket jig that is made by Kreg. Although these do create a similar outcome; they are by no means of the same quality. In my experience, I started the van conversion with a cheaper pocket hole jig. I did so, because it was of my understanding that I would definitely need pocket holes but, I thought the cheaper knock-off version would suit my needs just fine. With very little DIY experience, this knock-off product did the job.
It wasn't until I started to consider a more professional finish on my cabinetry, that I thought I would invest in the official Kreg Jig Kit. Still, there are larger Kreg Pocket Hole Sets that you may find helpful, but this set has everything you'll need as a beginner.
The Kreg Jig Kit has made its way onto this list of van conversion tools because I wish that I had purchased the better quality jig to begin with. It's much more simple to use, especially for someone with zero cabinet-building experience. Also, the Kreg Jig ensures that your finish will be of a higher standard.
90 Degree Spring Clamps
During the woodworking stage of any van build, it is likely that you will find yourself thinking, "if only I had three hands". Whilst you piece together wooden frames and try to secure them at the perfect 90-degree angle, it can become very fiddly, very quickly. There are many variations of tools that can hold the timber at the perfect angle, but in my experience, this particular set of four clamps was the most useful.
Hole Saw Kit
Throughout the van build, for various appliances, you will need to add different-sized holes to both the timber and metal of your van. You could use drill bits but, a Hole Saw will allow you to create a bigger and more perfect hole. Some examples of the scenarios you would use a hole saw in a van conversion would be:
…when you install a diesel heater.
…to run cables through structures.
…to create holes for ventilation
…when mounting your electrical components
…to set up your plumbing system
…to cut holes in the cladding for your recessed LED lights
…when fitting a tap and soap dispenser into your worktop
You could just buy the specific hole sizes individually as you go along, but this may potentially delay your build or increase the cost of your conversion.
Planer
When you skim a planer across the top of wood surfaces, it removes thin layers until the desired finish has been accomplished. These are particularly useful if your pieces of wood are literally a hair's width too thick or long. Instead of settling for a blade's width with a chop or bench saw, planers are more simple and more controlled. They don't have to be expensive or fancy either!
Protractor
Unless you are converting a Luton van, working with weird curves and angles is inescapable in vans. Instead of guessing and cutting yourself many trials and errors, why not invest in an inexpensive protractor instead?
Quick Grip Clamps
Clamps are convenient if you are doing a solo van conversion! After all… You only have two hands! In my opinion, you can never have too many clamps! There will be many moments where you'll be using all that you own, and you'll still wish you had more. Smaller quick grip clamps are just as handy as the larger versions. Have a selection of both; this will have you in good stead.
CHECK: 

The Best Van Life Internet Setup
Multimeter
Multimeters measure current, voltage, and resistance. So basically, if you want to know whether a cable is live or not, you will need at least an inexpensive multimeter. Additionally, if you are building your own electrical system, then a multimeter will be vital during the setup. Without knowing how much power is running through your system, it will be difficult to know whether it's working correctly and efficiently.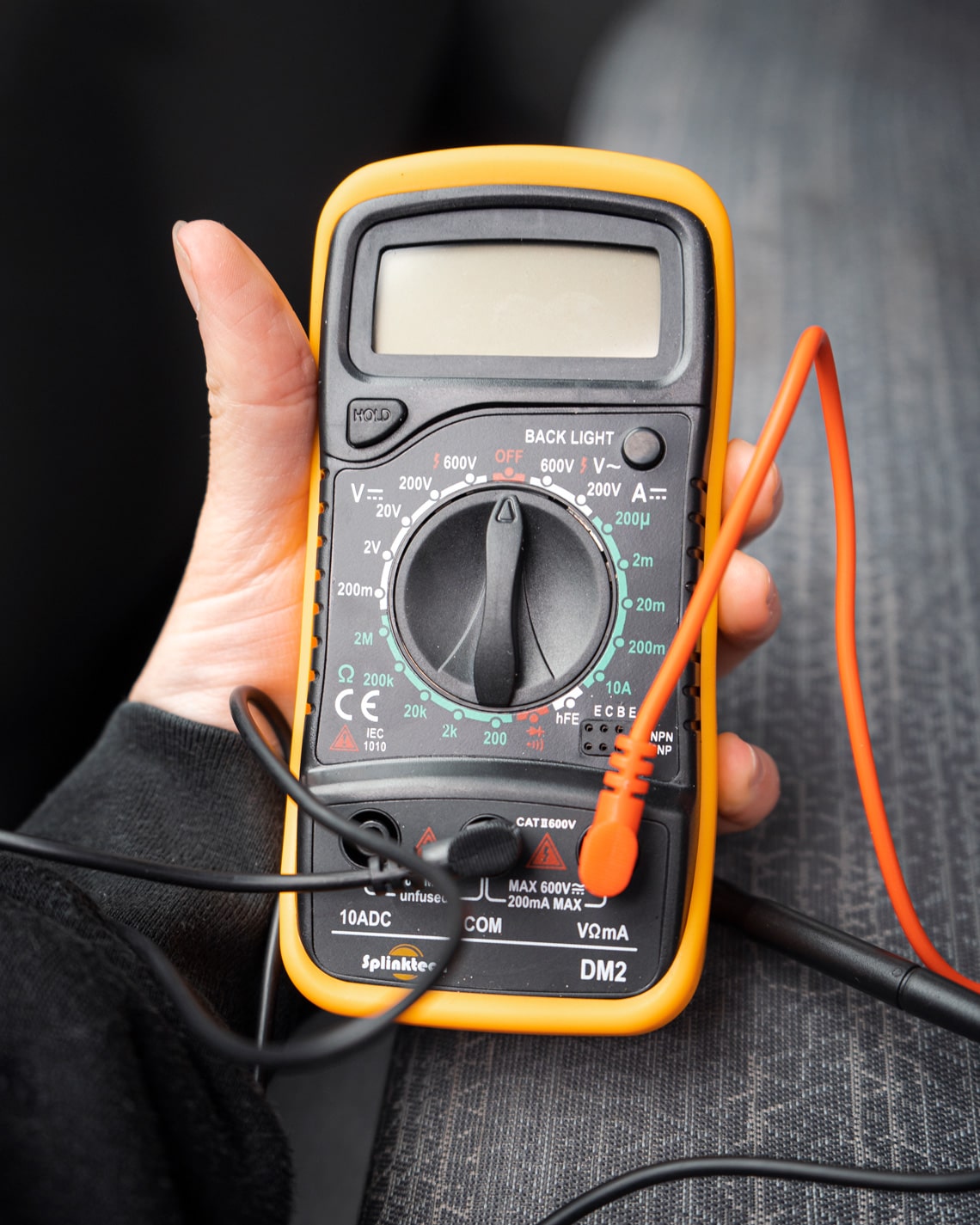 Plumbing Diagram
Save valuable hours of research with this ready-planned, basic van conversion plumbing diagram. It's as simple to construct as it is to find the parts online. Each component on the diagram has a direct link to the product page so you don't need to waste time shopping for the correct parts.
This plumbing diagram is digital and printable, so you can keep a copy on your phone to check at the hardware store, or print it out for when you piece the parts together in your campervan.
Brad Nail Gun
Though a nail gun is by all means, not essential; it will certainly contribute to your time efficiency.
I felt the need to purchase a nail gun when I was installing my pine cladding. The nail gun then saved me even more time on my cabinetry. With the price of a few of them being so cheap, it felt like money well spent. I'd maybe even say that this tool was a game-changer!
Please feel free to share your tool suggestions in the comment section below…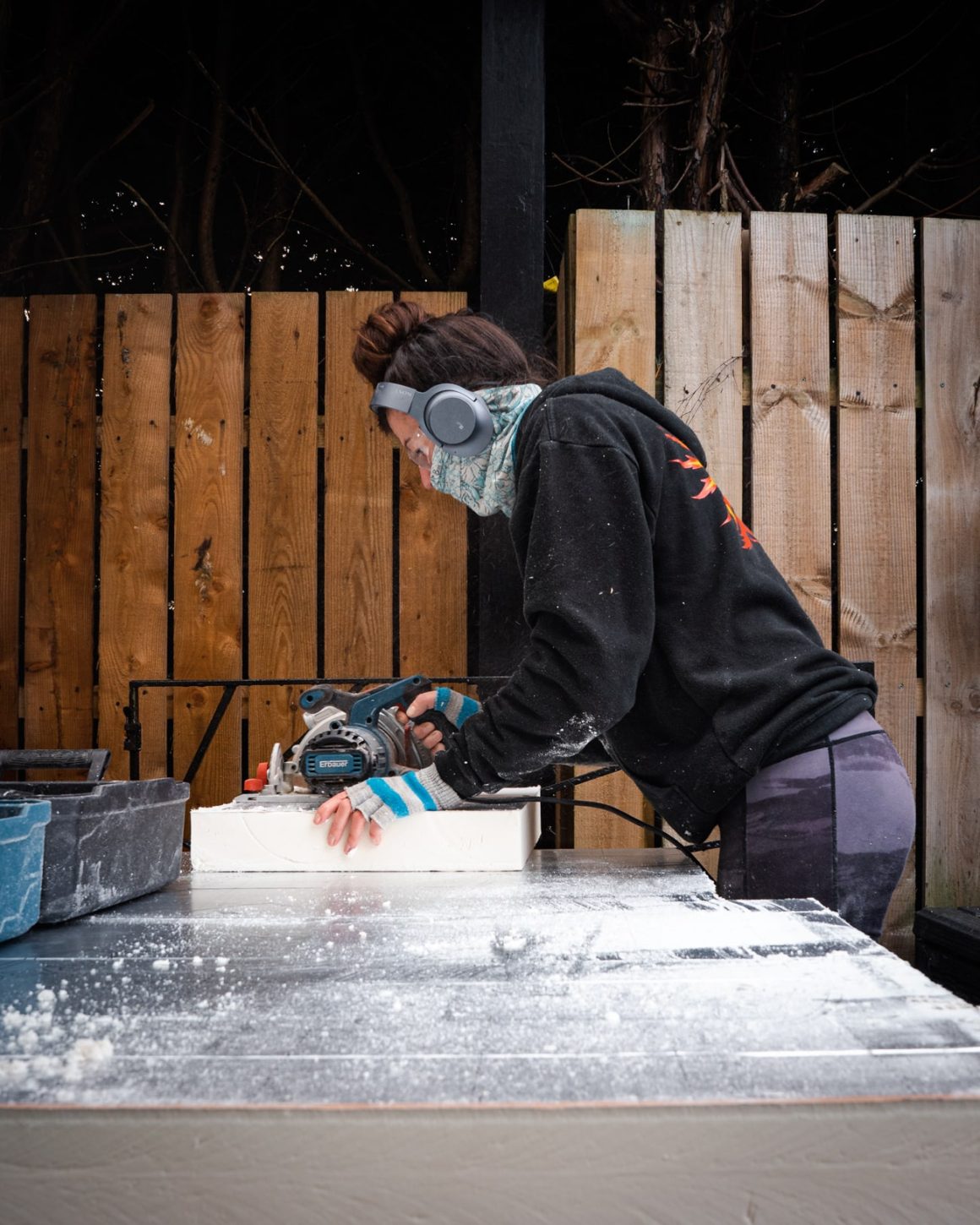 SEE: 

Do You Even Need Windows in your Van Build?
Let's go!
@katie.maree
Van Conversion Wiring Diagram
This straightforward, no-nonsense schematic also includes a full parts list of the exact components with links to product pages so absolutely no time is wasted shopping either.
In a rush? Tap 'Pin' to save this list of van conversion tools for later.