A cooking hob fuelled by gas, as opposed to an electric or induction cooker, is typically more widely used for cooking in campervans. This is because the overall setup is reasonably cheap, and doesn't require a significantly larger electrical system (like an induction cooktop would).
On the other hand, I personally swear by my induction cooker for multiple reasons – many of which had me surprised that they are not a more common feature in van conversions today. As I converted my van in 2020, the best induction hob for campervans was brought to the market. This has revolutionised cooking for van lifers, making the goal of an "all-electric" van much more attainable to every self-converting van lifer.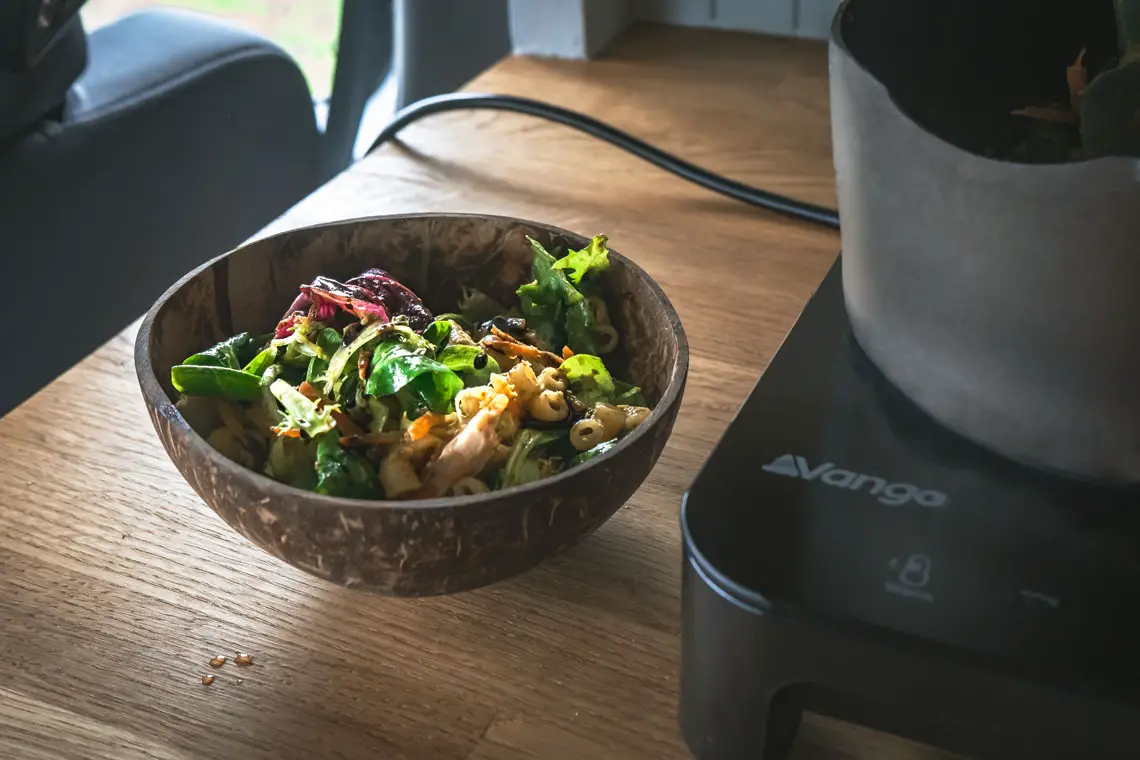 Do you not have time to read this now? Pin this blog for later.
Induction Hob for Campervans
How do you install an induction cooktop in a van?
The installation of an induction cooktop will be one of the simplest projects throughout your entire van build as induction hobs simply plug into any 230V mains socket. However, the difficulty in doing so is that your van's electrical system needs to be powerful enough to handle the higher wattage. If not, the cooktop would subsequently blow a fuse or trip switch – if your electrical setup has been assembled with the necessary precautions.
Is there a 12v induction cooktop?
If only life were that simple – right?! There aren't any 12-volt induction cooktops available today. To cook with an induction hob, you will need a sizeable electrical system. This would entail an inverter or shore power hook-up that supplies a 230V current.
ALSO: 

Van Conversion Tools Wishlist - Make Your Build Easier!
Are induction hobs good for campervans?
In my personal experience, induction hobs are perfect for campervans for a number of reasons.
Safety – It can be worrying having a gas system in such a small space, especially if you are not confident in the setup, maintenance or troubleshooting of the system. It was a conscious decision to go fully electric with my van conversion, as I knew that having gas inside my van would make me a little more anxious on a day-to-day basis. If you are interested, my van's complete electrical system is outlined in the campervan wiring diagram.
Cleanliness – Arguably, the key to happiness in a campervan is simplicity. Saying that… Is there anything more simple than wiping an induction cooktop clean? You may never want to waste time with the hassle of cleaning a gas cooker again!
Speed – Induction cooktops are capable of boiling water much faster than the open flame of a gas cooker.
Practicality – Most van lifers will be able to replay at least one memorable moment of their gas running out at a crucial moment, or when they drove miles and miles to find a place to refill. This process can add extra stress to the daily life of a van lifer. Whereas, induction cookers don't require any thought after the cooktop has been set up correctly, other than keeping an eye on your overall charge levels.
What to consider when powering an induction cooktop?
As mentioned, the only limitation to the installation of an induction hob is the capacity of the van's electrical system. There are a number of factors that should be considered beforehand.
Batteries – Your system should be equipped with appropriately-sized Lithium batteries, as opposed to AGM. For your reference, my induction hob is powered by two 120Ah lithium batteries from KS Energy.
Maximum Current – Generally speaking and at the very least, the maximum wattage of your induction cooktop must be below the maximum current of your inverter. If not, the surplus energy will blow a fuse, trip a switch or even worse, become a serious fire hazard. For instance, my inverter is 1600VA. This comfortably powers the induction hob which has a maximum wattage of 800. It also considers the likeliness of other outputs being powered at the same time.
Safety – In the minds of most people, propane can equate to danger. Hence why they'd be enquiring into induction hobs instead of gas. However, larger electrical systems can draw a tremendously strong current that may also be a potential risk. Therefore, whether you're working with gas or electricity, be humble, and educated whilst using quality components. You should even seek professional help if you do not feel comfortable doing so yourself.
SEE: 

Campervan Wifi - The Best Van Life Internet Setup
Best Low Wattage Induction Hob
I spent hours upon hours, upon hours in search of an induction hob with the lowest wattage during my van build. Therefore, it brings great excitement to share the discovery of a model with an 800W maximum for the single, and a 1600W maximum for the double hob. These figures make this particular cooktop one of the most efficient induction hobs on the market and the best induction hob for campervans. The Vango Sizzle Induction Hob is the cooktop that van lifers have been waiting for; it's incomparable to any other on the market.
I challenge you to find an induction hob with a lower wattage!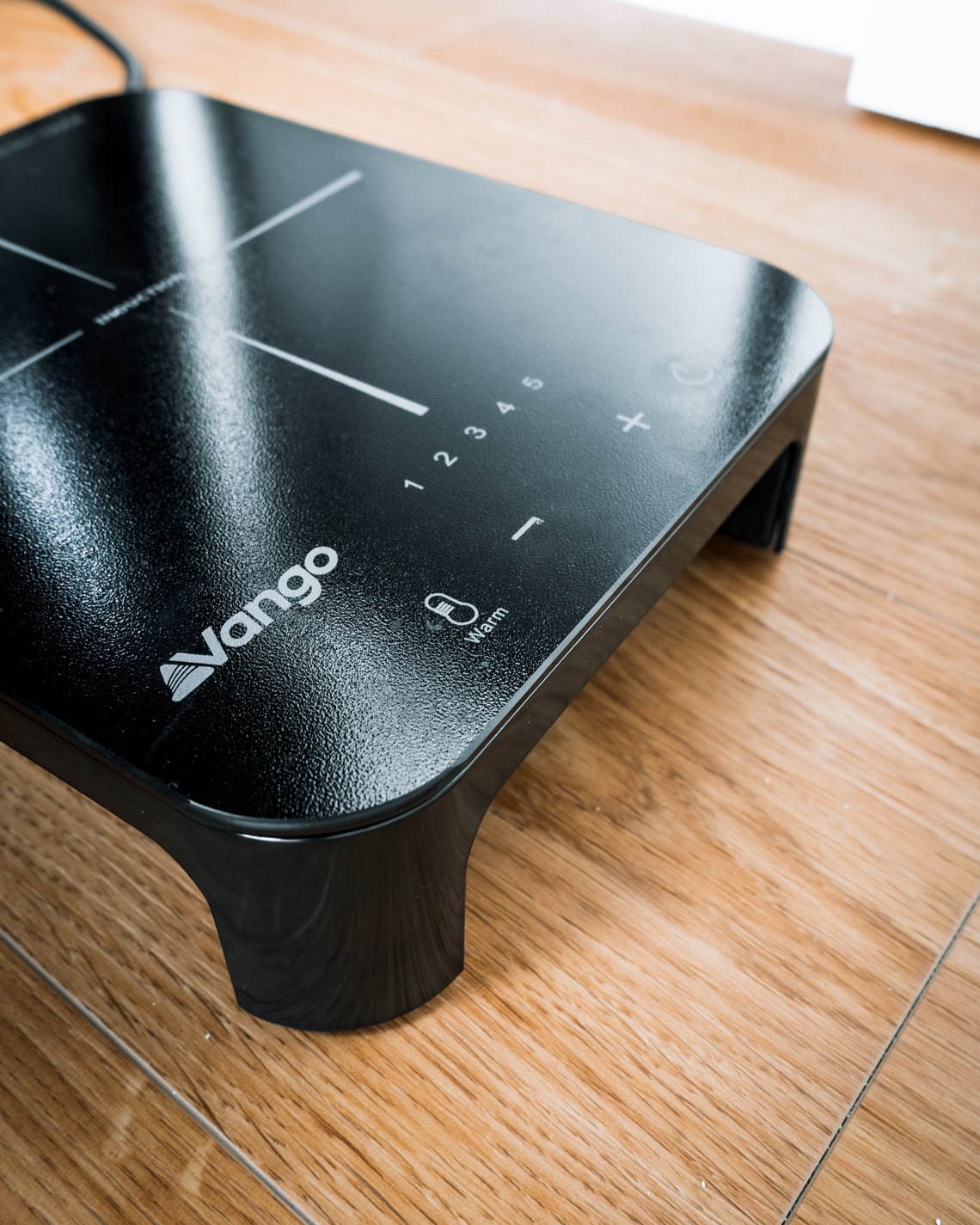 The portability of the Vango Sizzle Induction Hob is one of the product's superpowers. With the 2.5 metre-long power cable, you could use it to cook your food inside or outside your campervan. The cooktop also comes with a storage bag for easy transportation.
It wouldn't be fair to discuss the advantages of the Vango Sizzle Induction Hob without also mentioning the disadvantages too. This specific cooktop is designed for camping. Therefore, the overall shape has been considered with the product standing alone in mind. As a result, it would be extremely difficult to cut and mount the hob into a worktop for a flush finish. This is unfortunate for those looking to have a fixed cooktop.
Are portable induction cooktops worth it?
Induction cooktops are sleek in design, super easy to clean, faster to heat and much safer to use. They could be the perfect addition to any van conversion, providing that the electrical system has been sized accordingly. In my opinion, portable induction cooktops are totally worth the initial investment of time and money in any van build (especially for full-time van lifers).
There are two simple alternatives for those who are unable to create a gas or electrical system in their van conversion. Firstly, a portable camping stove may be the cheapest, simplest and most portable method. Otherwise, the Vango Sizzle Induction Hob could be combined with a Jackery Power Station.
READ: 

Simple Water System for Van Life (A  Basic Plumbing Setup)
Wondering how to build an electrical system capable of powering this induction hob? The Van Conversion Schematic reveals the exact setup that is used on a day-to-day basis in my van without any worry about maximum wattage or battery life.
Let's go!
@katie.maree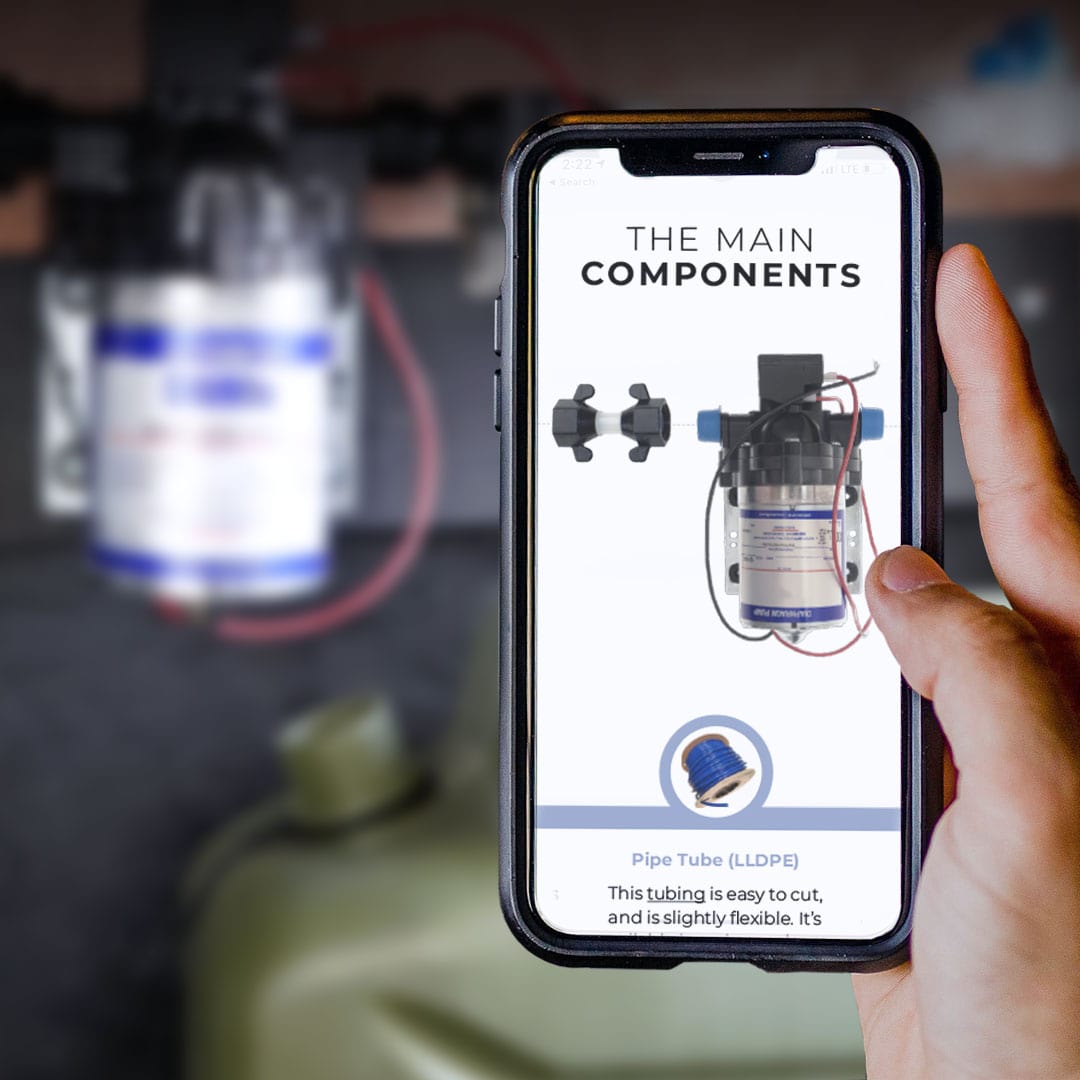 Van Conversion Plumbing Diagram
This ready-planned basic water system will save you many valuable hours of research! The plumbing setup is so simple to put together, and even more simple to source the parts for.
Save this on Pinterest
Do you not have time to read this now? You can pin this article for later.