Our Queen Elizabeth, Big Ben and London Bridge. Not to mention; the red phone boxes, black taxis and big red double-decker buses. London is one of the world's most popular and iconic destinations, but is London for digital nomads?
London is the largest city in the United Kingdom. It's an unmissable multi-cultural metropolis with world-famous historical sites, lively cultural attractions, a worldly food scene and the hard-going Monday-to-Friday grind of a big city. There is truly an energy to be experienced for everybody in London, even as a digital nomad.
As much as I personally shy away from cities (if it's at all possible), this particular capital holds a special place in my heart. I landed my first job in London. And more importantly, London was the birthplace of my digitally nomadic career. Needless to say, I've experienced the city in many different lights; firstly, as a child on a family holiday, secondly, as a local 9-5 office worker and thirdly, as a digital nomad. There's no way that any other travel blogger is more qualified to deliver you the details to discover London city.
Don't have time to read this now? Pin this blog for later.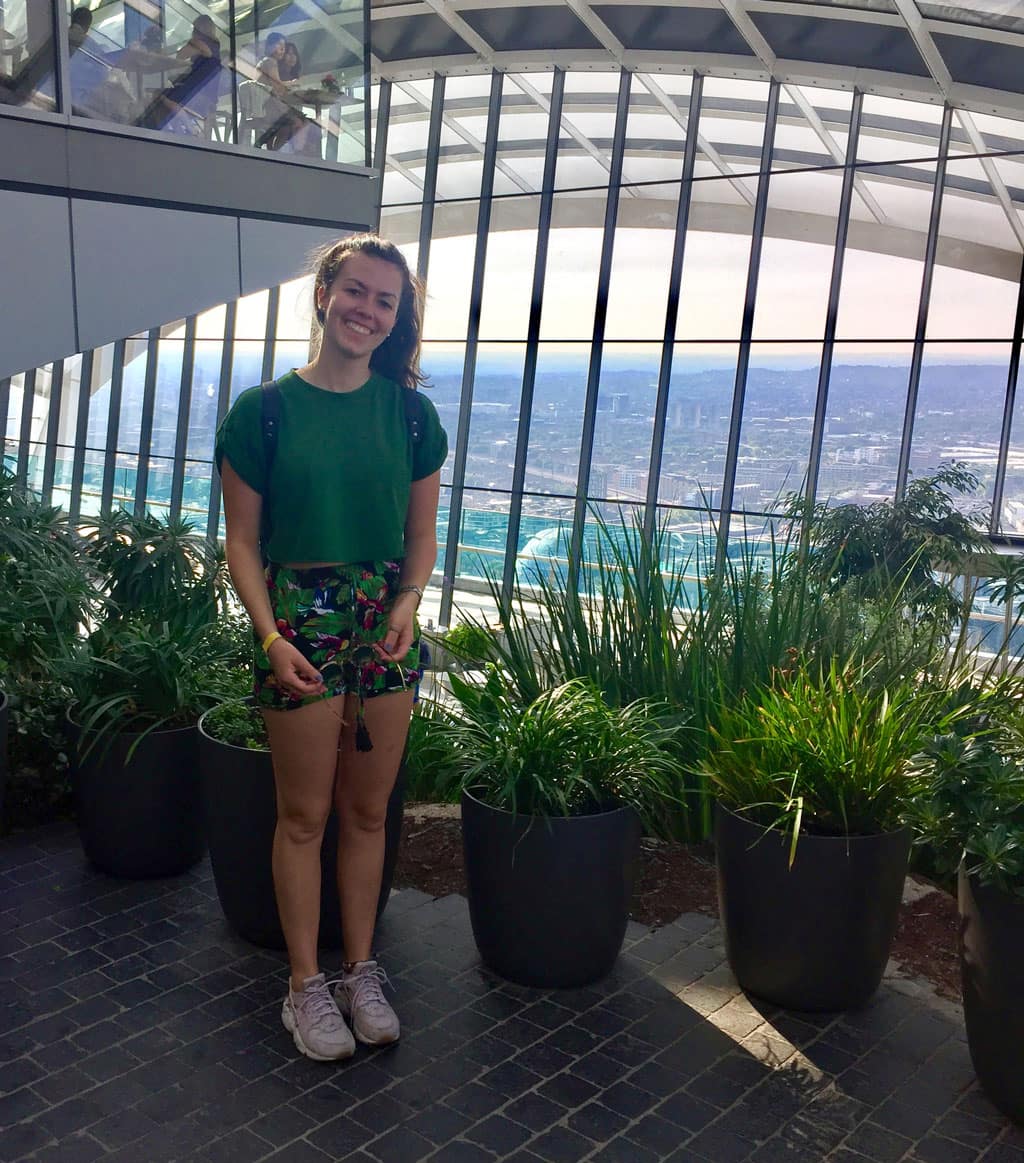 QUICK REFERENCES
Planning in a hurry? These are recommendations of London for digital nomads at a glance…
Where to stay in London: The Wombat's City Hostel is a cheaper place to stay, whilst the Rose and Crown, Vancouver Studios, New Road Hotel, CitizenM and Mama Shelter are mid-to-high range options of hotels with a workspace. Hart Hotel is for the chic. It may be high-end, but the beautiful spaces are laptop-friendly.
Insurance for Nomads: SafetyWing is travel insurance for nomads, by nomads. If you are unsure how long you'll be travelling for, or you haven't committed to any destination just yet, SafetyWing is convenient, flexible and simple.
Best Tours: Take a private Kick-Start Tour as an introduction to the streets of London, or explore the surrounds of the city with an organised tour to Bath, Windsor and the Stonehenge. Unless you need something a little more energetic? A particular favourite is the West End Musicals Silent Disco Walking Tour.
Recommended SIM card: Check out Airalo for either a local, regional or global eSIM. Airalo is the world's first eSIM supplier, so you can purchase the most suitable prepaid data plan before you've even arrived.
---
Can You Be a Digital Nomad in London?
Of course! It is possible to be a digital nomad in London, but only as much as your remote income would allow. There are plenty of other cities in Europe that offer similar conveniences at a cheaper rate, yet London is an excellent city to experience if you are able to make it happen financially. This digital nomad guide will enlighten you on the basics, need-to-knows and local recommendations to help you receive the most from your stay.
Language
The official language of the United Kingdom is English. However, you might find this sounding a little different from place to place, especially across the rest of the country, with the varying accents – I'm British and I can even appreciate the struggle to understand some of the accents sometimes!
Money
The currency in the United Kingdom is the Pound Sterling (£); otherwise abbreviated as GBP.
Credit cards and contactless payments are widely accepted. In fact, overall the local population is typically cashless. ATMs are also commonplace.
The United Kingdom does not have a strict tipping culture. While a tip is never compulsory, it can often be expected when personal service is being given unless there was a problem. In fine dining restaurants, local residents typically tip a percentage of the bill in cash. Whereas in the more casual establishments, most people simply just round up the final total or leave whatever spare change they have to hand.
Safety
Is London safe? London is generally considered to be a moderately safe city. Even for women, the risk is relatively low. But, there's still a risk… So, take the necessary precautions to avoid certain areas and refrain from walking home alone during the evening.
Transport
London is pedestrian-friendly but due to its sheer size, it's not a very walkable city. Thankfully, London has many iconic modes of transport; from the famous red double-decker buses to the Tube and Black Cabs. The city is divided into nine fare zones, but Zone 1 & 2 are Central London.
TIP: Unless you are looking to experience the true culture and buzz of Central London, try to avoid using public transport during rush hours (between 7-10 am and 5-7 pm from Monday to Friday).
There are a number of ways to pay for public transport in Central London; buying a single ticket, using a contactless card, topping up an Oyster Card or purchasing a TravelCard. For all that, the best way to pay for transport in London for digital nomads is a contactless card (if your bank allows you to do so in the United Kingdom).
🚇 Underground ('The Tube'), Overground & DLR – The Underground & Overground stations are dotted in an abundance around Central London. It's likely that there will always be one within easy walking distance with a train arriving within minutes of your arrival. This is the most efficient way to move around the city. Typically, the Underground operates from 5 am to midnight with some lines offering a 24-hour service. Most tube stations have a ticket barrier for entry and exit. It's recommended that you hold your contactless card over the card reader marked with a yellow circle for a quick payment.
🚂 Train – There are many major train stations in Central London; including Waterloo, Paddington, King's Cross, St Pancras, Euston, Charing Cross, Victoria, London Bridge, Liverpool Street and Fenchurch Street. All of which have direct links to the Underground networks. Plus, there are direct links available to London's three major airports; Heathrow, Gatwick and Stansted. For the most part, you will not be able to use your Oyster Card on London's rail services.
🚌 Bus – Jump aboard one of London's quintessential red buses as they can basically take you anywhere in the city. This may be the slower mode of transport, but bus fares are the cheapest at £1.65 ($2.02) for a single journey, anywhere. Payment is similar to the Underground system whereby users simply touch the yellow circular card reader with an Oyster Card or contactless card.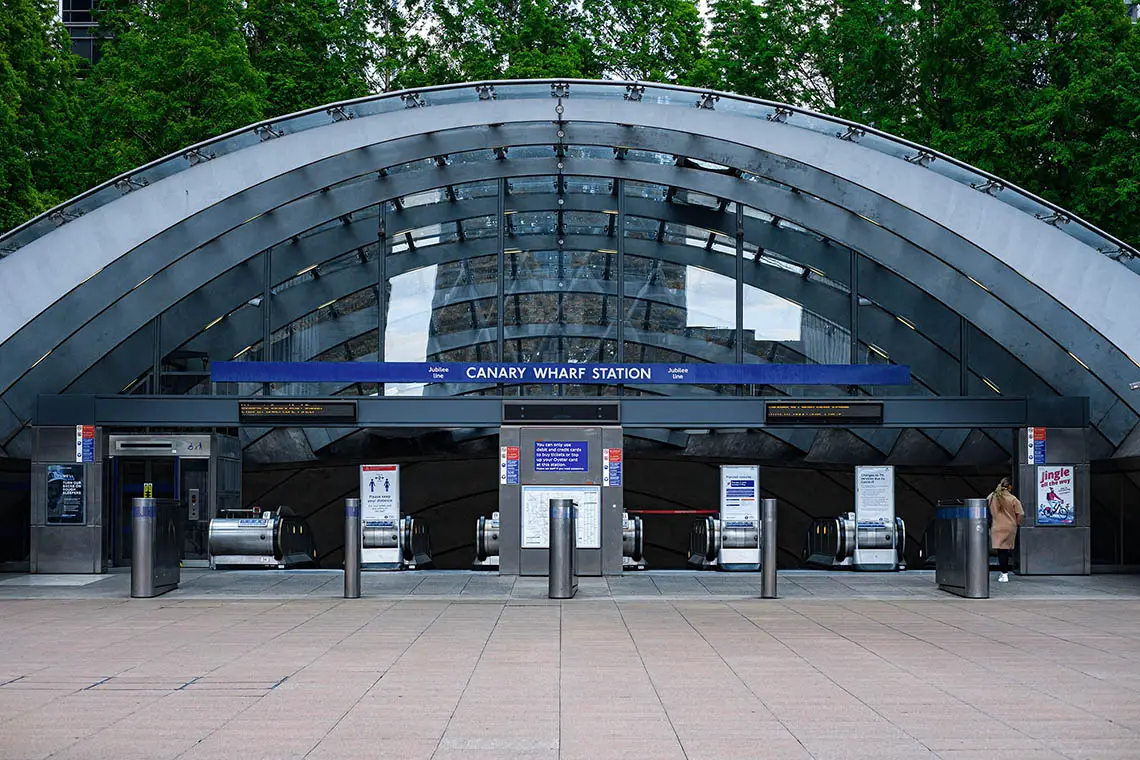 🛥️ River Boat – Another mode of transport which is also popular with commuters is the Thames River Boat. This is a novel and scenic way to travel through London. As with the other transport services, the most convenient way to pay is by contactless or Oyster card, tapping in and out as you walk on board and disembark.
🚕 Taxis – London's "Black Cabs" can take up to five passengers. The yellow taxi light on the roof will be illuminated if it's available for hailing. They charge via a meter, with most tending to accept credit cards. This is an expensive means of travel, one of which I would have avoided during my time living in London. Ride-hailing apps such as Uber, Bolt and Free Now are cheaper alternatives.
🚴 Bike – There are bicycle stations all around the city with cycle lanes increasing over time. You just need a credit or debit card to hire a bike. It costs £2 for a day to access the system, with every ride of 30 minutes or less being free thereafter. Each additional 30 minutes will cost an extra £2. To clarify, you could pay just £2 ($2.45) to initially hire the bike with the remainder of the ride being free, as long as you dock the bike every 30 minutes.
TIP: London's tap water is safe to drink, but it's not as fresh as the rest of the country. Use a refillable bottle to prevent the overuse of plastic.
Connectivity
London's internet connections are very reliable and fast. They are more than adequate for working remotely in London as digital nomads.
Wifi Speeds – According to Ookla's SpeedTest, the United Kingdom has an average download speed of 45 Mbps.
Data Plans – The advantage to many British Prepaid SIM cards is that they'll also work in many other European countries. SIM cards can be purchased in major airports (albeit at a higher price point), through network provider retail shops or even in local supermarkets. However, for your convenience, I'd recommend ordering a SIM card online before you're due to depart for the UK. Three, GiffGaff, EE, Smarty, or Voxi are amongst the favourites. In my experience (which you can read about here), I've found GiffGaff to be the simplest to use but EE to have the best signal strength in the most remote parts of the country. As a point of reference, I tend to buy 12GB for 10 GBP (12 USD) from GiffGaff when I return home to the United Kingdom.
If convenience is your ultimate goal, check out Airalo for either a local, regional or global eSIM. Airalo is the world's first eSIM supplier. You can purchase the most suitable prepaid data plan without visiting any shop or swapping physical sim cards. This is the technology we digital nomads have been waiting for!
Cost of Living
London is undoubtedly one of the world's most expensive cities to live in permanently and even visit temporarily. From a digital nomad's perspective, it's considerably higher than many other popular hotspot destinations.
🏠 Accommodation –  I still wince at the thought of my rent when I lived in London for two years (my accommodation was one of the cheapest options available!). My room was tiny in a shared terraced flat without a living room. The area wasn't particularly inviting but the flat was in close proximity to Brick Lane and Shoreditch. I would pay over £650 ($735) a month. For much greater living conditions in the centre of Edinburgh, I was paying a little over half of that!
🍔 Food – Expect to pay approximately £8-20 ($9-25) to dine in a restaurant in Central London. Supermarkets such as Aldi, Lidl and Tesco's Meal Deal could offer a more budget-friendly alternative at meal times.
🍺 Beer – A significant element of life in London is the pub culture. You'll find many great pubs and bars across the city with varying price points. Though generally speaking, a night out in London for digital nomads is going to be costly! A pint of beer could typically cost between £5 ($6) and £15 ($18), or even more if you're not careful.
RELATED: 

Travel Esssentials for Digital Nomads (Includes Camera Gear)
Digital Nomad Community
There isn't an immediately obvious community of international digital nomads in London, but they are among the Londoners who work remotely too. If you don't mingle with many in the coworking and coffee shops suggested in this blog, then here are a few suggestions for other ways to find your like-minded peer group…
General Assembly – This is a hub of creatives, techies and students to learn, discover and educate. Amongst their paid courses, General Assembly hosts free events and talks which are open to the general public. After each session, the audience tends to network which is perfect for making local contacts.
Facebook – There are a couple of active Facebook groups that encourage meet-ups for digital nomads in the city; 'London Digital Nomads', 'Ladies, Wine and Design' and 'London Meetup'.
Meet Ups – Many events in London are organised with an open invite on Meetup. Keep an eye out for something you'd be interested in.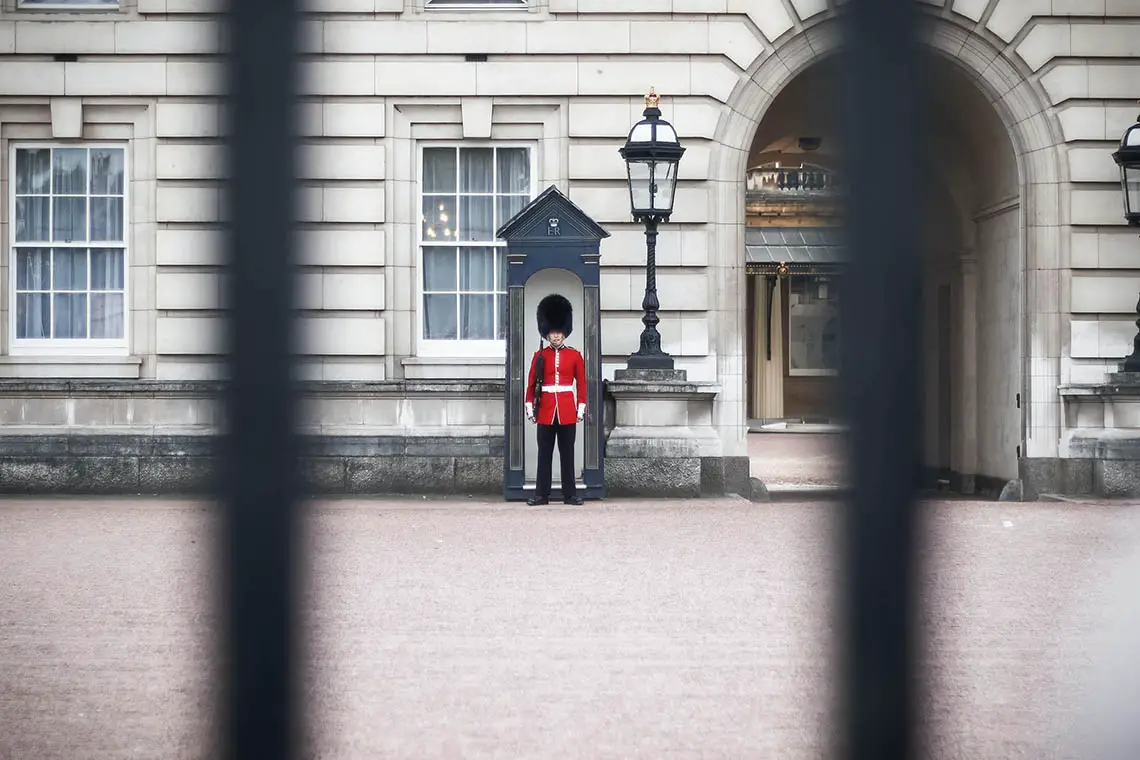 DID YOU KNOW: Before becoming a digital nomad, I (Katie), lived in London for two years. Here were my favourite free things to do in London.
Know Before You Go
Don't be caught out by the things you should have known before you travel to the 'Big Smoke'!
Best Time to Visit London
The British people love a good moan about the weather – I'd be no exception. It can be grey, gloomy and underwhelming but thankfully, London is typically better than the rest of the country as the temperatures rarely exceed an uncomfortable high or low.
Winter – The most affordable time to visit London would typically be during the off-season which is the winter months of January and February.
Spring – March to May is a great time to visit London with the flowers beginning to blossom, and the likeliness of brighter weather beginning to rise. The temperature could range from 5 to 20 degrees Celsius.
Summer – June to August is the peak season when the weather is likely to be the warmest. There is also a vibrant energy of summer events and families enjoying school holidays during this time.
Autumn – Autumn in London has the potential to be just as pretty as Spring, but with a different colour. Leaves can become yellow and gold(ish) as they fall, creating a pathway of colour. Also like Spring, the temperature could range from 5 to 20 degrees celsius with the inevitable likeliness of rain.
All in all, London can be visited any time of the year. Considering you'll be amidst a concrete jungle, the difference in London month-by-month will not dramatically change or affect your trip (well, certainly not as much as other places such as Scotland).
READ: Istanbul for Digital Nomads (Staying in the Old City)
Bonus: London Recommendations
Working Remotely from London
There are a plethora of places to open your laptop in London for digital nomads. However, in the unlikely event that you happen to find yourself struggling to find any, hop into the nearest Starbucks, Costa or Caffè Nero. These popular multinational coffee shop chains may often be a little more crowded, but you can almost guarantee a plug socket and a solid internet connection.
Recommended Coworking Spaces –
Suggested Coffee Shops & Restaurants –
Suggested Book Stores, Libraries, Venues & Museums –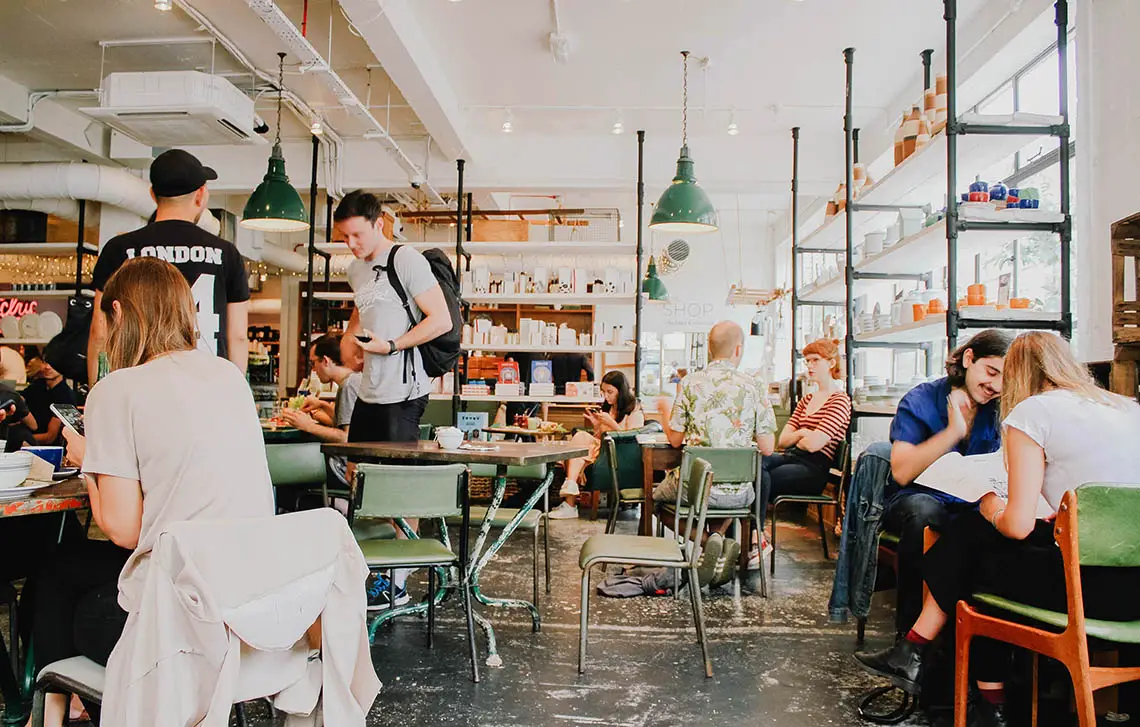 Working Out in London
Train without a fixed contract or membership with PureGym as they have over seventy locations in London. They will allow you to sign-up online and cancel or freeze your membership at any point. The cost of a day pass ranges from £6.99 to £12.99 ($8.58 to $15.94), depending on the gym's location.
SEE: Gdansk for Digital Nomads (The Simplest Travel Guide)
Things To Do in London
In a city crowded with iconic landmarks and bucket-list attractions, it can be overwhelming knowing where to begin. London is such a recognisable city, but delving a little deeper can reveal hidden gems that you never would have expected. Take a peek at this breakdown of fun things to do in London to be inspired whilst planning your jam-packed city break itinerary.
Digital Nomad Accommodation London
Airbnb is the most convenient website to find a place to stay in London for digital nomads, particularly if you are staying for less than a couple of months. To find longer-term accommodation in London, have a look at Gumtree or SpareRoom. If nothing else, these listings will provide you with an insight into what is currently available and at what cost.
Below are a few recommendations for short-term stays…
Budget:
The centrally-located Wombat's City Hostel would be a great base for you to explore London. The venue is equipped with plenty of workspaces, run by friendly staff and the hostel also has an on-site bar to let your hair down at the end of the day.
Luxurious:
Hart Hotel is a chic and swanky hotel in Shoreditch with beautiful laptop-friendly spaces. This location is one of my favourites as there is so much to see, do and experience in the area.
Alternatively, you could have a whole apartment or house to yourself! Why not stay in wonderful homes by house-sitting and caring for adorable pets? This experience would not be for everyone but you could find yourself in free accommodation, whilst you live a more authentic lifestyle in the local area, by joining Trusted Housesitters.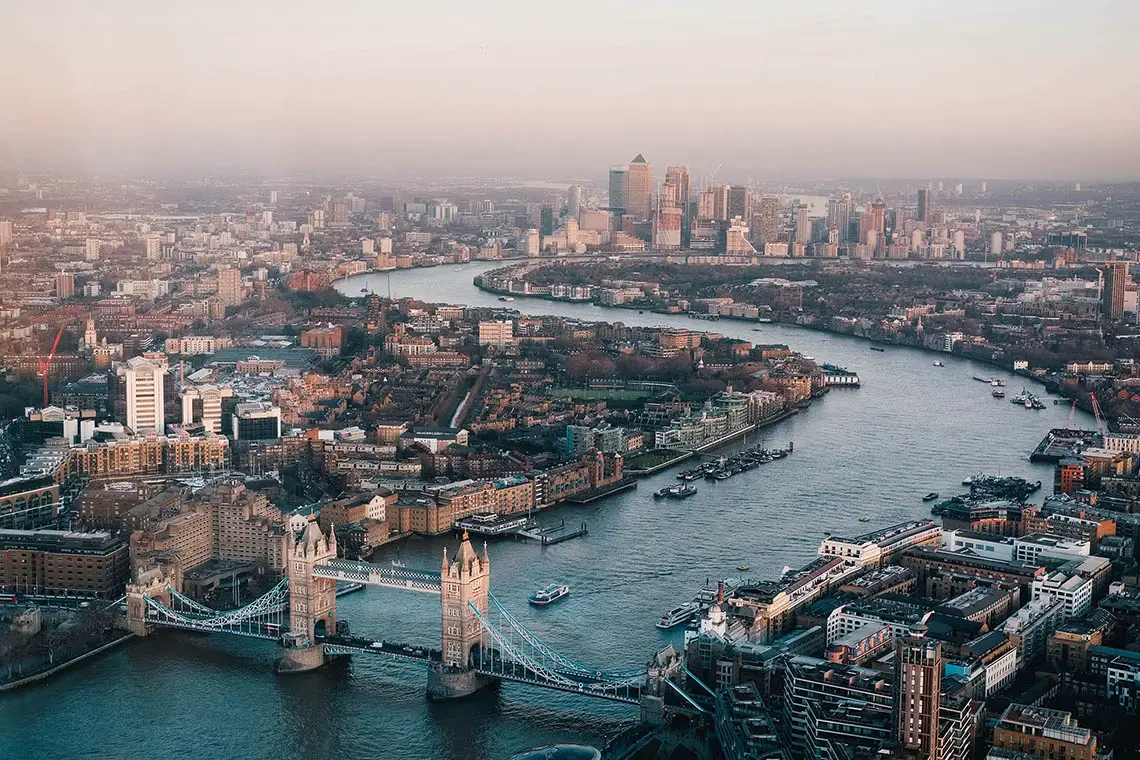 READ: The Coliving Spaces that Digital Nomads Should Know About
Where To Go After London?
London is a major transportation hub, not only for Europe but the entire world (especially from Heathrow Airport).
Glasgow – Discover Scotland's largest city in under 5 hours on the train.
See: Glasgow for Digital Nomads
Edinburgh – Travel between the English and Scottish capital cities in under 5 hours by train.
Read: The Digital Nomad Guide to Edinburgh.
New York – A flight from London to New York will take approximately 8-9 hours.
See: How to Live as a Digital Nomad in New York City.
Marrakech – There are direct flights to Morrocco from London every day.
Read: The Remote Working Guide to Morocco.
Los Angeles – You can choose between a number of direct and connecting flights to California.
See: How I Survived Los Angeles as a Digital Nomad.
CHECK: Digital nomad guides for Dubai, Belize, Sri Lanka, Guatemala, Montenegro, Croatia and Albania.
Let's go!
@katie.maree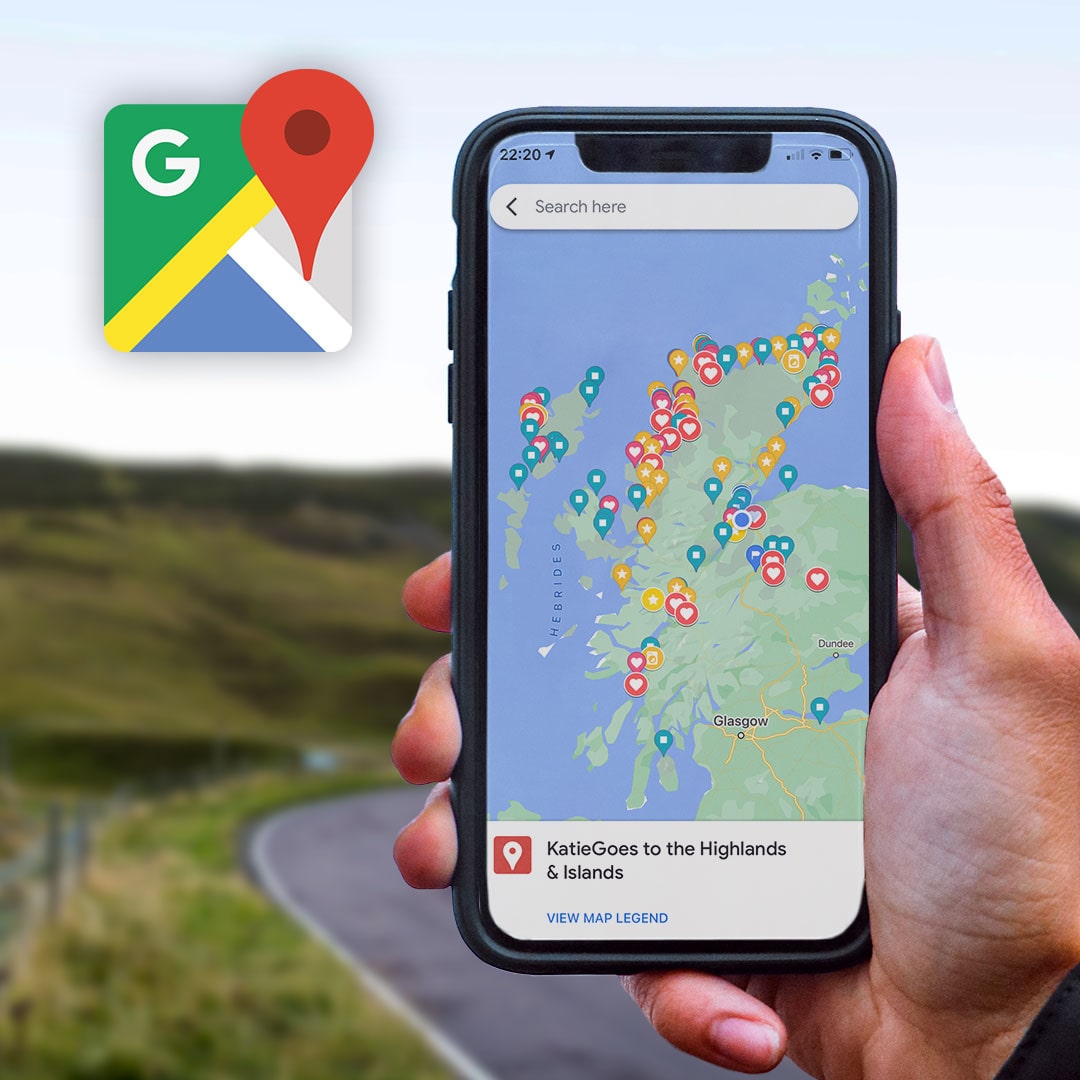 Scottish Highlands Google Map Legend
This Google Map Legend showcases 140+ need-to-know coordinates within our bonnie Scottish Highlands & Islands:
Awesome Wild Camping Park-Ups
Best Walks, Viewpoints, Beaches
Bucket List Locations
Accessible Showers & Fresh Water Taps
Relevant Links to Online Travel Guides
---
Did You Know…
If you purchase through a KatieGoes link, we receive a small amount but you still pay the same. This contribution helps keep this blog moving – win, win! Nevertheless, I only recommend personal favourites…
---
Save this on Pinterest
Do you not have time to read this travel guide of London for digital nomads? Click on the Save button to pin this article for later.