Situated on the northwest coast, Mallaig is the final call along the famous Road to the Isles. It's a fascinating place which can quickly flip between quiet and the hustle and bustle of welcoming locals mixing with wandering tourists, busy fishermen, backpackers and van-lifers. For whatever reason you are visiting, there are plenty of things to do in Mallaig. If nothing else, be prepared to feel like a child again as the puffing steam train smoke creates clouds of excitement between the buildings and streets.
Mallaig is also at end of the railway line of the well-known Jacobite Steam Train which was featured in Harry Potter. This service operates in the summer months riding over the picturesque Glenfinnan Viaduct from Fort William. The town is also a great base to explore the surrounding area and islands, or a stopover en route to Skye.
Running out of time? Pin this article for later.
Is Mallaig Worth Visiting?
Mallaig is lively, colourful and charming. It is small enough for a flying visit, especially if you are stretching your legs from a round trip on the Jacobite Steam Train. However, there are also plenty of things to do and see in and around the surrounding area if you can spare just a few days more.
Alternatively, there are guided group tours that visit Mallaig from Edinburgh, Glasgow and Inverness.
What To See & Things To Do in Mallaig
Things To Do Near Mallaig Station
Like most visitors, you may be stopping by Mallaig on a round-trip journey aboard the Jacobite Steam Train. With that being said, you may only have between 1-2 hours to grab a bite to eat, sightsee or absorb the harbour town atmosphere.
Mallaig Heritage Centre
The Mallaig Heritage Centre is inside the train station's neighbouring building. It's the perfect solution to a rainy day in Mallaig! It tells the story of the area's people, landscape and history. This includes the fishing industry, the Highland Clearances and the construction of the West Highland Railway. There is a small admission fee of a couple of pounds, but children can enter without any payment.
Admire the Boats from the Harbour
Whether you're into wildlife or boats, there are plenty of things to watch and see at Mallaig Harbour. Plus, the entire scene can become very picturesque during the rare occasions of calm on a windless day.
Visit the Morar Cross
The climb to the Morar Cross begins at the car park next to the train station. Look out for a sign that leads the way from a gate. This walk should take approximately 10-15 minutes, there and back.
Hop Aboard a Wildlife Cruise
The Western Isle Cruises operate a regular ferry service between Mallaig and the Knoydart Peninsula, one of the most remote areas of Scotland. This place is worth visiting because you could potentially spot an array of seabirds, seals, porpoises, dolphins, whales and basking sharks en route too.
Western Isle Cruises also hosts a particular adventure that promises to be back within an hour. This is ideal for those arriving aboard the Jacobite Steam Train and Scotrail service. This boat runs between April and October. It's £15 per adult and £7.50 per child below 13 years old. Infants and dogs are welcome for free.
| | | | |
| --- | --- | --- | --- |
| Monday | 12:45 | 14:30 | 15:30 |
| Tuesday | 12:45 | 14:30 | 15:30 |
| Wednesday | 12:45 | 14:30 | 15:30 |
| Thursday | 12:45 | 14:30 | 15:30 |
| Friday | 12:45 | 14:30 | 15:30 |
| Saturday | 12:45 | 17:00 | / |
| Sunday | 12:45 | 14:30 | 15:30 |
These sailings will either be aboard MV Larven or the MV Western Isles, a traditional wooden vessel that has been in operated in Loch Nevis since 1960. Don't miss out on the more recently fitted whisky bar below deck too!
Hike the Circular Walk
If you'd prefer to stretch your legs, then follow the Mallaig Circular Walk. As the name suggests, the walk is a pleasant circuit from the town and over the surrounding hills. The entire route will take approximately 60-90 minutes so it could potentially be accomplished during any round-trip train journey.
If you pick your day wisely, you'll be blessed with views of Skye and some of the Small Isles but if nothing else, Mallaig Harbour will look picturesque from a distance too!
Join a Pub Quiz
It isn't a guarantee that the event will take place, yet it would be worth popping into the Chlachain Inn if you are in town on a Thursday evening. Customers are invited to join the very competitive, local Pub Quiz. If the quiz is happening, the host will ask every person in the building if they'd like to take part. They will then proceed to introduce each team to the quiz interface on their mobile phone. From there it's all to play for really, especially when it comes to understanding the speed of the local accent!
RELATED: The Island Guides to Nearby Canna & the Isle of Rum
Places to Eat in Mallaig
There are many restaurants, cafes and takeaways to choose from in Mallaig, with a place to suit every budget type, although most of which, not surprisingly specialise in seafood.
The Bakehouse
The opening of the Bakehouse could certainly add your 'mmm' to Mallaig. If seafood is not your thing, then this artisan bakery and pizzeria will ensure that you do not leave the town hungry! Follow the smell. It's divine!
Cornerstone Seafood Restaurant
Watch the fishermen land their catch whilst tasting the seafood from the warmth of a restaurant. The Cornerstone is one of few that offer an elevated view of the Mallaig Harbour. They serve a selection of west coast seafood from the local fishing fleet, often including haddock, langoustines, prawns, monkfish, sole, halibut, salmon and mussels. Vegetarian options are also available.
Bloom & Graze
Pick up a pretty selection box of nibbles for a picnic along the harbour, Bloom & Graze offer a variety of graze boxes for delivery and takeaway.
The Terrace Restaurant
Indulge in a menu including some of the freshest local produce at The Terrace Restaurant. They offer light bites, soups, sandwiches and
Fish Market Restaurant
The Fish Market Restaurant strive to deliver the freshest fish and shellfish. Overlooking the busy harbour, this place has both a coffee shop and a restaurant menu to choose from.
Jaffy's Fish & Chip Shop
One of Mallaig's favourite chippies is Jaffy's. Founded in 1944, this chip shop is nowadays owned by a third-generation fish merchant's family. As well to the takeaway restaurant, customers can also browse the seafood deli that stocks a wide range of Scottish foods, and of course, Jaffy's own smoked seafood products.
The Best Shops in Mallaig
Mallaig has several souvenir shops. However, if you are disembarking the Harry Potter Train, then there might be one that will particularly take your fancy…
Haggard Alley
Follow the charm of the Harry Potter Train by popping into Haggard Alley. It can often be found at the end of a long queue of avid Harry Potter fans, waiting to pick up official merchandise and souvenirs of their magical journey.
NEARBY: The Complete Guide for Trainspotting at the Glenfinnan Viaduct
Accommodation in Mallaig
Since the Jacobite Steam Train does not allow for much time in Mallaig, nor are there many nearby campsites or park-ups, it would be advisable to stay overnight.
The Cornerstone
Enjoy sea views with a continental breakfast at Cornerstone. This Bed & Breakfast is situated in the heart of the hustle and bustle, metres away from the harbour and train station.
The Chlachain Inn
The Chlachain Inn is home to a restaurant, bar, billiards table, darts board and a terrace to absorb the town's atmosphere (or the Scottish winds). Bike and car hire are also available.
The Mission Bunkhouse
This is one of Mallaig's simplest and cheapest accommodations. They offer shared rooms, a communal kitchen and laundry services too. It's metres away from the train station.
Let's go!
@katie.maree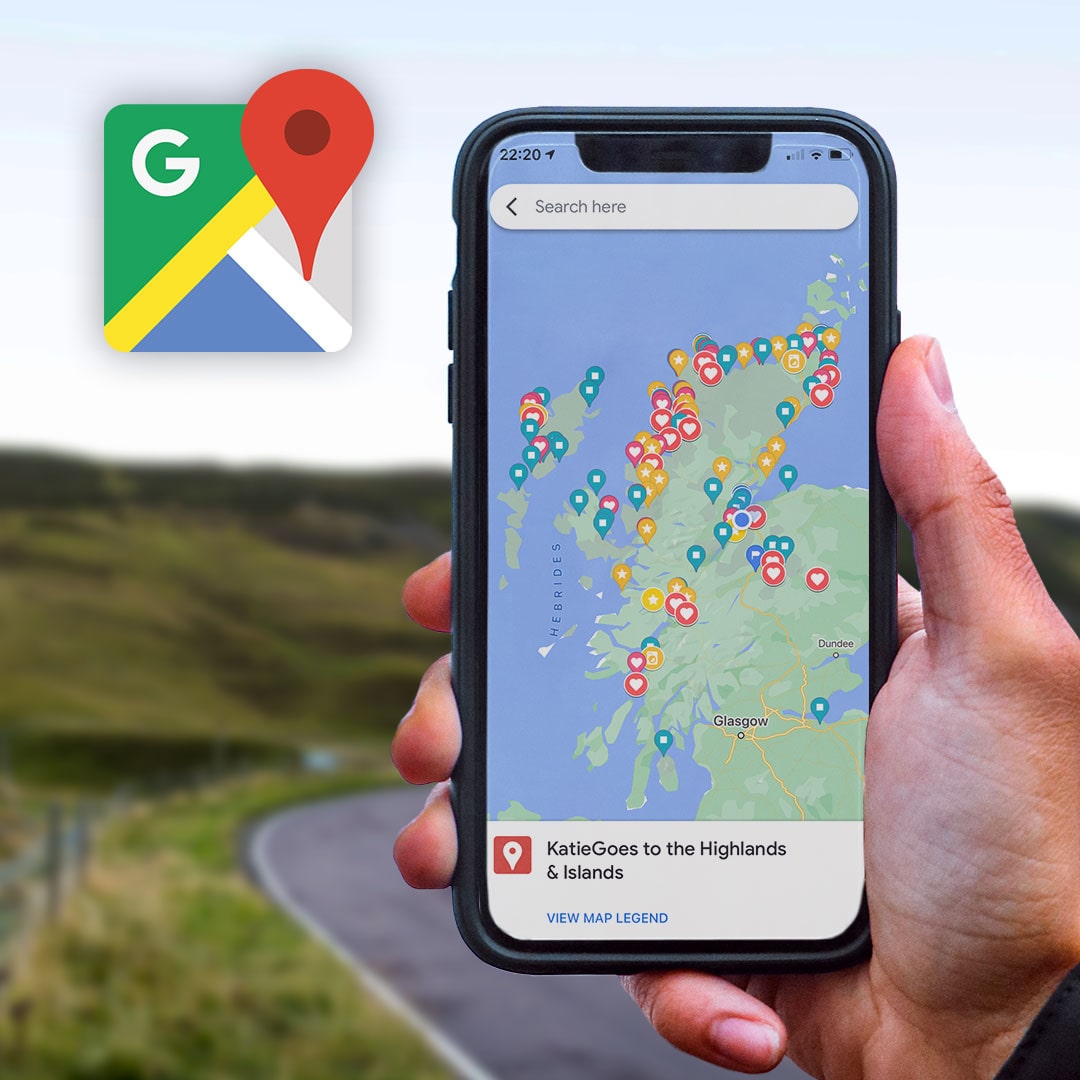 Scottish Highlands Google Map Legend
This Google Map Legend showcases 140+ need-to-know coordinates within our bonnie Scottish Highlands & Islands:
Awesome Wild Camping Park-Ups
Best Walks, Viewpoints, Beaches
Bucket List Locations
Accessible Showers & Fresh Water Taps
Relevant Links to Online Travel Guides
Pin to Pinterest
Do you not have time to read this guide? Click on the Save button to pin this article for later.