Squashed between Tibet and India, Nepal is an often overlooked destination if you aren't equipped with a rucksack and your walking boots. Home to 8 of the 10 tallest mountains in the world, it is no surprise that Nepal's snow-covered peaks attract an array of mountain sports enthusiasts and avid hikers. Though what digital nomads mightn't realise, is that between the cities and valleys, Nepal also presents an upcoming cafe culture with sufficient internet speeds so an evergrowing digitally nomadic community is showing up. In my experience, Kathmandu for digital nomads is a great place to start in Nepal!
Don't have time to read this now? Pin this blog for later.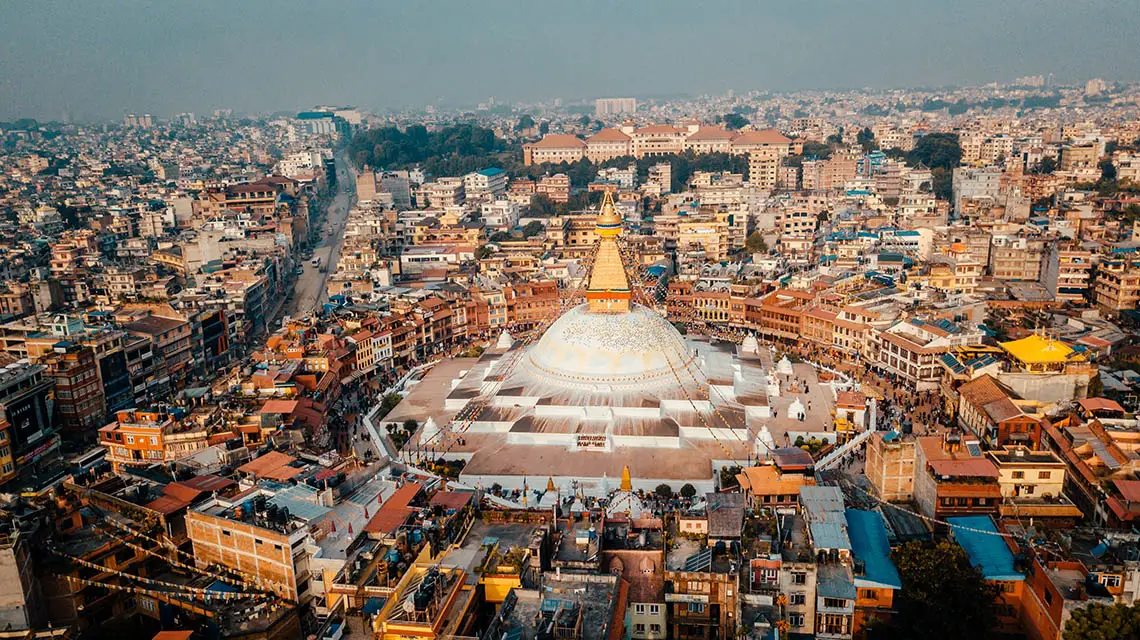 QUICK REFERENCES
Planning in a hurry? Read our quick tips for Kathmandu for digital nomads…
Insurance for Nomads: SafetyWing is travel insurance for nomads, by nomads. If you are unsure how long you'll be travelling for, or you haven't committed to any destination just yet, SafetyWing is convenient, flexible and simple.
Best Tours: Take a full-day private tour of the city before embarking on a bucket list flight to see the world's highest peak, Mount Everest. Unless you'd prefer to earn the reward, then you could spend 14 days trekking to and from Everest Base Camp.
Recommended SIM card: Check out Airalo for either a local, regional or global eSIM. Airalo is the world's first eSIM supplier, so you can purchase the most suitable prepaid data plan before you've even arrived.
---
What To Know About Kathmandu for Digital Nomads
Language
Nepal has approximately 123 native languages, but Nepali is the official language of Nepal. The Nepalese do not typically speak English at a high level, but you should still be able to discuss basic topics such as food, transport and shopping.
Money
The currency of Nepal is the Nepalese Rupee (NPR). There are plenty of cash machines dotted around Kathmandu.
Visa
Tourist visas can be obtained upon arrival at the Tribhuvan International Airport in Kathmandu. The process is quick and simple, although some queues are expected during the peak season. Upon entering immigration at the airport arrivals, visitors are guided to self-scan their passports with one of the purpose-built computers. This shouldn't take any longer than 5 minutes. Once completed, take a picture of the on-screen confirmation page to the payment desk. There are visas available for 15, 30 or 90-day stays with the prices varying depending on the length of time. Payment is accepted in the local currency, USD or Euros.
Safety
Nepal is a relatively safe country to travel throughout, with a reputation for being extremely friendly and hospitable towards tourists. My own personal experience would reinforce this notion, as I personally, did not experience any issues.
With the overall crime rates being fairly low, it could be argued that the greatest dangers are what lie in nature (earthquakes, landslides, freezing temperatures and the high altitude). In addition, Nepal's many modes of transport (motorbikes, planes and buses) aren't particularly the safest either.
Transport
Generally speaking, most of Kathmandu is walkable (especially around Thamel). However, with a large number of fast-driving mopeds and motorbikes, you'll begin to wonder how safe this mode of transport actually is. I know I was!
🚕 Taxis – Cab drivers will make themselves known to visitors across the city by beeping their horns as they pass by. These vehicles should have a taxi sign on the roof and black license plates. It's also worth noting that they do not work from a meter system, so you will need to negotiate a price beforehand.
🛺 Rickshaws – It won't be long before you've also spotted a cycle rickshaw in the city. They are cheap and fun, but as you can imagine, a little slow. Customers will also need to bargain the price down before hopping aboard.
🚌 Bus – The local city bus network is easily available everywhere in Kathmandu, though they are very crowded. Unfortunately, the bus routes aren't clearly marked, so without knowing the local language, they are difficult to navigate.
🚴 Bike – Bicycles can be easily rented, especially in Thamel and Jhocchen.
Connectivity
Wifi Speeds – According to Ookla's SpeedTest, the average download speed for fixed broadband in Nepal is 48.45 Mbps
Data Plans – It is worth investing just a couple of dollars for a data plan to ensure your trip is as convenient as can be, especially since Nepalese SIM cards are so cheap. You'll find two mobile network shops once you've passed the airport immigration in Kathmandu; Nepal Telecom and NCell. The coverage is similar for each of them, though since they are so affordable, you could buy both to increase your odds of having a good signal.
In my experience, I was content with a prepaid Nepal Telecom SIM card. There weren't any 12 GB packages left, so I opted for the 25 GB. The company will request a passport photo to process the order, but if you are without one, the staff member can take a quick picture with his webcam for a small fee.
| Duration | Data Plan | Price (USD) | Price(000) |
| --- | --- | --- | --- |
| 28 days | 25 GB | 9 | 1200 |
| 28 days | 12 GB | 6 | 800 |
| 7 Days | NA | 4 | 500 |
Last Updated: 3rd November 2022
If convenience is your ultimate goal, check out Airalo for either a local, regional or global eSIM. Airalo is the world's first eSIM supplier. You can purchase the most suitable prepaid data plan without visiting any shop or swapping physical sim cards. This is the technology we digital nomads have been waiting for!
Digital Nomad Community
There isn't an immediately obvious community of international digital nomads in Kathmandu, but you will find like-minded individuals once you begin exploring the many cafes, coffee shops and hostels.
The Not-So-Good of Kathmandu
Pollution – The bad air quality can be noticeable within a few days of being in Kathmandu. Vehicle emissions and road dust contribute to the majority of the pollution in Kathmandu, other factors include open waste burning and emissions from factories and households.
Challenging Roads – Poor road conditions can massively hinder the transport systems in Kathmandu, and across Nepal. You can expect any journey to be the bumpiest you've ever experienced!
Trip Planning Tips for Kathmandu
Best Time to Visit Kathmandu
The wet season (May to September) is warm, humid and can be partly cloudy in Kathmandu. Otherwise, the dry season (September to May) offers more comfortable temperatures and yields an overall clearer sky.
How to Get from the Airport to Kathmandu
It's 6.2 kilometres between Kathmandu Airport and Thamel, the tourist hub of the city. This is approximately a 14-minute drive (without traffic) and 20-30 minutes (with traffic).
🚕 Local Taxi – You needn't worry about finding the taxi rank as the taxi drivers will find you. They will be congregating outside the exit of the airport building, past the roundabout and many travel agents waiting for you too. If you pride yourself in your negotiating techniques, this is the option for you. Agree on the rates before hopping inside the car.
🚖 Prepaid Taxi – The prepaid taxi counter in Tribhuvan International Airport is committed to being open 24 hours every day. You'll see the counter on the right as you leave the hallway from the baggage claim before you exit the airport building. Your journey will be charged at a fixed rate, slightly higher than the fares of a local taxi. They can provide receipts. This service is regulated by the government, so it could be argued that prepaid taxis are amongst the safest in Nepal.
🚌 Local Bus – Public transportation in Kathmandu remains underdeveloped; there are no direct buses between the International Airport and Thamel. However, there are a few buses that will take you to within walking distance or will require a changeover, but for double the length of time that a taxi will take. The local buses are certainly not the most convenient way.
🚗 Airport Transfer – Avoid all of the airport hassles by pre-booking your transfer. Be welcomed by your driver at arrivals; they'll be ready to take you directly to your accommodation. Click here to organise your airport transfer.
As I was arriving late at night, I personally utilised the airport transfer through the WanderThirst Hostel. That way, I could ensure the driver was certain of his directions too.
Bonus: Kathmandu Recommendations
Working Remotely from Kathmandu
Not all wifi connections were created equally in Kathmandu. Many restaurants, cafes and hotels in the neighbourhood advertise a free connection, whether it has one or not. While fast wifi can be located, there are also plenty of terrible time-wasting connections too. If you're a digital nomad in search of a good place to be productive with free wifi, here is a list of some tried and tested places.
Recommended Coworking Spaces –
Suggested Coffee Shops & Restaurants –
MORE: 

Discover the Best Cafes in Kathmandu to Work Remotely
Digital Nomad Accommodation
Accommodation is plentiful in the city of Kathmandu; they are cheap too! But, you should avoid the ultra-low budget places if you aren't a fan of cold showers, stained bed sheets or dodgy internet connections.
Airbnb is the most convenient resource to find long-term places to stay in Kathmandu for digital nomads. However, you may need to find something quick to settle in before finding a long-term solution. Here are a few recommendations for short-term stays…
Budget
WanderThirst Hostel has many large spaces that promote productivity and community. They have a restaurant, parking, a bar, tourist information and a shared lounge.
Mid-Range
Nomad Hotel is modern, clean and very comfortable. Guests can choose between rooms with desks or apartments with a dishwasher, microwave and fridge.
Luxury
Dwarika's Hotel is closer to the airport. Inspired by Kathmandu's rich cultural history, you will receive world-class service with high-quality recreational facilities.
Alternatively, you could have a whole apartment or house to yourself! Why not stay in wonderful homes by house-sitting and caring for adorable pets? This experience would not be for everyone but you could find yourself in free accommodation, whilst you live a more authentic lifestyle in the local area, by joining Trusted Housesitters.
Things To Do in Kathmandu
Discover famous attractions, ancient sites, sacred temples, the best local food, the chaos of Thamel in Kathmandu and its nearby places to see with an organised activity to remember…
RELATED: Travel Essentials for Digital Nomads
Where To Go After Kathmandu
Pokhara – Take a 30-minute flight or a 7-8 hour bus to the popular tourist destination.
READ: The Complete Guide to Living in Pokhara as a Digital Nomad
Chitwan – This scenic drive is between 4 to 5 hours long.
CHECK: 3 Days & 2 Nights Chitwan National Park Tour from Kathmandu
Sri Lanka – Remote working nomads are increasing in popularity in Sri Lanka.
READ: Sri Lanka as a Digital Nomad (Is It Even Possible?)
Bali – As a global hub of digital nomads, Canggu is perfect for working remotely.
SEE: Why Canggu is Perfect for Digital Nomads
Let's go!
@katie.maree
---
Did You Know…
If you purchase through a KatieGoes link, we receive a small amount but you still pay the same. This contribution helps keep this blog moving – win, win! Nevertheless, I only recommend personal favourites…
---
Save this on Pinterest
Without any time? Click PIN to save this for later.