To heck with the bustling, commercial tourism scene at John o'Groats; let's head to the true north-easterly point of mainland Britain – Duncansby Head. The area is a little less tourist tack and a little more sheep poo on your shoe. But, I promise you, the scenic viewpoints from Duncansby are what's to be celebrated in the area. This is a wild part of Scotland, one of which will reward you with many spectacularly, jaw-dropping scenes of our rugged coastline.
Conveniently, there are two main points of interest at Duncansby Head. There is the Duncansby Lighthouse and the awe-inspiring, and most popular sighting, the Stacks of Duncansby. Other natural attractions in the area include Sannick Bay, the dramatic Geo of Sclaites, and Thirle Door. So have your camera in hand, as you will not be short of photo opportunities along the way!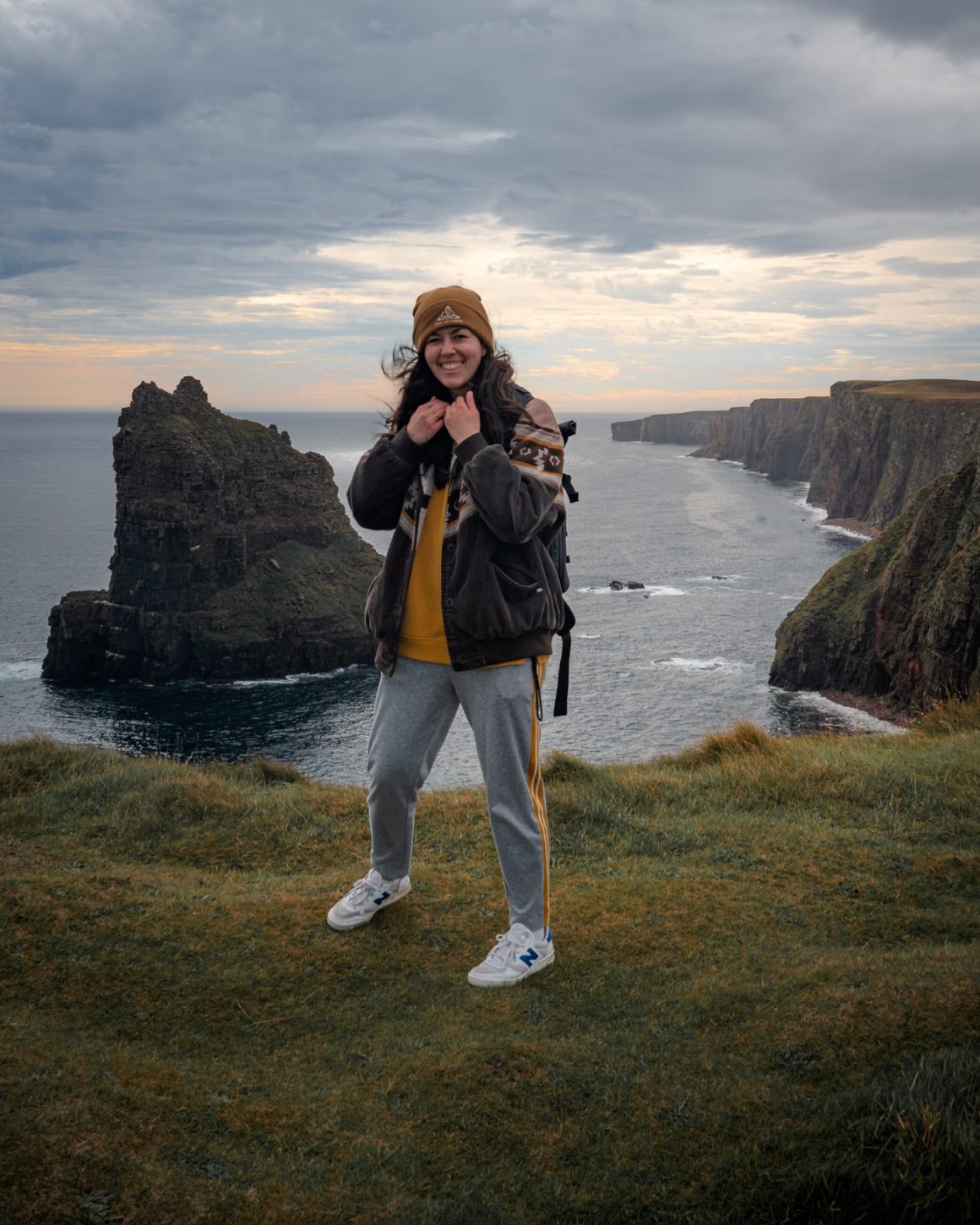 How to Get to Duncansby Stacks & Lighthouse
From any point on the North Coast 500, or the capital city of the Highlands (Inverness), there are plenty of obvious signs to point you in the direction of John O'Groats. However, more often than not, the town of John O'Groats will already be a milestone marker on your road trip to the Scottish Highlands.
From John O'Groats, the area of Duncansby is very accessible.
By Foot
Duncansby Head can be easily reached from John O'Groats on foot. There is a convenient path that follows the coastline, meandering between beautiful beaches and vast fields. The walks don't cover too much elevation, but care should be exercised when you are close to the edge of the cliffs. For more information, you should check out Walk Highlands.
By Bus
A regular Stagecoach service connects John O'Groats to Wick, Thurso, and ultimately, Inverness. This will have you dropped off in the centre of John O'Groats, in close proximity to the tourist conveniences such as a public bathroom, cafes, and the well-photographed signpost that you no-doubt, already know about.
By Bike
If you are not afraid of the odd incline in your journey, then riding your bike from John O'Groats to Duncansby Head is also an option. Continue reading the following paragraph for directions. Although, you should know that there are no purpose-built bike stands to lock your bike against – only fence and signposts.
By Car
Follow signposts from John O'Groats to Duncansby Head. You'll find the turn-off opposite the small petrol station and post office building. The full drive is 2-miles from John O'Groats.
By Van, Camper & Motorhome
It would be surprising if you were expecting anything else other than a winding single-track road to Duncansby. In true Scotland-style, this is still the case for the journey, but don't worry, there are plenty of typical laybys along the way. Motorhomes do make the drive, though if you are a nervous driver or have a particularly large vehicle, then it would be just as convenient to park in John O'Groats and make your way on foot or by bicycle.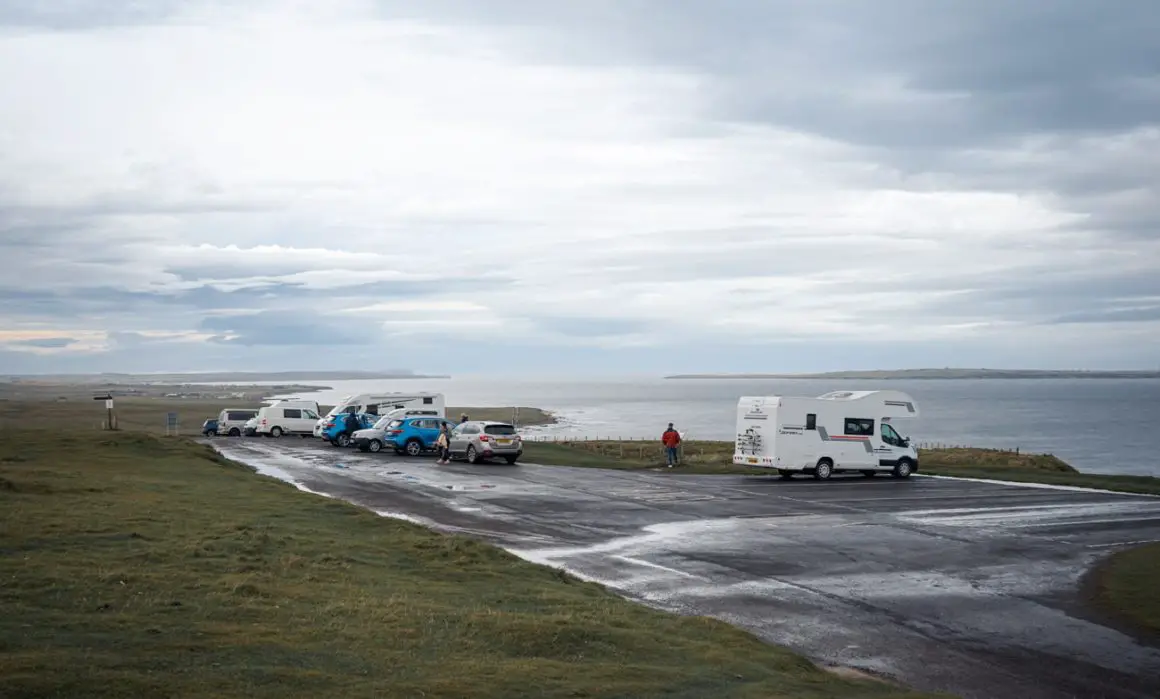 Duncansby Head Car Park
There is quite a substantial car park at Duncansby Lighthouse that is equipped with a limited amount of spaces for cars, motorhomes, and coaches. It's free, but don't expect any toilets, cafes or outdoor picnic facilities.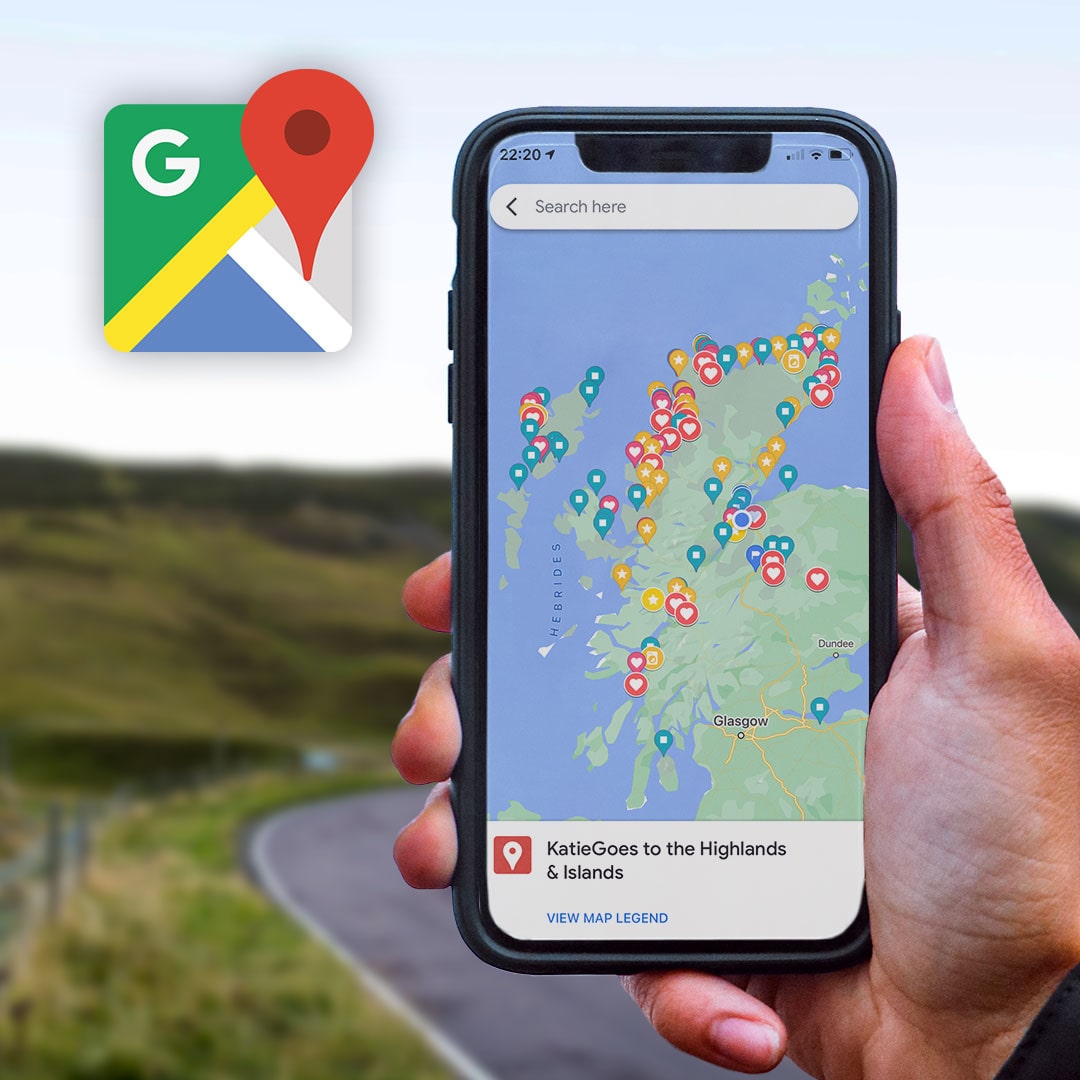 Scottish Highlands Google Map Legend
This Google Map Legend showcases 140+ need-to-know coordinates within our bonnie Scottish Highlands & Islands:
Awesome Wild Camping Park-Ups
Best Walks, Viewpoints, Beaches
Bucket List Locations
Accessible Showers & Fresh Water Taps
Relevant Links to Online Travel Guides
Where are the Stacks of Duncansby?
The Stacks of Duncansby and Duncansby Lighthouse are located a few miles to the west of John O'Groats. You'll find them if you zoom straight into the most northeastern corner of the British Mainland on your Google Map.
Several viewpoints of the stacks can be reached by a short, 500-metre walk along the clifftops. This walk begins from the car park. The Duncansby Lighthouse is the first landmark en route. If you haven't already spotted the peaks of the stacks from the car park, then a signpost will guide you in the right direction.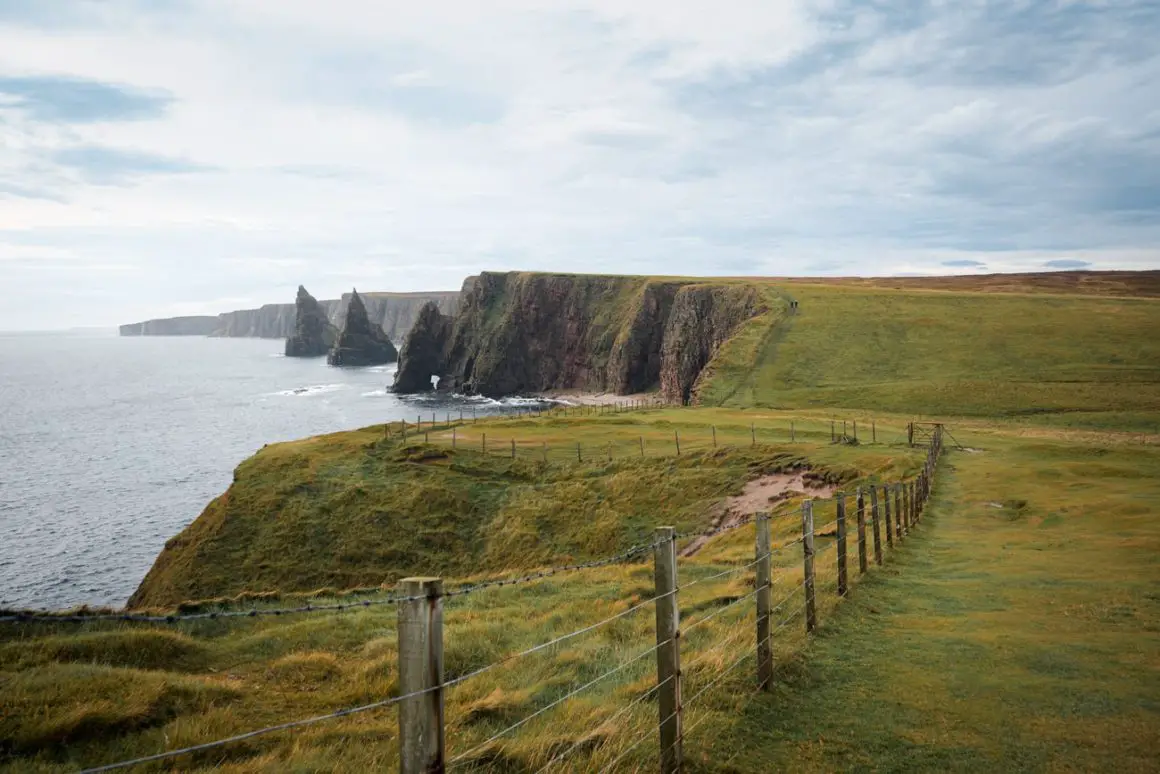 Duncansby Head Walk
There is no paved path along the coast, although various easy-going tracks can be made out along the way. The terrain ranges from short grass and sheep poo to squelchy bogs in some places. Hence why, it's recommended that you wear some waterproof walking boots – though your finest white sneaks will get you by if you're careful.
This route is also part of the 147-mile long John O'Groats Trail that is popular amongst hikers. So, continue along this path, and you will end up following the coastline all the way to Inverness.
Duncansby Lighthouse
Duncansby Lighthouse doesn't offer much… Nonetheless, the building is a picturesque sight and a historical story containing decades of light keeping, innovation, and a run-in with a German bomber machine gun during World War Two.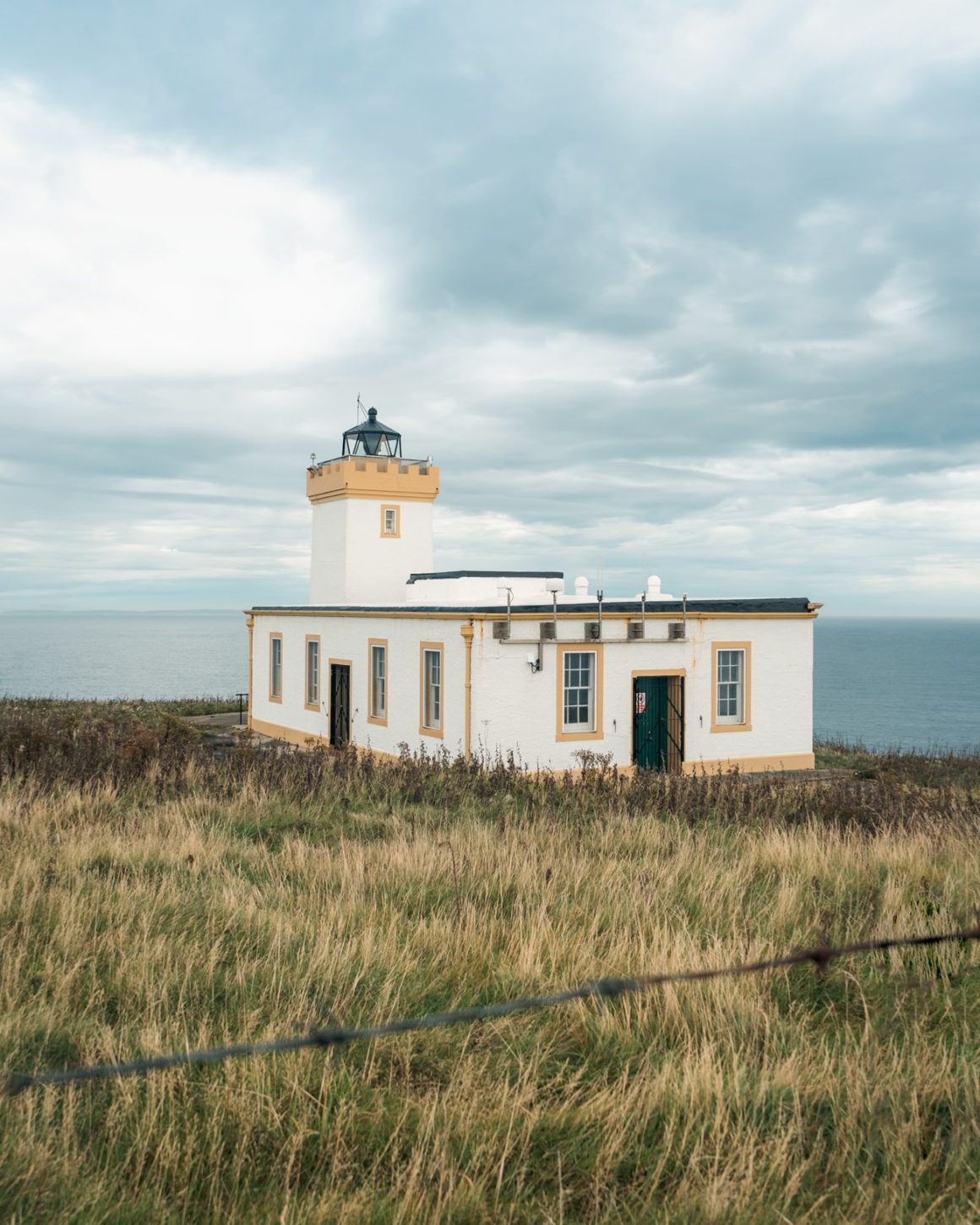 It is not possible to go inside the lighthouse, in fact, the grassland around the building has now been enclosed by a fence. Today, the lighthouse is unmanned but a local resident regularly visits to maintain the upkeep of the building.
Can you wild camp at Duncansby Lighthouse?
Duncansby Head, the Lighthouse, and around the Stacks is not an area to stay overnight. Wild camping in Scotland is only permitted on unenclosed land. The land leading to Duncansby Stacks is fenced to accommodate grazing livestock, therefore tents should not be pitched here.
Overnight parking at the car park is also not permitted. Instead, there is a campsite in the nearby town of John O'Groats. There is also a large car park at the tourist office that often sees motorhomes staying overnight.
Duncansby Head Stacks
Once you've skirted the coastline, past the lighthouse, the dramatic shapes of the stacks will not escape you! These are some of the finest that the British Isles have to offer!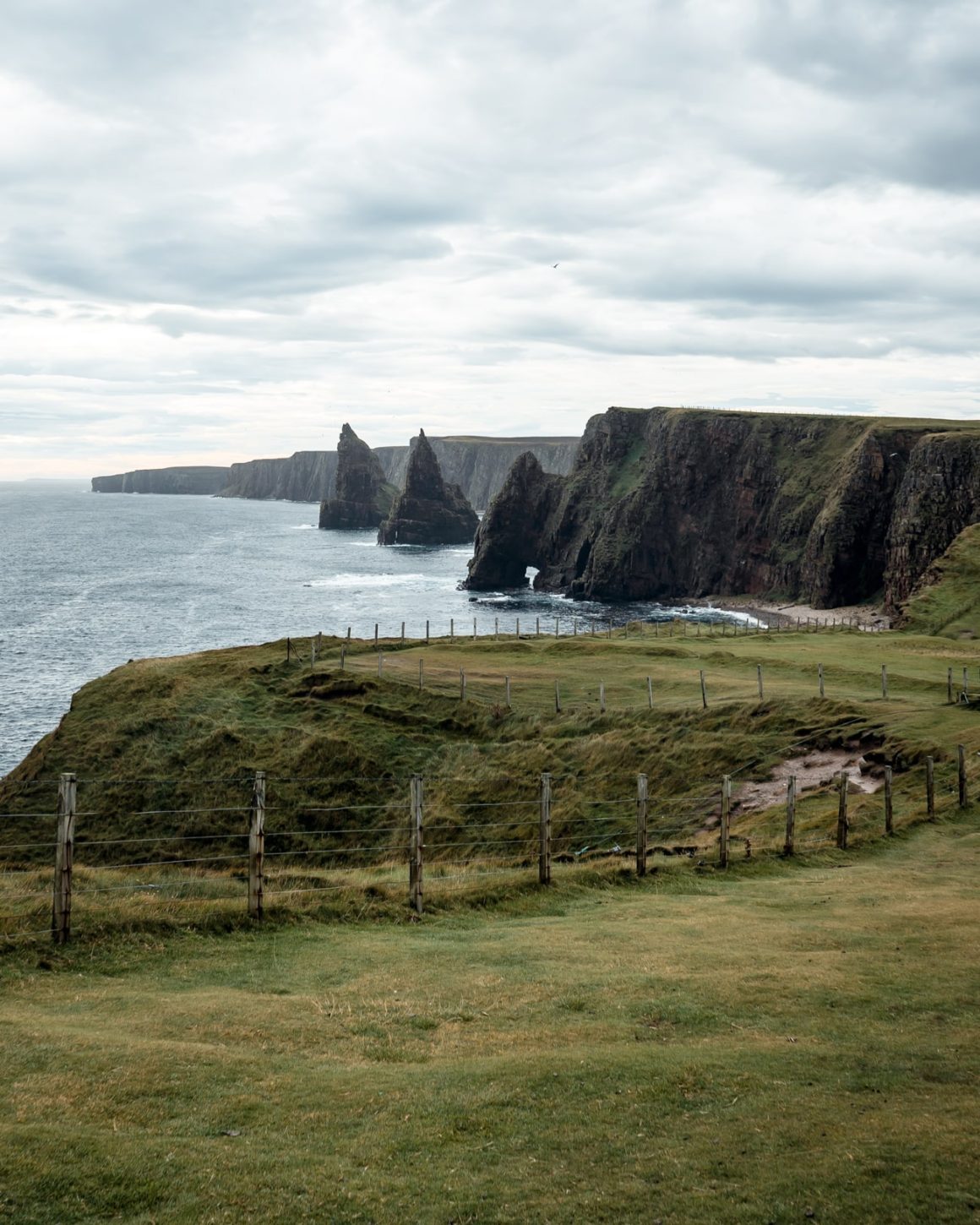 Duncansby Head Wildlife
Bring your binoculars because the entire area of Duncansby Head is a superb vantage point to look out for wildlife, and in particular, birdwatching. Possible sightings could include guillemots, oystercatchers, curious seals and more impressively, but rarely, orcas.
Duncansby Head Puffins
If you are lucky to be visiting during puffin breeding season, then you should keep an eye out for these charismatic sea birds. This would be from late spring to early summer.
When to Visit the Duncansby Stacks and Lighthouse?
Duncansby Head, Stacks, and the Lighthouse are always free and available to visitors. If anything will deter you from visiting, it would be the harsh weather conditions of winter (sometimes summer), or the coach-loads of tourists that engulf the area during the high season. If these aren't reasons to put you off visiting specifically during these months, then think about possibly avoiding the area in peak season to preserve, and not scar, the landscape as part of an unsustainable number of visitors.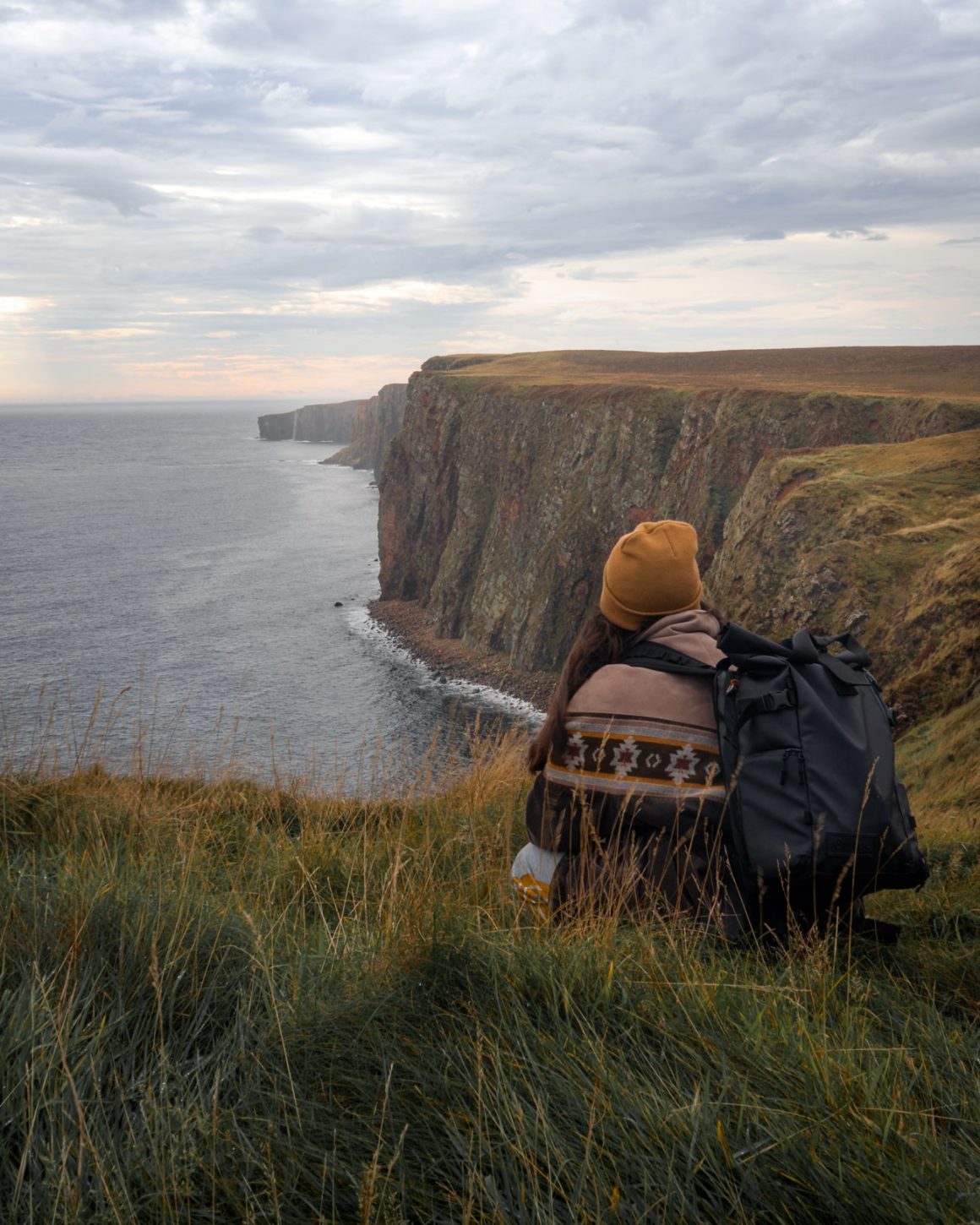 Also in the Area: Your 'Step-By-Step' Guide to the Whaligoe Steps
Whether you are a keen bird watcher, willing long-distance walker or simply and plainly looking for a stop-off destination on your North Coast 500 trip, then Duncansby Head should be on your radar. Unless the weather is incredibly brutal, then you are sure to have a great experience exploring and admiring what the surrounding area of Duncansby Head has on display for all to see. Comment below if you were lucky enough to be welcomed by the puffins!
Let's Go!
@katie.maree