The weather in Scotland can change in a flash; you could experience rain, sun, wind, fog, hail and snow, all within 24 hours. For that reason, everybody should pack layers for a trip to Scotland. Layers. Layers. Layers.
Many of the essential items of what to pack for the North Coast 500 revolve around the weather in Scotland because it can quickly become miserable if you are not prepared for the wet and rainy days. We say there is no such thing as bad weather in the Scottish Highlands, just bad clothing.
Besides preparing for all four seasons in one day, your decision on what to pack for the North Coast 500 will also depend on your intentions for the adventure ahead. Some itineraries may demand hiking boots, whereas others will simply benefit from an umbrella, but in some cases, both could be completely and utterly unnecessary.
In my experience, every time I travel around Scotland I realise that there was something that I shouldn't forget to bring on the next road trip. In that respect, this packing list was designed specifically for you to ensure that nothing is left behind whilst you begin your journey around the grand North Coast 500.
You can also take a glance at my own personal travel gear list for a refined list of my backpack and van contents and essentials.
Don't have time to read this now? Pin this blog for later.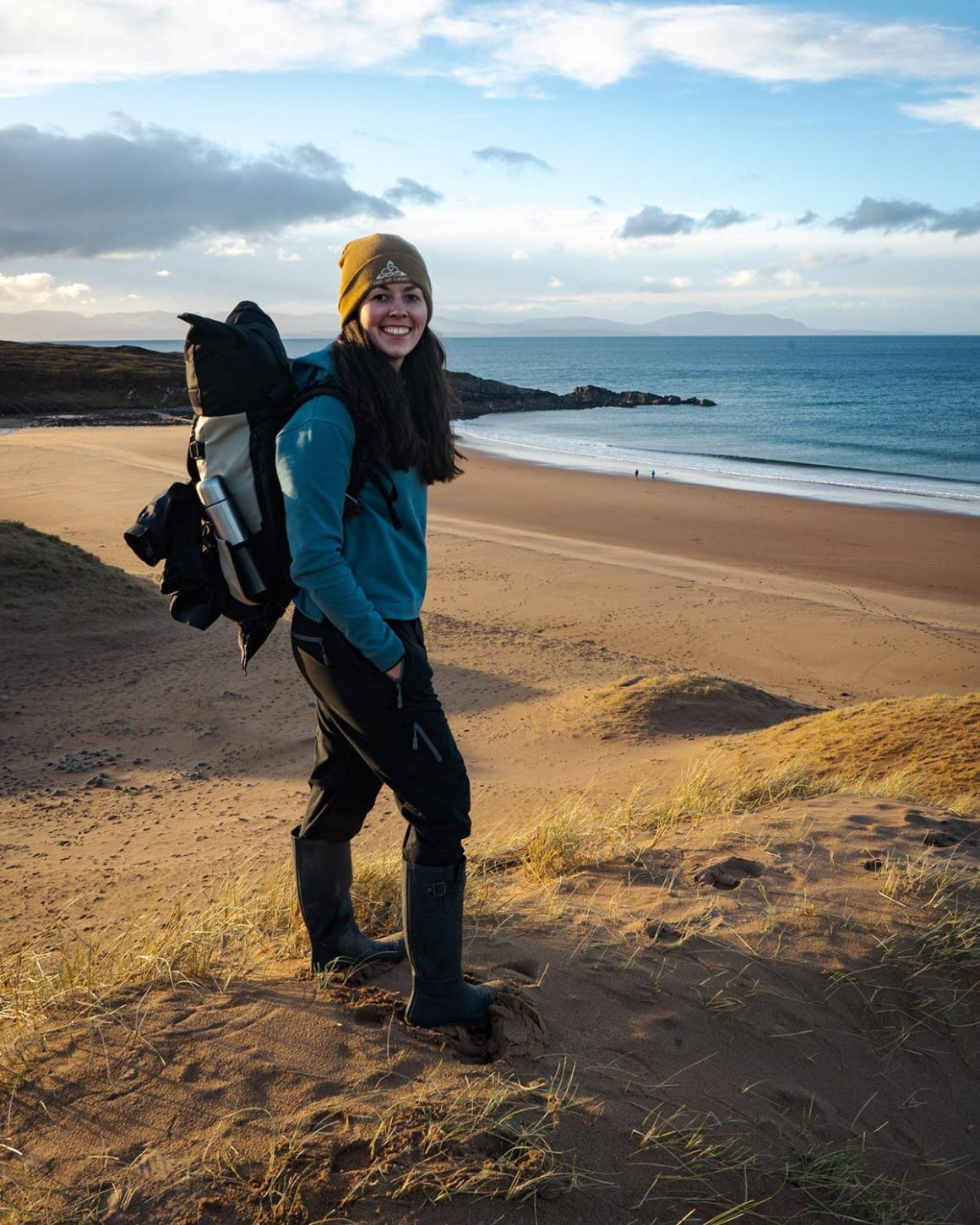 Disclaimer: This post contains affiliate links which means that KatieGoes receives a small amount but you still pay the same. The contribution helps to support the continued creation of these blogs – win, win! Nevertheless, I only recommend personal favourites that I've tried, tested or have first-hand knowledge of.
What to Pack for the North Coast 500 (NC500)
Luggage
Whether you are exploring a city or travelling between remote areas, Scotland's infrastructure isn't designed for the small wheels of a suitcase. Trust me… They will not be of any benefit on the uneven cobblestone streets or along muddy trails through the Scottish Highlands. On top of that, many buildings in Scotland are not equipped with elevators, so you may find that a comfortable backpack is the most convenient type of luggage (for example, a North Face, Osprey or Thule duffel), though this will ultimately depend on your travel style. If you aren't planning to hop between many different accommodations, then this may be less of an issue.
ALSO: Ultralight Packing Secrets for Digital Nomads & Full-Time Travellers
Save your belongings from any unexpected downpour… Consider bringing a waterproof protector for your luggage, or perhaps even a couple of dry bags, especially if your adventures will be mainly outdoors.
Clothing
Everybody will agree; Scotland has a very unpredictable and, at times, harsh climate. You could experience all the seasons in one day! When you might first be blessed with bright blue skies, you could then experience sideways rain and dreich clouds up above.
Aside for your usual road trip travel clothes, there are a few other essentials that you should consider adding to your North Coast 500 packing list to ensure that all bases are covered.
DEFINITION: 'Dreich' is a Scottish word for dreary or bleak.
Shoes
A comfortable pair of shoes will be essential for both men and women when packing for the North Coast 500; something lightweight, waterproof and comfortable is best.
With many miles of trail and hikes to conquer (like Bones Caves or Stac Pollaidh), you may want to consider travelling with hiking boots. Otherwise, a durable pair of waterproof shoes will be sufficient as hiking boots can be a little clunky, and particuarly unnecessary for short walks. In my experience, Salomon Trail Running Shoes (Men & Women) offer the best balance between durability and agility.
For the ultimate freedom, I'd recommend packing some wellie boots too. They are often the most practical choice of footwear for beaches, bogs or even sheep poo (which you may discover at Duncansby Head).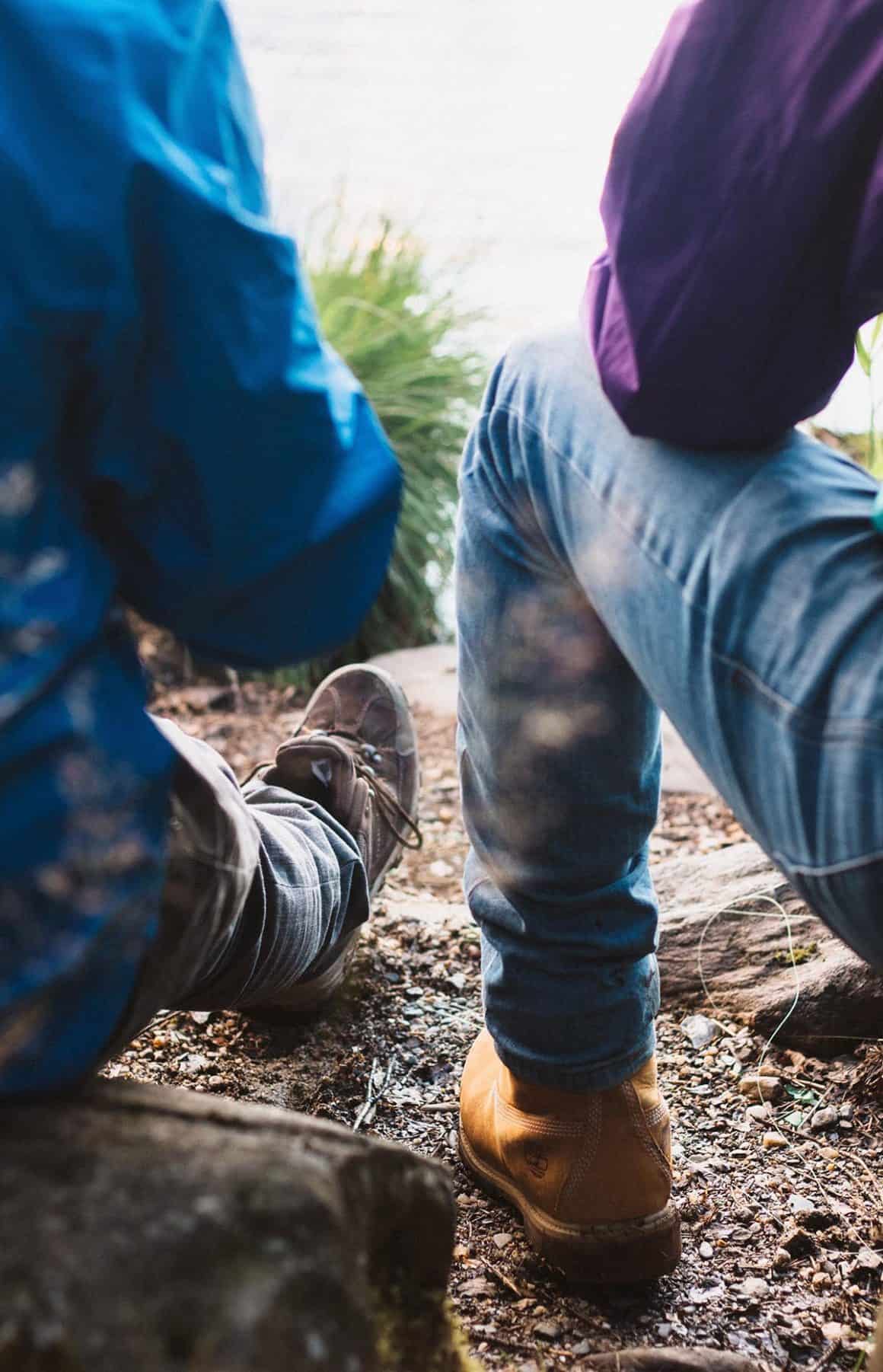 Additionally, unless you are staying in hotels, consider bringing an open waterpoof shoe, such as Crocs, Birkenstocks or Havaianas, for shower rooms, twilight calls to nature or paddling in the cold water lochs.
Fleece
Layering is key, so pack a layer that is warm but not too bulky that will be comfortable under a jacket too.
Jacket
It is essential to pack a waterproof jacket no matter the season in Scotland; prepare physically (and mentally) for plenty of rain!
You'll particularly need a high-quality waterproof jacket if you are considering hiking in the great outdoors. The right jacket could also act as a wind barrier too if it begins to blow a hoolie outside.
Packable down jackets are a great addition in what to pack for the North Coast 500. They can also act as a mid-layer beneath your waterproof… But let's hope it's not that treacherous for you!
DEFINITION: 'Hoolie' is Scottish slang for gale force winds.
Waterproof Trousers
Would you run for cover or endure the heavy downpours? A pair of packable waterproof trousers will ensure you are kept warm and dry if you are caught out in the rain. They might just also spare you the nuisance of drying soggy clothes in your car or accommodation.
In my opinion, Berghaus' Paclite Gore-Tex Trousers (Women & Men) are the best choice, combining comfort with a very packable overlayer that doesn't create the crunching noise that many waterproof trousers make when you walk.
Thermals
It's often a wee bit chilly in Scotland at some point during the day. If you always tend to be cold, or you're travelling in autumn or winter, it might be worthwhile packing some thermals. On truly foul days, thermal base layers can be a lifesaver as they retain a lot of heat.
Buff
From keeping you warm to providing cover from the sun, buffs are incredibly useful, and yet so packable too so make sure to include your favourite pattern in what to pack for the North Coast 500.
Socks
Thick and comfortable socks are vital in preventing blisters during long-distance walks. They can also keep your toes from feeling the extreme cold too! Keep your feet dry whilst you skip between bogs; wool socks stay fresh for several days with natural antimicrobial properties. Be sure to pack plenty of pairs as you will need replacements for those you lose to knee-high bogs or harsh Scottish downpours. There is nothing worse than soggy feet!
Personally, I would recommend packing a pair of your fluffiest socks too. You'll be thankful for them after long hikes, cold adventures or simply to wear in your accommodation during the evenings.
Hat & Gloves
Don't forget your favourite beanie for hiding the inevitable wind-swept hair! Gloves will certainly come in handy too (pun intended) if you are travelling to Scotland in the winter.
RELATED: 59+ Best Places to Visit in Scotland (Written By A Local)
The Essentials
Refillable Water Bottle
Scotland's tap water is some of the cleanest and clearest in the world! Honestly, a gulp of ice-cold water straight from the tap is what I crave most whilst travelling around the world. So whether you own a refillable container or an insulated bottle, fill up from a tap each morning.
Refillable bottles can be wasted weight and space if they are empty. The foldable Vapur's Collapsible Bottle allows you to crush the bottle without negating any reusable quality.
Nalgene Water Bottles are virtually indestructible; I've personally tried to squash mine with the car! This container is leakproof, easy to clean, and without any weird taste.
Coins
You'll be glad you stocked up on loose change if you pass farms selling fresh eggs, home-grown produce or fresh baking. Keep an eye out for the honesty boxes next to any wee treasures on the side of the road.
You may also need some cash to pay for parking, public bathrooms, laundry or showers.
Head Torch
You mightn't know what you'll need a head torch for now, but it'll be a worthwhile addition for late-night toilet trips, walking home without streetlights from the pub or changing an emergency puncture on the side of the road.
Road Trip Playlist
Is a road trip even a road trip without a playlist of your absolute favourite hits? Songs can become to define a road trip, plus they might even remind you of the adventure when you replay them years later.
Looking for something Scottish?
Whether you are using Spotify, YouTube or Apple Music, remember to make your playlist available offline. There is no better way to kill the mood than for your music to cut out after losing any signal. Unless of course, you are stuck in the dark ages with an old-school CD or tape player, then you are winning!
Camera
Are you ready to capture unforgettable scenery? These days, most phone cameras will be sufficient, but for greater quality snapshots, you can read about the best camera gear for travellers.
On the other hand, you could instantly capture and display memories with an Instax Mini 11 Camera. They are a great way to mark a moment.
The DJI Mini 2 is the smallest drone created by the most reputable brand. Weighing less than 249g, this lightweight addition will quite literally take your photography to a whole new level without the worry of size and weight.
Sun Cream
You may be surprised to see that even the word 'sun' has appeared on a list of what to pack for the North Coast 500, but you'll be even more shocked to return from a day out in Scotland to find your face has turned bright red between the wind and clouds. Don't be caught out!
First Aid Kit
Be sensible by carrying a small first aid kit with essential items in your vehicle. You never know what little mishap can happen along your road trip, especially considering the remote location of many places on the North Coast 500.
Umbrella
Whether you have a strong and sturdy or smaller packable, lightweight alternative, it'll be worthwhile packing an umbrella in the likely event of rainfall. However, if you aren't planning to explore many towns and cities then you should preserve space by leaving your umbrella at home. You could also be saving yourself the embarrassment as most umbrellas do not stand a chance against our strong Scottish winds. Decent rain jackets with a hood will serve you much better than any umbrella in the Scottish Highlands.
Travel Insurance
You should always travel with reliable insurance that will cover unfortunate mishaps. SafetyWing is my preference, especially if you are unsure of how long you'll be travelling for as the insurance is convenient, flexible and simple.
Towel
There are many beautiful rivers, lochs and turquoise-water bays around the North Coast 500. Will you be brave enough to take a dip? Travel prepared with a lightweight towel – just in case!
The Matador NanoDry Towel is my all-time favourite! It's the thinnest I have ever come across. Alos, travel towels can often feel a little weird, but, I don't mind the texture of Matador's super-absorbent material. The cloth is ultralight and can dry extremely fast which will be super convenient if you have to air dry in the car.
A super warm and cosy changing robe can also be a game-changer for wild swimming or water sports enthusiasts. They'll allow you the privacy to change in and out of a wetsuit or swimsuit with ease whether you are on a beach, in a forest car park or in a campsite. They are great for both adults and children.
Rucksack
When considering the amount of what to pack for the North Coast 500, a small day pack will be essential for hopping between the car, beach and mini adventures. Consider buying a rucksack that is durable, weather resistant and has plenty of space for a water bottle and picnic items.
Depending on the size you will need, a great durable rucksack is: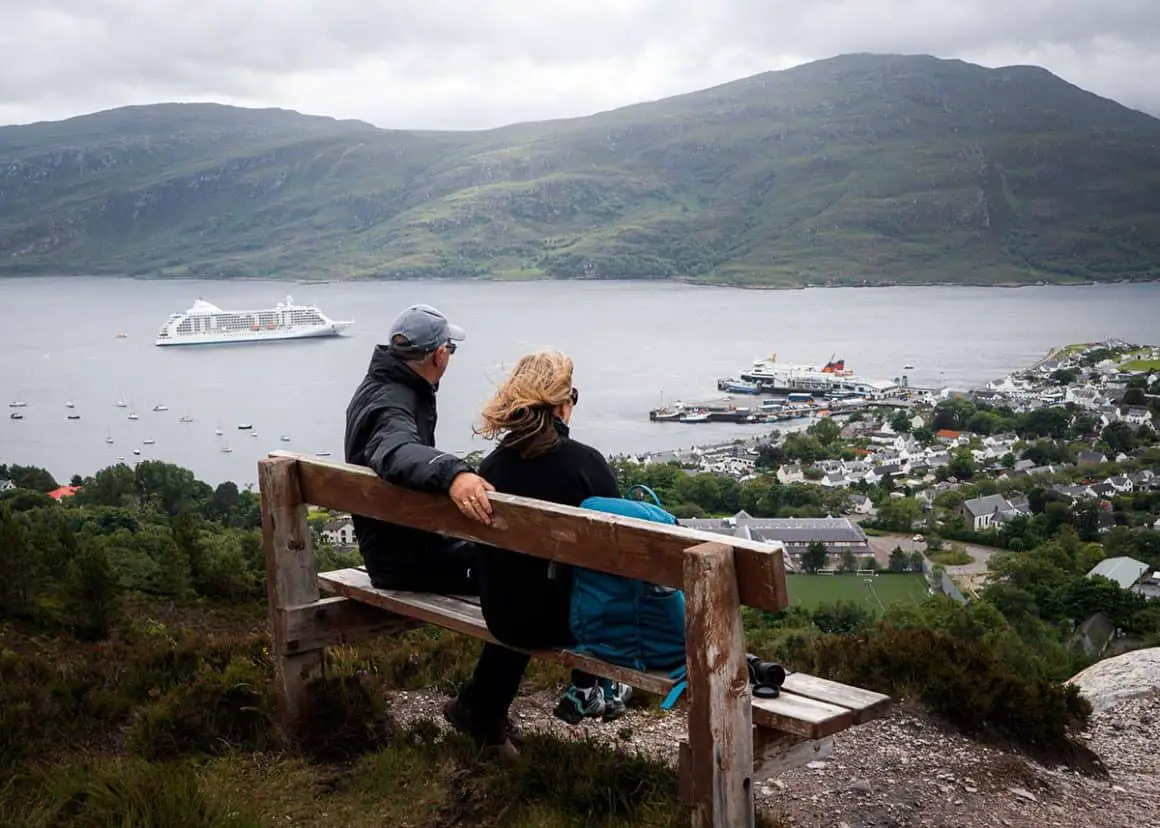 Critter Repellent
Protect yourself from the blood-sucking creatures of the Scottish Highlands with at least one, or if not all, of the safeguards against our wee critters.
Midges are small insects, much like a mosquito. They can be incredibly unpleasant as they gang up on tourists in large numbers causing multiple itchy bites. Therefore, midge repellent spray is a must!
There will inevitably be many moments you find yourself running indoors to escape the midges. You could be equipped with a Thermacell Halo Mini Midge and Mosquito Protector to avoid rude interruption. It's cordless, portable and odourless, producing no messy spray or oily lotion. This is almost a must-buy if you hope to spend your evenings relaxing and enjoying the outdoors!
On top of that, you could be unlucky to also pick up a tiny tick. I, personally, try to always have a tick remover to hand in my van or backpack.
Maps
The Scottish Highlands are notorious for a scarcity of 4G in some remote areas, but I promise you, we are improving year after year. Nevertheless, you should consider downloading Scotland on Google Maps to have directions available offline.
Before you begin your road trip, it's also worth saving notable locations on the offline map, such as your accommodation, attractions, car parks, supermarkets and petrol stations.
Have a look at our Scottish Google Map Legend for all of the best recommendations at the touch of your fingertips! This must-have resource pinpoints the most important locations, such as park-ups, restaurants and sites to see… All for your convenience!
Phone Mount
Make sure your maps are always in eyesight with a sturdy phone mount. There are plenty of variations to choose between, but personally, I find that the Magnetic Phone Mounts or Pop Socket Mounts are the easiest to use whilst you are driving. Otherwise, Windscreen Mounts are very common choices too.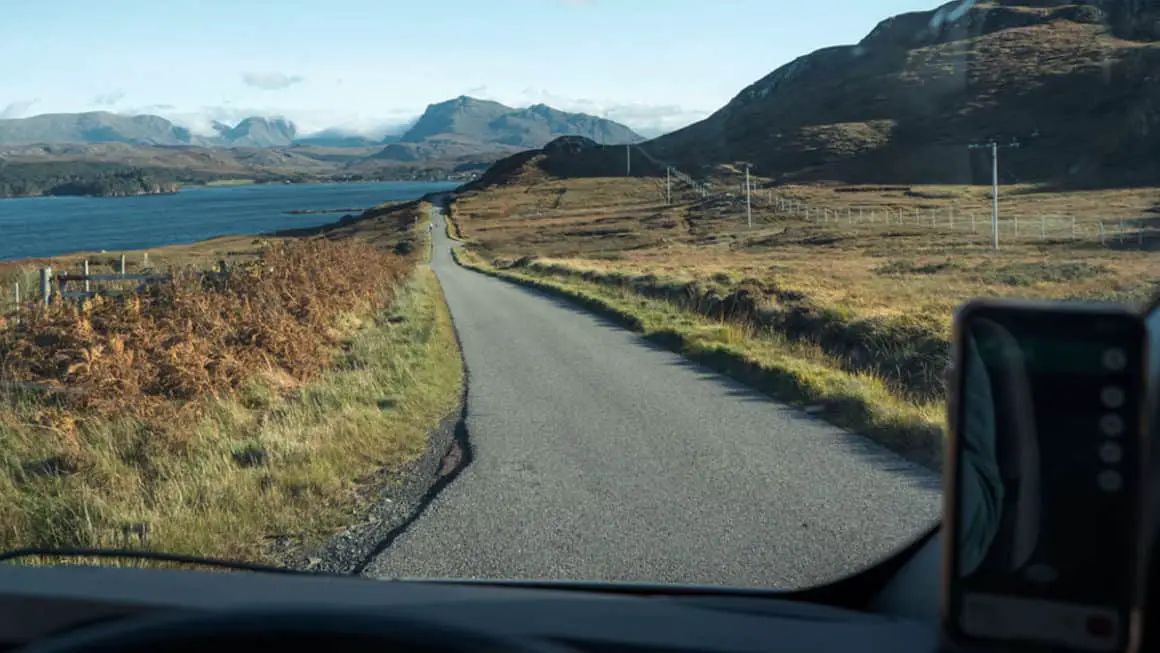 Data Plan
Are you travelling from an international country? It may be cheaper to buy a local SIM card than to pay the international roaming charges on your existing data plan. There are plenty of data networks available in Scotland, like GiffGaff, though if you are looking for the ultimate convenience, you could purchase a prepaid data plan eSIM from Airalo.
Car Charger or Battery Pack
You wouldn't want to be caught out without your maps, camera, music, torch, or even your electronic wallet. With so much important functionalities on our mobile phones, it is almost a disaster if they run out of battery. To avoid the inconvenience, travel with a portable power bank or cigarette lighter car charger. A multi-charger cable will be particularly handy if you are travelling with friends or have multiple devices.
A Jackery Power Station would be the ultimate, albeit over-the-top, setup for your electrical needs. The device is capable of supplying electricity with a rechargeable battery-powered generator, equipped with an AC outlet, DC carport and USB charging ports.
Plug Converter
You will need to bring a British or universal travel adaptor to power your electronics if you are travelling from a country outside the United Kingdom.
In my opinion, the Zendure Universal Travel Adapter is the ultimate all-in-one that will serve you beyond your adventure to Scotland. This device is capable of charging multiple devices simultaneously. You could even leave your notoriously heavy Macbook transformer at home – win!
ALSO: 26 BEST Things To Do In Inverness City Centre (Scotland)
Nice-To-Haves
Stand-Up Paddle Board
There will be plenty of opportunities to enjoy moments on a stand-up paddle board along the North Coast 500. They've become so popular across the country, you may even feel the fear of missing out if you didn't bring your own.
Portable Fire Pit
If there was one rule to respect along the North Coast 500, it would be to leave the place exactly how you found it, because, after all, you wouldn't be happy if the previous visitors spoiled the landscape before your journey. With this in mind, let's encourage responsible camping using a foldable fire pit to leave without a trace. This is, by all means, not essential but it would be great for van lifers, couples or families. You could even pack a packet of marshmallows or two!
Hygiene Products
A small bottle of hand sanitiser can be useful for any calls of nature you may have en route, along a hike or during an evening of camping. The same applies to compostable wet wipes (although, they should always be disposed of responsibly).
Sunglasses
The sun in Scotland can often be quite low, so it's likely that you'll need sunglasses when you are driving, or even walking.
Puffy Blanket
This may be stating the obvious, but… It's going to be cold!
Puffy blankets are water and odour-resistant and very packable which makes them the ultimate outdoor blanket. They are perfect for sunsets on the beach, bothy sleepovers, a snuggle around a campfire or simply to keep warm inside a cold campervan.
Changing Robe
With the rising trend of stand-up paddle boarding and wild swimming, so is the increase in changing robe popularity. In my experience, these changing robes are multi-functional as they feel like giant wearable sleeping bags, perfect for long walks along the windy beaches of Scotland.
Slippers
Camping slippers are not essential, but let's face it, you will be so grateful to unpack them after a long day of exploration in the harsh weather conditions of Scotland. Slippers will also feel like a gift if your accommodation has cold, hard flooring which is particularly off-putting in the mornings. Rab is a reputable brand that sells durable slippers, but iBlueLover offers a cheaper alternative on Amazon.
Waterproof Playing Cards
Are you easy to keep amused in the likely event of being stuck indoors in bad weather? Have you considered bringing playing cards (just in case)? Be prepared against the heartache of soggy playing cards after a spillage, a Scottish downpour or an evening's worth of sticky-bottom drinks. Waterproof playing cards can be washed under the tap so they're perfect for taking to the beach, bar or bothy, for playing outside the van or keeping inside a backpack that could be drenched.
Camping Chair
Scotland has plenty of mesmerising landscapes that you could take hours to admire! Pack a beverage and a comfortable camping chair to enjoy these moments.
Personally, I was pleasantly surprised at the compatibility of Vango's Micro Tall Chair. It's smaller than half the size of a standard folding chair. Plus, it's relatively easy to assemble and disassemble.
Binoculars
If you don't bring binoculars to Scotland, you may wish you had!
The Scottish Highlands is a haven for wildlife enthusiasts. You could expect to spot eagles, seals, puffins, otters, deer, dolphins, whales and many more species in their natural habitat. A pair of binoculars will allow you the best chance of spotting some incredible animals. Other than that, you could be surprised at how many times you find yourself squinting curiously at a boat, shelter or moving dot in the distance, wondering what you might be looking at.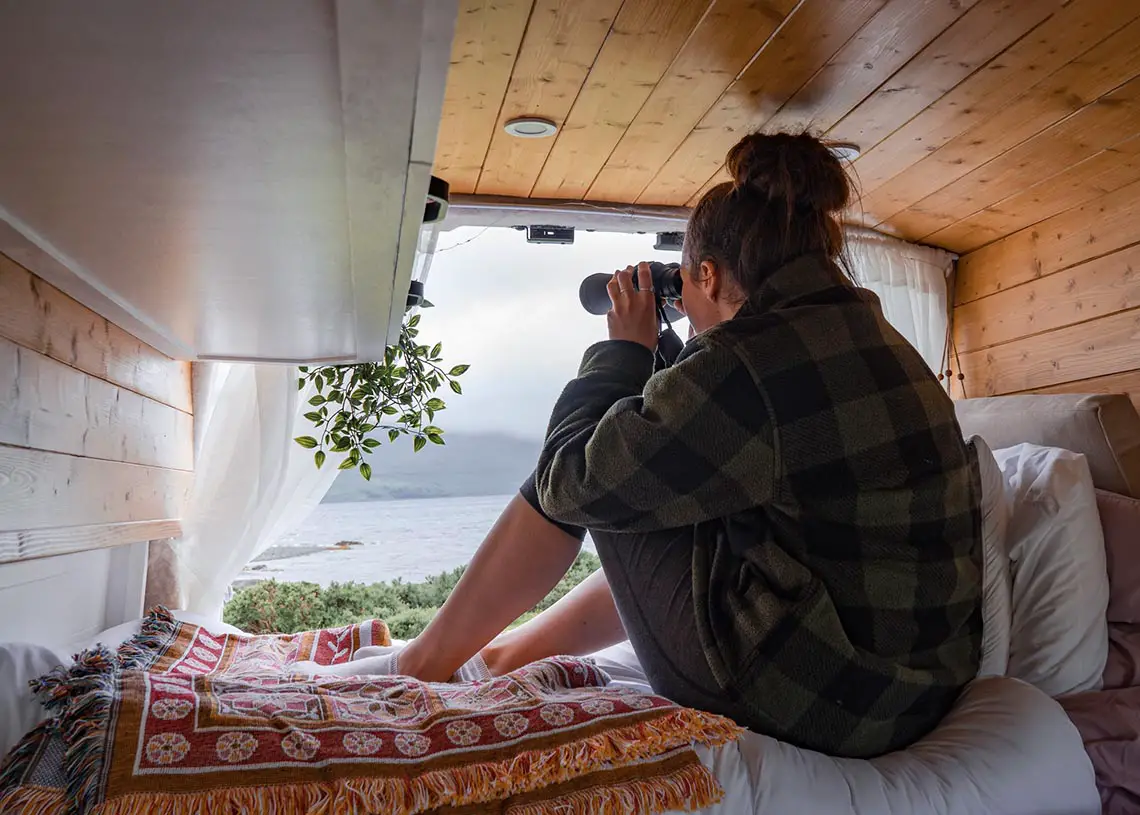 Camping Stove
This compact and lightweight setup is perfect for any grab-and-go adventure. The Highlander Blade Fastboil packs down into one pot. The stove also self-ignites so you needn't worry about taking a working lighter or your matches going soggy. If you prefer to travel with a lighter, then a windproof USB-rechargeable flameless lighter will ensure you are never stuck without lighter fluid.
On that note, don't forget to pack a spare gas canister too!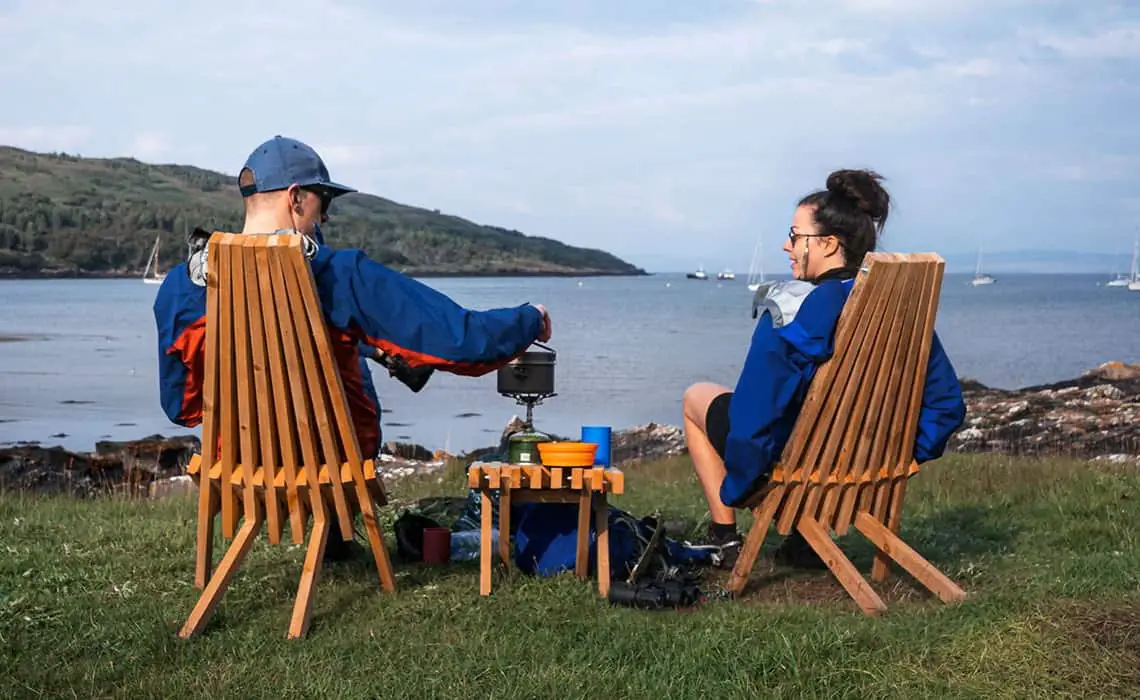 RELATED: Driving in Scotland for the First Time (13 Must-Know Tips)
Extra Precautions
Tyre Inflator
A tyre inflator is useful for pumping your bike, inflatables, football or any car tyre in emergencies. It's not the most exciting product to purchase, but you are likely to find more uses for the inflator than you'd initially think.
Gaiters
Do you intend on walking anywhere with long, wet grass or deep bogs? Gaiters can save you the drama of soggy feet, or even protect you from unwanted ticks.
Hand Warmers
Are you planning the North Coast 500 for winter? Protect your hands against the bitter cold with ready-to-use HotHands Air-Activated Heat Packs. They provide safe, natural heat for your hands and pockets. All you need to do is shake to activate.
Camping
You will need to consider bringing much more gear if you intend to camp during your journey around the North Coast 500. The following guide will only list the basics, as camping will not be for everybody.
Tent
Your tent must be highly water and windproof for the Scottish Highlands. A layer of protection from the clouds of midges will also be essential.
In my experience, I have enjoyed camping with the 1-Person Snugpak Ionosphere Shelter. The tent is compact yet not overly claustrophobic; not the most lightweight but light enough; and discreet with a low profile that will blend well along the sidelines of the North Coast 500.
However, if you'd prefer to have the ability to sit upright inside, the OEX Bobcat 1-Person Tent is also a great, affordable tent.
Other recommended larger tents are as follows…
2-Person – MSR Elixir 3 V2 Tent
3-Person – Forceatt Ultralight Camping Tent
4-Person – Coleman Darwin Tent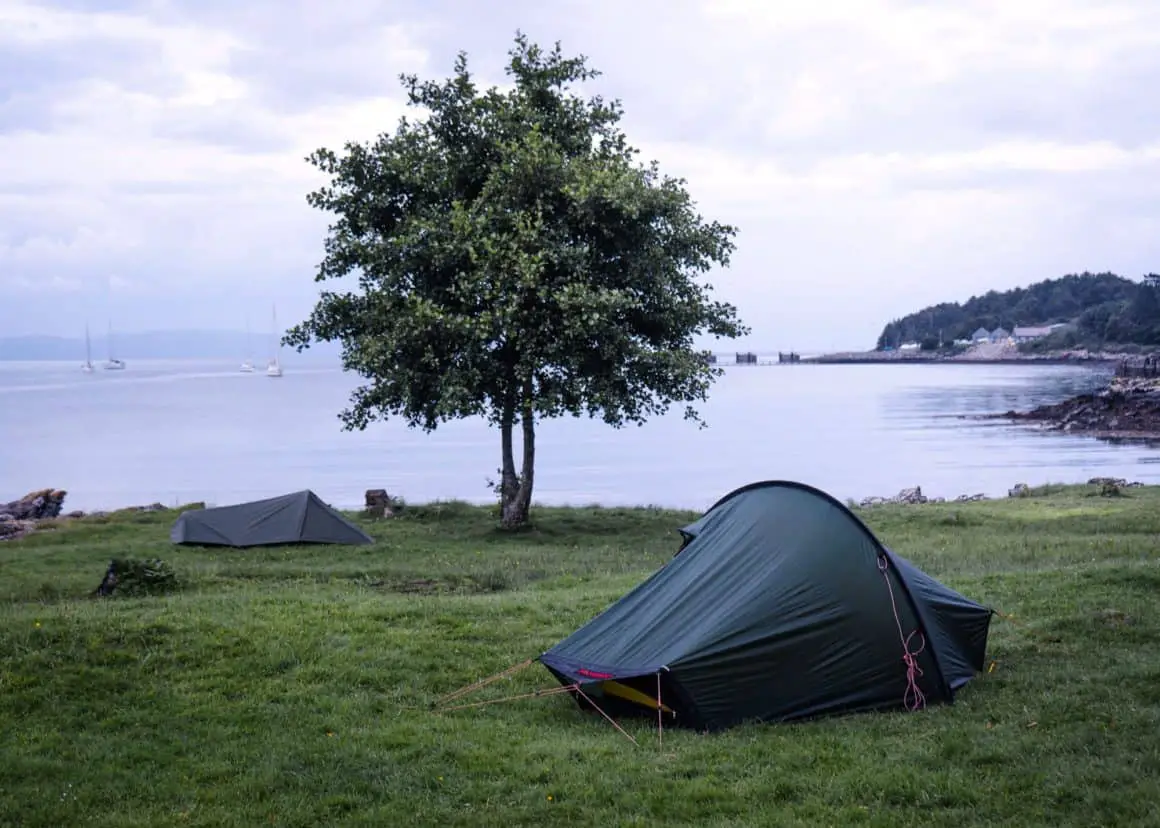 Sleeping Mat
Whether you're sleeping in a tent or a bothy, you will need a sleeping mat to soften the bitter chill from the ground. The Thermarest ProLite Apex will supply a huge amount of support for such a packable size. This sleeping mat self-inflates up to 5 centimetres thick, providing a substantial warmth-to-weight ratio for its kind.
Sleeping Bag
If anything is certain, it's going to be cold out there! Make sure that you'll be cosying up inside the warmest cocoon at night with an ultralight and ultrawarm sleeping bag. It would be difficult to find any other as affordable, small and warm as the TETON Sports LEEF Ultralight Mummy Sleeping Bag.
String Lights
Set the perfect romantic van life, car camping or tent ambience. The Luci Solar String Lights are pretty, practical and portable. This 18-foot string of lights provides up to 20 hours on a single charge. Plus, they are 100% solar-powered!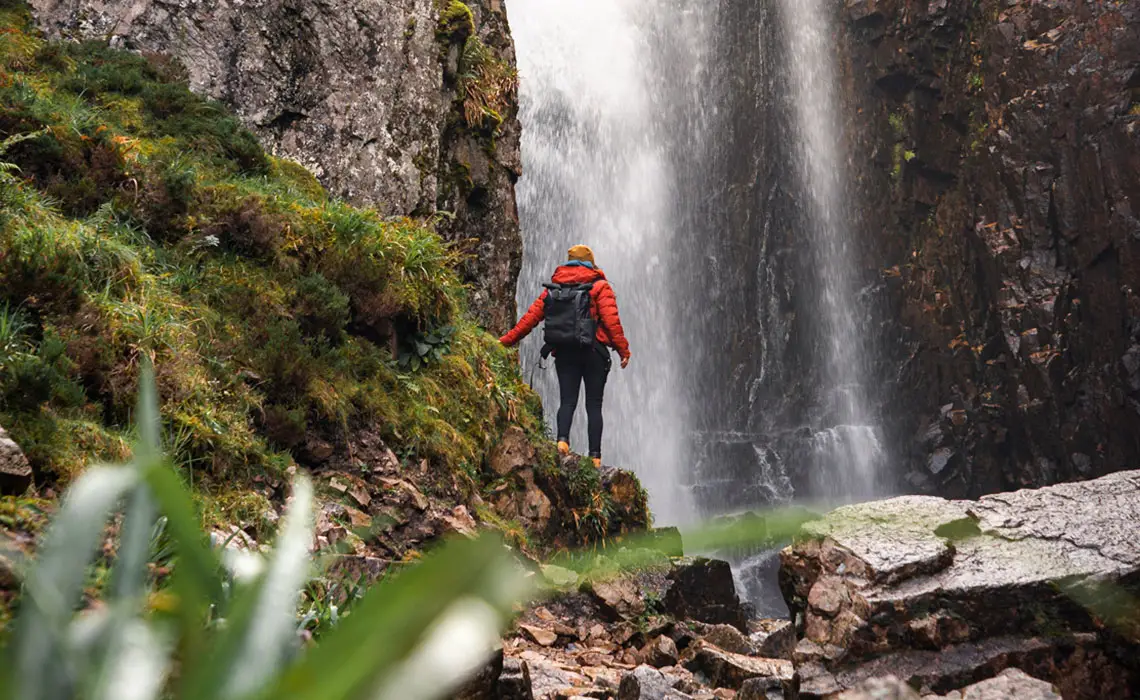 At the end of the day, remember that the Scottish Highlands are not the end of the world; there are plenty of shops on the High Streets of the larger towns and cities should you forget something important.
What do I need to pack to go to Scotland?
With very changeable weather, it is essential to pack layers if you are travelling the North Coast 500. Scotland isn't a particularly fashionable place, it's more important that you are ready for the harsh elements.
What not to forget when travelling to Scotland?
Do not forget to pack your best waterproof jacket, midge repellent and waterproof walking shoes. They are the essentials!
What kind of shoes to wear in Scotland?
In my experience as a local, I find that trail running shoes, wellie boots, Timberlands or Blundstones, and Crocs are all you'll need to explore the Scottish Highlands.
Still planning your trip to Scotland? Check out the latest guides…
Let's go!
@katie.maree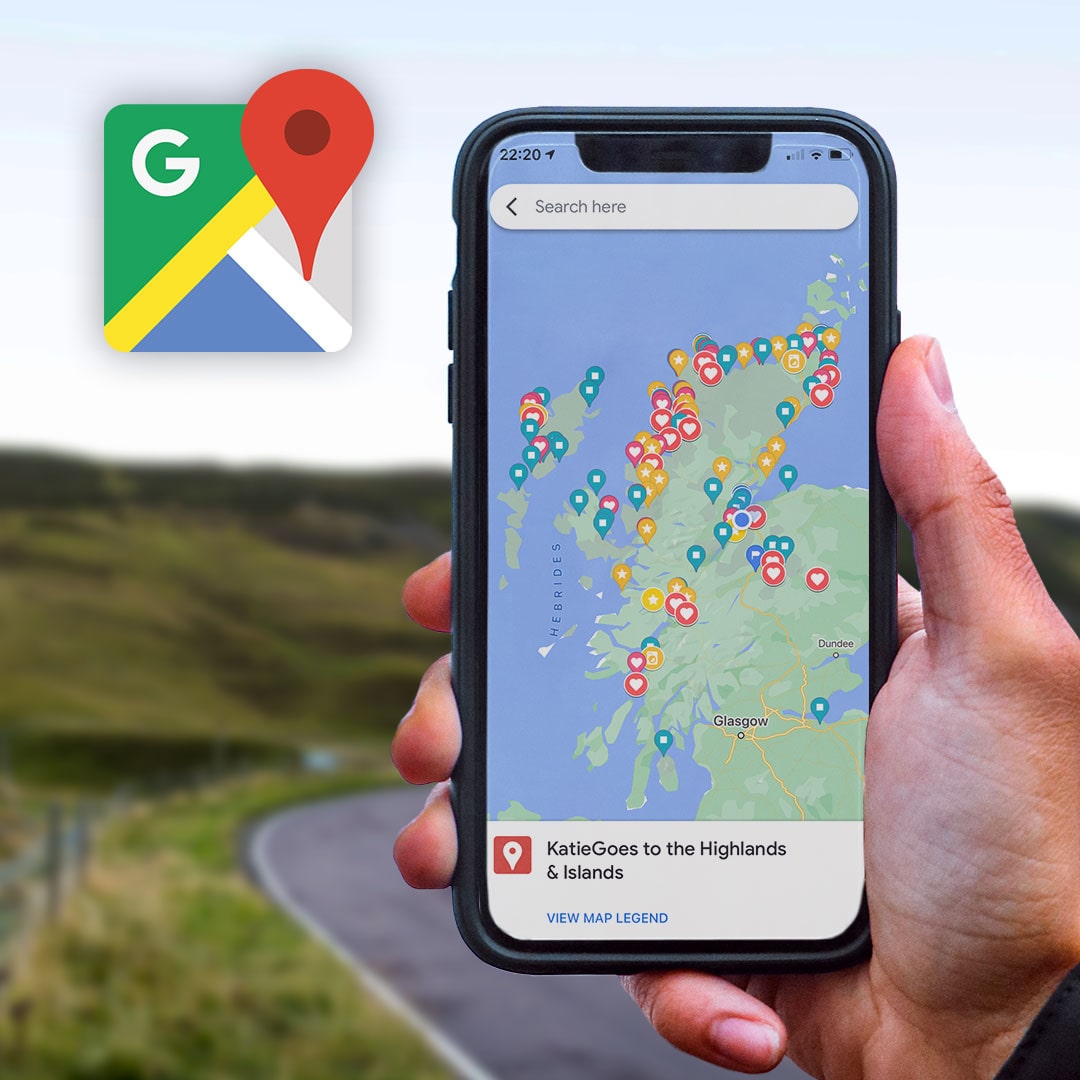 Scottish Highlands Google Map Legend
This Google Map Legend showcases 140+ need-to-know coordinates within our bonnie Scottish Highlands & Islands:
Awesome Wild Camping Park-Ups
Best Walks, Viewpoints, Beaches
Bucket List Locations
Accessible Showers & Fresh Water Taps
Relevant Links to Online Travel Guides
Save this to Pinterest
Don't have time to read what to pack for the North Coast 500? Click PIN to save the article for later.