I travel alone approximately 60% of the time. Even though I knew I wasn't going to be totally in my comfort zone, I didn't feel nervous about travelling to Havana without any buddies – which is exactly why I booked the trip. So could Havana be the perfect destination for solo female travellers?
It took me only a few hours in Cuba to realise that neither I nor my Mother, had anything to worry about; I was going to be just fine here. In fact, I received the warmest welcome I had experienced in a long time. If you are looking for a place to travel alone, think about Havana, I believe it's a perfect destination for solo female travellers! Here are a few reasons why…
Havana's Restricted Wifi
Do yourself a favour – avoid any hotel, tourist restaurant or foreigner hotspot. Havana can be experienced absolutely free if one just takes a gander down the bustling streets of the Old Town. By doing so, some might consider the lack of any internet connection a hindrance, when really, they should appreciate the advantages of its non-existence. The shortage of digital connections consequently allows the people to focus their attention on being professional offline socialisers. It'll take anybody just to be present in a city square for a local to then introduce themselves to you in a matter of minutes. This is just one of many reasons I suggest Cuba as a great city to travel to as a female solo traveller in this blog.
Perfectly Homely Hostels
From beginning to end of each day, the loving family at Hostal Red properly took care of me. They had my back when it came to sharing knowledge of their city, to serving a wonderful breakfast in the morning and inviting their guests to music events they would be attending in the evening. Their daughter is sweet, the father spoke enough english and the mother welcomed me into her homely kitchen. I received the impression from Hostelworld reviews that many of the budget hostels in Havana share the same vibe. To summarise, staying in smaller hostels with an open and friendly atmosphere is a catalyst to getting to know the other guests sharing the same experience.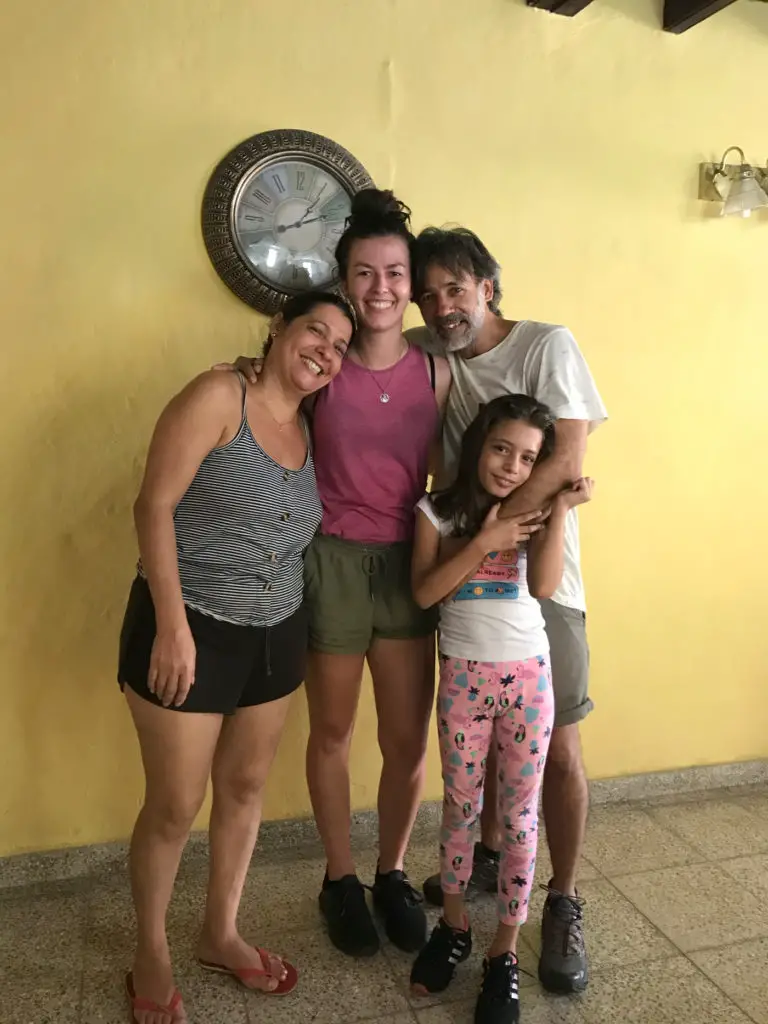 Safe Transport
If you are finding it difficult to get to grips with the public transport then there are plenty of taxis to get you by. Lets not forget that these aren't just any standard taxis, but a vintage Cuban taxi. Every second car is a classy old-style American car labelled 'taxi' in the windscreen. Even if you don't need a ride, I suggest just hoping in for the experience – c'mon it's Havana, you have to!
Friendly Locals
I'm just going to put it out there… My Spanish is terrible. But I try. Really. Thank goodness for the patience of the local Havana people. They were kind enough to listen to me butcher their language, which gave me a chance to attempt any new words that they would teach me.
Like mentioned before, the locals are also extremely open. They are not afraid to approach anyone that they have a desire to meet or talk to. Being alone, makes you a hundred times more approachable in these scenarios. Embrace it – you never know where they'll end up taking you next.
Salsa Classes
So you've spent a whole day in Havana and you are still struggling to find friends? I don't believe you. Although, I do have a final option. According to my experienced hostel friend, Cuba is one of the best places in the world to do Salsa. So much so, that she is a return visitor to both the country and my recommended accommodation (Hostel Red). By attending a Salsa event or class, you are immediately partnered with a Cuban resident who will guide you across the dance floor. Make one friend in the class and you are guaranteed to be introduced to a whole bunch of others. If that doesn't sound like the perfect way to make friends in Havana as a solo female… Then I don't know what does!
Are you travelling from Mexico to Cuba? You should read this. 
Do you travel as a female solo traveller? I would love to know where's been your favourite places to travel alone. Let me know in the comments below.
Peace,
@katie.maree