You cannae visit Scotland without going for a wee hill walk, especially if you are passing our beloved Stac Pollaidh on the west coast. At 612 metres high, this hill (graham) is small enough to be considered an easy climb but tall enough for some absolutely breath-taking views over the Summer Isles and beyond. That's if the Scottish weather is good to you!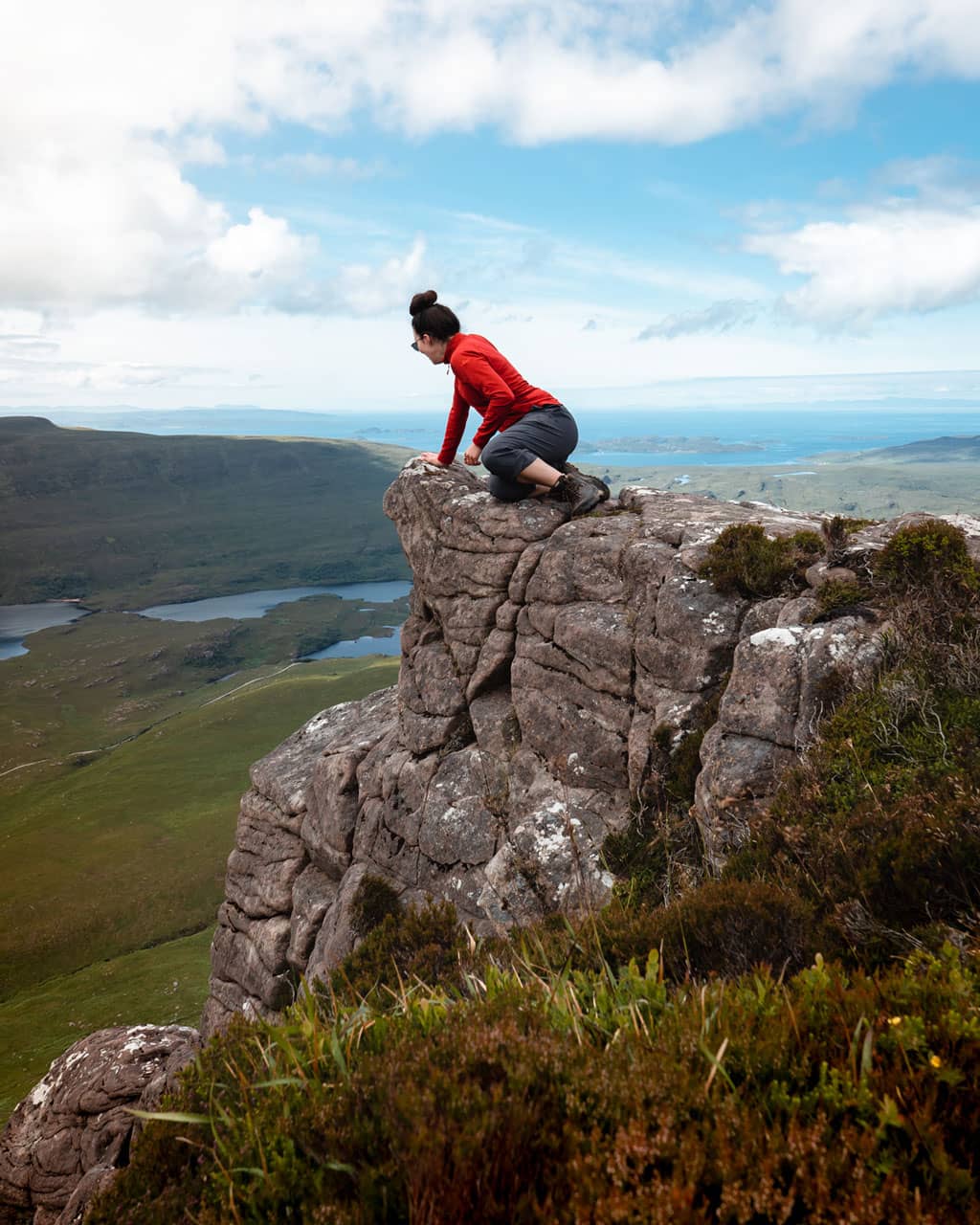 Stac Pollaidh is pronounced 'Stack Polly'
Here's Your Simple Guide on How to Climb Stac Pollaidh…
The Best Time to Climb Stac Pollaidh
You are more likely to have better weather in May and September. This is very odd, considering our summer is supposed to be June, July and August. But, Scotland in general, has a very unpredictable climate.
I've been to the top of Stac Pollaidh twice. Unfortunately, it was a very foggy day during my first visit. We could not see anything from the viewpoint at the summit, though this made for some picturesque moody scenes. Luckily, I was blessed with a clear day for my second attempt.
Make sure to check the weather forecast before you leave. You are ideally looking for a clear day with little to no cloud cover. Though Stac Pollaidh weather could potentially provide great conditions all year round, it's advised that newbie hill-walkers avoid the walk during winter.
How to Get to Stac Pollaidh
The beginning of Stac Pollaidh's trail is situated on a very narrow single track road between Ullapool and Achiltibuie. There are plenty of passing places along the way, but take it easy none-the-less.
Stac Pollaidh Car Park
There is dedicated parking at the starting point of Stac Pollaidh's hill walk. You can find directions here but be aware of the following:
There are no toilets at Stac Pollaidh. You'll find the nearest restrooms in Achiltibuie itself which is approximately a 20-minute drive away.
Be careful of the midges in the area. You may even want to boot up before you open the car doors.
The car park can become particularly busy from noon to late afternoon. If there are no spaces available, please avoid parking in passing places as this is forbidden.
There are plenty of nearby park-ups if you are looking to stay overnight in the area.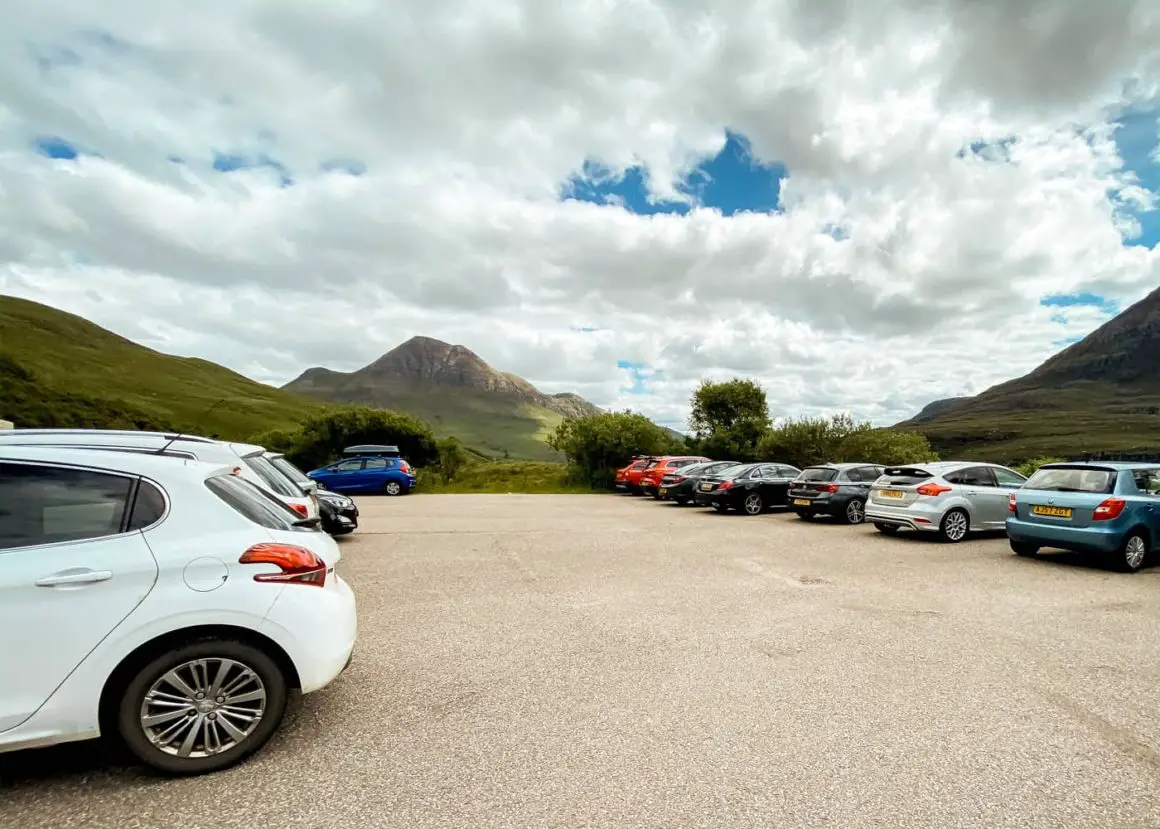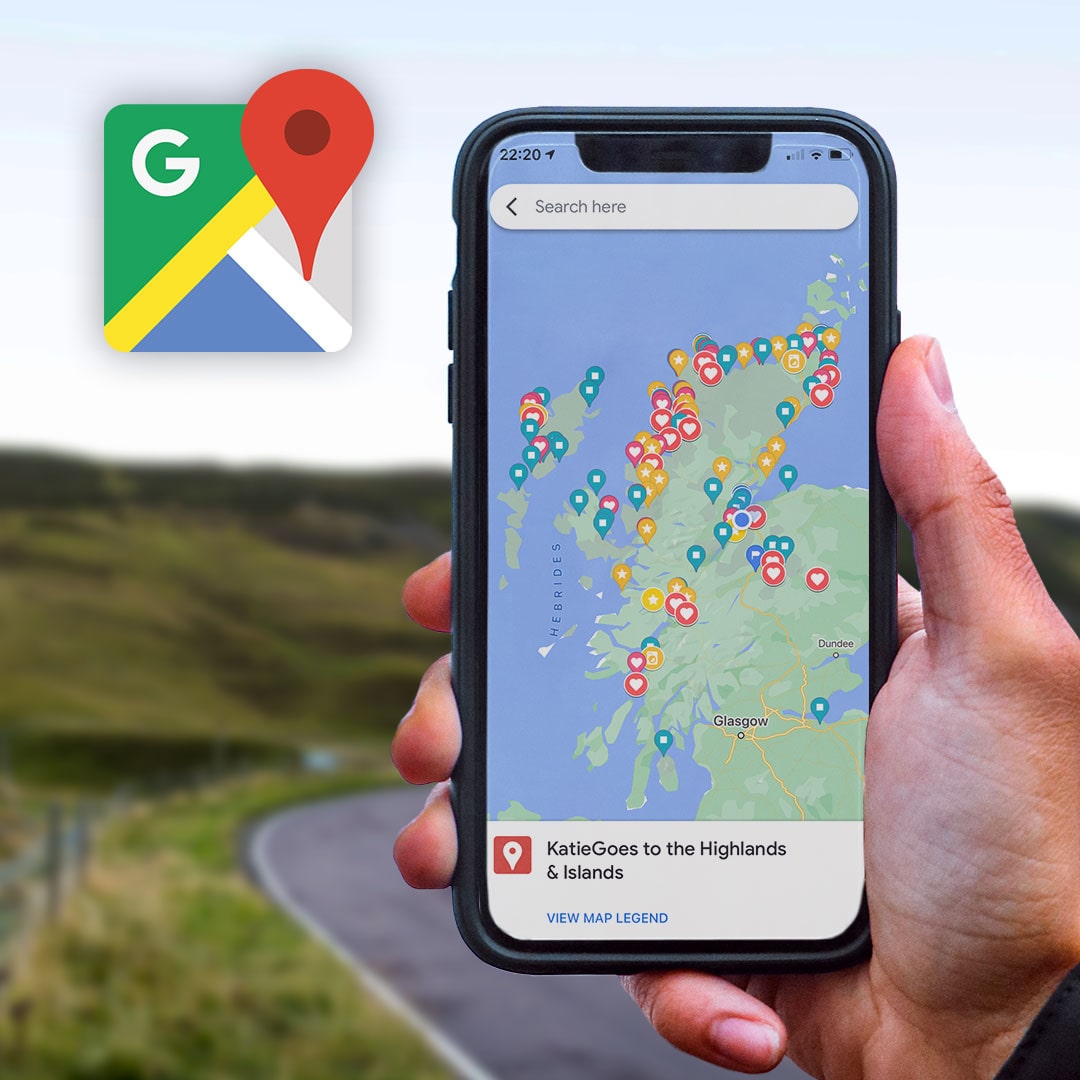 Scottish Highlands Google Map Legend
This Google Map Legend showcases 140+ need-to-know coordinates within our bonnie Scottish Highlands & Islands:
Awesome Wild Camping Park-Ups
Best Walks, Viewpoints, Beaches
Bucket List Locations
Accessible Showers & Fresh Water Taps
Relevant Links to Online Travel Guides
Stac Pollaidh's Hiking Trail
Stac Pollaidh's trail starting point is visible from the car park. You'll see a wooden gate on the other side of the road.
At first, the trail consists of a very rough man-made stairway which winds between the overgrown foliage. Don't worry, this soon opens to a very well-trodden path that allows you to quickly gain height.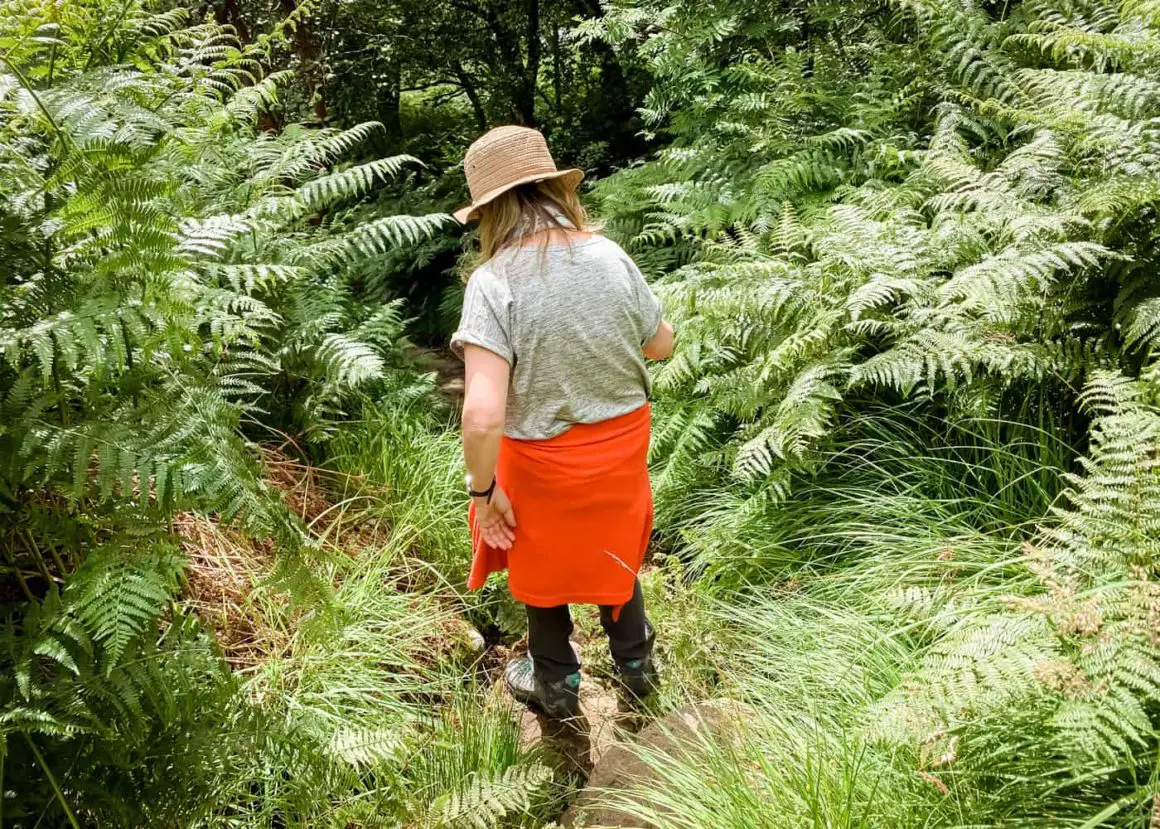 From the fork in the path, you'll have two options…
The option on the right is the most popular route that will allow you to reach the ridge viewpoint more quickly. This path is obvious as it meanders around the eastern side of Stac Pollaidh. The final stretch of the trail is still easy to follow but becomes rockier with uneven steps up a steep incline.
The path leading to the left is boggier, however, it can be used as a return route if you'd like to complete the full Stac Pollaidh ridge and circuit. Once you make it to the top, the second pathway back to the car park will become visible. It's very easy to spot as it circles the hill in the opposite direction which presents a greater view of the Summer Isles, and beyond. Stac Pollaidh's full circuit is 4.5km long.
It's easy-peasy because both options will lead you to the summit, and both are simple to follow.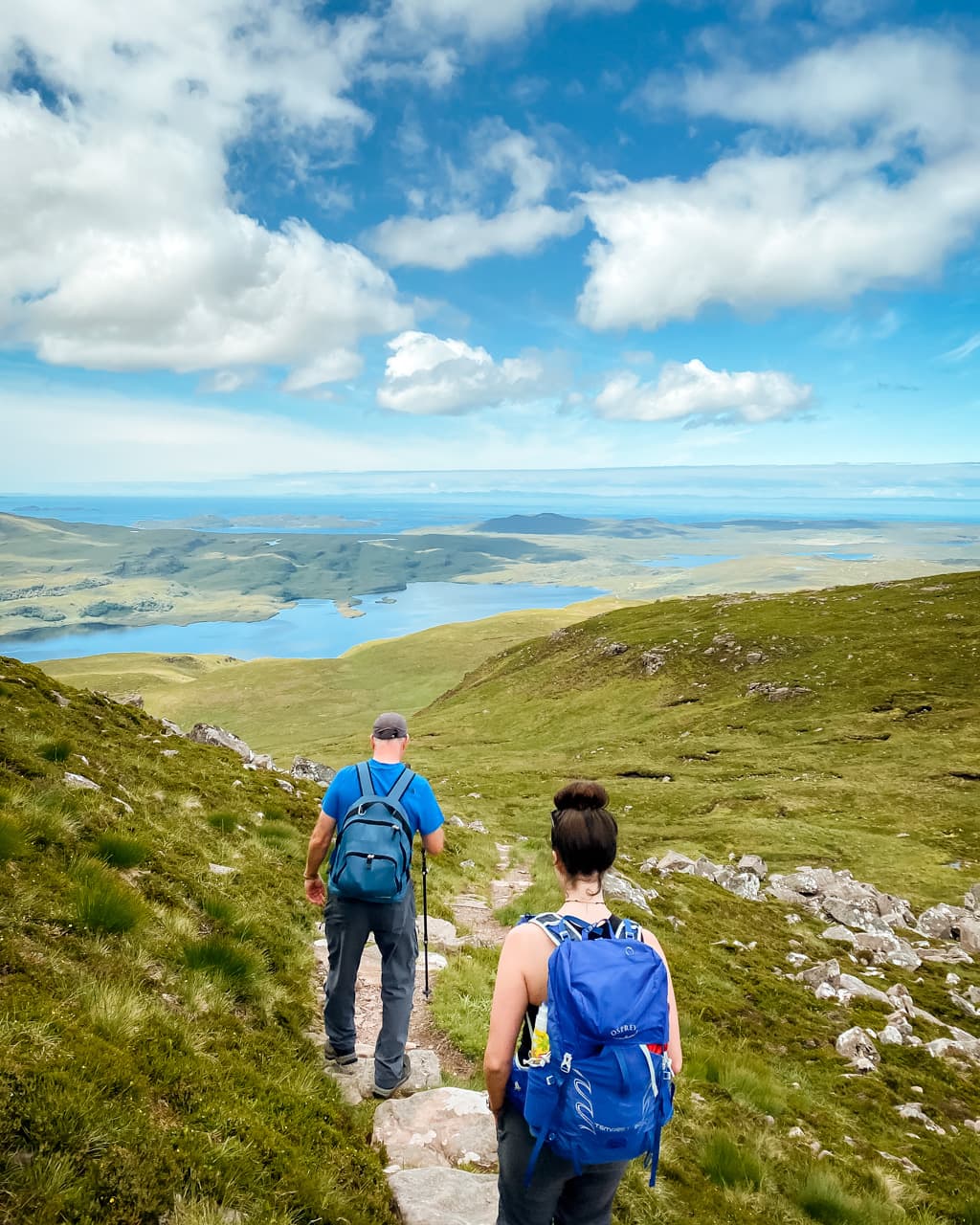 Also in the Area: Walk to The Bones Caves
There are a few summits…
Stac Polliadh is essentially two summits that are connected by a rocky ridge. It is upon this ridge that most walkers are more than satisfied and complete their journey.
There is a very obvious path that leads to the eastern peak from the ridge. This is pictured below.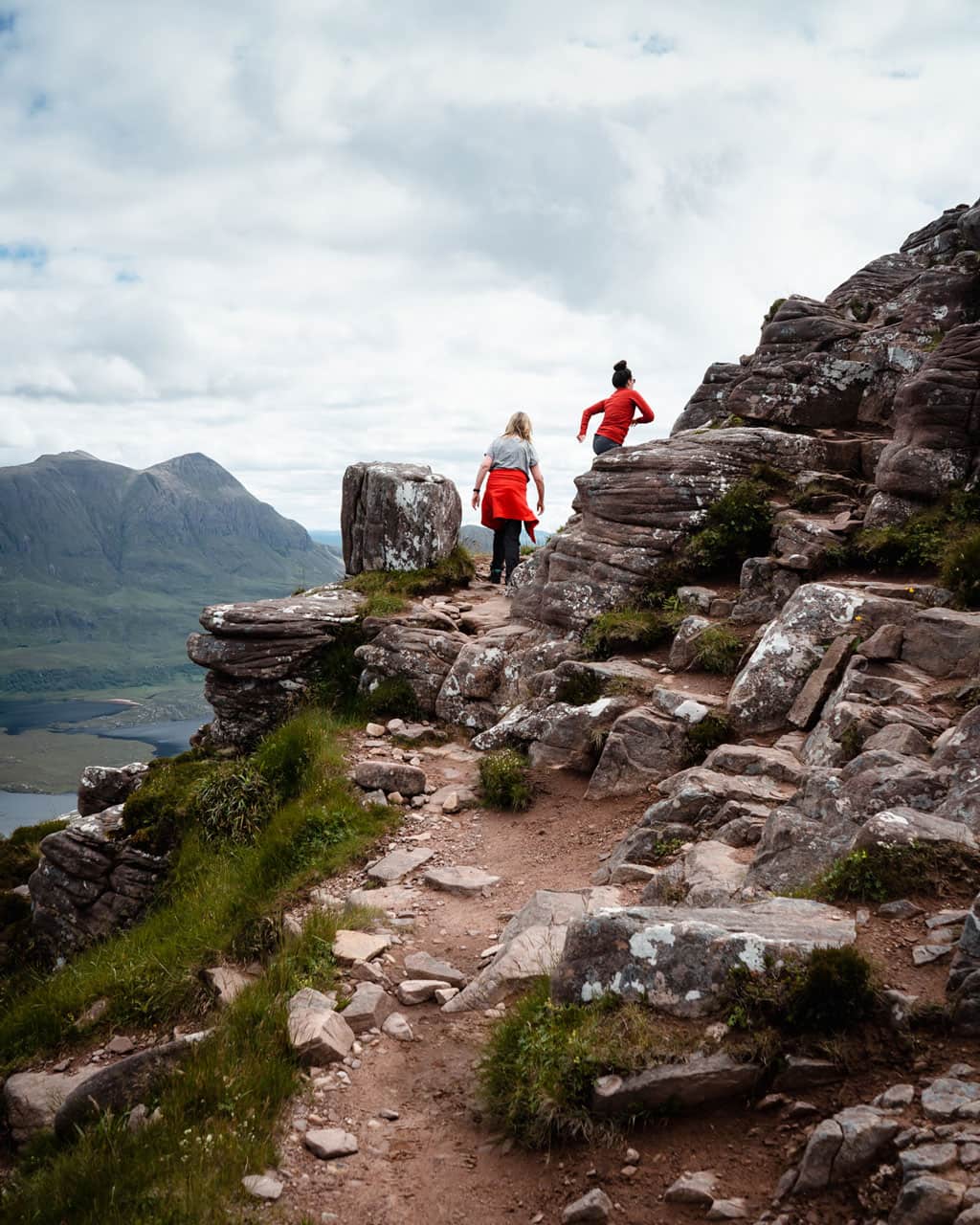 The easterly summit is definitely easier than the true peak, though it still requires a small amount of scrambling. I thoroughly recommend checking this out… The views are even better from the top.
The official summit can only be attempted by experienced scramblers, who may even complete the climb with professional rock climbing skills. This must also only be attempted if the weather allows you to do so; Stac Pollaidh can experience some strong winds and very thick fog!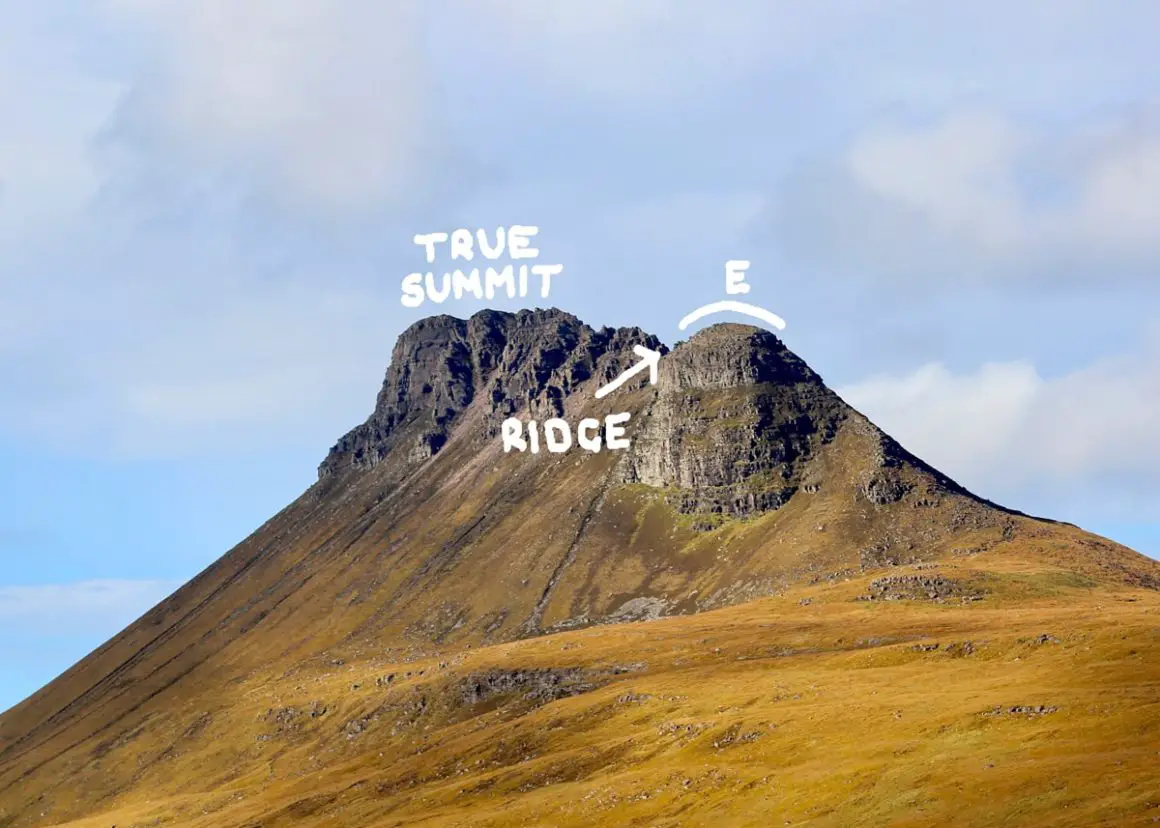 Tip: Visit WalkHighlands for the route map of Stac Pollaidh's full circuit.
How Long Will It Take to Climb Stac Pollaidh?
All in all, Stac Pollaidh would make the perfect adventure for half a day. The full circuit can be completed in 3 to 4 hours, whereas the summit can be reached in as little as two.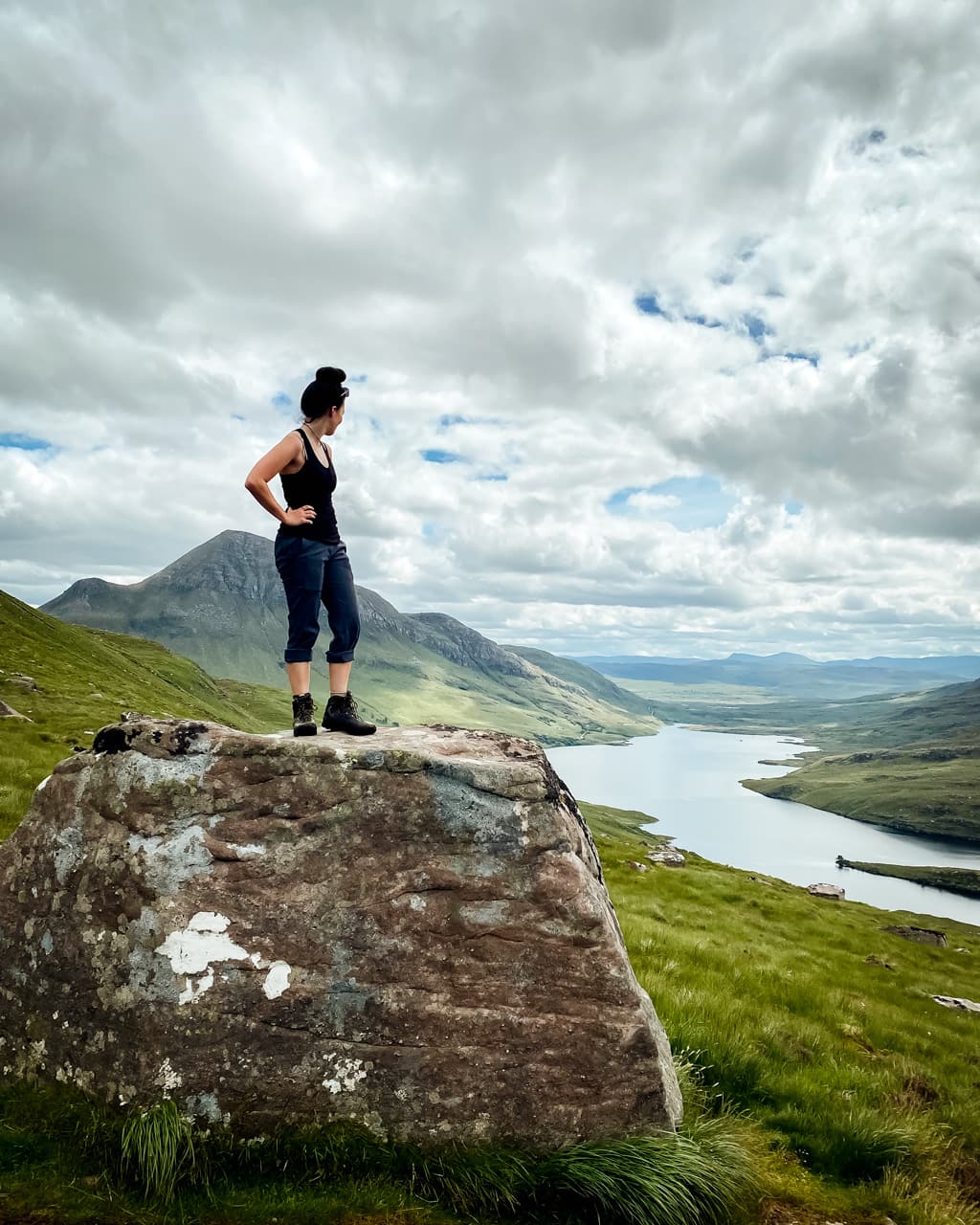 Are you ready to experience one of my favourite hills in Scotland?
Heading North?... Don't miss one of Scotland's Most Spectacular Waterfall's (The Wailing Widow Falls) or Stop at Kylesku Bridge!
Let's Go!
@katie.maree