I've been travelling equipped with a GoPro for about 8 years. About two-thirds of that time involved a lot of trial and error; testing various GoPro attachments and mounts. If only I knew of the only GoPro mounts you'll need before, then I'm sure I would have captured my earlier trips a lot better.
There are so many accessories to choose from. What doesn't help is the advertising. They make you believe you'll need them all! In that case, I'll need the mountain bike mount, a floating grip for snorkelling, the wrist strap for climbing, a helmet attachment for kayaking and the chest harness for ziplining – maybe even a dog harness for fun. I've also upgraded to all-in-one tripods thinking I would be prepared for anything and everything. You and I both know how much these accessories would have really been used to their full potential… Maybe once, at most twice!
Whilst the GoPro is an action camera, there's no time to be faffing with various mounts and attachments if the subject is spontaneous and fast. The key to capturing great footage from your GoPro is to be ready; ready with that one attachment that can capture a variety of activities.
Disclaimer: This post contains affiliate links which means that KatieGoes receives a small amount but you still pay the same. The contribution helps to support the continued creation of these blogs – win, win! Nevertheless, I only recommend personal favourites that I've tried, tested or have first-hand knowledge of.
With this in mind, here are the only GoPro mounts you'll need for any travel adventure…
Starting with my absolute favourite… I introduce to you: Sandmarc's super long, durable selfie stick. Its 50 inches in length is designed to take your GoPro shots to the next level.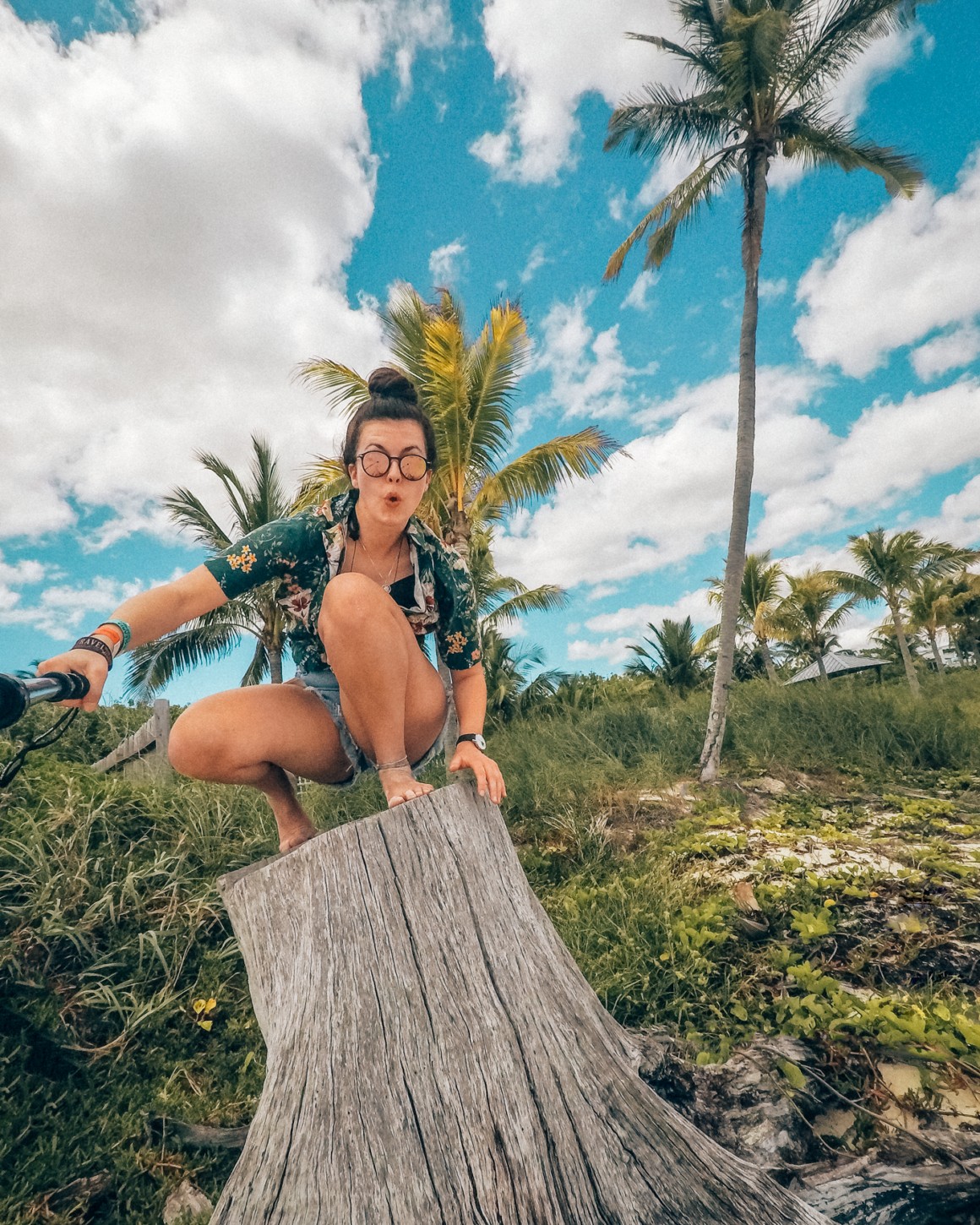 If you have managed to keep up with the @katie.maree travels, then you'll have noticed that this particular GoPro Pole is my weapon of choice. It seems to be the longest (yes, size matters!), it's waterproof and it's lasted me years. To add, if I had any problems, Sandmarc has been quick to fire a friendly response back.
You can check the product out here. Sandmarc offers three sizes but I truly recommend the Metal Edition for the reasons I described above. I guarantee that you will not be disappointed!
READ: Best Camera Gear & Travel Essentials
The GoPro Dome is high on my Amazon shopping list. The results that they allow GoPro's to capture are like none other. You NEED a GoPro Dome to create photographs that are split: half above water, and half beneath the water. My buddy Jorden Tually has taken a few great examples, one of which you can check out below.
GoPro provides many products that allow adventurers to keep their hands available for activities. As mentioned above, I have tried countless numbers of them (most of which I found to be more of a hassle than anything else).
This mouthpiece has been one that's come in handy during many situations… These include surfing, cliff-jumping, zip-lining, running, driving, scrambling and any athletics or sports.
What's great about the Bite Mount is that it allows both of your hands to be in the frame. This results in a truer in-person perspective that helps tell your story. Additionally, this piece of kit is so tiny that you basically have no excuse not to chuck it inside your hand luggage. It's always kept in mine!
SEE: Space-Saving Essentials for Full-Time Travellers
These are LITERALLY the only GoPro mounts you'll need! Heck, they're the only attachments that have a place in my hand luggage these days.
Let's go!
@katie.maree