I'm always excited to hear new packing secrets for digital nomads. If you live your nomad life similar to mine, then we can share the memories of weekly or even monthly struggles of relocating our life's belongings. Not only are we challenged to take as little and as light as possible, but we also need to be prepared for any kind of adventure that may arise in the next country.
So how the heck are we supposed to know what to pack? Here are a few of my ultralight packing secrets which have been written especially for digital nomads and full-time travellers.
After I returned home a few times throughout my journey, I re-evaluated what I do and don't need in my backpack time and time again. The more I look into it, the more I pride myself in having it down to a tee. But, not everybody is the same: we all travel differently, dress differently, and require different healthcare products whether we are male or female. That's not to say that I still wouldn't love to share what I feel are packing secrets because I reckon all of you will still steal at least one for your next journey – I know my friends do!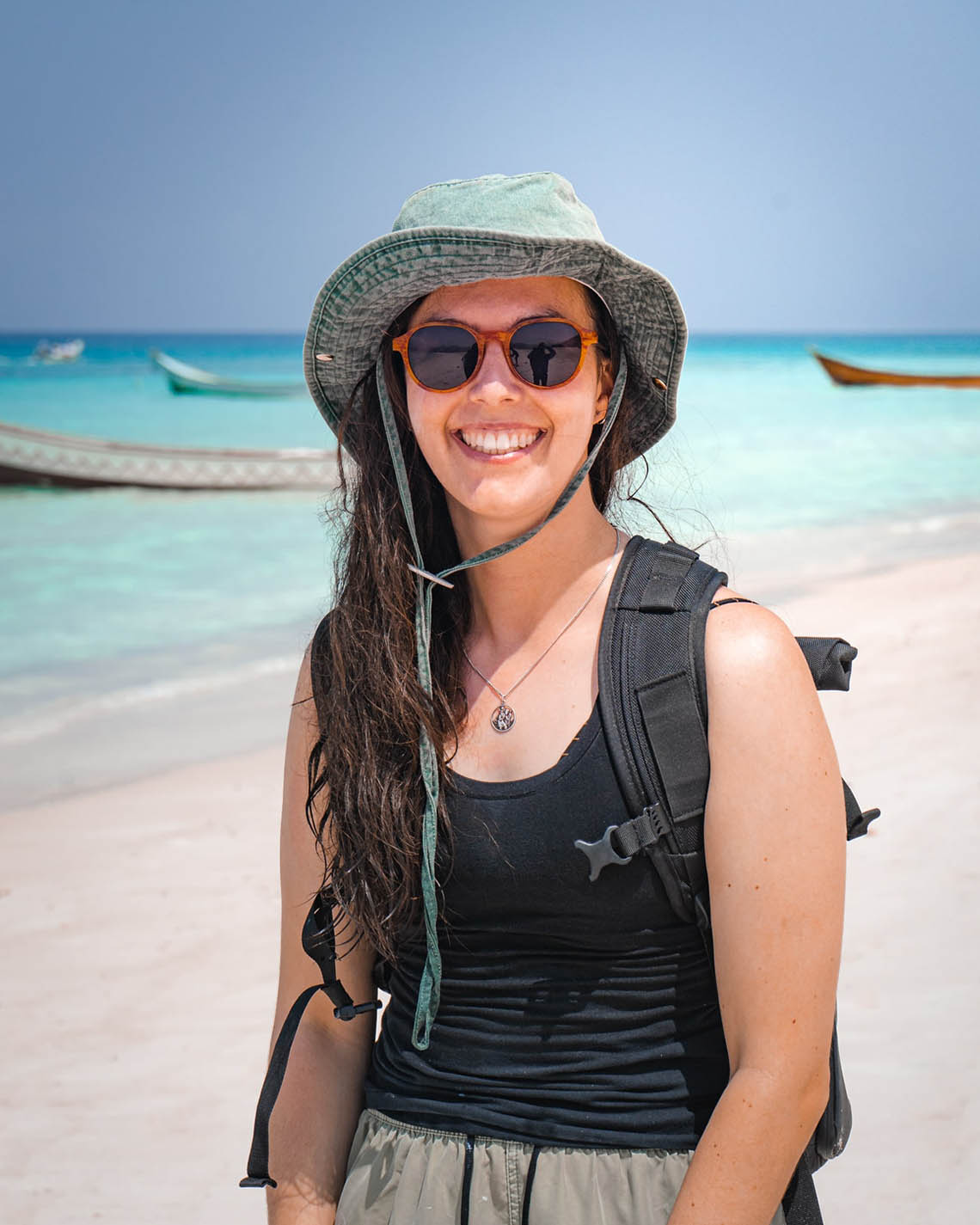 Disclaimer: This post contains affiliate links which means that KatieGoes receives a small amount but you still pay the same. The contribution helps to support the continued creation of these blogs – win, win! Nevertheless, I only recommend personal favourites that I've tried, tested or have first-hand knowledge of.
Vapur Water Bottle
Number one on my list of 'Ultralight Packing Secrets for Digital Nomads', is Vapur's Collapsible Water Bottle. I felt so pleased with this win (and still do), that it's going to sit at the top of my list. Most of my nomadic friends travel with a variation of the thermos water bottle. They may keep your water cooler for longer, but damn, those things are huge!
Picture this. It's been a long, and sweaty day's hiking… You've finished all the water you had, yet you still have to carry around an extremely clunky bottle. You might even need to do so for the remainder of the evening.
Whether you're trying to save space or plastic, Vapur has created a beautiful product that will slot into any daily adventure. It's a very durable pouch with a wide mouth and karabiner hanging from the top. 
The top advantage of this product is its crush-ability factor. Once the water is complete, the user can simply roll the pouch and store it tight and contained within the orange clip. It goes from 0.7L to pocket-size in 0.1 seconds – how amazing!
I have no complaints and I'm onto my second year of travel with this bottle… It's a winner. You can tap here to purchase yours before you go.
READ: The Only GoPro Mounts You'll Need
---
Mitchum Deodorant
Hands up if your biggest bag-packing challenge is keeping your liquid allowance below 100ml, and few enough to fit into the tiny plastic bag. Well, this used to be my biggest headache… Until I found beauty products that were solid bars, as opposed to liquid form. The first product that I exchanged was my deodorant.
Mitchum is a brand of antiperspirant-deodorant that is soft to apply but solid to store – it's like a bar of soap. That's one item you can leave out from packing in the liquid's bag! See here.
---
Amazon Kindle
Entry number three is less of a packing secret and more of a packing ESSENTIAL for digital nomads. The Amazon Kindle is a great investment for every reader!
Whilst travelling for months on end, there's no way I could carry multiple books with me – let alone just one! I travel with a personal item and one carry-on bag, so a novel would take up the majority of my backpack. Instead, my Kindle slots in beautifully next to my laptop. I forget it's there most days.
I travel with this edition.
---
Packing Cubes
You can differentiate your short-term backpackers from your full-time travellers by the setup of their backpacks or suitcases. One major factor contributing to any nomad's organised layout would have to be the use of packing cubes. They are without a doubt, a life-changer – revolutionary! I know many people who would agree, believe me.
Gone are the days of pulling every item from your backpack to find the very bikini set that you are hunting for in a hurry. These little cubes will save your sanity as they store your items like a set of drawers in a bedroom. I have one for my underwear, one for my tops, one for my bottoms and one for miscellaneous (i.e scarfs and hats). Feel free to get creative with your setup. As long as your clothes are organised within the cubes, the zips and suitcase compression strap can be used to then make it all as tiny as possible.
Packing cubes can be bought in various shapes and sizes. Buy what suits your needs and the shape of your bag. They come in squares, or mine are rectangles… It can be quite a game of Tetris organising them at first. Some can also offer extra compression; whilst others have thin dividers inside to separate your clean clothes from your dirty.
These cubes are similar to the set I've used for three years now.
---
Ultralight Matador Microfibre Towel
I've travelled with many similar, but the Matador NanoDry Towel is the next on my Amazon WishList. It's the thinnest I have seen. Travel towels can often feel a little weird, which would put many travellers off from using them. However, I don't mind Matador's ultralight and super-absorbent material.
First off, both size variations of the towel are stored in thick silicone cases. These can be handy if you're travelling in a rush. Without having time to dry your towel, the holes in the case allow the towel to breathe and be kept separate whilst being stored in your luggage. This function can be useful, in fact, I use a similar cover for the one I am carrying at the moment. However, Matador's cases add so much bulk to the product that has been designed to be so tiny. In that case (pardon the pun), I would recommend leaving them at home.
To focus on the towel, there are two sizes to choose from, each with multiple good-looking block colours. The cloth is ultralight and can dry extremely fast. To be honest, I've not seen any others this thin, which makes the product quite a unique buy and perfect for my packing tips.
You can check them out here!
---
Lush Shampoo Bar
Next time you pass, take a moment to explore and experience the products inside your local Lush store. They have managed to create a great selection of fresh handmade cosmetics. What makes them relevant to today's global issues is the fact that they limit their packaging, especially on shampoos and conditioners.
Side Note: I have been advised against the Hair Conditioner Bars by a customer assistant in the store. However, the Shampoo has thousands of great reviews. In fact, they are the best minimalist travel soap in my opinion. They are economical, natural, long-lasting and plastic-free; what's not to love about these solid shampoo bars?
The most common excuse that is heard by those thinking about trying a shampoo bar is: But does it lather like normal shampoo? Yes! More than you may expect. My hair is super thick. If I can enjoy these bars – so can you!
That's one other way to minimise the real estate in that liquid bag of yours!
Matador's FlatPak™ Toiletry Bottle
It's a bold statement, but Matador claims that their liquid containers are 'the only travel bottles designed for minimalist travel and ultralight adventure'. Now award-winners for their product, Matador has designed bottles that have truly been thought about. I started with standard bottles from the average high street store. All of which provided a problem: some wouldn't allow me to squeeze the last of the liquid out and most would be produced with a hard plastic which does not save any more space when it's empty than when it's full.
Matador's Flatpak Toiletry Bottles can be bought in a pack of three or singularly. They store 90ml and are TSA approved – perfect for our back-to-back flight journeys. Once you are nearing the end of your shampoo, conditioner or toothpaste; you can simply scrunch the bottle in your pack to use half the space. We already know how precious that is in our carry-on liquids bag! Fill up your bottles time after time, to avoid any plastic waste and avoid buying more than you need.
One point to note: I had one incident of a burst seem in one bottle. This was quickly corrected after Matador instantly sent out not one replacement, but another pack of three. They advised me that sometimes if the product includes a lot of alcohol, it may erode the glue used to keep the case together. Thank you, Matador, for having top customer service – I still love you!
Buy your own bottle(s) here before you go on your next adventure!
READ: Best Camera Gear & Travel Essentials for Digital Nomads
Skipping Rope or Stretch Band
Exercising as an ever-moving digital nomad is another challenge of the lifestyle. For years I would rely on running and bodyweight workouts to keep me fit. However, sometimes locations aren't 100% suitable for either, especially running. Locations can often bring obstacles such as too much traffic pollution, no sidewalks and very hot temperatures which make running unadvisable. In these circumstances, I rely on my skipping rope or resistance bands. Both were the smallest gym equipment piece I could think of – perfect to slot into our backpacks! So much so, that we may even forget to use them – guilty!
This is the rope that I take on my travels.
Menstrual Cup
Boys, hey. Girls, if you haven't heard of a 'Menstrual Cup' then you should certainly take some time to research them. Ever been to an Asian country where you're low on tampons, run to the store and nope… they don't exist in that particular country? Moreover, have you seen the price of them in other countries?!
I had been putting off trying mine for ages, but every girl that recommends them are right! They really do make female travel 100% easier. There are many, many different variations, sizes, shapes and brands – try what you think will suit you. Once you are sorted, gone are the days of carrying excess amounts of backup stashes in your luggage. Bonus!
Matador's FlatPak™ Soap Bar Case
The Matador FlatPak Soap Case is the perfect ultralight companion for your Lush Shampoo Bar. Most soap cases in the travel market are rigid, either plastic or metal, which makes them less than ideal for squashing into your suitcase. Matador has created this nifty case with a breathable and crushable material. Besides the product is extremely light, the material also allows the soap or shampoo to dry when it's inside. This means your shampoo bar will last a lot longer than if it was stored within a plastic ziplock or metal tin. Now that's a packing secret right there!
My friends could tell you how excited I get every time I find a new space-saving product that slots perfectly into my backpack. I hope that you find the same enthusiasm for the practicality behind the products I have shared. You'll be a minimalist nomad with only hand luggage in no time. If you have any other suggestions, you already know how excited I would be to hear them. In that case, stop by my Instagram profile to send a DM, I'm often scrolling through there. Alternatively, leave a comment below so everyone can read your great ideas.
LEARN: My Digital Nomad, Travel & Blogging Journey
Let's go!
@katie.maree