There isn't anything more telling than a growing cafe culture; Nepal's love for coffee is prominent in Pokhara where many beautiful, cool, and even instagrammable coffee shops, have opened in the last couple of years. Cafes could easily become a second home for coffee lovers and digital nomads, and with so many delightful places, it might be a challenge to find the best cafes in Pokhara to work remotely!
Don't have time to read this now? Pin this blog for later.
Best Cafes in Pokhara
The price of one cappuccino in each cafe has been noted for you to find the most suitable, or even the most affordable place to set up in Pokhara.
1. The Vegan Way
Location: Lakeside
Cappuccino Cost: Rs. 150
Start your delightful day with my favourite smoothie bowl breakfast in town! Otherwise, The Vegan Way is open for brunch, lunch and dinner too! This cafe is a utopia of good food and mellow vibes that digital nomads will find themselves returning to, again and again. Given the name, vegetarians and vegans will be overwhelmed by the choices on the menu. Most ingredients are sourced locally from nearby organic farms or grown in their home garden. You'll also find a yoga studio at The Vegan Way.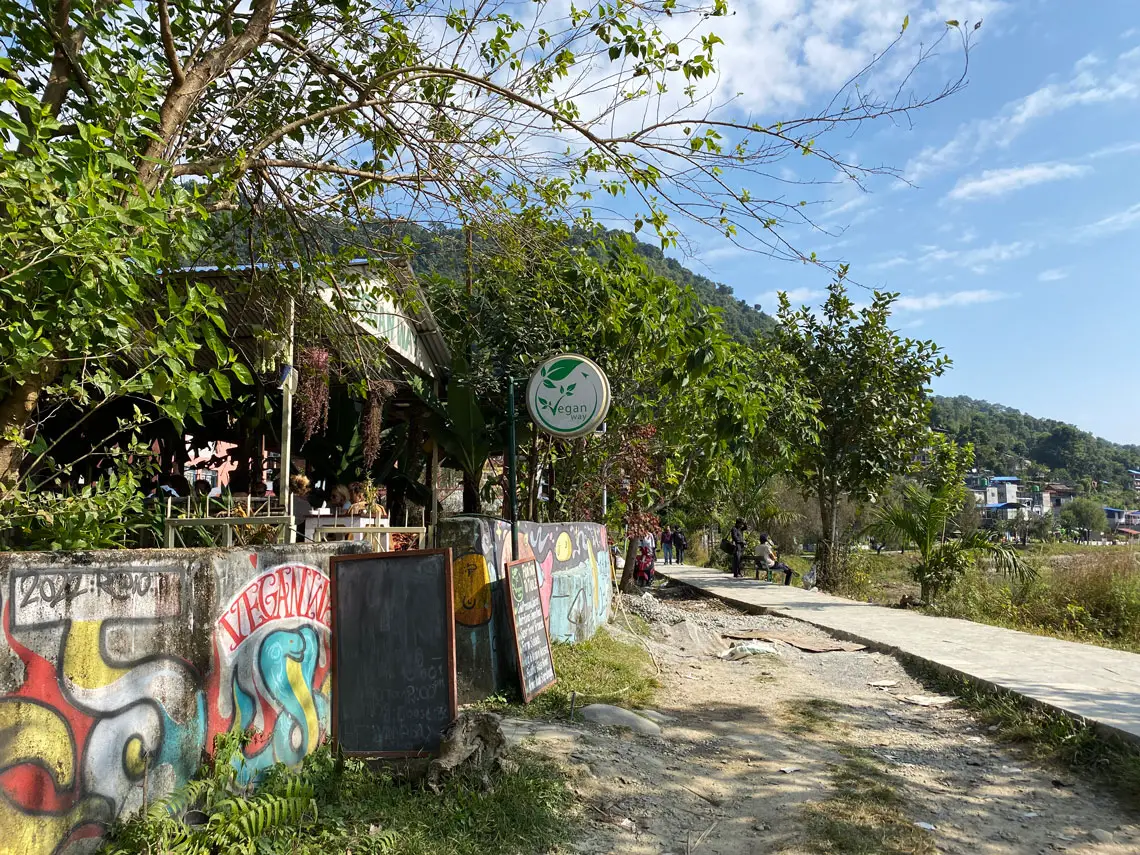 2. Little Windows
Location: Lakeside
Cappuccino Cost: Rs. 165
Little Windows is a reasonably popular vegetarian and vegan restaurant along the main Lakeside road. The cafe is a little larger than most, separated across multiple levels. There are plenty of seating options between the terrace overlooking the street for some people-watching, or the quieter corners in contrast to claim the plug socket. Overall, the Little Windows' atmosphere is very relaxed with the friendly staff members serving huge portions of salads, pizzas, buddha and smoothie bowls for very reasonable prices.
3. Cindermint
Location: Lakeside
Cappuccino Cost: Rs. 190
With an eye for aesthetics, the owners of Cindermint have created a very pleasant, minimalist space that shades customers from the noisy chaos of the busy street in front. They do serve healthy meals, but Cindermint was our late-night guilty pleasure! Trust me, when you taste their banana bread or brownies, you'll understand why. Cindermint is full of temptation with bagels, smoothies, coffee and a variety of fresh pies, pastries and cakes.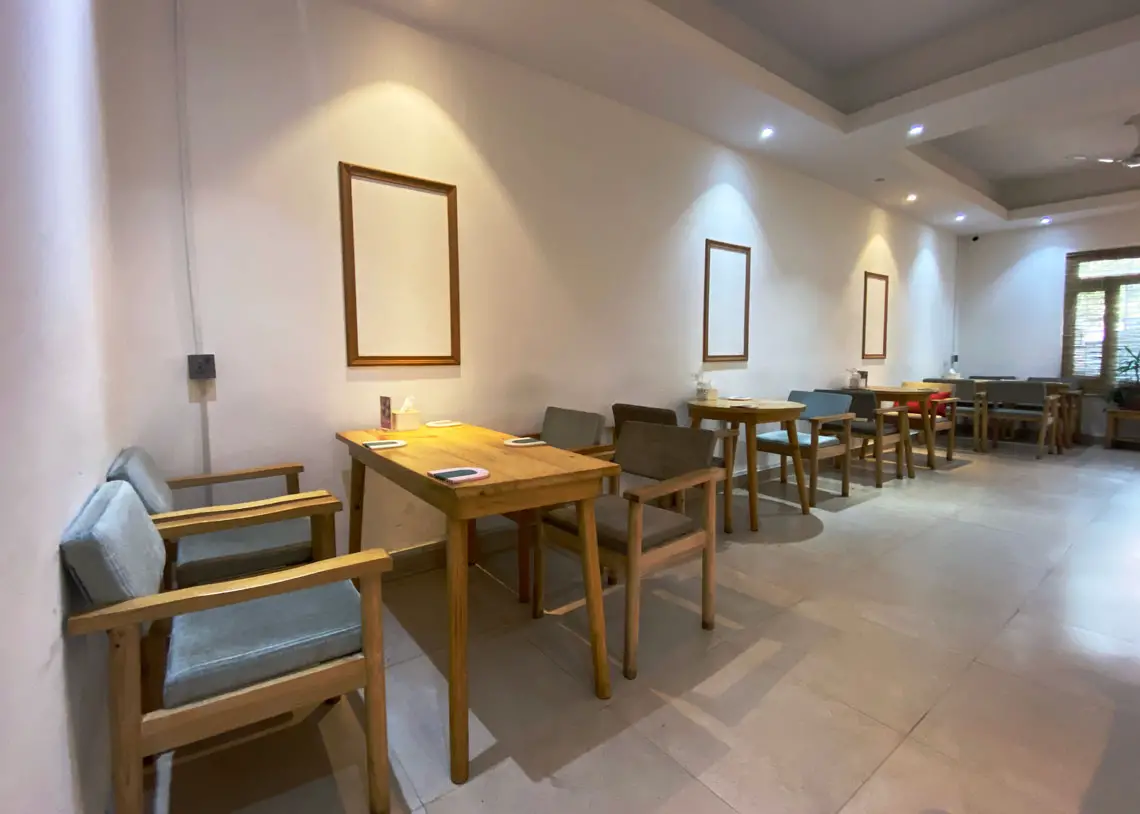 4. Ayurvedico Cafe
Location: Lakeside
Cappuccino Cost: NA
Ayurvedico Cafe is a calm, minimalistic space that promotes healthy living. Taking dietary requirements into consideration, the cafe serves very delicious nutritional food with vegan options and milk alternatives. Plus, their selection of comfy seats and several electrical sockets will have you working remotely without any need to move for at least a few hours!
ALSO: 

19 AMAZING Things To Do In Pokhara (Day & Night)
5. Coffee Break
Location: Lakeside
Cappuccino Cost: Rs. 155
Spend time in the Coffee Break to make use of their speedy internet connection and tasty cappuccinos. This open-plan cafe has a range of comfortable seating that is accompanied by great views of Phewa Lake. It's the perfect blend!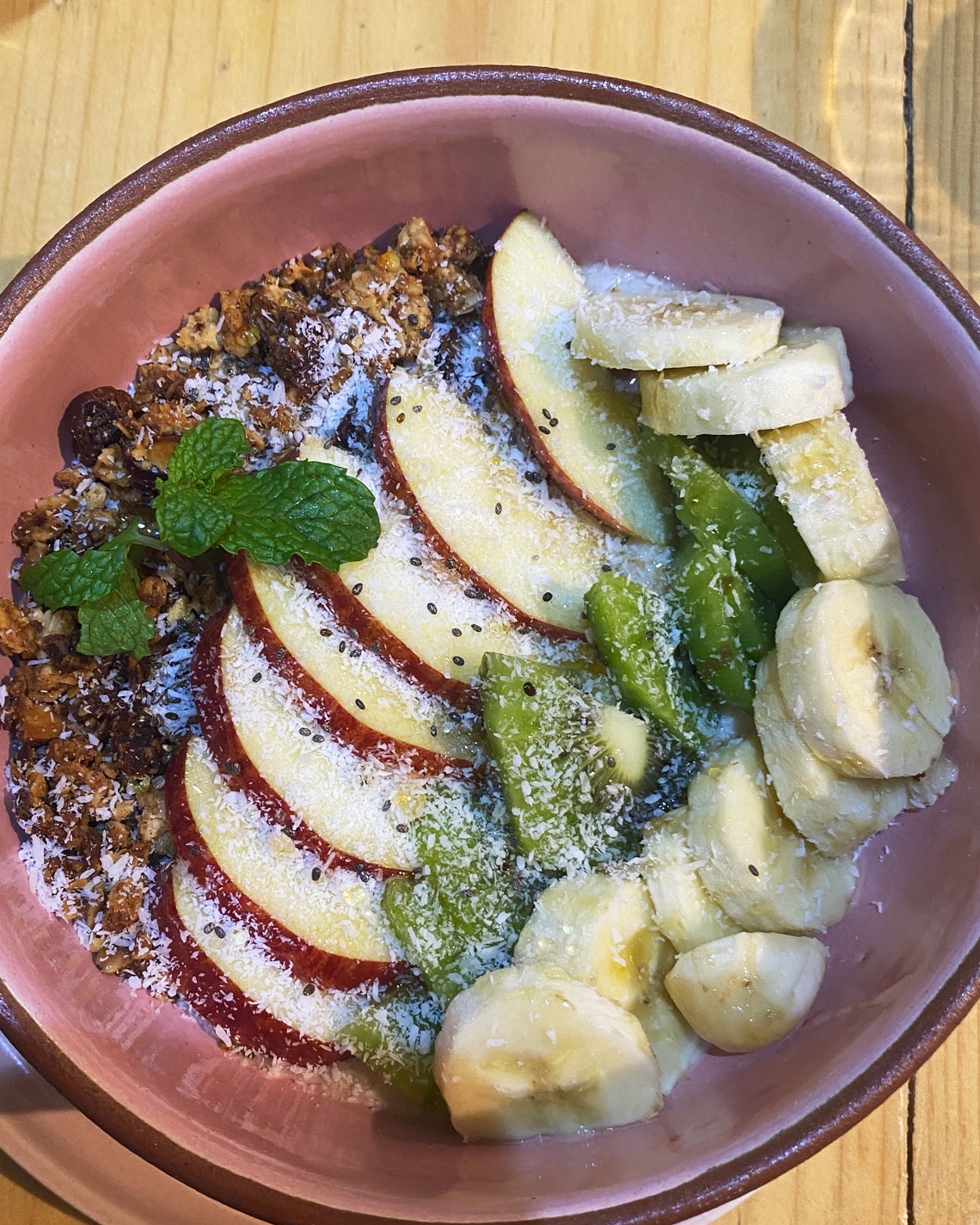 The Bonus Recommendation!
The Juicery Cafe
Location: Lakeside
Cappuccino Cost: Rs. 150
The Juicery Cafe is worth noting in the interest of clarity as you are sure to have come across the name through other recommendations. This was once where The Vegan Way is now today. Instead, the all-new Juicery Cafe is just next door.
Located on the edge of the lake, The Juicery Cafe is a really revitalising spot to eat, drink, gaze into the lake or be productive with the fresh lake breeze. It is a popular, spacious venue — one with plenty of lush foliage to leave you feeling calm and refreshed.
Personally, I would not recommend this as one of the best cafes in Pokhara to work remotely because there is a lack of plug points and there is often live music playing. Besides, if you have walked as far as the Juicery Cafe, then it's worth walking just a little further to The Vegan Way.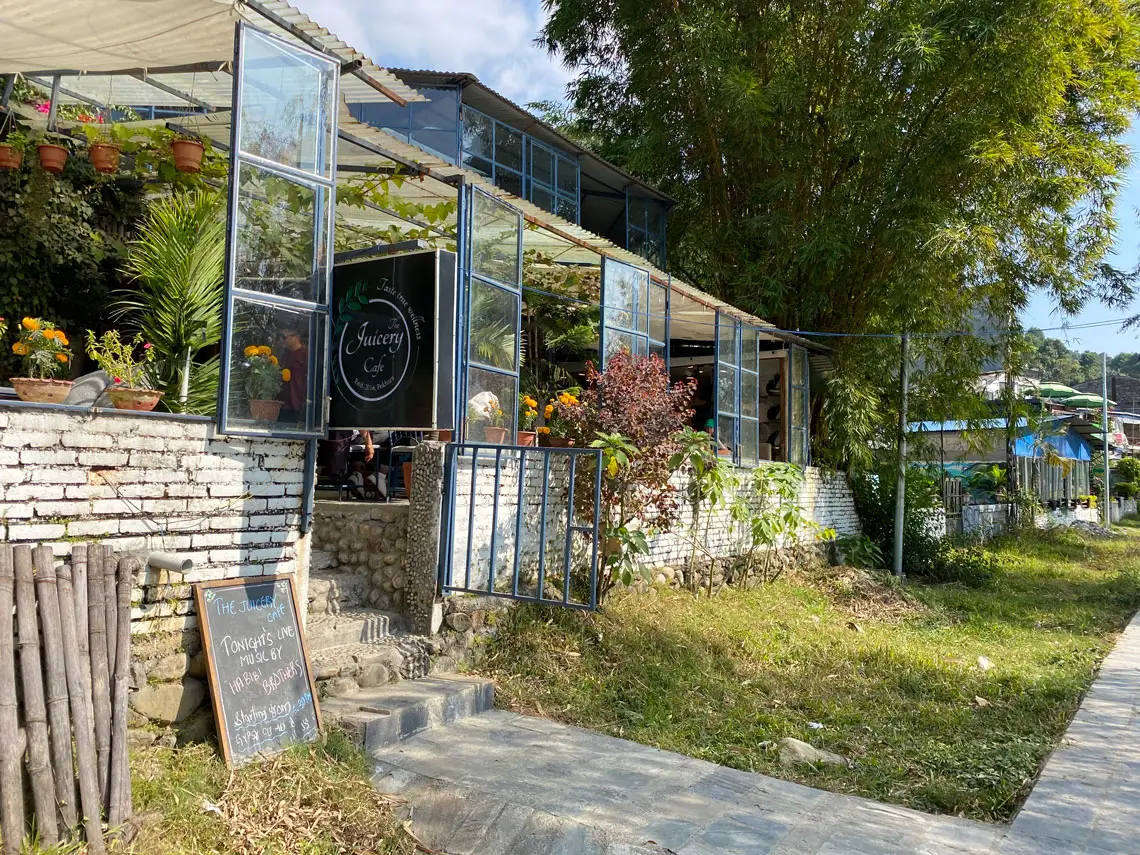 RELATED: 

The COMPLETE Guide to Living in Pokhara as a Digital Nomad
Let's go!
@katie.maree
---
Did You Know…
If you purchase through a KatieGoes link, we receive a small amount but you still pay the same. This contribution helps keep this blog moving – win, win! Nevertheless, I only recommend personal favourites…
---
Save to Pinterest
Without any time to read this? Click PIN to save for later.