The Maldives isn't solely a luxurious playground reserved only for the rich, famous and influencers (contrary to what many might believe). In fact, you could stay on a small local island to work remotely… on a budget!
There are thousands of islands in The Maldives, but Maafushi for digital nomads and backpackers has become increasingly common with an ever-growing supply of hotels, guesthouses and restaurants. And whilst the lack of nightlife may be a drawback for some, Maafushi Island is the most convenient, cheapest and therefore, most tourist-friendly. It's ready and waiting as your next paradisiacal digital nomad destination!
Don't have time to read this now? Pin this blog for later.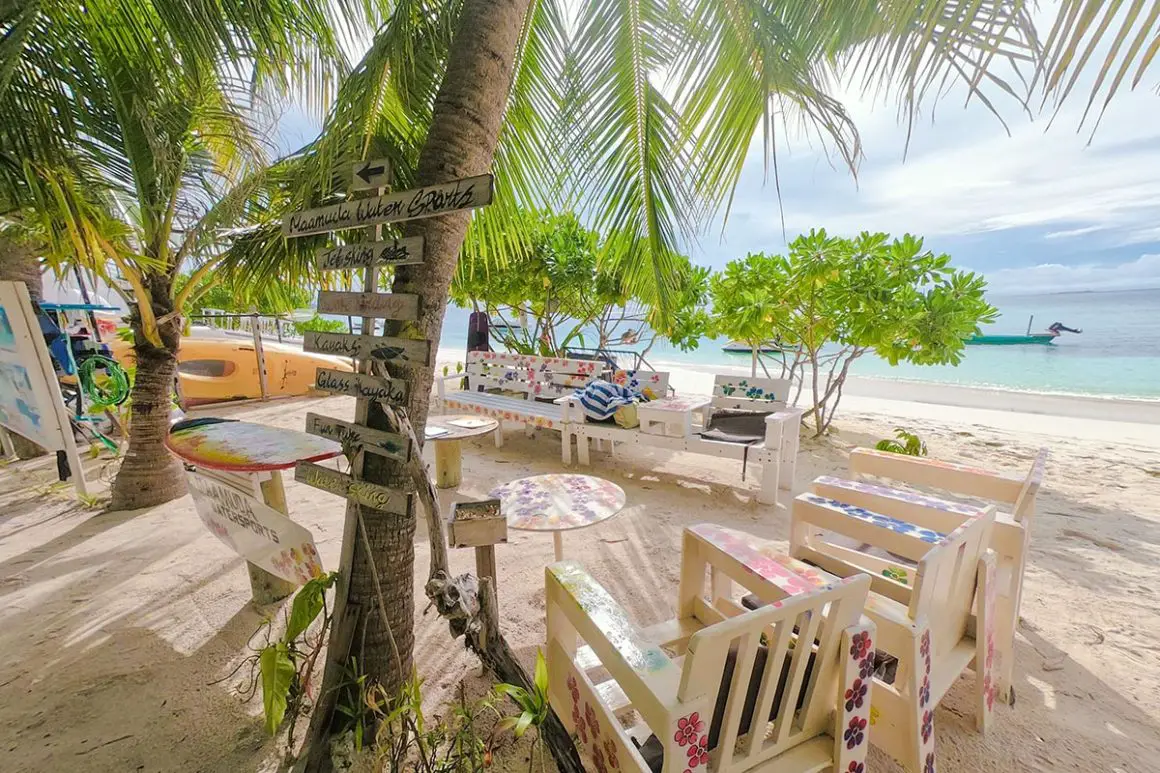 QUICK REFERENCES
Planning in a hurry? Here are some top tips of Maafushi for digital nomads…
Recommended SIM card: Check out Airalo for either a local, regional or global eSIM. Airalo is the world's first eSIM supplier, so you can purchase the most suitable prepaid data plan before you've even arrived.
Best Accommodation: The Merijaan delivers exceptional service at a low cost, whereas the Kaani Palm Beach Hotel is a popular choice with a higher price tag. My personal recommendation is Island Ambience with the guarantee of friendly staff and a reliable internet connection.
Insurance for Nomads: SafetyWing is travel insurance for nomads, by nomads. If you are unsure how long you'll be travelling for, or you haven't committed to any destination just yet, SafetyWing is convenient, flexible and simple.
---
The Basics of Maafushi for Digital Nomads
Money
The national currency is the Maldivian Rufiyaa (Rf). Paper notes are in denominations of 2, 5, 10, 20, 50, 100 and 500 rufiyaas.
US Dollars are widely accepted, and in some instances, foreign cash such as British Pounds and Euros may be accepted too. Having Maldivian Rufiyaa isn't essential unless you are using local shops and services. Even then, tenders are likely to accept US Dollars but return the change in the local currency.
💳 Card Payments – Credit cards and contactless payments are widely accepted.
💰 Tipping Culture – A service charge is usually added to bills in The Maldives, but if you are eager to show your appreciation for great service, an extra percentage as a tip will be received with gratitude, of course.
Visa
The digital nomad community are still waiting for The Maldives to launch a nomad-specific visa, but it is still easy enough to enter and travel the country on a 30-day tourist visa. This is granted to all nationalities upon arrival to The Maldives. To apply, the visitor must ensure they have the following: a valid passport with at least one month of validity, tickets for departure, a confirmed booking with a registered hotel and a completed declaration form. It is possible to extend the tourist visa once you have arrived. This process takes approximately 7 days.
Safety
The Maldives is considered to be extremely safe for tourists, and therefore, any visit will likely be worry-free for digital nomads. As The Maldives is a well-established tourist destination, the people are generally very welcoming towards foreigners.
Transport
Maafushi is 265 metres in width and 1270 metres in length, so the island is walkable and not dependent on any means of transport.
Unlike Caye Caulker in Belize, there is an odd car or two on the island but many locals travel between places on mopeds. However, tourists should expect to walk from place to place on sandy roads and with very little traffic.
Connectivity
Most of the internet speeds in Maafushi for digital nomads are sufficient, but you should obtain a local SIM card if you would prefer to have a backup as not every accommodation, resort or island will have a reliable connection.
Wifi Speeds – According to Ookla's SpeedTest, the average download speed for fixed broadband in The Maldives is 10 Mbps.
Data Plans – Buying a SIM card is very straightforward upon arrival at Velena International Airport. There is an Ooredoo and Dhiraagu shop just outside where it'll take minutes to buy and activate a prepaid SIM card.
If convenience is your ultimate goal, check out Airalo for either a local, regional or global eSIM. Airalo is the world's first eSIM supplier. You can purchase the most suitable prepaid data plan without visiting any shop or swapping physical sim cards. This is the technology we digital nomads have been waiting for!
Digital Nomad Community
There isn't a specific community of international location-independent individuals in Maafushi for digital nomads, nor in The Maldives.
Trip Planning Tips for Maafushi
Best Time to Visit Maafushi
The best time to visit Maafushi for digital nomads is between November and April whilst the climate is warm and tropical. January, February, March and April are the driest months with little rain and low humidity, therefore, this is the peak season for tourism.
How to Travel from Male Airport to Maafushi
There are two options for transport between the international airport in Male and Maafushi.
🚤 Local Ferry – Travelling on a local ferry is the cheapest option, by far. From the Male International Airport, travellers can hop aboard the ferry to Male (1-2 USD) where the terminal is located. Ferries to Maafushi depart from Jetty 1, taking approximately 90 minutes. This service is not bookable, so you should arrive one hour before departure to secure a spot. There are limited sailings on Fridays.
🛥️ Speedboat – The preferred choice of many tourists travelling to Maafushi is the speedboat. This is much quicker and more frequent. The journey takes approximately 50 minutes.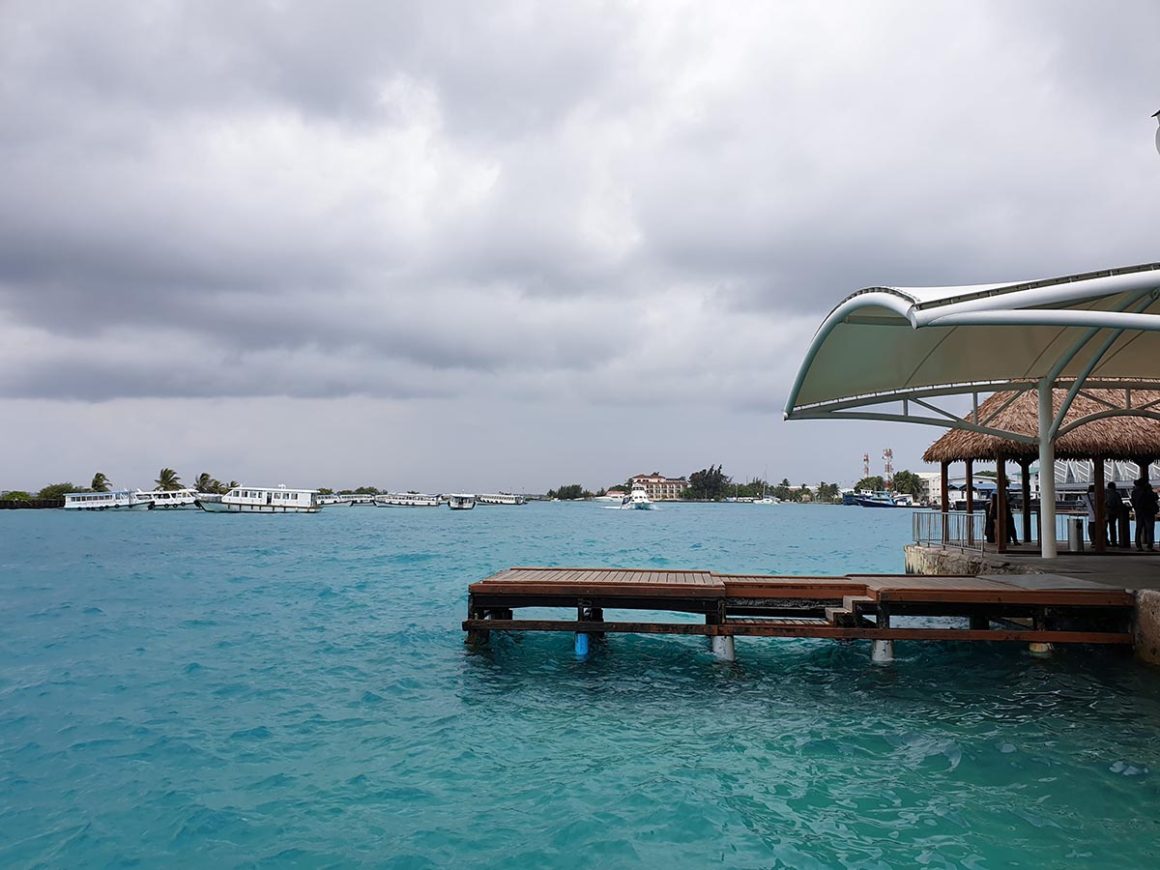 RELATED: Travel Essentials for Digital Nomads (Including the Best Camera Gear)
Bonus: Maafushi Recommendations
Whilst The Maldives is a great destination in many ways, it may not be the best place for remote workers because of the high cost of living, absence of community and lack of nightlife. On the other hand, with the right accommodation, it is possible to successfully experience the country whilst being productive at the same time.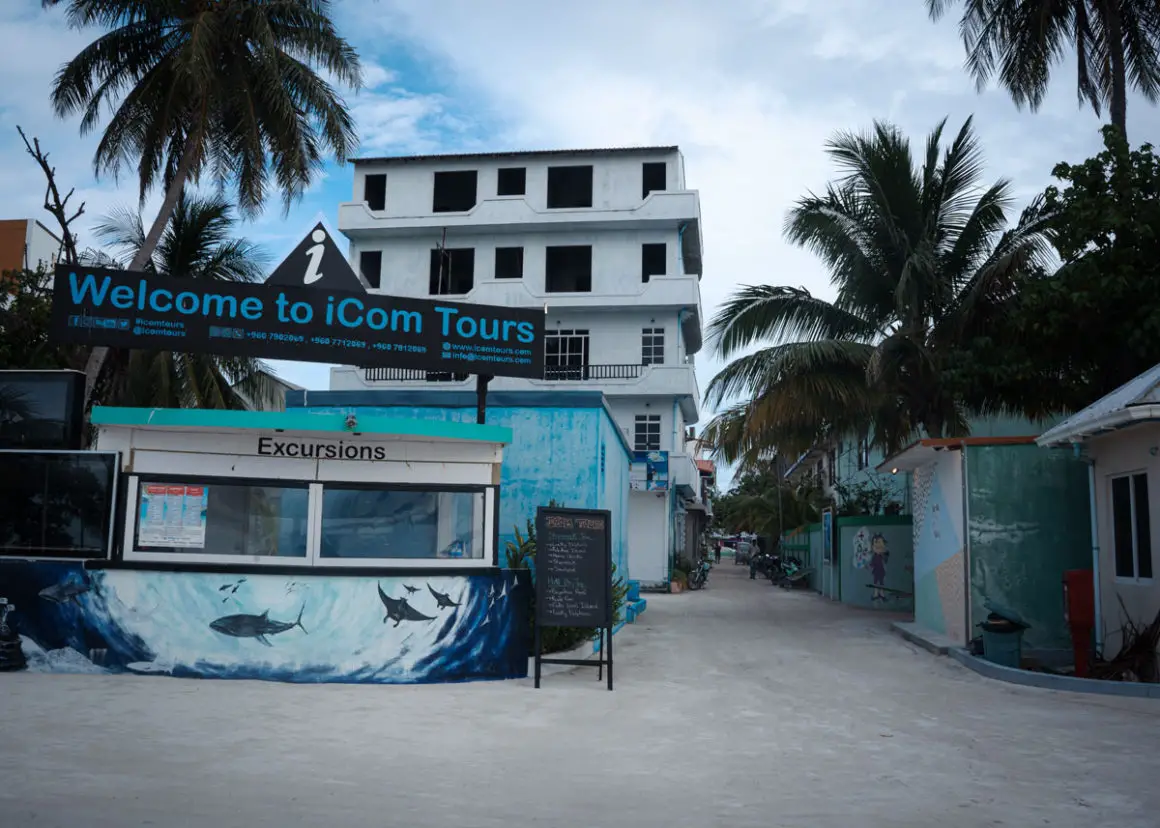 Top Things To Do
Find the Booze Boat
Alcohol is prohibited in The Maldives, except for the resorts. However, there is a booze boat anchored near Maafushi Island where you can buy beer, wine or a spirit.
See Bioluminescence
Blue glowing plankton can appear at any time on Maafushi, although you should begin your search on the East (No Bikini) Beach at midnight. It was the best I had seen – ever!
Where To Stay in Maafushi for Digital Nomads
As the island increases in popularity, Maafushi's portfolio of guesthouses and hotels is rapidly expanding too. Whether you prefer to be within the liveliness of the tourist crowds or hidden away in a quiet corner, there are plenty of options for digital nomads.
Booking.com is the most convenient website to find a place to stay in Maafushi. Below are a few recommendations for short-term stays…
Budget
Located on the beachfront of the quieter side, Merijaan offers exceptional service and a strong internet connection.
Mid-Range
Take a refreshing dip in the outdoor swimming pool at Rehendhi Villa before enjoying the sea breeze from your room's terrace.
High End
Experience friendly hospitality at Kaani Palm Beach, a large hotel with stunning views of the sea from the balconies.
My Opinion
I stayed at a handful of different accommodations during my time on the island of Maafushi. From this experience, I could clearly see the advantage of paying for a greater hotel. The cheaper options were very basic with a much lower standard of cleanliness and a lower likeliness of a hot water shower.
My favourite accommodation on the island was the Island Ambience. The staff of the hotel mightn't have been the most knowledgeable of the local area, but they were incredibly friendly. The rooms are naturally lit, air-conditioned and very clean with a desk and safety deposit box. There is also a couple of options for breakfast in the morning too; from a plate of pancakes to the local cuisine. More importantly, I personally experienced extremely fast internet speeds (faster than any other hotel on the island).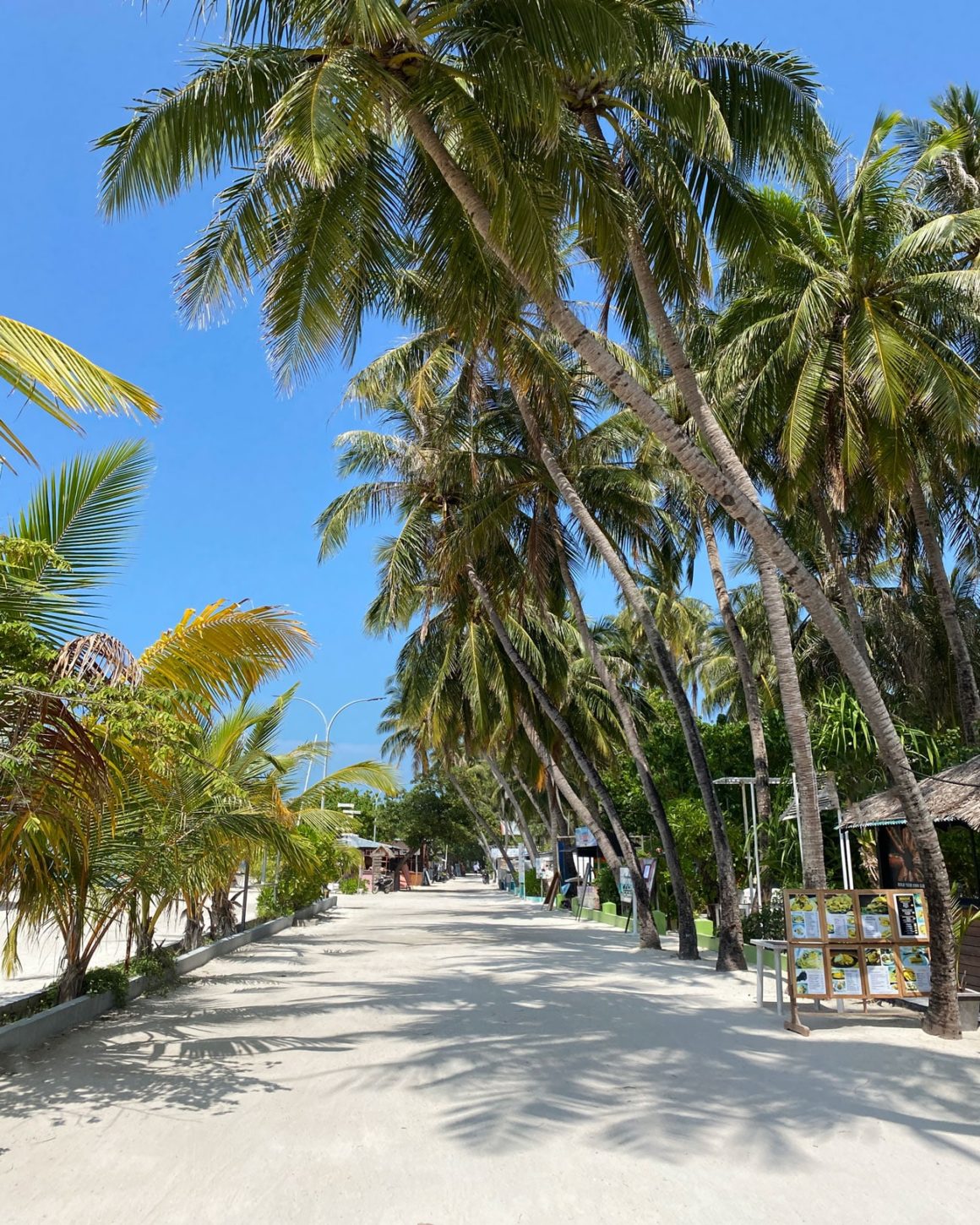 RELATED: Ultralight Packing Secrets for Digital Nomads & Full-Time Travellers
Frequently Asked Questions
Is Maldives good for digital nomads?
The Maldives isn't the most obvious choice for digital nomads (for many reasons), but the local islands are becoming increasingly accessible. If you enjoy warm tropical weather, a slower pace and the ocean, then The Maldives might be the perfect next destination for you.
How many days are enough for Maafushi?
Two to three days is enough for backpackers to gain an insight into the local life on Maafushi. However, if you are working remotely, then a week (at least) will allow you the time to find your slower pace too.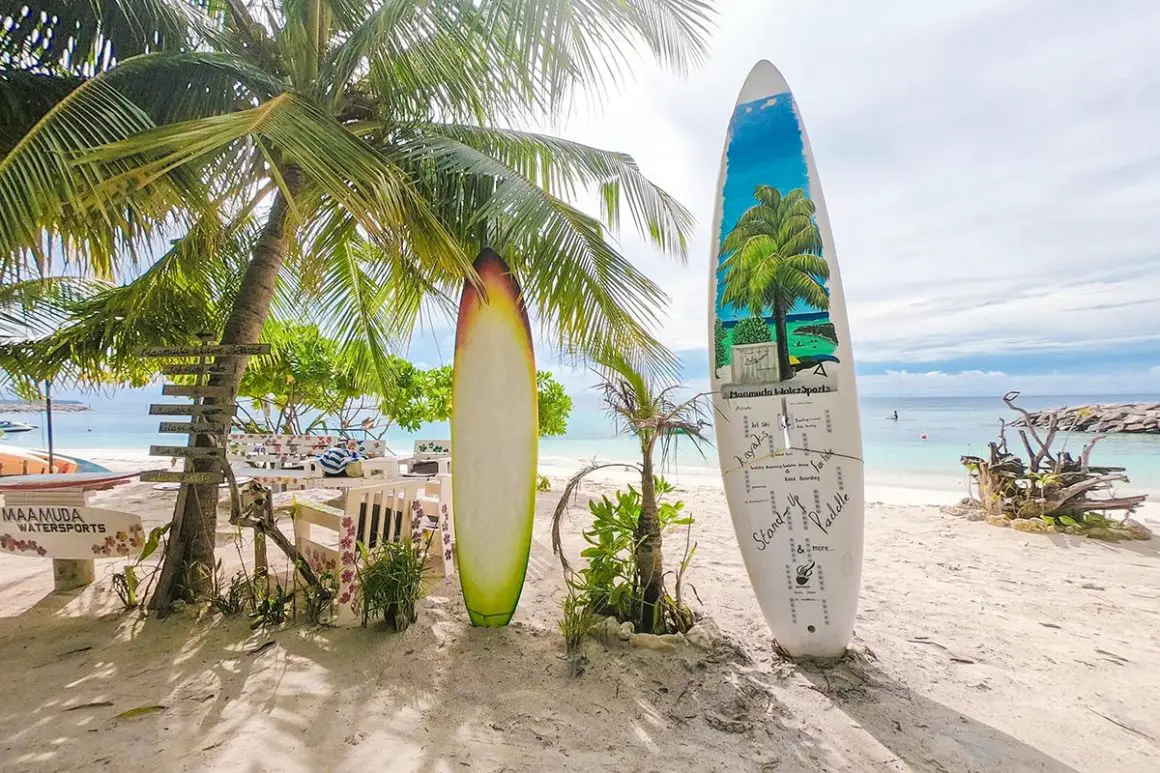 Where To Go After Maafushi
Are you wondering where you could visit after your time in Maafushi?
Sri Lanka – The flight from Male to Colombo is less than two hours so it will not take long before you could be embarking on a unique adventure to indulge in more surf breaks or admire unique landscapes. Sri Lanka is a very up-and-coming digital nomad destination!
Canggu – Have you missed the digital nomad community? Canggu isn't too far in distance, but you may be required to transfer through Kuala Lumpur between flights.
London – Direct flights connect Male to London, the capital of the United Kingdom. You could be admiring the London Eye, shopping on Oxford Street or walking along the Thames after an 11-12 hour flight.
Let's go!
@katie.maree
---
Did You Know…
If you purchase through a KatieGoes link, we receive a small amount but you still pay the same. This contribution helps keep this blog moving – win, win! Nevertheless, I only recommend personal favourites…
---
Save this to Pinterest
Don't have time to read about Maafushi for digital nomads? Click PIN to save the article for later.