There is a general agreement that the 'west coast is the best coast' but considering the remote nature of this particular area, you might be wondering, "Is Ardnamurchan worth visiting?".
Driving the Ardnamurchan Peninsula is no easy task, so this question is totally worth asking before you commit to a seemingly never-ending journey to quite literally the end of the road. Whilst Ardnamurchan looks reasonably close, a trip along the narrow and winding roads may take you longer than you might think. Nevertheless, this is a scenic drive… One in which is completely worth the travel time!
Run out of time? Pin this blog for later.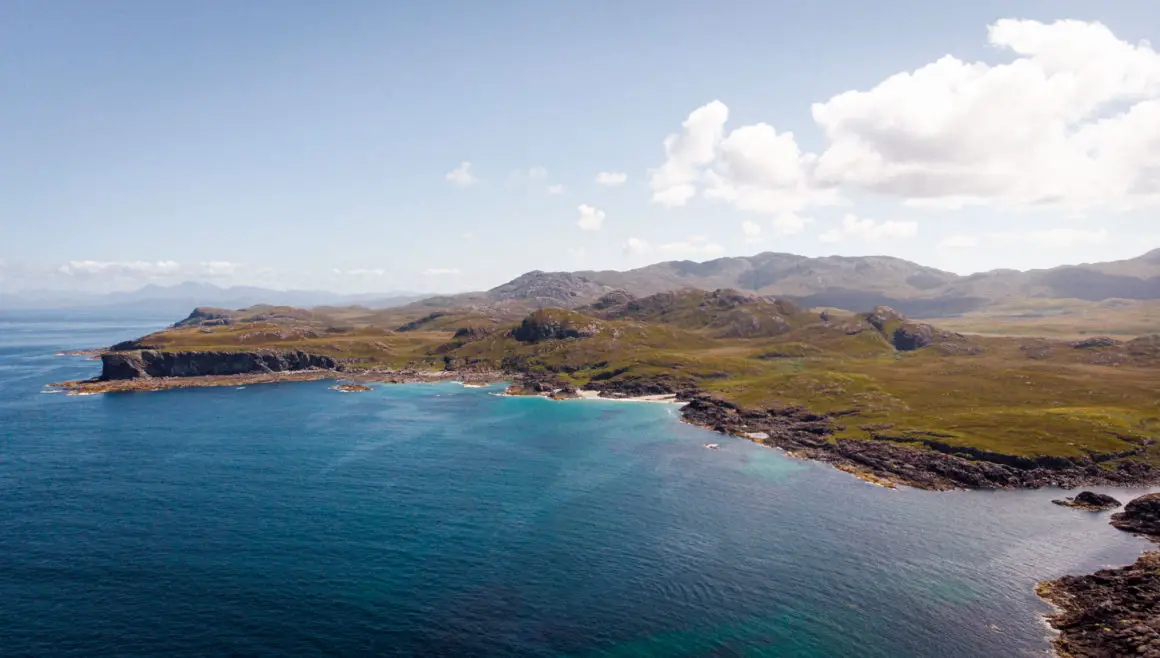 Where is Ardnamurchan Scotland?
Ardnamurchan is a 50-square-mile peninsula in the Lochaber area of the West Coast of Scotland. In fact, Ardnamurchan is that far west it's home to the most westerly point on mainland Britain! With the only access being by ferry or along a 30-mile winding single-track road, the minimally populated area is known to be one of Scotland's more remote and rugged landscapes.
How to Get to Ardnamurchan
From Fort William – Save your fuel and driving hours by crossing the beautiful Loch Linnhe on a 'roll-on-roll-off' car ferry from Corran. This service runs until 9:30 pm every day and a ticket costs £8.00 for a single car or small campervan. You cannot pre-book this crossing. Instead, just turn up and queue at the ferry terminal. The drive between Corran and Fort William is about 15 minutes.
From Mallaig – Mallaig is a 1-hour drive to Acharacle and almost a 2-hour drive to Kilchoan. This route is possible with public transport, but more than one connection will be necessary.
From Glenfinnan – Would you like to check out the Glenfinnan Viaduct first? I'd recommend at least a peek! You could take the scenic drive via the A861 and B8007 to the Ardnamurchan area. This is approximately 40-50 miles long.
From Mull – There is a Caledonian MacBrayne ferry service that connects Tobermory on the Isle of Mull to Kilchoan in Ardnamurchan. This journey takes 35 minutes and costs £3.05 for a driver/passenger and £9.55 for a small campervan.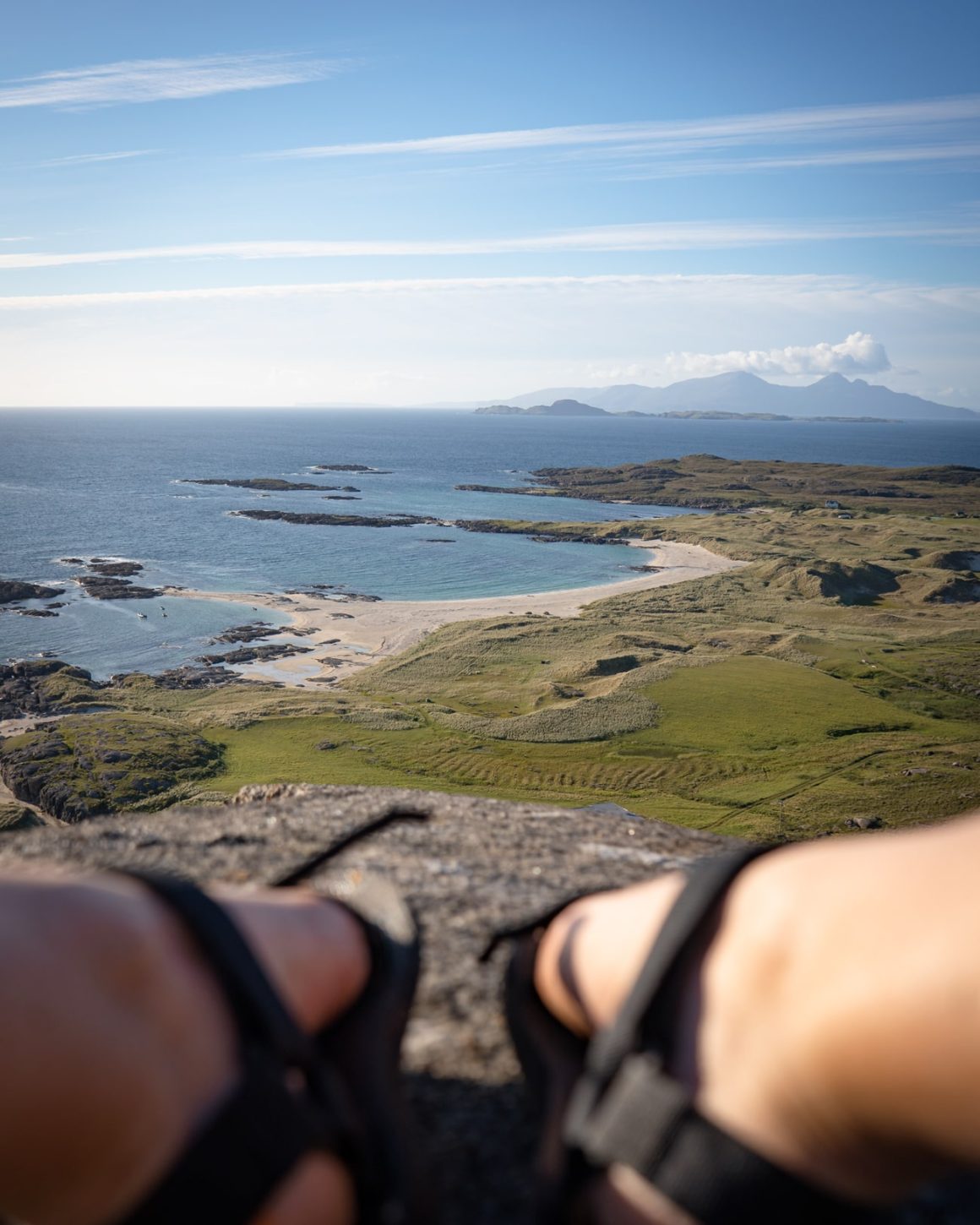 SEE: The Highlander's Guide to the North Coast 500
Things To Do in Ardnamurchan
Have a look at our Scottish Google Map Legend for all of the best recommendations at the touch of your fingertips! This must-have resource pinpoints the most important locations, such as park-ups, restaurants and sites to see… All for your convenience!
Ardnamurchan Lighthouse
Ardnamurchan Lighthouse is closely located to the most westerly point on the British Mainland. After appearing on Top Gear (2021) and Grand Tours of Scotland (2019), the lighthouse is without a doubt, one of the main attractions on the Ardnamurchan Peninsula.
With the surrounding panoramic views, this prominent structure has been guiding ships safely along the edge of the Atlantic Ocean since 1849, when the oil lamp was first lit. Amazingly so, the light is still in use today, but it's managed by the Northern Lighthouse Board HQ which is actually on George Street in Edinburgh.
FACT: Before the construction of the lighthouse began, the 20 acres of land was bought for a grand sum of £20.
There are several viewpoints, a shelter, various paths and some picnic tables that surround the information centre for visitors to spend time enjoying the area. You can also climb the tower on a guided tour for better views.
What should you look out for from Ardnamurchan Lighthouse? Depending on the time of year, it is possible to spot dolphins, basking sharks, minke whales and even orcas, from this vantage point. Although if you are tired of the waves playing tricks on your eyes, you could also admire the coastlines of Mull, Coll and the Small Isles, with Skye and the Outer Hebrides on the horizon.
Take a break from the harsh cold winds by popping into the Ardnamurchan Lighthouse Cafe. Inside, there are plenty of freshly baked goodies to indulge in with a hot cup of something.
There are two parking areas that serve both buildings, with space for motorhomes and caravans too. You'll also find a gift shop and toilets inside the cafe building.
Ardnamurchan Beaches
Ardnamurchan is worth visiting for the beaches alone!…
Sanna Bay is well-known for its magnificence. It has soft white sand with a clear turquoise coastline that stretches between multiple bays, depending on the tide. It's perfect for kayakers, paddleboarders and brave wild swimmers. On a clear day, visitors can also admire the Ardnamurchan Lighthouse and the Small Isles from the bay.
Singing Sands Beach is a hidden gem in the northwest of the Ardnamurchan Peninsula as the sandy bay is only accessible on a 2-4 hour hike. Interestingly, the village of Salen was used by the military for training during World War II. These beaches were subject to live fire landing training before major operations so various explosives have been found after being uncovered by the ever-changing, tide-shaping coastline.
Ardtoe Beach is another spectacular find! There are four bays in the area, with two being more easily accessible from the road. Like the others, Ardtoe Beach is best visited during low tide. It's also a popular location for kayakers and paddleboarders. There is a parking area for cars, caravans and motorhomes for a small donation.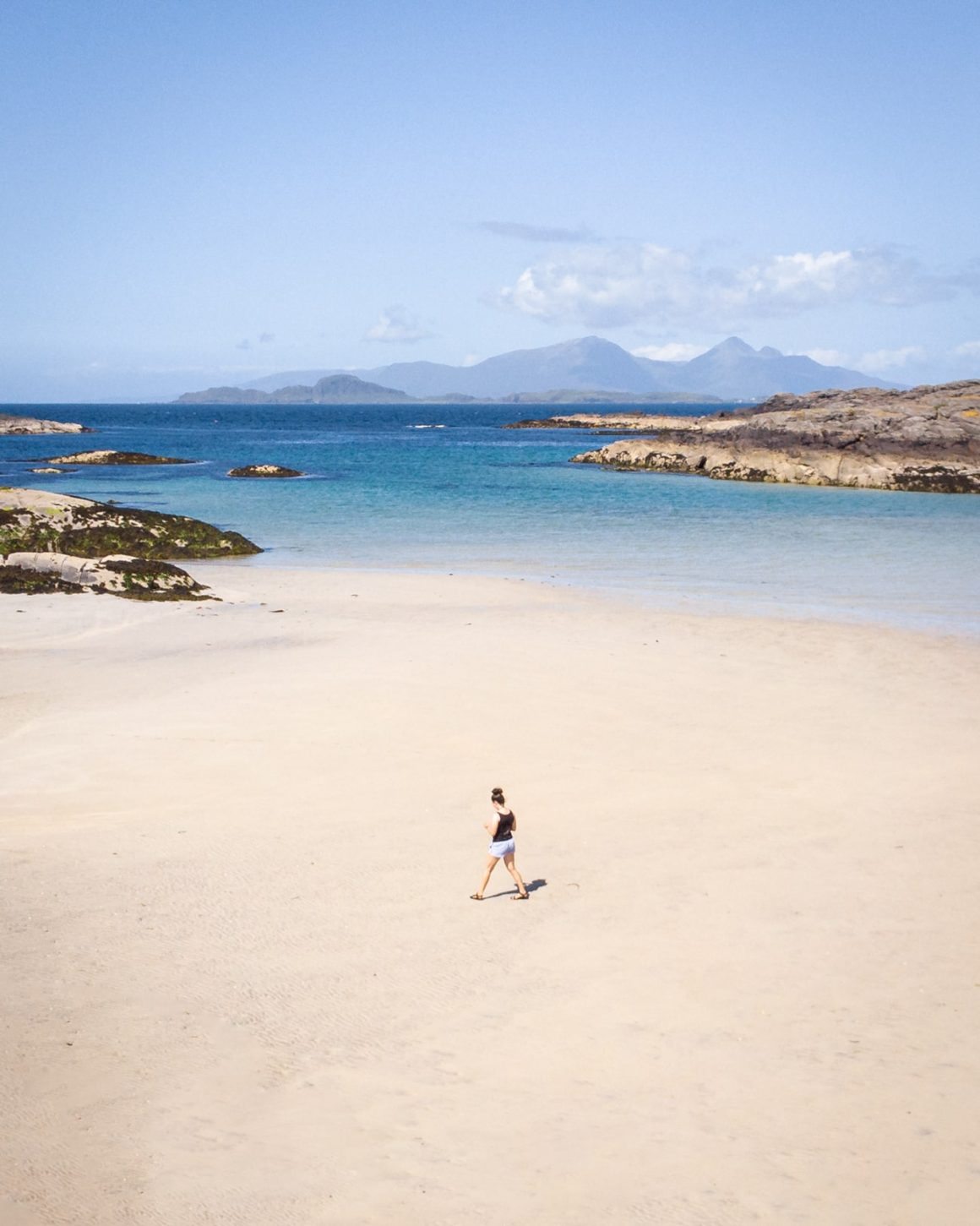 SEE: 

The Best Month To Visit Scotland
Ardnamurchan Restaurants, Cafes & Pubs
Puffin Coffee welcomes visitors from the Tobermory ferry with a hot drink and a fresh selection of yummy cakes. They sell breakfast rolls, snacks, coffees, soup and plenty of other homemade goodies.
Take the opportunity to dine in a Scottish castle… Mingary Castle Restaurant will be a dining experience to remember!
For a more relaxed atmosphere, the Kilchoan House Hotel has a very quaint pub and restaurant. It's perfect for a pint and some pub grub after a busy day exploring Sanna Bay and Ardnamurchan Lighthouse.
Cafe Tioram is a small but sweet eatery in Acharacle. The friendly staff serve breakfast, lunch and some irresistible home baking.
Ardnamurchan Distillery
Of course, it wouldn't be a Scottish Travel Guide without at least one mention of a distillery! Having just opened in 2014, the Ardnamurchan Distillery is one of Scotland's newest. The distillery produces two world-class single malts; one peated and one unpeated. Ardnamurchan Distillery also runs informative tours all year round that are suited to both whisky newbies and experienced experts.
TIP: Fuel up beforehand; petrol stations are few and far apart on the peninsulas.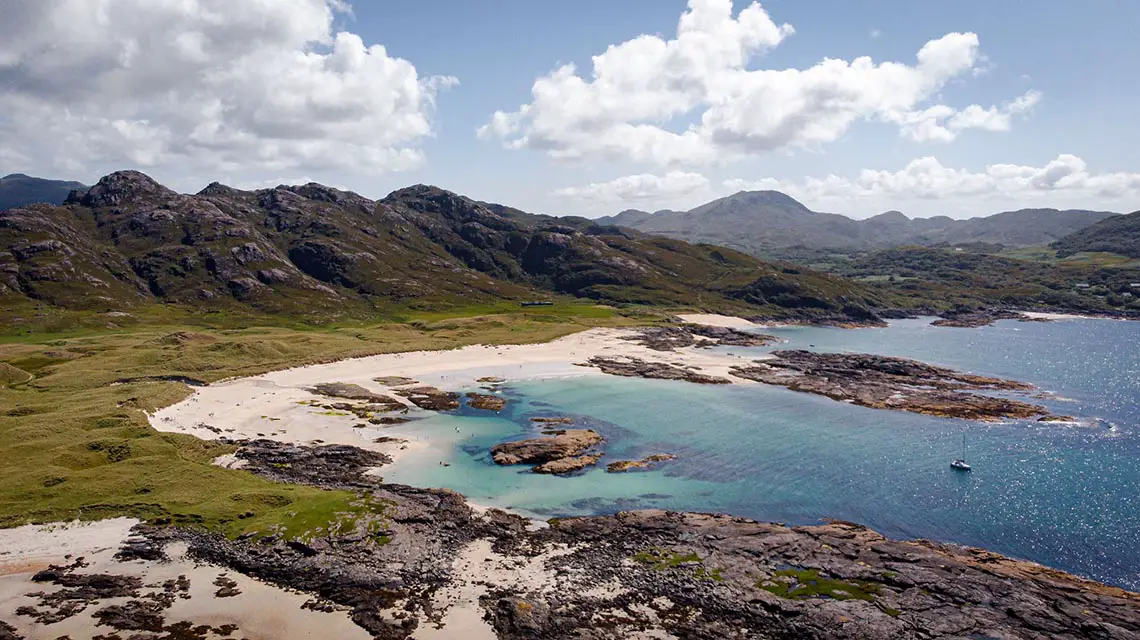 Ardnamurchan Accommodation
There isn't a huge abundance of accommodation options in Ardnamurchan, so book early to avoid disappointment!
Ardnamurchan Villages
Acharacle is situated just north of Salen on the eastern side of the Ardnamurchan Peninsula. It's an ancient crofting village but nowadays, the town is a popular base for holidaymakers and hillwalkers. To name a few amenities, the town has a bakery, garage, chip shop, supermarket and a restaurant.
Kilchoan is one of the most westerly villages on the British Mainland. It's a 2-hour car journey from Fort William and a 35-minute ferry from the Isle of Mull. You will find a village store, petrol station, coffee shop and a community centre in Kilchoan.
Ardnamurchan Hotels & Hostel
Luxury
Could you have a more Scottish experience than staying in a castle? Mingary Castle has a restaurant too.
Mid-Range
Be within a short driving distance of Sanna Bay and the Lighthouse by staying at Kilchoan Hotel.
Budget Friendly
The Loch Shiel Hotel in the town of Acharacle is ideally located for a tour of the west coast peninsulas.
Penny-Pinching
The Ardnamurchan Bunkhouse is located in rural Glenborrodale, within walking distance of the sea.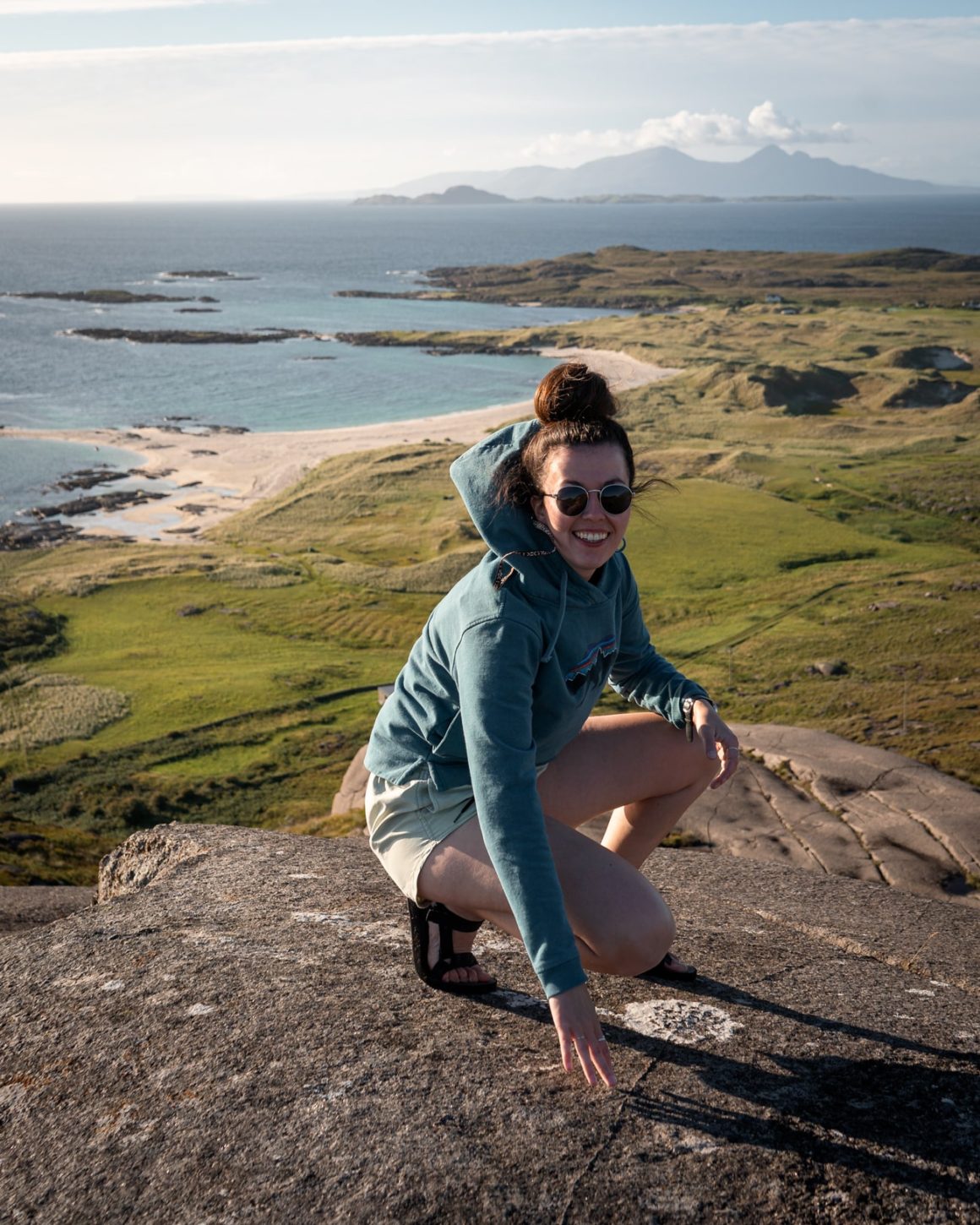 Is Ardnamurchan Worth Visiting?
If you are not afraid of single-track roads, nor do you suffer from travel sickness as a passenger, then Ardnamurchan is absolutely worth visiting! Even if you do suffer from either of the above, the faraway peninsula is still a worthy adventure with great rewards for all those who dare. The area is particularly suited to outdoor enthusiasts, such as kayakers, hillwalkers and wildlife spotters.
RELATED: The Isle of Mull (Things To Do & Where To Stay)
Let's go!
@katie.maree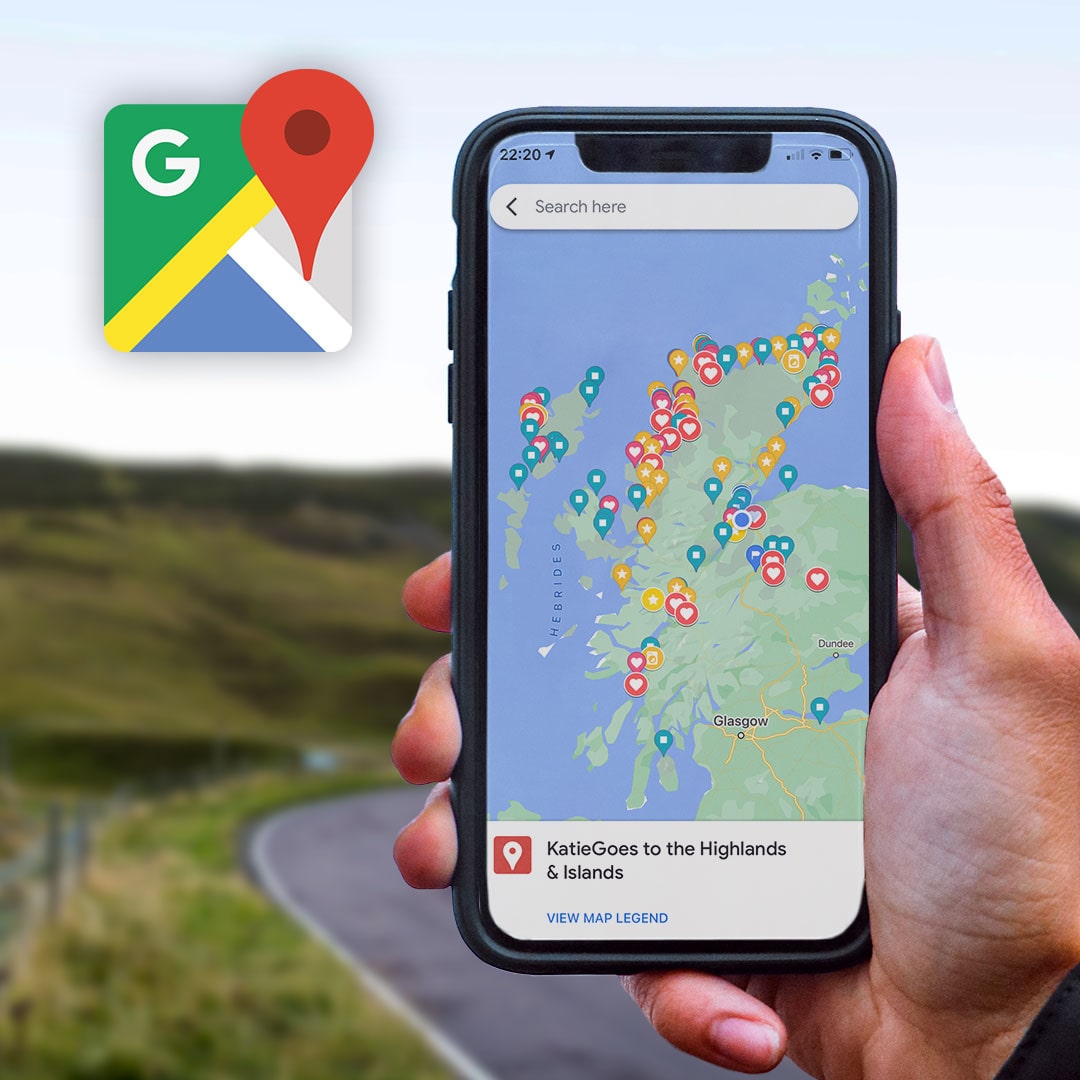 Scottish Highlands Google Map Legend
This Google Map Legend showcases 140+ need-to-know coordinates within our bonnie Scottish Highlands & Islands:
Awesome Wild Camping Park-Ups
Best Walks, Viewpoints, Beaches
Bucket List Locations
Accessible Showers & Fresh Water Taps
Relevant Links to Online Travel Guides
Pin to Pinterest
Do you not have time to read this guide? Click on the Save button to pin this article for later.