Mother Nature was very generous to the Isle of Mull. With many incredible views of mountains, beaches, rugged coastline and surrounding islands to explore, the place is a haven for nature lovers and adventure enthusiasts.
The Isle of Mull belongs to a collection of islands off the West Coast of Scotland known as the Inner Hebrides. In fact, Mull is the second-largest island of the collection. The Sound of Mull, an 18-mile passage of water, separates the island from Oban, Ardnamurchan and the Morvern peninsula on the mainland.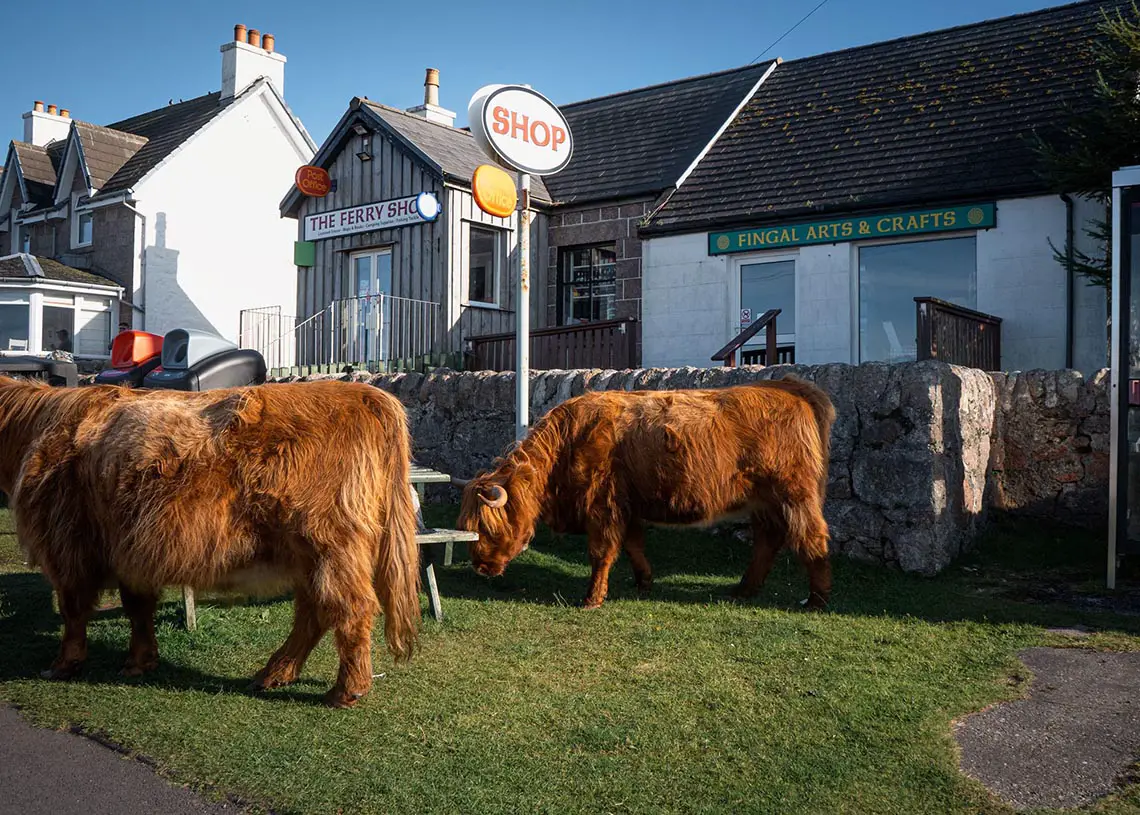 Run out of time? Pin this blog for later.
What is Mull famous for?
The popular CBeebies children's programme, Balamory, brought the coloured houses of Tobermory to the limelight. In more recent years, the Isle of Mull has been featured on BBC's Springwatch and Coast.
How to Get to the Isle of Mull
Mull is only accessible by ferry, yet the island is one of Scotland's most accessible. There are three regular Caledonian MacBrayne ferry routes from various locations on the mainland; Oban, Lochaline and Kilchoan.
Oban to Mull Ferry
The most popular route with the largest ferry is via Oban. There are many sailings between Craignure and Oban, every day. The journey takes approximately 45 minutes. A passenger wouldn't necessarily need to book tickets in advance, but it is almost essential to do so for vehicles.
Click here to view the summer sailing times.
This journey will be particularly suited to those travelling from the south as Oban is a well-connected and easy-to-reach location. For instance, Oban is a two-hour drive from Glasgow, or a 1.5-hour drive from Fort William. It would be a 40-minute drive from Craignure Ferry Terminal to Tobermory.
Scotrail runs a train service between Glasgow and Oban which takes around 3 hours. The best-priced ticket fares are can be pre-booked on Trainline.
It is also possible to make a day trip to Mull from Oban. There are plenty of car parking areas to leave your vehicle in Oban, and overnight too if preferred.
Lochaline to Fishnish Ferry
The ferry between Lochaline and Fishnish is the shortest crossing at only 20 minutes. It is typically the favoured option for visitors travelling from the north, including Fort William, Glenfinnan and Mallaig.
The ferry to Mull from Oban can often be fully-booked for vehicles. Therefore, the next best alternative is this smaller, but more regular, ferry between Lochaline and Fishnish. This service cannot be pre-booked as it operates on a first-come, first-served basis.
Click here to view the summer sailing times.
Ardnamurchan to Mull Ferry
The Ardnamurchan to Mull ferry service also cannot be pre-booked as it operates on a first-come, first-served basis too. The Caledonian MacBrayne ferry departs from Kilchoan in Ardnamurchan and sails to Tobermory.
Click here to view the summer sailing times.
How to Travel Around Isle of Mull
The Isle of Mull is the fourth largest Scottish island with a coastline of almost 300 miles. A rough circumnavigation of the island's coastal main roads would take approximately 4 to 5 hours to drive, 10 hours by bike or 5 to 6 days on foot.
With Public Transport
There is a network of public buses on the Isle of Mull but the services are fairly infrequent, plus, the routes only connect the main towns. This is convenient when travelling between the ferry terminal in Craignure and the main town, Tobermory. There is also a 45-50 minute bus service that connects Tobermory to Calgary Bay or Fionnphort to hop on the ferry to Iona. However, it'll be difficult to access the remote corners and hidden gems of the island.
By Car
Like all other Scottish Islands, public transportation services aren't frequent enough to visit many corners of the Isle of Mull, especially within only a few days. Therefore, it would be more than beneficial to have your own car on the Isle of Mull. You can find and hire a vehicle from your most convenient location with Rentalcars.com.
By Campervan
Of course, a tiny home on wheels will offer the most freedom to travel and explore. There are plenty of great campsites in every corner of the island so visitors shouldn't struggle when looking for a safe place to park.
Most of the island's road network consists of single-track 'A' roads which require good use of passing places and a confident ability to reverse to do so. Each designated passing place is clearly marked with a black and white striped pole.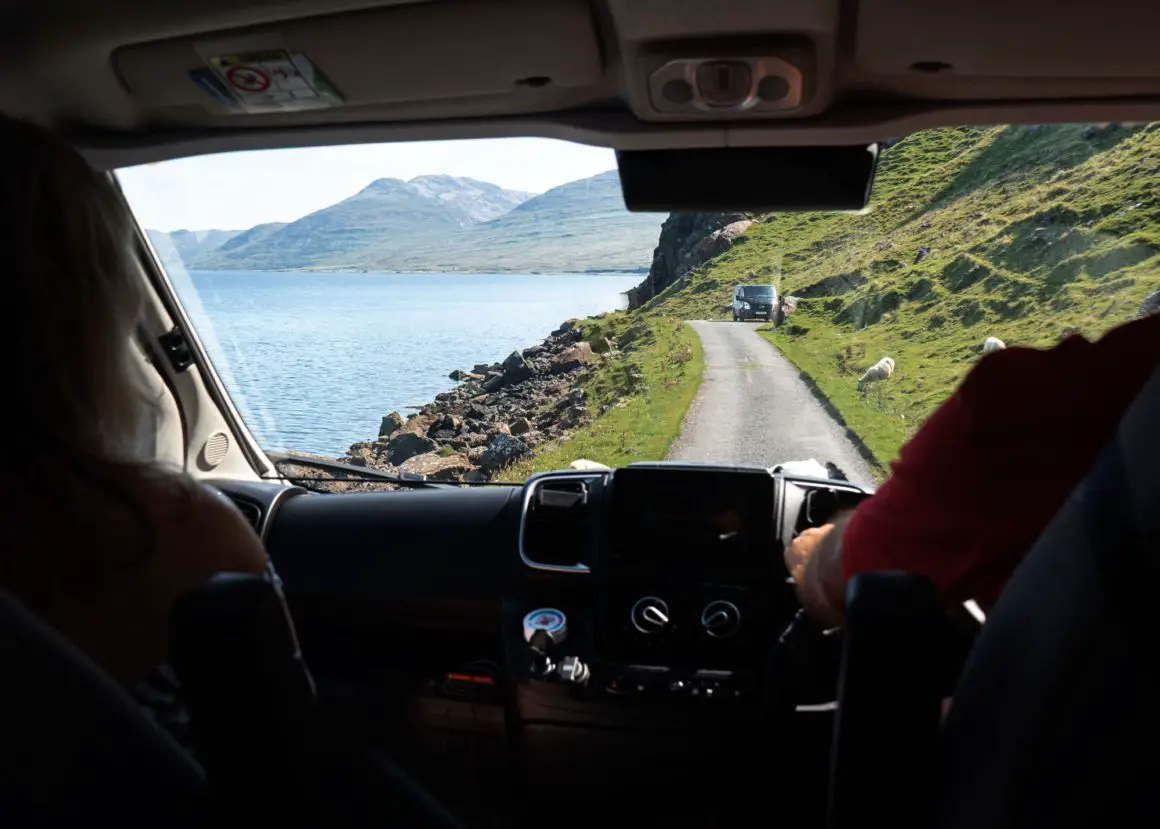 READ: Campervan the Outer Hebrides (Your Island-Hopping Guide)
Best Tours of the Isle of Mull
There are a number of tour companies that offer a packed itinerary, including the Isle of Mull, Iona and Staffa. Click here for the best Scottish Highland Tours from Edinburgh.
3-Day Group Tour
Starting in Glasgow, this tour passes Oban, Glencoe and Tobermory before hopping on a boat to the amazing Fingal's Cave and Isle of Iona too.
4-Day Group Tour
Give yourself more time to discover the northern part of Mull which is home to the well-known Calgary Beach. This tour also includes Iona and Staffa.
5-Day Group Tour
Add the Isle of Skye to your Mull, Iona & Staffa itinerary with this five-day tour. This will also allow visitors to explore the iconic Eilean Donan Castle.
Isle of Mull Accommodation
There is a great variety of accommodation types on the Isle of Mull; from self-catering holiday homes to campsites and beautiful hotels with sea views. Visitors should be advised to book ahead to avoid any disappointment, especially during the high season. On the other hand, it is important to note that many places are shut down over the winter period between October and April.
Tobermory
The biggest town, Tobermory, is home to the most conveniences on the island so it'll provide a great base for visitors travelling by car or public transport.
Luxury
The Western Isles Hotel, which could otherwise be recognised as the 'Balamory Castle', has great food, wine, hospitality and a relaxed atmosphere.
Mid-Range
You couldn't be any closer to the sea, than at the quaint Tobermory Hotel. As it's painted pink, you wouldn't miss it on the high street either!
Budget
Tobermory Youth Hostel is located in the heart and colour of Tobermory. This is a great option for solo travellers who are looking to enjoy the local area.
Iona
Don't hesitate to finalise accommodation on Iona; places will become fully booked quickly!
Self-Catered
Ardoran House is only 550 yards from Iona's Ferry Terminal. So without any vehicles, visitors will not have far to carry their belongings once they arrive.
Hotel
St Columba Hotel is a 20-minute walk from the beach. Visitors of the island will not miss the building as they wander along the only road on the island.
Glamping
Do you prefer to be a little closer to the beauty of Iona's outdoors? The Iona Pods feature mountain views and a fire pit as they are situated on a working croft.
SEE: A Highlander's Guide to the North Coast 500
Isle of Mull Things to Do
Immerse yourself in the outdoors with the Isle of Mull's incredibly scenic landscapes and visible wildlife from land to sea. Visitors of the island will also be offered the opportunity to extend their adventure to the neighbouring islands, such as Iona, Staffa and the Treshnish Isles.
To have all of the best recommendations at the touch of your fingertips, have a look at our Scottish Google Map Legend. This must-have resource pinpoints the most important locations, such as park-ups, restaurants and sites to see, all for your convenience.
Wander Around Tobermory
Mull's largest settlement is Tobermory. Originally a fishing village, Tobermory is now a charming, yet common tourist's favourite with the town's brightly-coloured picture-perfect buildings.
Taste the island's cheese in a beautiful glass barn cafe at the Isle of Mull Cheese, sip on whisky at the Tobermory Distillery or eave's drop on a local's conversation at Mishnish.
If you'd prefer to stretch your legs beyond the colourful buildings, then continue walking along the coastline to the Rubha Nan Gall Lighthouse. This popular trail offers amazing coastal views of Ardnamurchan and the Morvern Peninsula. Overall, the walk is 5.5 kilometres (3.4 miles) which could take approximately 2 hours, there and back.
Watch the Wildlife
Mull is renowned for its abundance of wildlife on both land and sea. Take a guided tour with a local to be led to the best spots for watching the animals. As well as being equipped with the knowledge of each species, guides will also have binoculars and scopes for you to gain a closer peek.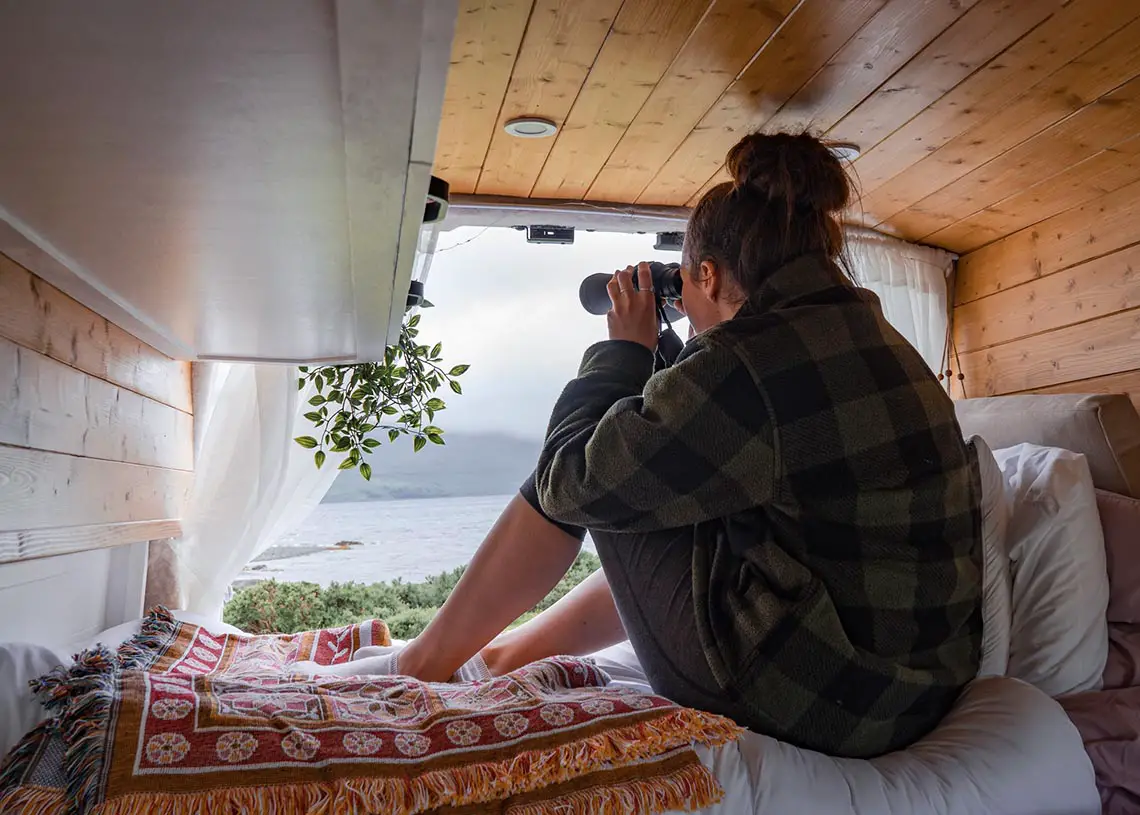 The island is one of the best places in the United Kingdom to watch otters and white-tailed sea eagles. Visitors should look out for…
Golden Eagle
Hen Harrier
White-Tailed Eagles
Basking Sharks
Dolphins & Porpoises
Minke Whales
Similarly, there are also plenty of boat tours, particularly for Staffa Island and Fingal's Cave, that depart from Tobermory, Fionnphort and Iona. These provide visitors with the best opportunity in spotting puffins and marine wildlife.
If you are extremely lucky, you could even spot some Orcas! They are known to travel along the west coast of Scotland during the summer months.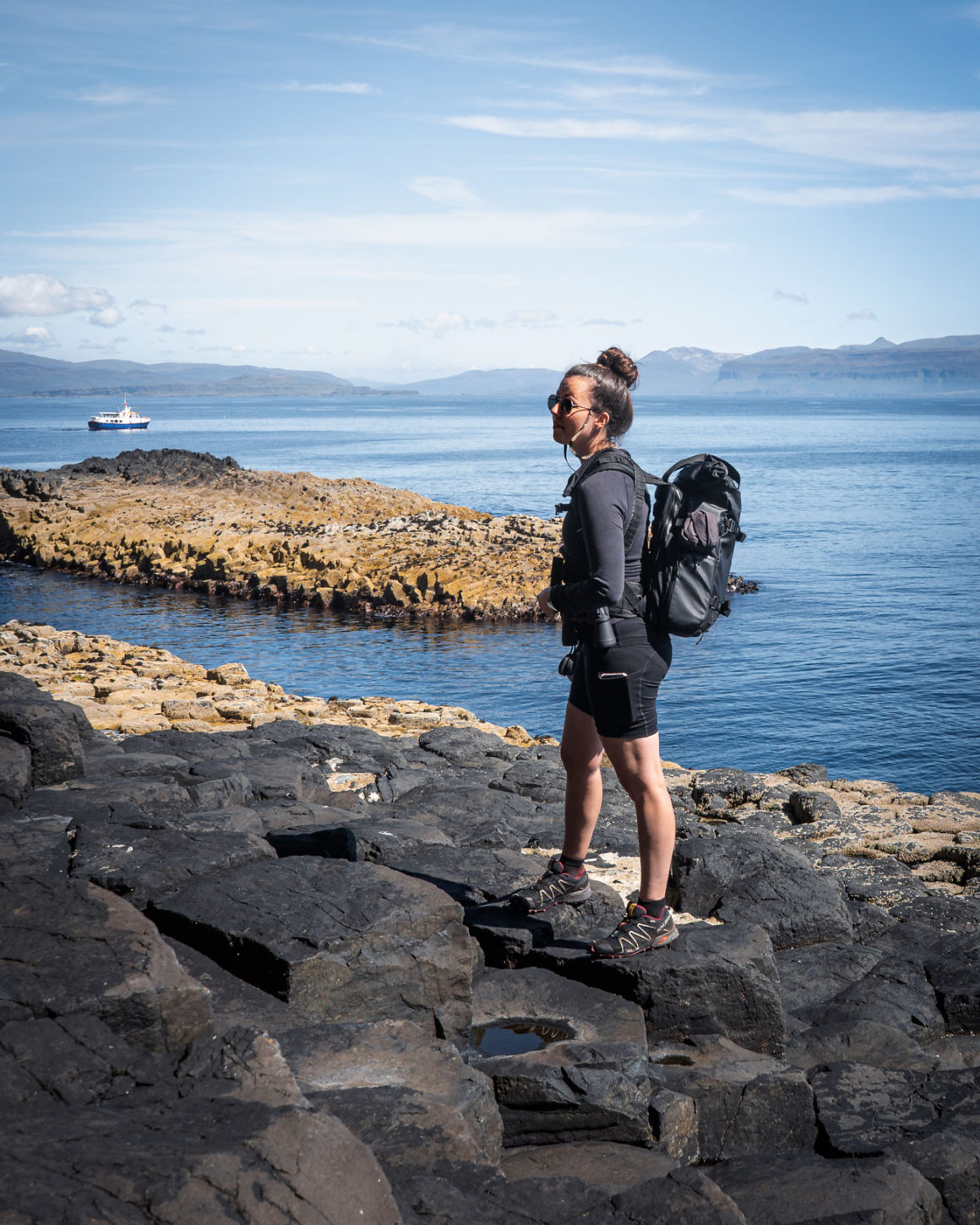 Looking for Highland Cows? Check out Fionnphort, PennyGown Holiday Park or close to the Loch Beg Bridge.
Explore Iona
There is a ferry terminal on the southwestern tip of the island in a village called Fionnphort. From there, passengers can hop on a 10-minute ferry to the Isle of Iona.
The Isle of Iona is one of serenity. You can visit for a day, or stay overnight, but it will not be possible to take any vehicle. Popular things to do on Iona are:
Climb to the highest point on the island, Dun I
Visit Iona Abbey
Browse the local wool, jewellery, homeware or clothing from the Iona Craft Shop
Go for a wild swim on one of the stunning beaches
Taste the local produce at the St Columba Hotel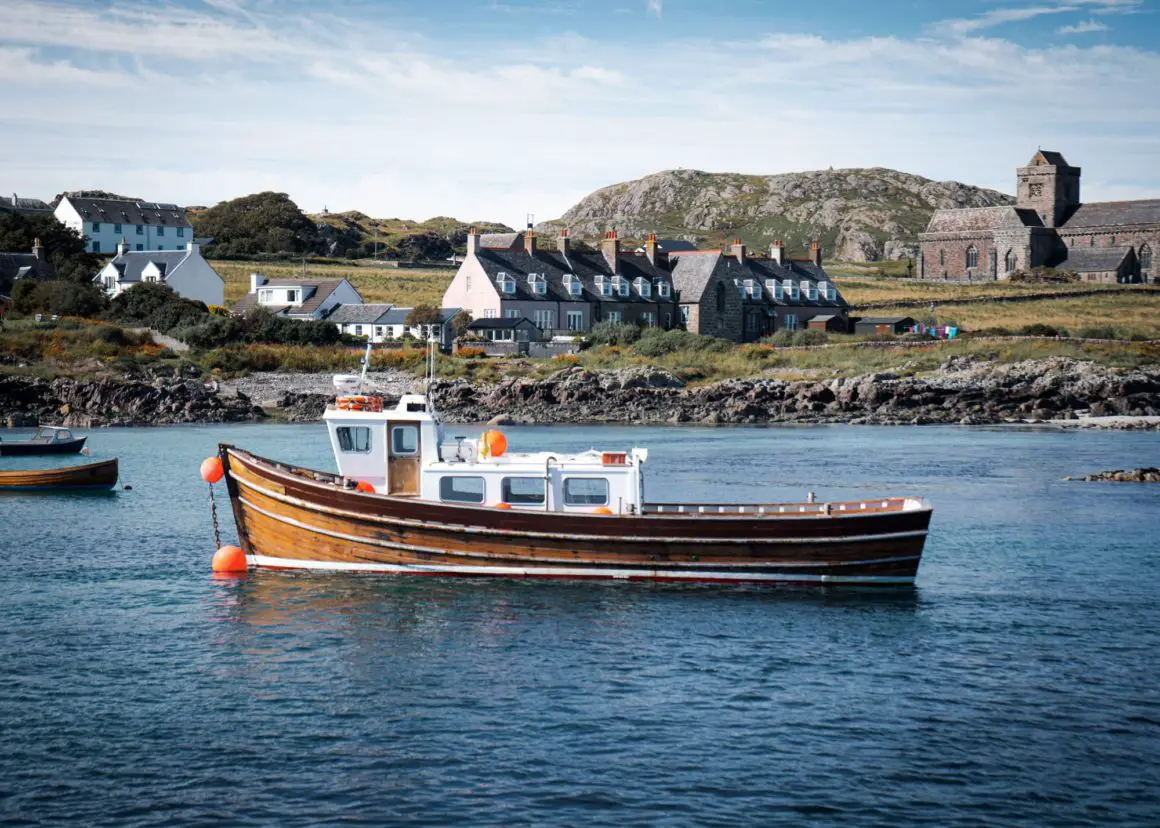 SEE: Visiting the Isle of Iona from Mull & Oban
Visit the Isle of Ulva
There is a very small, passenger-only ferry that links Ulva with Mull. To summon the boat, simply slide the panel to uncover the appropriate coloured square. This will alert the ferry owner on the other side. The availability of this service will depend on demand, weather and the time of year. The Isle of Ulva is tiny but there are a few walking trails and a great seafood restaurant called The Boathouse.
Go Paddling
It wouldn't be a Scottish island without white sandy shores and turquoise waters; the Isle of Mull is no different (on a sunny day).
Calgary Bay is a 35-minute drive from Tobermory. Surrounded by dramatic land formations and meadows of machair, Calgary Beach is the most recommended by previous visitors. The area has toilets, a cafe and a number of parking spots available.
Fionnphort Beach is a particular favourite of mine! If you're as lucky as I was, you could also paddle with Mull's docile Hairy Coos.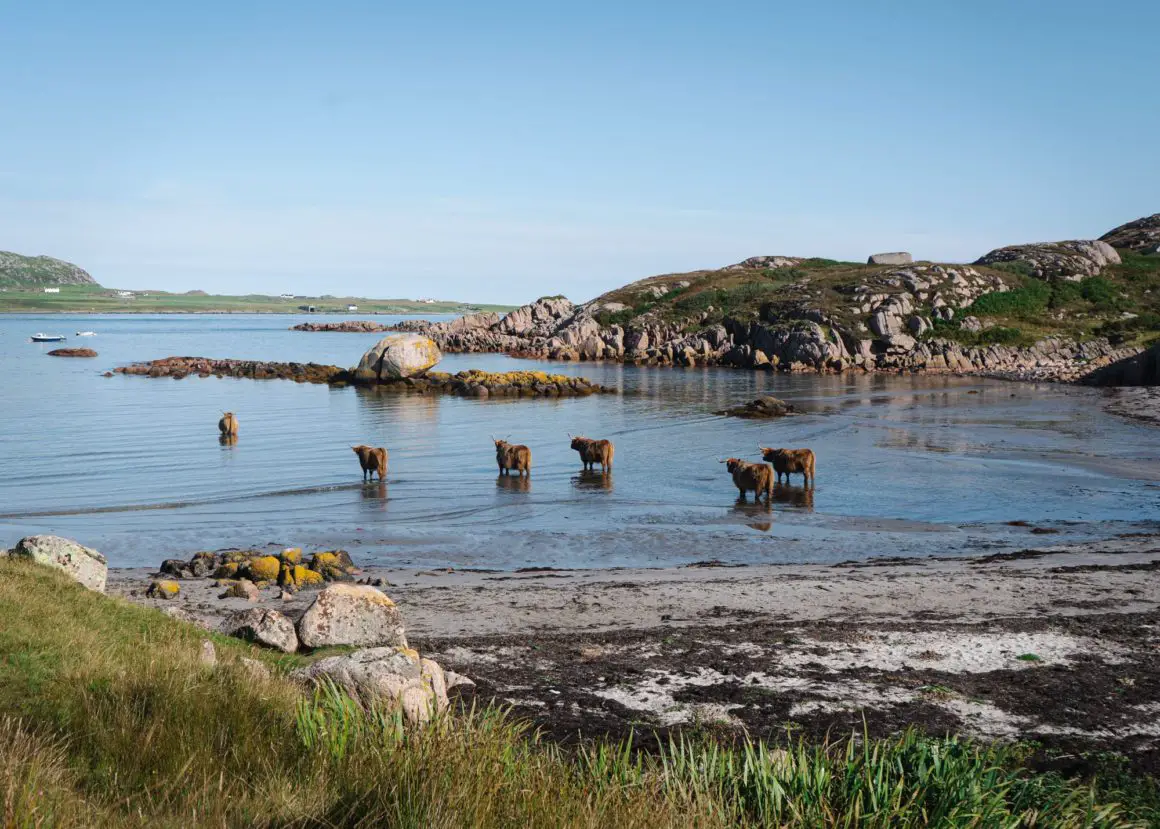 Hike to the Highest Point
Mull is a mountainous island. In fact, the highest point on the island, Ben More, so happens to also be Mull's only Munro (a Scottish mountain over 914 metres). If you are a keen walker or Munro bagger, hike to the summit on a clear day for spectacular views.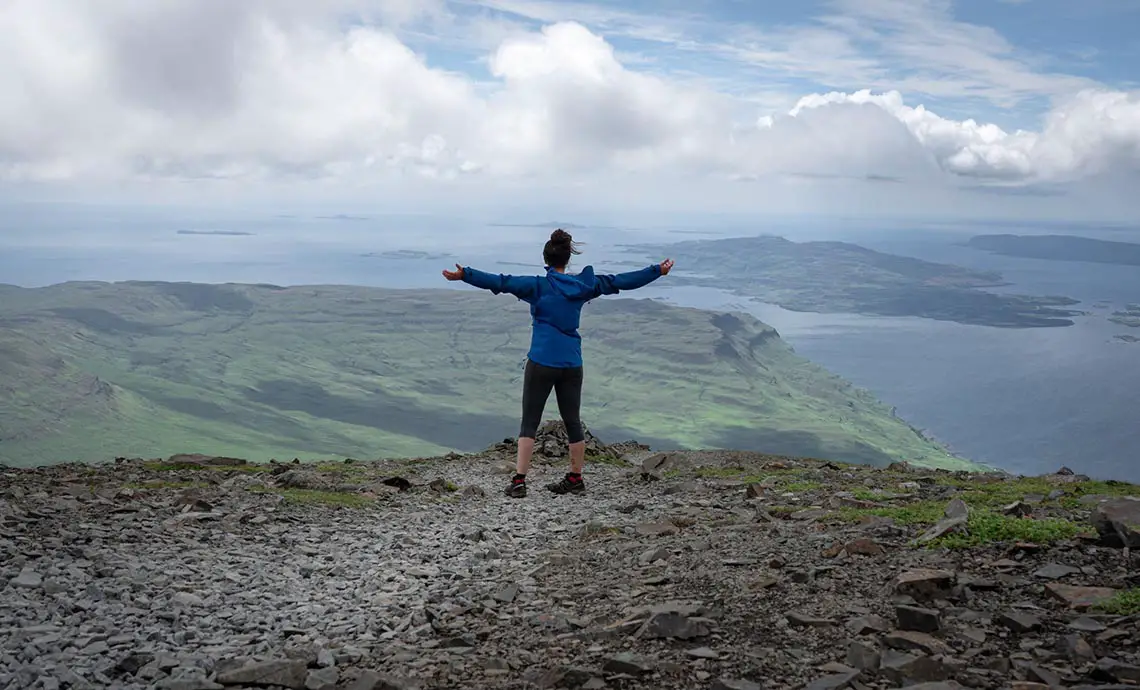 Packing List for Mull
As well as binoculars, visitors should arrive prepared to face Scotland's notorious little critters. Both midges and ticks are present on the Isle of Mull.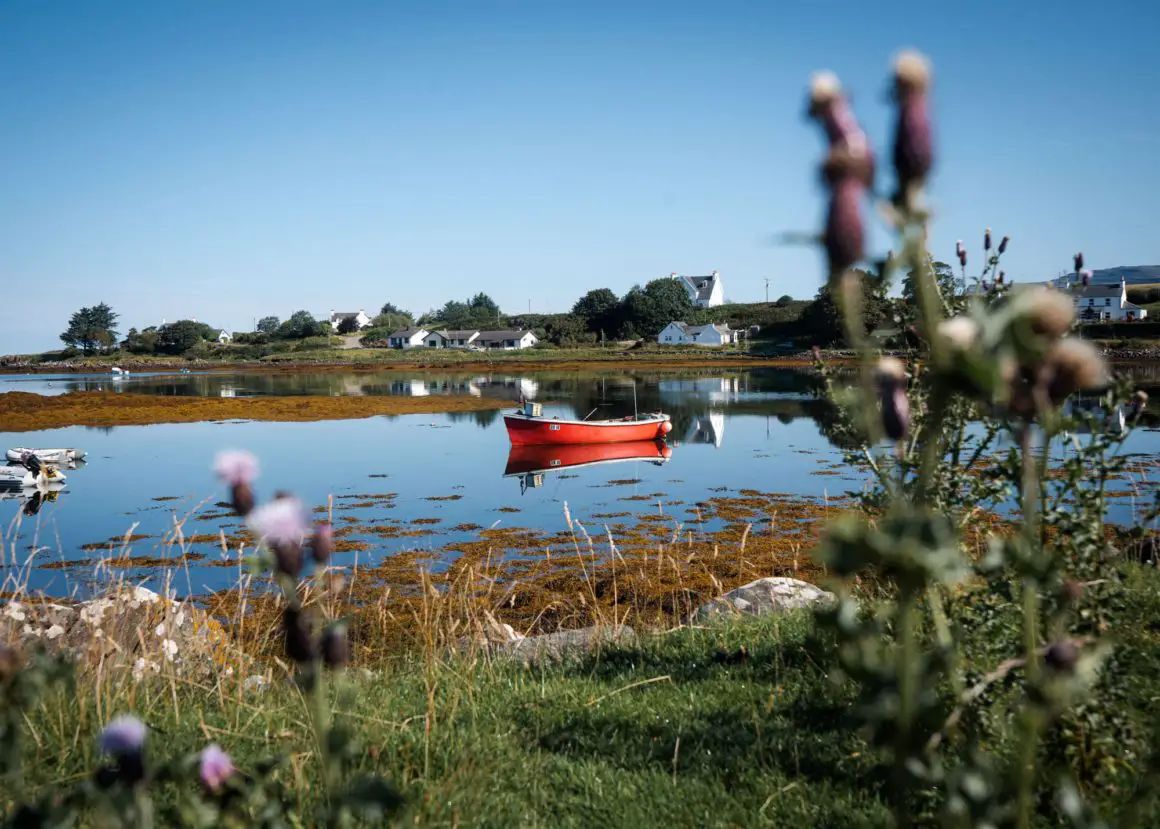 Are you looking for other Scottish island adventures? Read about the Isle of Rum, Canna, Lewis & Harris or island-hopping the Outer Hebrides.
Let's go!
@katie.maree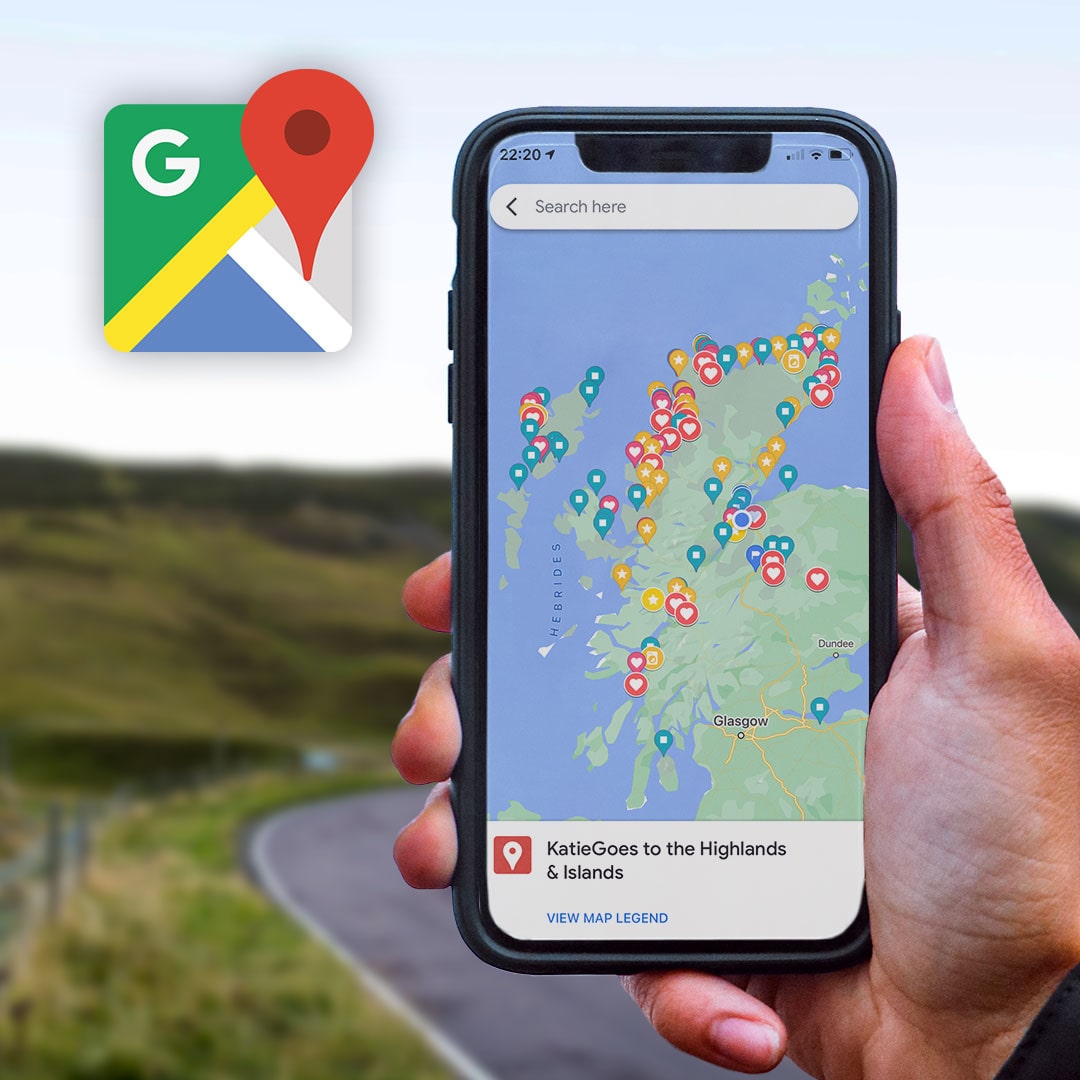 Scottish Highlands Google Map Legend
This Google Map Legend showcases 140+ need-to-know coordinates within our bonnie Scottish Highlands & Islands:
Awesome Wild Camping Park-Ups
Best Walks, Viewpoints, Beaches
Bucket List Locations
Accessible Showers & Fresh Water Taps
Relevant Links to Online Travel Guides
Pin to Pinterest
Have you run out of time? Click on the Save button to pin this article for later.