The Isle of Canna is the westernmost and most northerly of the four islands known as the Small Isles in the Scottish Inner Hebrides. The island is also connected to the neighbouring island of Sanday by a small road bridge and sandbanks at low tide. Therefore, with only one ferry terminal for both, they are often considered to be the same island (Canna).
Are you trying to gain a general sense of the size? Canna is 4.3 miles (6.9 kilometres) long and 1 mile (1.6 kilometres) wide. If you were to walk around the coast of the island, excluding Sanday, you'd cover approximately 12 miles (19.5 kilometres) on foot, taking approximately 8-9 hours. You could also walk from the harbour to the Eastern side of Sanday, and back, within 3 to 4 hours. Sanday is much smaller than Canna.
Have you run out of time? Pin this article to read later.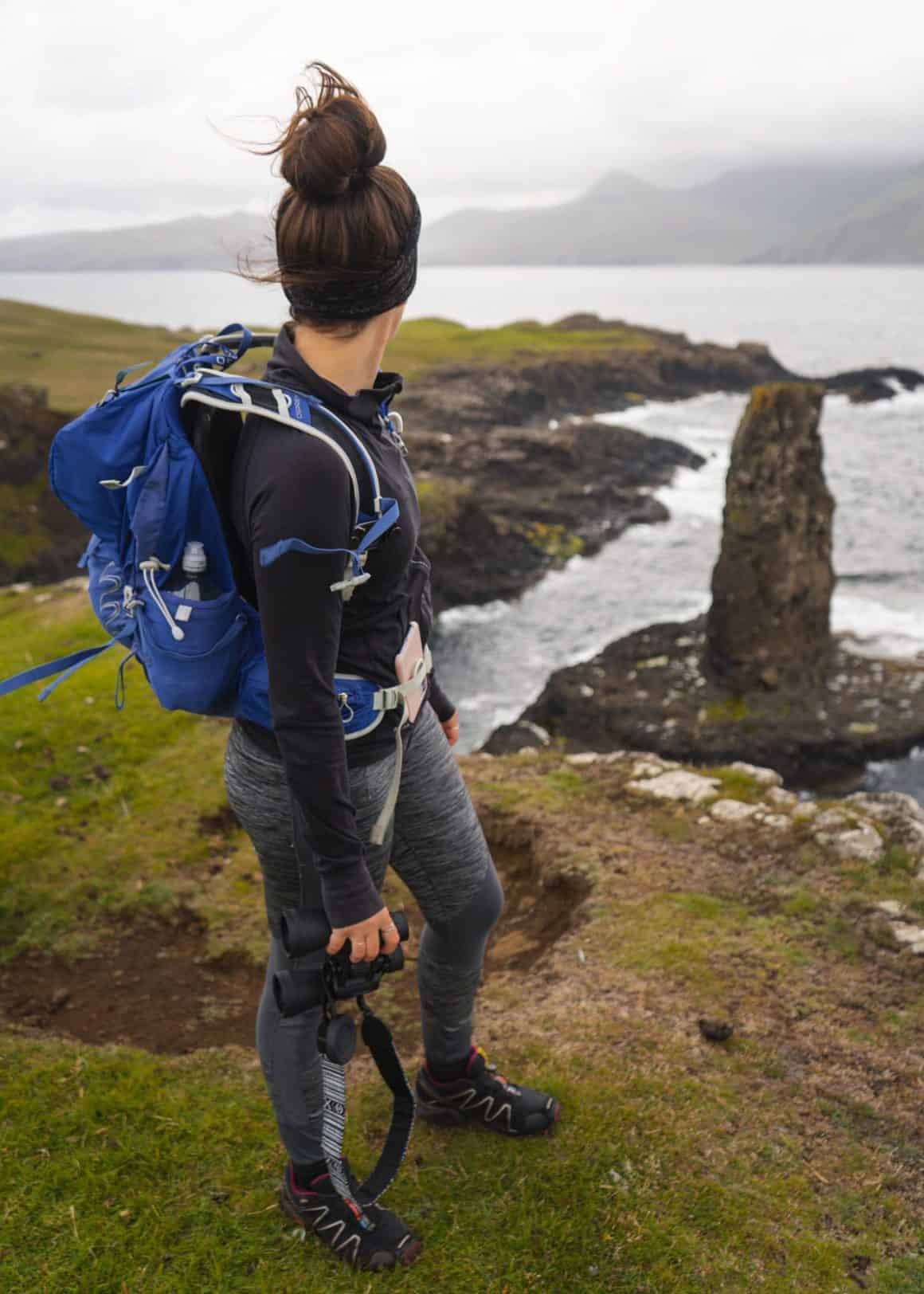 How to Get to the Isle of Canna
It is possible to visit Canna all year round, though route options are more limited in the winter. Either way, there is no airport, bridge or tunnel. The only way over to the Isle of Canna is by boat.
Ferry to Canna
A passenger ferry operates between Mallaig and the Small Isles. There is the capacity for a few vehicles on the lower deck, but each island requires a permit for cars. This is typically only supplied to the residents, or visitors for valid reasons. The average traveller will not be permitted to travel with their own vehicle. There are also no tarred roads on the Small Isles so cars would need to be capable of rocky roads and rough terrain.
Ferries to Canna depart from Mallaig every second day during the week, and both weekend days, during the summer months. There isn't normally a need to pre-book tickets, but they can be purchased over the phone. Tickets can also be paid for on the boat unless passengers are departing from Mallaig. If so, there is a ticket office at the harbour for guests to check in prior to boarding.
It is possible to explore Canna by day on Wednesday (though you should check the current ferry timetables), as it's the only day when the ferry remains at the harbour for a couple of hours. Otherwise, you should look into a guided tour.
NOTE: The ferry timetable differs between summer and winter.
The MV Loch Nevis is normally the boat Calmac sails between the mainland and the Small Isles. There are plenty of outdoor chairs to catch the sun, rain or more likely, the wind on your face. Inside, passengers can relax in the lounge area or eat in the canteen. The boat is also equipped with a charging station, a pet-friendly area, luggage storage and toilets.
The Calmac Summer Ferry Timetables for the Small Isles can be found here.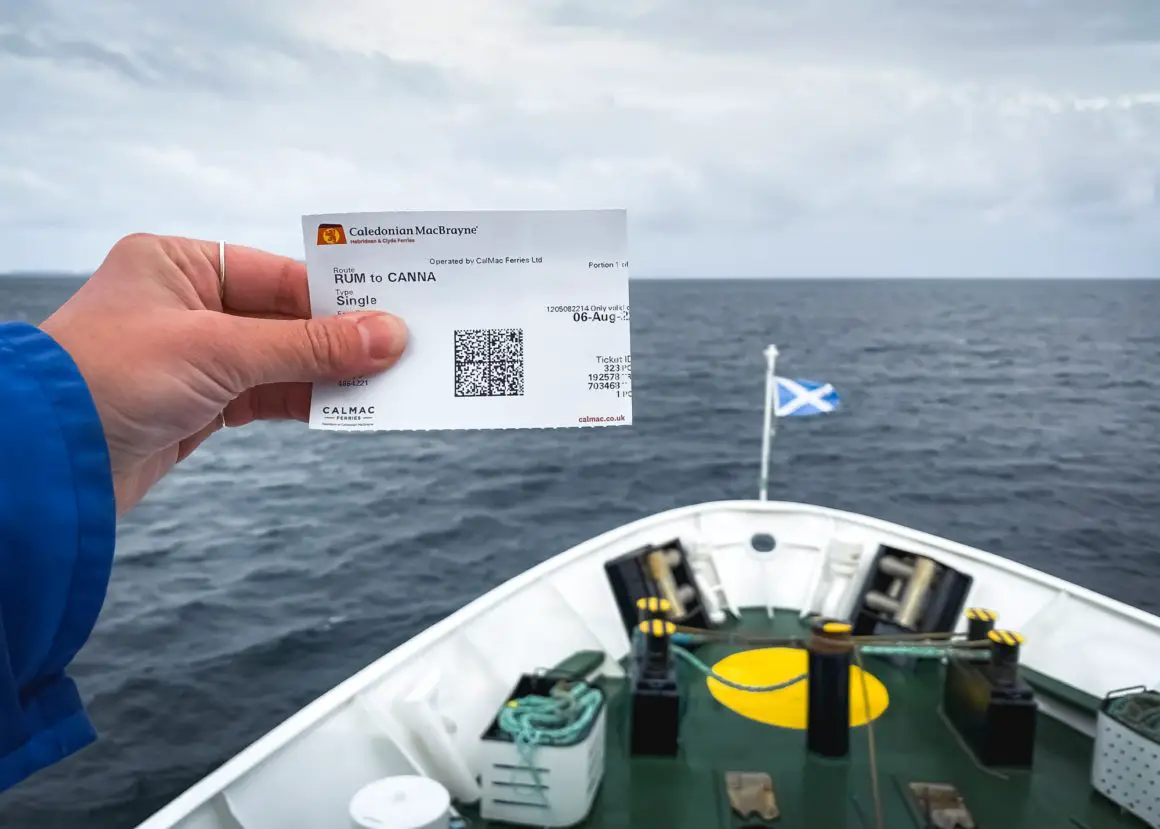 Guided Tour
From Mallaig (Mainland) – Hebridean Adventures offer a 4-night trip that enables visitors to set foot on every island of the Small Isles. Day tours are also available with Minch Adventures and Western Isles Cruises.
From Elgol (Skye) – AquaXplore operate day trips, landing on Canna for between 1 to 5 hours depending on the selected tour.
Sailing to Canna
Canna Harbour is very popular for yachts and cruise boats. As the community moorings are positioned inside the sheltered harbour, they provide a safe stay for visitors with boats on a first-come, first-serve basis. These moorings can be paid for at the community shop where an honesty box and guestbook can be found. The moorings cost £15. Pick-ups are available.
Can You Stay on the Isle of Canna?
Visitors are more than welcome to stay on the Isle of Canna. However, it is advisable to pre-book accommodation if you intend to be on the island for an evening or more unless you are camping.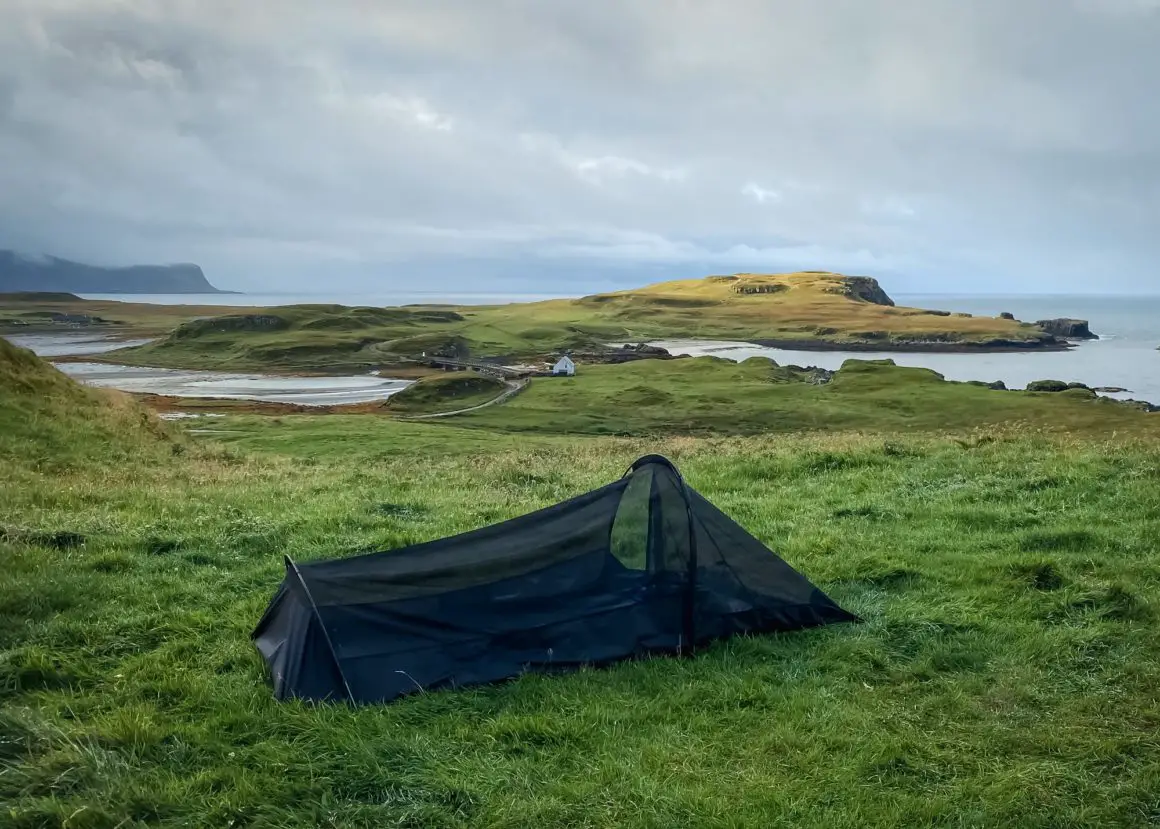 Guest House
There are three guest bedrooms inside the Tighard Guest House. Due to its location, Tighard has great views across the bay to Sanday and Rum.
Canna Campsite
Talking from my own experience, I arrived at Canna Campsite, chose my own spot and spent the night without any bookings or contact with a staff member. There are plenty of honesty boxes around for donations, or the owner (Isebail MacKinnon) can be found at the harbour as the ferry brings new guests to the island. The campsite is situated within a small valley, so there are many different pitching spots to choose from whether they be fenced in, or on a hill overlooking the bay.
There are also three small camping pods available on-site too. The smallest sleeps two with the largest being able to accommodate up to four people.
Guests can also expect a cookshack shelter, two cold showers, two toilets, picnic benches and fresh water taps on Canna Campsite. Isebail can also arrange free luggage transport from the ferry.
The Bunkhouse
The bunkhouse is situated a little further uphill from the campsite. It includes 8 beds; 6 being in a shared room and one private room with two beds in a bunk. There is a shower and kitchen too. This accommodation is in association with the Canna Campsite.
Canna Self Catering
Walk a little further to stay in one of the three self-catering cottages on Sanday, Isle of Canna. Like every other building on Canna, they overlook the bay. These are ideal for families or groups as they comfortably sleep six persons.
What To Know Before Visiting Canna
Amenities
Shop – The community shop operates on a 24/7 honesty basis. Visitors will find an assortment of gifts and handmade crafts, as well as everyday grocery items. There is also a kettle for hot water drinks, visitor information and a toilet.
Showers – One hot water shower is available at the barn (just past the phone box). This can be operated by £1 coins.
Toilets – There are toilets available in the ferry waiting room on the harbour and inside the community shop. If you walk further along the track, you'll also find one at the square next to the barn.
WiFi – A public hotspot can be found in the community shop and at Café Canna.
Refuse – There are large refuse containers for recycling and non-recyclables at the pier.
Mobile Signal – In my experience (as of August 2022), Three had a reasonably good but patchy signal whilst the O2 signal was non-existent.
Restaurant – Café Canna is on the main track overlooking the harbour. The place is popular with visitors, especially the day trippers, as it is only a short walk away from the harbour. Serving fresh seafood (caught by the fishing boat you'll see in the bay), Scottish produce, light snacks and refreshments, the cosy establishment is open for evening meals and lunches. Visitors should book ahead in order to avoid disappointment.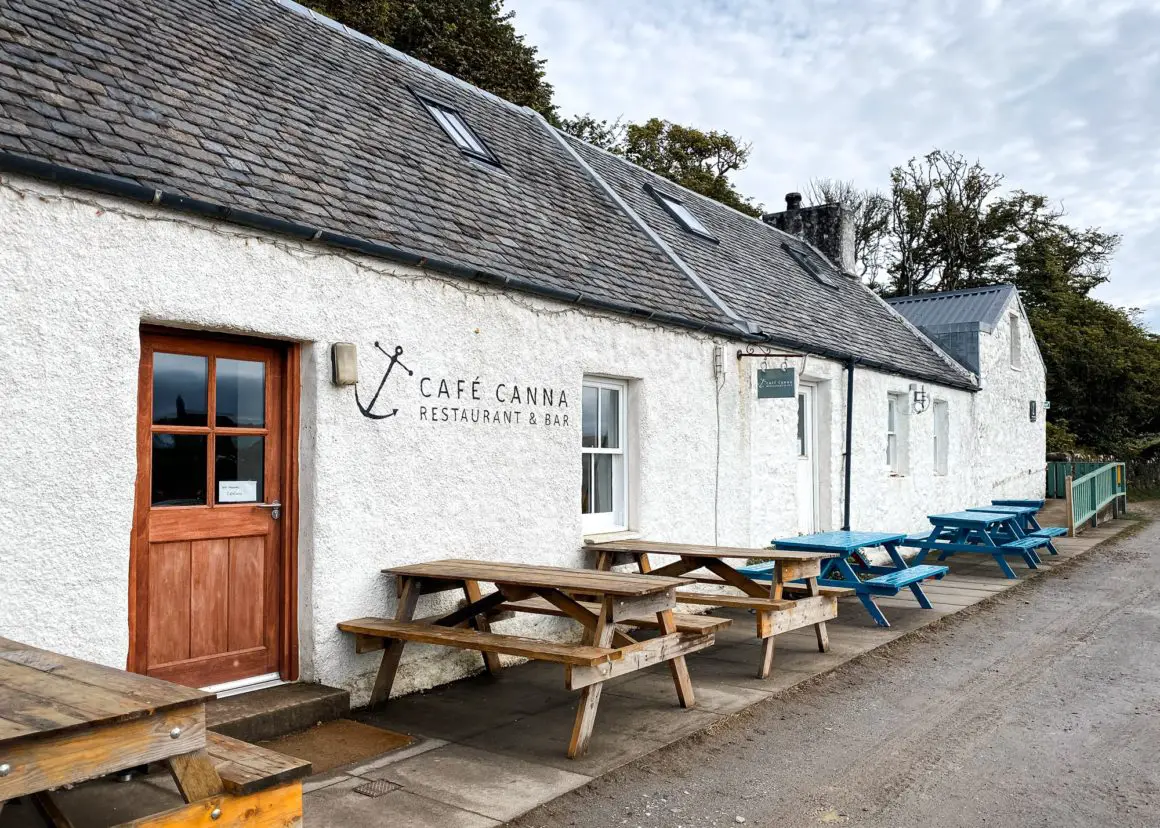 TIP: There are many payment options for the accommodations, but visitors will need cash for tips and honesty boxes.
Guided Walk
The seasonal ranger on Canna often arranges guided walking tours. If they are on the island, they will be at the harbour greeting visitors as they disembark the ferry. They'll answer any questions that you may have, otherwise, there are leaflets available in the Pier Waiting Room. They include information on the wildlife and suggested self-guided routes that range between 1 and 2 hours.
REMEMBER: Take to take your binoculars!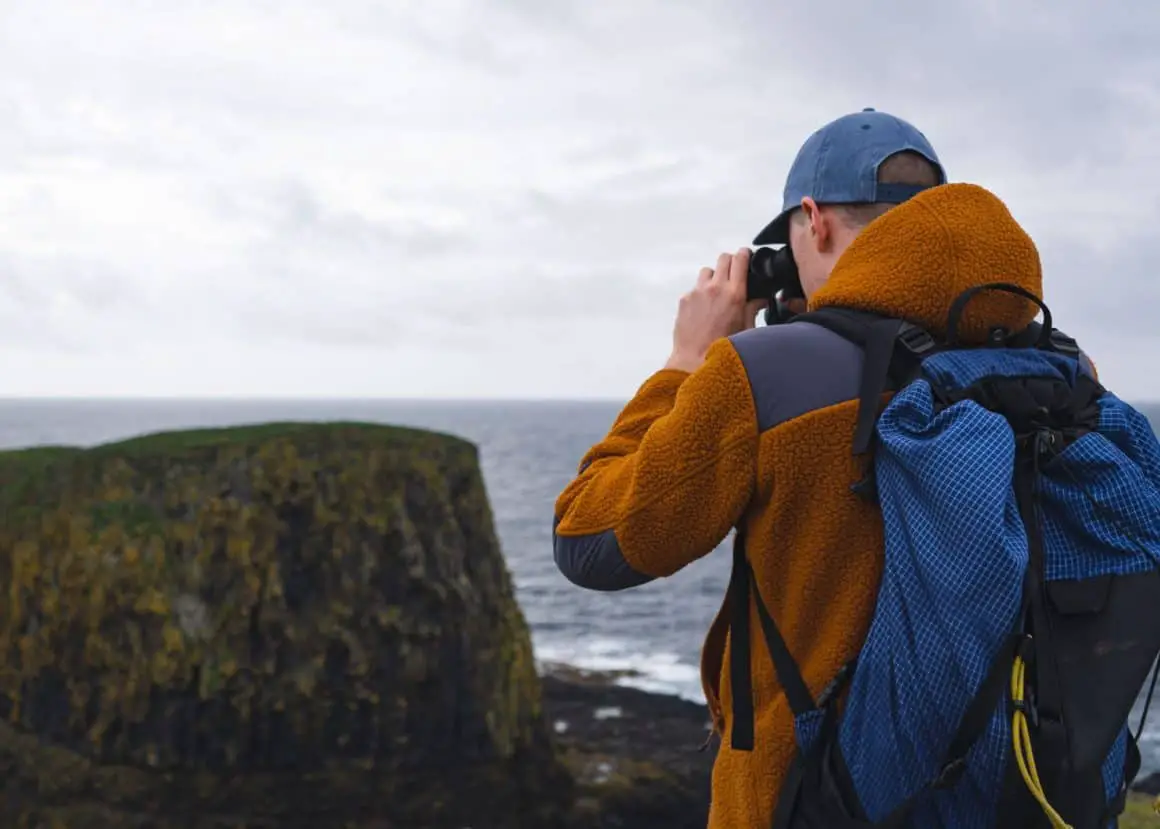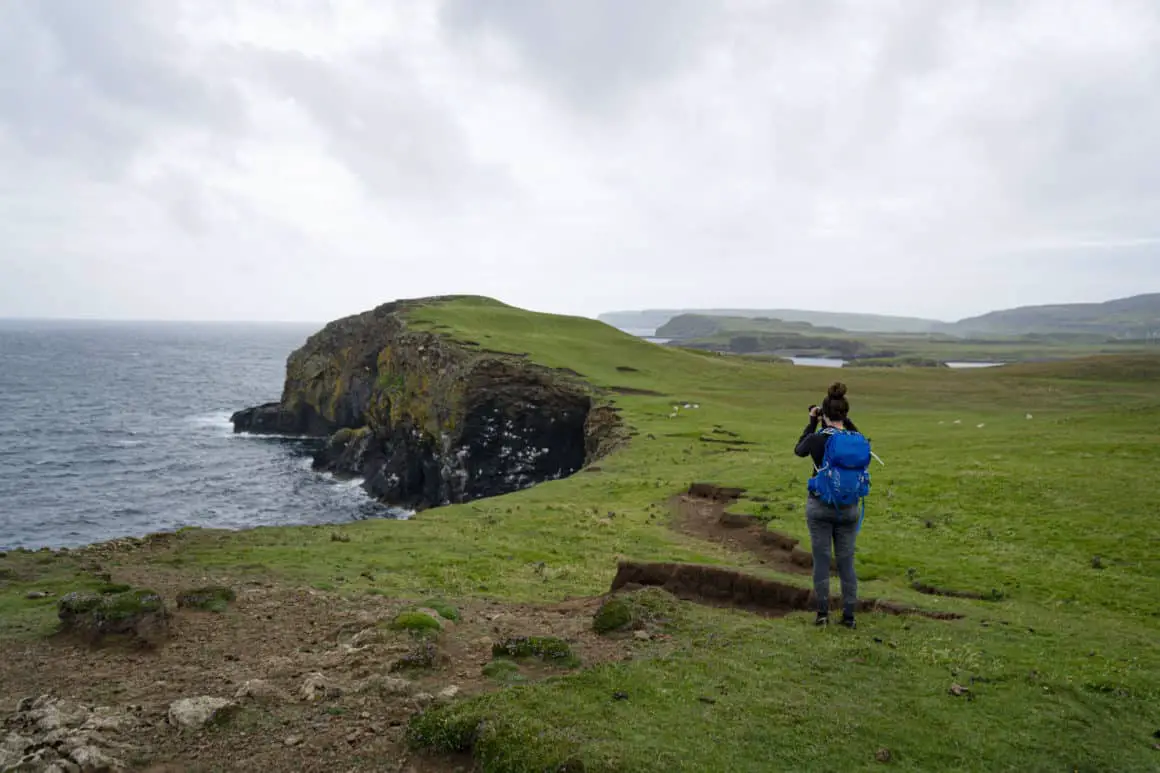 ALSO: The Isle of Rum (The Complete Island Guide) 
Look Out for Puffins
Puffins can be spotted in Scotland from late April to the beginning of August. The most accessible place to find them in Canna is at the two sea stacks on the east side of Sanday; Dun Mor and Dun Beag. The trail begins where the main track of Canna ends. Once you've passed the Saint Edward's Chapel, small wayfinding signs of arrows and puffins will lead the way.
It is at this location that visitors can admire hundreds of puffins rafting in the sea, swooping around the stacks or perched on the grassy ledges. Fulmars, Kittiwakes, Guillemots, Razorbills and Shags can also be spotted; though visitors should be aware of the diving Great Skuas. They may occasionally fly unwantedly close overhead, dive bombing anyone who passes their nest during the breeding season. You could raise your hand to encourage a little more distance, although walking poles are better. They aren't known to hurt anyone, but their merciless movements can be unsettling.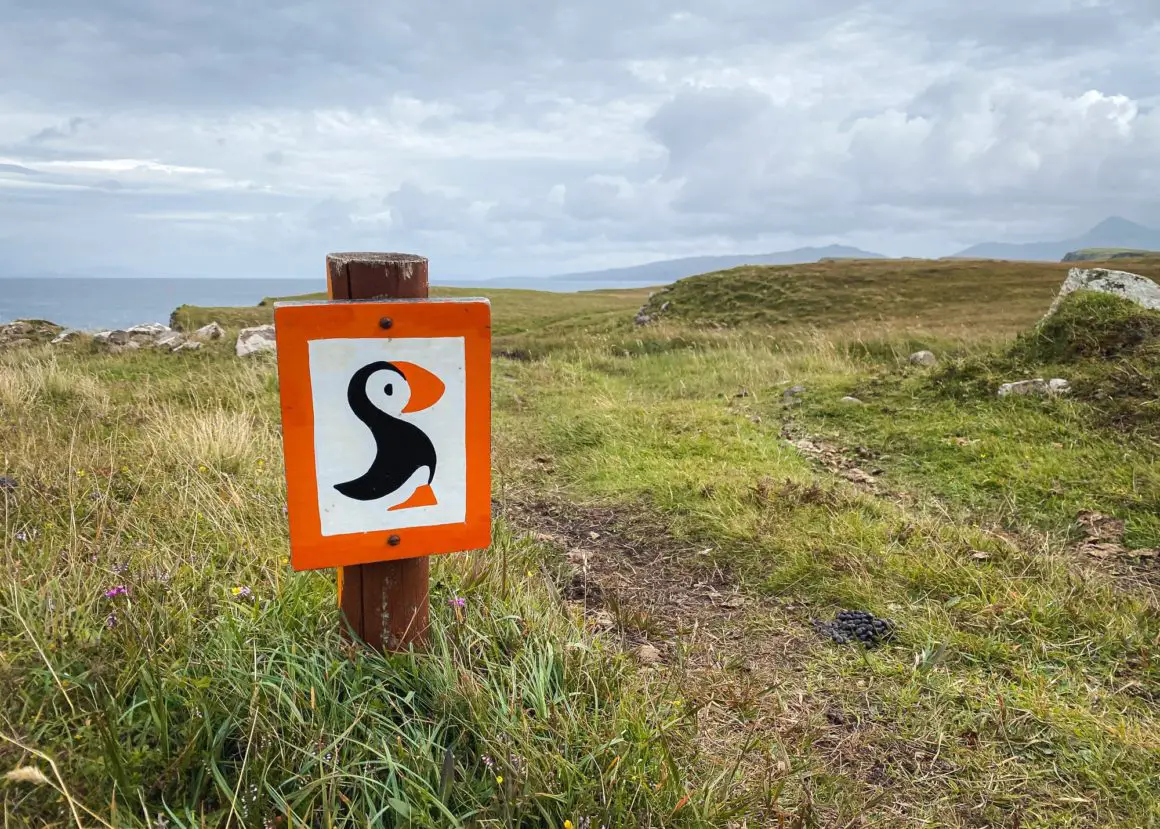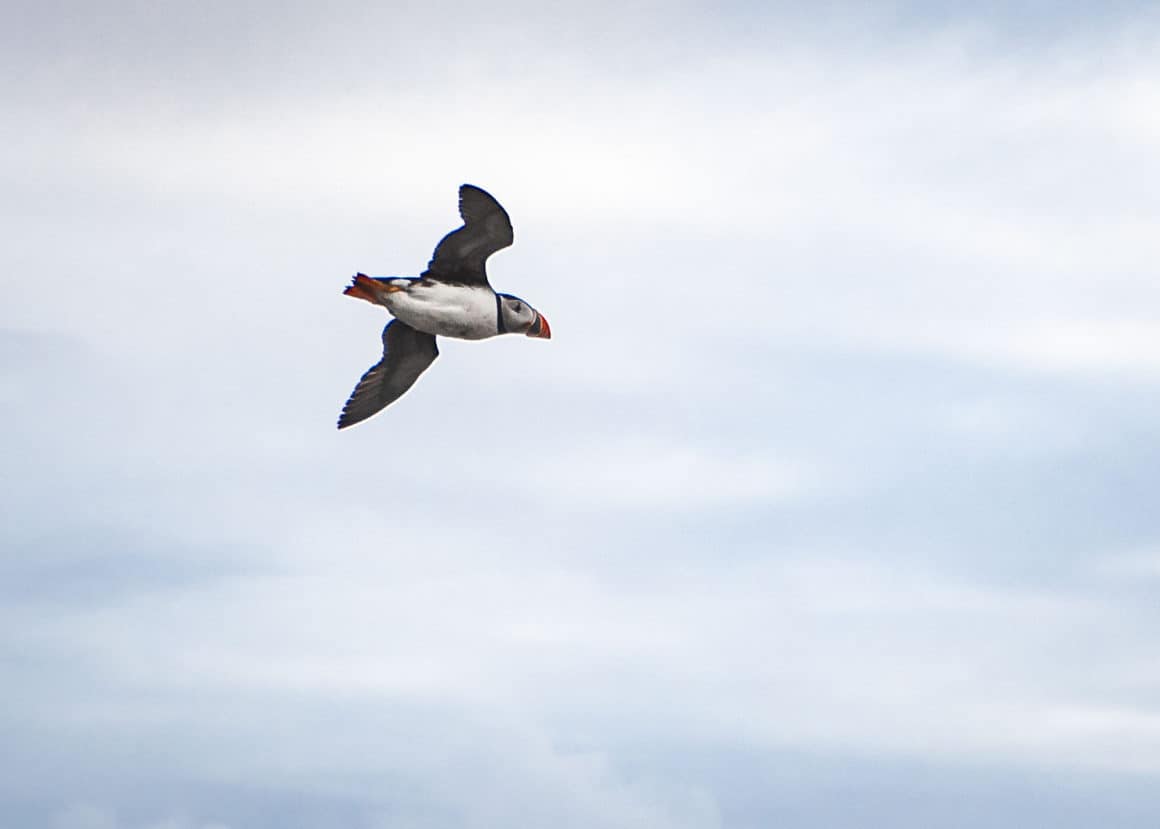 Dogs
Dogs are welcome on the Isle of Canna but they must be kept under control at all times. The island is a working farm so livestock may be roaming freely.
Packing List
Like everywhere else in Scotland, the weather is going to be unpredictable with the potential to become extremely harsh. Visitors should prepare for the worst whilst hoping for the very best. This can be accomplished with plenty of layers that are warm, waterproof, quick-drying and durable.
If you are camping, it's also essential that you consider the highly likely possibility of being attacked by midges. The Small Isles can be one of the worst places for the annoying flying critters in Scotland! In my experience, I've also picked up a few ticks on the islands.
Frequently Asked Questions
Who owns the island of Canna?
The Isle of Canna is thought to have been inhabited since 5000BC.
Nowadays, the Canna is in the care of the National Trust for Scotland (NTS) after being gifted in 1981 by its then owner, John Lorne Campbell and his wife, Margaret Fay Shaw. Visitors can admire their legacy from Margaret's vegetable patch in the garden of Canna House and from the still-present traditional Hebridean community that John Campbell requested remains intact.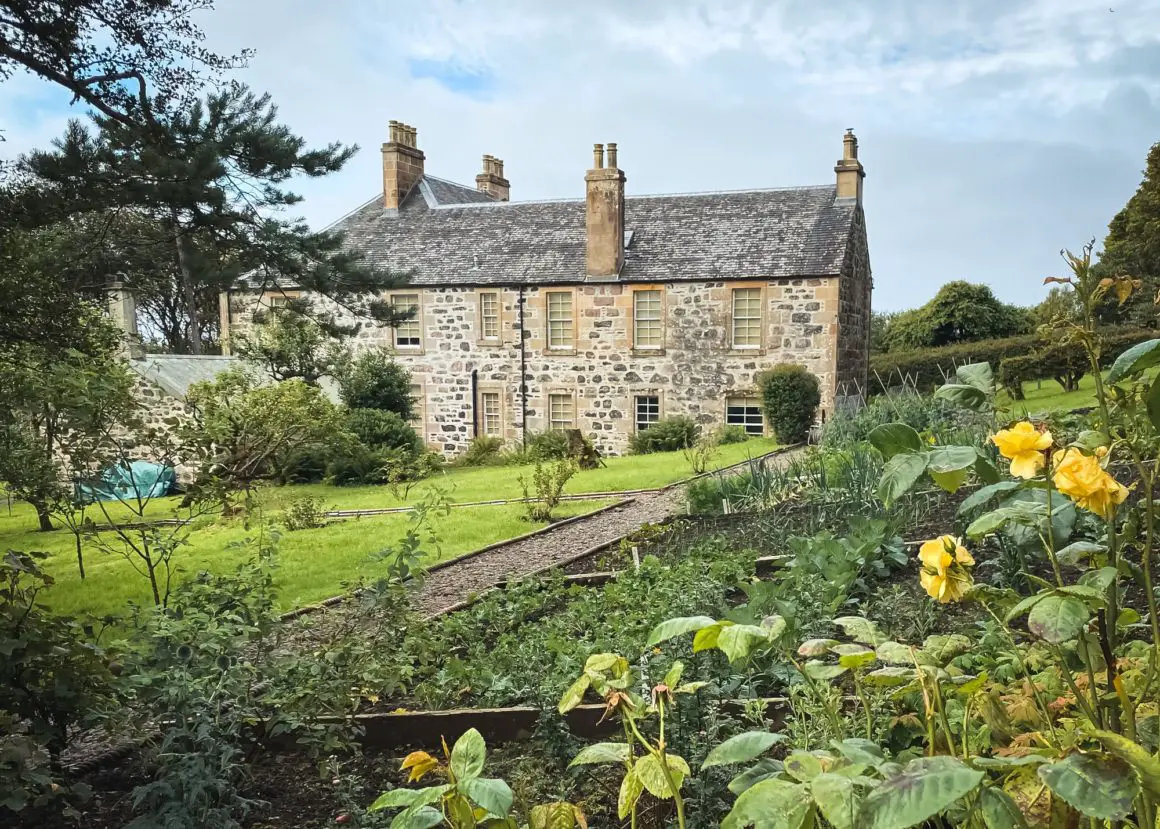 Does anyone live on the Isle of Canna?
The Isle of Canna is home to a small crofting community. There aren't many who were born, raised and have remained on the island. However, those that are residents have chosen the island life for their own personal reasons. Therefore, the islanders naturally project a great sense of pride and love for their home and its community. Personally, I was in awe more than on any other island of the Hebrides (other than my beloved Lewis, of course).
In my opinion, the Isle of Canna was also noticeably tidy and well-kept in comparison to other islands, perhaps this is a testament to their joy of being able to call Canna their home. There were no rusting carcasses of cars, buses or farming machinery as you might expect on any other Scottish island, nor were the houses looking weathered from the harsh island conditions. As a graphic designer, I was also impressed by their creative intentions; there were many pretty examples of hand-painted signs and clear attention to detail.
SEE: A Highlander's Guide to the NC500 Road Trip
Let's go!
@katie.maree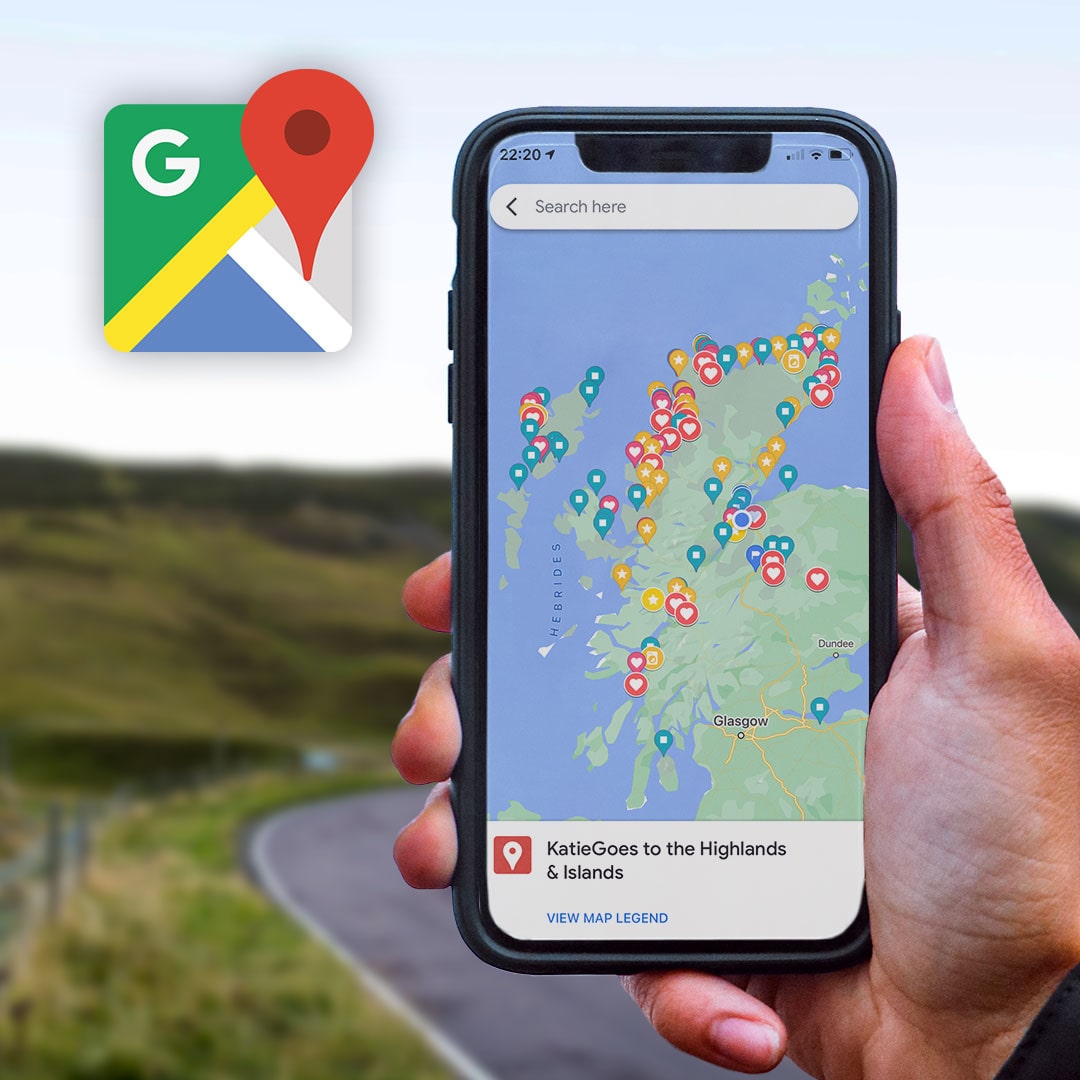 Scottish Highlands Google Map Legend
This Google Map Legend showcases 140+ need-to-know coordinates within our bonnie Scottish Highlands & Islands:
Awesome Wild Camping Park-Ups
Best Walks, Viewpoints, Beaches
Bucket List Locations
Accessible Showers & Fresh Water Taps
Relevant Links to Online Travel Guides
Pin to Pinterest
Do you not have time to read this guide? Click on the Save button to pin this article for later.