Are you ready to find the puffins on Handa Island? The journey to Handa is an adventure in itself, though the magnificent sea cliffs, beautiful beaches and large number of birds are the welcoming reward. All in all, Handa Island is a brilliant day trip!
Handa Island is managed by the Scottish Wildlife Trust as a nature reserve. Home to over 200,000 birds, visitors have a chance of spotting puffins, razorbills, skuas, kittiwakes and terns. It's also Britain's largest breeding colony of guillemots! Looking out to the sea, you could also catch a glimpse of dolphins, porpoises, seals, basking sharks, minke whales, or sometimes even an orca!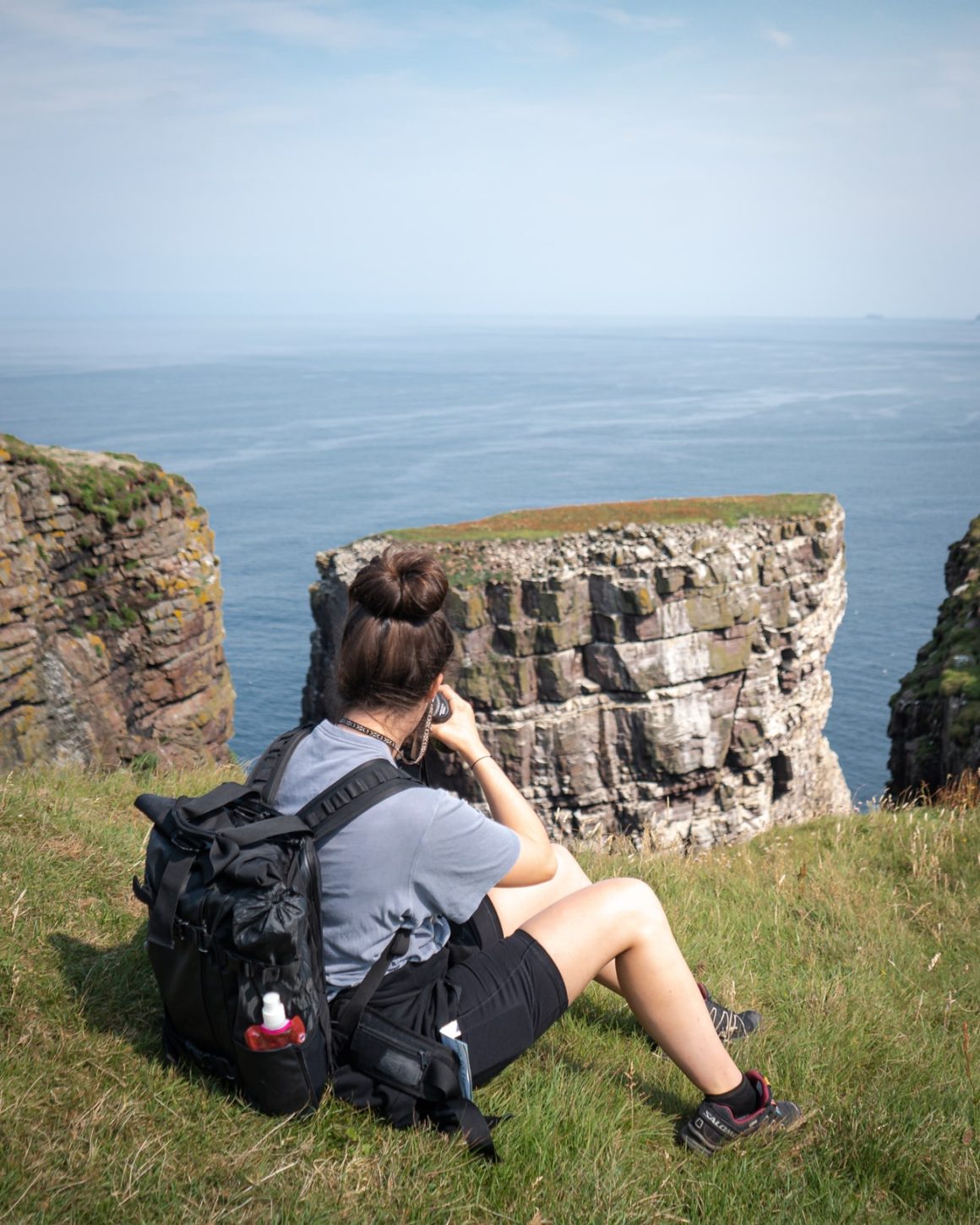 Have you run out of time? Pin this blog for later.
Can you visit Handa Island?
You can, of course, visit the beautiful Handa Island. There would be many reasons why you should too, including the spectacular views, the opportunity of spotting marine life and hearing the noise of hundreds of thousands of seabirds as the island is home to one of the UK's largest guillemot colonies. Unless you have your own means of transportation, the island is only really accessible when the public ferry is in operation.
How do you get to Handa Island?
The crossing is an event in itself; Handa Island is only accessible on the small pedestrian ferry from Tarbet Pier. This is simply a small rib; no toilet, no shelter, but life jackets are provided. The ferry service is operated independently of the Scottish Wildlife Trust. The location of the pier is well signposted from the popular North Coast 500 along the A894. Though it's worth noting as a caravaner, motorhomer or cyclist, that the single-track road leading to Tarbet is very narrow and quite undulated. Due to the lack of big passing places, this road is not recommended for larger vehicles.
On paper, the ferry operates from Monday to Saturday between 9:00 am and 4 or 5:00 pm. The last outward journey is around 1:30 pm. This is a pretty casual service organised by a local. It runs on demand and when the weather permits. This is typically from April to August or September. Therefore, without a booking system it can sometimes be hard to plan. The return fare is 20 GBP (24 USD) – cash only.
For all enquiries relating to the Handa Island ferry, visit the official website, contact Roger Tebay (07780 967 800) or write an email to info@handa-ferry.com.
Is there car parking for the Handa Island ferry?
The ferry departs from the pier at Tarbet. This is metres away from the Shorehouse Restaurant that opens at 12pm. There are two parking areas to accommodate both services.
There are also some public toilets in the area, as well as some bins and picnic tables.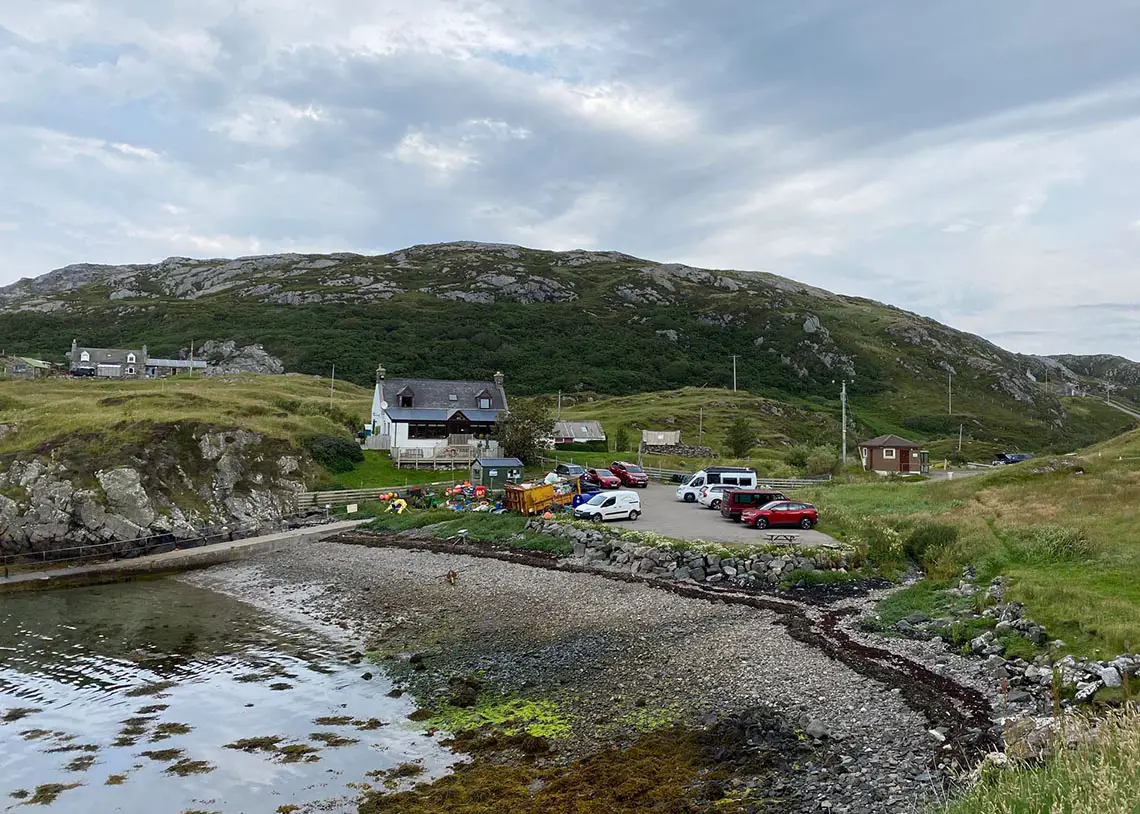 How long is the Handa Island ferry?
The ferry ride takes approximately 10 minutes. There are only 12 spaces on the boat, so arrive early during the peak season to avoid disappointment. Similarly, large group bookings are advised to contact the ferry operator in advance.
Weather conditions can change quickly so the ferry crossing can become very wet and windy in an instant. Therefore, it is very important that visitors are prepared with warm and waterproof clothing, even during the summer months!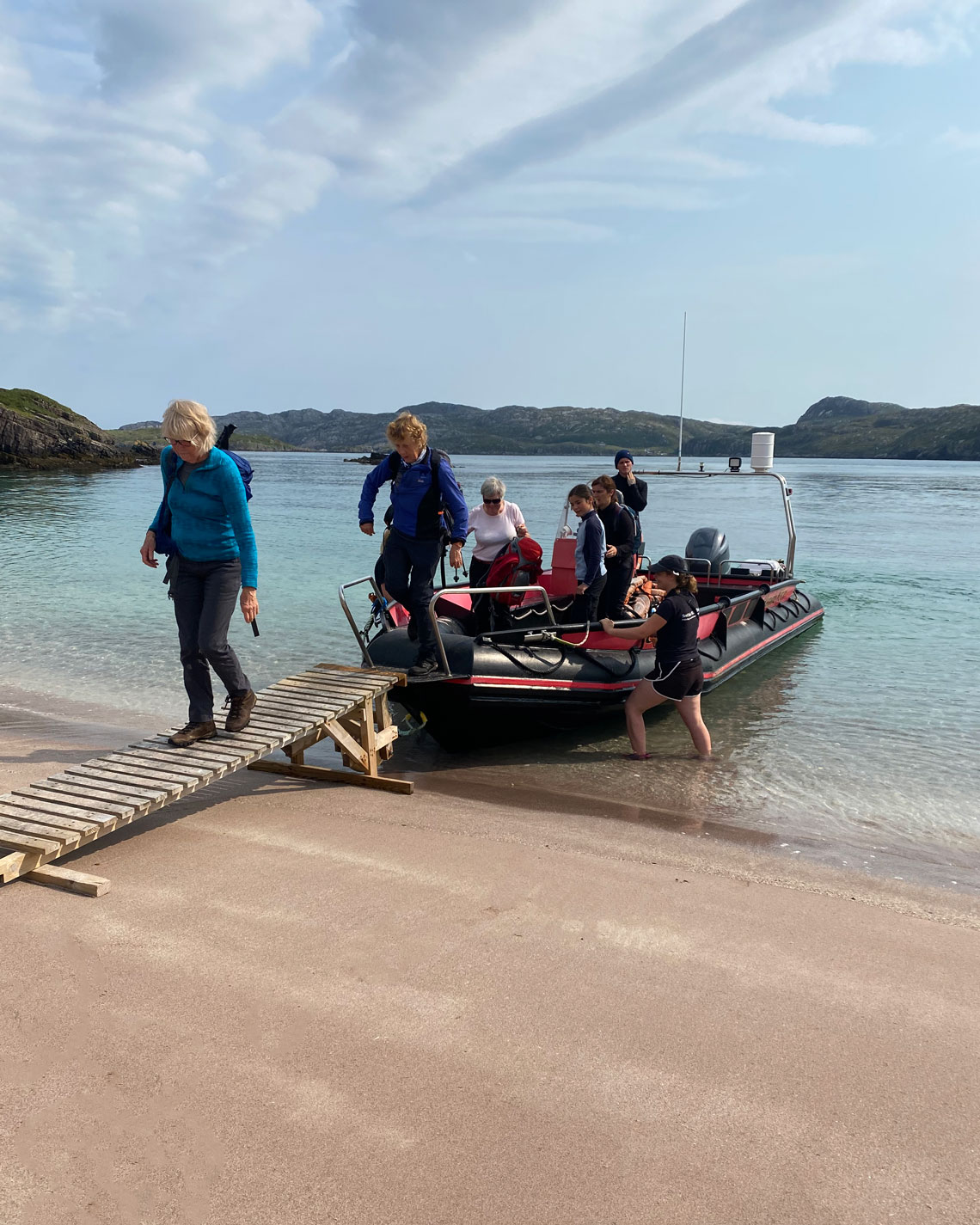 NOTE: For various reasons of safety and conservation, dogs are not allowed on the ferry or the island.
What's on Handa Island?
Visitors are greeted by a volunteer ranger upon arrival. They give a short introductory talk about the reserve, what wildlife you may expect to see, the hiking route, some safety precautions and how to arrange a journey back to the mainland. The ranger will then offer an information leaflet that pinpoints the places of interest including Puffin Bay, the Great Stack, Poll Ghlup and several scenic beaches.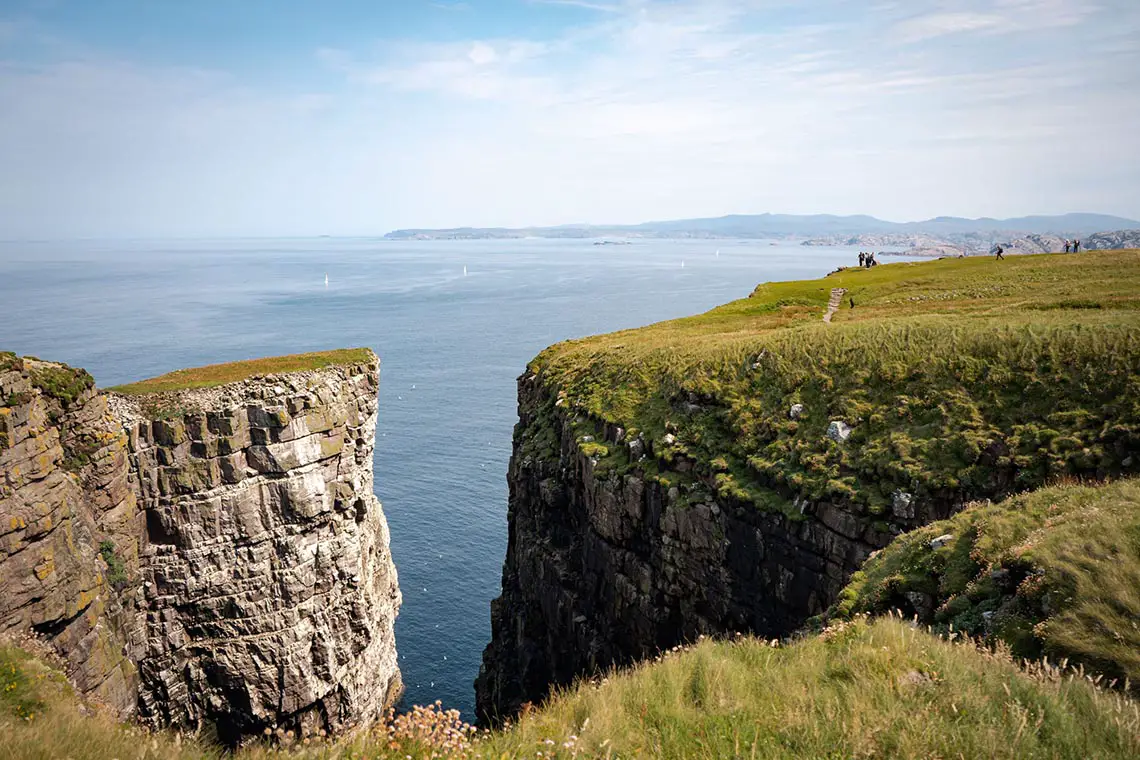 The ranger can be emailed between April and August at handaranger@scottishwildlifetrust.org.uk. Please be reminded that they do not have any involvement in the arrangement of ferry services.
NOTE: Drone flights are not permitted on Handa Island.
Handa Island Walk
You can only explore the beauty of Handa Island on foot.
A 4-mile (6.5 kilometres) circular trail weaves between the cliff viewpoints, beaches, ferry drop-off locations and tourist information. There is only one route, and as visitors must remain on the paths at all times there's no way of becoming lost on the island. It's a fairly easy walk with little incline, and much of the path is boarded for a sturdier foothold.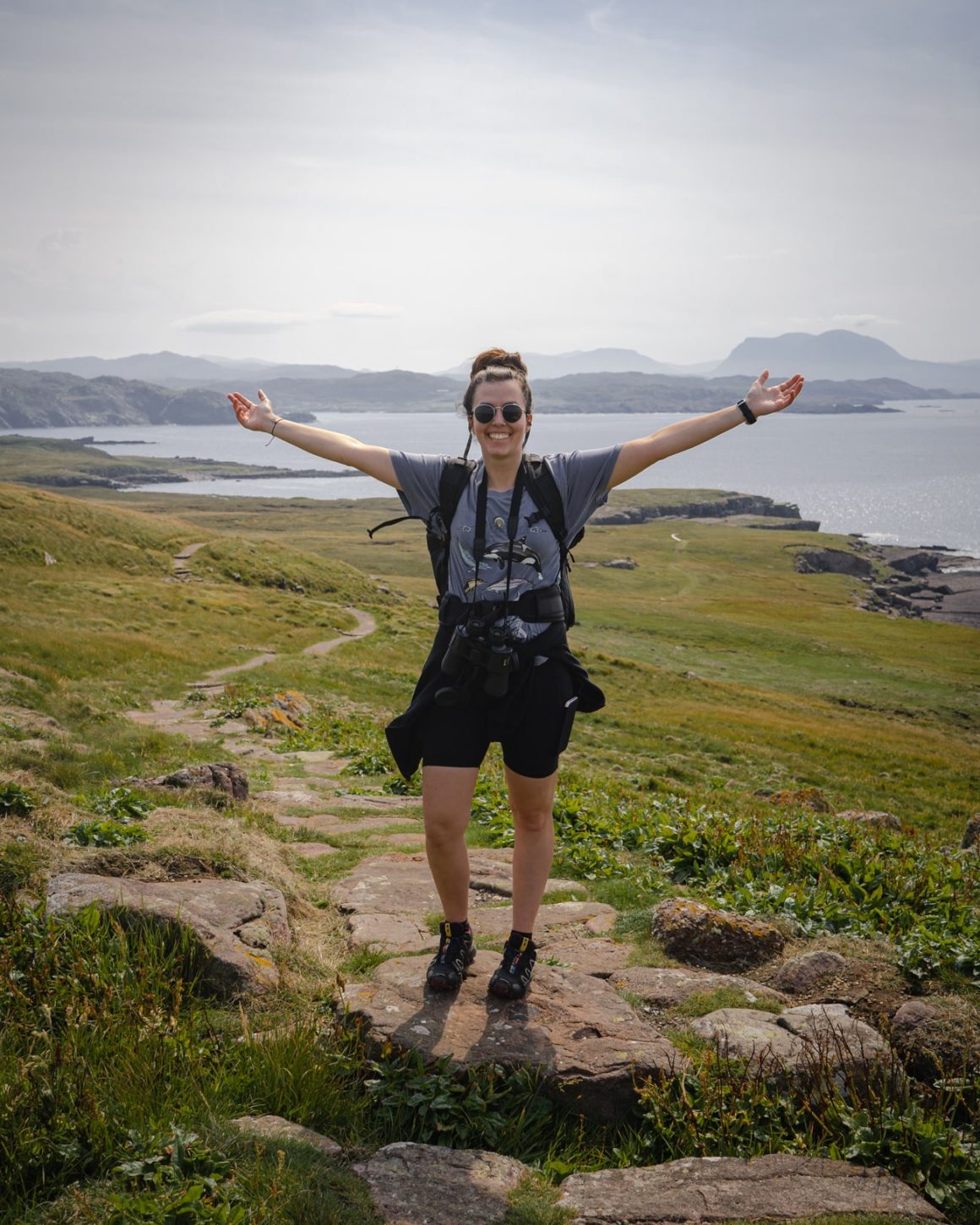 How long does it take to walk around Handa Island?
The 4-mile circular route will take approximately 2-3.5 hours to walk. Therefore, you should allow yourself 3-4 hours on Handa Island. This is plenty of time to also take a moment to relax on the beach thereafter. If you are short on time, many people choose only to walk to the Great Stack and back.
Are there puffins on Handa Island?
Yes, in fact, over 200 pairs of puffins nest on Handa Island during the summer months before heading towards the Atlantic for winter.
When can you see puffins on Handa Island?
You are most likely to find puffins around the Great Stack between May and July. Although, visitors should also plan their visit around the forecast as the ferry is weather-dependent.
What facilities are on Handa Island?
There are very few facilities on Handa Island, as you might expect due to its remote location. When you arrive, you'll be welcomed by the volunteering ranger at the small visitor shelter. There, you'll find small souvenirs, information and a box of binoculars to rent. There is also a composting toilet just behind too.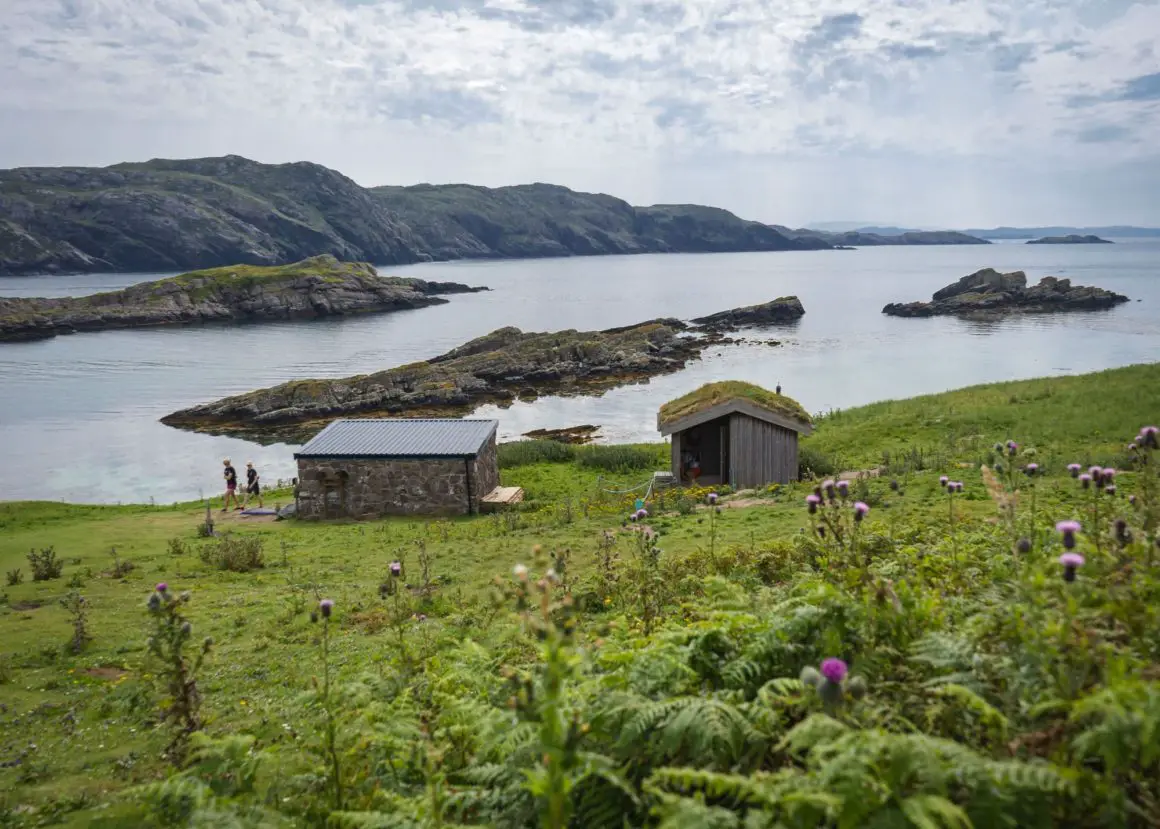 TIP: Come prepared with plenty of snacks and drinking water.
Accommodation
Besides the volunteers' bunkhouse, there is no accommodation on Handa Island. However, there are a few options nearby on the mainland.
Glamping
Tighlochan Pods are a 15-minute drive from the Handa Island ferry.
Hotel
Scourie Hotel has a restaurant, bar and free WiFi throughout the property.
Can you wild camp on Handa Island?
The Scottish Wildlife Trust acknowledge the 'right to roam' everywhere in Scotland, although they wouldn't encourage camping on Handa Island. There are hundreds of thousands of birds, many of which choose to nest inland. As much as you are allowed to camp there, it isn't advisable for the welfare of the birds and wildlife.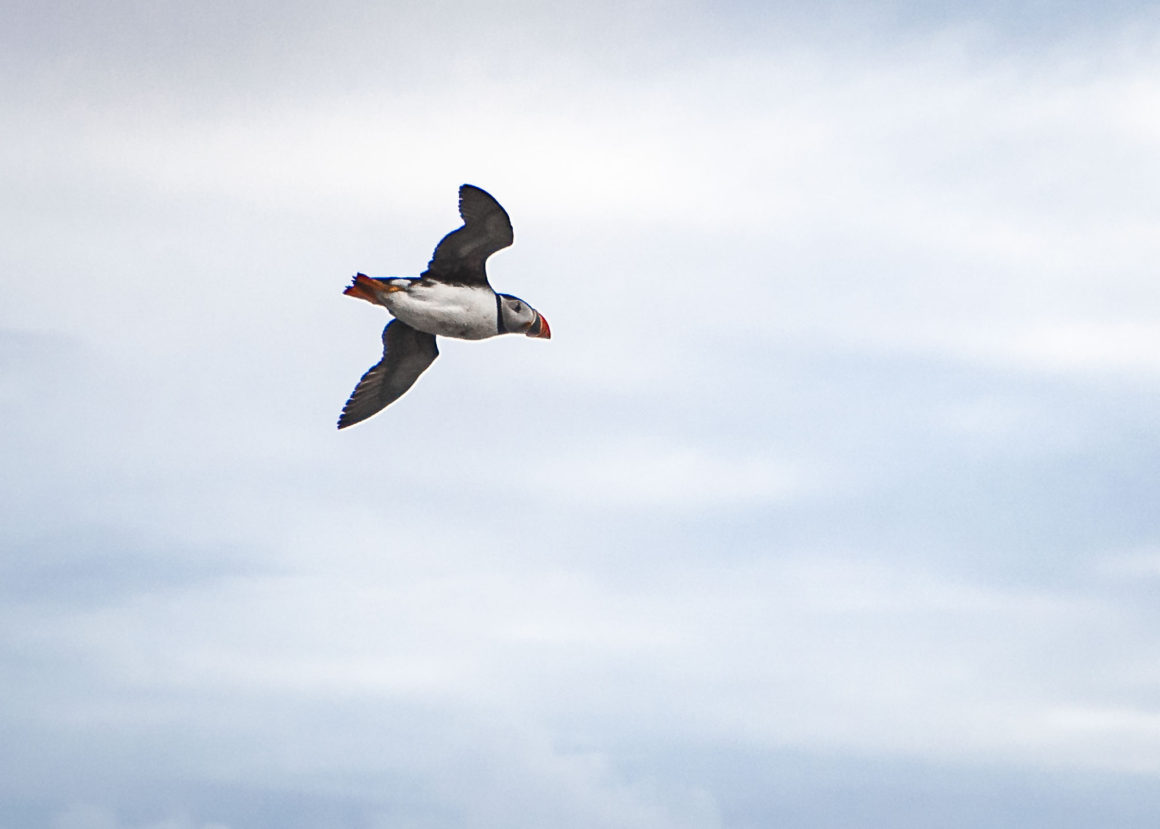 As Handa Island is just off the North Coast 500, there are many other great sights to explore within close proximity. These particular places are too close to miss:
ALSO: The Ultimate List of North Coast 500 Park-Ups
Let's go!
@katie.maree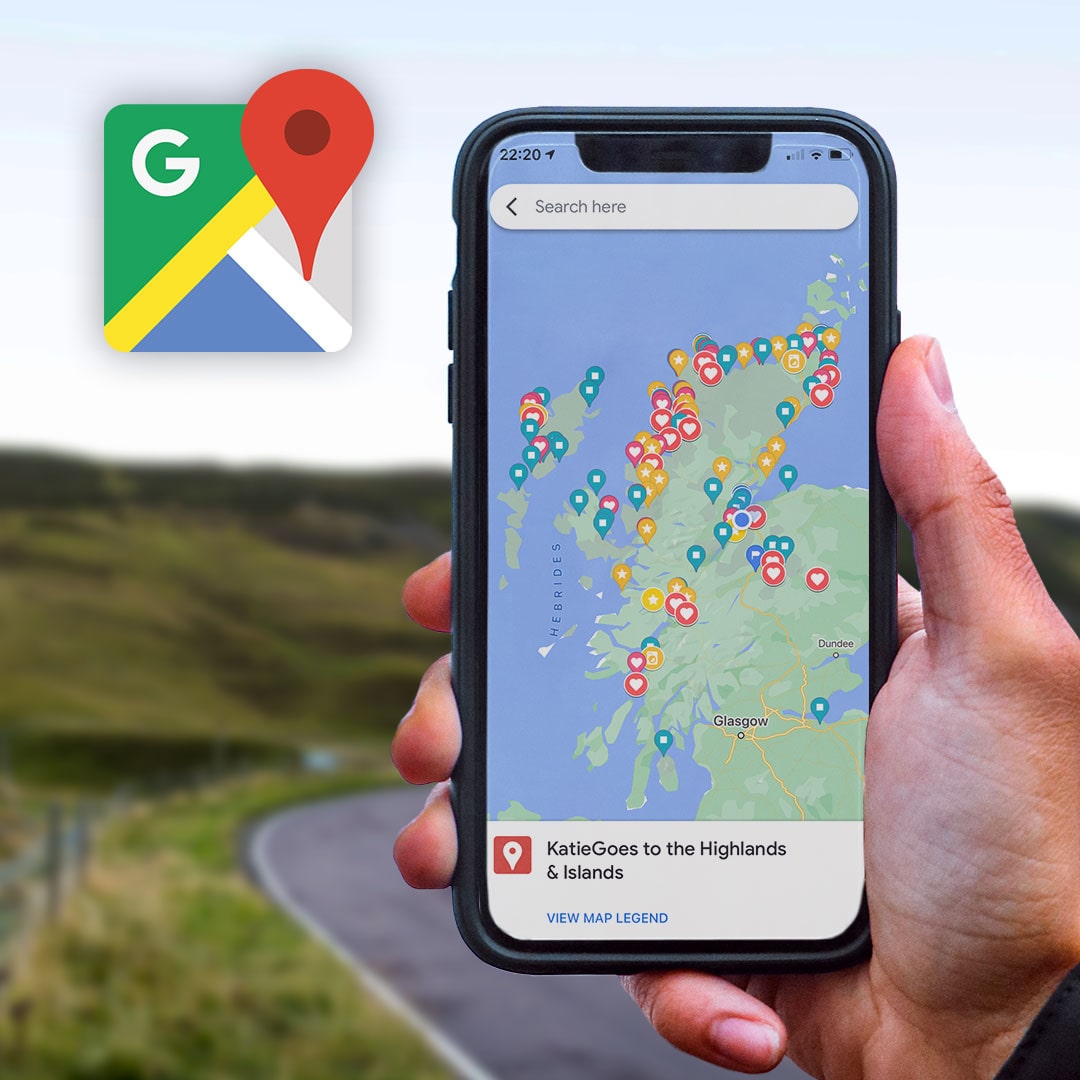 Scottish Highlands Google Map Legend
This Google Map Legend showcases 140+ need-to-know coordinates within our bonnie Scottish Highlands & Islands:
Awesome Wild Camping Park-Ups
Best Walks, Viewpoints, Beaches
Bucket List Locations
Accessible Showers & Fresh Water Taps
Relevant Links to Online Travel Guides
Save this on Pinterest
Do you not have time to read this now? Click on the Save button to pin this article for later.