A major selling point to Inverness is the city's geographical closeness to the all-famous Loch Ness; the home of our beautiful monster, Nessie.
For this very reason, you may have chosen Inverness as an overnight destination on your road trip or getaway. However, though Inverness is the closest city, it is still about 8-9 miles away.
The easiest mode of transport between the two locations is inevitably by car. But, if you do not have a vehicle of your own, there are seven other ways to travel from Inverness to Loch Ness…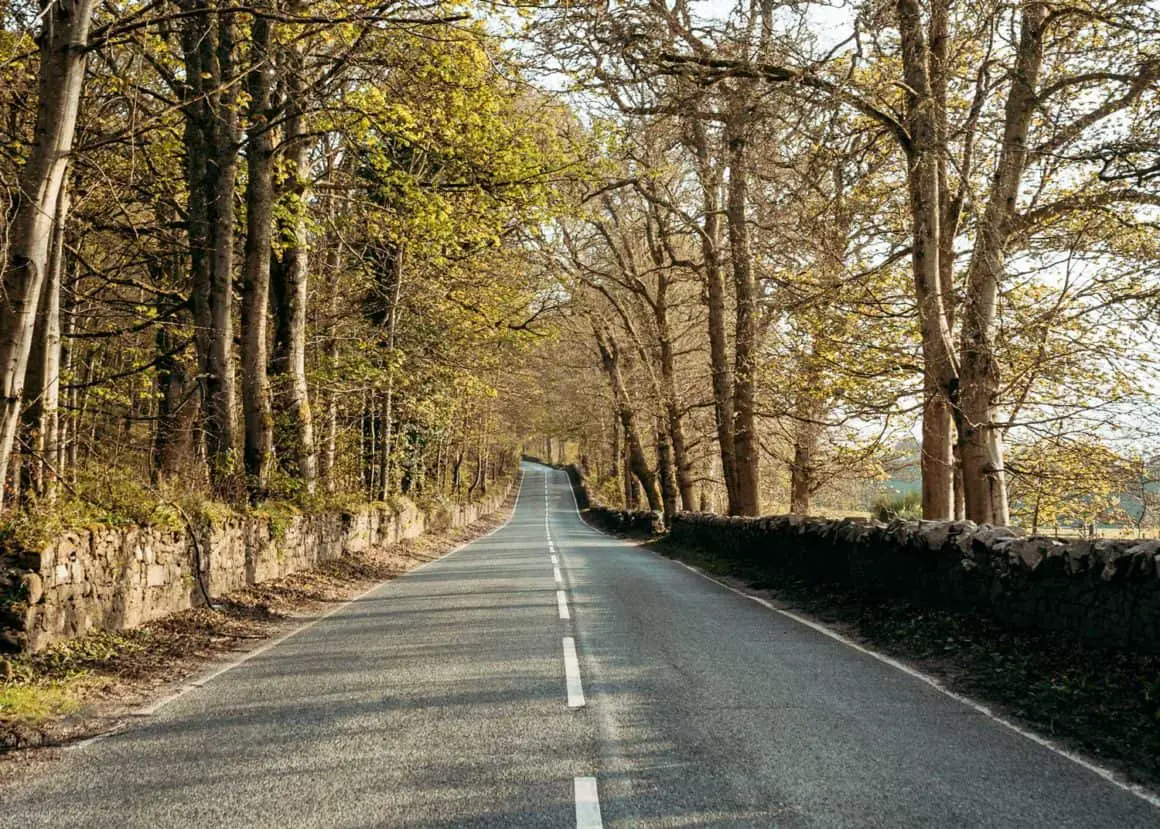 7 Ways to Travel from Inverness to Loch Ness
This guide provides directions to Dores Beach, which is a viewpoint situated at one end of Loch Ness. From there, you'll be able to stand in awe at the great length of Loch Ness for as far as your eye can see, and the mountains that frame this iconic view.
This location is where locals take leisurely walks, bask in the sunshine or take their visitors to admire Scotland's beauty.
If you are looking for a more touristic vantage point, then I'd suggest that you find a tour or boat trip that takes you along the western side of the loch on the A82. There, you'll be able to visit Urquhart Castle and the Loch Ness Exhibition in Drumnadrochit. That side is easier to access with a tour from Inverness (or your own car).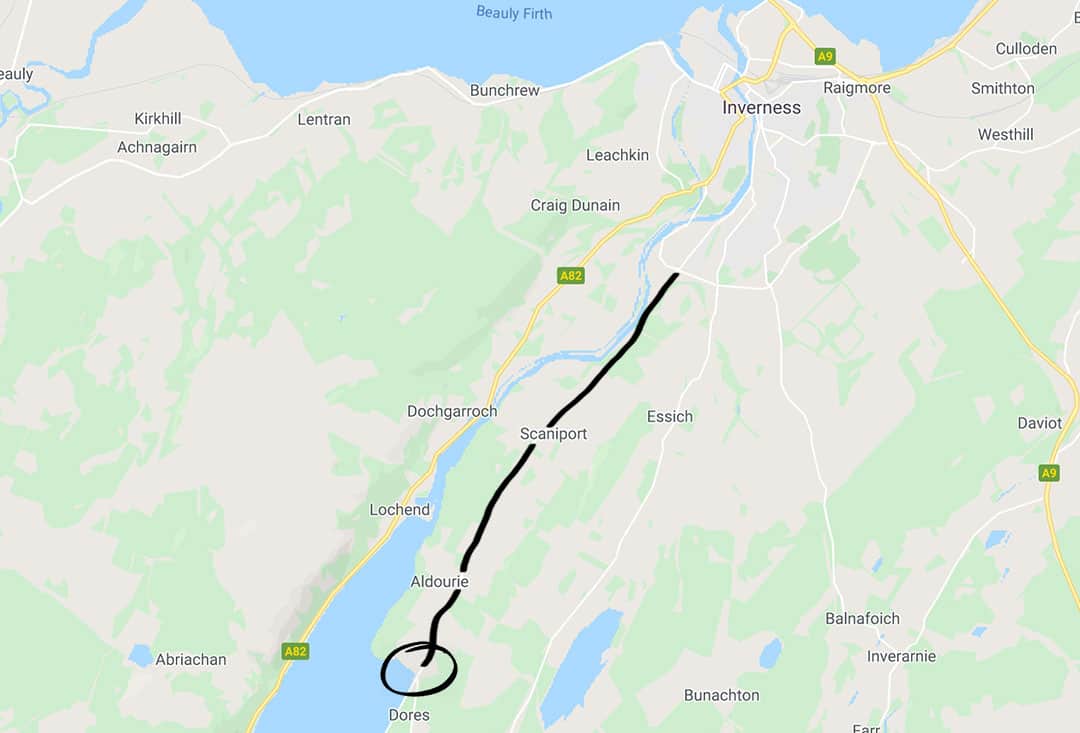 1. Taxi
Other than driving your own car, getting a taxi from Inverness to Loch Ness is by far the simplest way. The journey time will be approximately 20 minutes.
The taxi number in Inverness is 01463 222222. Yes, we are blessed with such an easy and memorable number (especially after those heavy nights out)! They will charge you £20 from the city centre to Dores Beach.
2. Cycle
A popular option, often taken by the active locals, is to cycle from Inverness to Loch Ness. Given that you are in the Highlands of Scotland, you are correct to assume that this journey is going to come with rolling hills that will require some level of fitness.
This route is made attainable via a well-kept cycle path that runs the full way and is pretty much adjacent to the main road.
Please follow the directions carefully to stick to the entire cycle path as Dores Road does, unfortunately, bear some very audacious drivers.
Directions to Follow the Cycle Path
This journey begins from the edge of Inverness. The cycle route starts on the Tesco Ness-Side roundabout (here). Exit the roundabout onto the B862, where the tunnel of trees will guide you further away from the city. You'll be required to cycle on the road for the first few minutes until you meet the beginning of the cycle path. The route is marked with a blue sign (pictured below).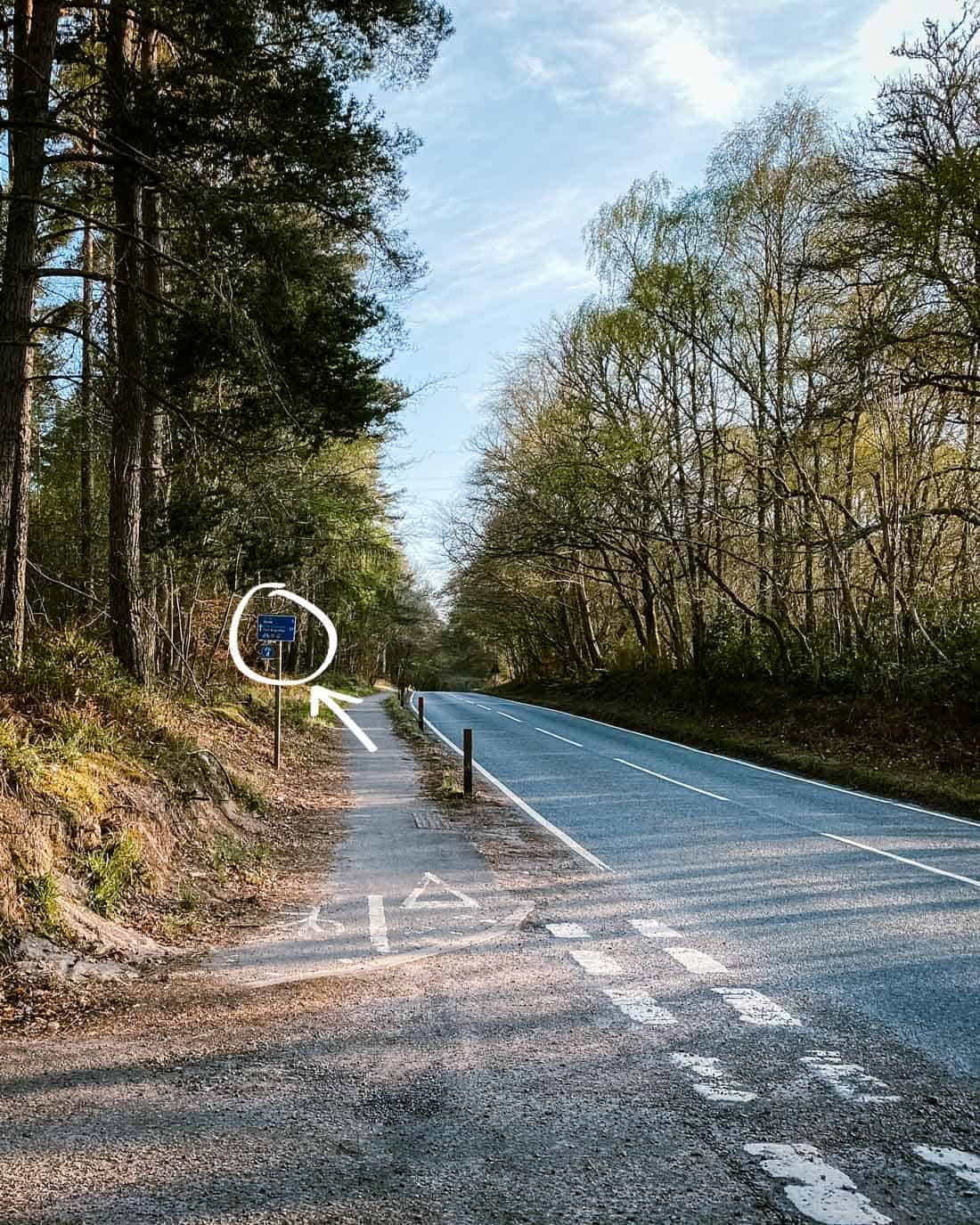 At first glance, the cycle path seems to end after about 5 minutes of cycling. However, the path does in fact continue albeit just slightly hidden from a row of trees. It's not clearly signposted or marked, so be careful not to miss it!
This section of the pathway will take you across a small footbridge before another sign directs you left, into a small cluster of houses. Follow the sign.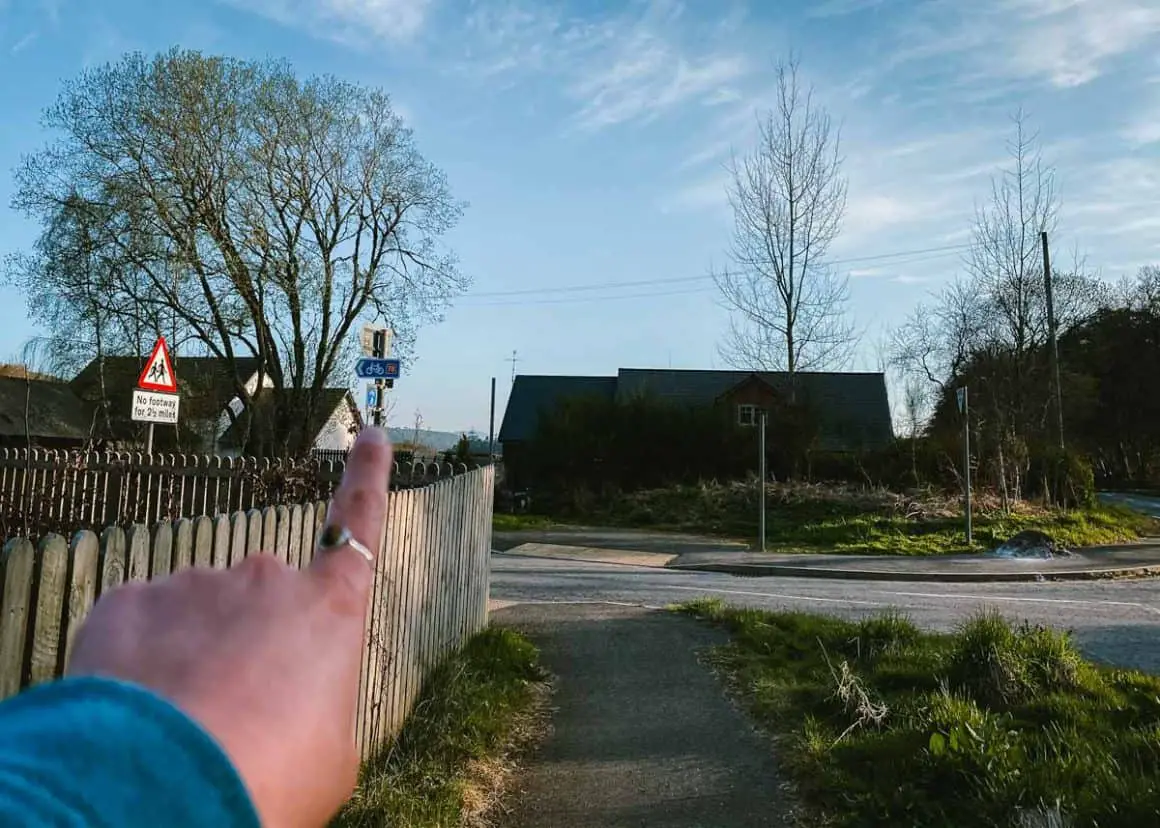 From this corner onwards, follow the single-track road through the fields and farms. You're sure to meet many cows, sheep and funky smells en route. If you're lucky, you could even spot large birds of prey and other wild animals.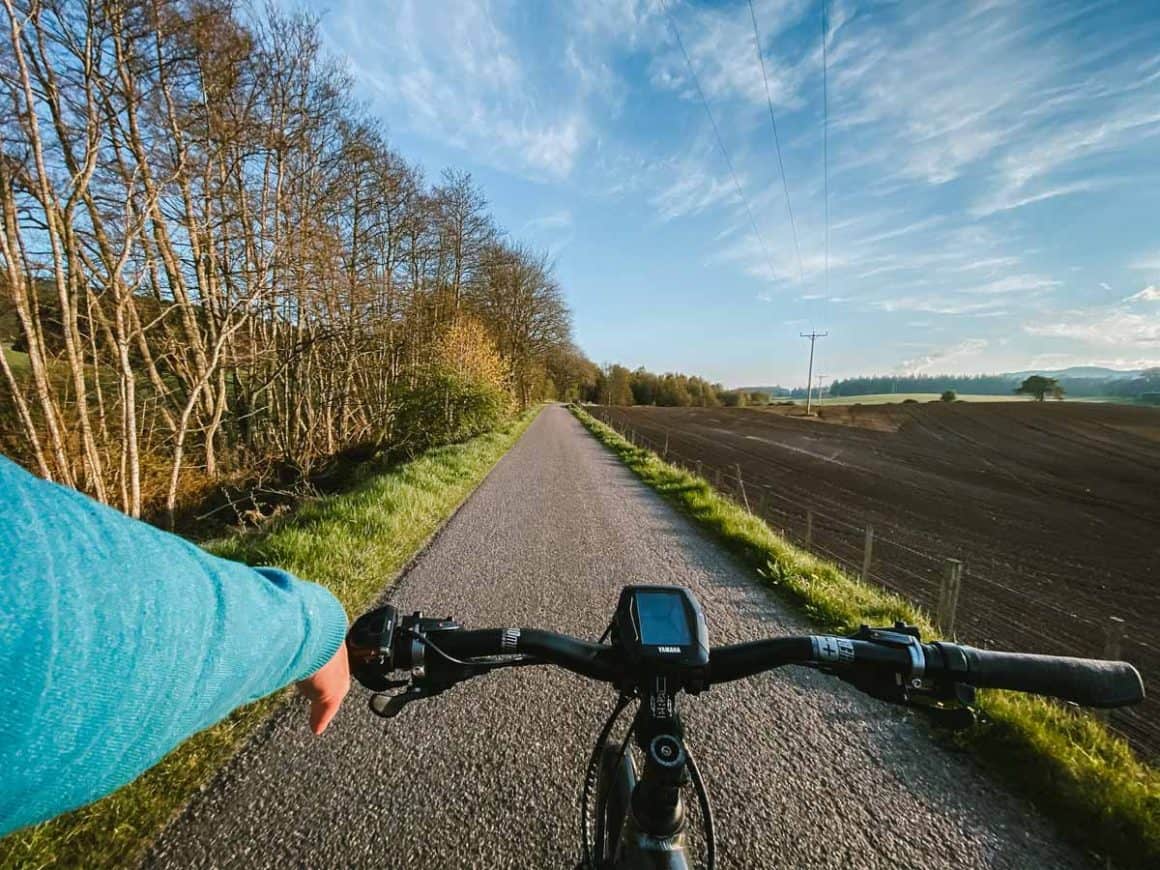 After about 10-15 minutes, you'll reach a T-junction. The sign, pictured below, will recommend that you turn right onto another quiet single-track road past a large farmhouse.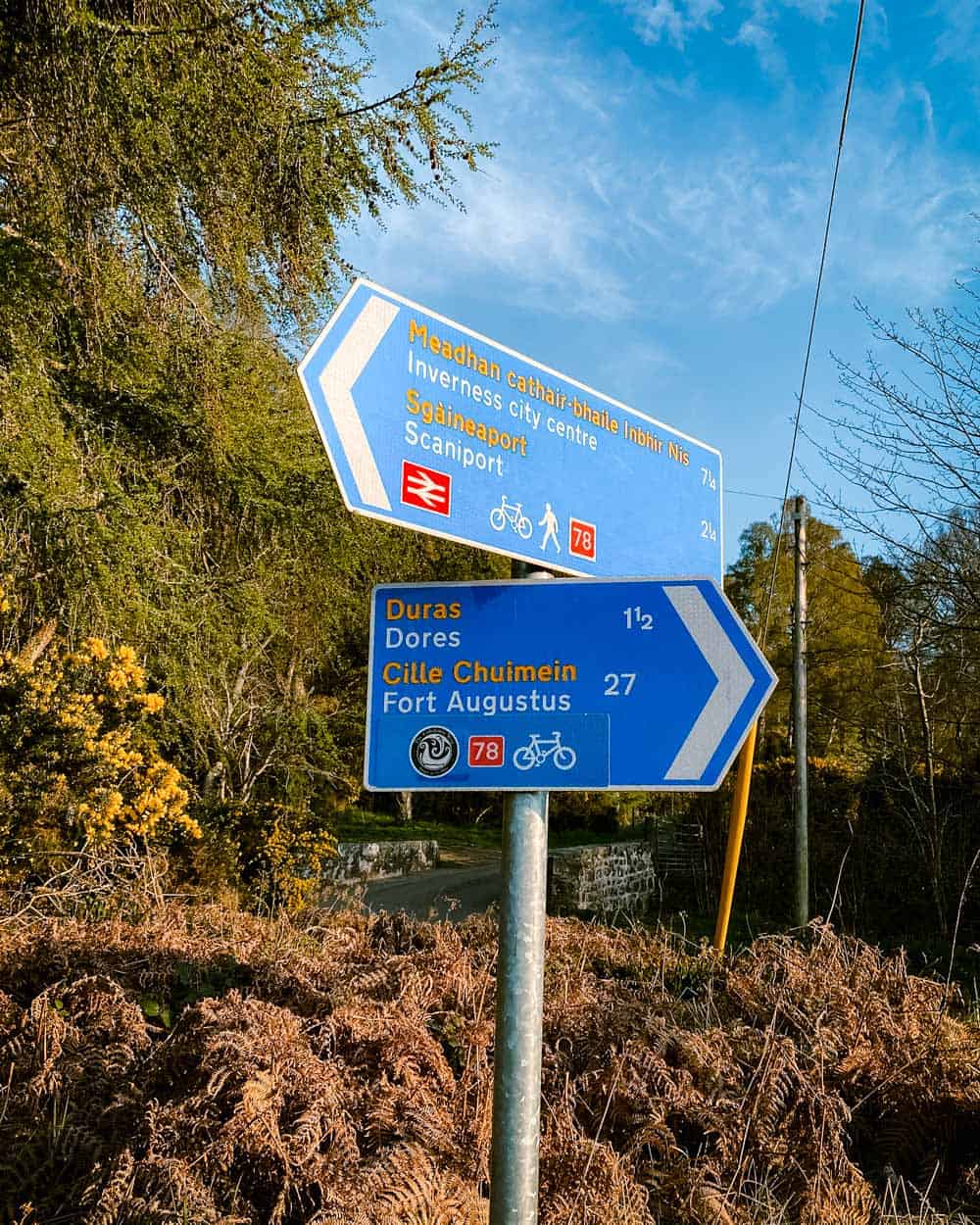 Cycle to the next house along (see below) where you'll notice another small blue sign. Follow the cycle path left, where it becomes much smaller, windier and smoother.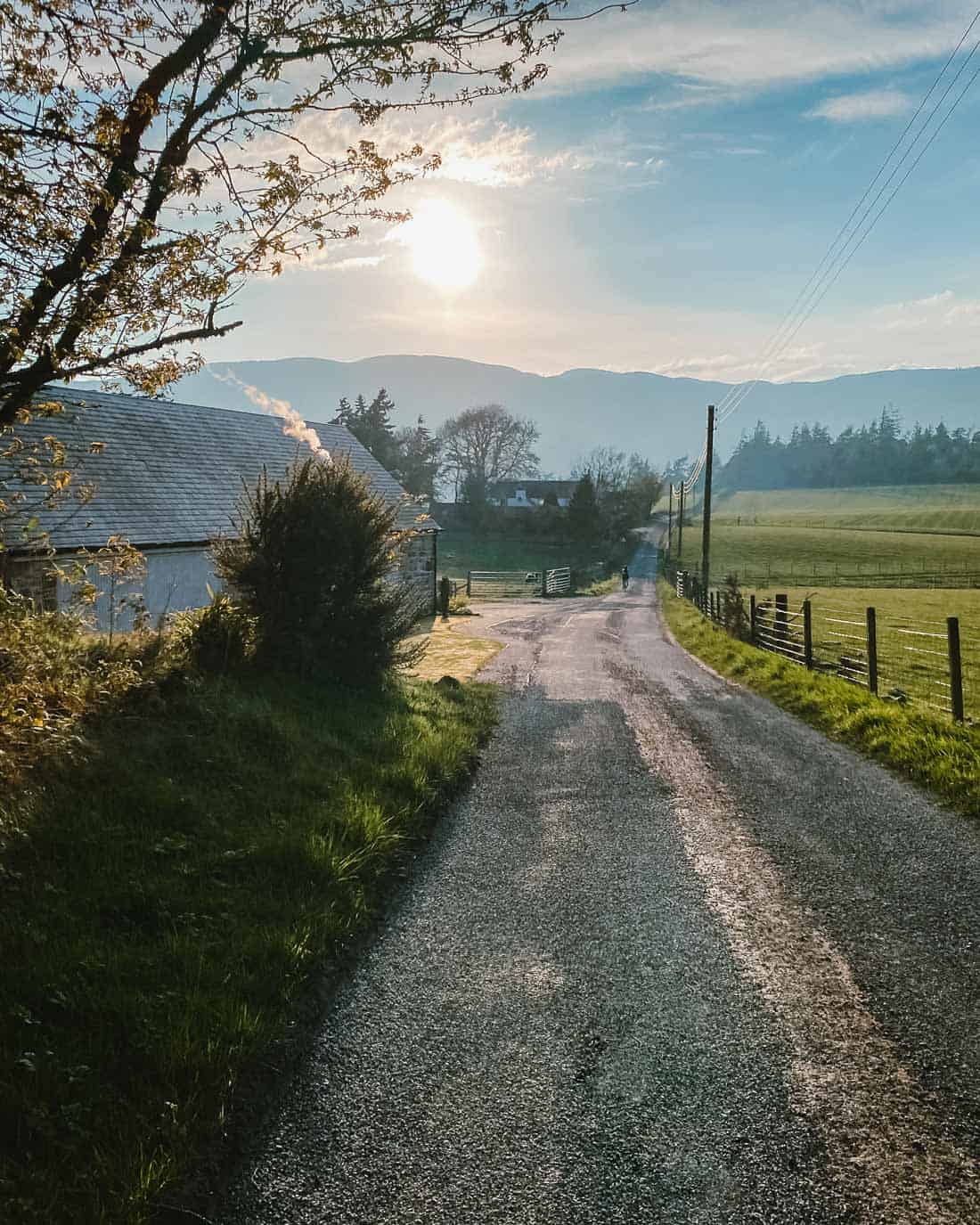 At the end of this path, you'll pass a small school. You will then find yourself back on the cycle path that is on the main road. Keep going – you are about 5 minutes away.
You'll know you've made it once you see the first bus shelter. Turn right there into the Dores Inn car park. This is your viewpoint.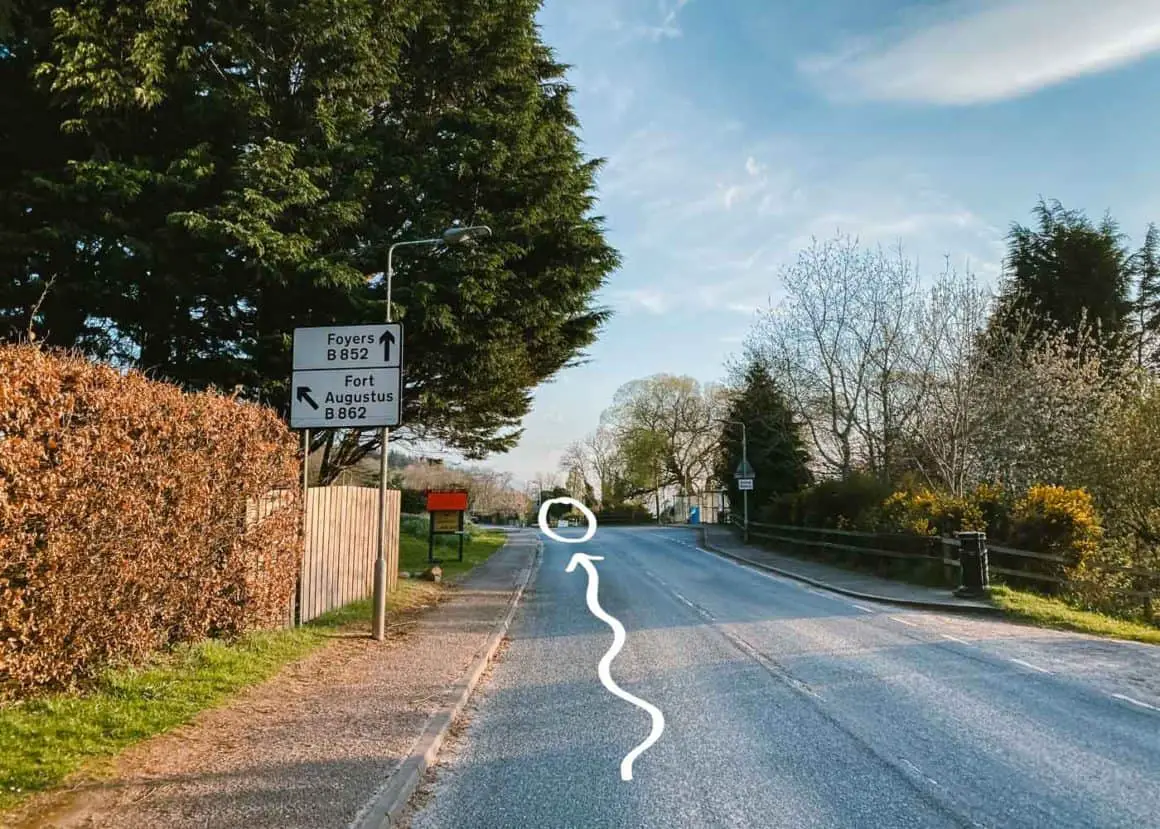 Overall, this option of transport does make for a great day out, whether you are a solo backpacker or a family of all ages. The entire journey (one-way) will take cyclists between thirty minutes and one hour, depending on their fitness levels.
ALSO: The BEST Things To Do In Inverness
3. Walk
I don't recommend this… But if needs must, then it's doable. Perhaps you should only consider walking if you've missed the bus home.
It'll take approximately 2.5 hours to walk from Inverness to Dores Beach, which is on the banks of Loch Ness. The shortest route will take you along the fast and busy road – see the above route for more information.
5. Local Bus
Inverness Bus Station is very central; the railway station is a 2-minute walk and the castle is only 10-minutes away.
Bus number 16 departs from the station (stance 6 – I think) every two hours (roughly). Jump out of the bus when it stops outside a place called 'Dores Inn'. You may need to push the buzzer to let the driver know that you'd like to alight there.
The Stagecoach timetables should display the most up-to-date information.
6. Hitchhiking
Hitchhiking in Scotland does exist but is not overly common. I'd say, generally, the more remote you are, the friendlier and potentially more helpful the locals are.
Because there are many backpackers trekking between towns, remote villages and munros in Scotland, hitchhiking does happen and more so in the summer months. I've personally picked up one solo backpacker on the road (between Inverness and Aviemore), and my Mum has also driven a group of girls to Loch Ness.
Equally, in hindsight of having local knowledge, I'd certainly hold my thumb out if I found myself being caught out somewhere. And, I'm pretty confident that I wouldn't be waiting too long for a ride either!
7. Organised Tour
Of course, there are plenty of organised tours from the city centre of Inverness, most of which do not travel along the eastern side of Loch Ness. Instead, they drive along the western road (A82) towards Drumnadrochit and the impressive Urquhart Castle.
The viewpoints there are considerably more touristy with coach-loads of foreigners stopping by regularly. As a consequence, this is where you will also find many boat trips, restaurants and pubs.
Click here for the best tours from Inverness.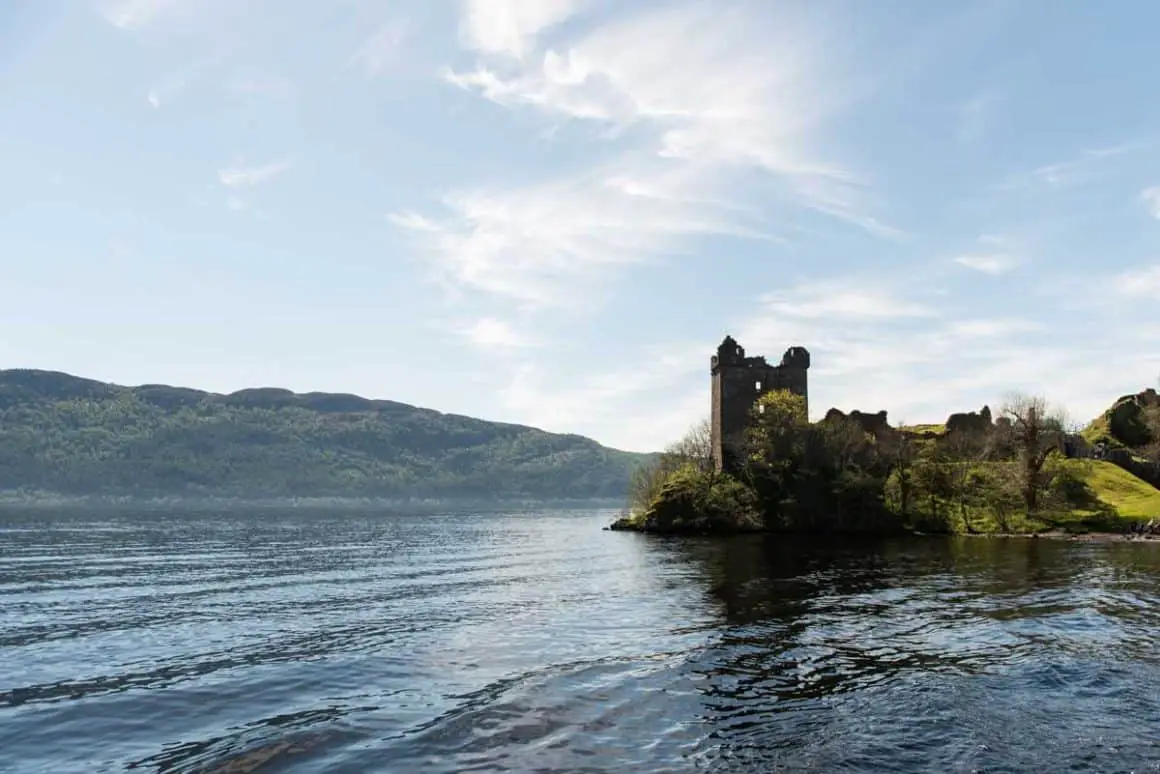 Did you know that 

Scotland has a pyramid

?
Whichever route you take, the journey from Inverness to Loch Ness is sure to be a great day out (especially, if the clouds are gone and the sun is out in all its glory).
Take a snack, drink or even a picnic on your journey because there are very few cafes, shops or restaurants – if any at all! Dores Inn is the only place to buy food at Dores Beach (unless the ice cream van is present). This will definitely not be the case unless you visit during the very few days of summer we actually have.
Also, I should remind you that a raincoat is an essential item in Scotland. The Highland weather can be extremely changeable, so you may even want to bring a tube of suncream too!
Let's go!
@katie.maree