How about Sri Lanka as a digital nomad? How's the internet connection there? Is it crowded? Are there co-working spaces? Is there a digital nomad community? All very valid questions.
After many hours spent researching, there was only one real way for me to find out. Here's what I learnt whilst I lived and worked in Sri Lanka as a digital nomad…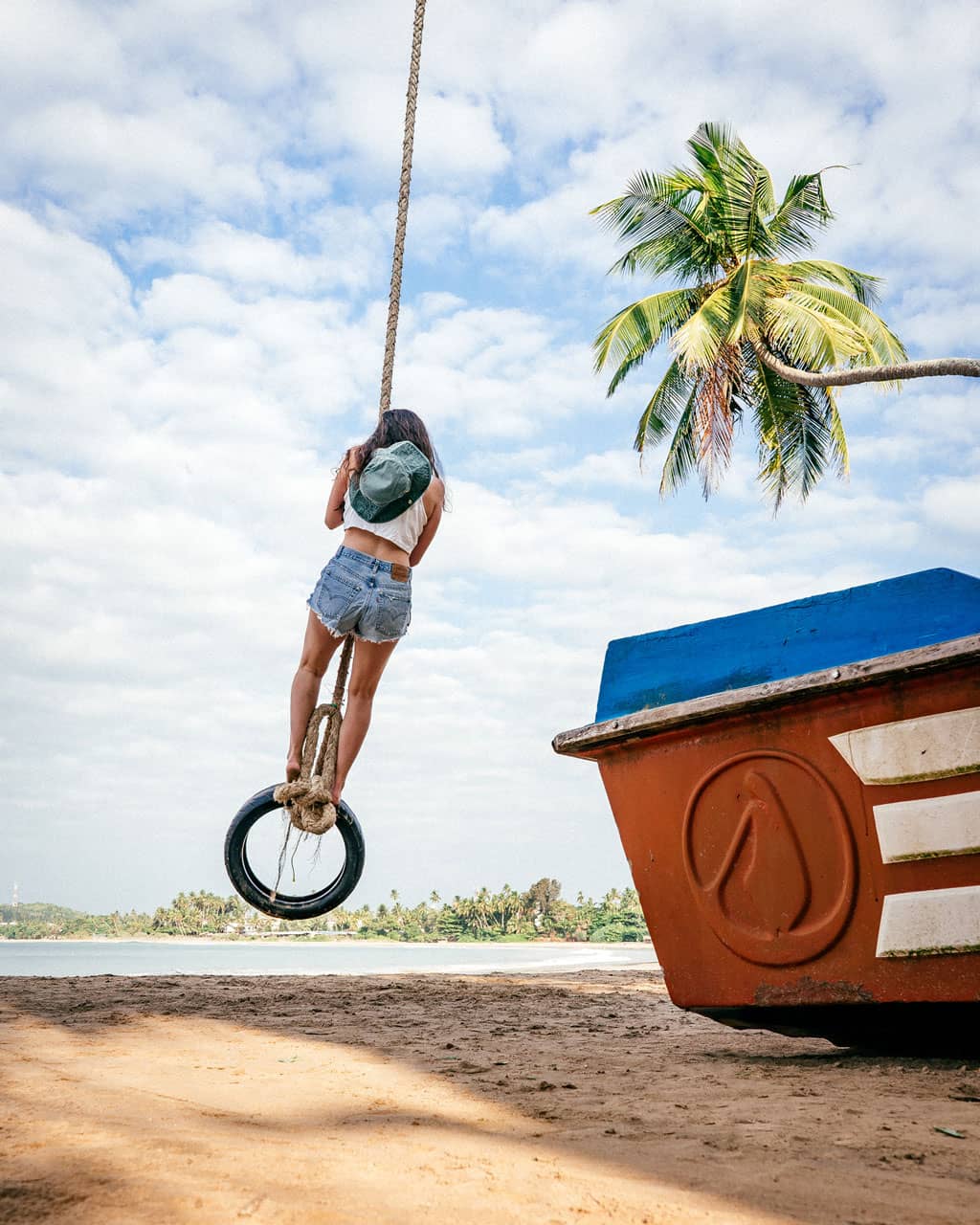 A Digital Nomad's Guide to South Sri Lanka
Why You Should Visit Sri Lanka
Travel bloggers and vloggers would often favour Sri Lanka for its scenic landscapes, where they can indulge and capture some pretty unique adventures with some sensational natural beauty. More recently, now that the promise of a reliable internet connection in some places has become more apparent, digital nomads have started to make the leap of faith. I guess we are all craving those dreamy island vibes!
As the population of location-independent travellers to Sri Lanka has increased; inevitably, so has the density of trendy coffee shops and noteworthy co-working spaces. So, as you can imagine, South Sri Lanka is often described as the new Canggu.
Where To Stay in South Sri Lanka
There are many towns to choose from in South Sri Lanka as a digital nomad. Great examples include Weligama Beach, Mirissa Beach and Tangalle.
Personally, I wanted to select a location that had a reliable co-working space. That way, if the accommodation's internet failed, I'd have a second option. It is for that reason, that this guide is based in and around Verse Collective in Dikwella.
Dikwella is an emerging digital nomad hotspot in Sri Lanka. The small beach town is a 3-4 hour taxi ride from the main international airport and a 5-minute walk from the beautiful Hiriketiya beach. Much like Bali's Canggu, the beach haven is full of salty surfers and vegan yogis. At the time of writing this article, Dikwella appeared to have the right amount of tourism to improve the infrastructure; but not too much that it is over-crowded. Now's the perfect time to check it out!
Coworking Space
Verse Collective is a reason many digital nomads base themselves in this area. With (what I can only assume is) the fastest wifi in Sri Lanka, it would make sense to base yourself here or near about.
The whole space oozes a slow-paced, relaxing atmosphere of surfing saltiness. Verse's small skate ramp welcomes folk in from the beach. From there, each and every visitor will fall in love with the incredibly cool and Instagram-able decor.
Verse Collective isn't a huge co-working space, although the workspaces it does offer provide plenty of options, comfort and good food to keep you going.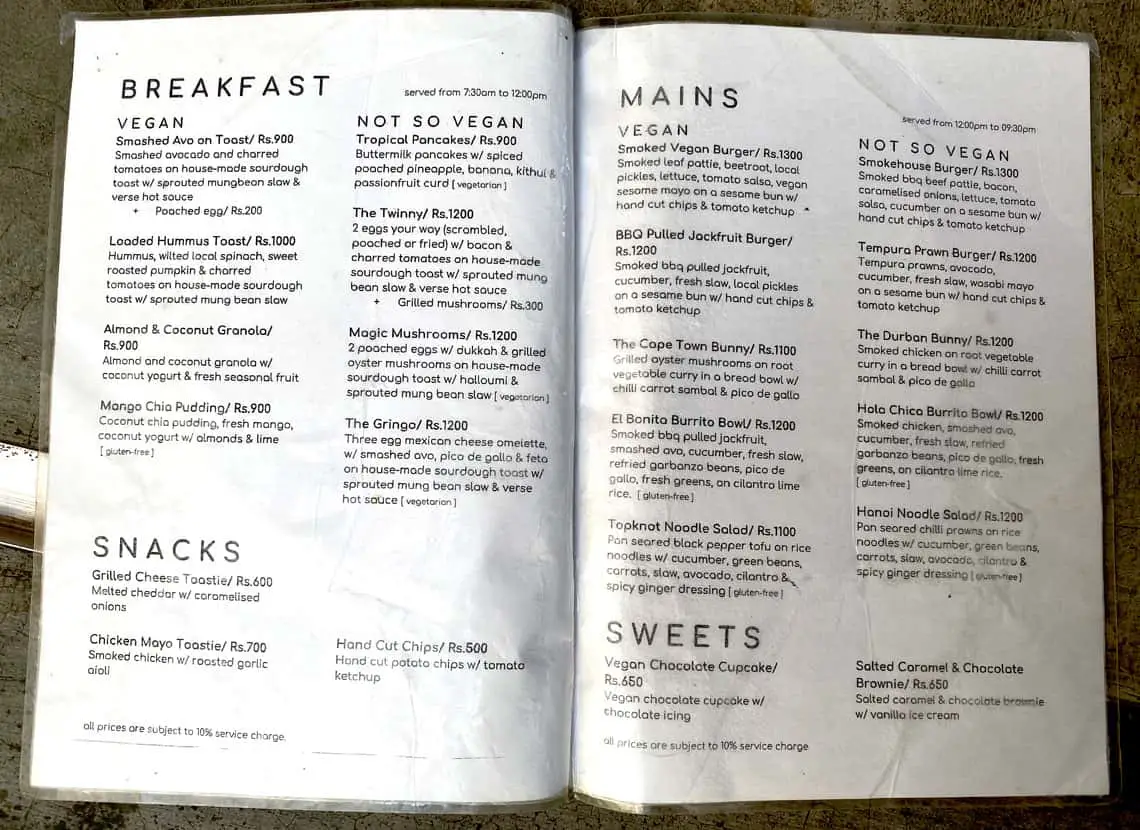 Budget Accommodation
Dots are the budget option for digital nomads looking to share accommodation in Dikwella. They have two sites: the Surf Cafe and the Bay House. Both sites are noteworthy for two different reasons.
Surf Cafe: The Surf Cafe is within walking distance of Verse Collective. That's only convenient if you need to escape the friendly distractions of Dots. This place classes itself as a co-work/co-living space, although they cater to both working nomads and on-the-go backpackers. They are equipped with A/C, high-speed wifi, a soundproofed Skype Room and free, healthy breakfasts.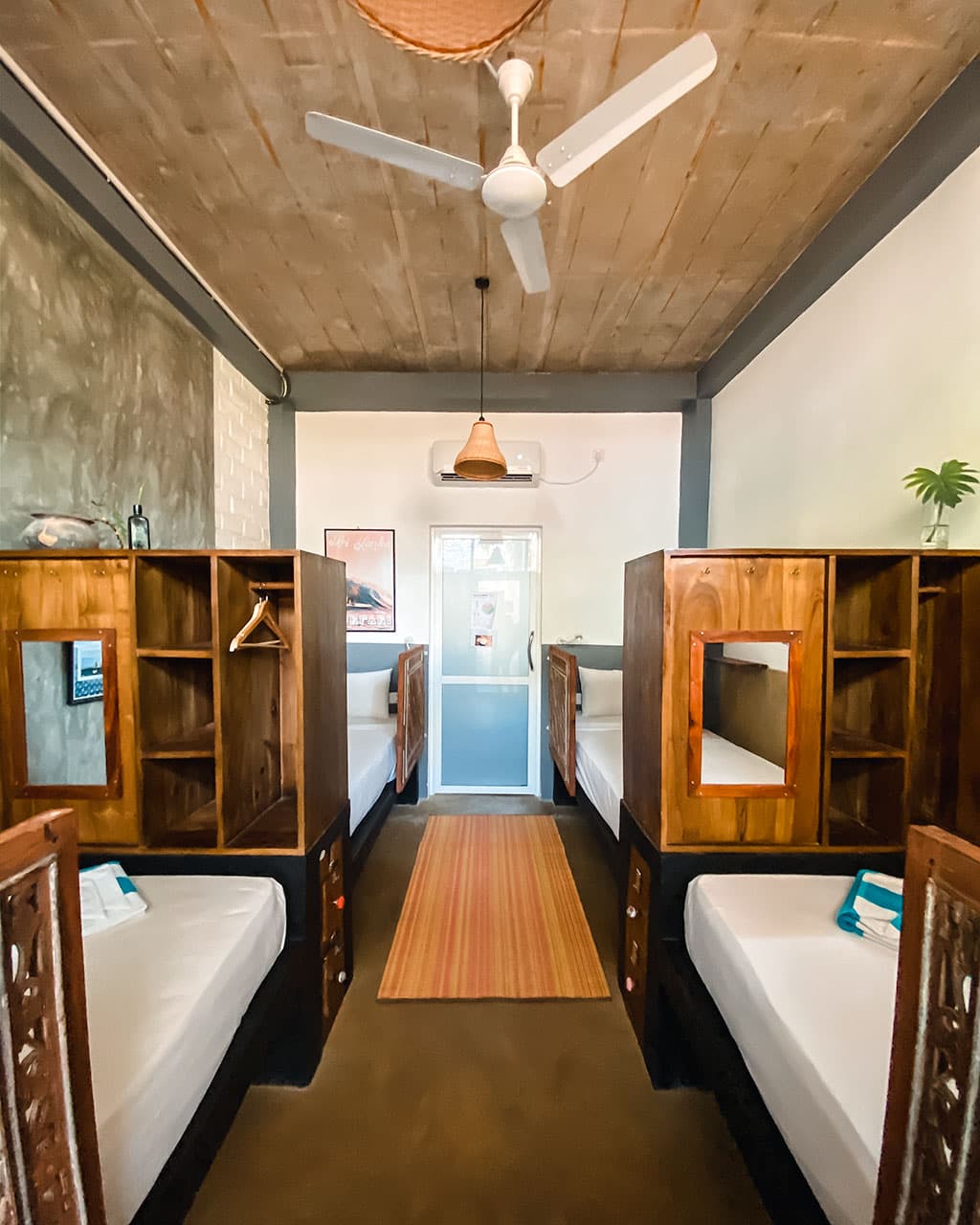 Bay House: Dots Bay House has a completely different kind of vibe. During the day, you'll meet surfer after surfer returning from the waves. By night, folk freshen up ready for the live band. Some digital nomads choose to stay in the Bay House because the dorm spaces are nicely separated with dividers that offer a greater level of privacy than most hostels. Those who don't stay here, still end up visiting. This is the place to go for a cold beer, your favourite cocktail and a great evening atmosphere.
SIMILAR: How YOU can Work from The Maldives: Maafushi for Digital Nomads
Mid-Range Accommodation
Verse Collective doesn't just define itself as a hip co-working space; it's also known for its uniquely-designed hostel.
P.S They say 'hostel'. I'd say hotel.
Each bed in the dorm is separated by walls and a locked door. The only thing that's missing is the ceiling. You can fall asleep listening to the sound of waves and a glistening star backdrop. Heavenly, right?!
Might I add, I was even woken up by monkeys one morning. It appeared that they like to walk along the rooftop to say hello from time to time. I certainly didn't mind the extra company.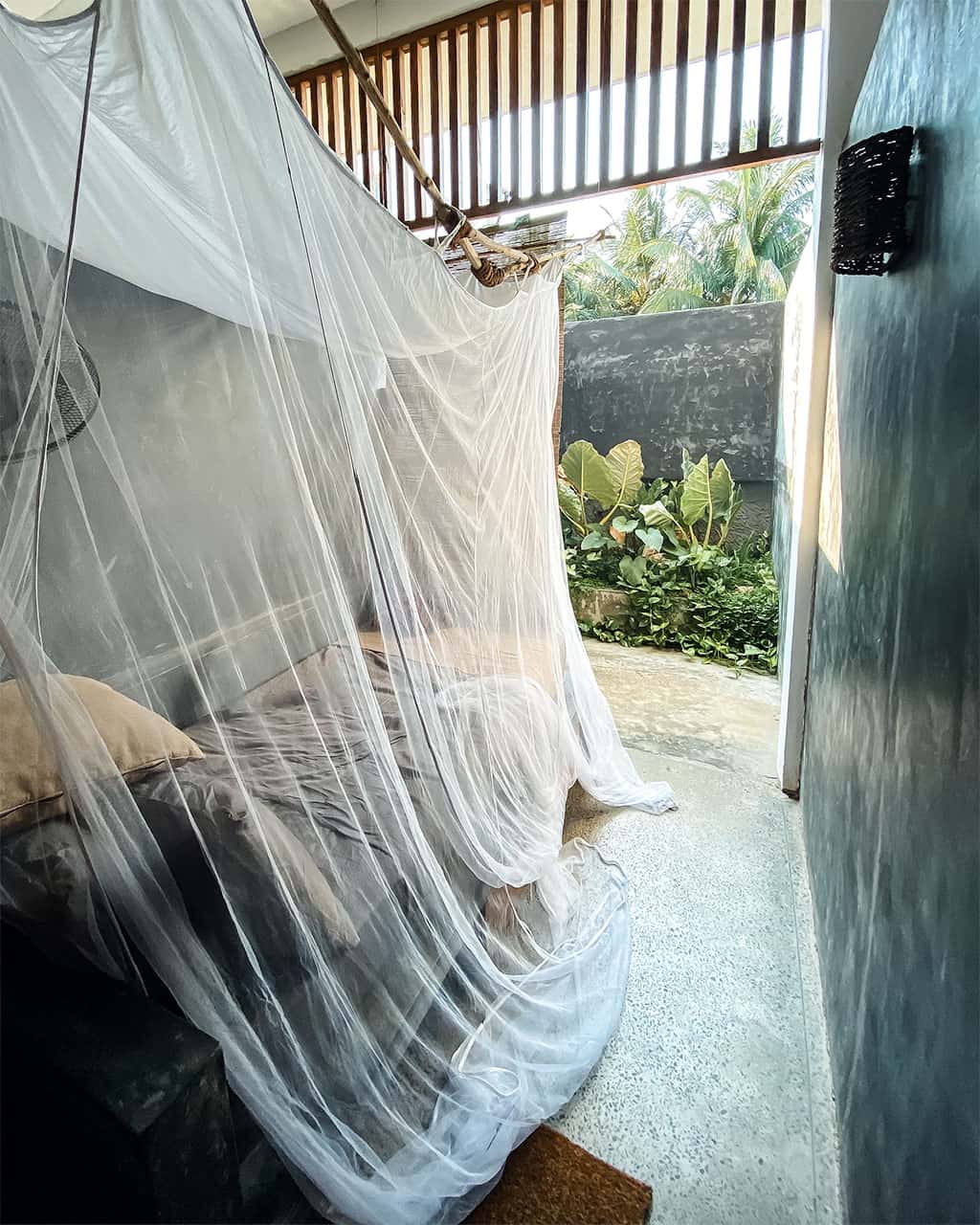 If the gorgeous rooms, convenient co-working space and on-site restaurant aren't enough to convince you… How about the fact that the beach is quite literally on the doorstep. This is where I'd indulge in a local lunch between working hours…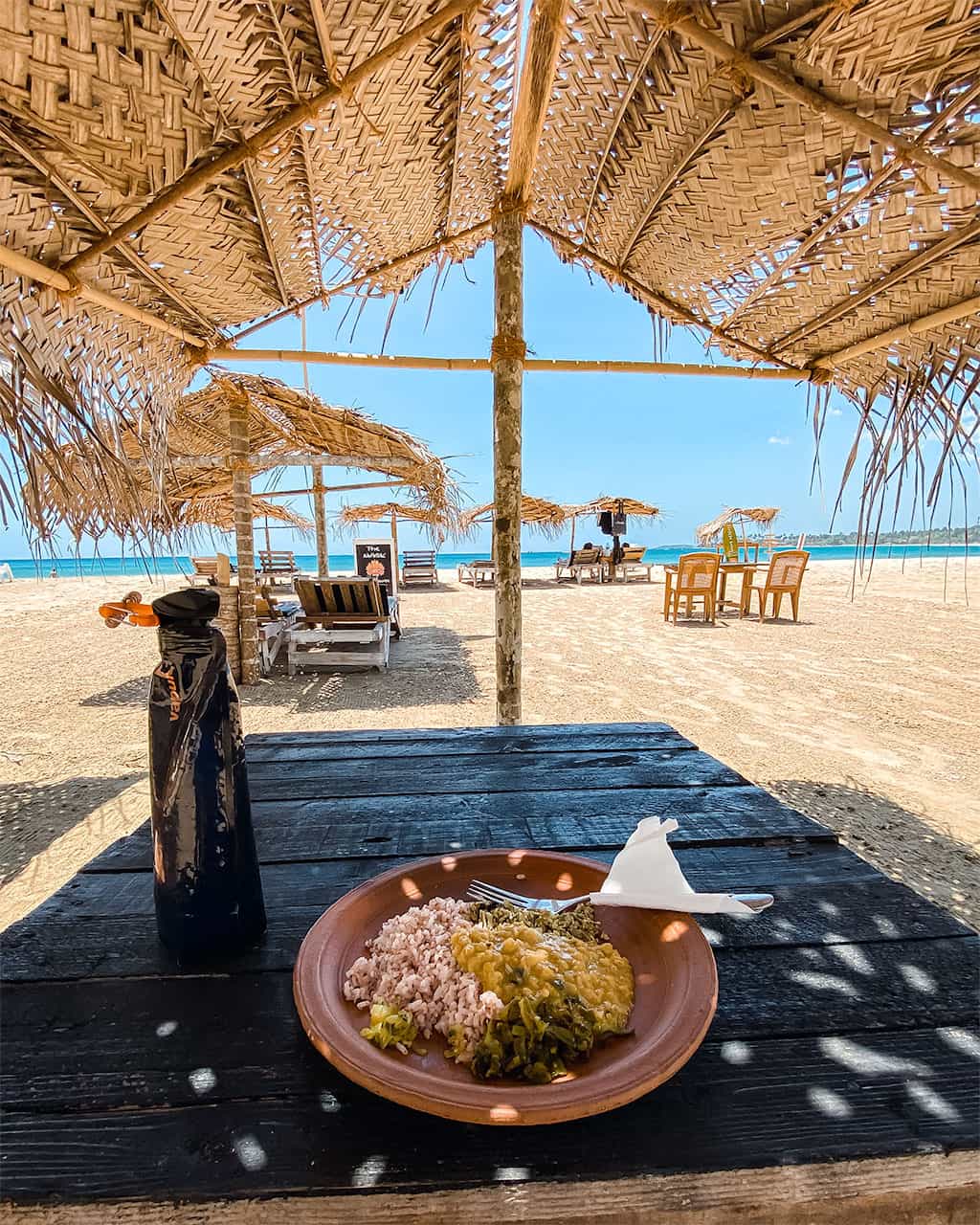 The Pricier Option
Are you looking for a more tight-knit community of digital nomads, yogis and entrepreneurs? You should check out the Salty Pelican. Their accommodation is so dreamy, with like, next level hostel dorms! This is definitely an option if you are looking to surf, stretch, work, chill and safari – all with a great group of people.
Long-Term Accommodation
Many local families now invite visitors to stay in their household, whether it's via AirBnB, asking around or simply meeting people on the beach. There are plenty of great private rooms available between Dikwella and Hiriketiya, some have a semi-decent internet connection and some have A/C. It may be an idea to stay in a hostel for the first few nights before you scout out your preferred long-term solution?
Is Sri Lanka Nomad-Friendly?
Like many islands, Sri Lanka certainly does present some challenges to the average location-independent individual – especially if they are working online! The daily obstacles that you are likely to come across in Sri Lanka are the:
Climate: South Sri Lanka has two seasons: High Season is from November to April. The area expects low rainfall and a calm sea during this time. In terms of the temperature, it can become pretty darn hot. What makes it a little worse, is that fan cooling systems can be sparse in public areas. Make sure to check your accommodation beforehand. If you're not acclimatised to this kind of heat, then it could become a little uncomfortable at times.
Internet Connection: The wifi in shared accommodation is typically slow in Sri Lanka. In some instances, it can even run out. If you are a full-time working nomad, you should definitely pick up a SIM card as soon as possible. Or even better, come prepared with your very own portable wifi hotspot that is capable of boosting your internet speeds.
Does Sri Lanka have a Digital Nomad Community?
Yes, there is an obvious community of digital nomads in Sri Lanka (especially in Dikwella and Weligama). However, in my opinion, I noticed the difference between 'finding a community' to 'connecting with a community'. Looking around, the quantity of holidaymakers definitely outweighs the number of digital nomads. Of course, there were the odd lone digital nomads, like myself. Then, the remaining folk are long-term ex-pats who have been on the island for quite some time. To compare Dikwella's nomad community to Canggu's, it can feel slightly clicky there but, I'd say the locals are just as friendly.
READ: Coliving Spaces That All Digital Nomads Should Know About
Is It Easy Enough to Get Around Sri Lanka?
Private Transport
Of course, like in many other Asian countries, hailing a TukTuk is always an option for short-distance journeys. Taxis are widely available, although they can become expensive. This is especially the case if you organise transport through your accommodation from the airport.
I found a local taxi company that had advertised their phone number on a basic handmade sign on the street. Yes, I know this sounds a little unsafe, but they gave me no issues at all and were always about half the price of any other quote.
Alternatively, you can organise your airport transfer online before you leave; book here.
Public Transport
The public transport system in Sri Lanka is fairly extensive. The buses can often be cramped and very time-consuming, although they are an option for budgeting travellers. Just make sure to ask for the AC Express Bus, they stop at fewer places along the way.
Sri Lanka's railway system is an attraction in itself. Unfortunately, that's when the dreaded lockdown travel restrictions came into play for me… This will have to be a KatieGoes adventure for another day.
For Your Information
Visas: You could stay in Sri Lanka for up to 3 months as a tourist without leaving the country. Depending on your circumstances, you can apply for a free 1-month eVisa which would save you time in immigration at the airport. To extend to 3 months, many backpackers then make a return trip to the Colombo Immigration Office.
Currency: They use the Sri Lankan Rupee. Sri Lanka is overall a cash society. Contrary to the fact, cash machines can be quite sparse, so make sure to take out enough when you see one.
SIM Card: There are two main data providers in Sri Lanka: Sri Lanka Telecom and Dialog. They both offer decent 4G coverage across the island. For convenience, I'd recommend picking up a Dialog SIM before you leave the airport. They have a kiosk in the arrivals hall with various sim cards at reasonable prices.
ALSO: Best Camera Gear & Travel Essentials for Digital Nomads
If convenience is your ultimate goal, check out Airalo for either a local, regional or global eSIM. Airalo is the world's first eSIM supplier. You can purchase the most suitable prepaid data plan without visiting any shop or swapping physical sim cards. This is the technology we digital nomads have been waiting for!
Top Things To Do
The Verdict
Sri Lanka has snuck onto the radar of many digital nomads' for good reason. In fact, for many good reasons.
Overall, the living cost is reasonable and there is a tonne of magical adventures to be had! On the other hand, the infrastructure is yet to adapt to the requirements of many full-time nomads. This can result in daily tasks becoming annoyingly tricky at times. With this in mind, it is possible to be a digital nomad in Sri Lanka just don't expect the same convenient standards as Canggu.
If the laidback island culture, delicious food, surf-worthy waves and friendly locals haven't convinced you yet, then here are some other digital nomad alternatives:
Let's go!
@katie.maree
---
Did You Know…
If you purchase through a KatieGoes link, we receive a small amount but you still pay the same. This contribution helps keep this blog moving – win, win! Nevertheless, I only recommend personal favourites…
---
Save this on Pinterest
Do you not have time to read this guide? Click on the Save button to pin this article for later.