To live in Los Angeles… We have all dreamt of it. We must have all pictured ourselves living in those back-to-back months of summer, maybe on the hillside of Hollywood embracing the culture of entertainment and glamour. Their Californian branding even encourages us to: "Dream Big".
Lucky for us digital nomads, we can not only dream but also make living in Los Angeles a reality. We've adapted ourselves to be able to create a temporary home base wherever we like. In other words, we don't need to commit to those sky-high monthly rent prices in LA, nor the daily dose of air pollution or traffic rage. The advantage of living a nomadic lifestyle is that we can experience cities for what they are and leave them before their nuisances become mundane, or even annoying. That is to say, follow your dreams and stay in Los Angeles as a digital nomad. I highly doubt that you'll be disappointed.
Why I Love Los Angeles
After having lived in New York 6 months prior to Los Angeles, I became used to being told: "You seem more West Coast – have you been to California?". Between the laidback attitude, casual clothes and multiple skateboards… I'm not sure what could have given the stereotype away. But kudos to them… They knew me, better than I did. I felt right at home in Los Angeles. Here are a few reasons why…
The people of Los Angeles are casual, and this is reflected in their dress sense. It's acceptable to work -and enjoy the nightlife- in jeans. You could maybe even push that to a t-shirt and flip flops. On the contrary, LA is internationally known for its influence on the fashion industry. Both aspects of the city culture allow for a spectrum of styles that fill the streets with great diversity.
Angelinos are not afraid to do what they enjoy. Not only that, they don't shy away from introducing themselves to those around them that have a common interest. This allows for some valuable communities within the city that allow people to share the enthusiasm or difficulties they may have whilst they participate in their hobby. I especially noticed this whilst taking a walk along Santa Monica Beach, and in particular, past the stretches of slackliners, acro-yoga couples and skateboarders. Communities of friends hang out on a daily basis to learn or perfect a new outdoor sport. At the same time, passing spectators that are interested would introduce themselves, without a second thought.

What surprised me the most, was the city's proximity to landscapes that were amazing for outdoor adventure sports. Within a car ride away, were locations to horse-ride, hill-walk, go mountain-biking, surfing or rock-climbing (as pictured below). At any point, you are just a drive away from enjoying natural landscapes and then becoming surrounded by the towers of Downtown LA – all within the very same day.
Continue reading to discover how I stayed in Los Angeles as a Digital Nomad...
Where to Stay in Los Angeles
The main reason I could not live in Los Angeles is the effort it takes to travel anywhere on a daily basis. Moving from A to B becomes a mission: one that locals have learnt to accept. This is due to the city's fundamental mode of transport being the car. So spare yourself the stress by choosing your base location wisely. This will ensure you are spending as little time as possible waiting in your car. Below are a few examples of centrally-located areas that I would recommend to a digital nomad who is planning to stay in Los Angeles.
Santa Monica
I found Santa Monica's location to be very convenient for its proximity and accessibility to other popular areas in Los Angeles such as Downtown, Venice Beach, Malibu and Hollywood. In addition, it's also situated on the beach – great!
My hostel of choice was HI Santa Monica which I would fully recommend to any digital nomad looking to stay in Los Angeles. The accommodation was well equipped with many spaces to work from. All of which are perfectly quiet and shaded away from the distracting excitement of the city. They even had a cinema!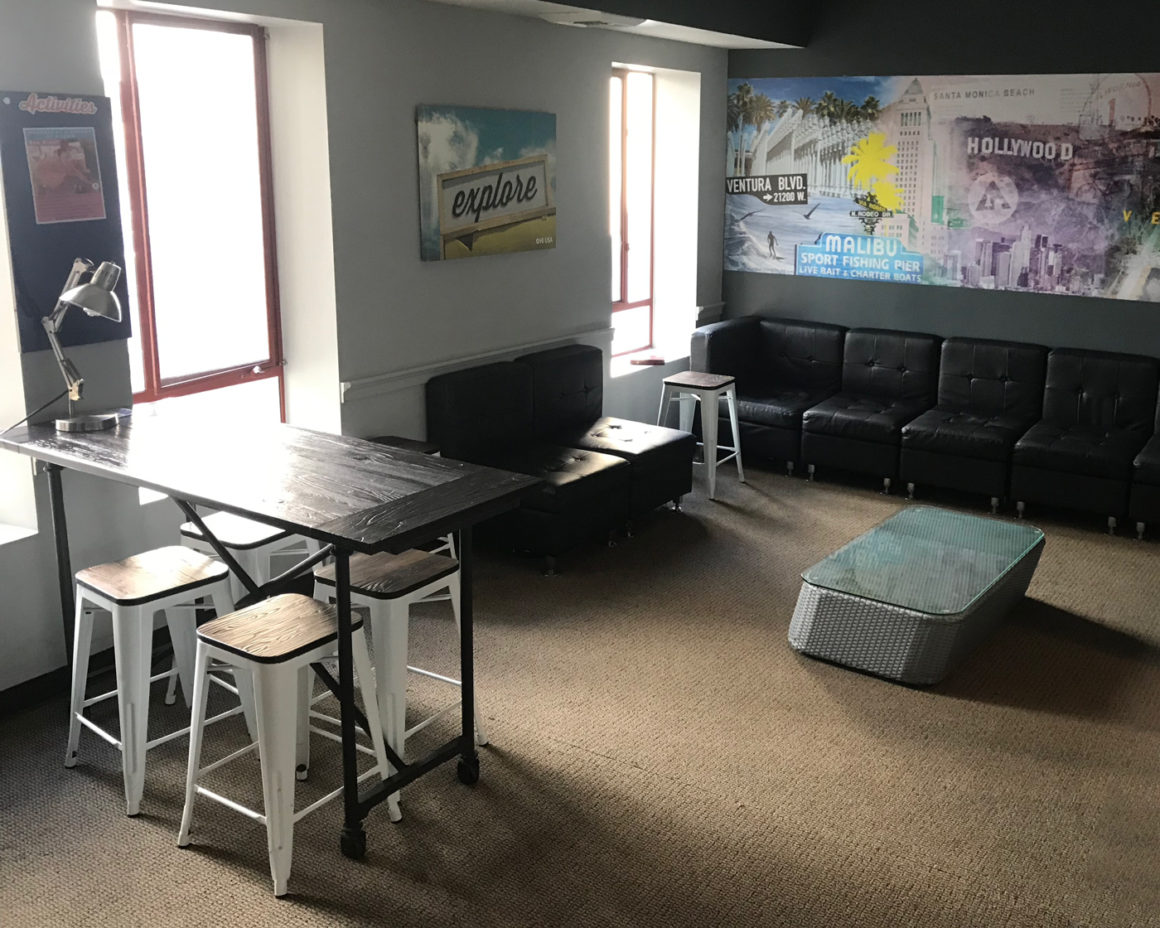 Venice Beach
Venice Beach: It's happening. There are street performers, canals, the world-famous skate park, the boardwalk, fun bars and fashionable shops. Venice feels like the epicentre of the hipster or hippie street culture of Los Angeles. Check Airbnb, Booking.com or Hostelworld to find accommodation that suits you in Venice Beach, as it's the perfect location to keep you entertained for a month or two.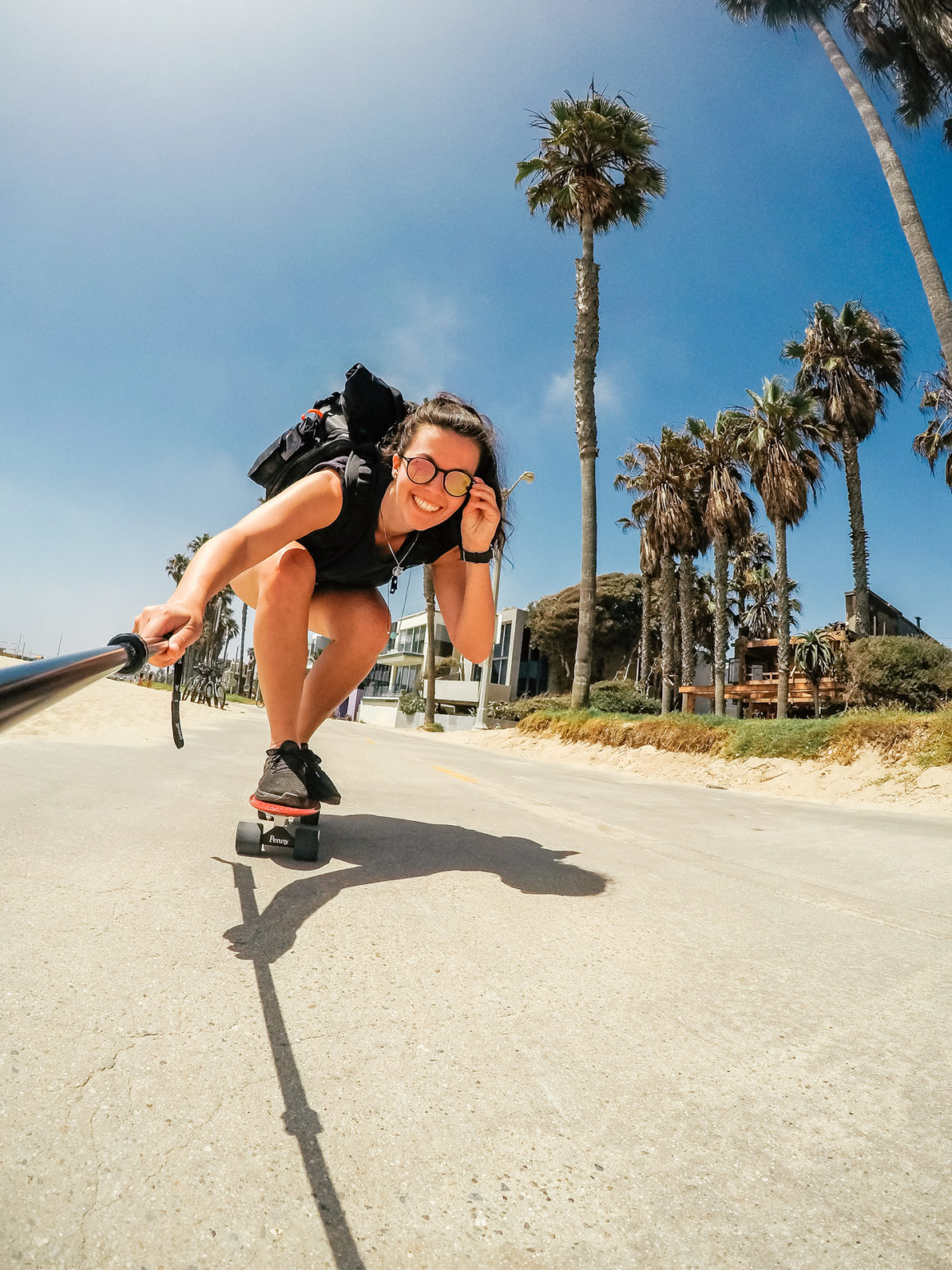 Hollywood
Life in Los Angeles as a digital nomad can be experienced in so many different lights (quite literally)… From the street lights of Venice Beach to the showbiz spotlights of Hollywood. Your experience of LA-living totally depends on the area you choose to live in.
The internationally-know neighbourhood of Hollywood can often be both overwhelming, and disappointing to the average tourist. Foreigners arrive with such an idyllic image of the location which is based on unrealistic movies or stories they've heard through the media. This can often result in them feeling let down by their expectations. Whereas, by living in the area as a digital nomad, we have the opportunity with the advantage of time, to see the place from an almost local's perspective.
Accommodation may be the first question you have regarding the life of a digital nomad in Hollywood. I found a hostel that felt like a home. It was called: 'Republic Inn / Hollywood'. The accommodation had been moulded into a huge, typically-American household that was situated in a street lined with prominently tall palm trees.
---
Working Remotely from Los Angeles
It doesn't take long before you are questioning why cafes, gyms and beaches are still so busy and full of Angelinos, even during work hours. Are they so rich that they don't have to work? Not every occupation in Los Angeles requires a regular office setup. Many writers, entrepreneurs, actors and artists dabble in their profession from the confines of their local coffee shop or coworking space. This proves that Los Angeles already caters to the culture of working remotely, even though it's not your stereotypical digital nomad that's occupying these spots at the moment.
See Also: How To Live As a Digital Nomad in NYC
---
Getting Around Los Angeles
Skateboard
With large, wide American sidewalks; comes great space to glide through the walking crowds on a skateboard. Everybodys doing it. If not with a board, then there are rollerskates, scooters, push bikes and the odd One Wheels whizzing around every day. Finding an alternative to the car traffic is definitely a win in Los Angeles: not just to save time, but financially too!
Subway
I had to mention the subway system because of such a surprising number of people who don't even know of its existence. I have friends that live in the city that were totally oblivious to them – unless it's just that they choose to ignore them. The metro network consists of six lines, including two 'rapid transit' subway lines. If there's one way to avoid the mayhem of vehicles in Los Angeles, it's by going underground. A single fare costs $1.75, no matter where your final destination is. So you won't just be saving on time, but you'll be well within your budget too!
Uber/Lyft
Check Google Maps to give you the comparison of prices between Uber and Lyft on the journey you wish to make. I did find that Lyft would normally take the winning spot, but there's not much between them.
Is this your first time using Lyft? You can use the following code to get $5 off your first journey: MACLEOD24861
Buses
The buses are another very cheap option for transport in Los Angeles. One single bus journey will cost you $1.75. You will need the exact amount as the bus drivers do not carry change. However, this single fare can take you ANYWHERE – this even includes the airport! Under two dollars to travel to the airport… that is a travel win if you ask me.
Consequently, there are a few disadvantages to such cheap transportation. Firstly, the buses can be very unreliable. I've waited for over 45 minutes for some, where I'd watch angry Angelino by angry Angelino give in with frustration to book an Uber. I find that the buses do come in the end, but you can't rely on them to get you somewhere for a specific time.
Secondly, the cheap fares combined with a large population results in them being very cramped. Prepare to snuggle up to strangers for what will most likely be the entirety of the journey. People from all walks of life take these buses. Lastly, due to LA's sheer size and the traffic it deals with, one single bus journey can take hours. Still… $1.75 though!
---
Data Plans in the US
T-Mobile is the dominant option of data plan for visitors to the United States. They offer 10GB for approximately $40/month. This does not include US taxes and fees. If this is not enough, there is also an unlimited plan for $50/month. Either way, I found the connection to be no bother and the installation was easy, fast and friendly in-store. T-Mobile shops are located in many districts, so you won't have difficulty bagging yourself a new SIM card.
If convenience is your ultimate goal, check out Airalo for either a local, regional or global eSIM. Airalo is the world's first eSIM supplier. You can purchase the most suitable prepaid data plan without visiting any shop or swapping physical sim cards. This is the technology we digital nomads have been waiting for!
---
What to Check Out in Los Angeles
The Boardwalk between Santa Monica and Venice Beach
A beautifully smooth beach-side path connects Santa Monica to Venice Beach. This stretches for just over three and a half kilometres (which would be about a 45-minute walk). But that's not fun… This HAS to be done on wheels of your preference (whether it be a skateboard, a unicycle or a scooter). This was straight-up my favourite thing to do in the city, and it didn't make me feel like a dumb tourist.
Wander Round Venice Canals
Take a detour from the boardwalk to visit the Venice Canals. They are located at 25th street in Venice Beach – be careful not to miss them! The four canals are a neighbourhood of unique houses, lined with sidewalks and bridges for easy access. The area is perfect for enjoying a casual walk, being nosey eyeing up the nearby houses or enjoying time out with your book.
Visit Santa Monica Pier for a Summer Concerts
Santa Monica's weekly music festival is as iconic as the pier itself. On a specific day every week, between August and September, 'Twilight on the Pier' hosts both emerging and established artists on their stage. I'd say this is an unmissable attraction, especially considering its $0 price tag!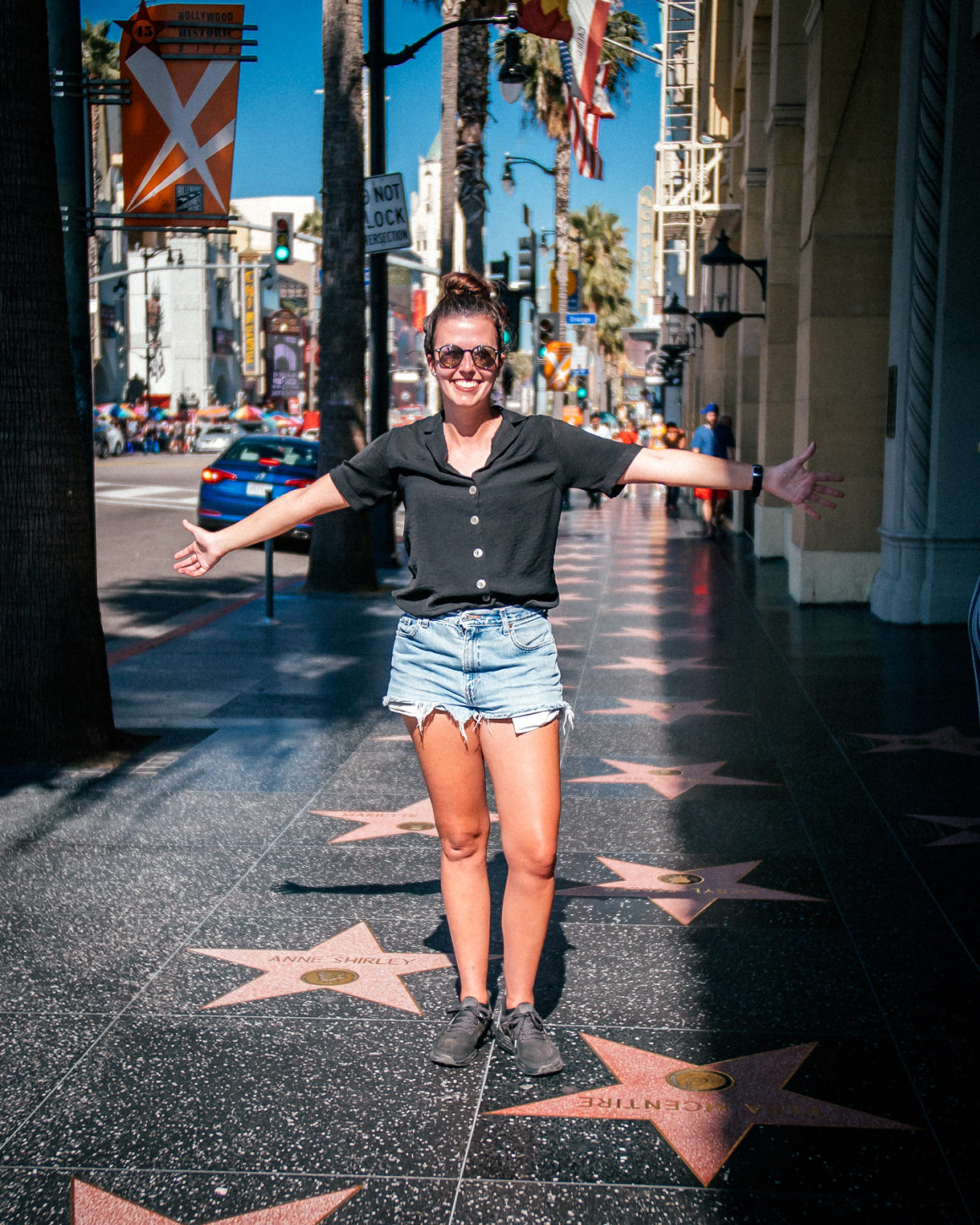 Hollywood Bowl
Located in the neighbourhood of Los Angeles, the Hollywood Bowl is an amphitheatre that hosts spectacular concerts with world-famous artists and bands. Grab a ticket for the evening, because I believe this is an easy and great way of experiencing the entertainment of Los Angeles like a local. Though new tickets can start with a price tag between $150-$350; last-minute tickets can be as low as $30 (particularly on weekdays).
Watch the Sunset at Griffith Observatory
You must schedule some time to see the Griffith Observatory during the golden hours! As one of the highest viewpoints of the city, the observatory offers a full panorama view of Los Angele's skyline and faraway horizon. Although that's a 360 view if you count the hills behind holding the notorious 'Hollywood' sign! If you can stay from sunset to see the millions of city lights being turned on, then even better.
The Griffith Observatory is free to walk around, free to explore its exhibitions and free to take a peek through its huge telescopes. What I must say though is: Don't bother waiting in line to do so. I waited for about an hour to take a glimpse through the telescope. Then I had to take a second look when I thought I was doing something wrong (I saw a fuzzy white mark that I was told is Jupiter). These telescopes are old. If you are looking for some higher resolution, close-up views of what's up there, check out the smaller telescopes that are owned by the astrologers around the observatory – they will show you a sight to behold.
See Also: Being A Digital Nomad in California (San Diego)
---
Tips on How You Can Save Money
Download Eventbrite
Los Angeles is constantly putting on a show! Use Eventbrite to check out what's happening, when it's happening and whether the event is with paid tickets or free entry. You'll never miss out again!
Food Trucks
Street vendors and food trucks are a perfect choice to try local food. Each and every truck offers such a varied cuisine, so much so that they're hard to choose from! These food trucks would also be appropriate for KatieGoes budget-conscious readers. They aren't the cheapest of street food that you'll have tried, by any means… But they'll certainly be a cheaper option than most restaurants in the city.
Flixbus
Ever heard of Flixbus? This company is definitely a must-have app on your phone. I've used their services in Europe and the US. Bus rides to places out-of-town can easily be found on their schedule for under $20. I travelled to Los Angeles from San Diego for approximately $10 (that was a last-minute purchase too). They're the cheapest you'll find in the area, for sure.
General Assembly
General Assembly is an organization that runs educational events to teach entrepreneurs and business professionals technological skills. They offer boot camps and workshops related to subjects such as UX Design, Data Science, Product Management and Coding.
To advertise their community, General Assembly often hosts free events like talks and panel discussions. The tickets to these events can be claimed on their website or through Eventbrite.
I enjoyed a few free workshops about social media at the General Assembly at Santa Monica. However, there is also a centre in Downtown LA that hosts similar events for you to choose from.
Couchsurfing
This is advice for those on a REAL tight budget, who also don't have to work full-time hours. The website, Couchsurfing, connects travellers with local hosts who can spare a free bed or sofa for the evening. Two huge advantages of the experience would be having access to a local's knowledge and not having to spend money on accommodation. Even if you didn't need accommodation, Couchsurfing still has a great travel community of people who are always willing to meet new friends.
Sleeping in Your Car
The law regarding 'vehicle-dwelling' is a constant talked-about topic in Los Angeles. When I was in town, it was legal to sleep in your own car or van. This allowed many of my Angelino friends I had made to save time between commutes by just pitching camp in their back seats for the night. Yes, the traffic and journey time is that bad! Use this technicality to your advantage… One way you could live in Los Angeles as a digital nomad is by hiring or buying a van. Then, you are sure to have a lot of freedom to play with!
Click here to learn more about my goals of being a full-time traveller.
Let's go!
@katie.maree
---
Did You Know…
If you purchase through a KatieGoes link, we receive a small amount but you still pay the same. This contribution helps keep this blog moving – win, win! Nevertheless, I only recommend personal favourites…
---
Save this on Pinterest
Do you not have time to read this guide? Click on the Save button to pin this article for later.