How to travel the world as a digital nomad? Wow, where do I start? That is a huge question. And a huge change if you are moving from a typical 9 to 5 office career.
Are you seeking instability, constant surprises, crazy working hours and having no time to settle? Great, I was just checking. Let's jump right into it!
Unless, of course, you'd like to hear a bit more about my transition between the office job and a life of full-time travel.
Travel the world as a digital nomad with these simple steps…
Getting started is going to be challenging, and somewhat risky! To help ease the mind funk, I've split this process into seven steps which can be completed across weeks or even months. Unless you are a badass, of course, then try days!
STEP ONE: Cut
All

Non-Essential Costs

You will not and do not need any subscriptions. This is especially true when you are travelling full-time. There will simply not be enough hours in the day to watch episodes back-to-back of the latest Netflix series. Or even, an address to receive a delivery in no time with Amazon Prime. Also, don't forget to cut your mobile data contract, and complete your final month in the gym.

Ditch them! Ditch them all.

Subscriptions and any other outgoings are one surefire way to drain any cash from your bank account. While looking into your finances, pay off those debts and sell your belongings to make up for your loss. This is the time to sort out your financial balances. You want to leave with a fresh start and a clear conscience. You want to be able to feel financially free.
STEP TWO: Find an Income
Ideally, you should find an alternative income whilst you are still living in a state of stability. And by stability, I mean, you have a roof over your head, there's still a monthly or weekly income coming in, and you have the time to invest in looking for alternative career paths.
You should now be looking for a job that offers the opportunity to work remotely. Firstly, if you work digitally, I'd suggest mentioning your plans to a current employer who may be able to adapt their workload to your new lifestyle. This would be the greatest and easiest of options.
Alternatively, if that doesn't work, you should start an online job hunt. This guide on How to Make Money Online is a great starting point! There you will find realistic suggestions with links to online resources that connect digital nomads to potential job opportunities.
RELATED: 

25+ AWESOME Resources for Digital Nomads
STEP THREE: Quit Your Job
Not going to lie, I have no advice for you here. This is the daunting step where you have to corner your boss into a meeting room to explain your shift in lifestyle.
If you are a great employee, they may even try to convince you to stay. It's up to you whether you fall for that, or stick by your guns and follow through – good luck!
STEP FOUR: Join the Community
Understandably, this can all be an intimidating process. However, there are many online communities for you to connect with others who either lead by example or are following these same steps. Let them be your source of inspiration. If they can do it, you can do it!
Here are some Facebook groups that may help. They have very welcoming members who are also digital nomads:
Additionally, there are many companies nowadays that aim to nurture the digital nomad community. They can also provide a fast-track way into the lifestyle, provided that you have an income to cover the expenses. See The Best Digital Nomad Companies That'll Get You Going to find an organisation that suits you.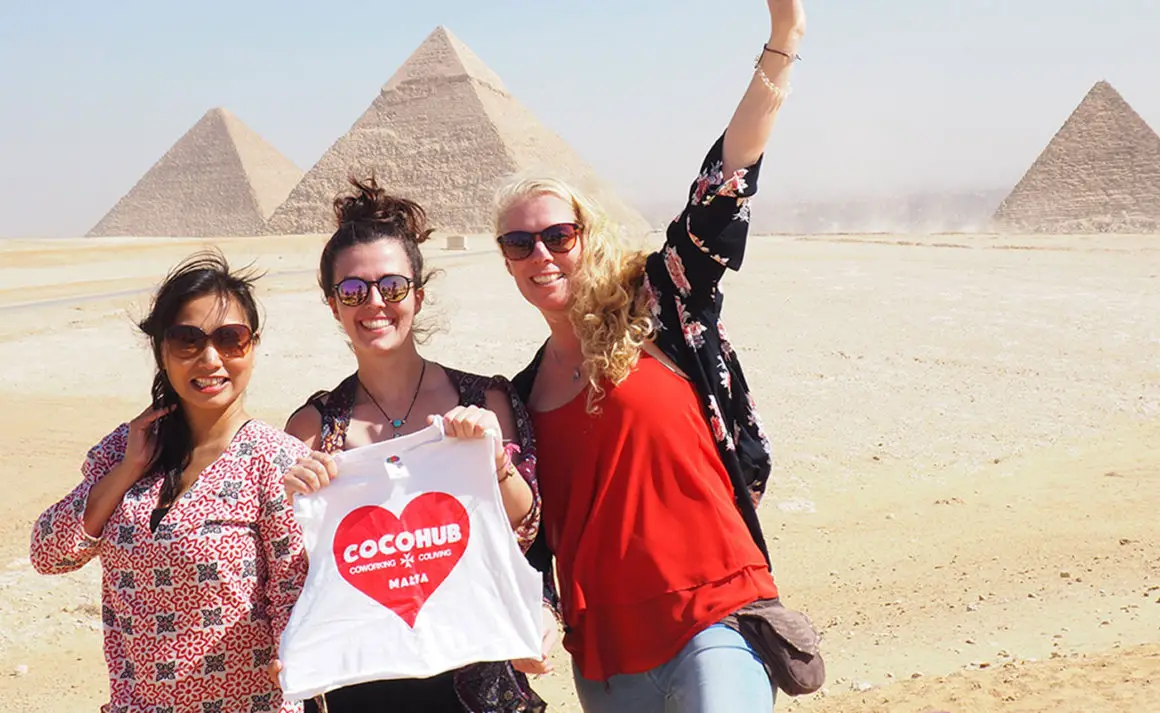 STEP FIVE: Pick Your First Destination
Don't worry if you feel totally overwhelmed by the choices. My suggestion would be to start with a popular destination that has an existing community of travellers that welcome digital nomad newbs. This would be Canggu in Bali, Indonesia. Here is Why Canggu is Perfect for Digital Nomads.
Need more inspiration? These travel guides are tailored to the digital nomad lifestyle:
STEP SIX: Pack Your Bag
Unless you are an outright diva, you should be aiming to pack two bags: the standard carry-on backpack or suitcase, and your daypack (which is otherwise known to airlines as a 'personal item'). Follow the size guidelines of a European airline, as Americans tend to have larger height and width restrictions. You want to limit your baggage fees, as flying is going to become a regular occurrence.
Carrying your life, like a tortoise, will be your new norm. Do yourself a favour by starting your journey with the lightest luggage possible. That way, you'll hate yourself a little less every time you change trains, run for the last bus, have to squeeze into a TukTuk with others or need to cram your belongings onto the back of a moped. Check out these Ultralight Packing Secrets for Digital Nomads & Full-Time Travellers. They are my absolute must-have travel items!
Every product in my bags has taken years of consideration. They'd have to be as light as possible, durable and compact to be allocated a space. If you'd like to find out more about the contents of my 'personal item' backpack then read The Best Camera Gear & Travel Essentials for Digital Nomads. That packing list also reveals the all-time favourite backpack that I'd highly recommend to every adventurous traveller!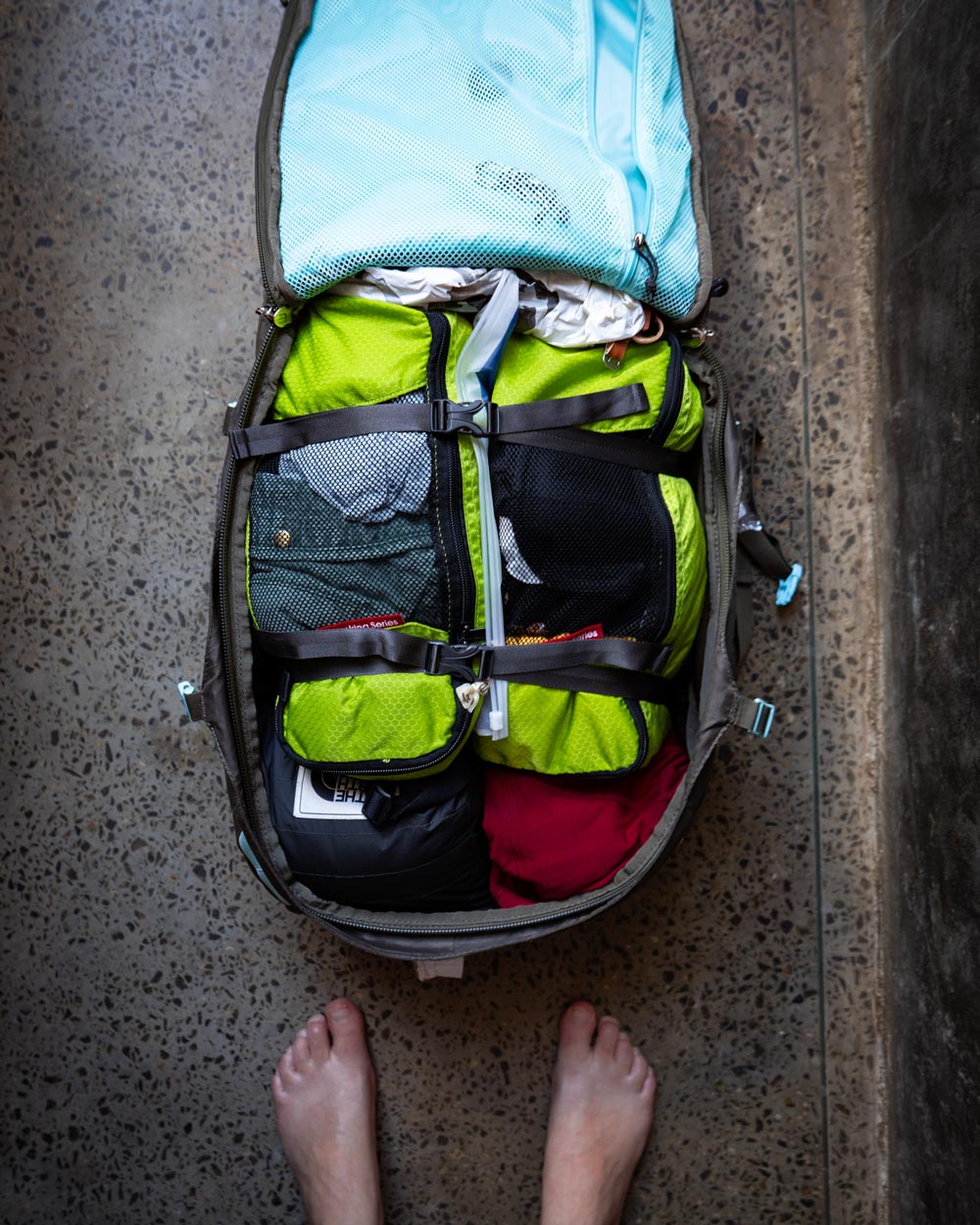 STEP SEVEN: Find Accommodation
Have you had any thoughts on where you are going to stay? Hostels? Hotels? Airbnbs?
The question is, have you heard of co-living spaces? If there is one in your desired country, I'd totally recommend that you stay there.
A co-living space is shared accommodation that welcomes location-independent individuals. They normally organise group activities, masterminds or house dinners for the guests to socialise in their downtime. During work hours, most co-living companies have created sophisticated workspaces that cater to the different needs of various remote workers. You can trust that a co-living space will provide you with everything you'll need in your first location.
Here are 27 Coliving Spaces that Digital Nomads Should Know About. Make it, your new bucket list.
MORE: 

How to Find the Perfect Coliving Space
Ready to Travel the World as a Digital Nomad?
Yes – you are! As long as you follow these steps, then you will be well on your way to living the life of a full-time traveller:
Cut All Non-Essential Costs
Find an Income
Quit Your Job
Join the Community
Pick Your First Destination
Pack Your Bag
Find Accommodation
That's you! There's nothing left to do, other than say your goodbyes (my least favourite part).
Let this guide on 'How to Travel the World as a Digital Nomad' empower and inspire your journey, whilst I personally, wish you all the best on your new adventure. Hopefully, we can cross paths on the road one day.
And hey – share this article with a friend who you reckon needs the motivation to quit their 9 to 5!
Let's go!
@katie.maree
---
Did You Know…
If you purchase through a KatieGoes link, we receive a small amount but you still pay the same. This contribution helps keep this blog moving – win, win! Nevertheless, I only recommend personal favourites…
---