Jordan is often many travellers' first-ever visit to the Middle East, and too right! Bordering Syria, Iraq, Israel, Palestine and Saudi Arabia; somehow Jordan has managed to dissociate from any nearby conflicts and establish itself as a safe, and popular destination for tourists. Are you ready to travel to Jordan and experience the Middle East?
Jordan is an explorer's utopia with its diverse portfolio of landscapes; from scuba diving in Aqaba's Red Seas to a relaxing spa session at the Dead Sea or a full immersion of history at The Lost City of Petra. Though even with these exciting endeavours, the magic of Jordan can still be sensed within just one offering of their sweet tea, a morning awakening of the call to prayer or the red-hued tint of sand that will forever leave a lasting memory on your travel shoes.
What To Know Before Travelling Jordan
Do You Need a Visa?
Jordan operates with visas on arrival. A standard single-entry visa can be purchased at the airport. This will be valid for 1 month.
Before your departure to Jordan, it is highly recommended that you purchase a Jordan Pass. This one-payment package grants tourists entry to most of the main historical sites, including Petra and Wadi Rum. More conveniently so, the Jordan Pass also combines the country's visa entry fee within the overall cost so traveller's do not have to worry about such payments when they meet border control at the airport. In my experience, I found this to be very user-friendly. It's also the most cost-effective way if you plan to at least visit Petra.
There are three packages with varying price points. The pass you choose depends on the number of days you intend on spending in Petra. Prices are as follows (as of December 2021):
The Jordan Wanderer Pass includes only a 1 day entry to Petra for 70 JD (99 USD).
The Jordan Explorer Pass includes 2 consecutive days access to visit Petra for 75 JD (106 USD).
The Jordan Expert Pass includes 3 consecutive days entry to Petra for 80 JD (113 USD).
When is the Best Time to Visit Jordan?
The best time to visit Jordan is during Spring. During these months, the temperatures tend to be much more pleasant, especially for those planning to spend days out with shaded areas whilst exploring Petra and Wadi Rum. By May, Jordan can reach an unbearable heat for most.
What Language Do They Speak?
Arabic is the official language of Jordan, though many Jordanians can speak at least a little English. This is commonplace within the popular tourist hotspots such as Petra, Aqaba and the Dead Sea. Most locals who see tourists within their area on a day-to-day basis speak enough English in order for them to have a conversation or at least catch the general gist. Additionally, most road signs are also written in English with the odd restaurant providing some form of a loosely-translated menu.
What Currency Do They Use?
Jordan has its own currency; the Jordanian Dinar (JD). Many hostels, hotels, tourist attractions and the more upscale restaurants will accept credit and debit cards, although cash is more commonly used. Make sure to have enough notes on you before agreeing to purchase any meal or partake in any guided tour.
Is There a Dress Code?
Jordan is a Muslim country, therefore you should dress accordingly to the more cautious side of conservative. There are no unusual requirements for men. However, as a woman, it's best to keep at least to your knees and shoulders and chest covered. Loose clothes are also recommended, so you should reconsider packing any tight-fitting leggings.
There is more leniency in tourist sites such as Petra and the Dead Sea as the locals have become more accustomed to seeing people in shorts and sleeveless shirts on a day-to-day basis.
The only instance where you will be required to cover your hair would be during a visit to a mosque, so pack a scarf if you'd like to be prepared. Better still, support a local by purchasing one from a small business in Jordan itself. There are plenty to choose from everywhere in the country.
Furthermore, and similar to all other Muslim nations, make sure to dry your hair thoroughly before leaving your accommodation. If you go outside with wet hair, it is seen to be sexually evocative to the local men. This may attract additional unwanted looks or attention.
Is Jordan Safe to Travel?
Generally speaking, it is recommended that Jordan is visited by those with at least some travel experience (especially if they are choosing to do so alone). That's not to say the country is unsafe or particularly difficult; there may just be some cultural differences that will take some adjusting to if you haven't experienced them before. In addition, the public transport system is quite limited so those travelling alone will most likely need to either hire a driver or rent a car.
Jordan is commonly described by travellers as 'one of the safer countries to travel in the Middle East'. In my experience as a woman, there were no instances of harassment or unsafe situations. Though I should emphasize that I was careful to abide by the local dress customs by remaining fairly covered from my shoulders to my knees at all times. As far as travelling to Jordan as a female is concerned, the highlights will completely overrule any negative and unfavourable experiences for sure (that's if you are to experience any negativity at all).
The overwhelming majority of people in Jordan are ready and waiting to welcome you. With very open hearts, their enthusiasm to share their country's beauty will be an unforgettable experience for all those that show up.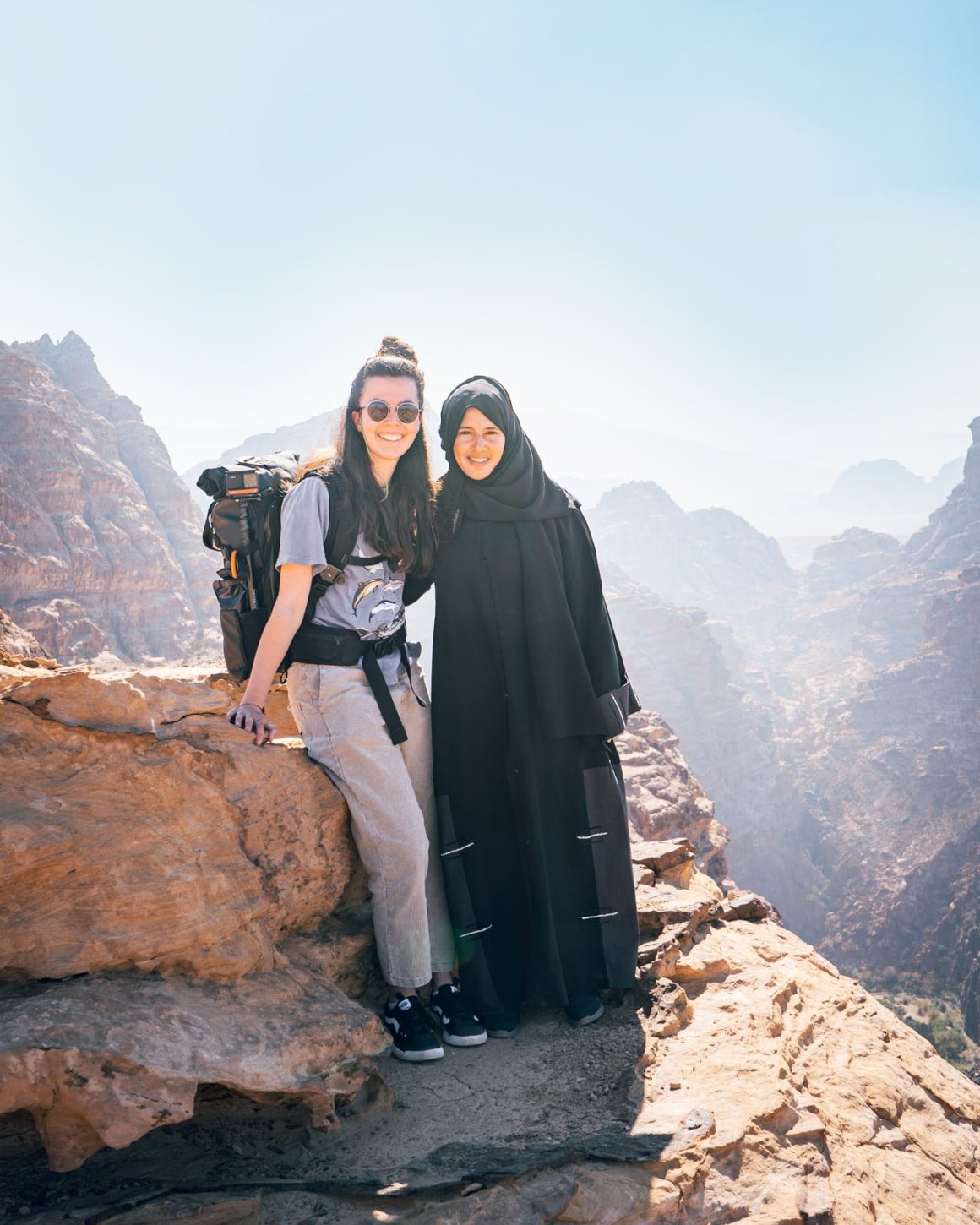 How is the Internet Data?
Like most other countries, local SIM cards are readily available in Jordan. More specifically, you will find a few companies to choose from in the arrival hall at Amman's International Airport.
Though they were all fairly similar in price, these figures are what Orange was offering in 2021.
Visitor's Line Extra
| | |
| --- | --- |
| Internet | 60 gigabytes |
| Local Calls | Unlimited |
| International Calls | 60 minutes |
| Time Duration | 90 days |
| Price | 30 JOD |
| | |
Visitor's Line
| | |
| --- | --- |
| Internet | 20 gigabytes |
| Local Calls | Unlimited |
| International Calls | 20 minutes |
| Time Duration | 30 days |
| Price | 15 JOD |
| | |
Short-Visit Line
| | |
| --- | --- |
| Internet | 15 gigabytes |
| Local Calls | 60 minutes |
| International Calls | 10 minutes |
| Time Duration | 10 days |
| Price | 10 JOD |
| | |
Popular Destinations to Visit in Jordan
Conveniently so, Jordan is a fairly small country. This allows various areas of interest to be easily accessible within a few days to a few weeks. Like mentioned earlier, if you have purchased the Jordan Pass then you'll have free access to many other popular tourist attractions. The most commonly-visited sights are as follows.
Amman
Being the capital city of Jordan, some visitors base their entire stay in Amman for convenience where guided trips can be joined to explore other tourist sites of the country. In other instances, much like in my own experience, Amman can be skipped in order to allow for more time to enjoy the following points of interest.
Dead Sea
The Dead Sea is a body of seawater with an unusually high concentration of salt. In many areas, the water presents itself in a beautiful shade of turquoise as it laps against the crystal shores of salt. Located at more than 400 metres below sea level, the Dead Sea is also classed as the lowest point on Earth.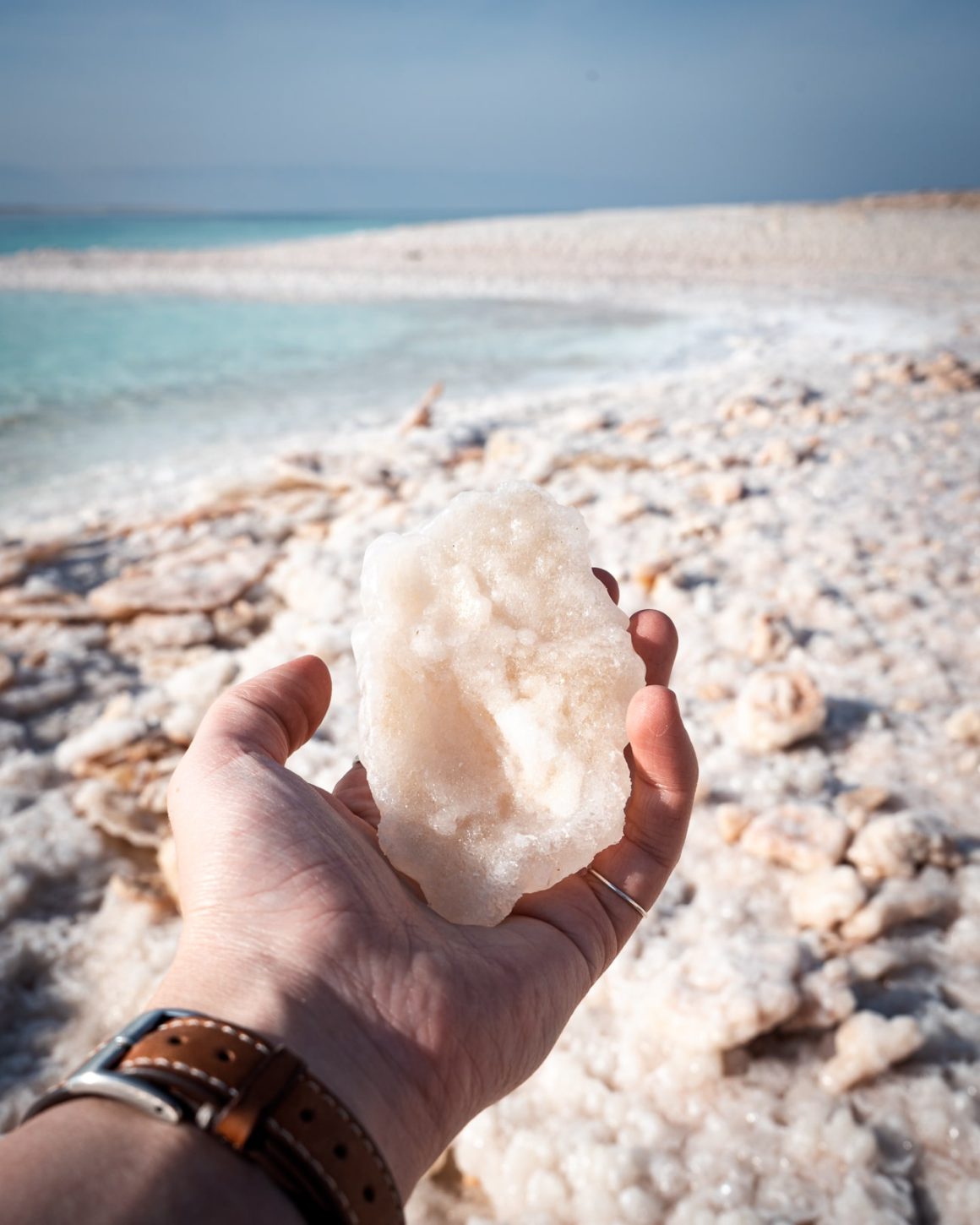 Besides the very pleasing colour palette of turquoise against the white salt, the Dead Sea is worth visiting to experience the abnormally buoyant water for a swim (or float even). But take it easy, if you have any open cuts or sensitive skin then you may experience some stinging with the intense levels of salt.
Whilst you travel the length of the country, follow the road that runs alongside this remarkable body of water to witness the beauty. Then, spend a night or two at least in one of the few hotels, to gain access to and experience the apparent natural healing properties of the mud with the Dead Sea salt.
Petra
As a UNESCO World Heritage site, a Wonder of the World and a famous set in Indiana Jones and the Last Crusade; Petra is an unmissable location on your Jordan itinerary. This historical site is easily accessed by the nearby town of Wadi Musa, which is approximately a 3-hour drive from Amman. For a more comprehensive guide, read this blog on how Petra is best visited.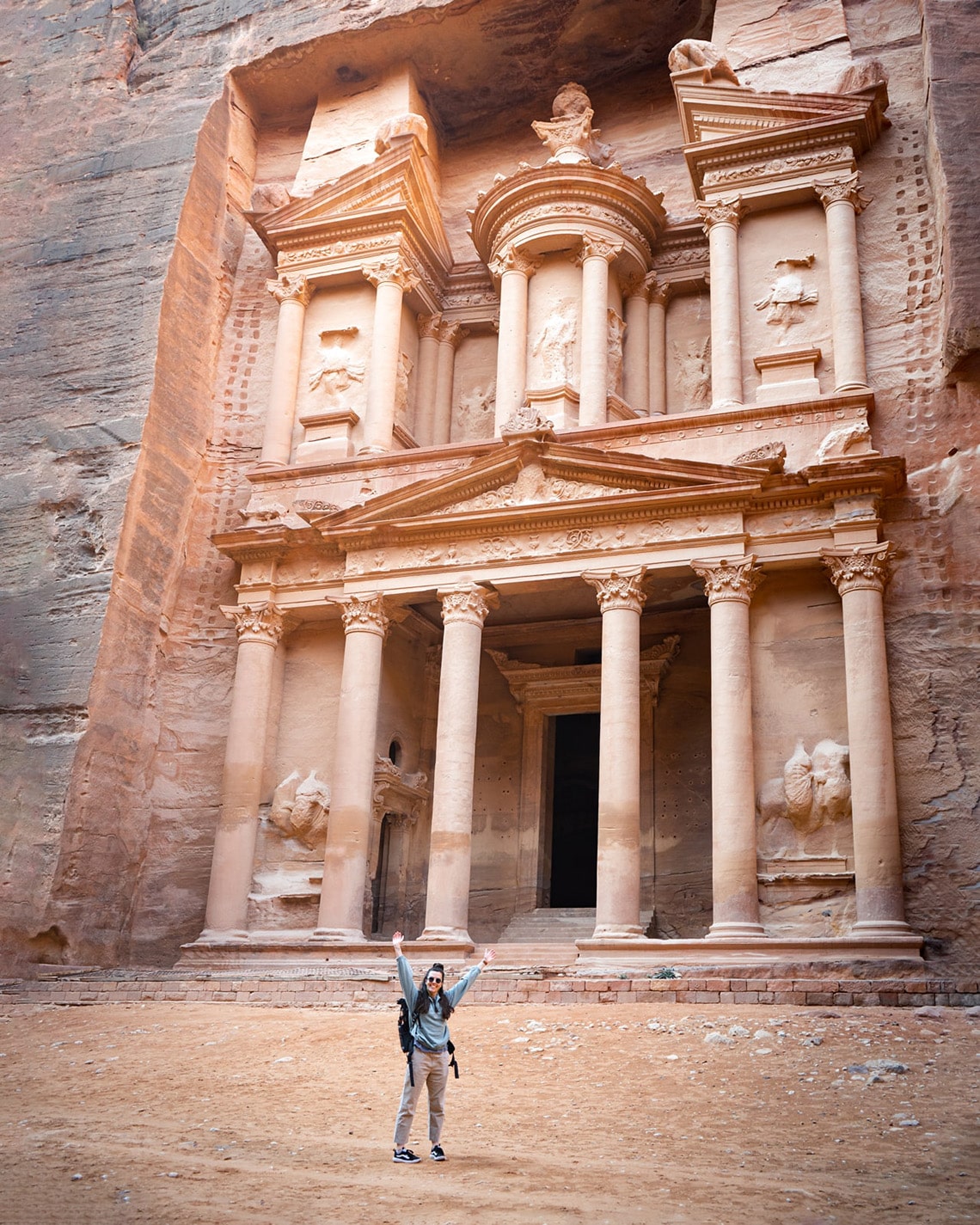 Wadi Rum Desert
Wadi Rum boasts jaw-droppingly inspiring desert landscapes consisting of stunning natural arches, prehistoric rock carvings and an overall strikingly red hue. The protected area often rivals Petra as the highlight of many travellers' visits to Jordan.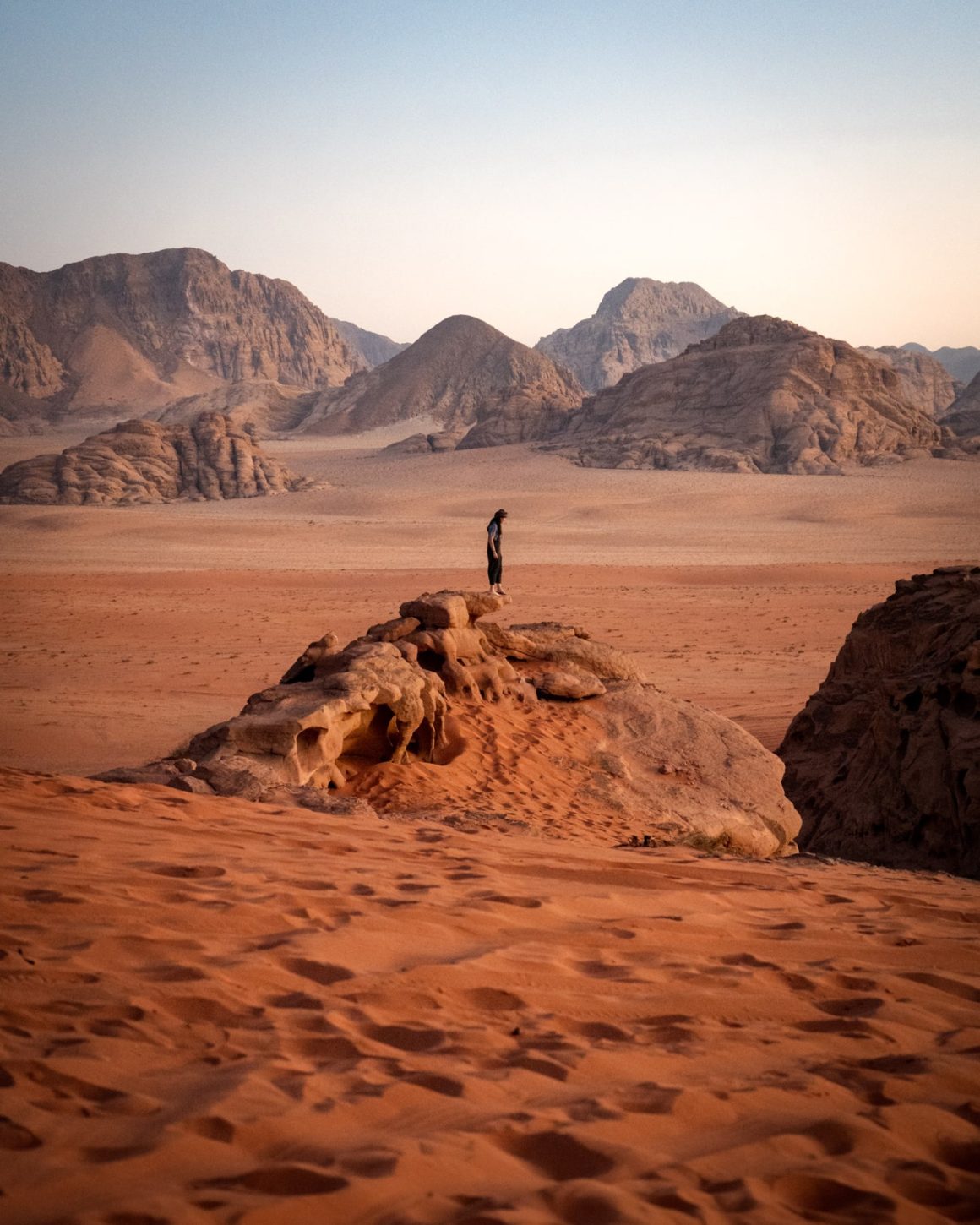 Aqaba
After having so much adventure in Petra and Wadi Rum, Aqaba is the relaxed atmosphere that you may be seeking. The town is a popular getaway for divers, snorkellers and the more laidback holidaymakers. It is also a possible starting point for many tours to Wadi Rum, or an exit point via the King Hussein International Airport.
What is the Best Way to Travel Jordan?
Public transport in Jordan can be tricky. In general, bus routes are tailored to the interest of locals and have little support for independent travellers. These buses can vary between the smaller minibuses with some larger air-conditioned coaches. In many cases, buses only depart when they're full as opposed to operating on a strict timetable.
Jordan's journeys by road are rarely arduous with the longest ride you are likely to undergo would be from Amman to Aqaba. This route can be driven within four hours or less. Though if you are in a time crunch, this can be substituted with a 30-minute flight.
With all of the above in mind, most tourists choose to travel Jordan by car at their own leisure. English-speaking drivers can be hired, though hiring your own car rental will typically go without any dramas so it's overall the recommended option.
Generally speaking, the Jordanians are more docile drivers when being compared to the citizens of their neighbouring countries. However, expect a little more unpredictability in contrast to the west. The majority of road signs are in English, but many highways lack clearly marked out lanes. Pay particular attention to pedestrians, slower vehicles without lights, camels crossing and larger speed bumps on the faster roads – they never failed to catch us by surprise!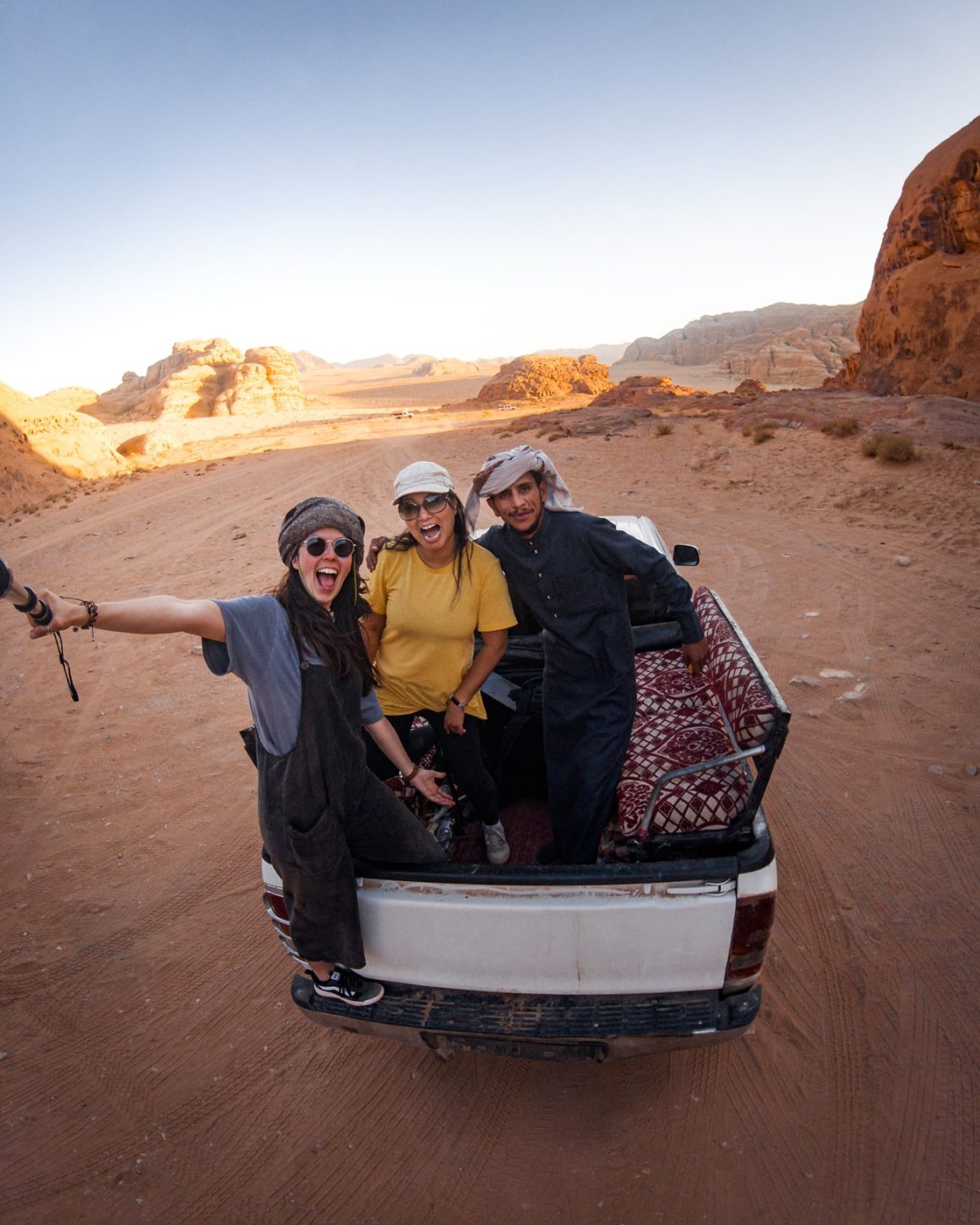 …But How is Jordan for Digital Nomads?
I must admit, I personally worked considerably fewer hours than normal when I was in Jordan. After all, there was a lot of adventuring to do! Having said that, I was pleasantly surprised at how available internet connections were in all of the popular tourist hotspots of Jordan. Heck – there were even a few Zoom calls being made at camp in the middle of the Wadi Rum Desert!
More often than not, there will be a reasonable connection in many places with the sim cards suggested earlier. Although this is, by all means, not a reliable connection for Zoom Calls everywhere. In terms of wifi connections, the below screenshots are speed test results taken in various locations.


Overall, Jordan is not known as being suitably equipped with the necessary amenities that the average digital nomad may require. Therefore, you will not come across many other location-independent working travellers in the country, nor are there any distinct digital nomad communities. It's also not the cheapest country in comparison to other Asian or Middle East nations.
In a nutshell, Jordan is not exclusively recommended as a destination for full-time digital nomads. However, if you will be required to send a couple of emails here and there, maybe upload some files or have a Zoom call with the possibility that it may lag, then Jordan isn't so bad.
ALSO: The Iraqi Kurdistan Travel Guide
So, travel Jordan for out-there adventures, for ancient history and for the joy of the local people because this country is ready to welcome you!
Yalla!
@katie.maree