Iraqi Kurdistan may not be on everyone's bucket list, but it should most definitely be on yours! The Kurdistan region of Iraq is becoming increasingly popular amongst experienced travellers, and rightly so!
The region may be haunted by war, but with incredibly crisp mountainous regions, thought-provoking historical sites, hospitable locals and a visa on arrival; why wouldn't this part of the world be your next off-the-beaten-track destination.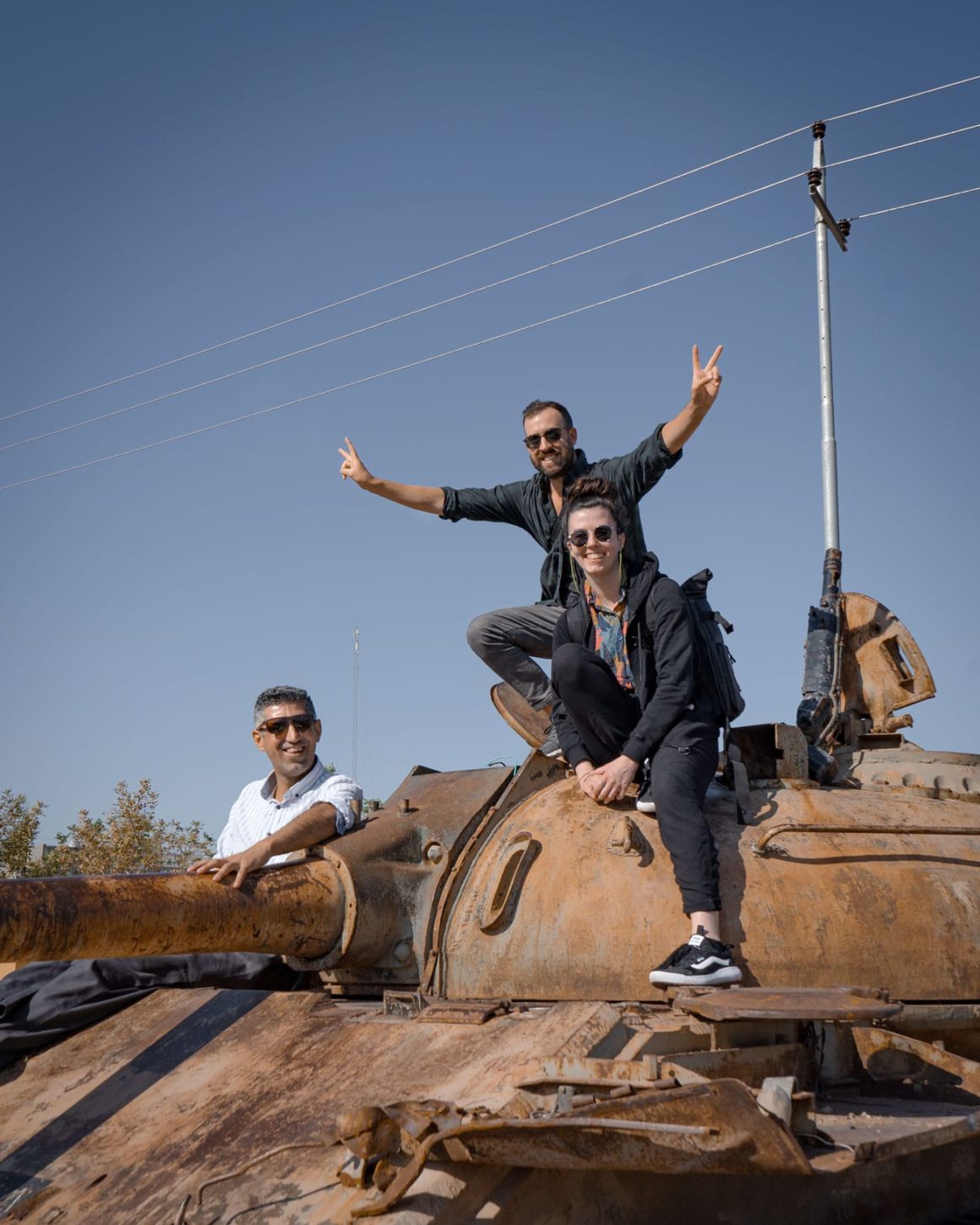 About Iraqi Kurdistan
Within the north of Iraq, bordering with Syria, Turkey and Iran, is the Kurdistan region. This place is home to some of the most jaw-dropping landscapes, historical sites and local stories in the Middle East!
Is it Safe to Travel Iraqi Kurdistan?
Firstly, it is important to note that the answer to this question is very different when being compared to Southern Iraq as Iraqi Kurdistan is a semi-autonomous region with its own military force, the Peshmerga. You may hear of instances still happening in Iraq from the media, but these situations typically occur out with the Iraqi Kurdistan border. The Peshmerga manages strict operations and checkpoints to ensure the safety of the Kurdistan region.
Based on my personal experience, Iraqi Kurdistan is very safe. There wasn't any moment that had me in doubt of this. The Kurds are polite, honest, trustworthy, and reserved but friendly. I felt no need to clutch my valuables or lie about my marital status. Nor were there any scams, aggressive selling, catcalls or violations of personal space.
I had spotted a few solo female travellers which I would not shy away from doing so myself in Iraqi Kurdistan. However, if you wish to add to the confidence of your safety then you can take an organized tour with an experienced guide.
Nevertheless, Iraq does have the potential to be extremely unpredictable so please partake in your own safety assessments.
How to Get to Kurdistan?
By Air
There are two international airports in Iraqi Kurdistan: Erbil International Airport and Sulaymaniyah International Airport.
Erbil International Airport is the most commonly used with a greater number of flights landing from international countries. You can catch a flight into this airport from either Istanbul, Dubai or Vienna in Austria. Pegasus and Fly Dubai are amongst the cheapest, but Turkish Airlines can offer convenience and better times.
By Land
It is possible to cross the border into Iraq from Turkey and Iran. Generally, the Turkish border control is stricter than the Iranian.
Important Note: Drones are prohibited in Iraq and Iran.
When is the Best Time to Travel Iraqi Kurdistan?
Temperatures in Iraqi Kurdistan can reach a staggering 40 ℃ during the summer months, especially in the cities of Erbil and Sulaymaniyah. Therefore, it is advised that those months are to be avoided.
Consider going in September, October or November for the autumnal landscapes or March, April and May for the plants to be in full blossom.
During these months, the temperature is considerably more manageable between approximately 10 ℃ and 30 ℃ – though it should be noted that this feels much warmer than in Europe.
Personally, I travelled to the Kurdish region at the beginning of November. There was very little rain, autumnal colours were visible and I rarely needed a jacket (or jumper), unless I was on much higher ground. In addition, there were some early sightings of snow beginning to settle on the highest mountain tops.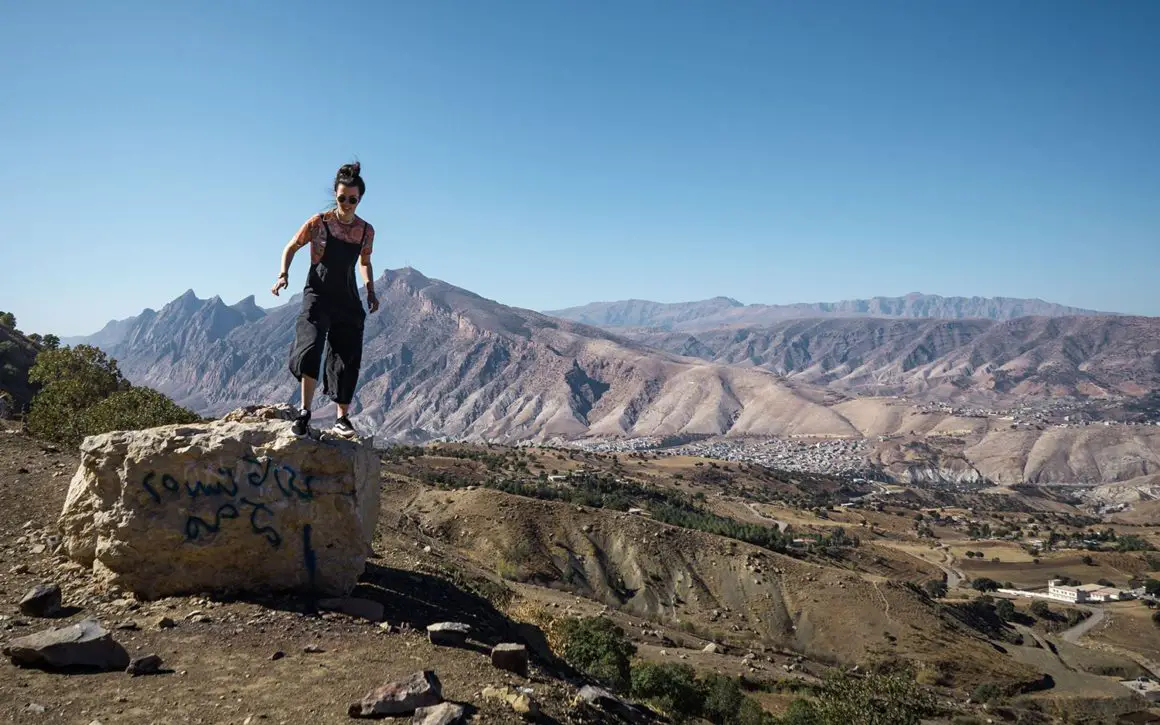 Iraqi Kurdistan Need-To-Know Travel Facts
Languages
The official language of Iraq is Arabic, but inside Kurdistan, it's Kurdish. So if a Southern Iraqi is having a conversation with a Kurd, you may even hear them speaking in English. Though generally, the population doesn't really speak much English. Like many countries, you will have more luck speaking English to the younger Kurds rather than the older generation.
Currency
The official currency is the Iraqi Dinar, but US Dollars are widely accepted.
There are many places in which you can exchange currencies in the larger cities. This is typically done across small stalls that have zero security. In my experience, these were found to be very trustworthy. Though to be sure, check their exchange rates against those online at the time.
Iraqi Kurdistan Visa
Passport holders of a few 'western' nationalities can receive a visa upon arrival when entering Iraqi Kurdistan. This applies to both land and air arrivals. However, this visa will not allow any visitor to cross the Kurdistan border into Southern Iraq.
If you are flying into Erbil International Airport, then you will notice a smaller desk for visas in front of the main passport control booths. The visa will only take a few minutes to be issued.
The cost of this visa on arrival was 75 USD (as of November 2021). Therefore, make sure to have plenty of cash on hand as they do not have any card machines or accept any alternative currencies.
This visa is valid for 30 days.
Iraqi Kurdistan Internet
There are SIM cards available with unlimited internet in Iraq. Obviously, flawless coverage is by all means not guaranteed but there was enough signal for the SIM card to be worth investing in. Otherwise, you will find that most restaurants and hotels usually offer guests free wifi.
Iraqi Kurdistan Travel Insurance
Iraqi Kurdistan is not covered by all travel insurance companies since the official government guidelines still advise against any unnecessary travel to the region. Be sure to check yours!
What to Wear in Iraqi Kurdistan?
This is a completely valid question as not every outfit will be fitting for the Kurds. The locals can be very forgiving to foreigners, but it should still be necessary to dress as appropriately as we can out of respect.
Basically… Intend to have your shoulders, chest and knees covered at all times. Head scarfs are only worn by married women (if they want to), so they aren't necessary for foreigners unless you are visiting a mosque.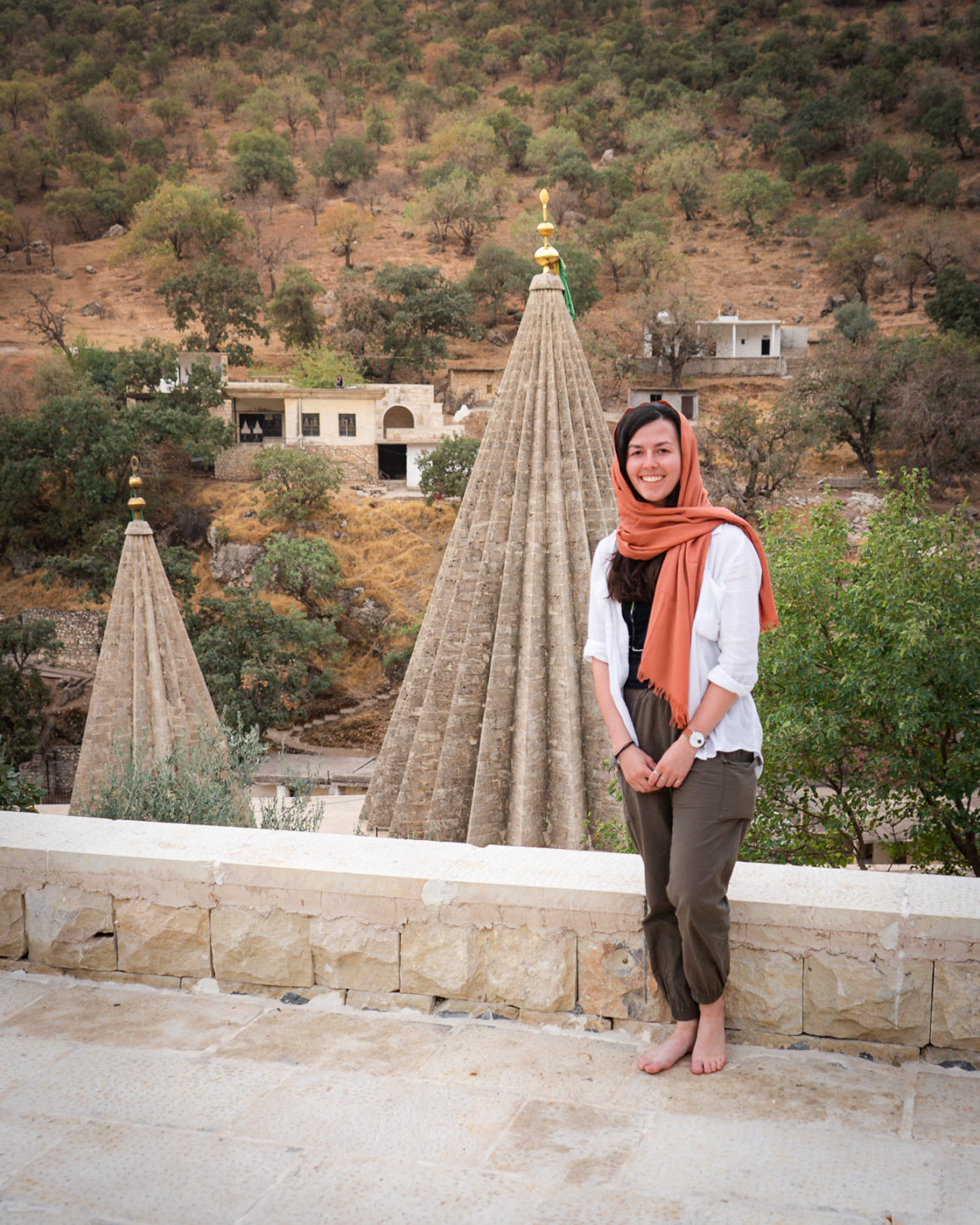 Read Also: Best Camera Gear & Travel Essentials
Iraqi Kurdistan Food & Drinks
If there is one thing of certainty, it's that you will not go hungry whilst travelling the Iraqi Kurdistan region! Within seconds of settling at a restaurant table, you will be welcomed with an abundance of side plates full of salads, soup, beans and bread.
Main Meals
Kurdistan's common dishes consist predominantly of meat (though vegetarian and vegan options can be found). There was a tendency to always be a kebab on the menu whether it be chicken, beef or lamb. This would be served with bread. Alternatively, grilled meat could also arrive on a mound of rice.
I recommend trying the sheep's testicles – if you haven't before!
Sweets
Like in many middle eastern countries, Baklava is a common choice of sweet snack in Iraqi Kurdistan. This includes pistachios, sugar, lemon juice and the dough. Although always have a tissue to hand – these are not the cleanest of foods to be eating!
Another sweet dish, and a favourite of mine, is the Kunafa. This is a traditional dessert to the Middle East that consists of shredded dough, sugar and cheese with quite commonly a topping of crushed pistachios and a dollop of ice cream.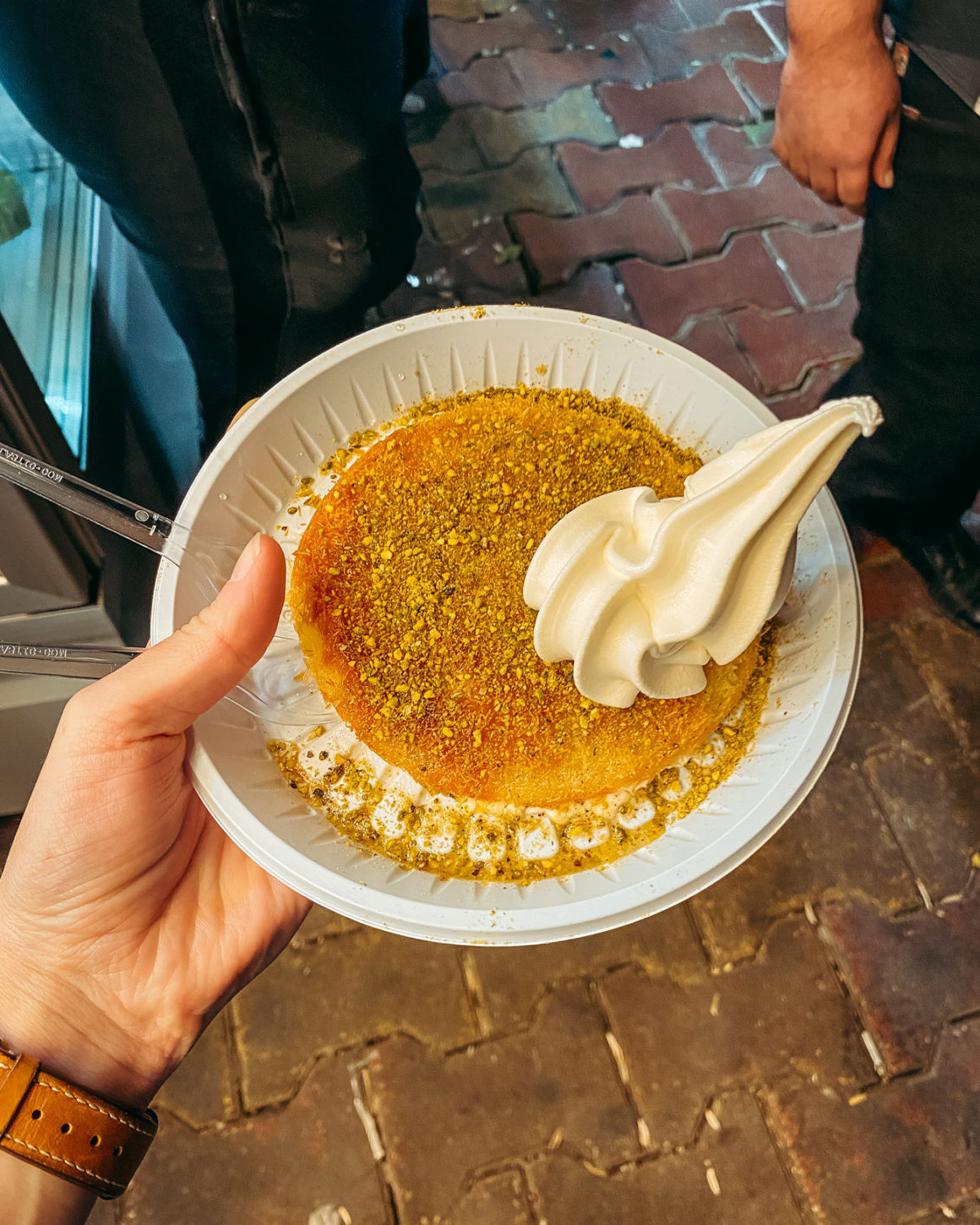 Drinks
Kurdish Tea is everywhere! Make sure to take some timeout with the locals in a cafe. They are an experience in themselves, especially if you come across one that hosts game-playing.
Pomegranates can be found almost everywhere in Iraqi Kurdistan – a perfect snack for keeping your immune system in check during your travels. Of course pomegranates are not the easiest of fruits to eat on-the-go, especially whilst you are travelling, but the Kurds quite often sell the pomegranates as a fruit juice and bazaars or even as a sauce.
See Also: Ultralight Packing Secrets for Full-Time Travellers
Let's Go!
@katie.maree