Socotra is an adventure of alien-looking trees, deep and dark caves, refreshing pools and endless beaches. It's an island of both incredible ecological diversity and a charismatic population. As a visitor, the off-the-beaten-track experiences are endless! For that reason, you may be wondering what items you mustn't forget to add to your Socotra Packing List.
As a remote island, one of Socotra's challenges is the lack of infrastructure. Visitors should not arrive expecting much in terms of bathrooms, internet, electricity or even running water. The typical trip to Socotra will include camping – wild camping. Therefore, you should come prepared to endure all the elements in your most practical clothes.
Don't have time to read this now? Pin this blog for later.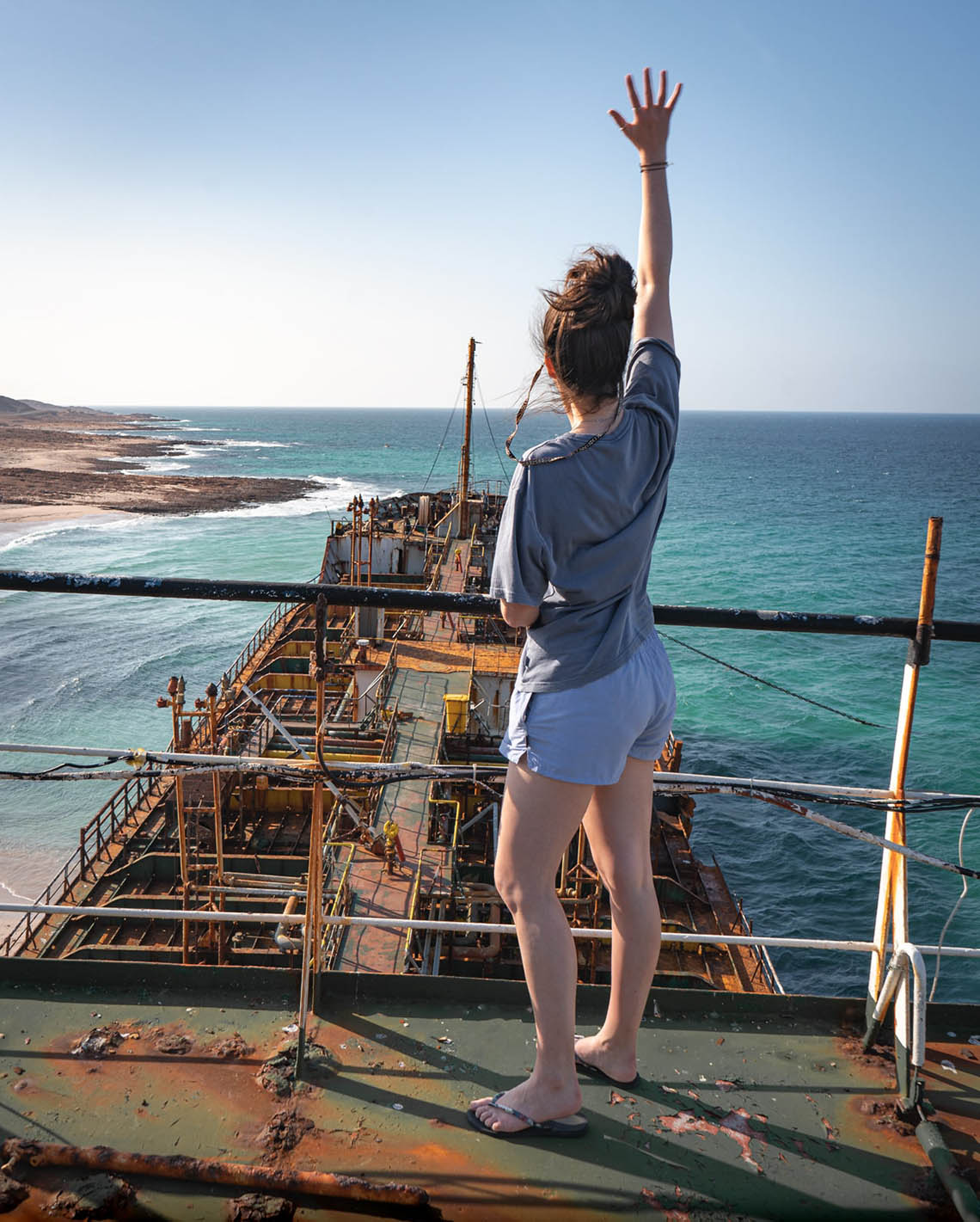 Disclaimer: This post contains affiliate links which means that KatieGoes receives a small amount but you still pay the same. The contribution helps to support the continued creation of these blogs – win, win! Nevertheless, I only recommend personal favourites that I've tried, tested or have first-hand knowledge of.
Socotra Packing List
Luggage
The first, and arguably one of the most important packing decisions you'll make, is which bag to pack your belongings inside.
Most visitors arrive on the island on the only weekly flight. Therefore, normal airline procedures will restrict the size and weight of your luggage. From there, your luggage will be transported around the island inside a 4×4 Land Cruiser, so you shouldn't need to worry about carrying your belongings too far. However, if you are on a group tour, your luggage will need to be small enough to squash into the back of these cars with the luggage of the other travellers in the group.
Large Backpack
Like everywhere I go, I personally travel with the Wandrd Prvke 11L or 21L, although I'd recommend the Osprey Farpoint or a Patagonia Duffel as a cheaper alternative.
Suitcases with wheels would not be advised due to the terrain of the island. Although I, personally, have witnessed a few braving the island with roll-on suitcases. They are just simply not very practical when you'll be moving daily between cramped car journeys, sandy beaches and small tents.
Day Bag
There isn't as much importance on day packs in Socotra as there is anywhere else, because you'll probably find that the Land Cruisers become home to a scattering of your belongings instead. The longest hike will likely only take a couple of hours, so your daypack will only need to hold water, camera equipment, a towel and sunscreen to withstand these mini adventures.
With all my equipment, I travel with the Wandrd Prvke whilst others could be more efficient with a Wandrd VEER or even a Salomon Trailblazer. If you think you'll also be doing a spot of laundry, then it might also be worth looking into Scrubba's Clothes Washer Stealth Pack which can also be used as a portable camping shower.
Clothing
For the most part, the residents of Socotra have become accustomed to seeing tourists, so you will not need to be overly concerned about dressing as conservatively as you would on the mainland. That being said, being respectfully dressed is always appreciated by the locals. On the other hand, it is recommended that women cover their knees and past their shoulders with loose-fitting clothes whilst they are visiting Hadiboh and the smaller villages. Headscarves are not required.
The temperatures in Socotra can range from 20°C to 32°C. Practicality is key on the island of Socotra as you will be constantly switching between hiking, swimming and driving. Light, breathable and quick-drying materials will be key to coping with the transitions between the various activities and weather conditions. Temperatures can drop in the evenings, especially in the mountains so a light jacket is recommended.
There will be no laundry services in Socotra, so take as many clothes as you think you'll wear. However, you may at times have enough running water to attempt your own washing. A Scrubba Wash Bag may help you in such situations.
Other essentials that you mustn't forget include:
Swimsuits
Rash Vest
Sarong/Scarf
T-Shirts
Long Sleeve Shirt
Fleece
Board Shorts
Trekking Trousers
Underwear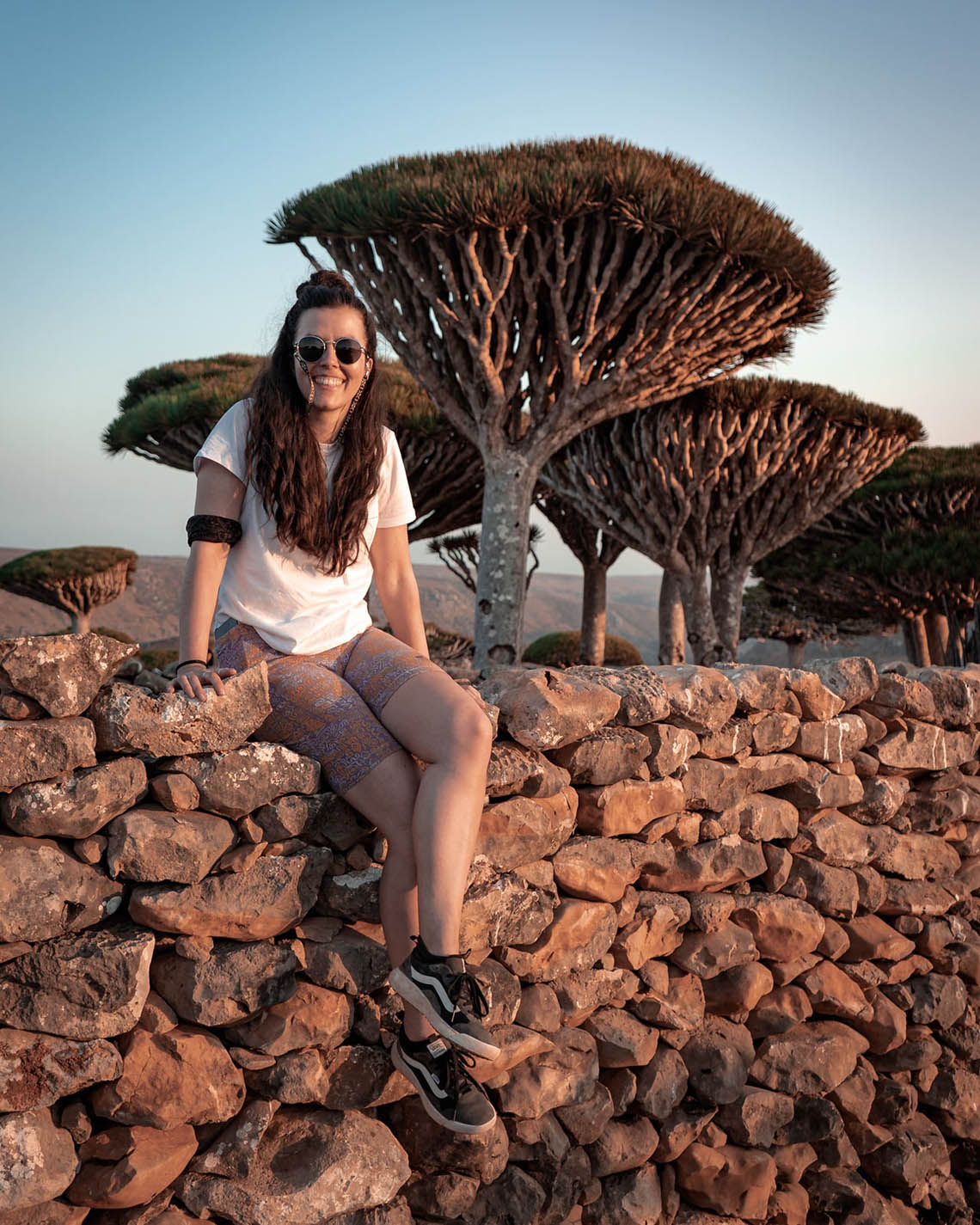 You may also notice my Buff in the above photographs. This is one of the most versatile travel items as it can be used for warmth, sun protection or just pure comfort.
RELATED: The 13 Best Things to See on Socotra
Accessories
Be prepared to experience little to no shade on Socotra Island! I wouldn't return without a sun hat (waterproof if possible) and sunglasses with some adjustable straps.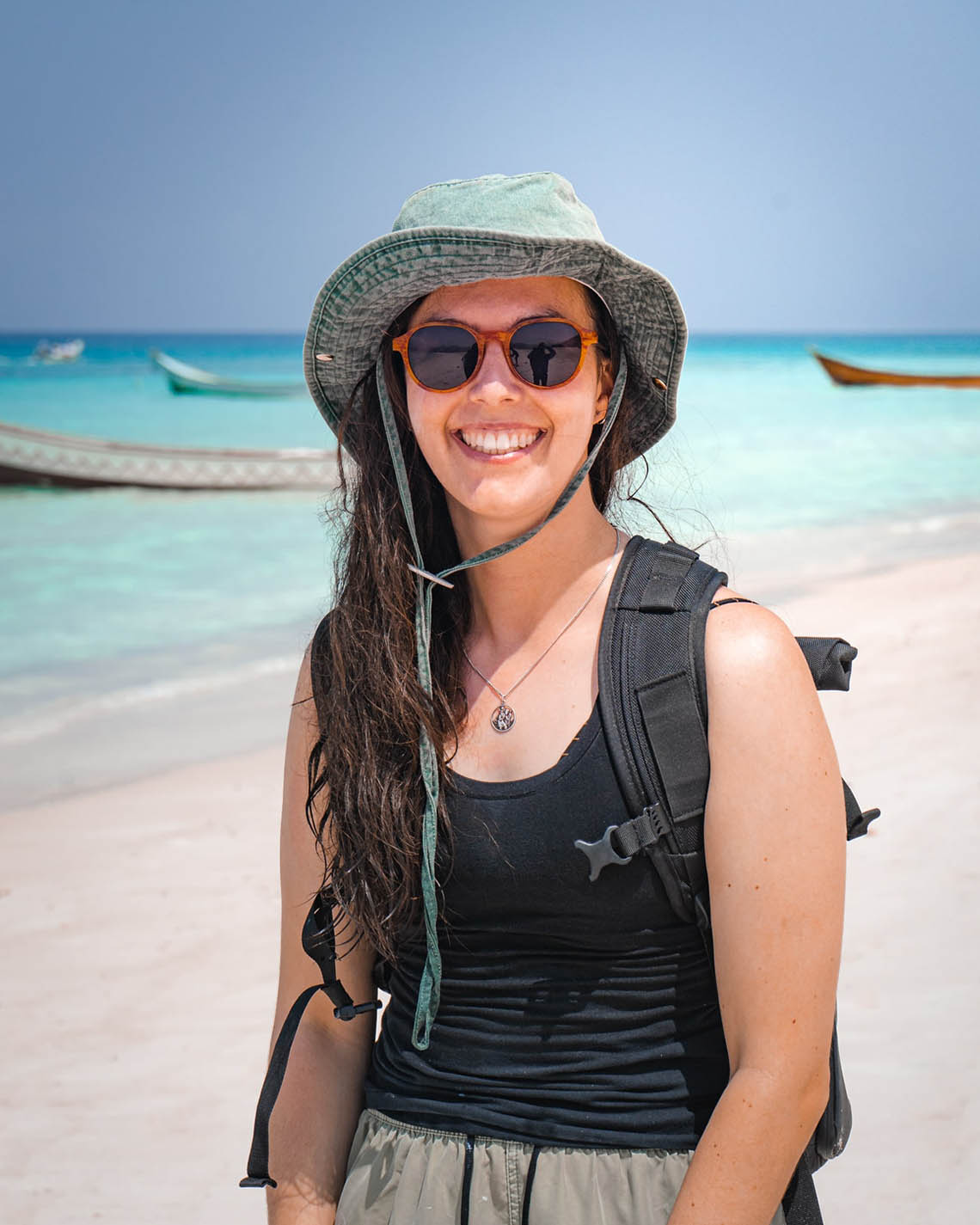 Footwear
With the many beaches, pools and sand dunes on the island of Socotra, you will want to be as amphibious as possible. Then at the same time, your shoes should also be very sturdy and comfortable for small hikes.
Tevas (for both men and women) or water shoes are ideal. In addition, I also had my Vans Ultrarange Sneakers for the longer hikes, especially to Hoq Cave. These are also available for men too.
TIP: The convenience of slipping on and off flip flops is perfect for keeping the sand from your tent at night.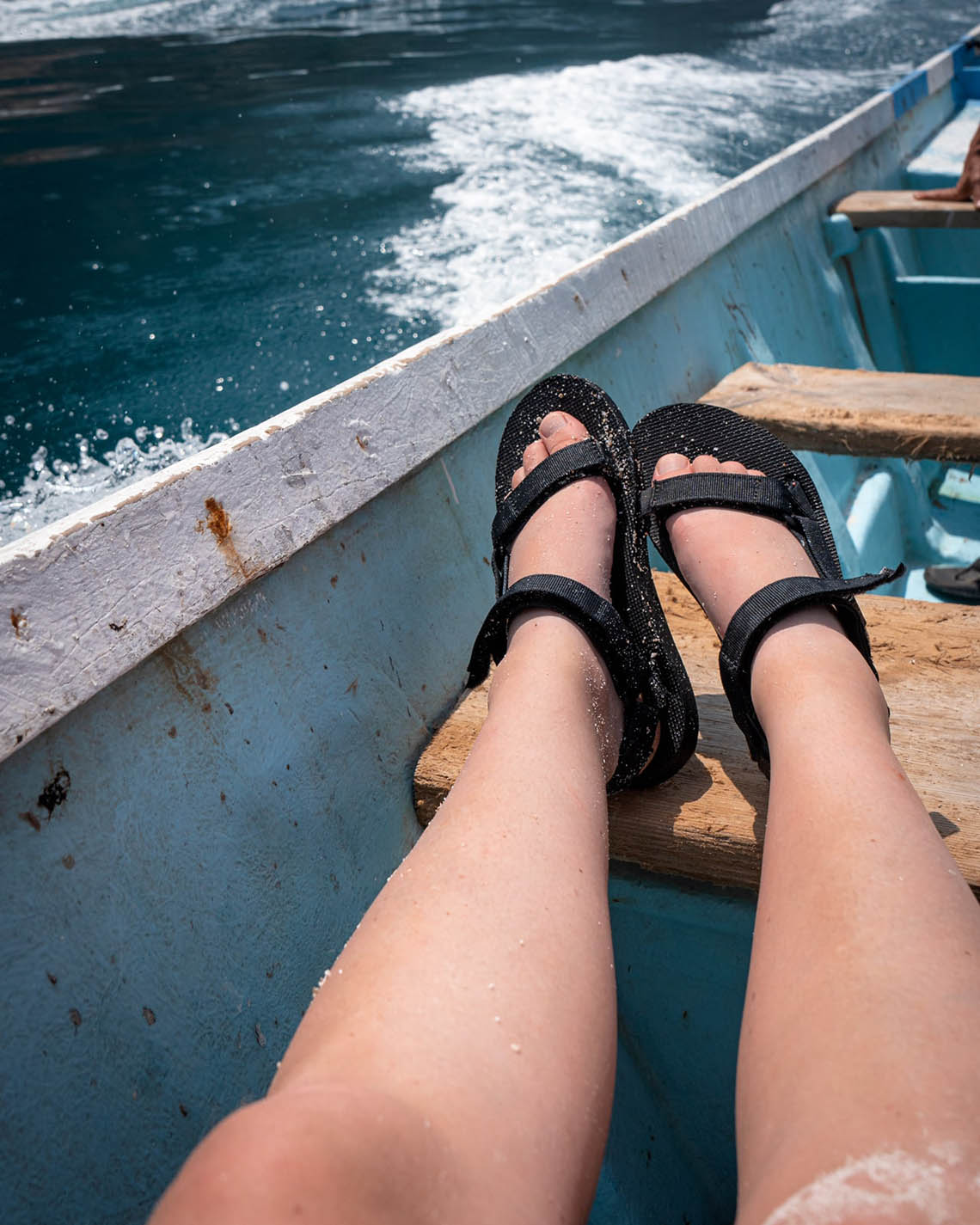 Electronics & Camera Gear
Naturally, on such a remote island, there will be very little access to electricity. For the most part, visitors and locals will rely on the car cigarette lighter to charge their electronics. Therefore, a cigarette-lighter charger and battery bank will be extremely handy (if not, essential)!
REMINDER: Make sure to charge all your electricals beforehand.
Whilst some travellers bring a solar charger, I personally, find them to be quite a farse.
As a digital nomad and travel blogger, I tend to take more electronics than the average traveller. However, it isn't just me; Socotra is a haven for photographers and videographers alike! For more information on my particular setup check out the KatieGoes Gear Page or read the Best Camera Gear & Travel Essentials for Digital Nomads.
DSLR
There are many cameras on the market that will be more than suitable, but the Sony A7III is my weapon of choice. It isn't the most compact, but it's surely capable!
Action Camera
Capture literally everything with the versatility of an Insta360 waterproof camera. Unless you already have a GoPro, then ensure to have the best accessories too.
RECOMMENDED: Peak Design's Camera Clip allows you to adventure hands-free in the knowledge that your camera is safe, but still quick-to-access.
Drones are legal on the island of Socotra. However, you may struggle to travel with one in your possession throughout other nearby countries in the region. For example, if the weekly flight from Socotra is cancelled, the alternative is typically to fly via Cairo. Egypt has prohibited the use and possession of drones without permission, so there is a high likelihood that your drone would be confiscated. For that reason, you should only include a drone in your Socotra Packing List at your own risk.
If you are serious about capturing the beauties of Socotra, you may also want to consider bringing a lightweight tripod to the island. This would be essential for capturing the starry night skies and the possibility of some bioluminescence.
Miscellaneous
Snorkelling Gear
If you prefer your own, then by all means but snorkelling equipment can be rented at the appropriate spots on Socotra.
Dry Bag
Protect your belongings and electricals from the endless amount of water, sand and dust you will experience with a simple dry bag.
Travel Guide
So far, Bradt is one of the only travel guides dedicated to the island. To keep your luggage lightweight, there is also a Kindle Edition.
Water Bottle
Unfortunately, plastic bottles are in an abundance on the island. Take a foldable bottle or Hydro Flask in an attempt to waste less single-use plastic wherever possible.
Head Torch
A head torch will be necessary as you arrange for a night's sleep in your tent. You will also need good light to find the beautiful formations in Hoq Cave.
Clothes Line
With so many water activities, your clothes and swimming gear will need the evenings to dry. Bring a line to avoid the hassle of finding a makeshift alternative.
Waterproof Playing Cards
Once the day has disappeared you may be wondering what next, especially if you are visiting with a group of other travellers. Waterproof Playing Cards are great!
Travel Towel
You'll be in and out of the water in Socotra all day and every day so you should come equipped with the lightest and quickest drying towel for your pack. Matador sell my personal favourite!
Portable Lantern
The evenings can turn dark quickly. Set the ambience, or at least know where you are peeing, with a solar rechargeable flat-pack lantern. Fairy lights are great and easy to carry too!
Camping gear is typically provided by tour companies on the island, but you may prefer to have your own tent, sleeping bag, pillow and mat. This is a personal choice, but I'd say it isn't necessary.
Consumables
It's highly unlikely that you'll come across any of your typical toiletries, if any at all, on the island of Socotra. You should come prepared!
Unless you are staying in Hadibo the entire time, most evenings will be spent in a tent on a beach. The facilities at each of the campsites vary from no showers to basic concrete-block rainwater showers. It's the same for bathrooms; there can be nothing or sometimes you can be surprised by a western toilet. Hence why you will need to be prepared for illnesses and every hygiene eventuality.
Visitors' consumables should be natural, organic and biodegradable to avoid damaging Socotra's marine life and landscapes.
READ: How to Keep Your Camera Gear Safe Whilst You Travel
Documents
There shouldn't be too much paperwork to worry about for your Socotra Packing List. Though visitors should arrive with printed copies of important documents; including your passport, travel insurance, plane tickets and vaccine certificate.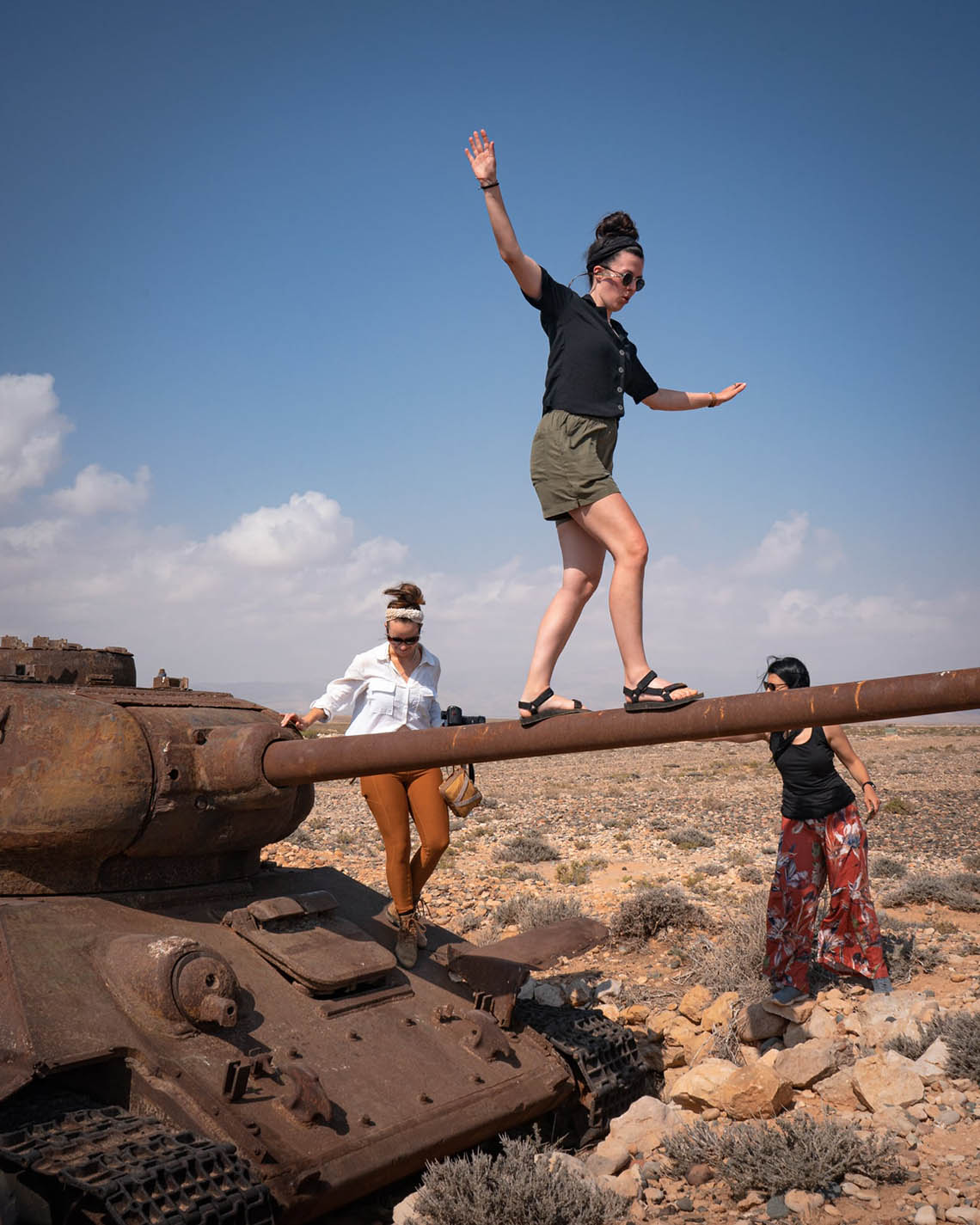 Money
The following information should be read on the assumption that you'll travel to Socotra on an organised tour.
Overall, visitors should bring US Dollars to the island of Socotra. The locals are quite particular about the cash; they will only accept undamaged notes that aren't any older than 2006. It simply will not be accepted. If you've already paid for your tour, then money will most likely only be used as a tip for your guides and to rent snorkel or diving gear from the marine reserve.
You can change USD locally on the black market in Hadibo, but the process is a little complex so guides try to keep any transactions in US Dollars.
There are no ATMs on the island, and credit cards are not accepted anywhere. Therefore, you must travel to Socotra with the appropriate amount of cash. Western Union and Money Gram are available in Hadibo for emergency situations.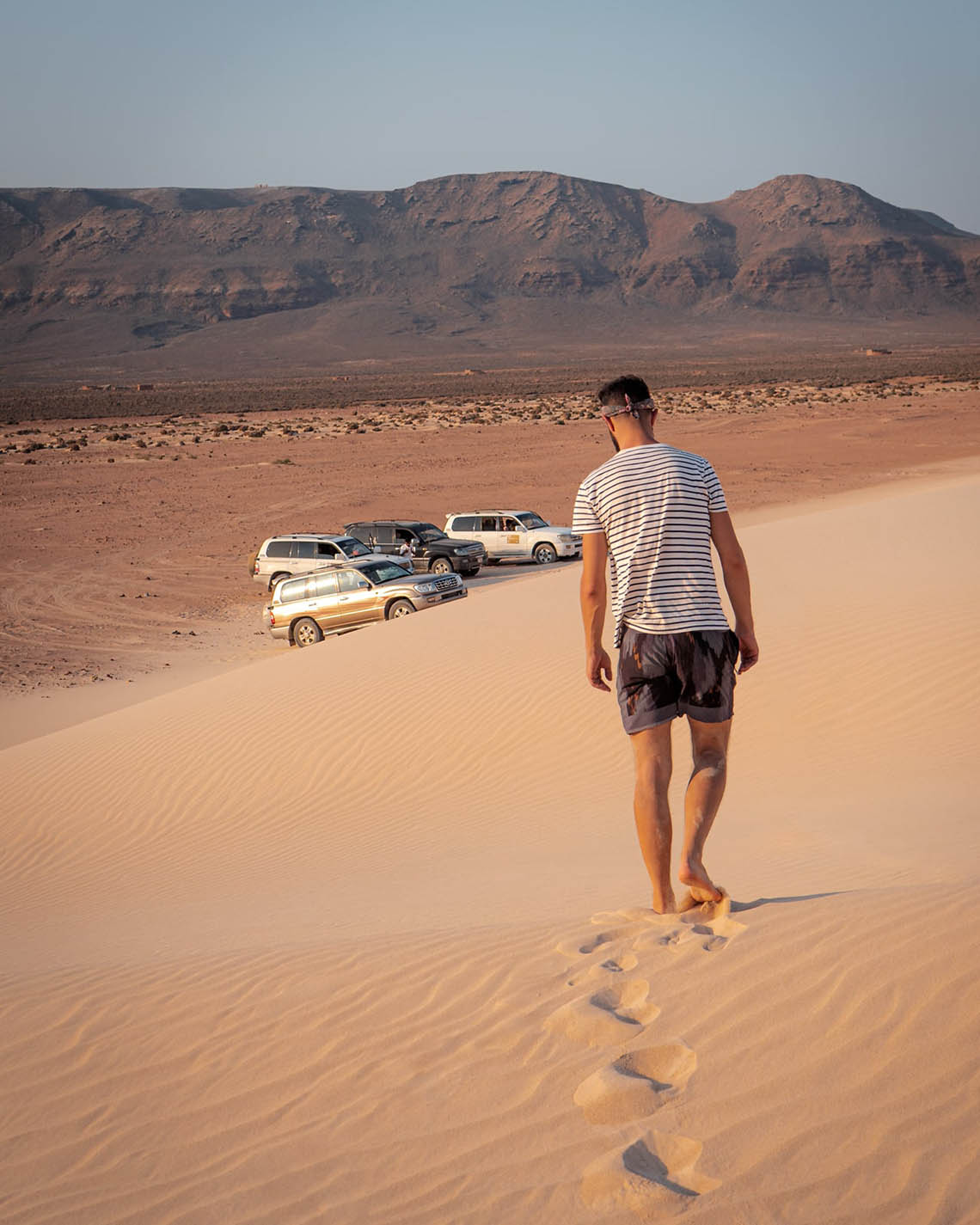 RELATED:  The Best Time to Visit Socotra
Connectivity
Internet and mobile coverage is extremely limited in Socotra. Some hotels have a wifi hotspot, but you'd probably have to request this and the connection will be temperamental.
Overall, the typical traveller to Socotra will travel without any means of connectivity. After all, would you really want any distractions whilst you're visiting such a paradisical island?!
If you are travelling on a group tour, your guide may be able to help send a message or two from their phone if there is an emergency. Their signal will be patchy with coverage ultimately being around the main towns.
The availability of signal from an Emirate SIM card is just as good, if not often better than a local SIM card. If you are eager to stay in touch, buy a pre-paid plan in Abu Dhabi before you depart from Socotra.
Connectivity might not be an essential on your Socotra Packing List, but if it is then some travellers come equipped with a Garmin InReach. This device can send and receive messages via satellite signals.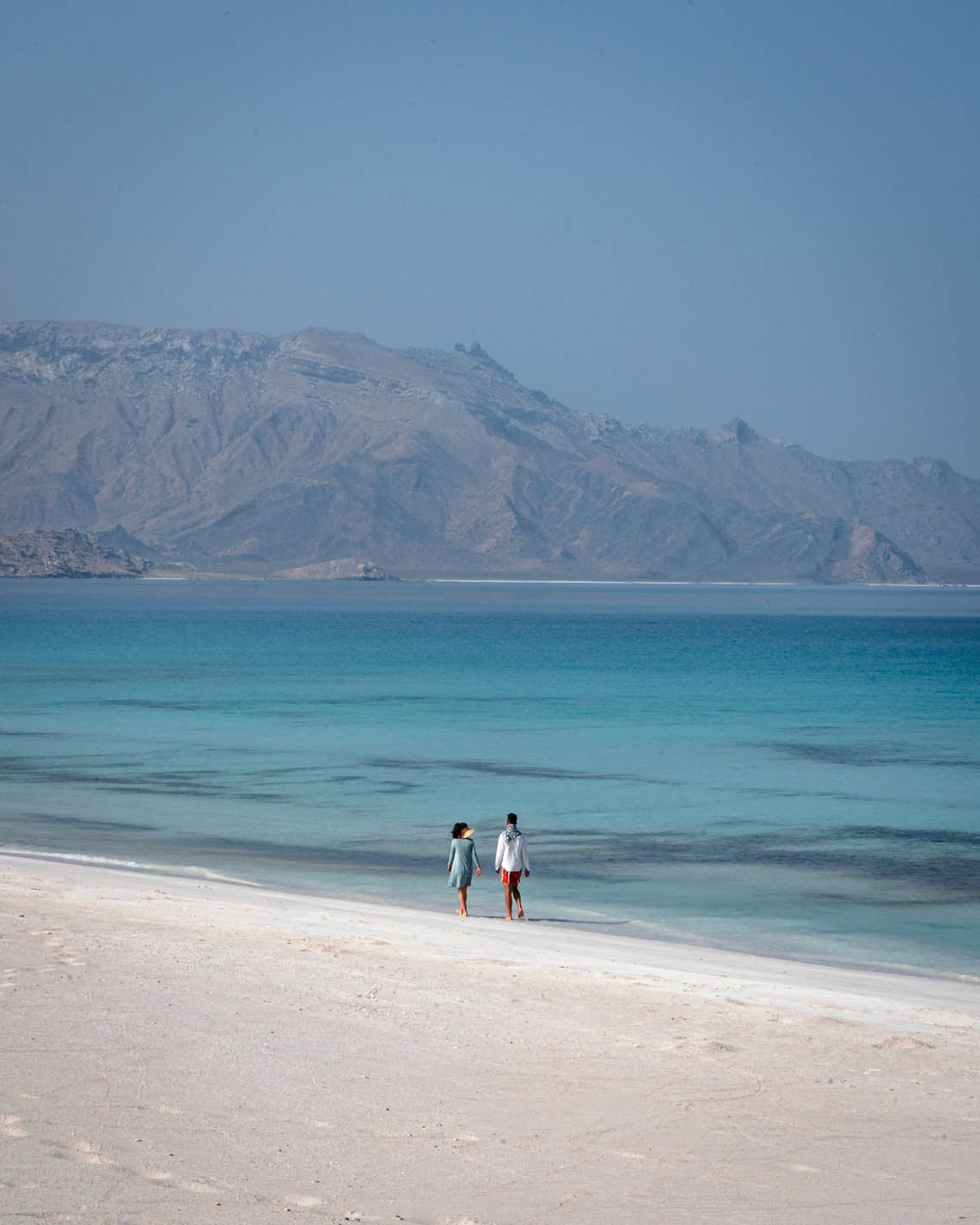 SEE: Ultralight Packing Secrets for Nomads & Full-Time Travel
All things considered, the most important items on the Socotra Packing List will be your swimsuit and your adventure shoes. The island of Socotra isn't a place where you need to be equipped, but a space to show up with the bare minimum and a readiness to bear the elements. After all, everything you do bring, you'll be emptying sand from for weeks after.
Let's go!
@katie.maree
---
Did You Know…
If you purchase through a KatieGoes link, we receive a small amount but you still pay the same. This contribution helps keep this blog moving – win, win! Nevertheless, I only recommend personal favourites…
---
Save this on Pinterest
Do you not have time to read this Socotra Packing List now? Click on the Save button to pin this article for later.