Based on true success stories, this step-by-step guide of Upwork Tips for Beginners will explain all of the secrets to winning your first client.
Upwork is the number one online job board that's specifically tailored to connect freelancers with businesses who seek professional services. In my view, it's the easiest and fastest way to find clients as a freelancing newbie. Finding success on Upwork can quickly boost your remote career, whether you are hoping to work full-time, part-time or on a project-to-project basis.
Follow these Upwork Tips for Beginners…
1. Make Sure To Include A Decent Profile Photo
Like in reality, we feel that strangers are more trustworthy if we can see their faces. So, the clearer and more personable your profile picture is; the more likely potential clients will find you honest and convincing. Here are some points to consider when selecting your profile photo:
Avoid the use of stock photography! You never know when the client will request a video call. They'll soon find out that there's a mismatch between their face and their personality.
Logos can look professional, but without seeing a face, you will be making it harder for the client to form a connection.
Try to use a photo that doesn't have a distracting background.
The profile photos are small on Upwork's site so use a close-cropped image.
Smile! You want your photo to be friendly, so try not to look too serious.
2. Stand Out With An Introductory Video
Introductory videos are a much easier way to instantly showcase your personality and communication skills to potential clients. If you are not comfortable on camera, you could even create an animation that displays your previous work and testimonial. This video needn't be any more than a minute.
3. Create A Banging Proposal Template
Time is money as a freelancer. Therefore, you should create a templated proposal that is suited to your niche as opposed to writing new versions each time you apply to a listing. That way, you can copy and paste the text to each job application for next-level efficiency whilst eliminating any errors or typos.
Once you spend more and more time applying for jobs on the platform, you'll begin to learn what lines bring results or areas in which clients ask for more information. Keep updating your template to suit these requests. Then, before you know it, you'll have a banging proposal!
Here are a few general points to keep in mind whilst you compose your proposal template:
Divide your text into small, skimmable paragraphs. Clients don't have time to read countless lengthy proposals.
Try not to repeat the information that's already laid out on your profile.
4. Tailor Your Proposal To Each Application
The communication style that you portray in proposals will be one of the first glimpses the client will have to form an impression of your work ethic and energy. Whilst they are hiring, clients will read your proposal to find out exactly why they should hire you specifically… So give them a reason! Even better, give them a reason that's tailored to their specific job and is supported with proof. Examples of this are as follows:
Start your proposal by including the client's name or company. This personalisation will help the text to feel less templated.
Try to include examples of similar past projects and testimonials. These will be particularly advantageous to the client if they are similar to the job requested on their brief. If they are appropriate, they will help to assure the client that you are capable of completing their task.
Encourage your client to continue the conversation by asking them for more information, like a link to their website. This helps to build trust and shows that you are eagerly taking an interest.
Let the client know why you chose to apply for their job specifically. Perhaps you have a particular passion for the industry their company is based within or maybe you'd just like to support their business… This will comfort the client in the knowledge that they are working with a freelancer who appreciates their business as much as they do.
If appropriate, take your time to outline how you intend to complete their job. Furthermore, possibly even give them a time frame that you know you can stick to.
One point to note is, sometimes Upwork clients include a codeword within their briefs. They ask freelancers to include this word in the proposal. This is a cunning way to catch out those who haven't read their job description thoroughly. Don't get caught out!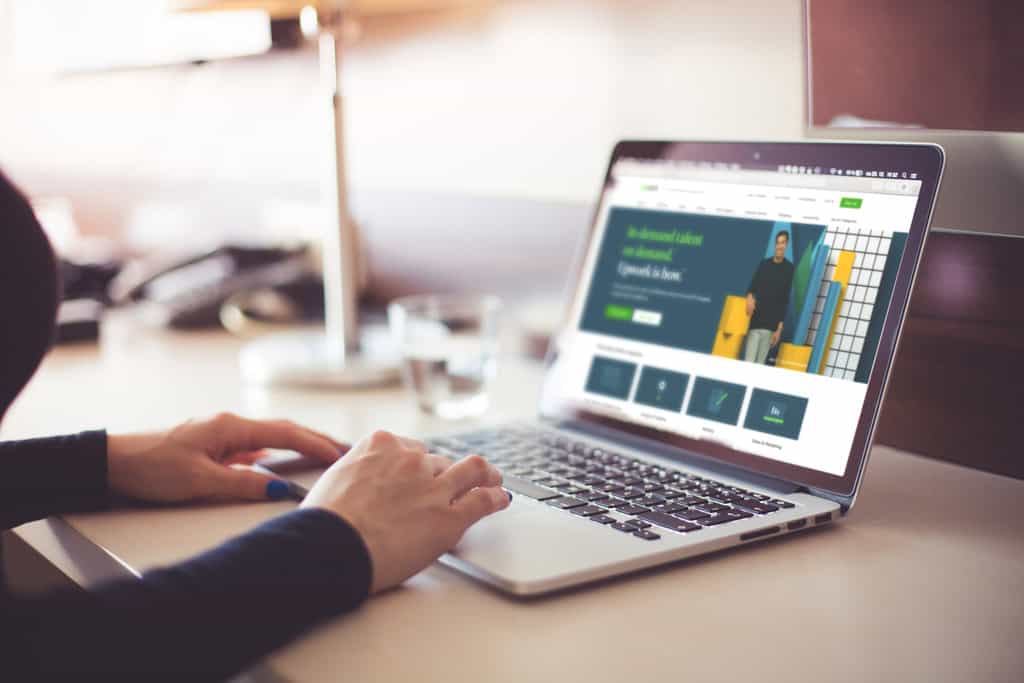 ALSO: 

Working Remotely (How to Get Started)
5. Drop Your Rates To Gain Your First Review
If you're just starting, you'll have no reviews. Through the eyes of a client, this makes you a gamble. They have no real proof that you are capable of doing what your profile says you can do. Consequently, I hate to say it but, decrease your hourly rate to encourage those who are interested. Explain your situation to clients by letting them know your prices are lower in comparison to your levels of expertise. This often puts them at ease, and they'll be less shocked when you begin to rapidly raise your prices after a short period of time.
Remember: Reviews are key to increasing your chances of being hired on Upwork!
Alternatively, my advice would be to ask a friend, acquaintance, colleague or family member who would genuinely use your services. They could hire you on Upwork to complete a small job.
6. Apply For MANY Short Term Jobs
Beggars cannot be choosers here; apply for as many short-term jobs as possible. But nevertheless, be careful to only apply for those which you are certain you'll be able to complete.
By applying for short-term jobs, you'll be able to complete more within a quicker timeframe. Then in return, you'll receive a greater number of reviews and more experience with different clients. Furthermore, if you are gaining decent reviews with multiple clients then there's a higher possibility that they may return as repeat customers.
Similarly, don't waste your time waiting for individual clients to reply. Submit your proposal, then move on without looking back. You could exhaust your time and confidence whilst expecting clients to reply (when most of them won't).
7. Exceed Your Client's Expectations
It probably goes without saying, but this point must be included in this guide to Upwork Tips for Beginners because it's crucial! The previous steps have outlined how you're reputation on the platform is mapped by great reviews, so it's important that you earn them.
Meet deadlines. Answer questions promptly. Showcase your personality. Under promise and overdeliver.
Of course, it is easier to exceed the client's expectations when they are paying lower rates for your expertise. This is why it's also important to reduce your rate to allow this to happen within the first few gigs.
READ: 

How to Make Money Online (Secrets from a Digital Nomad)
8. Check Your Client's Average Paid Hourly Rate
Once you've scored your first few reviews, you'll need to adjust your tactics. Now, you'll no longer need to complete cheaper jobs to prove your worth. You can become more selective as you hunt for more favourable jobs in the feed.
During this time, start judging your clients' profiles. Upwork allows freelancers to check each client's average hourly rate. In other words, you can see how much of a cheapskate they are when it comes to paying for their work to be completed.
Try to aim for those who pay a respectable wage on average as they are more likely to continue hiring you when your rates are higher.
9. Take Your Relationships Off the Platform
Honestly, I reckon the key to finding success and happiness in freelancing is to work for those who treat you like one of their own. Find those client relationships that feel like friendships… And work for them as long as possible!
However, if you continue that relationship on Upwork; then your Upwork fees will continue to stack up.
Like with all freelancing platforms, the quicker you find a decent client who values your work and the faster you can find a way to work with them outwith the platform, then the faster you'll find more "success".
Once established, find a way to exchange contact details as the platform does not allow this to happen within the messages. You will be flagged.
My suggestion would be to organise a video call with your client to discuss the future of your relationship. Within this video call, you could swap emails, discuss invoices, talk about payment methods and possibly ask to be added to Slack channels or Trello boards. If you'd like suggestions on tools that may help maintain this relationship then read my blog about the best resources for digital nomads.
Is Upwork Actually Worth It?
If you're just starting out then you may be looking at the milestones you are yet to accomplish on Upwork and think, "Is Upwork actually worth me trying?".
In my opinion, Upwork is 100% worth any freelancer's initial investment in time. If you are successful in the beginning, then Upwork will continue to send work your way for a long time whether it's needed on a regular basis or between the bigger jobs you have with independent clients.
If you don't believe me or these Upwork Tips for Beginners, look at how Upwork contributed to my success as a freelancing graphic designer and digital nomad.
Let's go!
@katie.maree