In a panic like, "I need to figure out how to make money online – fast!"?
You may have already researched travelling the world as a digital nomad, but you're in safe hands now… This is my forte (my nomadic lifestyle depends on it)!
I've been working online for over three years. If I was paid a pound for every time someone asked me, 'Are you going to live like this indefinitely?' then I'd have a pretty darn consistent stream of passive income right there. Believe it or not, there are many ways to make a sustainable livelihood online. If this is your dream… Jump right in, it's completely attainable!
How to Make Money Online (For Beginners)
Teach English
There's a huge population of online teacher's nowadays! This career allows its employees to create their own schedule of classes to suit their lifestyle at home or travelling (all whilst earning a very reasonable income).
Teaching English is particularly common in the following instances:
If you don't have an existing skill that translates into the digital world – most hiring companies only require you to have a university degree (in anything), and some do even need that.
If you need a job quickly! Teaching English is one of the simplest remote jobs to obtain.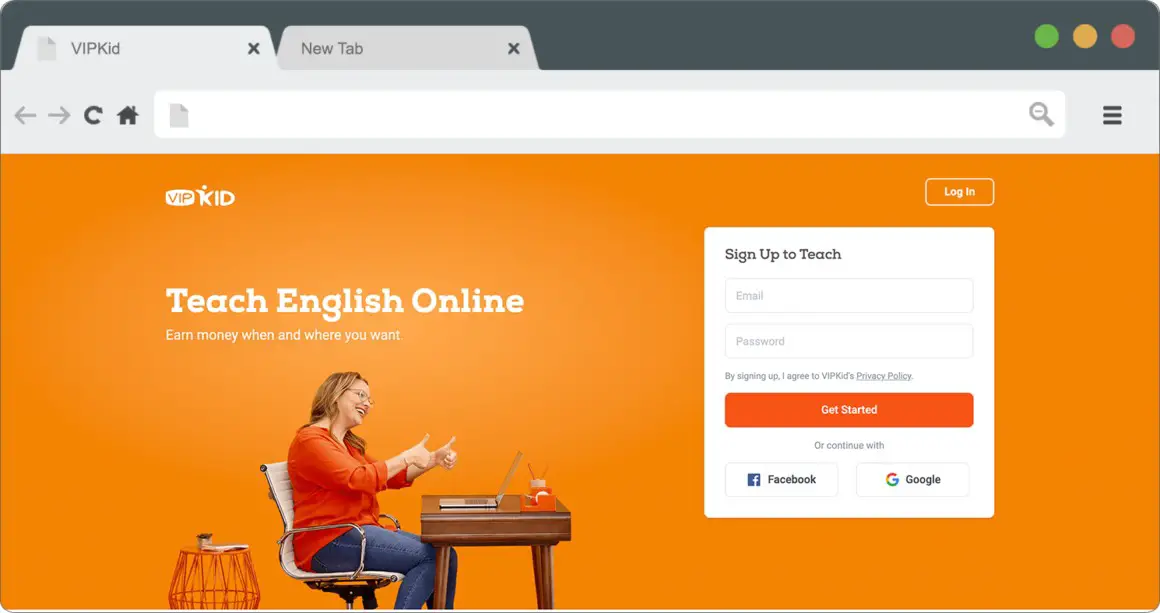 One of the most common sites for language tutoring gigs is VIPKID. The amazing thing is… If you have a degree, a reliable laptop and a stable internet connection, then you could sign up to become an English teacher today! Other websites to find teaching jobs are QKids and Cambly.
Become a Writer
There are many online projects available for skilled and creative writers – it's one of the most common job roles within the population of digital nomads.
Everybody needs content these days… You could become a writer for a start-up business, a blog, a social media account or a publication. Make yourself irresistible to clients by creating a flawless portfolio that focuses on a particular niche (like travel or health).
Virtual Assistant (VA)
Virtual Assistants are the new secret weapon of many individuals or businesses. They can help to complete the daily tasks that might otherwise be time-consuming such as social media management, keeping up-to-date with emails, bookkeeping and organising travel arrangements.
The demand for virtual assistants has exponentially increased over recent years as companies join the online trend of working remotely. In light of this, there are now many online courses that teach the trade. These resources can then lead to paying opportunities elsewhere.
Become a Graphic Designer
There's always someone looking for a logo for their new project, business or blog. Plus, the many thousands of companies who are now shifting to the land of remote work may also need a new brand identity, social assets or landing page layout.
I can be certain that there's an abundance of income to be had in this sector as I am a graphic designer myself. It's a skill set that companies will always need!
To gain more insight, you can read about my journey to becoming a digital nomad designer.
Can you Code?
Bunch together ten digital nomads; I guarantee that there'll be at least one web developer amongst them. They are everywhere! If you are able to code, then you are a winner. There are plenty of remote job opportunities for you!
Test Digital Products
This is another option for those who feel they don't have a digital service to offer. PingPong hires people to be interviewed whilst testing an app or a website, in order for them to research the users' behaviours. They say, 'all you need is a stable internet connection and some free time'. I don't even think you need to be highly proficient in technology for this one!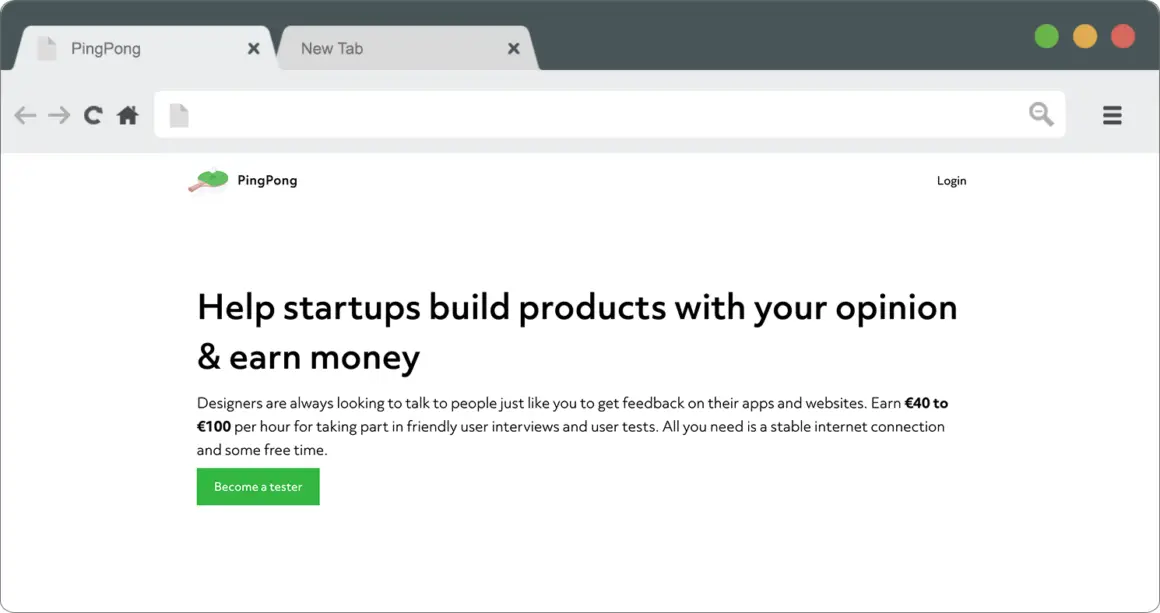 Join Amazon's Workforce
Amazon Mechanical Turk is an online platform that pays people to complete tasks that their computer algorithms can't do yet. The payment is very small, so you will need to complete a large number of tasks to earn a great income. However, the resource is there if you have spare time and are in need of some quick cash.
How to Find Jobs Online
So, have you figured out what skill set you would like to offer? Continue reading to discover resources that advertise job listings for you to convert this digital service of yours to a sustainable income.
Work with a Remote Company (Full-Time & Part-Time)
There are many full-time – and part-time – remote opportunities that can offer many benefits similar to that of a standard 9-5 office job. Contracts can include job security with a full salary, with the addition of holiday pay and healthcare. Other perks could include complimentary memberships to coworking spaces or free annual travel to global team meet-ups.
Of course, there are also disadvantages to such commitments, especially whilst you are travelling. It's your call. If this route is the direction you're most interested in, then take a look at the following websites:
We Work Remotely
We Work Remotely take ownership of their accomplishments by stating on their main homepage that they are the 'largest remote work community in the world'. They add: 'WWR is the #1 destination to find […] incredible remote jobs' – who's to argue with that!?
There, you'll find job listings for programming, design, copywriting, finance, marketing, customer support and many other careers.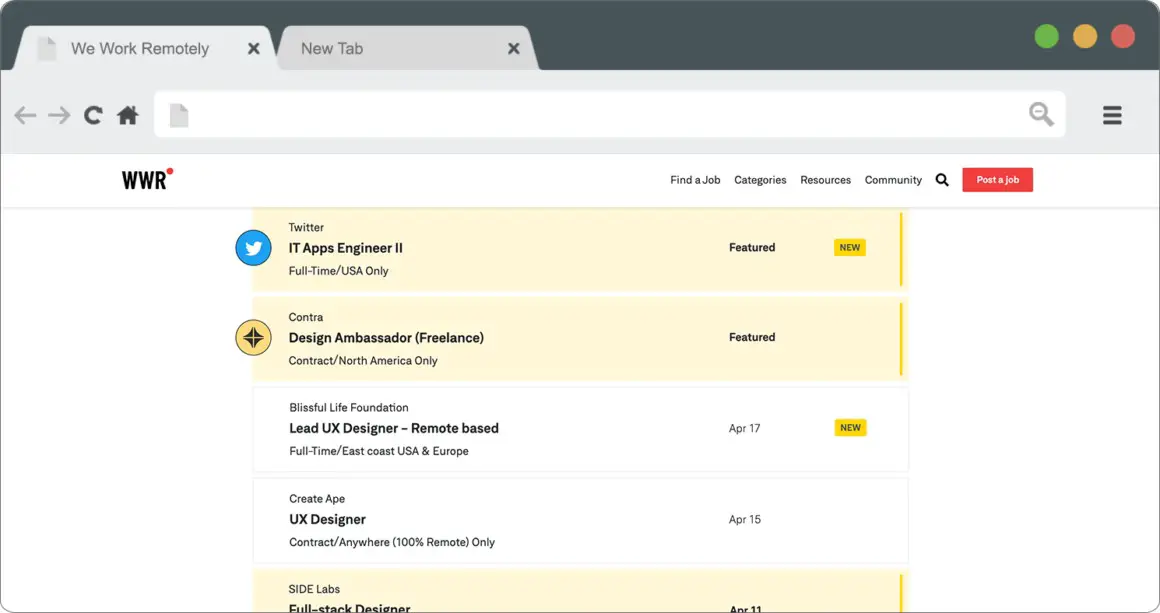 Angel.co
Angel.co has focused on creating a huge community of startup companies. Using this global network, you can connect to thousands of businesses with one single online application. Easy peasy – if only!
Remote.Co
Remote.Co dedicates a whole website to remote work opportunities and related information. What's great is, it's free! You can search their directories if you are a company looking for a new member of staff; or if you're a skilled professional in need of a company to employ you.
Email Agency for Over-Spill Work
You may have a local agency in mind as your preferred employer? Email them.
There are a lot of businesses that are so busy they just do not have time to look for an extra freelancer or permanent employee. By sending an email, you may find yourself appearing in the right place at the right time.
Just remember, potential clients, do not have the time to waste. So, make sure to compose an email that includes your portfolio, previous experience and your rate – all whilst showcasing the potential value that you have available. Give them an offer that they will be silly to refuse!
Facebook Groups
What better way to find the perfect employee/employer than by connecting via your niche community. Keep up-to-date with daily postings within these Facebook Groups:
Find Work in the Gig Economy as a Freelancer
Freelancing can offer less job security, but more flexibility. Therefore, this career path is better suited to those who wish to live the unpredictable lifestyle of being on the road full-time.
Whilst you may have heard some negativity aimed at the following websites, I would have to respectively disagree. Many of my successful client relationships have derived from these freelancing sites. As a result, I would urge you to give at least one a go!
Upwork
UpWork is my preferred freelancing platform (and it's one of the biggest).
With the right strategy and a strong skillset, remote workers can definitely find potential job opportunities within UpWork's ever-growing feed of job listings.
There are hundreds of jobs to choose from, all of which are revealed through a continuous and ever-growing feed. This is where freelancers can search for a suitable job or project. Once this has been found, they must respond by sending an attention-grabbing proposal. If the client is interested, they can then check out the freelancer's profile to find out further details.
This can be a very monotonous process, especially if you are yet to find your first client. However, in my opinion, UpWork can provide freelancers with higher paying and better quality clients that will return if your service is valued.
If you are looking to kickstart your freelancing career, then have a read of this step-by-step guide of Upwork Tips for Beginners.
Fiverr
Like UpWork, Fiverr connects businesses with freelancers who offer their digital services. Some of the more common skill sets available within Fiverr's marketplace include graphic design, digital marketing, writing, translation, animation, voiceovers and programming.
But, what's the difference between UpWork and Fiverr?
Well, instead of endlessly trawling through a feed of job listings… It's the clients' job to carry out the initial research. They would make the first contact once they found a portfolio-based profile that they admire.
RELATED: 

How to Work Remotely in 2023
How to Make Passive Income
The methods that I have already described are all greatly sustainable. However, there is a direct link between the hours you spend working on the amount of income you earn. Whereas, with passive income, you can dedicate time to creating one product which can lead to an infinite stream of money. Life goals, right?! Here are a few examples of how to make a passive income online…
Build a Niche Blog
Of course, this entry is a wishful thought of mine! Right now, my blog is purely a hobby. In fact, there are five other reasons why I started a travel blog but my hope is that this passion would become a travel-funding opportunity in the future.
On the other hand, there are hundreds of travel bloggers who have managed to turn their blogs into a full-time money-making career. This is possible with the strategic implementation of affiliate marketing, advertisements and sponsored posts.
Sell Digital Products Online
Etsy
Etsy is an online platform that allows creative entrepreneurs to sell their goods. The majority of the products are handmade. However, the website does offer the option of selling digital downloads. This is the perfect opportunity to make some passive income.
The following are some examples of digital products that are on the market today:
Printable Planners and Calendars
Wedding or Party Invitations
Resumes / CVs
If you'd like to gain further insight, then check out my very own Etsy shop (TheWeePrints) which sells downloadable prints for framing. They have been designed for any home or van life minimalist who is looking for a pretty typographic quote as their wall art.
It's a new project, so bear with me. This story is 'To Be Continued'…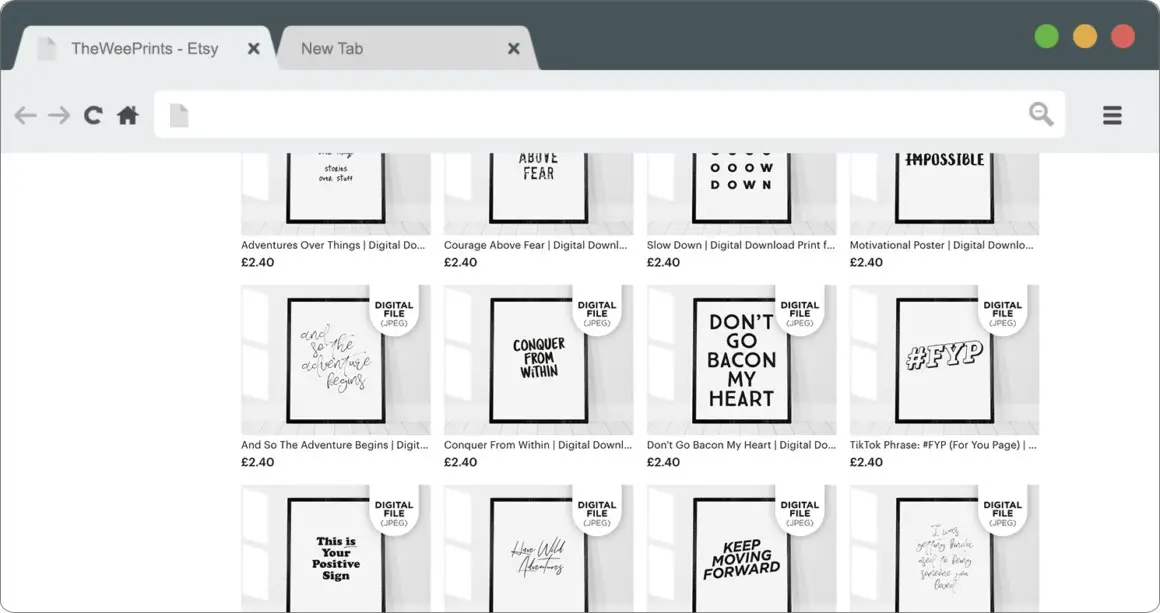 The advantage of selling on Etsy is that they do not shy away from allowing your listing to rank higher than other competitors that may be more popular than your own purely because they have been around longer. This is so encouraging for newbie sellers.
Creative Market
Creative Market is another online marketplace that showcases digital products that are made and sold by creators from around the world. Products vary from fonts to illustrations; mockups to presentation templates and social media bundles. There are all sorts of packages to kick start your business (or party occasion).
Whilst I do have a shop on there myself, I was quickly frightened off by the sheer competition on the website. You'll see nothing but tumbleweed until your first few sales have been made.
However, if you like to make Photoshop brushes and patterns, or have skills in creating any other digital tools for other creators to use, then Creative Market may be the place for you to sell.
ALSO: 

Must-Use Resources for New Digital Nomads

 
My advice for you is…
Please, please, please do not give up. You cannot settle for the next best thing, because there is a remote job out there for you!
The process of finding a job to work remotely is tiresome. Ideally, you should be checking websites on a daily basis. However, when you are finally found by your future employer, then you are likely to be required to start work in an instant. Be ready!
Let's go!
@katie.maree
---
Did You Know…
If you purchase through a KatieGoes link, we receive a small amount but you still pay the same. This contribution helps keep this blog moving – win, win! Nevertheless, I only recommend personal favourites…
---