The digital nomad lifestyle will inescapably lead to a dependency on technology. It's the inevitable as digital nomads are required to communicate, navigate, organise, plan and most importantly, earn their income through a variety of online tools. Yet with hundreds of websites and apps designed to ease these everyday tasks, it can be overwhelming to know where to begin. Let's simplify the ever-growing list to only the essential and best resources for digital nomads!
Don't have time to read this now? Pin the blog for later.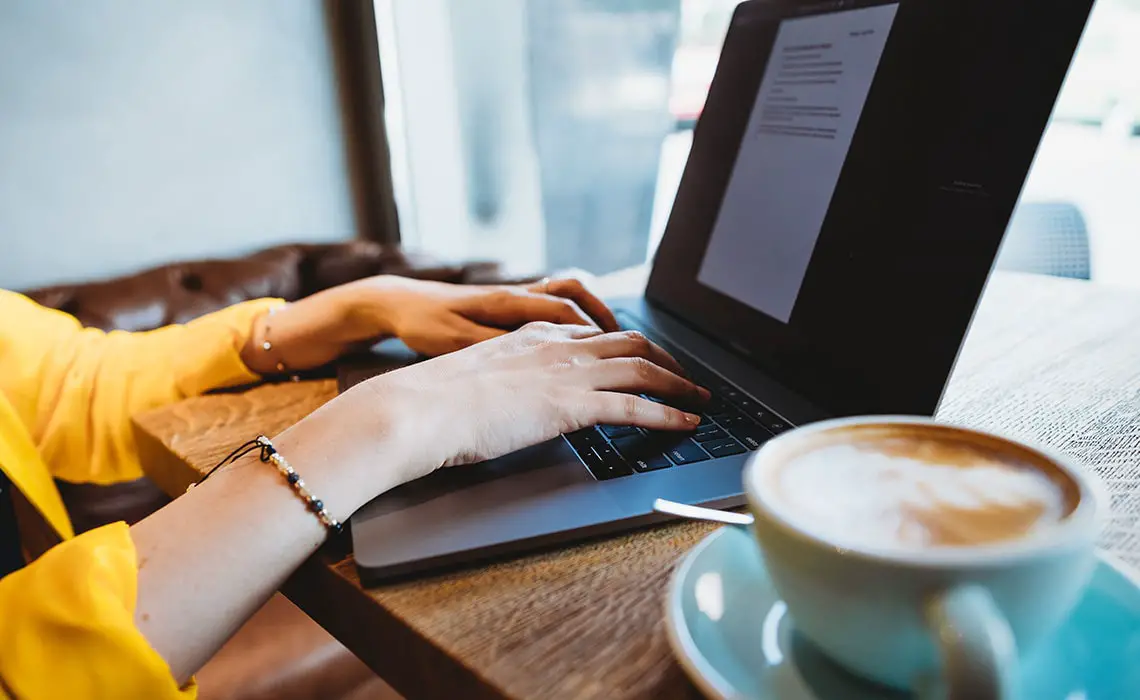 Disclaimer: This post contains affiliate links which means that KatieGoes receives a small amount but you still pay the same. The contribution helps to support the continued creation of these blogs – win, win! Nevertheless, I only recommend personal favourites that I've tried, tested or have first-hand knowledge of.
The Best Resources for Digital Nomads
For Accommodation
There are many websites for digital nomads to find the perfect place to stay, whether it be in exchange for a service or for a traditional paid bedroom.
Trusted Housesitters
I highly recommend trying house-sitting! Did you know that you can stay in wonderful homes by house-sitting and caring for adorable pets? This experience would not be for everyone but you could find yourself in free accommodation whilst you live a more authentic lifestyle in the local area. Join Trusted Housesitters to keep an eye out for listings!
Booking.com
Booking.com is one of the most, if not the most popular comparison sites for accommodation amongst digital nomads. It has become the most familiar, accessible and straightforward to use with detailed user reviews to help you form a quick decision.
HostelWorld
If you are just starting out, you may be aiming to keep your outgoing costs low. HostelWorld will undoubtedly be the cheapest, yet the most sociable means of accommodation for digital nomads.
RELATED: The Best Coliving Spaces in the World for Digital Nomads
Airbnb
Private accommodation allows digital nomads to avoid the fast-paced turnaround of hostels and the temporary nature of hotel rooms. Create a more permanent base for yourself without being disturbed or feeling unsettled by others with Airbnb.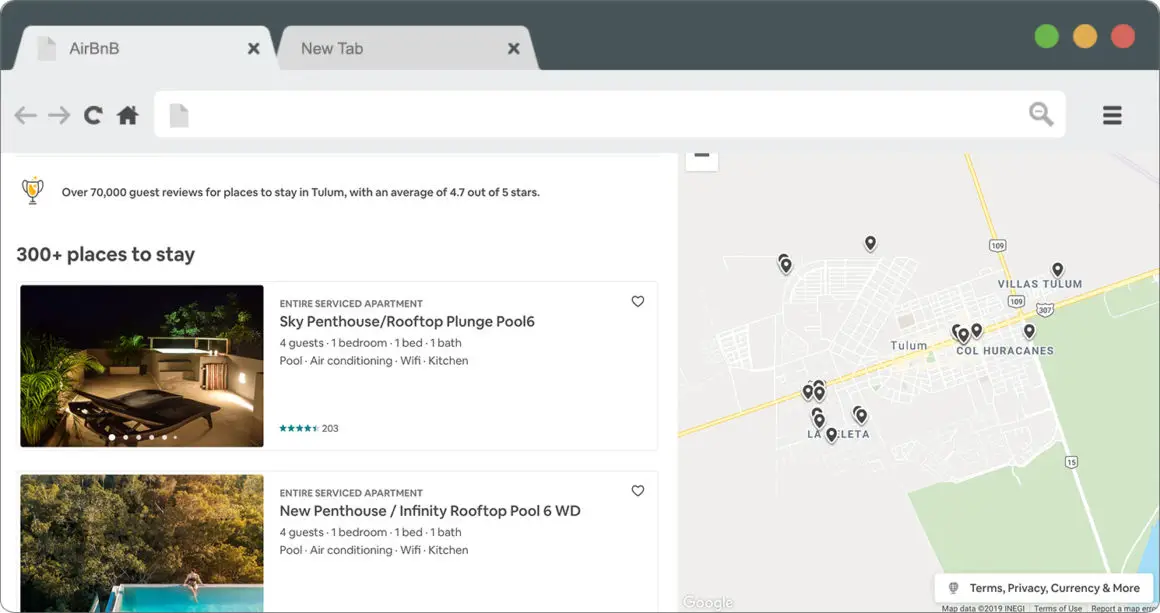 For Finances
Borderless bank accounts are a vital resource for digital nomads. Honestly, I cannot remember how I previously survived a lifestyle of travel without the capabilities online banking provides me nowadays.
Revolut
Revolut is the go-to app of choice for many Europeans. With the ability to hold stocks, crypto and multiple currencies, there isn't much you can't do with this all-round banking app.
Wise
Formerly known as Transferwise, Wise is extremely useful for making and receiving payments in more than one currency. They make it possible for digital nomads to have bank account details in many different currencies which in turn, allows for greater financial fluidity between international employers and their employees.
Over years of being a digital nomad, I personally have received a salary in US Dollars and sometimes Euros, although I pay my tax in British Pounds. Tomorrow I will buy my groceries in Mexican Pesos, but next week I will be in Cuba. Without a Wise bank account, I'd have a million more financial concerns and frustrations!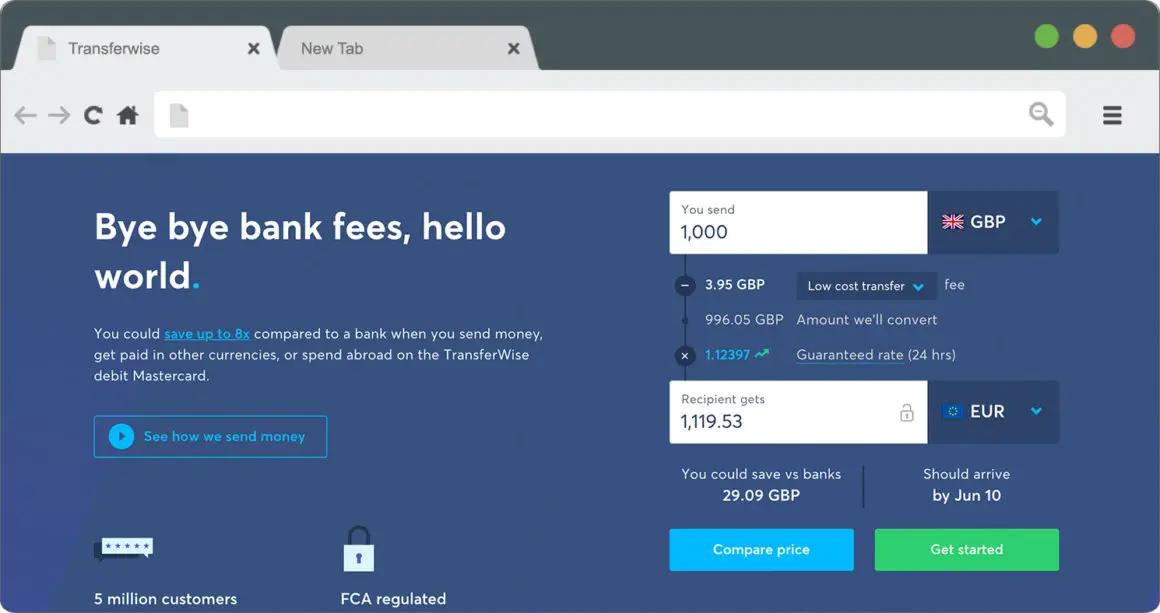 RELATED: How I Became a Digital Nomad Designer in 3 Months
Converter+
This straightforward app allows users to convert currencies and measurements with ease! You can compare and convert clothing sizes, weights, distances and temperature (to name a few!).
For Functionality
Be ready for the many challenges that the digital nomad lifestyle will present you with!…
Ookla Speed Test
You may want to know if the wifi connection is fast enough before you've even confirmed your accommodation. In this case, you can ask the host or hostel owner to send through a speed test of their wifi speeds with Ookla. After a couple of tests, you will begin to learn what you require for your day-to-day online tasks.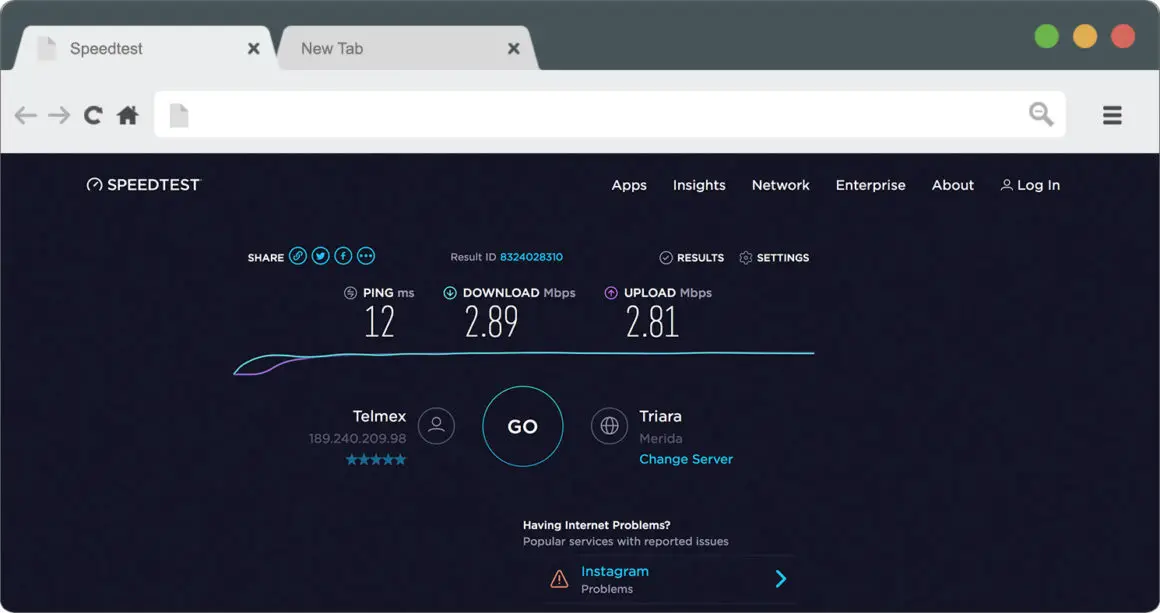 Surfshark
Having a VPN (a virtual private network) is essential for on-the-go remote workers with potentially sensitive information on their devices. Does that not sound like you?… VPNs are also handy for digital nomads who need to access websites that may be blocked within certain countries. For example, you could simply be trying to access a specific country's content on Netflix. Though in my experience, I've been able to make money transfers on a banking website that was blocked for whatever reason in Syria whilst I was there. There are many VPN providers, yet SurfShark is an extremely reliable, and popular option.
Nomad List
NomadList is one of the best digital nomad websites on the internet! This digital nomad bible is a crowdsourced database collating everything you need to know about any destination. It's the perfect resource to research your next move.
An example of the destination ratings includes the average wifi speed, cost of living, the friendliness of the locals and the quality of life. More specifically, you can check out the shape of the power sockets, the air quality, the area's best taxi app, the tipping culture, if the tap water is drinkable, and so on.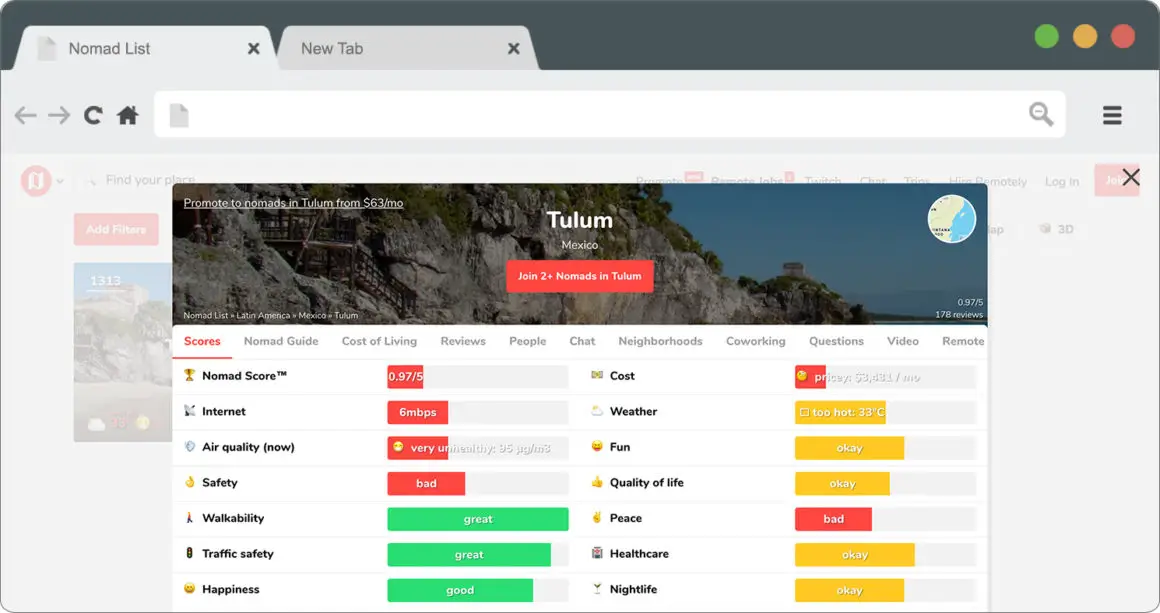 For Income & Education
There are plenty of resources for digital nomads that will find full-time employers and freelance clients. From my experience as a digital nomad designer, I'd recommend beginning with Upwork to gauge an idea of the skillsets people and companies are hiring.
Upwork
Are you looking for more work? Upwork is one of the best websites for digital nomads to acquire freelance clients. It is where I found all of my initial and still to this day, regular clients.
Upwork is great for remote work newbies! The website assists freelancers in every interaction with the client (i.e. proposals, portfolio, messaging, project details, invoices).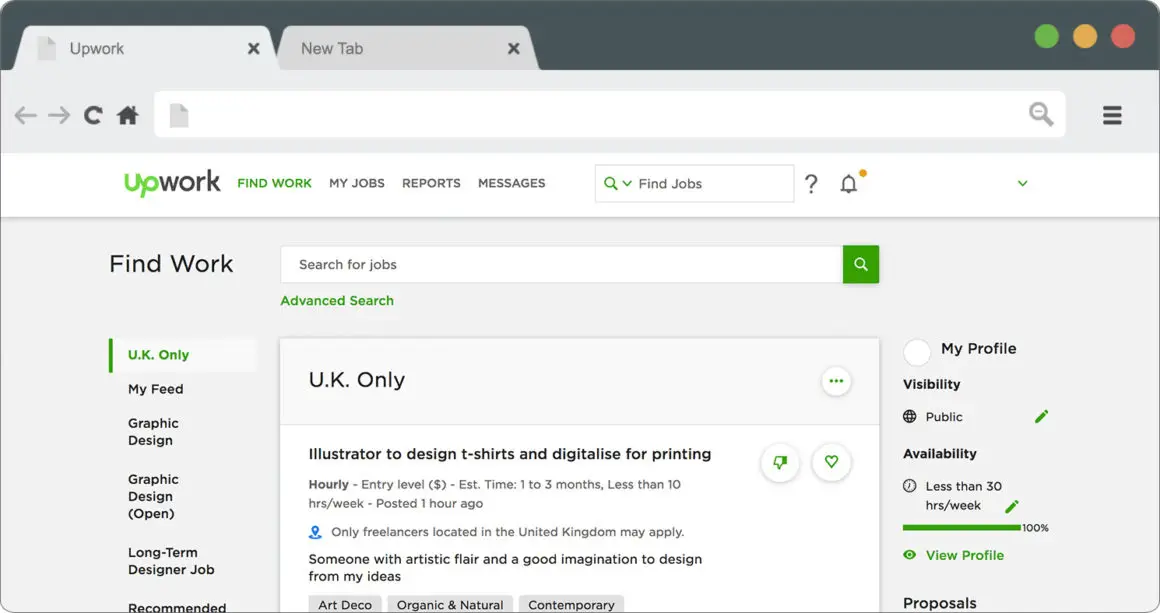 CHECK: 9 Upwork Tips for Beginners
Workaway
Workaway allows travellers to exchange a skillset for food and accommodation. Popular gigs can include farm work, crewing a boat or working in a hostel. As a digital nomad, Workaway also has listings that seek designers, developers, photographers, videographers and other creative job roles. If the project goes well and the relationship is good, then there could potentially be an opportunity for both parties to continue the collaboration remotely.
If you already have clients who are not giving you enough paid hours, Workaway could also be a means of lowering outgoing costs and keeping busy in your extra time.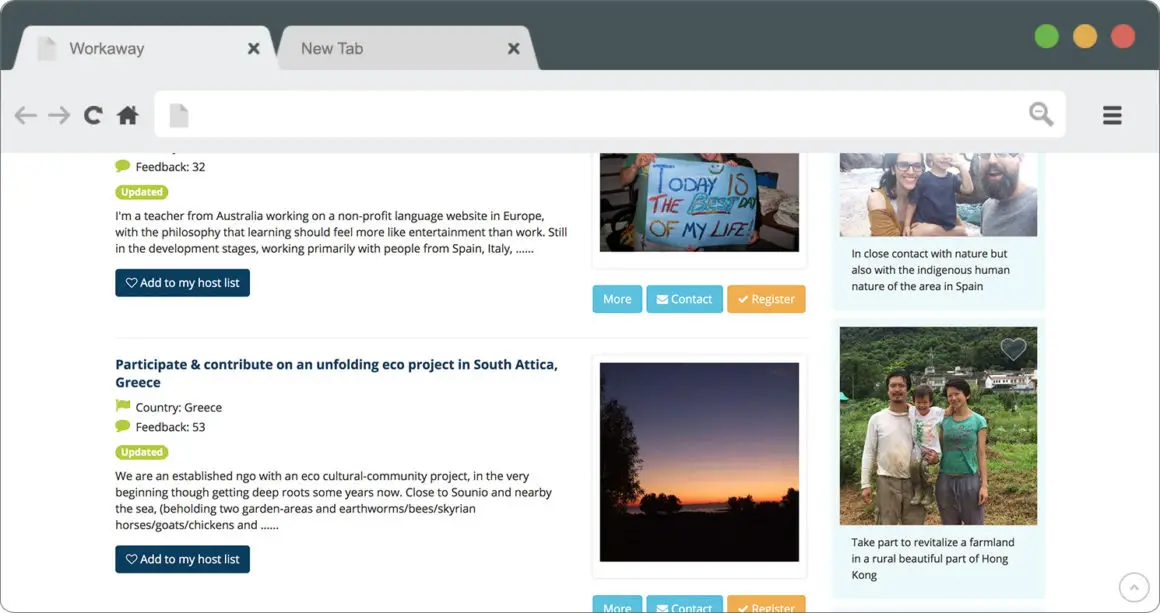 Skillshare
Explore new skills, deepen existing passions or encourage your creativity with Skillshare; an online learning platform. You mightn't have the skills to become a digital nomad yet, but there are plenty of Skillshare classes to learn; from photography to graphic design, to drawing and animation. There are also online tutorials about specific software such as Photoshop, Premiere Pro and Illustrator.
For Communication
As remote workers, digital nomads face unique challenges when communicating with clients, coworkers, colleagues, and more importantly, friends and family!
Zoom
If a client is wanting to get in touch, Zoom will most likely be their communication tool of choice. It's a seamless form of interaction that only leaves the error of a bad wifi connection to diminish your meeting. The website has totally simplified the process of setting up a video call with one or more users and sharing screens has never been so easy. Plus, thankfully, it's totally free!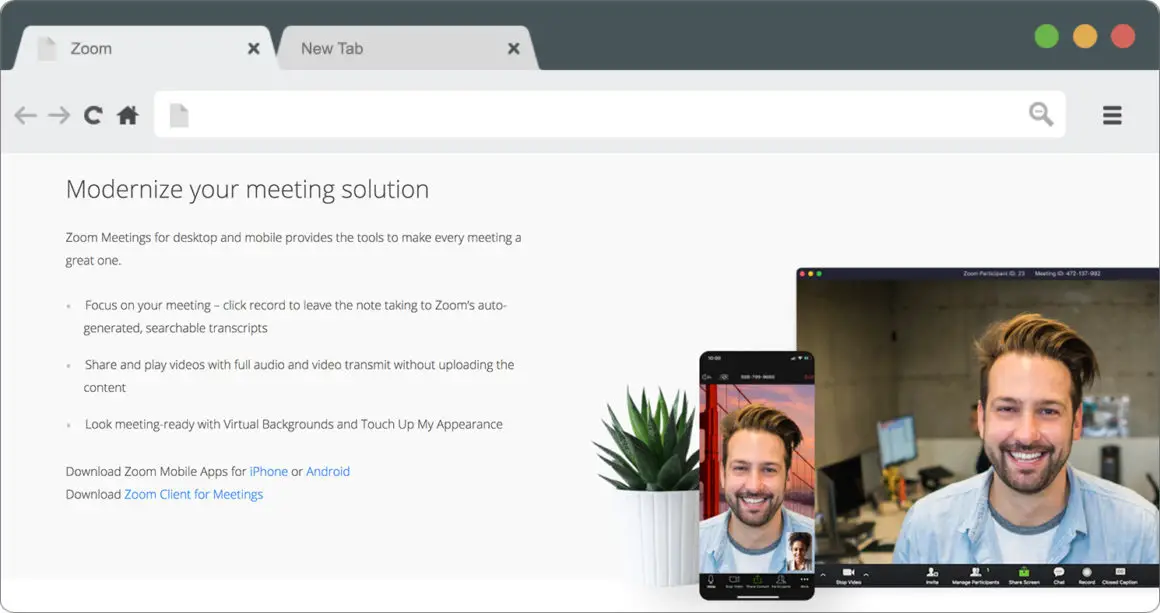 Airalo
If convenience is your ultimate goal, check out Airalo for either a local, regional or global eSIM. Airalo is the world's first eSIM supplier. You can purchase the most suitable prepaid data plan without visiting any shop or swapping physical SIM cards. This is the technology we digital nomads have been waiting for!
Slack
Slack is a messaging tool that is widely recognised across the tech industry. It's basically MSN Messenger for offices! Just make sure to mute those messages during the out-of-office evening hours; between the differing timezones it isn't ideal to be notified of work messages in the middle of the night.
Trello
Trello is a very common tool that is used within companies big and small. As a graphic designer, I have effortlessly organised projects between myself and the client on Trello.
Trello organises projects into a system of boards, lists and cards that can be moved depending on the state of the project. Tasks are easily delegated, paused, repeated and completed through the easy-to-use interface. The system eradicates numerous messaging conversations, scenarios of lost files, miscommunications or missed deadlines. I'm sure that if you are starting you're nomad career with an established company, they will already have a board of projects waiting for you.
In addition, Trello is also a great tool for travel planning! You can create your own board to attach documents, create to-do lists and note the important details that you mustn't forget.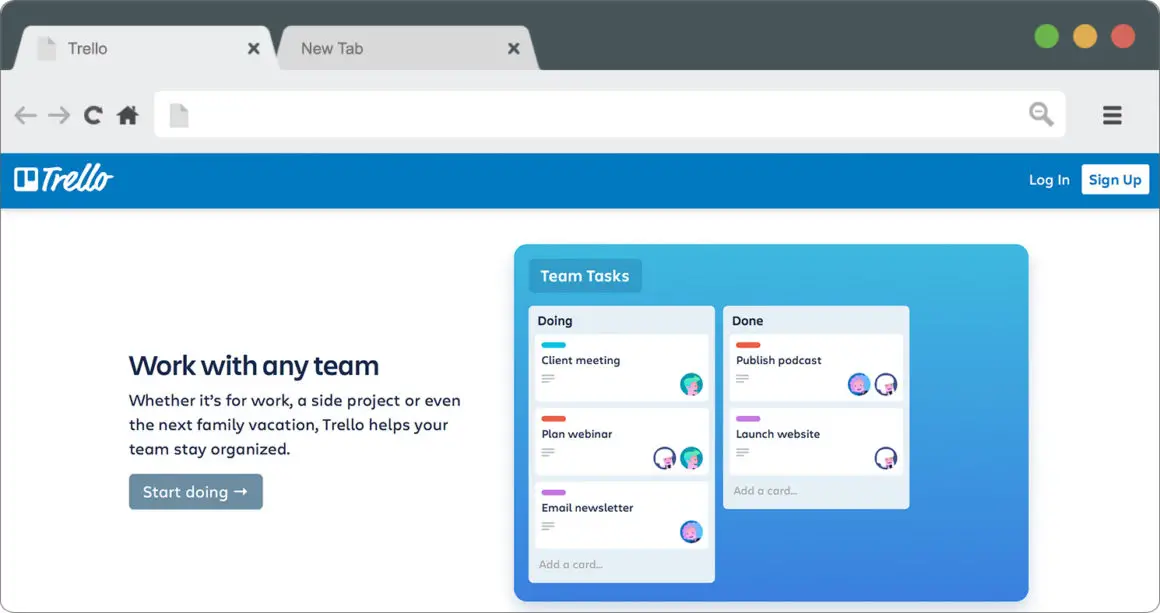 For Travel
Simplify your digital nomad logistics with websites and apps made specifically for travellers.
Skyscanner
Name a nomad that does not use Skyscanner – I think you'd struggle! Skyscanner is a global search engine for travel, meaning that search results compare hundreds of airlines, hotels, car rentals and travel agencies for our convenience.
SafetyWing
Personally speaking, I love SafetyWing! SafetyWing offers travel insurance for nomads with the ability to stop and start monthly payments whenever necessary. There's no need to be certain of future plans with SafetyWing, as they present complete flexibility in their packages. As the company is operated by nomads and made for nomads, the entire process is totally suited to the lifestyle without any extra fluff.
Maps.Me
Gone are the days of carrying around a paper map! Download the entire country's map before you arrive at your next destination. That way, you will be sure to always have an accurate pinpoint of your location. Like Google Maps, you can also search for recommended cafes, ATMs or restaurants and pinpoint your car or accommodation.
Weather Channel
As I sit here sweating in Tulum, it's clear to see how the weather can affect productivity. The Weather Channel informs users with detailed forecasts in a very simple-to-navigate app. Before you've even hopped out of your bunk, you could check the strength of the UV rays, decide if you need an umbrella and know how active the mosquitos are!
VoyageX
My personal goal is to visit 100 countries before I turn 30 years old. Yet, how would I keep track? VoyageX counts countries that travellers visit. Once you visit a new destination, simply mark the country as done, for the app to display your total in a number or percentage. NomadMania is a similar concept (without an app), but for the serious country counters!
READ: About the Author
For Health & Fitness
One of the biggest struggles in becoming a digital nomad is remaining fit and healthy whilst constantly travelling. Your lifestyle is completely different on a regular basis, routines are disrupted and your body will often become overwhelmed with the ever-changing surroundings. Fortunately, there are a couple of decent resources for digital nomads that will assist you in the daily challenge!
7m Workout
7m Workout is an essential digital nomad app for any traveller looking to keep fit without the added weight of any equipment.
It takes an app like 7M Workout to notify my phone at the same time every day for a routine to slowly take shape. As the name suggests, each workout only lasts 7-minutes, but there are many various combinations to try. The interface is extremely easy to use, even when you are bobbing up and down doing jumping jacks.
HappyCow
As well as having a great name, the HappyCow is a resource for vegans to find nearby cafes, restaurants and stores that suit their dietary requirements.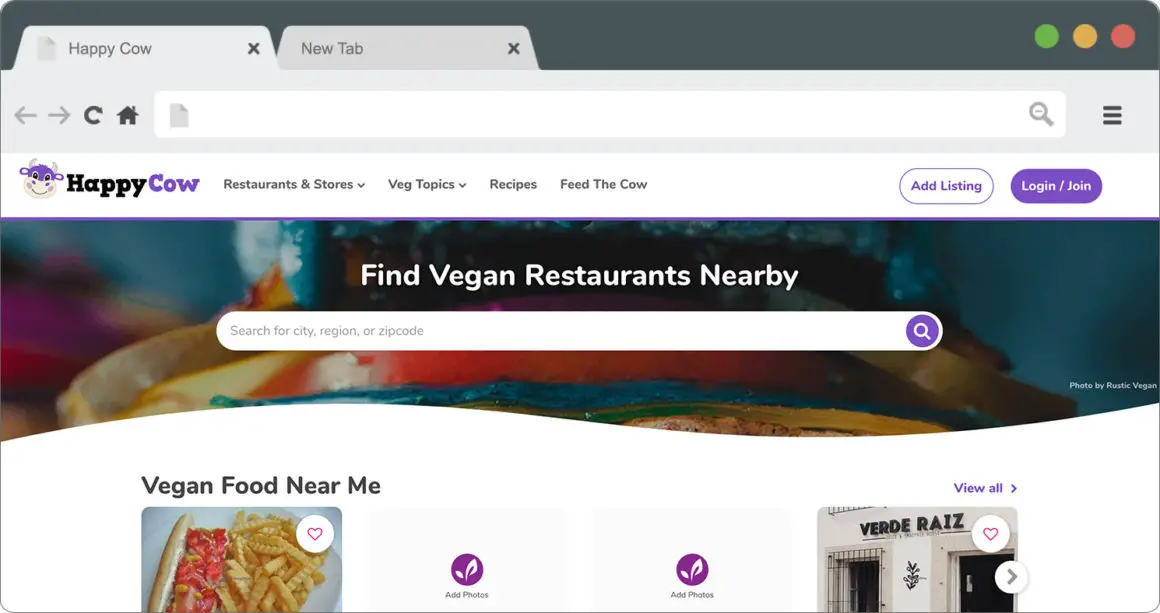 No matter where you are on your nomadic journey, KatieGoes has even more resources for digital nomads:
Let's go!
@katie.maree
---
Did You Know…
If you purchase through a KatieGoes link, we receive a small amount but you still pay the same. This contribution helps keep this blog moving – win, win! Nevertheless, I only recommend personal favourites…
---