We all know that Japan's Tokyo is a Mecca for technology, fast internet speeds and a thriving eccentric culture; all of which are top factors we digital nomads are looking for. Yet, this bustling capital isn't your typical go-to digital nomad hotspot. Having recently had the first-hand experience of the madness, I felt obliged to share my own version of a digital nomad's guide to Tokyo. Each of us can experience somewhere a whole lot differently, so continue reading for my advice or comment below for suggestions. That way, we can conquer the insanity together – because this location is fantastic!
Why I Loved It
Most onlookers envy the digital nomad lifestyle in the knowledge that they are able to work fewer hours than the standard 9 to 5. The reality is, we probably end up working more! There's nobody to stop by your desk and say: "Hey! It's time to go home". Or email at the end of the day saying: "Don't worry about it, we'll catch up in the morning". 
Having said that, for the variety of digital nomads I have met, they seem to have an excellent on/off switch. Once that laptop screen is down, they are more than ready to adventure! I believe Tokyo is the perfect location for just this.
As soon as you step out of that door and look out between the endless towers of Tokyo, you immediately forget about work. There's no way anyone can still worry about numbers and projects amongst the bright lights of arcades, colours of anime and Mario Karts buzzing around.
In this article, I'll share my own experiences in a digital nomad's guide to Tokyo in Japan.
Where to Stay in Tokyo
You may be thinking that Tokyo is large. But think bigger… Even bigger… Now you might be a little closer. Tokyo is one of the biggest metropolitan cities in the world with an insane population amounting to over nine million people. Therefore, finding the perfect place to pitch camp can be an exhausting task. I struggled to even narrow down my search to a particular area, and then commit to that place.
To ease the pain, I divided my time by staying in several locations which I believe provided me with the perfect mix of ancient, modern and up-and-coming.
Asakusa (The Ancient)
My journey started in Asakusa. It seemed to be the epicentre of an old Tokyo, with its main attraction being a very popular Buddhist temple called Sensoji. Not to mention Kaminarimon (Kaminari Gate). Many streets in the area were lined back-to-back with tiny shops selling everything from tourist tack to traditional Japanese snacks.
Although the place was accessible enough to be explored by foot, there is another means of travel which is more local to the area. For approximately 9000 yen, you can take a guided tour by a man-powered rickshaw. You'll see many Japanese men running around the area with this photogenic mode of transport. They'll whizz you around the sights whilst also sharing their local knowledge.
I particularly enjoyed my stay in Asakusa because of its proximity to Ueno. After work, I'd walk along the tiny streets of central Ueno weighing up my options of street food. As a result, many of my new friends would meet in this location which relieved the stress of leaving early to catch the last train home.
Ginza (The Modern)
It doesn't take long in Ginza before realising that you are within Tokyo's main shopping district. The area contains many department stores, fashion chains and restaurants. Secondly, the area is very centrally located. If you don't feel that you can commit to one particular area, I suggest that you try Ginza as your introduction. 
I based myself in the Wise Owl Hostel. And yes, believe it or not, they actually have a wise owl! The hostel consists of a traditional restaurant, underground bar, communal kitchen, coffee stand and a number of workplaces (upstairs and downstairs). There's the option of having private rooms or dorms that are made up of Japanese-style wooden pods. My average workday was well accommodated for in Wise Owl Hostel… You can even enjoy a free alcoholic beverage down at the bar every evening of your stay.
Shinjuku (The 'Up-And-Coming')
I concluded my Tokyo trip by spending a week in the popular area of Shinjuku. Although the place is on the outskirts of Tokyo, it feels like another city centre. The centre of entertainment, nightlife and more shopping. I recommend staying here if you're thinking of enjoying the night scene most evenings. You'll also be within very close proximity to the notorious Robot Restaraunt, Harajuku for thrift shopping and the ultra-busy Shibuya Road Crossing.
Accommodation in this area is a little more in-demand and pricier. I opted for the widely-known and recommended capsule hotel called 9 Hours Shinjuku North. How could I stay in Tokyo for that long, not to try the most talked-about experience you can have there?! Moreover, I couldn't publish a 'Digital Nomad's Guide to Tokyo' without telling you about my favourite accommodation.
Capsule hotels are what you need to experience in Tokyo! Maybe you can try one for at least a night, but I stayed the entirety of my visit in them. However, there are many different variations of them. It doesn't take long whilst Google searching to see that '9 Hours' looks to be the most thrilling of the selection.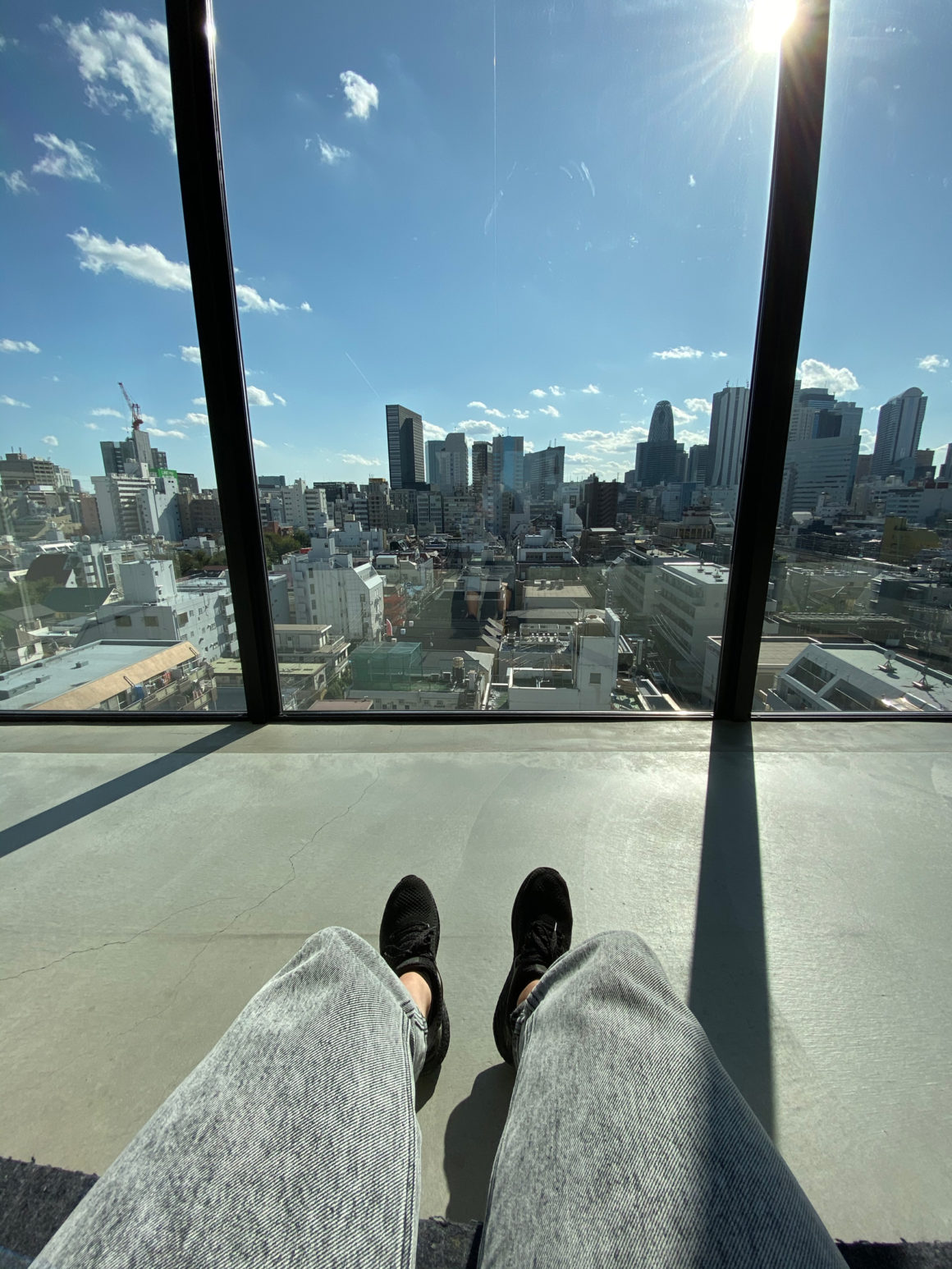 Capsules are so convenient: they have safety deposit boxes, aircon, wifi, storage space, lighting, shelves and most importantly, desks to work from. This particular hostel has an amazing viewpoint on the top floor with booths for visitors to work. Staying in a pod will definitely provide you with the privacy you'll need during your stay. The price per night would range from £15-£25, but up to £30-40 for the more premium options. If you would like further advice on what to know before staying in a capsule hotel you can read this article that explains everything.
If you have any further questions about these areas (or any others), then please don't hesitate to direct message me through my profile on Instagram. I enjoy answering any queries because I wish I had answers to them myself before visiting this mad city.
SEE: Ultralight Packing Secrets for Digital Nomads
Working Remotely from Tokyo
Finding the perfect space to work in Tokyo proved to be my biggest challenge. Hurdles that I faced daily included overcrowding, expensive coffees and close-knit seating arrangements. One very important point to note is that the Japanese like to avoid making phone calls in public – they consider it to be rude. For any online English teachers, life coaches or customer service consultants… Tokyo may not be the place for you (unless you are willing to take every voice or video call in the confines of your hotel room).
What Tokyo lacks in suitable working environments; it almost makes up for with its incredibly fast wifi speeds. The below suggestions of places to work are how I succeeded as a digital nomad in Tokyo.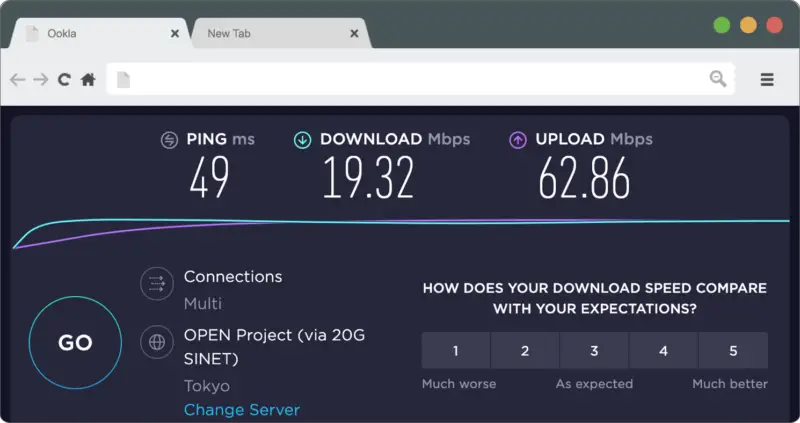 Starbucks
I'm sure you don't read many 'Digital Nomad's Guides' these days without the mention of our trusty Starbucks. However, in this case, our popular go-to has, unfortunately, let me down. Large globally-known coffee shop chains are often too crowded, making suitable seating difficult to find. Therefore, it most likely goes without saying that the chance of having a plug is next to nil. Plus, the environment isn't the quietest either.
If you are keen to work from a coffee shop, then your alternative could be 'Streamer Coffee Company', 'City Bakery' or 'Rakuten' – all of which are in an abundance on the streets of Tokyo. Otherwise, you are left with the choice of a local cafe which can be very VERY cosy locals.
Hostels
Almost all of my work hours in Tokyo were spent in the lounge of my hostel or hotel. Wise Owl Hostels, Samurai in Asakusa and Nine Hours were all suitable for my daily work routine – even video calls. Any accommodation is probably going to be your most peaceful place in such a happening city like Tokyo.
Getting Around in Tokyo
Metro
Long-distance journeys around the country are certainly not cheap. Yet, if you are planning to just take the odd subway from here to there, then I don't see Tokyo as being any more costly than other large cities. Your typical fare can cost between 100-400 yen, depending on how far you intend to travel.
Be Aware: The metro system closes between the hours of midnight and 5 am in the morning. Thus would explain the odd drunk, man or woman, you see lying in a heap on the street corner waiting for their next ride home. Don't be caught out like them. The streets may be safe enough, but it's not a pretty sight.
The metro system is very safe to use. So much so, that I see children navigate them, on their own, back and forwards to school. Nobody seems to bother them. On the flip side, there are some 'female only' metro carriages – they can be found at the back or front of a train. I believe these are particularly useful when travelling during rush hours.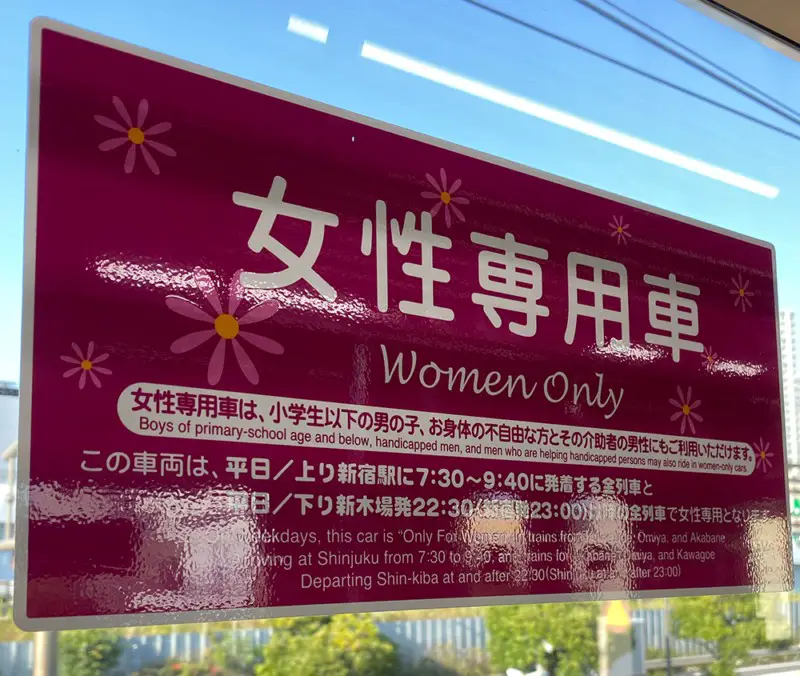 All in all, the metro system is simple to use. If you are still in doubt, each station has a ticket office. Inside each of them are staff waiting to assist. When I have spoken to them, they usually do not speak much English. That's not to say that they're not more than willing to help. Perhaps just gesture them into writing the station names with an order of stops and changes.
Push Bikes
Tokyo's long stretches of smooth and flat roads make it the perfect location to cycle around. The number of pushbikes around took me by surprise but it makes total sense! Ask the staff at your accommodation, they are sure to have some available to rent.
ALSO: 15 Tips to Know Before Going to Tokyo
Data Plans in Tokyo
There seemed to be a divide across each visitor I asked; some bought a standard sim card, whilst others rented or purchased a pocket wifi router. If you are keen to begin your journey with data, then each can be purchased with ease at the airport. 
If convenience is your ultimate goal, check out Airalo for either a local, regional or global eSIM. Airalo is the world's first eSIM supplier. You can purchase the most suitable prepaid data plan without visiting any shop or swapping physical sim cards. This is the technology we digital nomads have been waiting for!
What to Check Out in Tokyo
The option of activities for your downtime is what makes Tokyo such a delight. A number of different attractions made it to my Google Map 'Favourites'.  Here are a few to inspire you… Make sure to pin them onto your map. These few aren't your typical recommendations.
Hanjuku: Have you ever been to Shoreditch in London? No… How about Williamsburg in New York City? Hanjuku is THAT area of Tokyo. Amongst low-rise buildings and pedestrianised streets lies a hub of thrift shops and Instagrammable cafes. This was 100% my favourite area to hang out.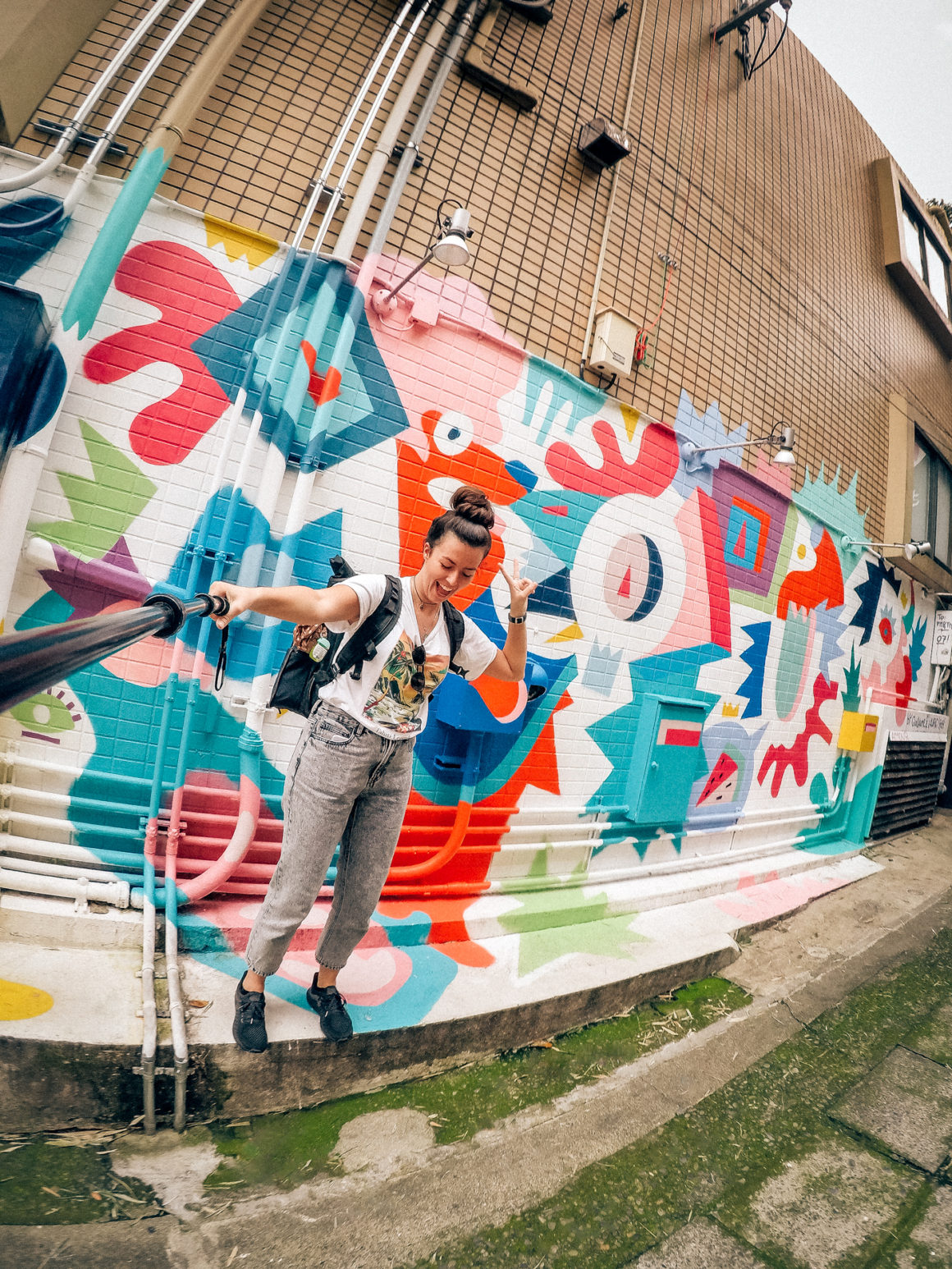 Daiba Park: Check it out on Google Maps – you'll see why this place is ought to provide you with many an opportunity for some photographs. Daiba Park is situated at the end of Tokyo Beach and overlooks Rainbow Bridge, the bay, Fuji TV and the amusement park's Ferris Wheel. There aren't many people around, which allows you to wander around in peace between readers, picnic go-ers and hammock hippies.
Ueno: The smell of food caught my attention while walking through Ueno. Here you'll find Saki, beer, Asian cuisine or a favourite of mine… corn dogs! If you are looking for tiny streets, packed with Japanese people hanging out – you can count on Ueno for a tasty evening!
teamLAB: I am certain that you would have seen photographs from this place! Yes, I realise I said 'these aren't your typical recommendations'… but there was no way that I could leave this out. TeamLAB is a unique collection of digital and interactive art installations or even experiences.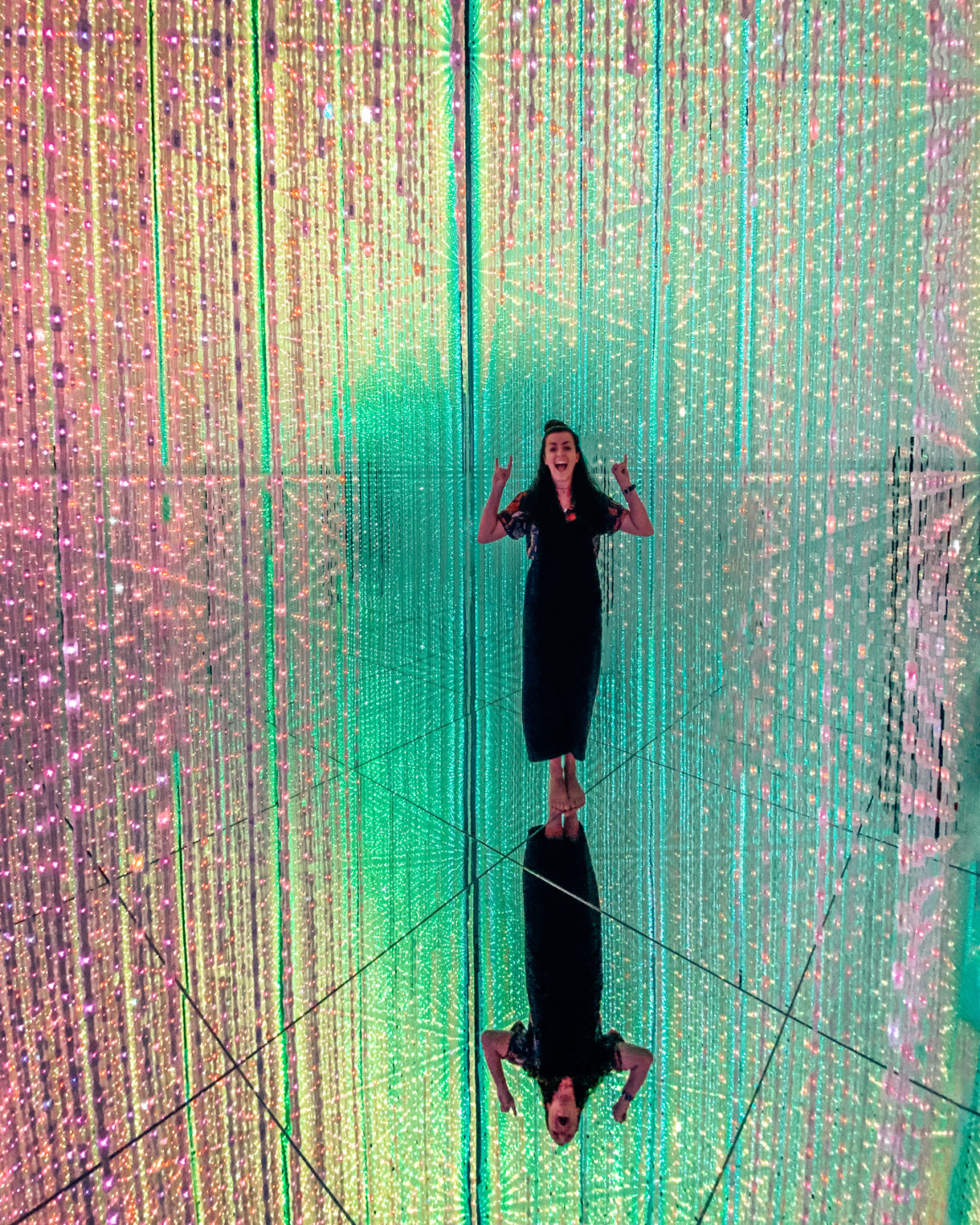 There are two exhibitions to choose from; teamLAB Borderless or teamLAB Planets. Both are equally mind-blowingly out-of-this-world, however, Planets has more diverse experiences. You should consider booking tickets online before you go. These places expect crowds of Instagram photo-takers. Tickets are sold for just under $30.
Where You Can Save Money Whilst Staying in Tokyo
Foreigners travel to Tokyo expecting the city to be expensive. I guess that's the impression that rent-payers and holidaymakers portray to other countries. Not that it's wrong, but they don't mention the ways in which you can save money and live a cheaper life there. Let me tell you more…
7-Eleven
I reckon 7-Eleven wins the award over Starbucks for owning territory of the most street corners in Tokyo – they're everywhere! This is great for everybody, as this convenience story really does mean convenience. They contain photocopiers, ATMs, warm fridges, toiletries, sim cards, hats & gloves, ready-meals and a microwave to heat them up. They also sell ready-made warm foods such as corn dogs ($1), dumplings ($1.30), hash browns ($0.75) and croquettes ($0.70). It's all there! 
The typical budget meal in Tokyo may cost around $4.50 to $9. Whereas a fairly tasty Katsu Curry or Prawn Linguine could be bought for approximately $4, and be enjoyed in 7-eleven's provided eating areas.
One thing to note is that 7-eleven's cash machines are some of the few that can supply you with a lower amount of money such as 1000 yen. Any other ATM will require a minimum amount of 10,000 yen, which isn't exactly ideal on your last day or two.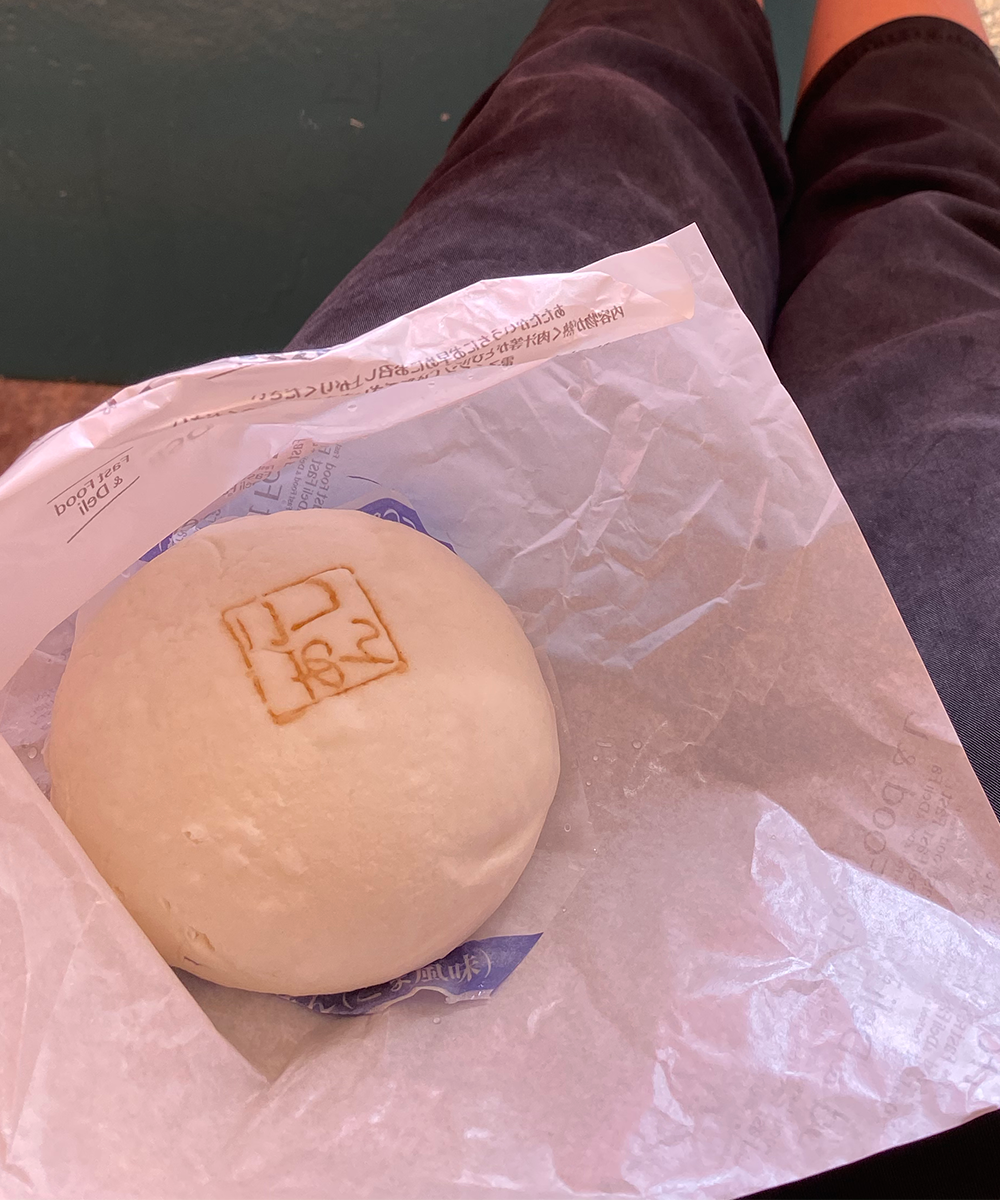 Visit Off-Season
Ask anyone from or who's been to Japan and they'll tell you that the Cherry Blossom season is the best time to visit. Yes, I'm sure it's magical. However, combine this with a million more people and some great high season prices… not so magical. If you would like to pay as little as possible during your stay, avoid the last week of March and the first week of April.
That's my digital nomad's guide to Tokyo but…
Let me leave you with one last reason why you should stay in Tokyo… If there's any country where you can still leave your phone in your back pocket – it's Japan. It's safe. The people are mindful. They'll wear masks to stop you from catching their illness and play noises through the toilet so you don't have to hear them pee. They're considerate, and that's the kind of atmosphere that makes our digital nomad lifestyle a little less stressful on a day-to-day basis.
Want to hear more about the author behind the blogs? You can read about my journey as a digital nomad here.
Let's go!
@katie.maree
---
Did You Know…
If you purchase through a KatieGoes link, we receive a small amount but you still pay the same. This contribution helps keep this blog moving – win, win! Nevertheless, I only recommend personal favourites…
---