If you walk through the airport, you'll spot ping pong tables and workspaces aplenty… Then you'll just know that Tallinn is going to be a great destination for digital nomads!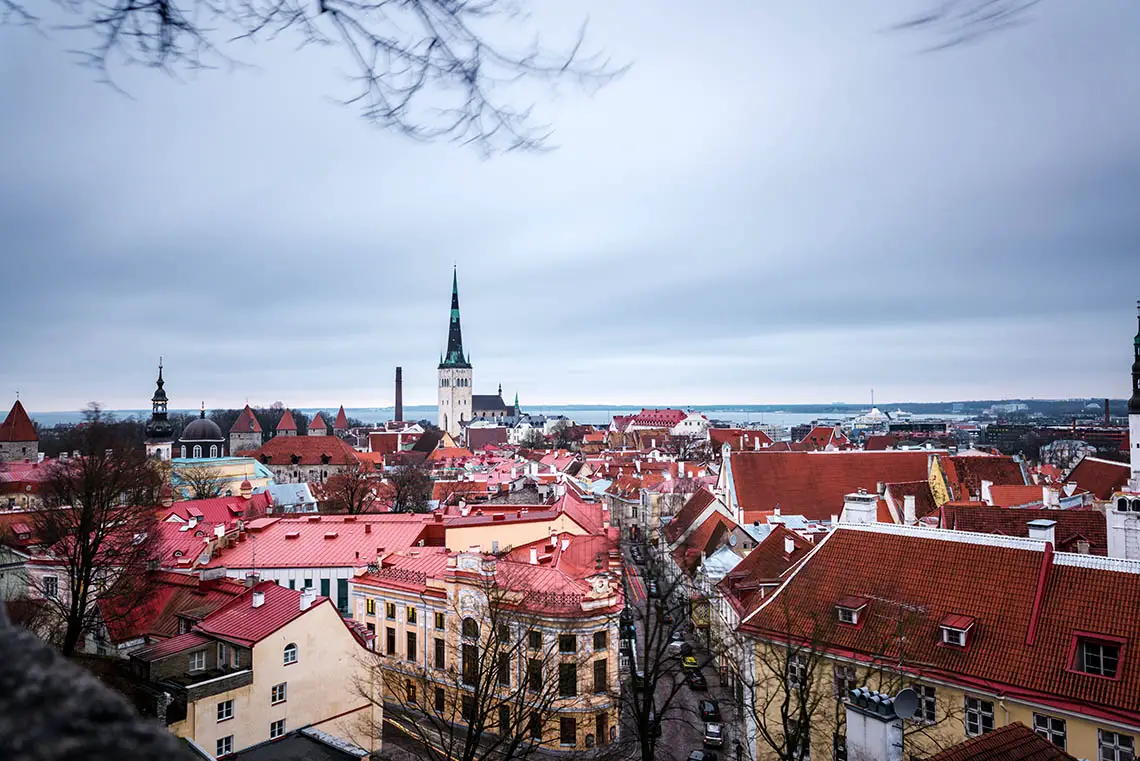 Don't have time to read this now? Pin this blog for later.
What's It Like Living in Tallinn for Digital Nomads?
The Old Town may be the most enticing attraction to most visitors but for digital nomads, Estonia's tech culture is booming. Tallinn may be one of the most magnificent medieval cities but at the same time, it's organised, modern and clean with clear street signs, easy-to-use transport links and a tourist scene, but not so overwhelmingly touristy atmosphere. Better still, if you are a European you can enjoy the simple pleasure of not having to exchange money for a foreign currency or buy a completely new sim card.
Transport
Tallinn isn't a large city so you'll never be too far from where you want to be. The Old Town is easily walkable, but taxis and public transport are simple to use if you'd like to visit someplace a little further out.
Public – The city has a network of buses and trams available that are incredibly straightforward to navigate. Tickets fare costs are relatively low. For example, a one-hour ticket is €1.50 and a one-day ticket is €4.50.
Taxi – Taxis aren't too expensive in Tallinn. You could catch a ride for only a few euros; €2-3 is a typical starting price with a rate of approximately €0.50 per kilometre. To confirm these rates, check the sticker displayed on the windscreen or on the dashboard of the cab. But of course, ride-sharing apps are much more popular, especially among the locals. Bolt is available in Tallinn.
Connectivity
Tallinn has an abundance of free and open wifi networks across the city; from the ferry terminal to your accommodation and the pub. With this in mind, it wouldn't be essential to have a SIM card for your stay.
Data Plans
Since 2017, data roaming within European countries has been free of charge with most European sim cards. Albeit there are often certain restrictions to these policies. Therefore, it may be that your current sim card will be sufficient for your trip. Otherwise, you may want to ensure that any sim card you do purchase in Tallinn will also work in other European countries.
Estonia has three mobile networks: Tele2, Telia and Elisa. Sim cards of each are available to buy at the official stores of the operators, in R-Kiosks and in various supermarkets. If you are flying into Tallinn Airport, Tele2 and Super sim cards can be purchased at the R-Kiosk. Either way, you will not need your passport to make the purchase. Don't be concerned about the price of these plans, it's possible to buy an Estonian sim card for as little as one euro – why isn't every country as easy as this?!
If convenience is your ultimate goal, check out Airalo for either a local, regional or global eSIM. Airalo is the world's first eSIM supplier. You can purchase the most suitable prepaid data plan without visiting any shop or swapping physical sim cards. This is the technology we digital nomads have been waiting for!
Wifi Speeds
According to Ookla's SpeedTest, Estonia has an average download speed of 51.47Mbps. You shouldn't ever be too far away from a stable internet connection in Tallinn; from the independent coffee shops to the lively bar and most places in-between.
TIP: Tap water in Tallinn is safe to drink. Bring a refillable bottle to help prevent the overuse of plastic.
Language
The official language of Estonia is Estonian but most people have a reasonable everyday grasp of English in Tallinn. Many signs and menus are also written in English. Therefore, you won't experience much in the way of language difficulties in the city.
Money
The Euro (€) is the official currency of Estonia. Most major credit and debit cards are widely accepted in Tallinn and other towns and cities of Estonia. Plus, you will not have any issues finding a cash machine either; they are in an abundance.
Community
Tallinn is reasonably-known as a digital nomad hotspot so you are bound to find yourself tapping into the thriving community of other remote workers in the city. However, this is most prevalent in the summer months as the winter climate becomes too harsh for most.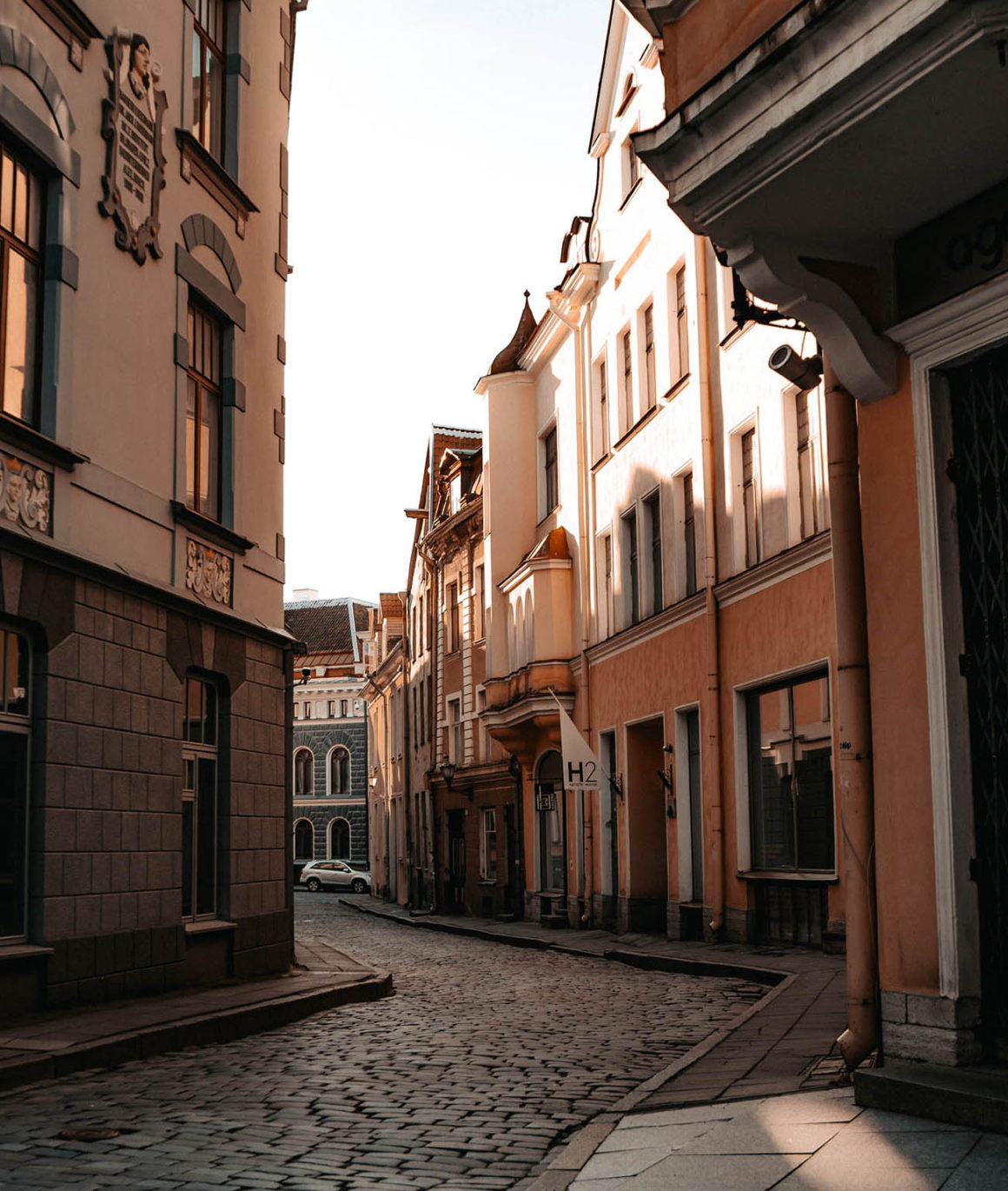 ALSO: 

Istanbul for Digital Nomads
You Should Know Before You Go
As convenient as the city of Tallinn is, these are the essential things you'll need to know before you go…
Is Tallinn Safe?
Yes. Tallinn is absolutely safe for everybody, including female solo travellers. The city's crime rates are relatively low, but obviously, you should be aware of your surroundings at all times (as per any other city).
Best Time to Visit Tallinn
Similarly but not as extreme as Helsinki, Tallinn experiences comfortable summers but long and brutally cold winters. Plus, you can expect a year-round wind from the nearby Baltic Sea. Therefore, the best time to visit Estonia would be during the summer months of June, July and August when you can expect temperatures that average just above 20 degrees celsius. It would be during these months when visitors can also enjoy the longest days of the year with a late sunset.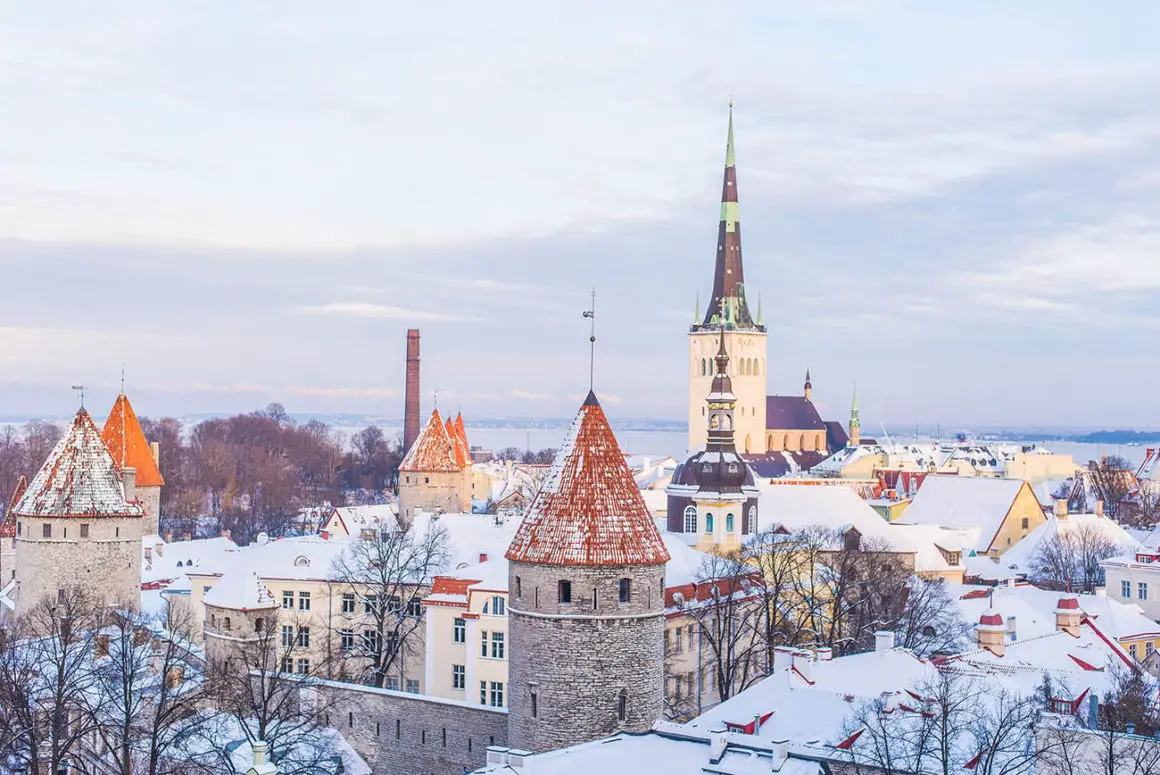 SIMILAR: 

The Ultimate Travel Guide to Tbilisi for Digital Nomads
Travelling From The Airport
There aren't many places that would challenge the simplicity of Tallinn's connection between the international airport and the city centre. As soon as you walk out of the Arrivals Hall you'll naturally head towards the bus and tram station on the right. Tram number 4 departs approximately every 10 minutes between 5 am and midnight. This will take you to the city centre within 20 minutes. For a single trip, the ticket fare is €1.50 which you can pay by cash or card at the ticket machine in the station.
If for some reason you'd prefer to take a taxi, then it is recommended that you organise a Bolt (as opposed to bartering with the traditional taxi drivers). The journey to the city centre should cost no more than €10.
Length of Stay
Tallinn can be explored by a typical city breaker within 2-3 days – easy. A week may be more manageable as a fast travelling, and working, digital nomad. However, if slow travel is more your thing, then you're in luck as Estonia are pioneers of the exciting digital nomad visa. This would allow location-independent workers to apply for the opportunity to live and work in Tallinn for up to a year.
Bonus: Tallinn Recommendations
Working Remotely from Tallinn
Working remotely is an emerging way of life in Tallinn so the facilities to accompany those who do so are of a great standard.
Suggested Coworking Spaces –
Suggested Coffee Shops –
NOTE: RØST Bakery is one of the best smelling coffee shops in town. Grab a hot drink and a pastery to catch-up with their wifi connection.
CHECK: Hell Hunt is a fun place to taste local craft beers with a great mix of locals, expats and travellers. In fact, the establishment claims to be the 'first ever Estonian pub'. How about that!
Top Things To Do in Tallinn
Where to Stay in Tallinn for Digital Nomads
For now, temporary accommodation in Tallinn is very affordable for digital nomads, although housing costs are rapidly rising much-like other major European cities.
Airbnb will be the most convenient method of finding accommodation to rent for longer than a few days as they host a wide variety of accommodation types, locations and prices.
Below are a few recommendations for short-term stays…
Budget
Old Town Munkenhof is located in the heart of the Old Town. They have dorms and private rooms available with common areas in between for your leisure or work.
Mid-Range
Fat Margaret's is conveniently situated between the Old Town and the busy port. Choose Margaret's if you'd like to accompany your stay with daily dips and sauna trips.
High-End
At Hektor Container Hotel every room is equipped with a desk and a seating area; and when we say room, we mean container. Yes, you could stay in your own personal container!
Alternatively, you could have a whole apartment or house to yourself! Why not stay in wonderful homes by house-sitting and caring for adorable pets? This experience would not be for everyone but you could find yourself in free accommodation, whilst you live a more authentic lifestyle in the local area, by joining Trusted Housesitters.
ALSO: 

The Coliving Spaces that Digital Nomads Should Know About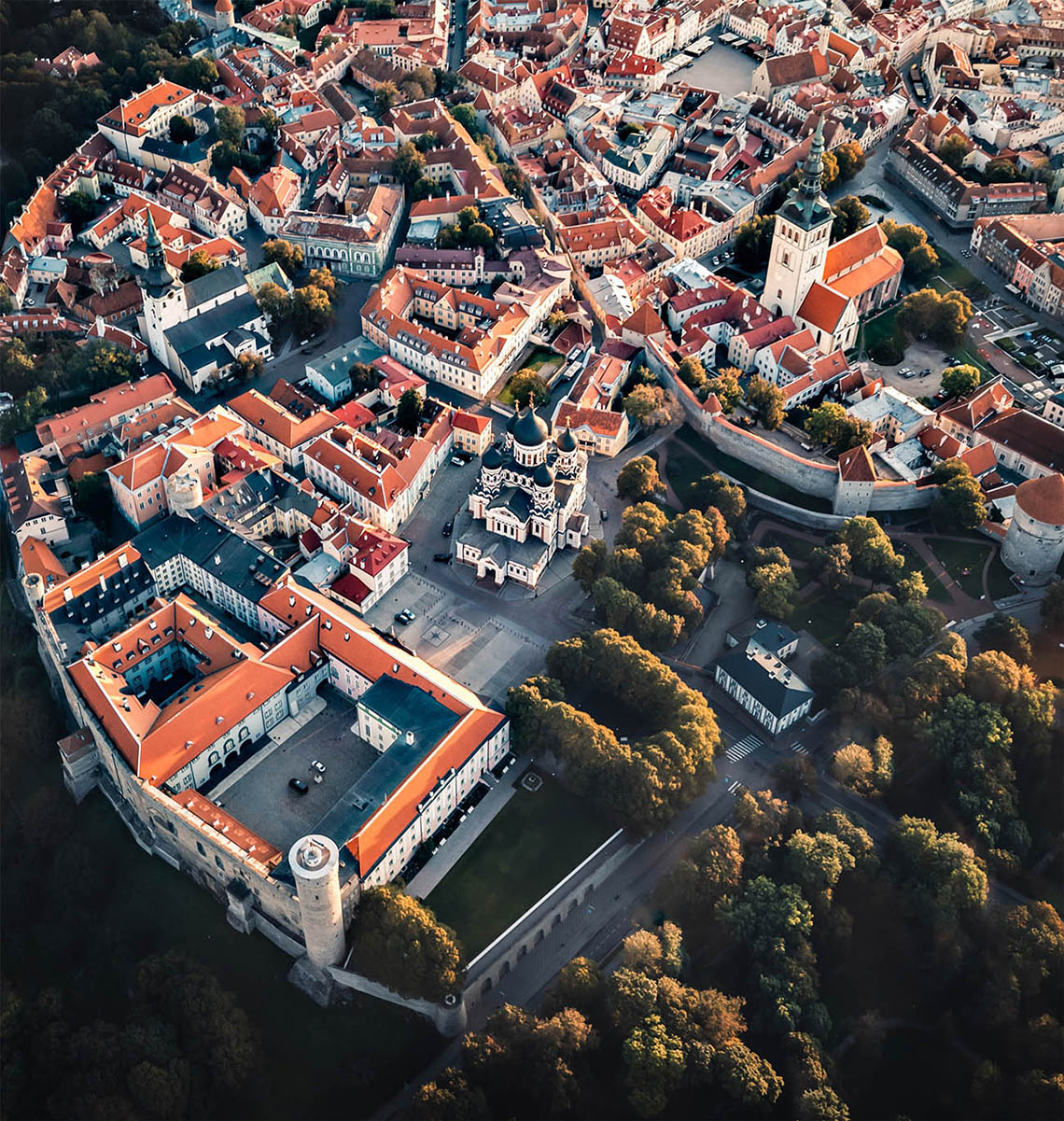 Where To Go After Tallinn?
Helsinki – Finland is only a two-hour ferry ride from Tallinn so you could even nip across for a quick day trip! Read this guide of Helsinki for Digital Nomads before you go.
Stockholm – Similar to Helsinki (albeit with a longer ferry ride), is Stockholm. This journey would take between 16-20 hours.
Riga – You could drive to Latvia's capital, Riga, within 4.5 hours or take a bus if you'd prefer.
Looking to go further? Check out the digital nomad guides for Dubai, Belize, Sri Lanka, Guatemala, Morocco or even the Adriatic Coast.
Let's go!
@katie.maree
---
Did You Know…
If you purchase through a KatieGoes link, we receive a small amount but you still pay the same. This contribution helps keep this blog moving – win, win! Nevertheless, I only recommend personal favourites…
---
Save this on Pinterest
Do you not have time to read this guide on Tallinn for digital nomads? Click on the Save button to pin this article for later.