You can admit it… One of the main reasons for your trip to the Scottish Highlands is for our cows, right?!… Honestly, I wouldn't blame you! Their ginger shaggy coats and prominent horns are incredibly photogenic, although they aren't always in a practical location to grab a coo selfie or two. Also, where in Scotland are the Highland Cows? This guide reveals the best viewpoints for coo-spotting the lazing and grazing hairy beasts. Just don't expect them all to be ginger; they can be black and white too!
Highland Cows can be found all over the Scottish Highlands and Islands (just like you'll find sheep wandering all over too)! Roughly speaking, there are as many roaming free across the land as there are within fields along the roadside so they can be a little hard to pin down to one definite location. More than that, before you've even had a second to shout, 'STOP THE CAR', you might have already missed your opportunity to turn around. Unless of course, a herd (or fold, as a group of Highland cattle are known), are unapologetically blocking the way, as they often do!
DID YOU KNOW: Highland Cows are the oldest cattle breed in the world!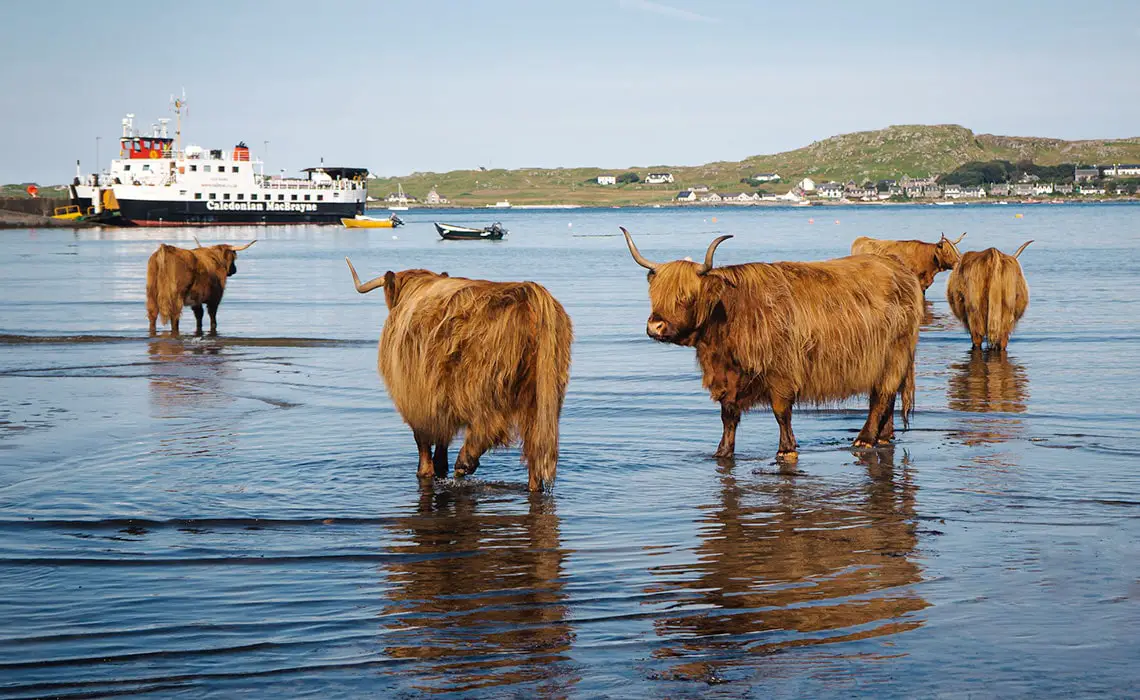 Run out of time? Pin this blog for later.
Where to find Highland Cows?
There is a clue within the name, 'Highland Cow', but you may be able to spot a few further than the confines of the Scottish Highlands.
Where is the best place to see a Highland cow? This complete 'Hairy Coo' guide reveals where to find Highland Cows from the Scottish Highlands & Islands to even Glasgow and Edinburgh. Either way, each suggested location will have suitable parking within close proximity to the Highland Coos to avoid any disruption or danger, to other passing vehicles.
Along the North Coast 500
There are many Heilan Coos grazing along the popular North Coast 500. You'll begin to spot a few even within the fields if you are travelling along the route anti-clockwise from Inverness, although there are much safer places to stop by to take a few photos.
Culloden Battlefield
With only a short drive from Inverness, it could be worthwhile checking around the Culloden Battlefield for some hairy beasts. This location could be described as one of the easiest to see Highland Cows if you are relying solely on public transport as the City Sightseeing Hop-On Hop-Off bus (blue route) stops close by.
Click here for the location on Google Maps
NEARBY: The Best Viewpoints of the Culloden Viaduct
Dochgarroch
Make a stop on your way to Urquhart Castle to bag yourself a coo-selfie at Dochgarroch. There is a 'fold' of three Heilen Coos fenced within the field across the car park from the restaurant, An Talla. This location can also be accessed with public transport, aboard the City Sightseeing Hop-On Hop-Off open-top double-decker bus (the red route).
Click here for the location on Google Maps
Cameron's Tea Room
The delightful Cameron's Tea Room is the perfect place to pick up a refreshment between Inverness and Fort Augustus. You'll find the charming cafe just past Foyers on the south side of Loch Ness. Their nearby field is home to a few friendly Highland Cows. You could also potentially continue obsessing over their cuteness through the cafe windows as you sip on your hot cup of something. Perfect!
Click here for the location on Google Maps
Redburn Cafe & Gifts
You could spend the evening with Scottish Cows at Redburn Cafe in Glenmoriston. The cafe permits small campers to park overnight if they spend money inside beforehand. With a delicious menu including tasty coffee, mouth-watering cake and a bag of munchies for the coos, the Redburn Cafe is a worthy stopover – for sure!
Click here for the location on Google Maps
Kirkton Farm
Make a detour from the beaten track of the North Coast 500 to hitch a ride with the locals on a buggy tour of their farm. Kirkton Farm has two Highland Cows, although you should also meet the two pygmy goats, Harris and Tweed.
Click here for the location on Google Maps
Near Fort William
If you find any other coo-spotting locations in Fort William, please feel free to leave a comment below. We would love to hear from you!
Ben Nevis Distillery
Ben Nevis Distillery can be located on the northern side of Fort William between the road from Inverness to Mallaig. Scotland may have much more attractive distilleries, but the added bonus of Ben Nevis Distillery is the herd of Highland Cows living in the field close to the car parking area.
Click here for the location on Google Maps
RELATED: 10 Awesome Things To Do in Fort William
Near Perth
Are you passing through Perth? There is one reliable viewing spot a little further north along the A9.
Bankfoot
Visit Taste Perthshire for a blend of shopping and an all day family restaurant. Regardless of the friendly service inside, the highlight will obviously be meeting their Highland Cows. Take a walk around the restaurant building to meet the herd. If the technology is working, there is also an online webcam for visitors to check if the Heilen Coos are around before stopping by.
Click here for the location on Google Maps
Near Edinburgh
Are you wondering where to see Highland Cows in Edinburgh? There are a few options…
Swanston Farm
Set on a 700-acre working farm in the outskirts of Edinburgh are self-catering cottages, a brasserie, a golf course and a 'fold' of Highland Coos. If visitors are prepared to hike 30-40 minutes up Caerketton and Allermuir Hills, then they will be rewarded with the fairly mellow herd who are ready to be photographed.
Click here for the location on Google Maps
Morthonhall
There may be a small herd of Highland Cows in the fields between Mortonhall Garden Centre and Mortonhall Campsite. The last time I was there, I fell in love with the sign on the fence. It read,
If my head looks stuck between the fence wire, don't worry, I am just scratching an itch.
Sometimes I lie down on my side to sleep. I am still alive, but very comfortable.
We'll happily ignore you if you walk through the field but please don't touch us.
Click here for the location on Google Maps
ALSO: The Best Scottish Highland Tours from Edinburgh
Near Glasgow
I hear you ask, "are there Highland Cows near Glasgow?"
We'll do one better… There are Highland Cows in Glasgow!
Pollok Country Park
There are approximately fifty Highland Cows that graze all year round in the fields of Pollok Country Park. Pop by just after March to be in for a chance of spotting the new, and far too adorable, calves.
Click here for the location on Google Maps
Near Aviemore
There are plenty of opportunities to spot a Heilen Coo in and around Aviemore, though the recommended locations below have been tailored to suit visitors stopping by in vehicles.
Cardhu Distillery
How about a Highland Coo with a Highland Dram? Our hairy beasts can be spotted in the fields around Cardhu Distillery. This location is east of Inverness.
Click here for the location on Google Maps
Rothiemurchus
Would you like to meet a Highland Cow? Just outside Aviemore in the north of the Cairngorms National Park, the Rothiemurchus Highland Estate hosts a hairy coo safari! Visitors can walk to the farm where the ranger will call the cattle over for a 'meet and greet', or maybe even a coo selfie if they are feeling particularly photogenic that day.
Click here for the location on Google Maps
Highland Folk Museum
The Highland Folk Museum in Newtonmore is home to a few cows. They have become used to tourists who aren't afraid to attempt a stroke or two.
Click here for the location on Google Maps
Lewis & Harris
The tradition of crofting is commonly practiced on the island of Lewis and Harris, but without a huge population or infrastructure, the livestock are more often than not, roaming free. With that being said, it's a little harder to pin the hairy beasts to one specific location, so visitors should keep an eye out across the land.
Hushinish Beach
Hushinish is a popular beach and park-up on the Isle of Harris. Incoming cars, campervans and motorhomes are often slowed down by a group of slow-moving Highland Cows on the road. You can catch a ferry from Ullapool, Skye or North Uist to camp next to the Highland Cows at the Gateway.
Click here for the location on Google Maps
RELATED: Hushinish Campsite & Beach - The Unmissable Park-Up on Harris!
Isle of Skye
There are a number of Highland Cow folds across the Isle of Skye. If you're lucky, you may catch the hairy beasts wandering freely on unfenced roads around Elgol in the south of the island. Otherwise, there are a few other viewpoints that are likely to yield great encounters!
A87
You might spot the roadside fuss along the A87 before you see the orange-haired fuzz. There is a layby that has space for a few vehicles between Broadford and Portree. The field opposite has a fold of cows, whether they are exactly there or a little walk away depends on their plan for the day.
Click here for the location on Google Maps
Sconser
The best location for photographing Highland Cows in Skye is between Skye Bridge and Portree, near the village of Sconser. There are a few reasons why this spot is ideal for coo-spotting. Firstly, there is a small parking area opposite the Sconser golf course, so providing there isn't a crowd, it's a safe place to stop your vehicle. The feeding station is positioned in close proximity to the parking, so there will be plenty of opportunities for close shots of the furry beasts. Lastly, the herd of cows are based within a stunning mountainous backdrop just beyond the fencing of the farm.
Click here for the location on Google Maps
Skye Camping & Caravanning Club Site
If you're passing Dunvegan, it might be worth taking a peak in the field at the turn-off to the Skye Camping & Caravanning Club Site. Otherwise, pick your park-up on-site as you could be waking up next to the hairy beasts!
Click here for the location on Google Maps
Isle of Mull
With plenty of Highland Cows on the Isle of Mull, they can be quite easily found. Not only that, they are often positioned in some very picturesque locations too!
Fionnphort
Whether they are paddling in the sea, stopping by the pub or wandering up the streets, Highland Cows are quite often attracting attention in Fionnphort on the Isle of Mull. This town is on route to the Isle of Iona.
Click here for the location on Google Maps
Glengorm Castle Hotel
Heilen Coos can be spotted happily roaming around the grounds of Glengorm Castle Hotel on the north of the Isle of Mull.
Click here for the location on Google Maps
Pennygown Holiday Park
The Pennygown Holiday Park is about a 15-minute drive from the Craignure ferry terminal where the Calmac service docks from Oban on the mainland. The best view may be from inside the campsite, so you might prefer to book your spot in order to spend some quality time with the Heilan Coos.
Click here for the location on Google Maps
SEE: Things To Do & Where To Stay on the Isle of Mull
Loch Lomond & The Trossachs
The area in and around Loch Lomond and the Trossachs can experience a higher volume of traffic. Therefore, visitors are kindly reminded to park responsibly, especially in the heat of the moment within the first sighting of a Highland Coo.
Trossachs Woollen Mill
Pay a pound for a bag of food in the Trossachs Woollen Mill to feed the cheeky Highland Cows just beside. The Trossachs Visitor Centre is home to Hamish Dubh (Father Cow), Honey (Mother Cow) and Holly (Baby Cow).
Click here for the location on Google Maps
Near the Border
Where in Scotland are the Highland Cows near the country's border? This recommendation would contribute to a great family day out!
Kitchen Coos & Ewes
Kitchen Coos & Ewes offer fun farm tours aboard their purpose-built trailer. The 'Wee Coo Tour' is a weather-proof experience that introduces folk to the Scottish Cows for some great photos and unforgettable memories.
Click here for the location on Google Maps
Frequently Asked 'Hairy Coo' Questions
Can you pet a Highland Cow?
Regardless of their fearsome horns, Highland Cows are quite placid creatures. They have a very lazy demeanour, so don't expect any excitement during your welcome. Also, Heilen Coos may generally be friendly and tolerant of tourists, but petting a Highland Cow would only be for the brave. This is particularly a bad idea when there are calves within the 'fold'. Visitors should also keep their dogs on a leash, or preferably away from any livestock at all.
Are Highland Cows used for meat?
Despite their adorable nature, Highland cows are bred primarily for their beef. Their meat is of exceptionally high quality with less fat and less cholesterol than normal beef. The breed of cattle can withstand the harsh conditions of the Scottish Highlands, so they are a highly-prized and fairly low-maintenance animal among farm in Scotland.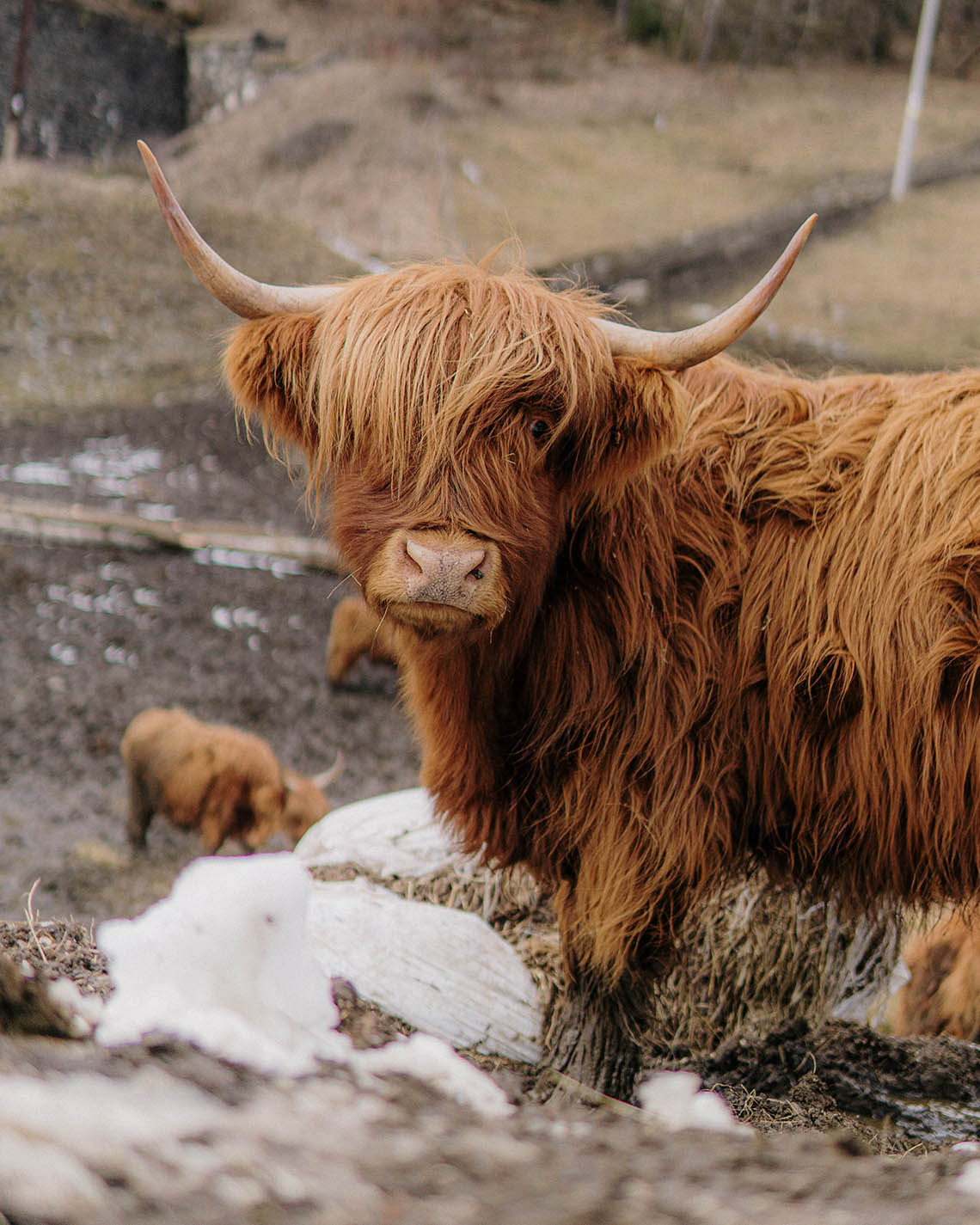 READ: The Best Places to Visit in Scotland
Where in Scotland are the Highland Cows?… Please leave a comment below if you have any additional suggestions. It would be great to hear about what other moo-autiful encounters you've had along the way!
Let's go!
@katie.maree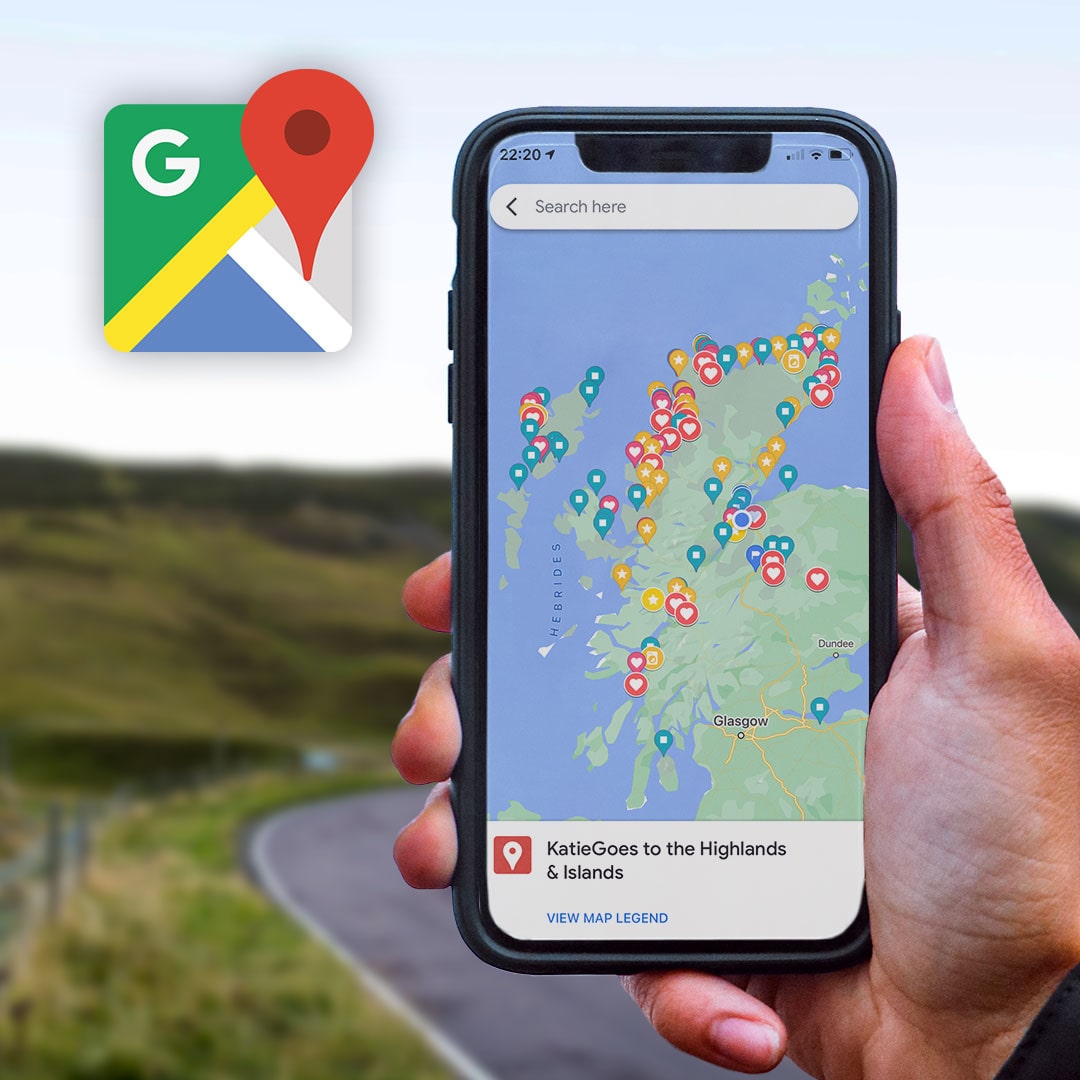 Scottish Highlands Google Map Legend
This Google Map Legend showcases 140+ need-to-know coordinates within our bonnie Scottish Highlands & Islands:
Awesome Wild Camping Park-Ups
Best Walks, Viewpoints, Beaches
Bucket List Locations
Accessible Showers & Fresh Water Taps
Relevant Links to Online Travel Guides
Save For Later
Run out of time? Click on the 'PIN' button to save this article.