Are you interested in Scotland's biggest city? Voted as the world's friendliest, Glasgow is a great choice for digital nomads who are looking to meet some characters. After all, their very own city branding states, 'People Make Glasgow'.
With Britain's best live music scene and an abundance of bars, restaurants, comedy clubs, shopping, architecture, museums, galleries and amazing street art; Glasgow is filled to the brim with a vibrant and creative culture. Plus, I know that the Glaswegians will tell you that it's the best night out you'll have in Scotland!
There is often a friendly rivalry between the people of Glasgow and Edinburgh, but the trade off would be like comparing apples with pears. Glasgow can seem unattractive as it lies in the shadow of Edinburgh's tourism sector, but as a result, the city often feels more authentic with fewer crowds of visitors.
Don't have time to read this now? Pin this blog for later.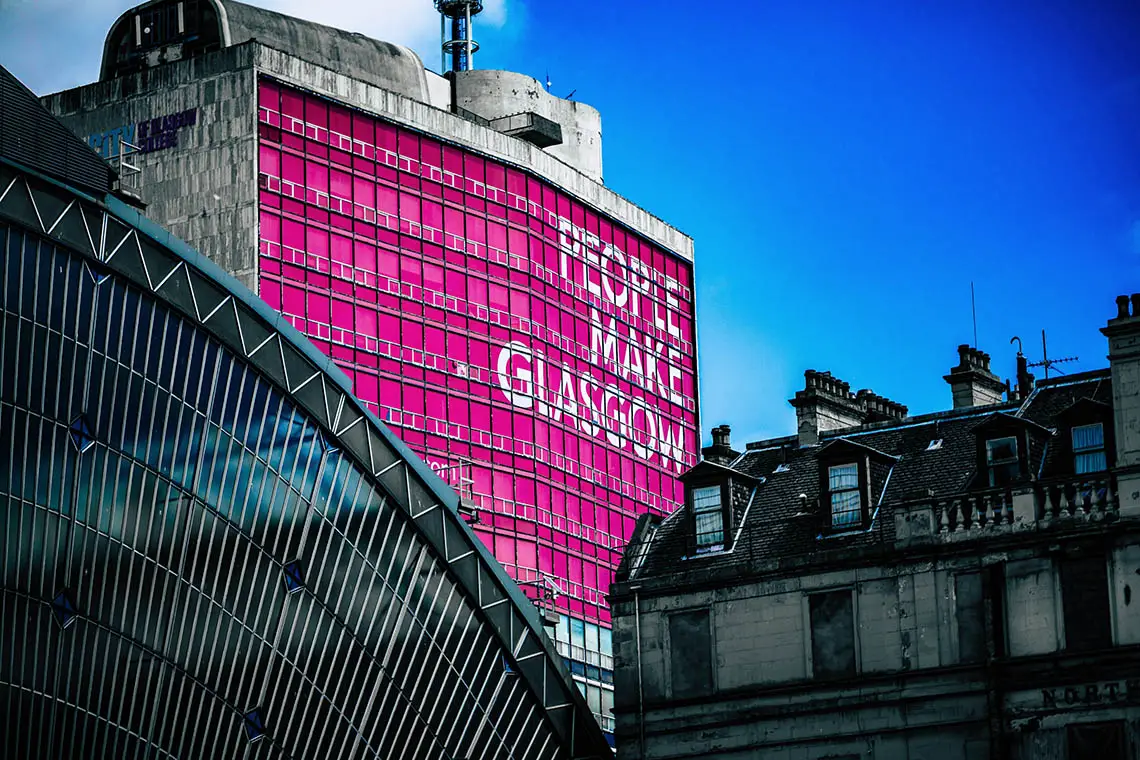 GLASGOW QUICK REFERENCES
Planning in a hurry? This is Glasgow for digital nomads at a glance…
Where to stay in Glasgow: StaySafe Glasgow is a cheap hostel, CitizenM is a mid-range option and the Glassford Residence is an entire apartment.
Need insurance suitable for nomads? SafetyWing is travel insurance for nomads, by nomads. If you are unsure how long you'll be travelling for, or you haven't committed to any destination just yet, SafetyWing is convenient, flexible and simple.
Top Tours: Learn from a guide about the street art, taste the local whisky or dance along the streets with a Silent Disco. Unless you'd like to explore further afield, then take a tour to the Highlands to see if you can find the mysterious Loch Ness Monster!
Best SIM card: Check out Airalo for either a local, regional or global eSIM. Airalo is the world's first eSIM supplier, so you can purchase the most suitable prepaid data plan before you've even arrived.
---
How is Glasgow for Digital Nomads?
Language
The official language of Scotland is English. You might find that this will sound a little different from place to place if you travel any further out of the city – I'm Scottish and I can even appreciate the struggle to understand the accent sometimes!
Money
The currency in Scotland is the Pound Sterling (£); otherwise abbreviated as GBP.
Credit cards and contactless payments are widely accepted. In fact, overall the local population is typically cashless.
The United Kingdom does not have a strict tipping culture. While a tip is never compulsory, it can often be expected when personal service is being given unless there was a problem. In fine dining restaurants, local residents typically leave a percentage of the bill in cash. Whereas in the more casual establishments, most people simply just round up the final total with whatever spare change they have to hand.
Safety
Glasgow is a safe place for tourists. Glaswegians are friendly, welcoming and warm; I just wouldn't test this theory with a walk through the quiet streets during the darkness of night. Keep your wits about you (as you would with any city!).
Transport
Glasgow is a very walkable city, especially within the city centre. However, taxis and the public transport are simple to use if you'd like to visit someplace a little further out.
🚌 Bus – A single ticket for a bus will cost 1.80 GBP (2.16 USD). Day tickets can be purchased too for 4.90 GBP (5.89 USD). These can be purchased on the FirstBus app, online or on the bus with a contactless payment or the exact change. The Hop-On-Hop-Off Bus is one of the most convenient ways to see Glasgow's tourist attractions and iconic sights.
🚍 Coaches – If you are looking to leave the city, Megabus will be the most convenient and cheapest method.
🚇 Subway – Glasgow's small subway network is an easy way to move around the City Centre and West End. It runs every four minutes at peak times, taking 24 minutes to pass the 15 stations. A single fare will cost 1.55 GBP (1.86 USD).
🚕 Taxis – You'll notice that Glasgow has the same cabs as London. These can take up to five passengers inside. If their yellow light on the roof is lit, then they can be flagged down from the street. Ride-hailing apps such as Uber and Gett will be much cheaper.
🚴 Bikes – Ovo Bikes offer shared bicycles across the city. Anyone can rent a bike via the NextBike app or online. For the best cycle routes, see the Sustrans website.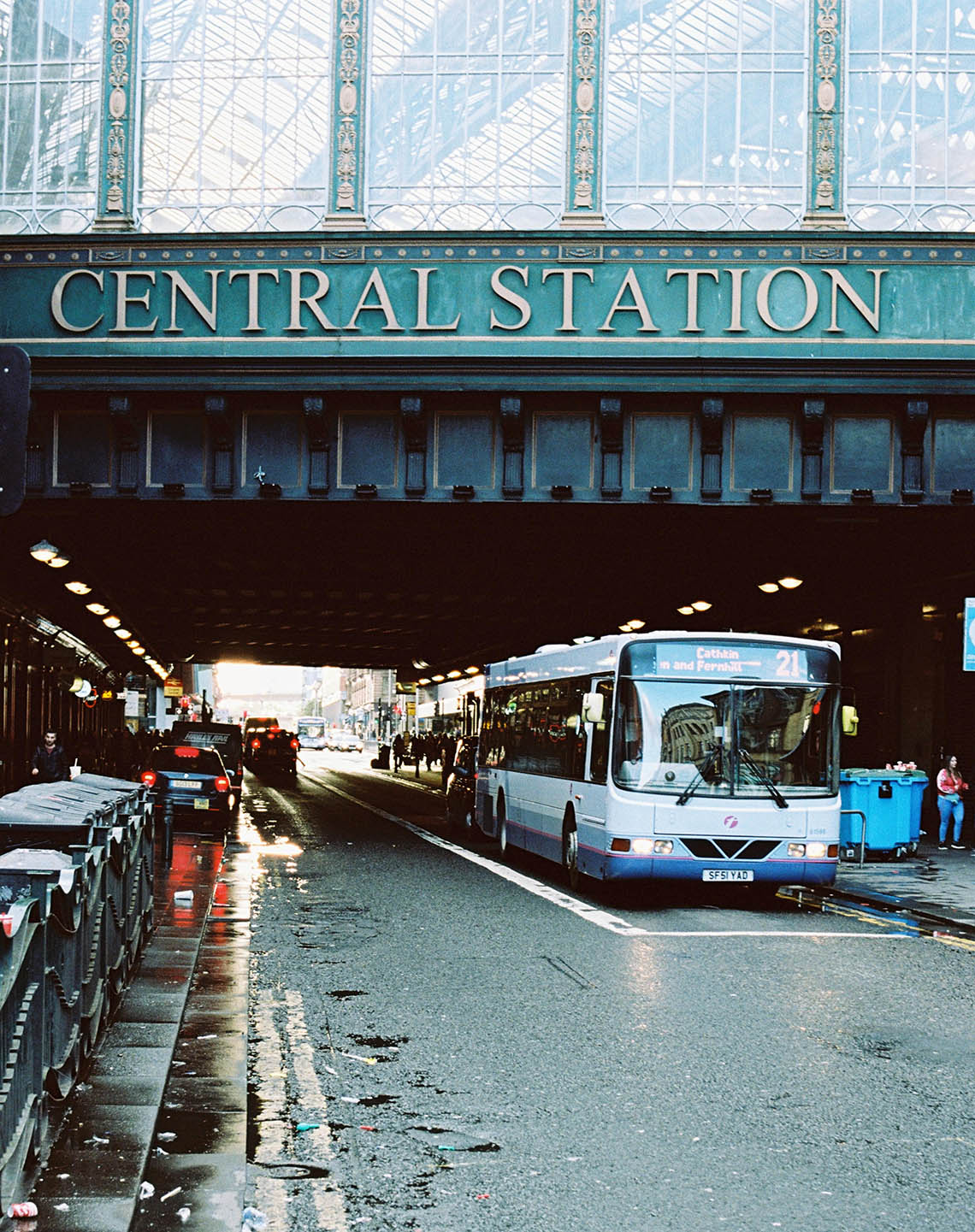 TIP: Scotland's tap water is not only safe to drink, but some of the freshest in the world. Use a refillable bottle to reduce single-use plastic.
Connectivity
Glasgow's internet connections are stable and speedy; they are more than adequate for working remotely online.
Wifi Speeds – According to Ookla's SpeedTest, the United Kingdom has an average download speed of 46.88 Mbps.
Data Plans – The advantage to many British Prepaid SIM cards is that they'll also work in many other European countries. SIM cards can be purchased in major airports (albeit at a higher price point), through network provider retail shops or even in local convenience stores. However, for your convenience, I'd recommend ordering a SIM card online before you're due to depart for the UK. Three, GiffGaff, EE, Smarty, or Voxi are amongst the favourites. In my experience (which you can read about here), I've found GiffGaff to be the simplest to use but EE to have the best signal strength in the most remote parts of Scotland. I tend to buy 12GB for 10 GBP (12 USD) from GiffGaff when I return home to Scotland.
If convenience is your ultimate goal, check out Airalo for either a local, regional or global eSIM. Airalo is the world's first eSIM supplier. You can purchase the most suitable prepaid data plan without visiting any shop or swapping physical sim cards. This is the technology we digital nomads have been waiting for!
DID YOU KNOW? Scotland has it's own pyramid!.. Find out where, here.
Know Before You Go
Don't be caught out by the things you should have known before you travel to Glasgow…
Best Time to Visit Glasgow
It is always recommended that you bring your umbrella to Glasgow, regardless of the month, but you can increase your chances of a dry day by visiting during the months of summer.
June to August – You're most likely to have the most luck with the weather during these summer months. Consequently, June to August is normally the most popular time for tourists. You'll also experience the most hours of daylight as the sun sets as late as 11 pm.
September to October – Autumn could also be a good time to visit Glasgow. The city is generally quieter than in the summer months, but the weather has the possibility of being similar. Like most months in Scotland, it is advisable to be prepared for every weather condition.
November to February – Tourists tend to avoid the winter months in Glasgow. Consequently, most tourist attractions are closed. It is during this time that the Scots flock to Edinburgh instead to experience the Christmas markets and Hogmanay celebrations.
March to May – Spring in Glasgow is unpredictable. It can be pleasant but suddenly rain without warning. The temperature can be anything from 8°C to 15°C.
What is the best month to travel to Scotland? Find out the cheapest, sunniest and driest time to visit Scotland in the more detailed month-by-month breakdown.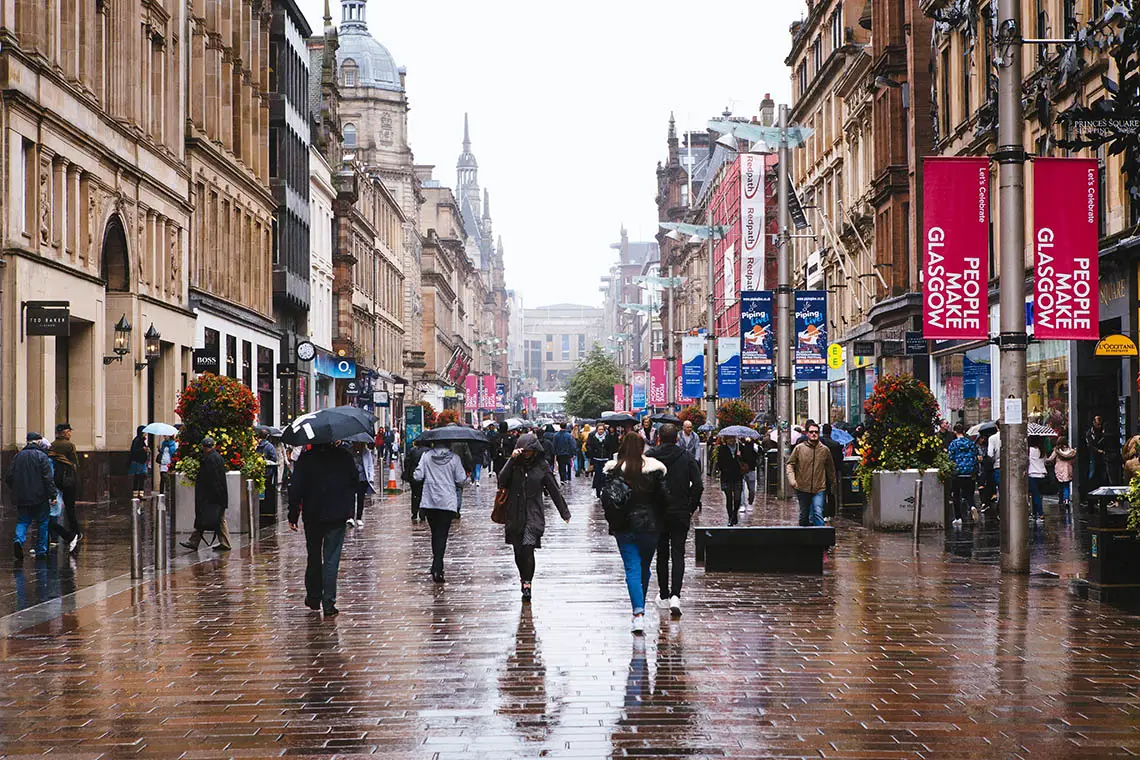 Travelling from the Airport
As soon as you exit Glasgow Airport's Arrivals Hall, you will be greeted by the many different transport options (as well as the fresh Scottish breeze!). The airport is approximately 9-10 miles from the city centre.
🚌 Bus – The Glasgow Airport Express, with the number 500, is the official bus service from the airport to the city centre. It only takes 15 minutes. You'll find this bus in stance 1 at the airport. You can catch the returning bus service at Buchanan Bus Station in stance 46. You can buy a ticket on the First Bus app, online or onboard with a contactless method, cash or by card.
🚕 Taxi – It takes approximately 15 minutes to drive between Glasgow International Airport and the City Centre. An Uber will cost around 20 GBP (24 USD).
🚙 Transfer – Eradicate the stress, hassle and worry of unlicensed drivers (especially for solo female travellers) by pre-arranging an airport transfer with Welcome Pickups.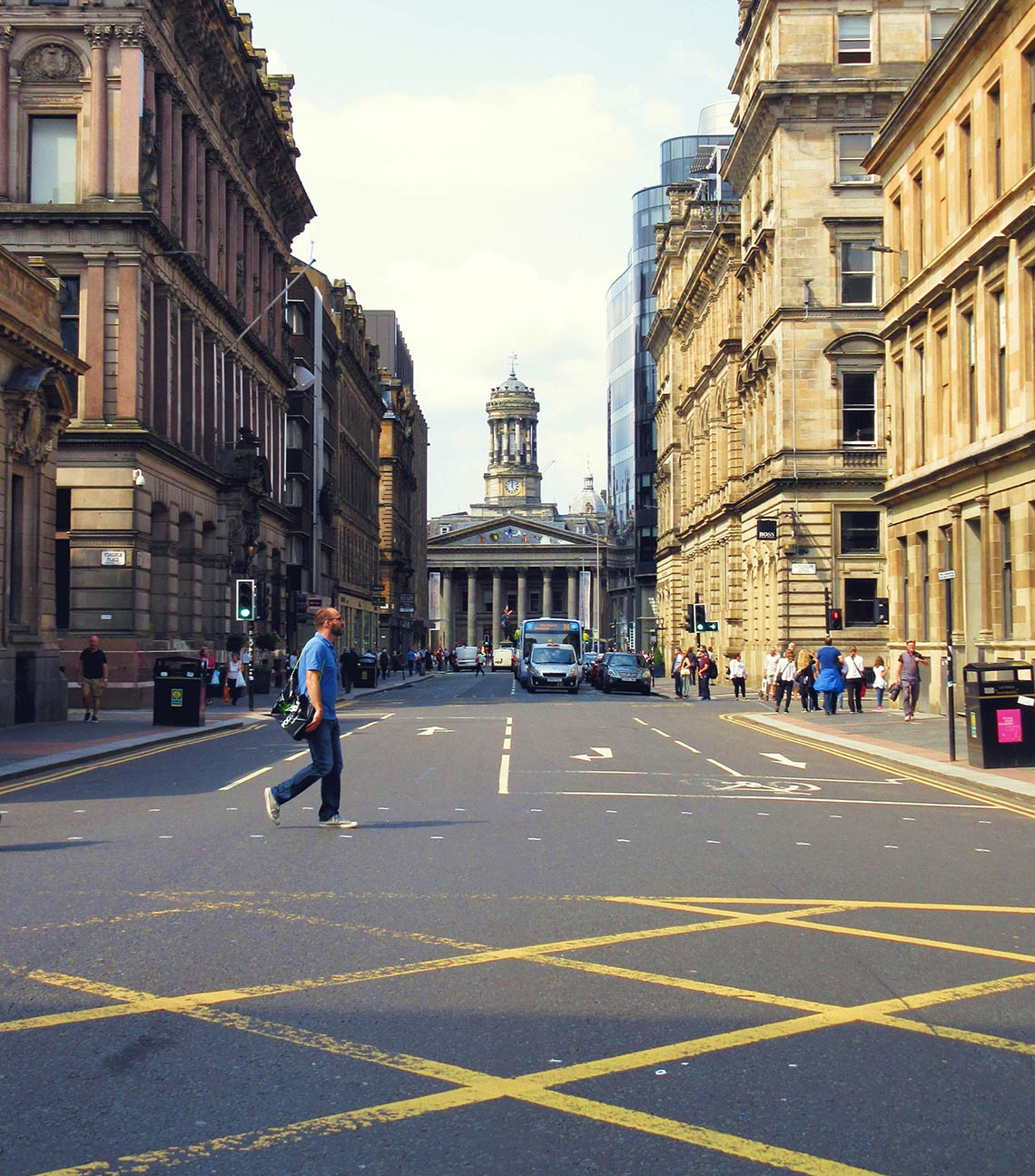 READ: A Guide to Scotland's Most Famous Road Trip (The North Coast 500)
Bonus: Glasgow Recommendations
Working Remotely from Glasgow
There are plenty of places to open your laptop in Glasgow. However, if you happen to find yourself struggling to find any, hop into the nearest Starbucks, Costa or Caffè Nero. These popular multinational coffee shop chains may often be a little more crowded, but you can almost always guarantee a plug socket and a solid internet connection.
Suggested Coworking Spaces –
Suggested Coffee Shops –
Other Suggestions –
Working Out in Glasgow for Digital Nomads
Workout without a fixed contract or membership at any of the seven PureGym establishments in Glasgow. They will allow you to sign-up online and cancel or freeze your membership at any point. The monthly cost ranges from 10 to 22 GBP (12 to 26 USD), depending on the gym's location.
SEE: The Best Places to Visit in Scotland
Digital Nomad Places to Stay in Glasgow
Accommodation in Glasgow isn't known to be cheap, but it's affordable. Airbnb is the most convenient source to find a place to stay in Glasgow for digital nomads. In a matter of fact, the city has been listed among the likes of Bristol, Manchester, Dubai and Los Angeles, as one of the world's most popular destinations for long-term Airbnb stays. You could also have a look at Gumtree or SpareRoom. If nothing else, these listings will provide you with an insight into what is currently available and at what cost.
Below are a few recommendations for short-term stays…
Budget:
If you're short on cash, a dorm room in SafeStay Glasgow is a cheaper option.
Alternatively, you could have a whole apartment or house to yourself! Why not stay in wonderful homes by house-sitting and caring for adorable pets? This experience would not be for everyone but you could find yourself in free accommodation whilst you live a more authentic lifestyle in the local area. Join Trusted Housesitters to keep an eye out for listings!
SIMILAR: The Coliving Spaces that Digital Nomads Should Know About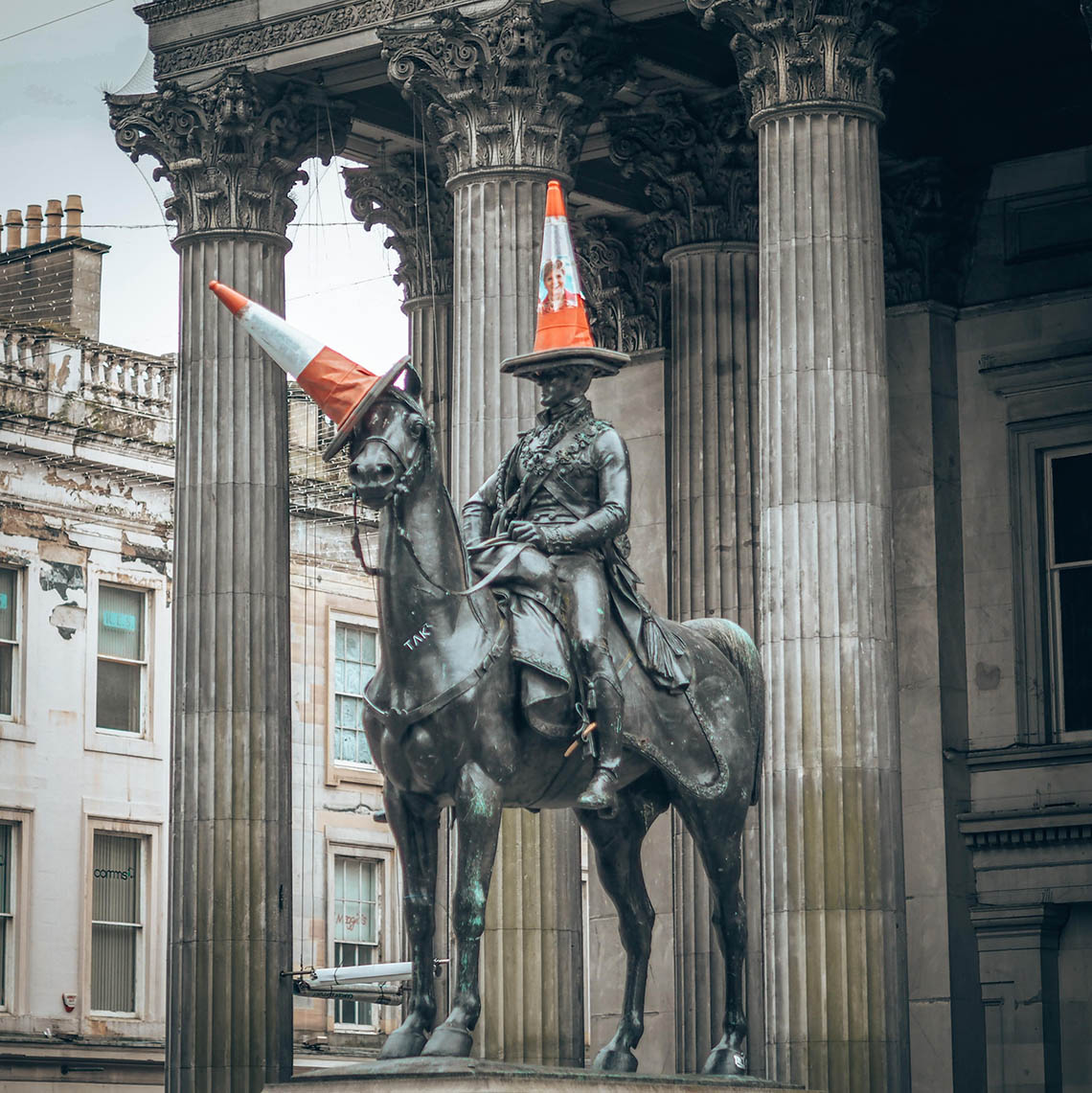 SEE: 

The Best Scottish Highland Tours from Glasgow
Where To Go After Glasgow?
London – If you haven't been before, a quick city break to London is worth the expense. Check out these free hidden gems if you are on a tight budget.
Edinburgh – The capital city is only a 1-hour drive away so it would be rude not to! Check out the guide to Edinburgh for digital nomads for more information.
CHECK: Digital nomad guides for Dubai, Belize, Sri Lanka, Guatemala, Morocco, Montenegro, Croatia and Albania.
Hopefully, this article has given you the confidence to book that ticket on Skyscanner! If you have any other questions, please do not hesitate to post them in the comments below.
Let's go!
@katie.maree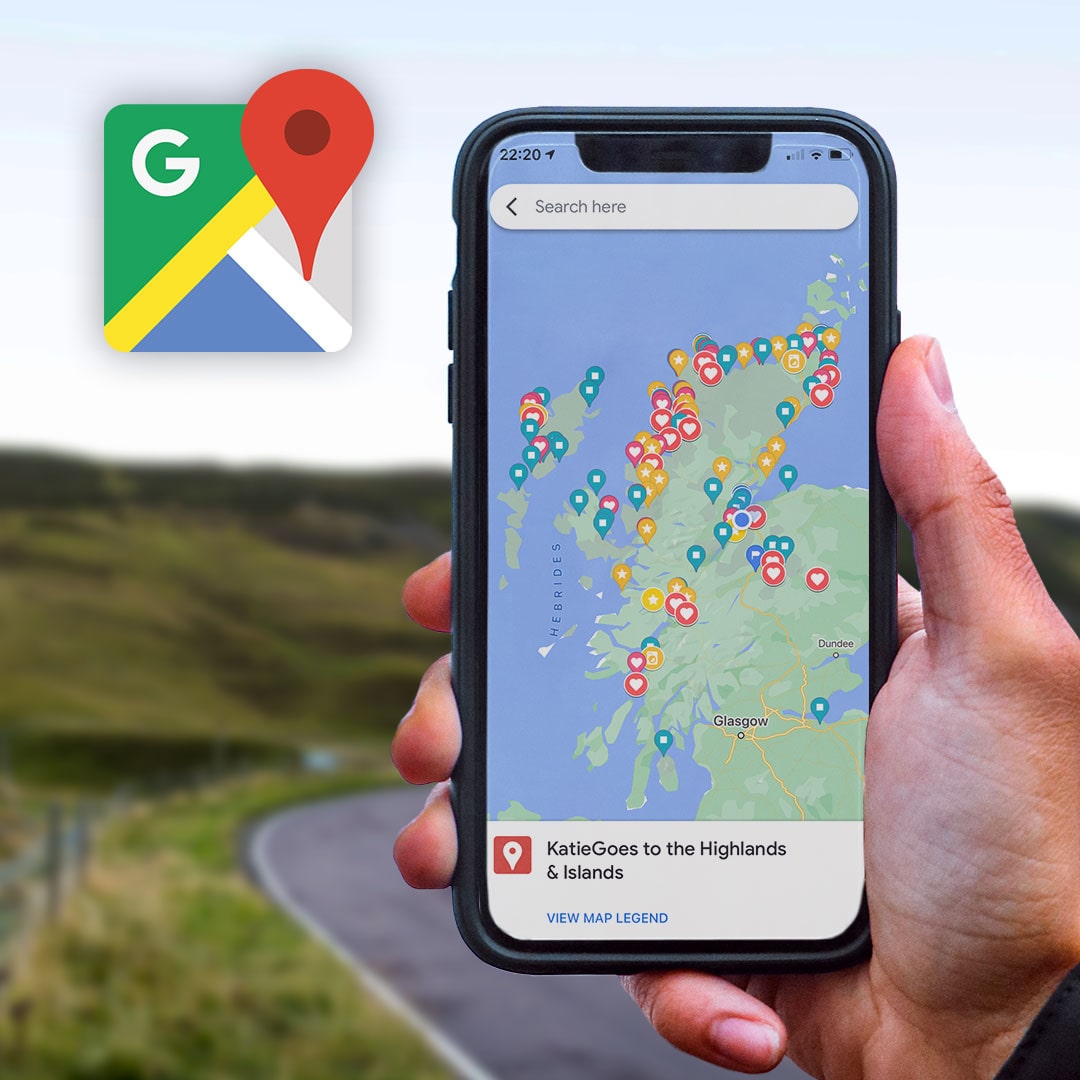 Scottish Highlands Google Map Legend
This Google Map Legend showcases 140+ need-to-know coordinates within our bonnie Scottish Highlands & Islands:
Awesome Wild Camping Park-Ups
Best Walks, Viewpoints, Beaches
Bucket List Locations
Accessible Showers & Fresh Water Taps
Relevant Links to Online Travel Guides
---
Did You Know…
If you purchase through a KatieGoes link, we receive a small amount but you still pay the same. This contribution helps keep this blog moving – win, win! Nevertheless, I only recommend personal favourites…
---
Save this on Pinterest
Do you not have time to read this travel guide of Glasgow for digital nomads? Click on the Save button to pin this article for later.