A capital of tradition and culture; yet effortlessly trendy with a unique, vibrant but endearing character… But is Tbilisi for digital nomads?
Nestled in the Caucasus mountain region, Tbilisi is the biggest city in Georgia. Other than being a gateway to Eurasia between Eastern Europe and Western Africa, Tbilisi has in more recent times highlighted itself on the map as a nomad-friendly destination. And since the nation has been proactive in opening its arms to the global location-independent community, I say we celebrate by heading to the country to raise a glass of local Georgian wine. After all, it would be rude not to since the Georgians invented the stuff!
If you are considering working remotely from Tbilisi, this guide will provide you with all of the need-to-knows, recommendations and lowdowns of the city to ensure your experience is as full as possible.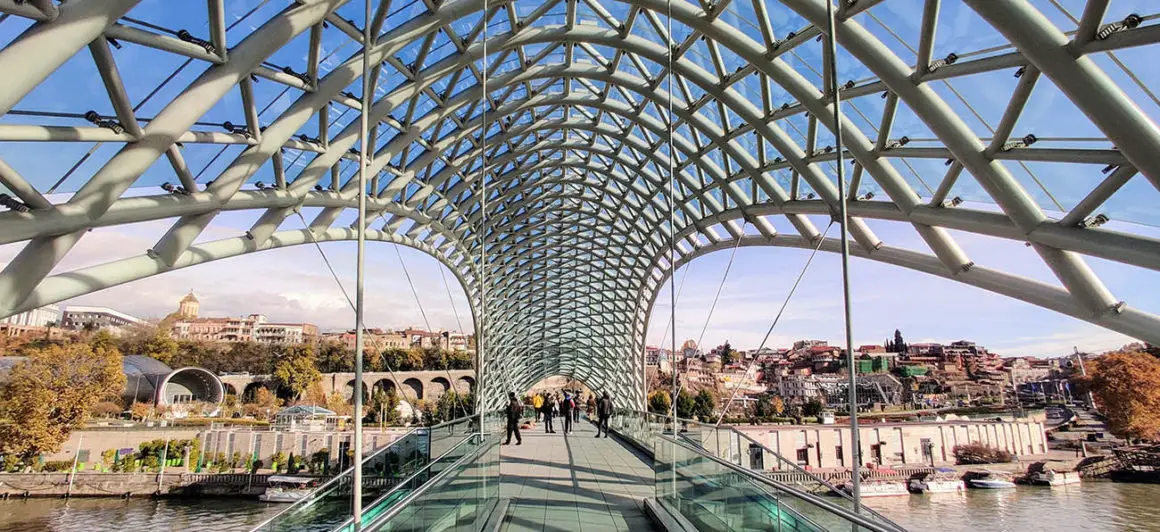 Don't have time to read this now? Pin this blog for later.
What's It Like Living in Tbilisi for Digital Nomads?
There is an ever-growing list of advantages to exploring Tbilisi (and Georgia) as a digital nomad. If you've experienced the benefits of Canggu as a remote worker… Picture that with the mountainous surroundings and historical, cultural and more laidback ex-pat atmosphere of Antigua in Guatemala. Would this be a mash-up that interests you?
Transport
Tbilisi's City Centre is fantastic to discover on foot as the distances between popular attractions are fairly minimal.
Public – Public transport in Tbilisi is inexpensive and surprisingly convenient. You can buy a Metromoney card at any rail station, and then journeys by bus or metro will cost less than 1 GEL. The cable car and funicular have slightly more expensive ticket fares.
Taxi – You'll notice a number of taxis driving around Tbilisi but be prepared to agree on a price before you hop in the car. Bolt is the ride-sharing app in the country. It's relatively cheap and a Bolt driver never tends to be any further than over 5 minutes away.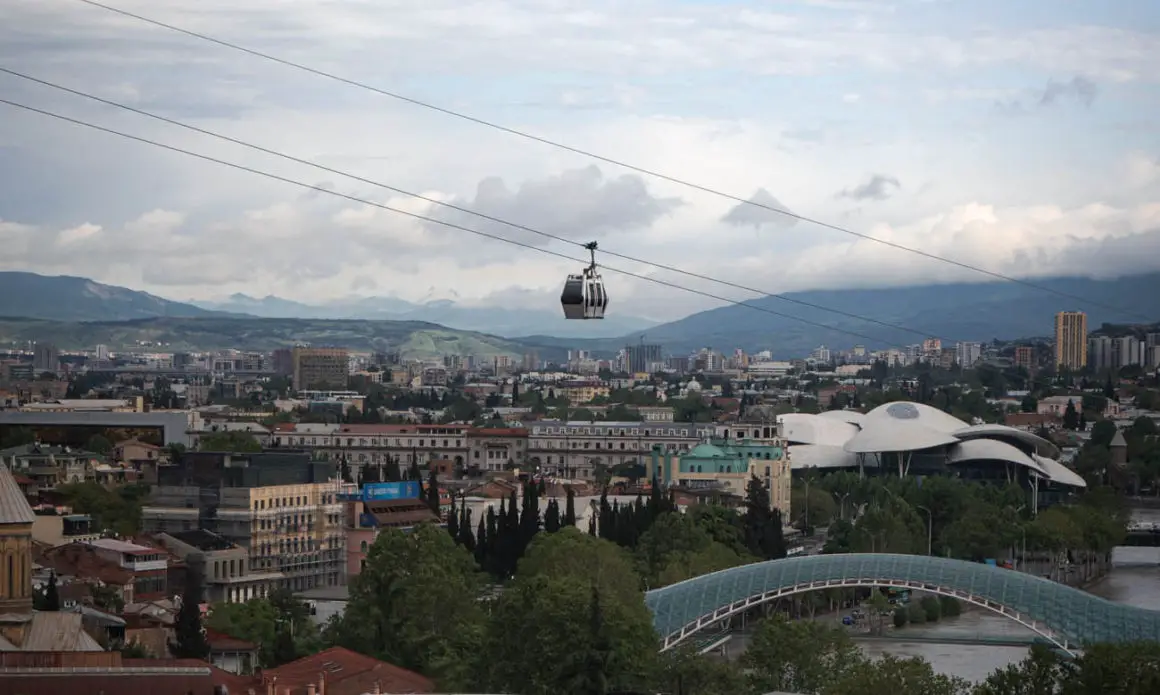 TIP: Tap water in Tbilisi is safe to drink. Bring a refillable bottle to prevent the overuse of plastic.
Connectivity
Wifi Speeds – According to Ookla's SpeedTest, Georgia has an average wifi speed of 29.27 Mbps. In my personal experience, I would say that the internet in Tbilisi is stable and reliable. Of course, if you head into the mountains then any wifi connection will become patchy, but from there, the signal strength from prepaid data plans can be surprising stronger.
Data Plans – There are multiple network providers offering SIM cards in the arrivals hall of the airport but the most popular with the best prices and signal strength is Magti. You will need your passport to purchase a SIM card in Georgia. If you download the Magti app, you can switch, cancel or extend your prepaid plan as and when you need, even with a foreign card.
If convenience is your ultimate goal, check out Airalo for either a local, regional or global eSIM. Airalo is the world's first eSIM supplier. You can purchase the most suitable prepaid data plan without visiting any shop or swapping physical sim cards. This is the technology we digital nomads have been waiting for!
Language
Georgian is the official language of Georgia, although if you venture out to other regions outwith Tbilisi then you'll hear other local languages being spoken (Laz and Svan). Generally speaking, much of the population in Tbilisi will speak at least a little English. The older generation is less likely to but the new generation tends to be more confident and fluent.
Money
The currency in Georgia is the Georgian Lari (ლ) which is otherwise abbreviated as GEL. Most major credit and debit cards are widely accepted in Tbilisi. Plus, you will not have any issues finding a cash machine either; they are in an abundance.
Community
Tbilisi's digital nomad community is exploding. The laptop lifestyle culture is immediately apparent in places such as Fabrika. If you'd like to connect with digital nomads before your visit, check out the Tbilisi Digital Nomads Facebook Group.
NOTE: You will be welcomed by a number of street dogs in Tbilisi. They are tagged to show that they have been cared for, but watch your step as you stroll the streets, unfortunetly they don't clean up after themselves.
You Should Know Before You Go
Best Time to Visit Tbilisi
The best time to visit Tbilisi is during the months of Spring (March to May) or Autumn (September and October). Summer (June to August) is feasible too if you don't mind the hotter temperatures and the fact that it's peak tourist season, so there will inevitably be larger crowds.
Of course, I was one of the unfortunate few who timed my visit with the wettest month of May in years. So if you would like to increase your chances of seeing blue skies then you should consider braving the peak tourist season, especially if you are hoping to visit any of the mountainous regions.
Travelling From The Airport
A disadvantage of Tbilisi for digital nomads is that many of the flights tend to arrive after 3 am. This is something to bear in mind whilst you organise your transfer between the airport and your accommodation.
You'll be greeted by the typical 'taxi, taxi' propositions as you head through the doors from the baggage pick-up point to the arrivals hall. Taxis in Tbilisi are not metered so make sure you negotiate before you agree on the price (which will no doubt be initially higher than it should be).
The most cost-effective taxi service will be via Bolt which is a ride-sharing app similar to Uber. To give you an example of the prices, my ride from Tbilisi International Airport to Fabrika's Hostel cost 19.50 GEL (6.44 USD). The loading bay at the front of the airport can be used for your Bolt pick-up location.
Alternatively, the cheapest option to travel from the airport is the bus. The bus numbered 337 takes around one hour to travel between Tbilisi Airport and the city centre. You'll find this service as soon as you leave the arrival hall on the right, but before you leave the airport, make sure to purchase a transport card.
If you'd like to arrange your transport before you arrive, then you can book your airport transfer here.
SIMILAR: 

Almaty for Digital Nomads (Your Complete Guide)
Your Length of Stay
Tbilisi is a relatively small city that can be explored within a minimum of two days. However, there shouldn't be any rush to cram the charm of the city into such a short timeframe when Georgia allows visitors to stay for up to a year without a visa. You have plenty of time here!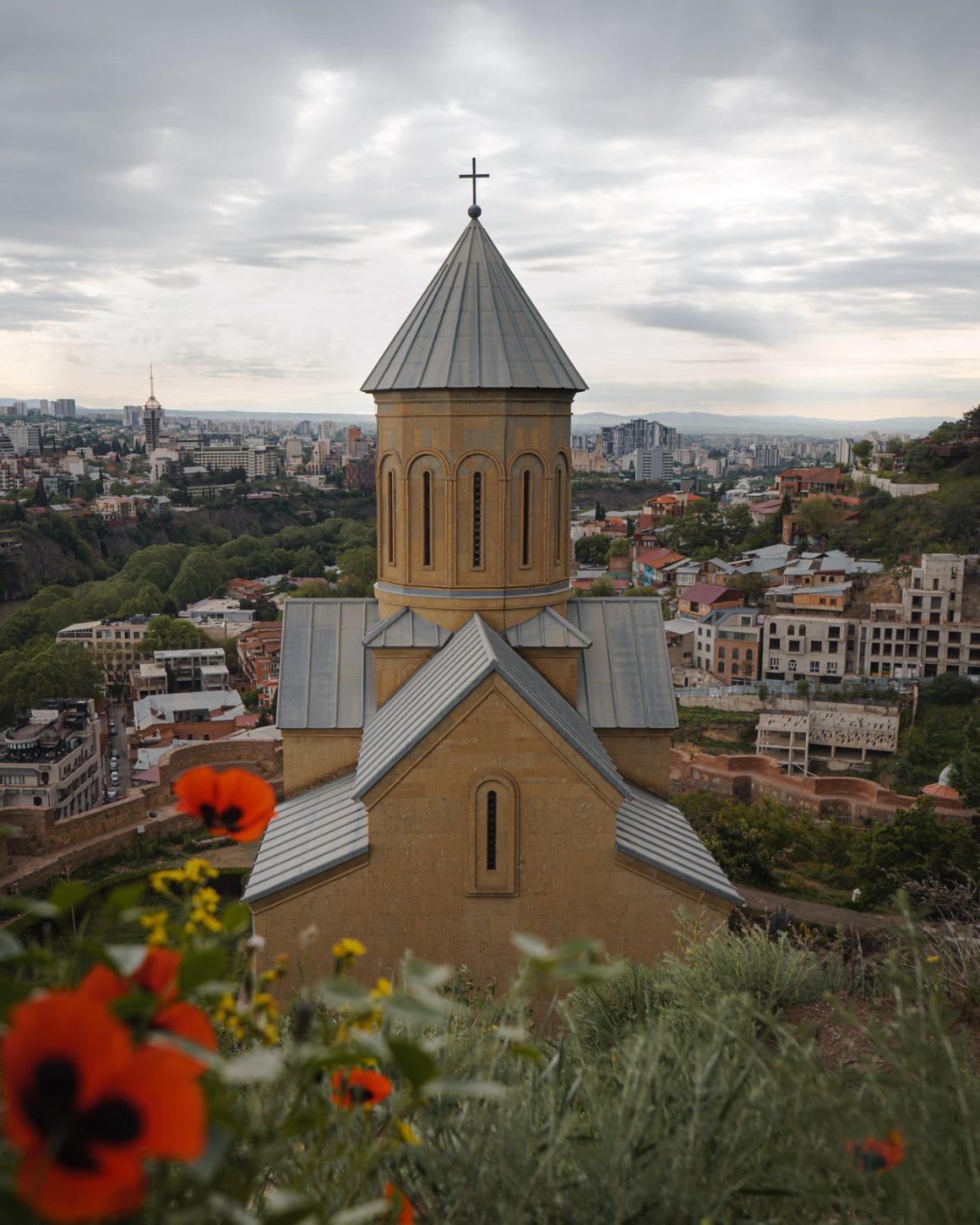 ALSO: 

Tallinn for Digital Nomads (The Ultimate Budget Travel Guide)
Bonus: Tbilisi Recommendations
Working Remotely from Tbilisi
If you're looking to dive straight into your work at a location with a reliable internet connection and workspace, I'd personally suggest heading straight to Fabrika. The former soviet sewing factory is a melting pot of misfits, laptop lifestylers and the odd tourist stopping by for an Instagrammable photo. With an ambience similar to Shoreditch in London, you could simply just order a coffee to people-watch and gain an insight into Tbilisi's tech scene.
Suggested Coworking Spaces –
Suggested Coffee Shops –
Suggested Coliving Spaces –
JOIN: Walking Tours can be a great way to find your bearings during the first few days of your stay. 

Book your tour of Tbilsi here

.
Top Things To Do in Tbilisi
Where to Stay in Tbilisi
Accommodation is very affordable in Tbilisi for digital nomads. Airbnb will be the most convenient means of finding accommodation for stays of less than 6 months.
If you are seeking long-term accommodation, the Apartments for Rent in Tbilisi may highlight some options for you. If nothing else, the listings will provide you with some inspiration or estimates of what the cost will likely be.
Budget
If you are looking for a centrally-located hostel, then Envoy is a great option. The dorms are similarly priced to Fabrika, but Envoy offers a free breakfast too.
Mid-Range
Fabrika is an abandoned Soviet-style factory-turned hip hostel. This is the place to be if you are a backpacker, digital nomad or someone in-between.
High-End
The Communal Hotel Sololaki rooms offer balconies with a calming garden view. This place is the epitome of Tbilisi's trendy and endearing charm.
Alternatively, you could have a whole apartment or house to yourself! Why not stay in wonderful homes by house-sitting and caring for adorable pets? This experience would not be for everyone but you could find yourself in free accommodation, whilst you live a more authentic lifestyle in the local area, by joining Trusted Housesitters.
SEE: 

The Coliving Spaces that Digital Nomads Should Know About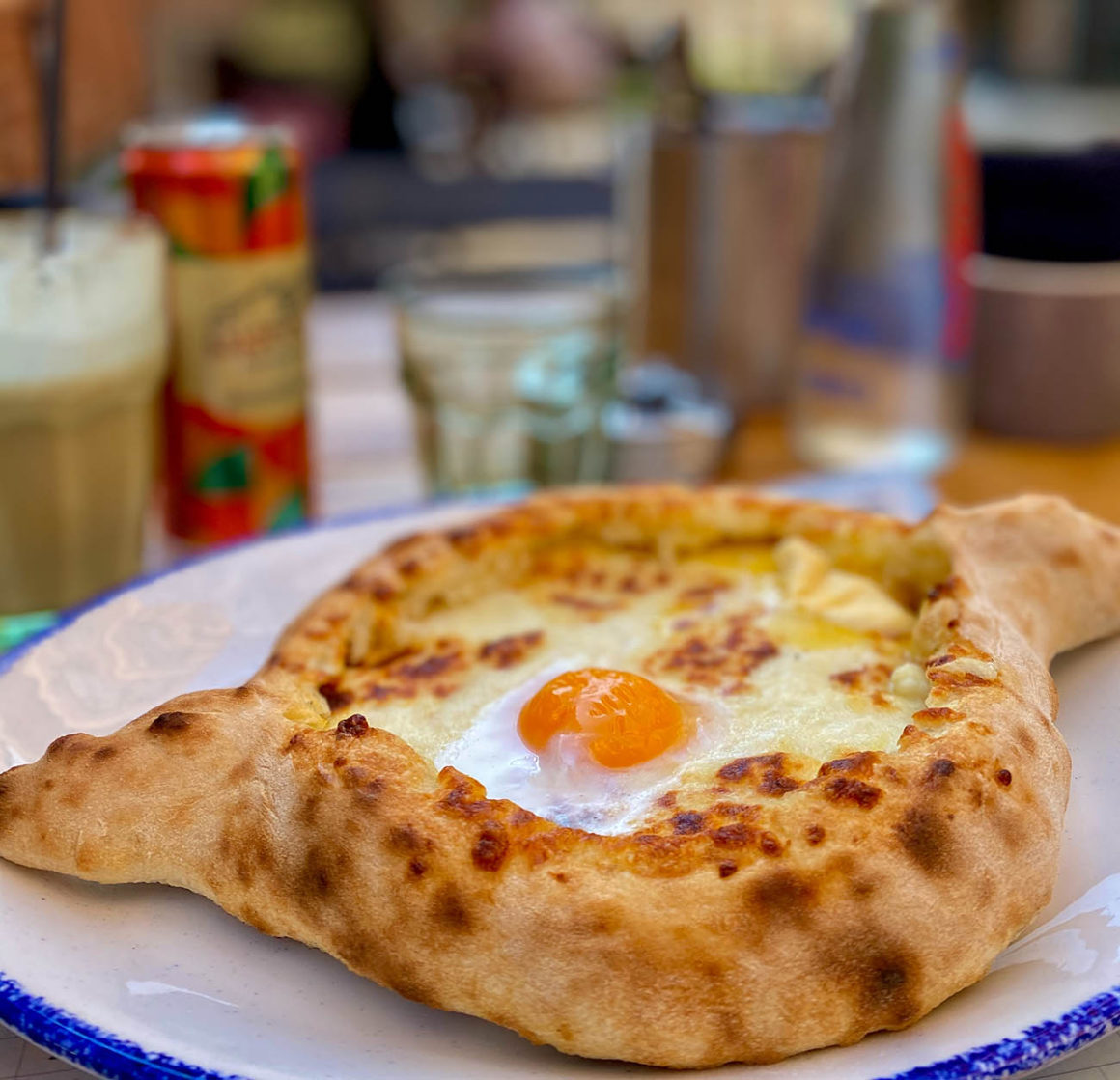 Where To Go After Tbilisi?
Yerevan – With only a 5-hour drive between the two, a visit to Armenia's capital city is an easy option to accompany your stay in Georgia.
Baku – Continue your journey in the Caucasus region by hopping on an overnight train to Azerbaijan's capital city. It's not the obvious place but Baku is a do-able option for digital nomads.
Istanbul – Within a two-and-a-half-hour plane journey, you could be taking in the many sights and sounds around the Bosphorus. This is your travel guide to the Old City of Istanbul as a digital nomad.
Looking to go further? Check out the digital nomad guides for Dubai, Belize, Sri Lanka, Guatemala, Morocco and the Adriatic Coast.
Let's go!
@katie.maree
---
Did You Know…
If you purchase through a KatieGoes link, we receive a small amount but you still pay the same. This contribution helps keep this blog moving – win, win! Nevertheless, I only recommend personal favourites…
---
Save this on Pinterest
No time to read this guide about Tbilisi for Digital Nomads? Click on the Save button to pin this article for later.